After completion of the KAIT workshop at the Kanagawa Institute of Technology, Junya.Ishigami+ Associates were asked to develop plans for a versatile and semi-outdoor plaza on a neighbouring site. Largely open to the elements, the new plaza allows students to relax and let time pass while feeling gentle breezes and observing changes in light, or listening to the sound of falling rain.
Beginning with an exploration of concepts for outdoor space, the architects focused on developing a versatile space that could be occupied in a multitude of ways for activities such as studying, eating and talking, or even taking a nap. The space is also designed for the inclusion of stalls that allow the plaza to transform into an active market or festival zone.
Surrounded by tall school building that lack diversity as a landscape, the plaza structure takes advantage of the 2 meter height difference between the plot and other parts of the campus above. As such, the new intervention feels as if it is part of the existing terrain. Column-free inside, a huge iron roof is supported by the four walls that surround the plaza. The curve of the canopy parallels the curve of the recessed floor, with the two elements joining in the distance to form a horizon.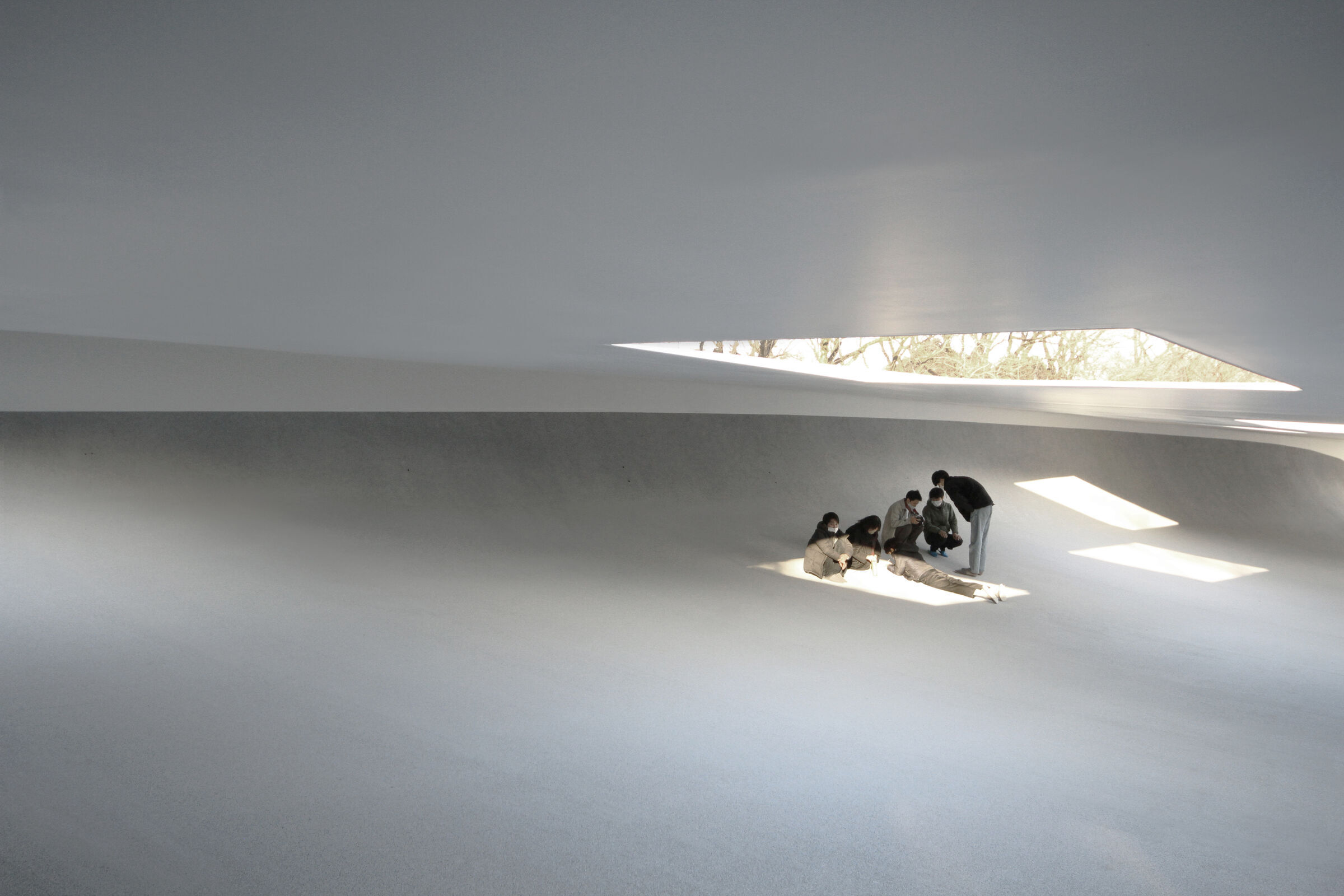 The variation of light and shadow changes with the time of day and weather conditions. In total, the roof has 59 openings, which are completely open to the elements. On a rainy day, water enters through the ceiling's apertures to create pillars of rain and a hazy overall atmosphere.
The plaza is constructed on 83 piles with 54 ground anchors that form the reinforced concrete foundations.
Described as being similar to the a suspension bridge in terms of structural concept, the maximum span here is approximately 90 meters and the ceiling height fluctuates by about 30 cm due to heat shrinkage of the iron plate. Despite the scale and complexity, the project has a human scale with the ceiling height similar to that of a house, while the thickness of the roof canopy is similarly domestic in scale.
Reducing the load on the four walls, additional reinforcement is included in the outer circumference of the roof. The floor is covered with permeable asphalt used for paving roads. The surface instantly absorbs water and allow it to flow under the plaza. As a result the floor remains dry . The asphalt can be pressure washed to completely remove oil and paint.
Creating a close relationship between human body and environment, the project focuses on the seating position of occupants, who are invited to take off their shoes and sit freely on the floor. In this way, the body and environment are directly related and integrated into the landscape.