What was the brief?
The Brief for the Yarram Integrated Healthcare Centre was to consolidate the allied health functions of Yarram, in South Gippsland Victoria, for the small town and its surrounds. It was hoped that the new centre would be a place of proactive health, encouraging residents to enjoy a healthy lifestyle, as well as consolidating a range of existing health services in the area.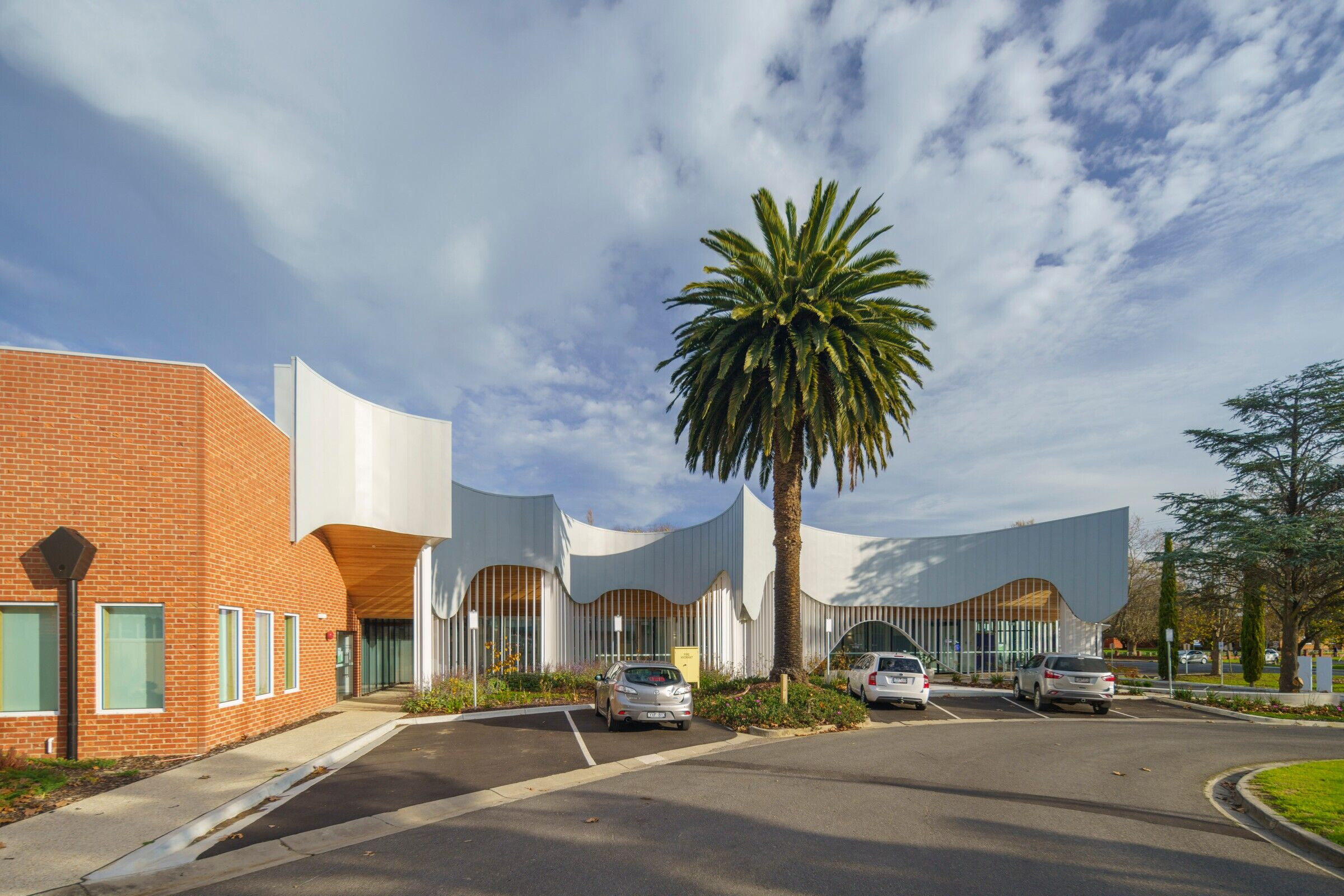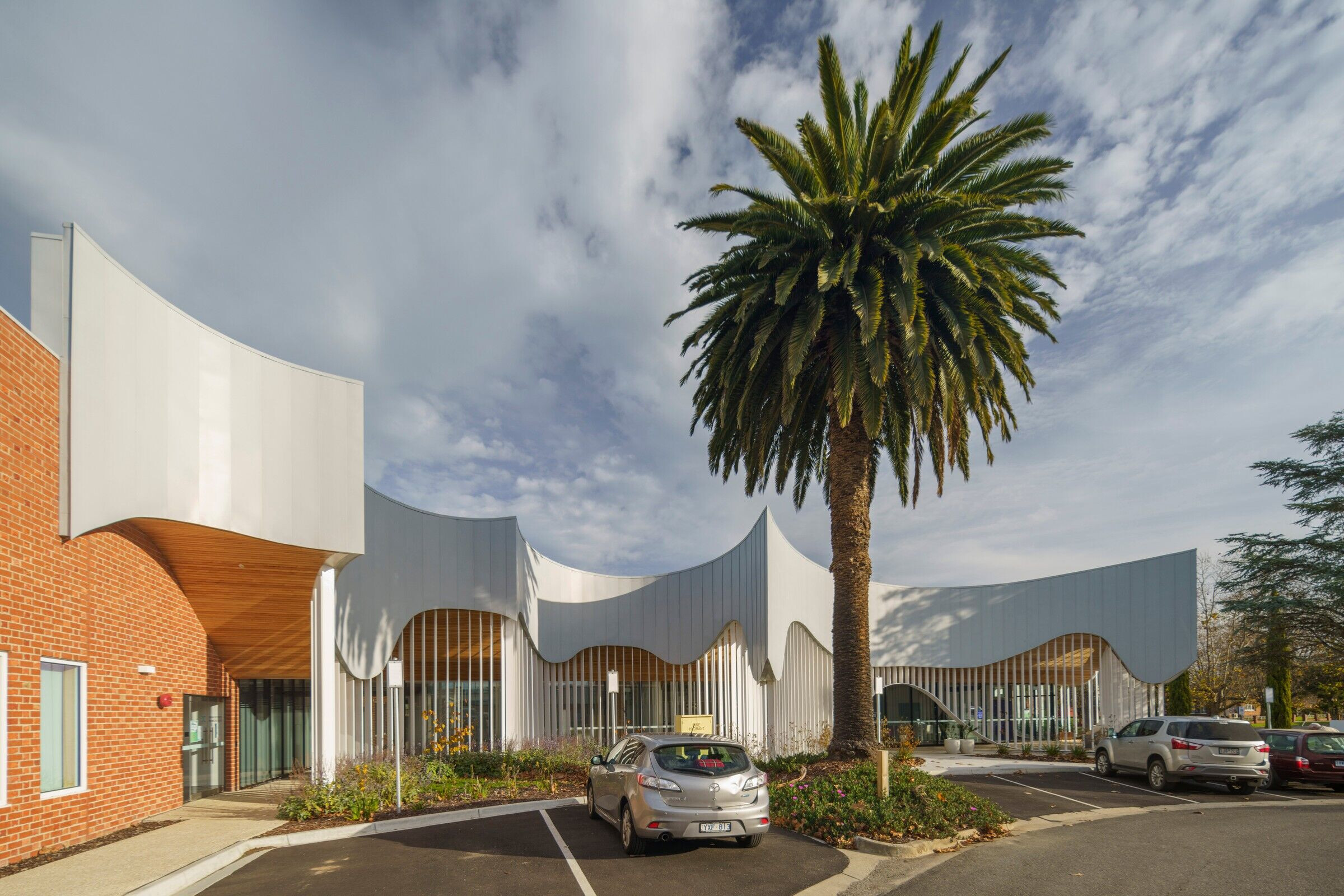 What were the key challenges?
The existing facility on the site was dilapidated and had a range of issues that made it unsuitable for the needs of the Yarram community. As a result, it was important that the project was both timeless and designed with flexibility in mind, so that future plans to incorporate new technology or alternate uses would seamlessly evolve within the space. Interview rooms double as consult rooms, and are integrated with additional services to allow for IT upgrades and virtual consultations.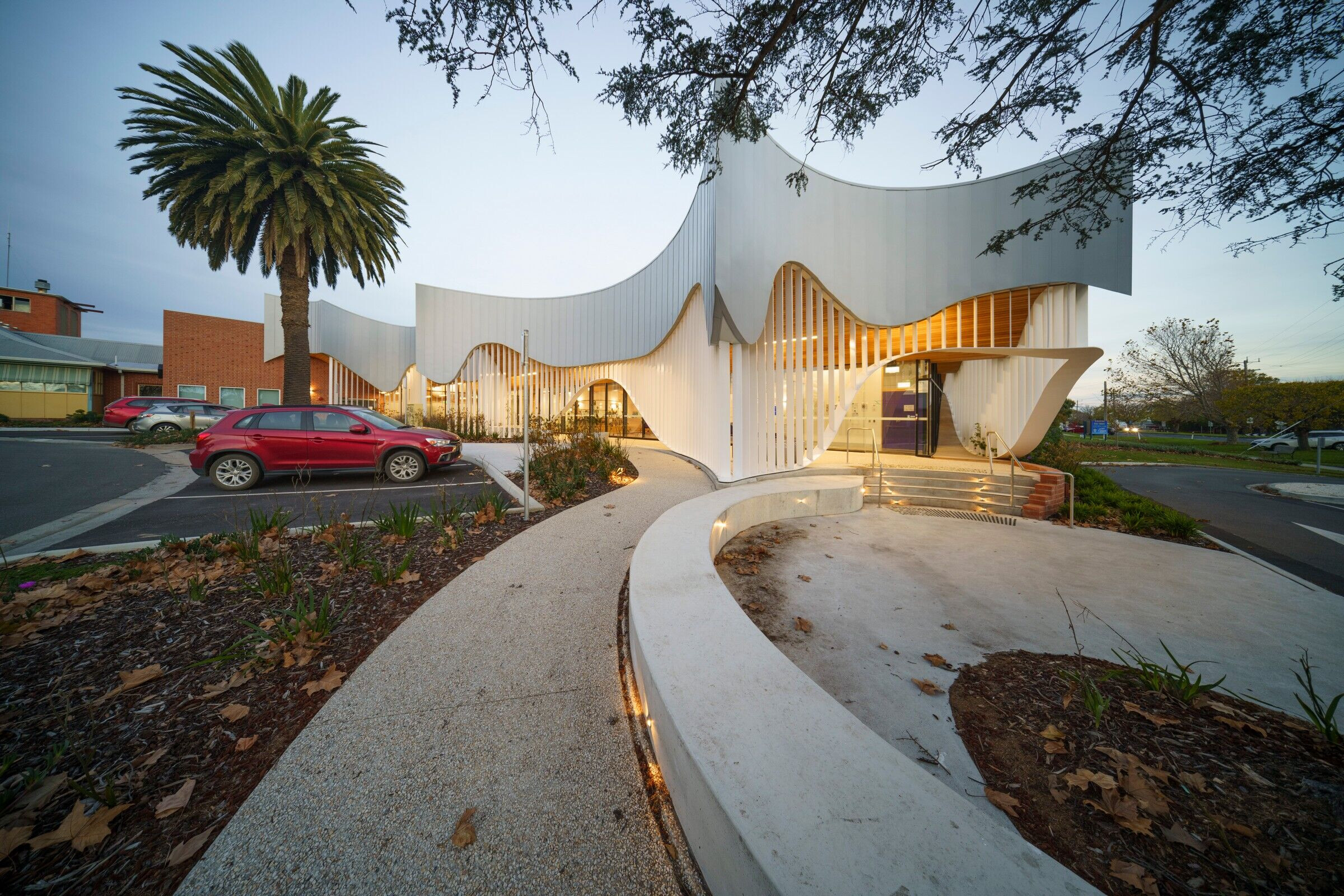 The design anticipated that patients may like to wait outside for their appointments rather than the conventional indoor waiting room where there is a potential for transmission in a confined space. This challenge to look towards the future and anticipate the needs had a positive outcome, equipping the Yarram District Health Services with a systematic design to better tackle the challenges of Covid-19.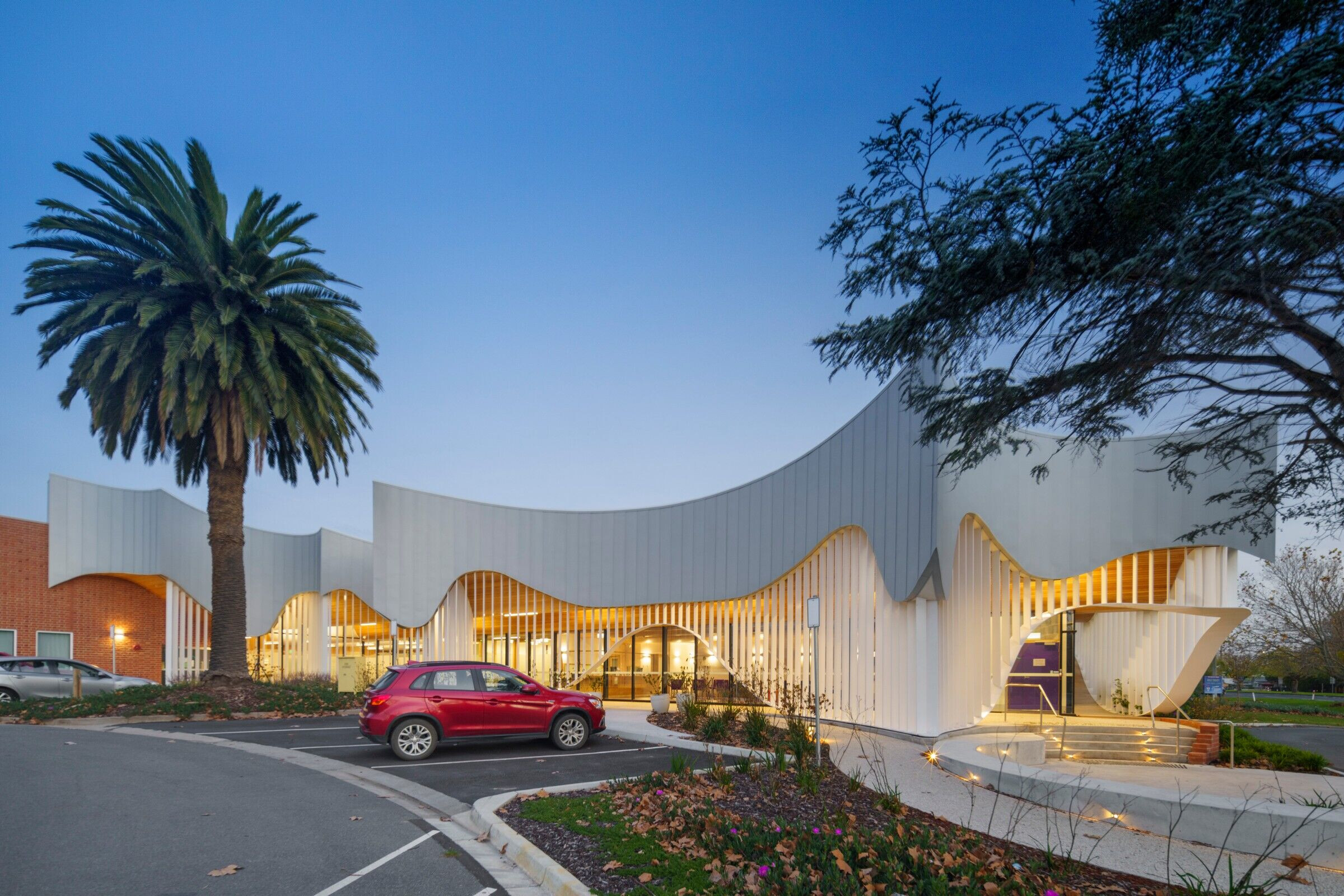 What materials did you choose and why?
The building incorporates 100% locally sourced Silver-top Ash timber from a local Yarram plantation. Local Company 'Radial Timbers' uses radial sawing to maximise the recovery of sawn timber from smaller logs, resulting in zero timber wastage. Referencing the quality architecture of Yarram, the building celebrates the historical glory associated with the town's architecture where buildings such as the Butter Factory, the Courthouse and numerous churches have been retained and loved through time. In this way, we salvaged and reused existing bricks from the site that have been repurposed in the buildings exterior facade, and the majority of materials used were sourced from the local community in an aim to empower local suppliers and trades.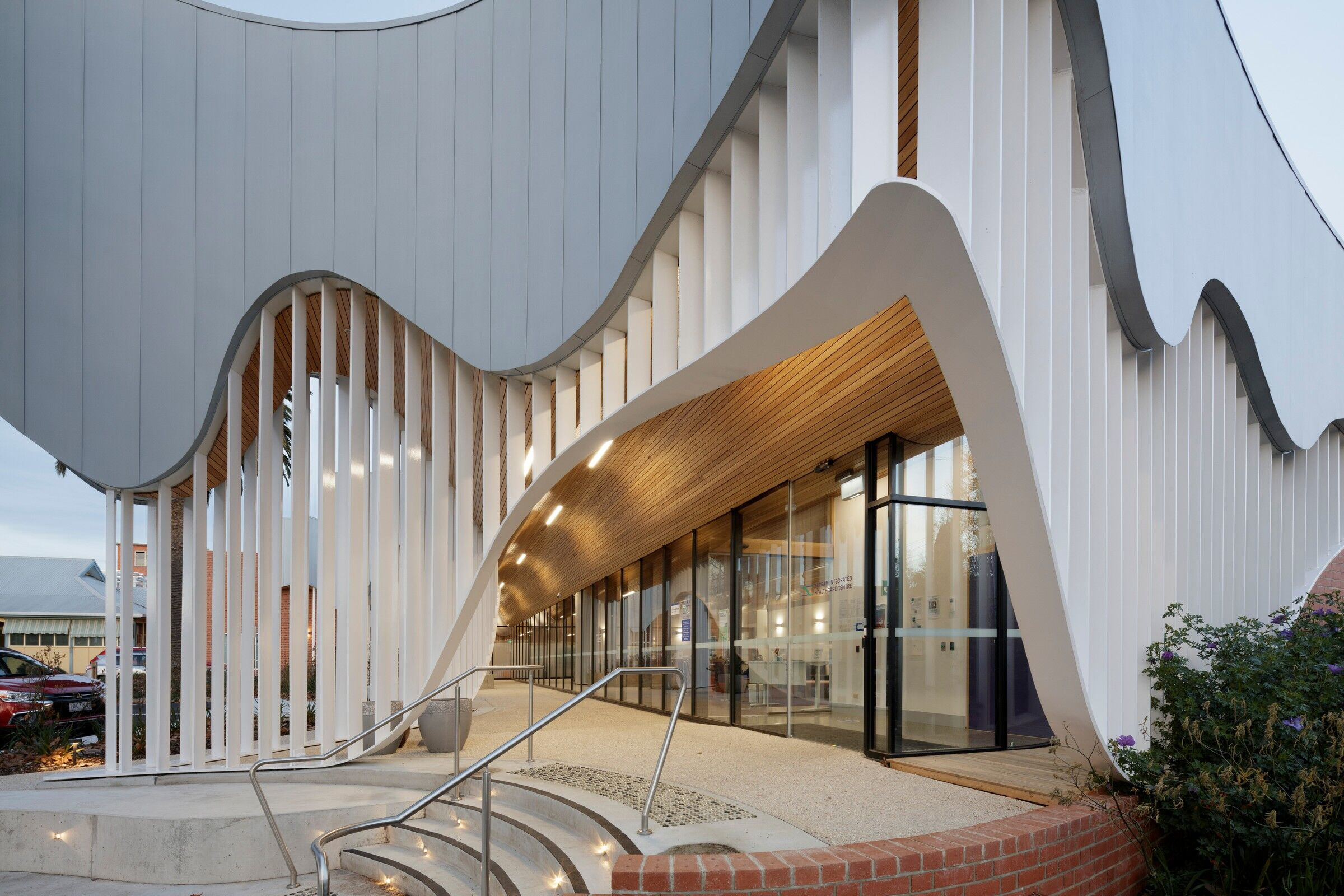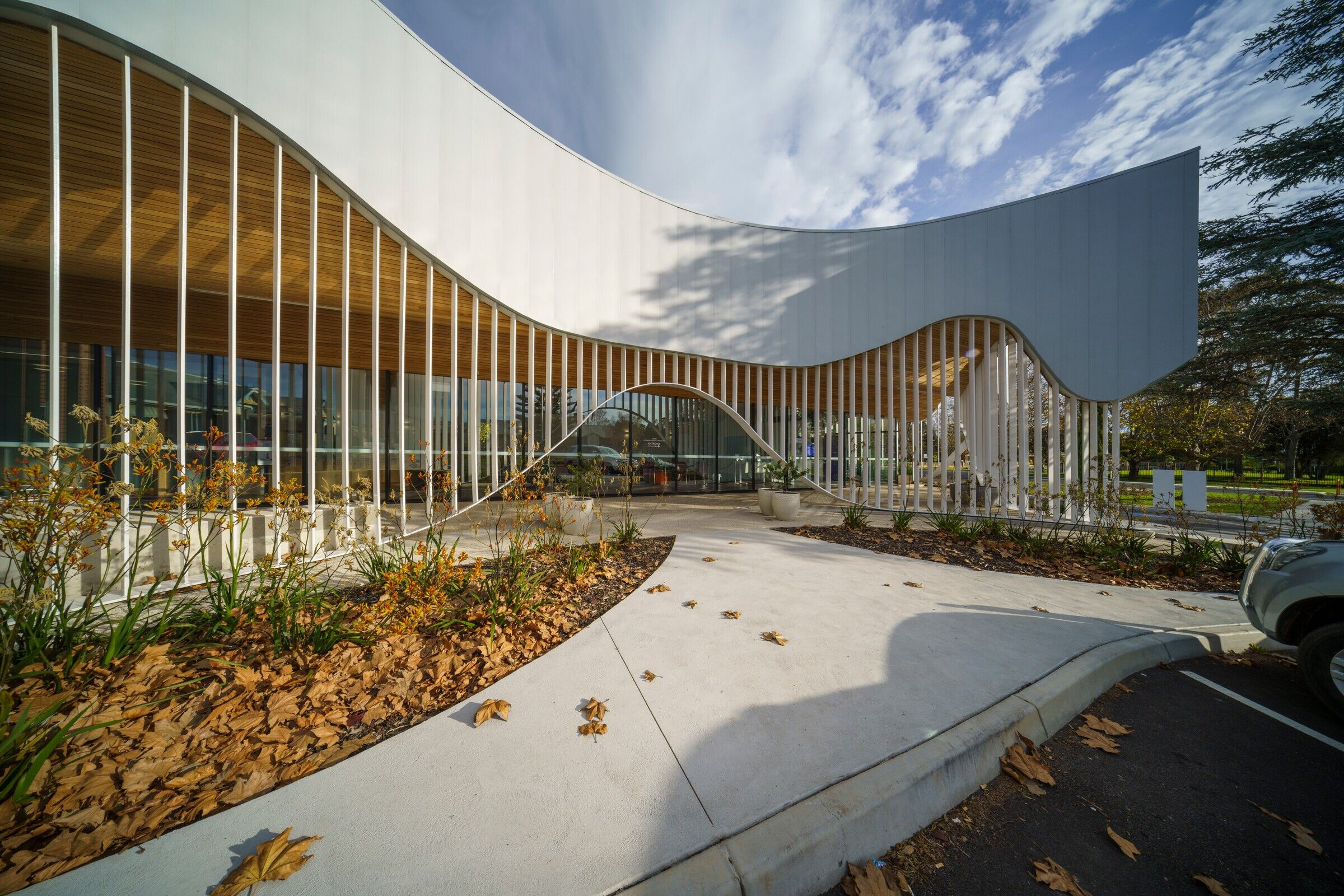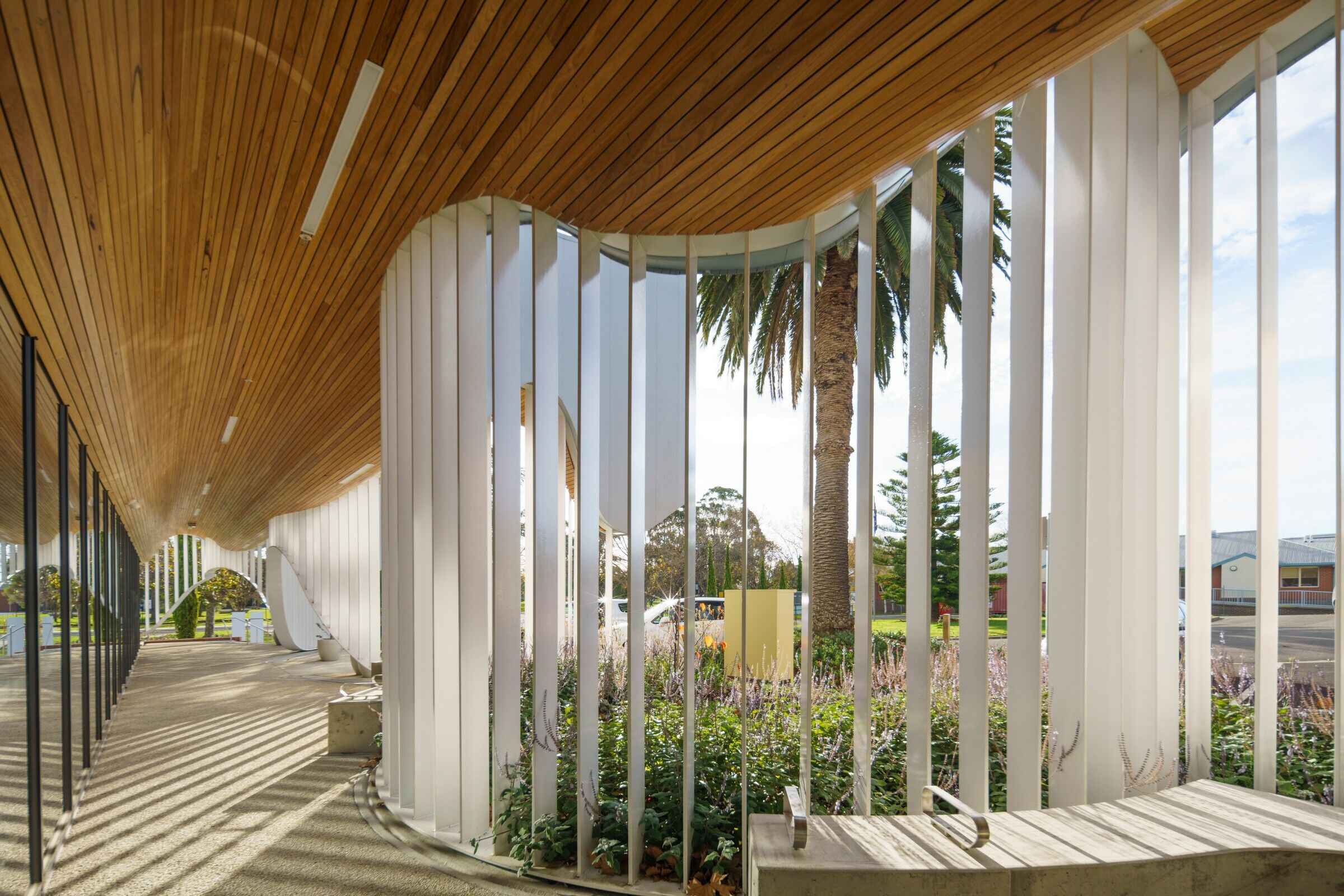 Material Used :
1. Facade cladding: Steel column, powdercoat finish, Interpon; Acrylic acoustic sheeting, Palram; Steel Fins, Dulux; Glass Brick, Austral; Pressed Brick, Austral; Compressed Fibre Cement Sheet Soffit Lining, CSR Cemintel; ExoTec Compressed Fibre Cement Sheet Cladding, James Hardie; VMZinc Panel, VMZinc.
2. Flooring (ext): Brick Paving, Austral
3. Flooring (int): Cashmere Goat Hair Carpet, Tretford; Entrance Matting, Spectrum; Marmoleum, Forbo; Tactile Ground Surface Indicators, DTAC; Vinyl, Forbo
4. Windows: Glass, Single Glazed Toughened Laminated Glass, Viridian; Glass, Single Glazed Laminated Safety Glass, Viridian; Glass, Single Glazed Privacy glass, Viridian; Glass, Colour-backed glass, Viridian; Curtains, Vertilux; Aluminium Window Frame, Alspec; Solid Silver Ash Timber Window Frame, contractor; Frameless glazing channel, Capral
5. Walls (int): Pinboard, Acoustic pinboard, Ultimate pinboards; Standard plasterboard, Gyprock; Impact resistant Plasterboard, Gyprock Moisture Resistant Plasterboard, Gyprock; Ceramic Wall Tile, National Tiles; Timber Battens, Radial Timber; Timber Veneer, SharpPlywood; Fire Rated Timber Batten, Radial Timber; Stainless Steel Splashback, Rimex Metals; Whiteboard laminate, ABET Laminati Magnetico, supplied by Surface Squared; Coved final skirting, Forbo; Aluminium Skirting, Atkar Group; Mineral Fibre Hygienic Ceiling Tile, OWA; High Performance Laminate, Tesrol; High performance Laminate, Duropal
6. Fixtures: Timber Handrail (internal), Aus Timber; Stainless Steel Handrail (external), Rimex Metals Australia; Benchtop, Dupont/Corian
7. Roofing: Metal Deck Roofing, Lysaght Kliplock; VMZinc Panel, VMZinc.
8. Interior lighting: INFINITI-P-Surface, Archilux; Torino SM, Archilux; INFINITI-S-Recessed, Archilux; INFINITI-P-Suspended; LHH Examination light, Archilux; Lucca 250, Archilux; Lucca 350 , Archilux; Lucca 450, Archilux; A70-WG, Archilux; NINETY Task Light, Archilux; Mirror LED, Archilux; Melrie, Archilux; Rho – Dome, Archilux; Thepad, Archilux; Naboo, Archilux.
9. Interior furniture: Gas Office Chair, Stylecraft; Rhomb Chair, Stylecraft; Castor Bar Stool, Stylecraft; Mia Lounge, Hub Furniture; Splay Lounge, Stylecraft; Pix Ottoman, Stylecraft; Catifa 53 4 Leg Timber, Stylecraft; Geong Bar Stool, Interstudio; Catifa 46 4 Way Chair, Stylecraft; Oblique Lounge Chair, Stylecraft; BLADE office table, Stylecraft; Monk Side Table, Stylecraft; Think Tank Standing Table, Ophelis; Malmo Table, Interstudio; Stylus Table, Stylecraft; Adjustable Stand-up Desk, Schiavello; Cube Mobile Pedestral, StyleCraft; Sapporo Storage Unit, Stylecraft; S Series Cupboard, Ophelis; Acoustic Privacy Screen, Stylecraft; Acoustic Partition System; Ophelis; Side Board, Feel Good Designs.