The Xijin Times Center, which is close to the hub of the West Railway Station, is located to the west of Qilu Avenue and between No.10 Road and Yantai Road. It is the commercial coordinate of the new western city and the leader of the headquarters base of the new western city. Because of its rich and complicated surrounding formats, it has landmark buildings, where light and shadow flow at night. It is the soul of lighting design interpretation to make the center of the westward movement stand out from many modern lighting visual focuses and become an office building model representing modern metropolis culture.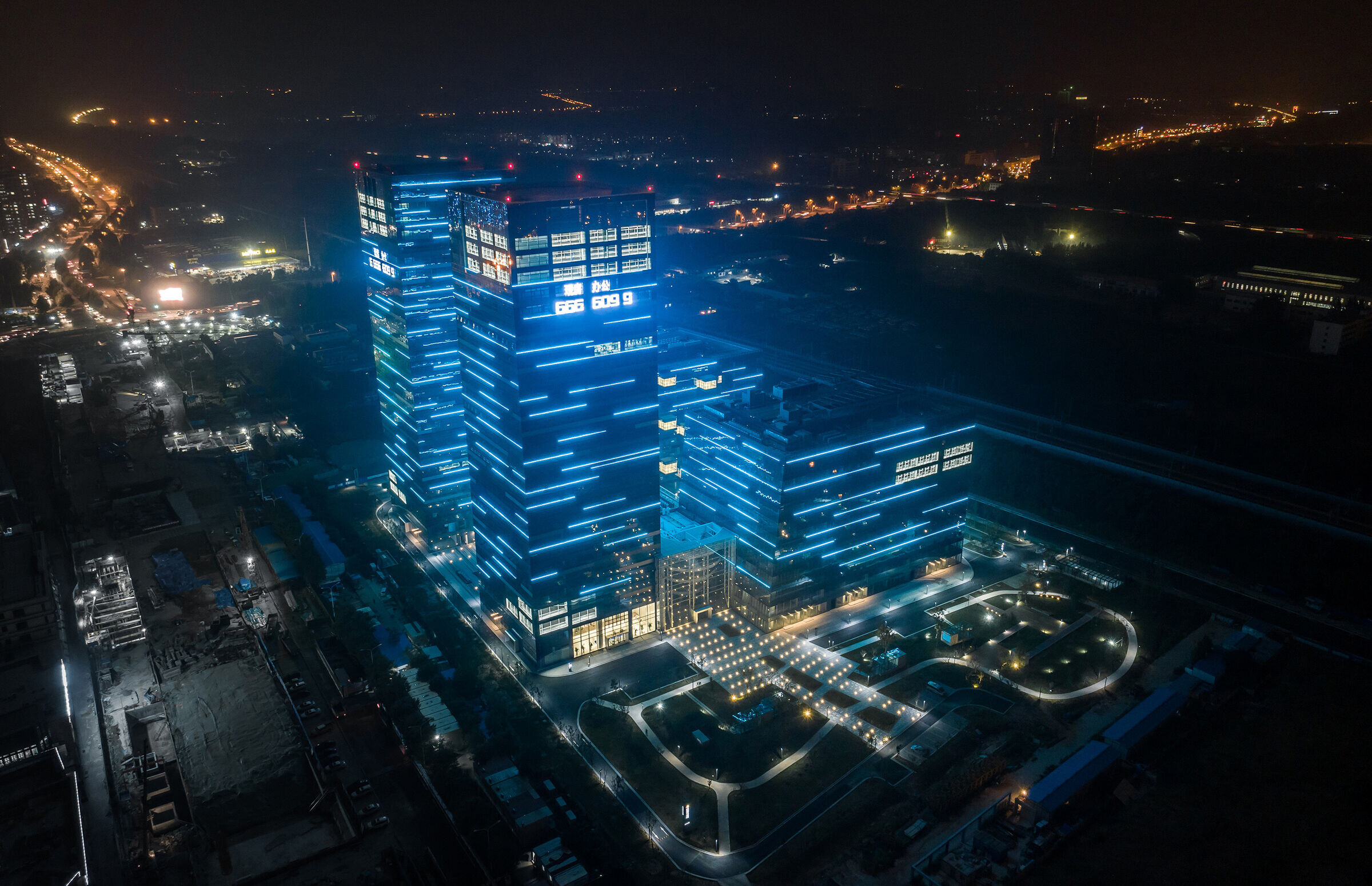 The Xijing Times Center is a complex of buildings, composed of two tall towers and two low-rise buildings. The building center presents a " cross" shaped cavity, and the buildings are connected by transparent glass spaces. The material language of the four main buildings is both modern and pure. At the top, ultra-white glass forms the boundary of the city skyline. The curtain wall is made up of gray granite stone and hollow glass in a patchwork arrangement to form the texture of the overall building surface. From the perspective of people and the street, the podium public space still employs ultra-white glass as the main material, highlighting the modern sense of office space characteristics.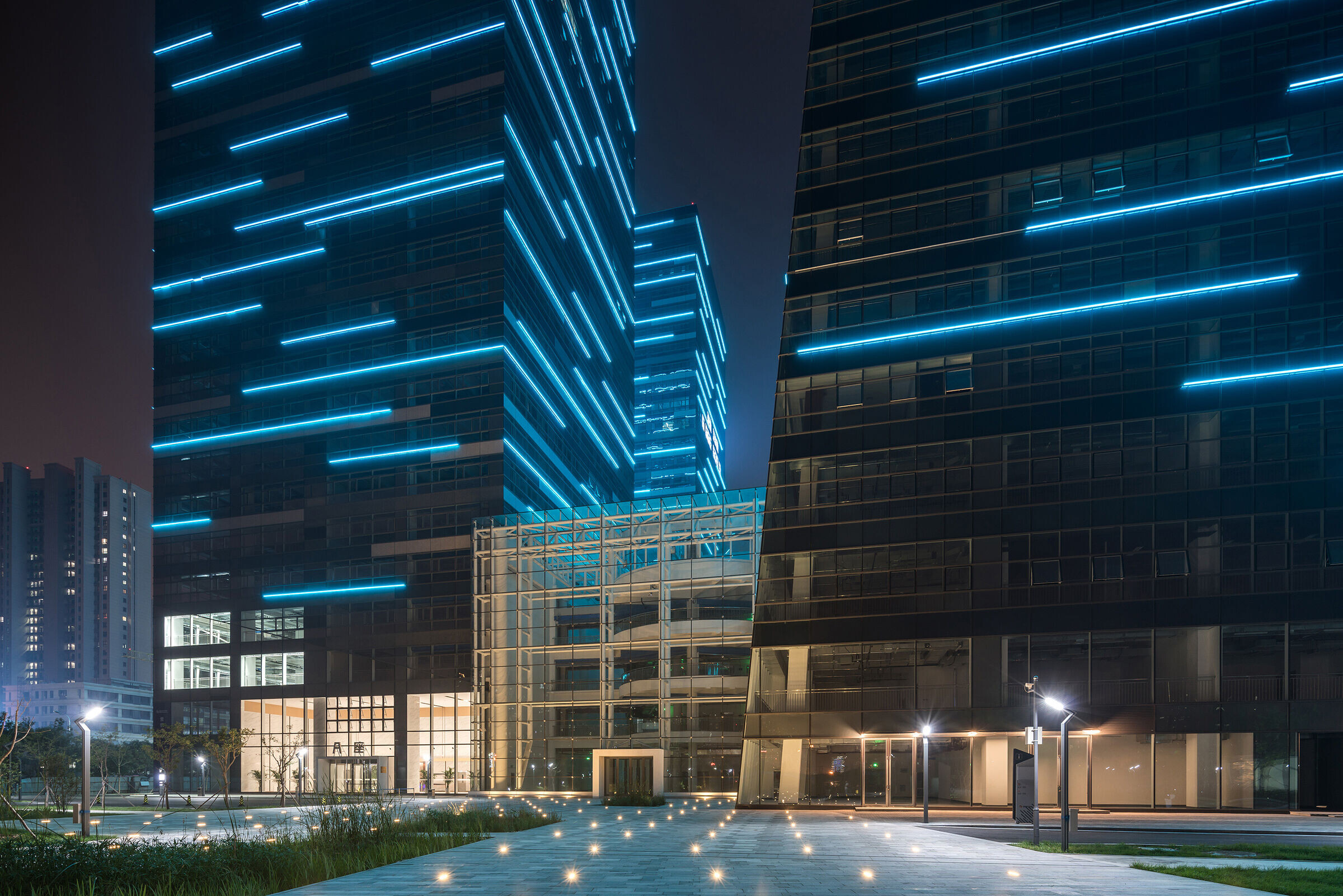 Facing the rectangular high-rise building with pure and standard three-dimensional relations, its shape seems to refuse to add any elements. During the day, it is adjacent to the surrounding environment, showing its distinctive temperament through the details of curtain wall materials. At night, in the boundary texture between curtain wall stone and hollow glass, the designer finds the horizontal linear light and shadow relationship as the abstract visual language to express the whole building.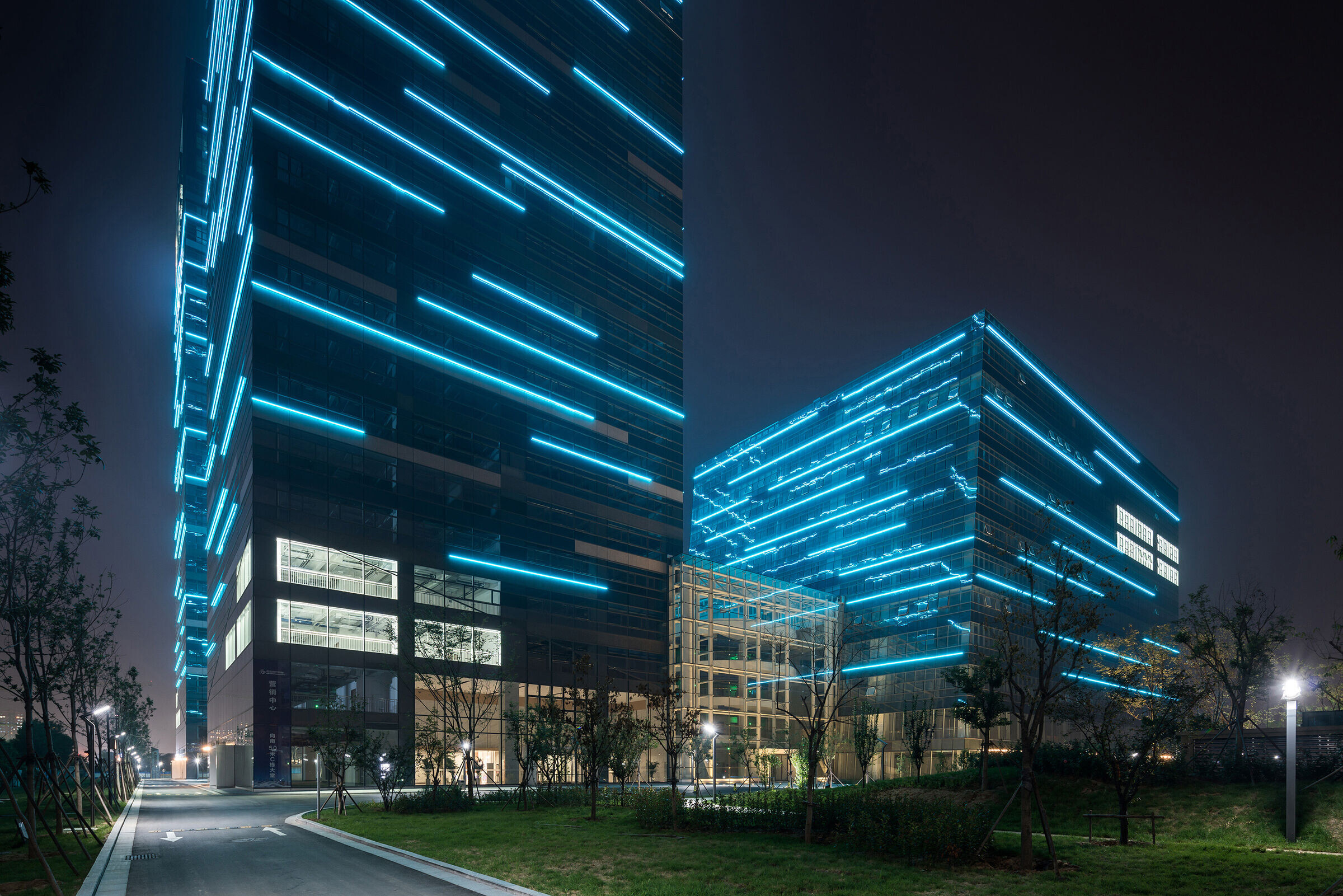 Dan Flavin, an American minimalist artist famous for creating sculptures and installations with fluorescent lamps, inspired the design. Although he thinks his works are only fluorescent responses to specific architectural environments. However, it provides a practical space for lighting designers to focus on the essence of architecture and light to build a rich and brand-new extended relationship.
When the sequence and density of transverse light are defined as the expression of the main abstract language, the transverse LED linear lamp presents a rational dialogue on the facade of the building, and expresses its multi-symbolic visual and cultural experience with irregular length changes and dense arrangement. When the linear light on the facade of the curtain wall of the four buildings directly constructs the technology, future and quality of light at night with flowing, color, density and non-uniform performance, people seem to stroll in modern time and space to appreciate the panoramic abstract painting expressed by lines. In the haunting of light and line, let yourself in the pure artistic experience embrace with abstraction.