The customers, active citizens with an energetic lifestyle, purchased an apartment in the bustling business center of the city. Accordingly, the dynamic spirit of the metropolis formed the basis of her character. The harmony of the modern city, the constructive essence of which is concrete, brick and glass, has become the starting point for working with this space. For a married couple whose children have already grown up and live a completely independent life, the main requirements in planning decisions were, firstly, a separate bedroom, and secondly, redevelopment of bathrooms from the developer in accordance with the habits of clients.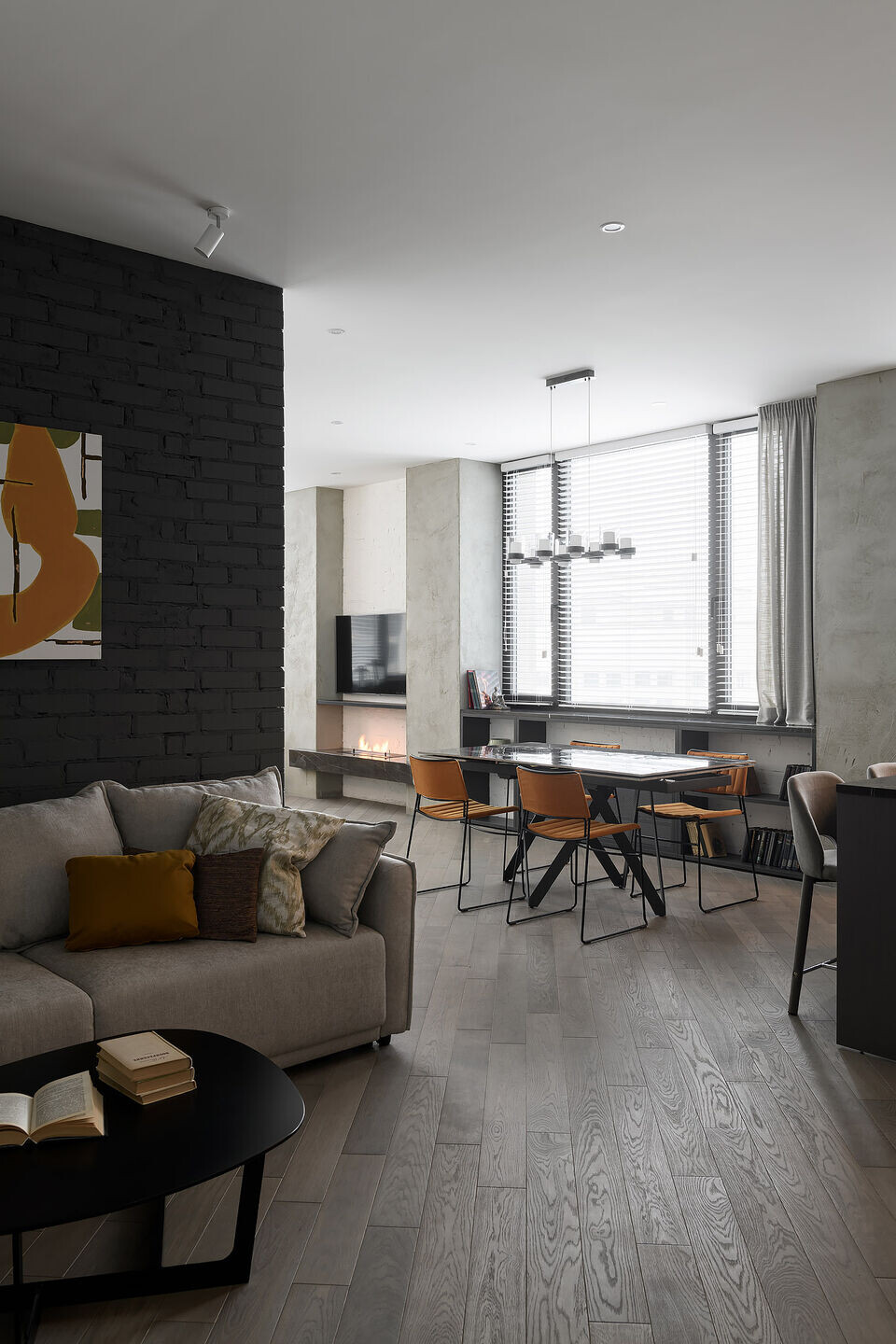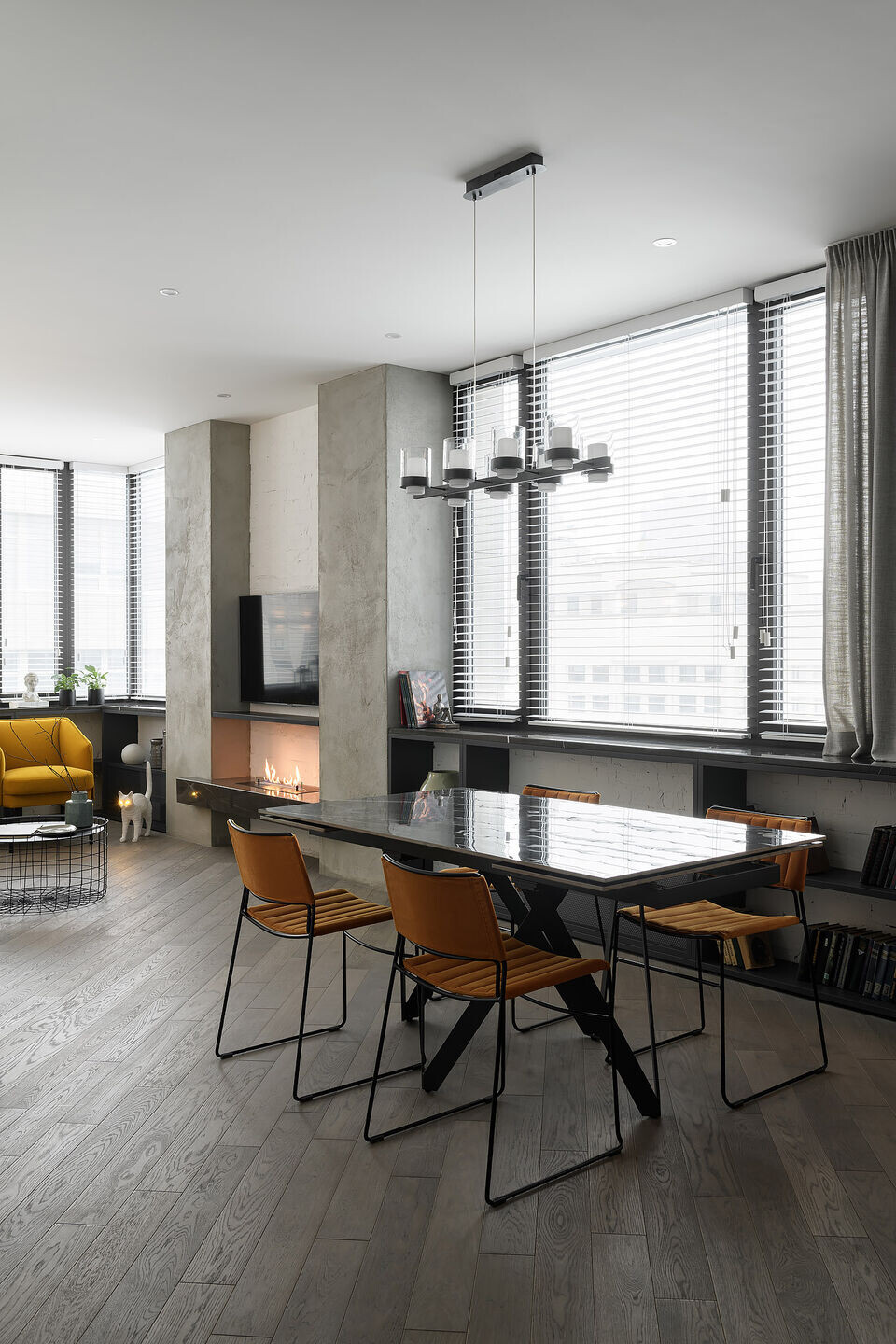 It was supposed to be two separate rooms: a shower room with a washer-dryer hidden in it, a boiler, a water purification system and a separate bathroom without unnecessary sources of noise and fuss, where one could fully relax.
The rest of the space was divided between a spacious entrance hall with a dressing room and a living room combined with a kitchen area and bedroom. The monochrome range of walls, ceilings and facades of built-in furniture give the space lightness and additional volume. This is contrasted by graphite surfaces. In the absence of physical boundaries, they create more private and nooks with an appropriate atmosphere. In general, the interior is characterized by pragmatic conciseness, the general background of monochrome is enlivened by small color and texture accents: the moods of shades of ocher, mustard, greenery add warmth and comfort.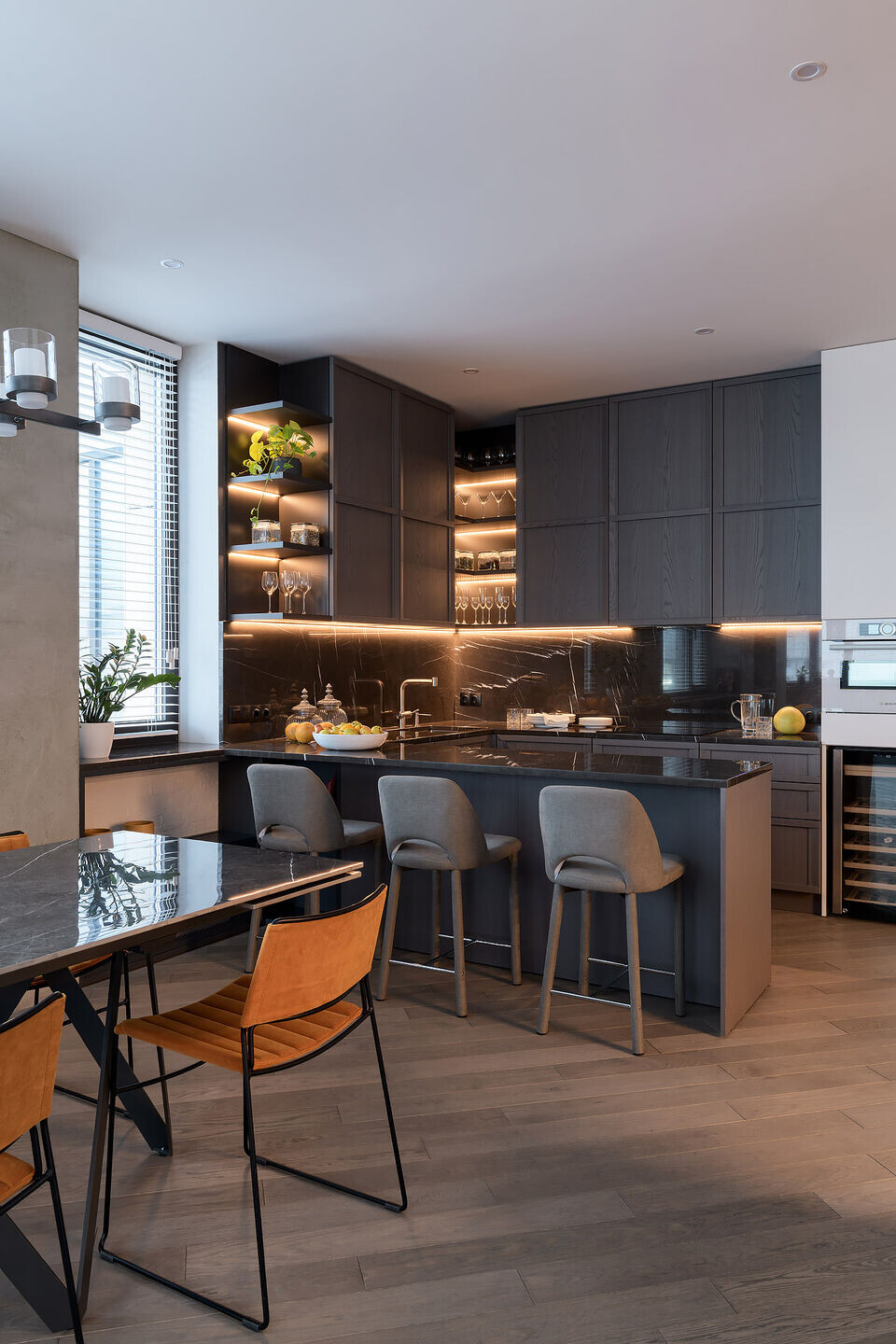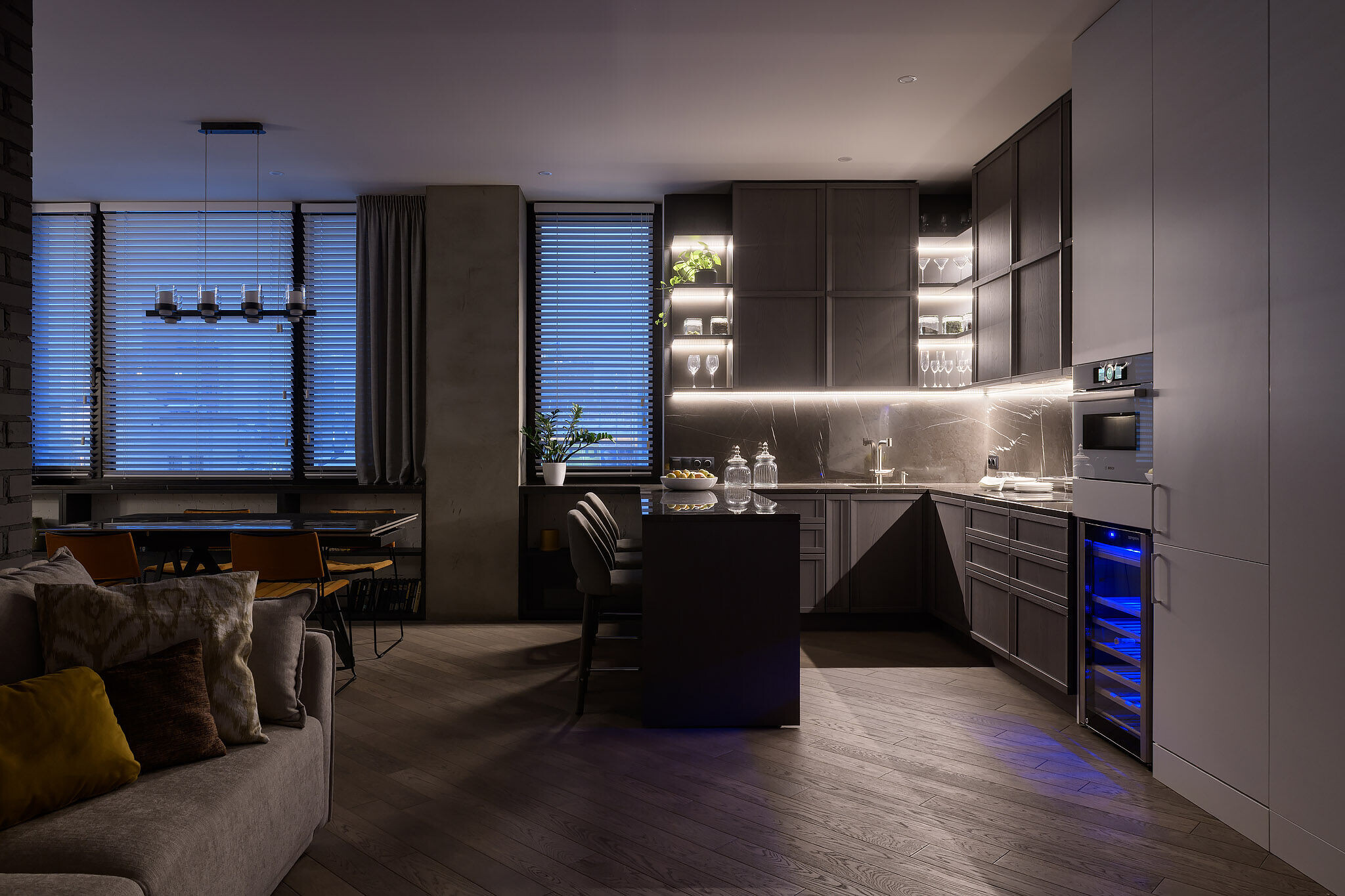 The use of natural materials in the decoration (decorative plasters, ash parquet, natural marble on window sills and kitchen work surfaces, kitchen wooden facades, as well as natural textiles, living greenery, hearth with live fire), entering into the game with the attributes of the "urban jungle" (concrete, brick and glass) create an incredibly harmonious union! Since the owners of the apartment are very hospitable people, meetings with relatives and friends in their house are not uncommon. This aspect, of course, was reflected in the layout: there are several locations for friendly meetings, evening gatherings of friends. The breakfast bar kitchen is also designed so that the company can cook, socialize and taste wine at the same time. The bedroom is not loaded with unnecessary elements in the decoration, the furniture in it is quite simple, concise, functional, without pretentiousness.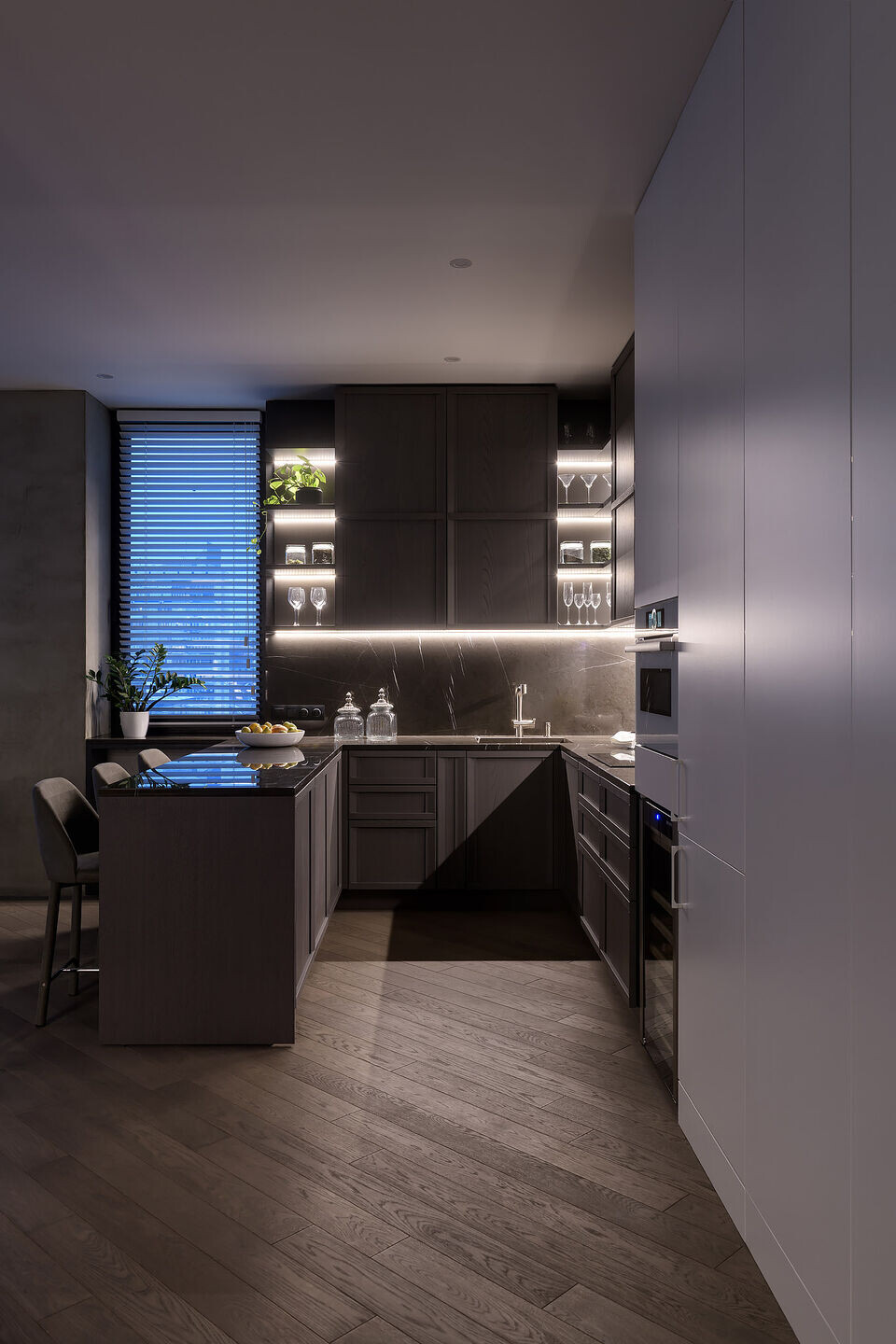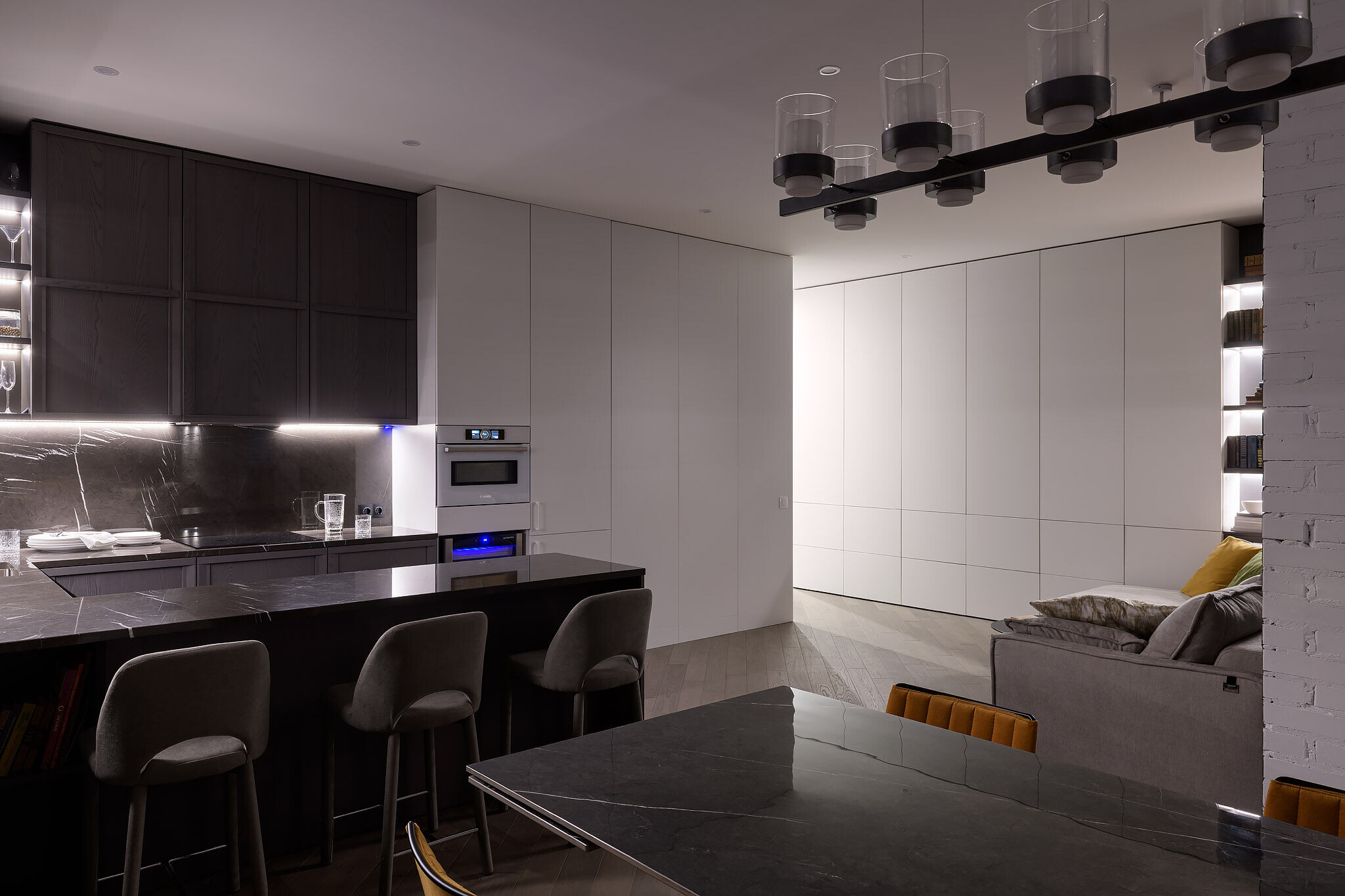 The atmosphere is typical of the industrial style and at the same time corresponds to the purpose of the room - it contributes to emotional unloading at the end of an active day. And, in conclusion, the dynamics of the urban rhythm was also reflected in the bathroom with a bathroom - this was emphasized by the temperature of the lighting in them: the morning awakening is accompanied by the invigorating cool light of the shower, which contributes to the concentration of internal forces, and in the evening it is replaced by the muffled warm lighting of the bathroom, which allows you to fully relax after a busy day.