The PAE Living Building is the first developer-driven and largest commercial urban Living Building in the world. The building marries the scale and feel of its Old Town historic district in Portland, Ore. with the highest possible energy performance and sustainability standards necessary for the future. Designed and engineered to last 500 years, it uses less energy, water, and material than comparable buildings while delivering superior levels of occupant comfort and productivity.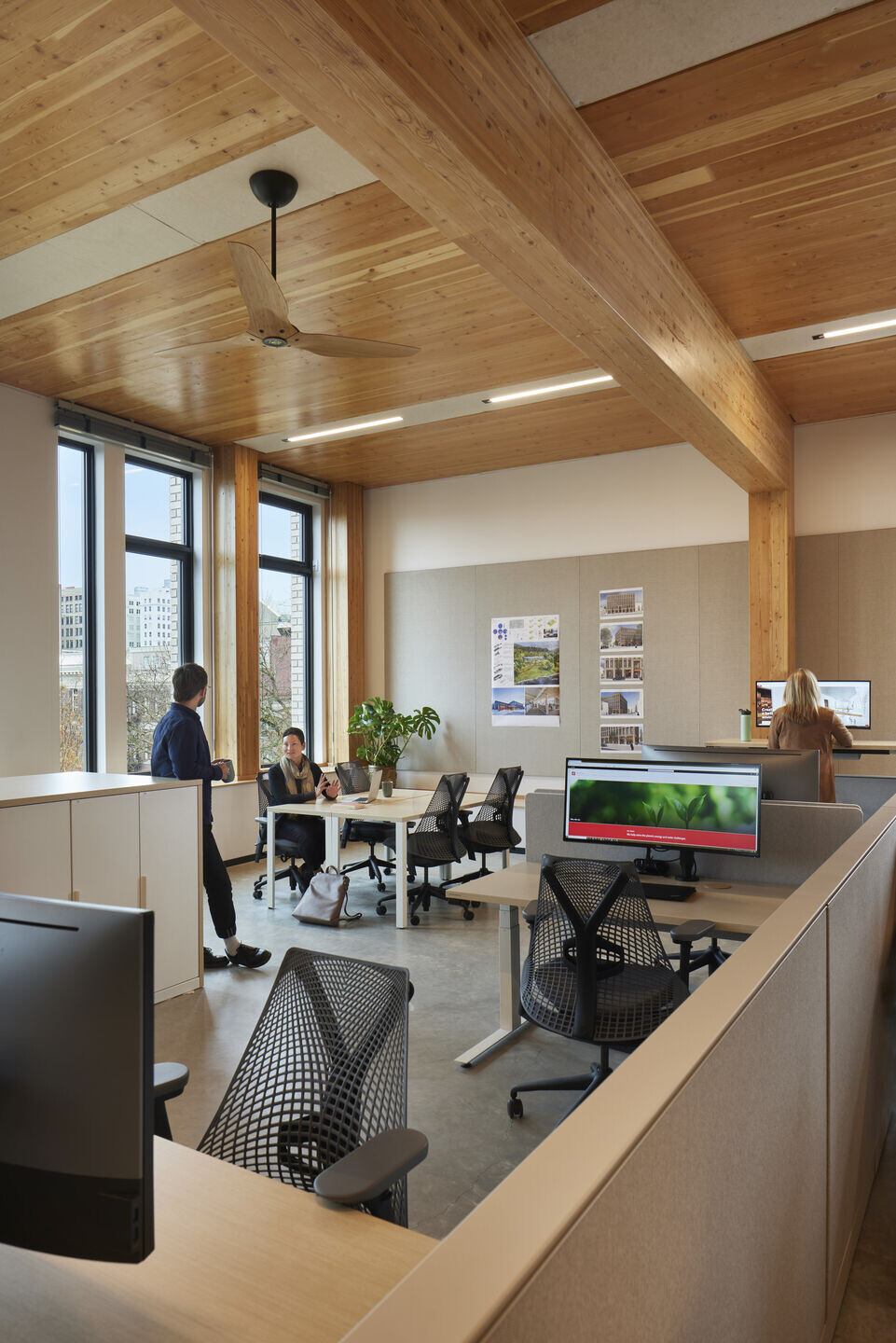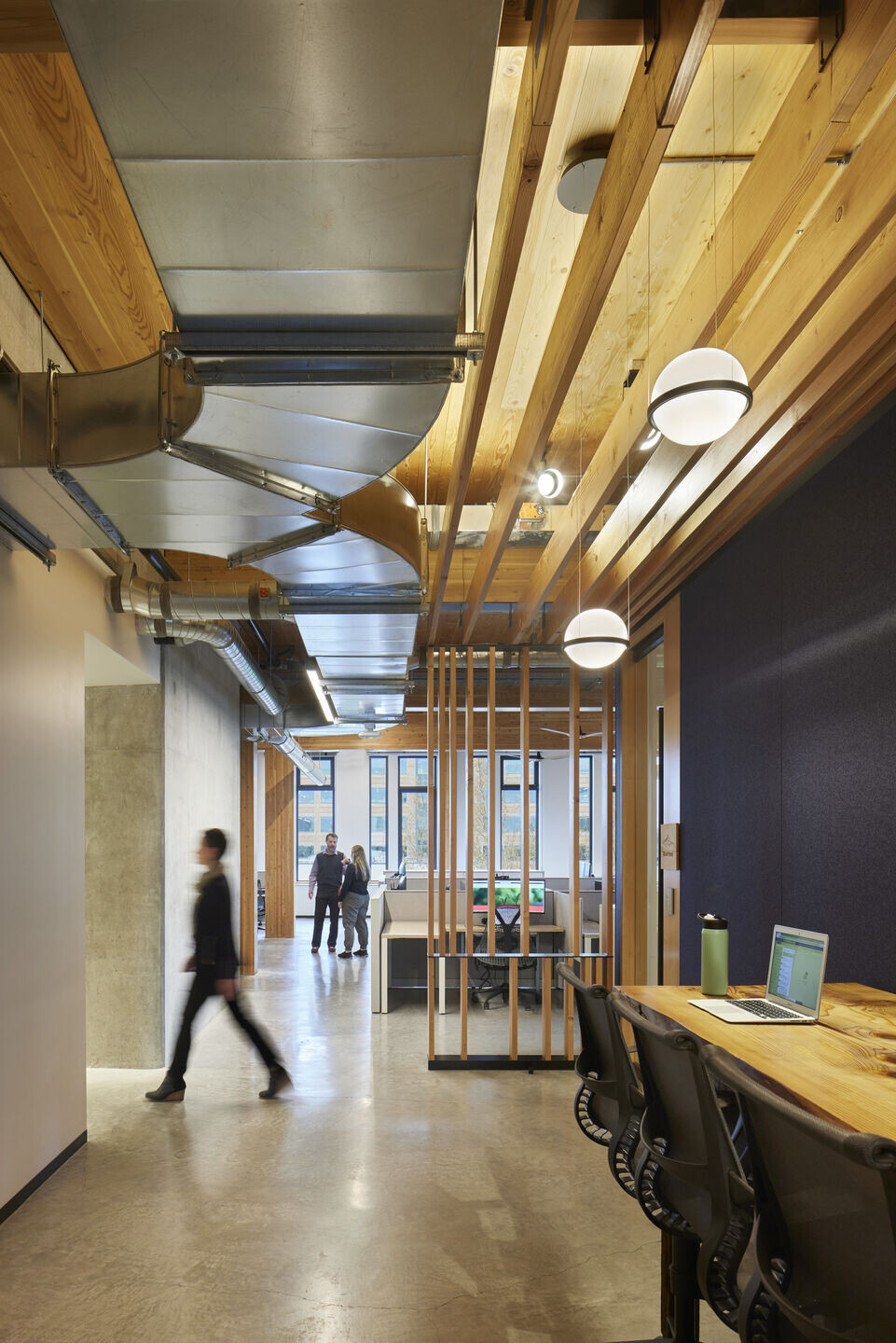 The aesthetic appeal of the building is rooted in its simplicity. Taking a pared-down design approach served multiple purposes – minimizing the number of exterior façade and interior finish materials that had to be vetted for Red List compliance while featuring the inherent beauty of the healthy and biophilic materials used inside.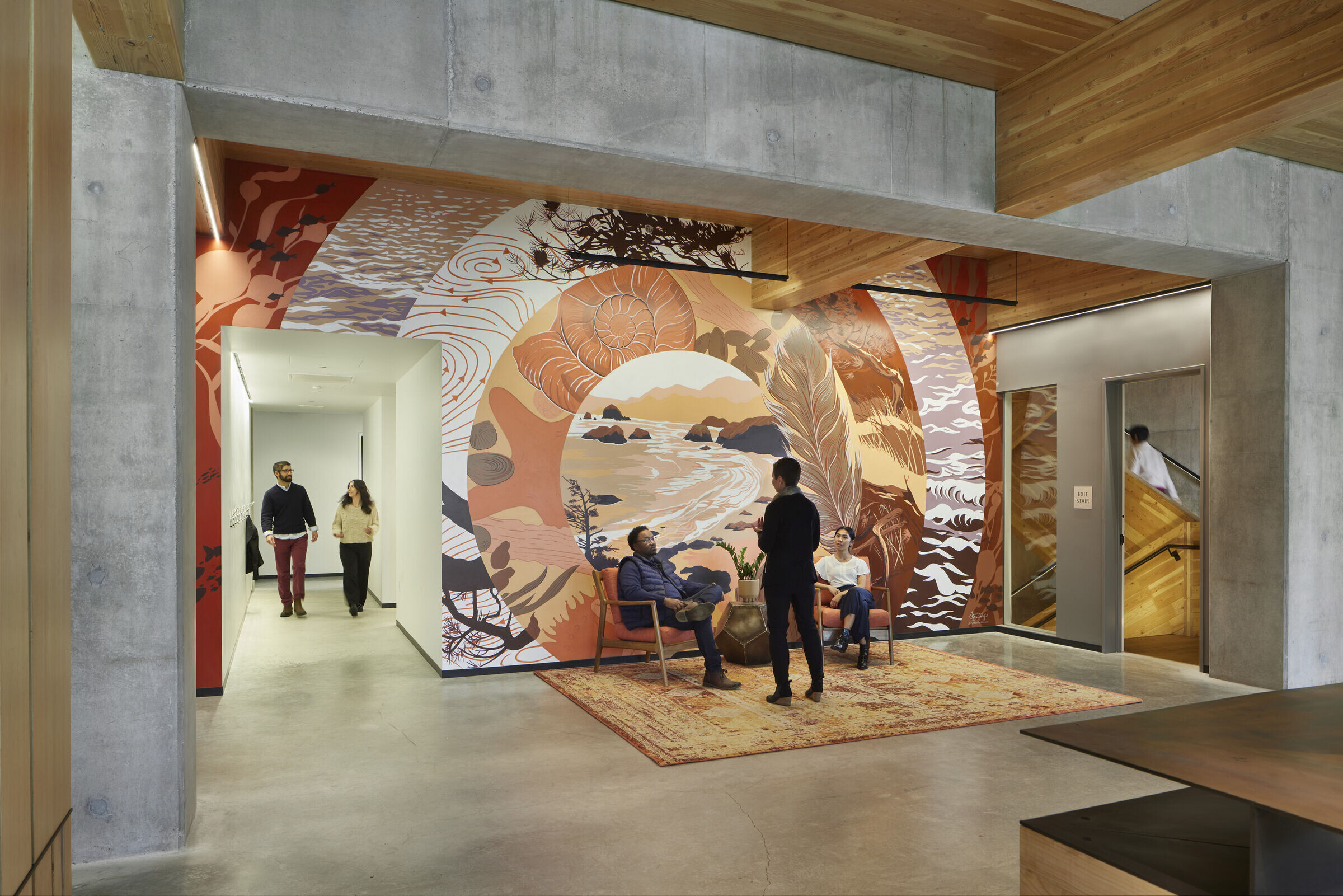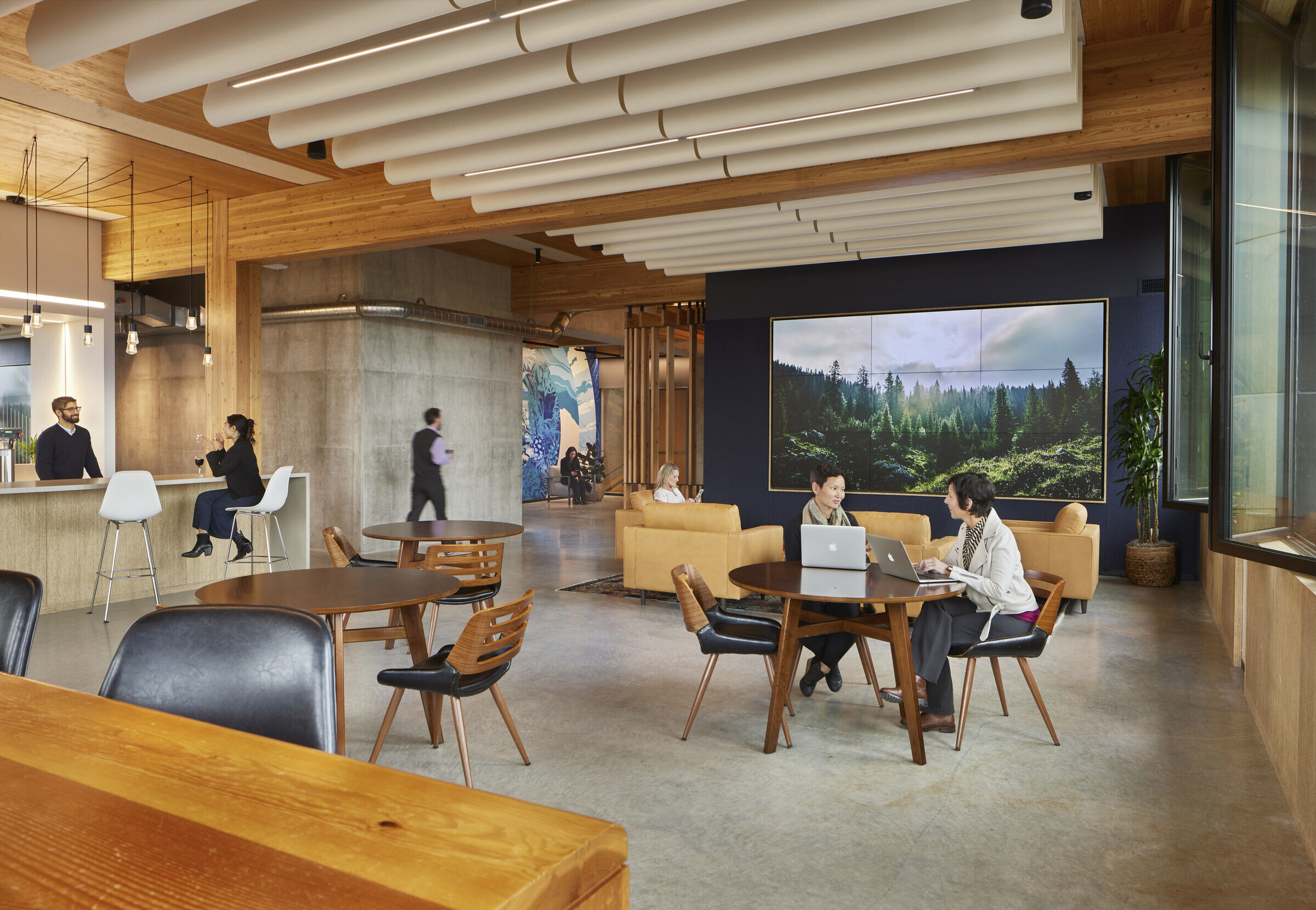 On the exterior, the material palette for the PAE Living Building gives nod to the surrounding Old Town Historic District, where brick, cast iron and heavy timber are the predominant materials. Inside are featured daylight, views, operable windows, filtered heat recovery ventilation, and other biophilic strategies. The durable mass timber structure, utilizing glulam and cross-laminated timber, reduces the project's embodied emissions by 30 percent. Exquisite Douglas fir is exposed everywhere – most notably in the cross-laminated timber (CLT) ceiling and the visible surfaces of the CLT support beams. Every PAE-occupied floor carries a distinct regional theme, expressed through colors, textures, and imagery. Separate but integrated murals grace the walls on the three levels occupied by PAE. Each mural follows a distinct theme drawn from nature, complementing the color palette for that floor and placed according to topography – from coastal to forested to alpine.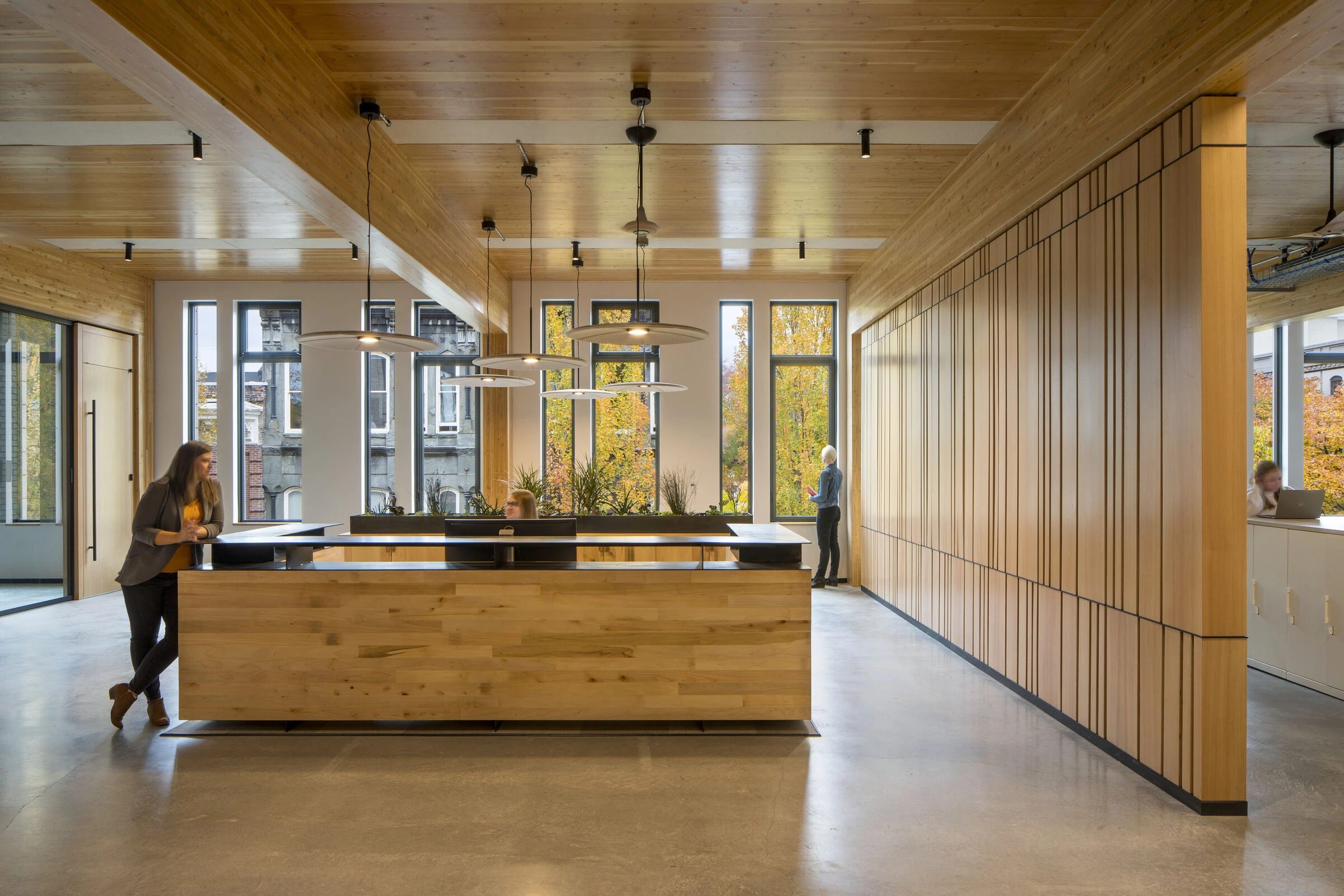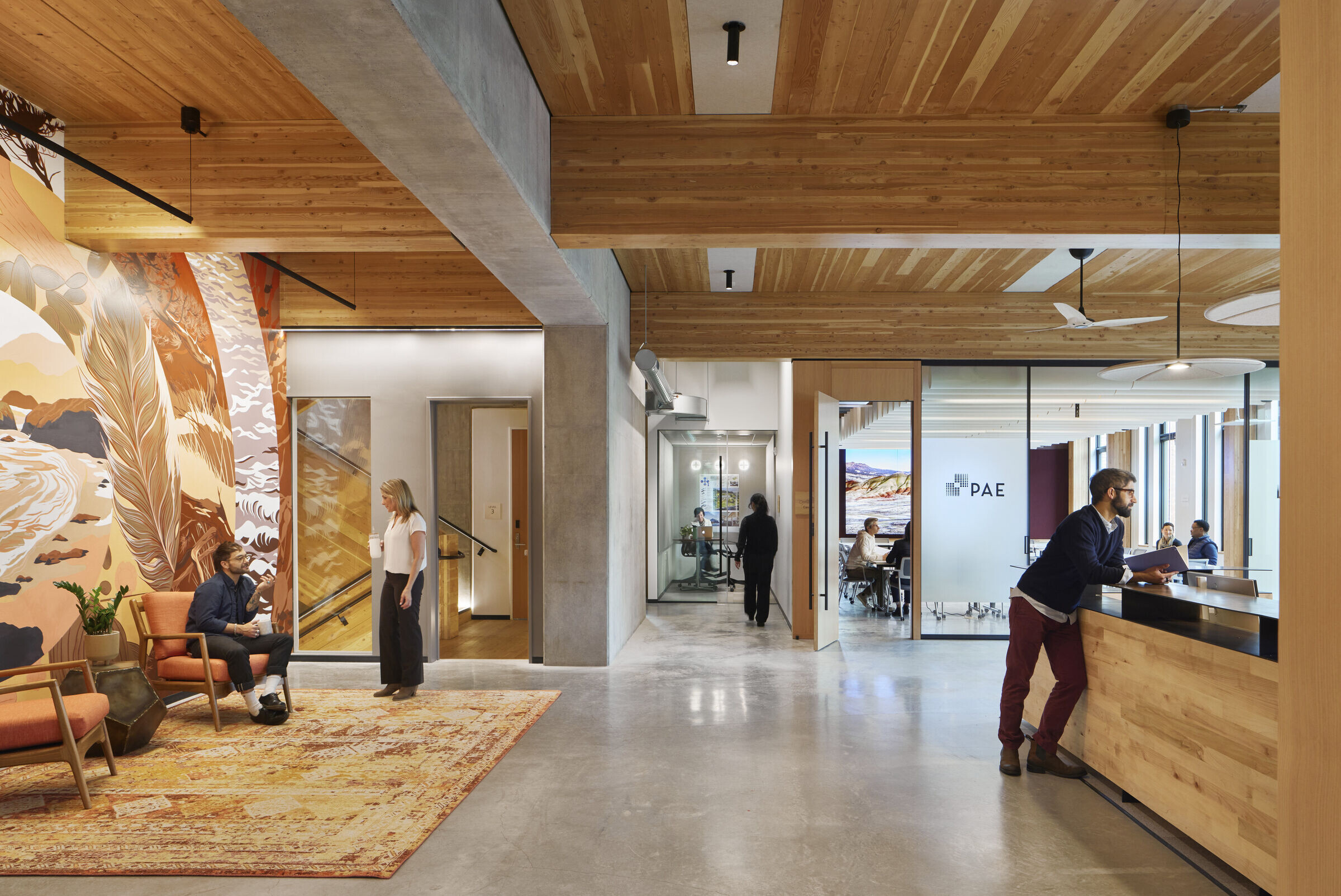 The dream of a Living Building as a corporate headquarters for PAE Engineers began in 2016. The firm's leadership sought an office that would embody their values and provide PAE employees with a healthy environment that improves the urban fabric of Portland. Just six years later, The PAE Living Building is doing just that.
It demonstrates how Portland buildings can achieve the city's 2050 target of 100 percent renewable energy nearly 30 years ahead of schedule. Innovations in the design and engineering of the building also provide pathways and solutions for other Living Buildings in the city. All the PAE Living Building's needs are met via onsite water capture, and onsite and offsite solar arrays. The onsite and offsite solar generate 110% of the energy needed to run the building. As one of the first buildings in Portland to install a PV-powered battery storage system that allows two-way connection to the city grid, the net-positive energy structure can truly give back to Portland.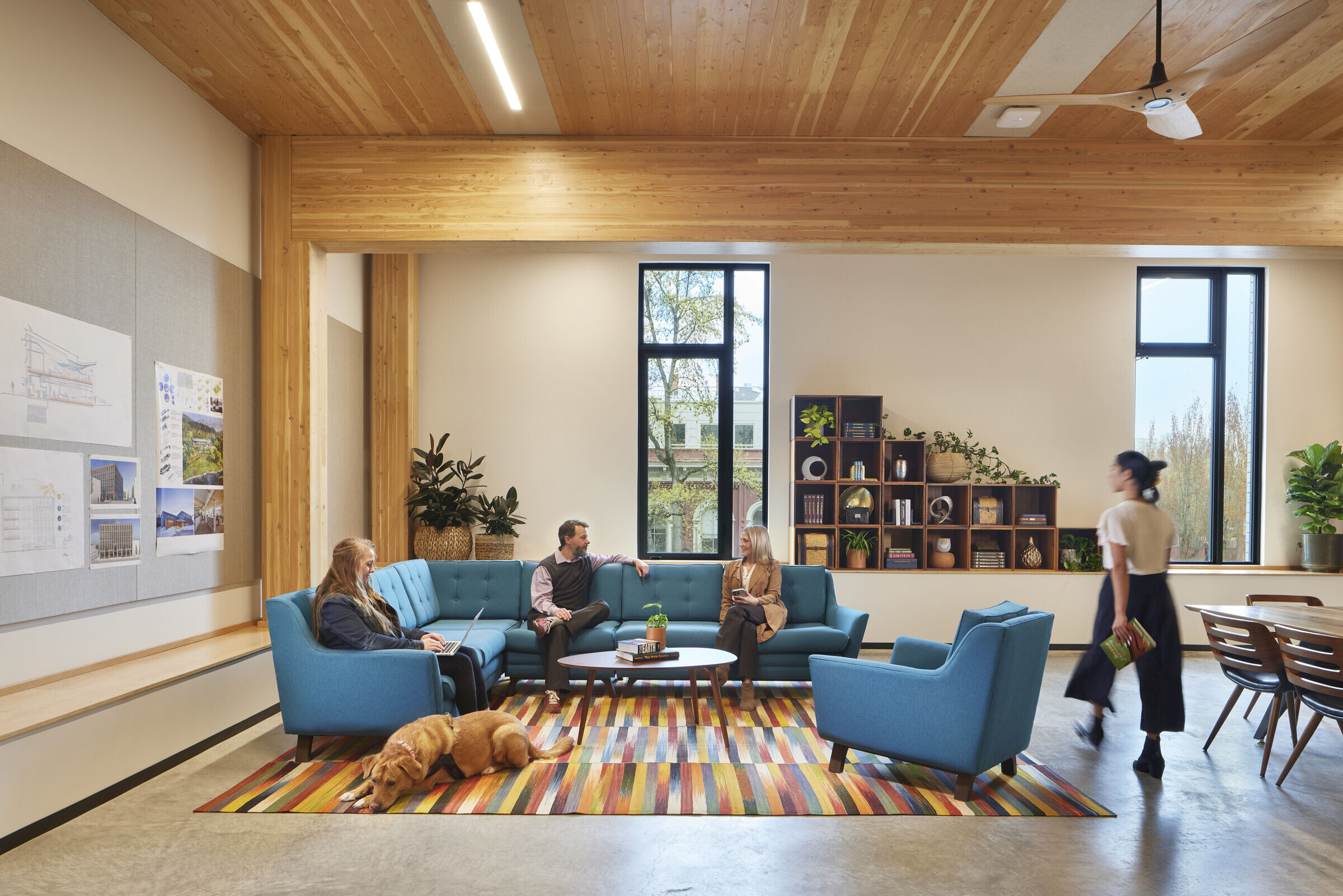 Critically, the building reveals how the built environment can achieve the deep and immediate carbon emission reductions required to mitigate the most severe impacts of climate change. It shows the world what a regenerative future can look like while providing the roadmap for how to get there.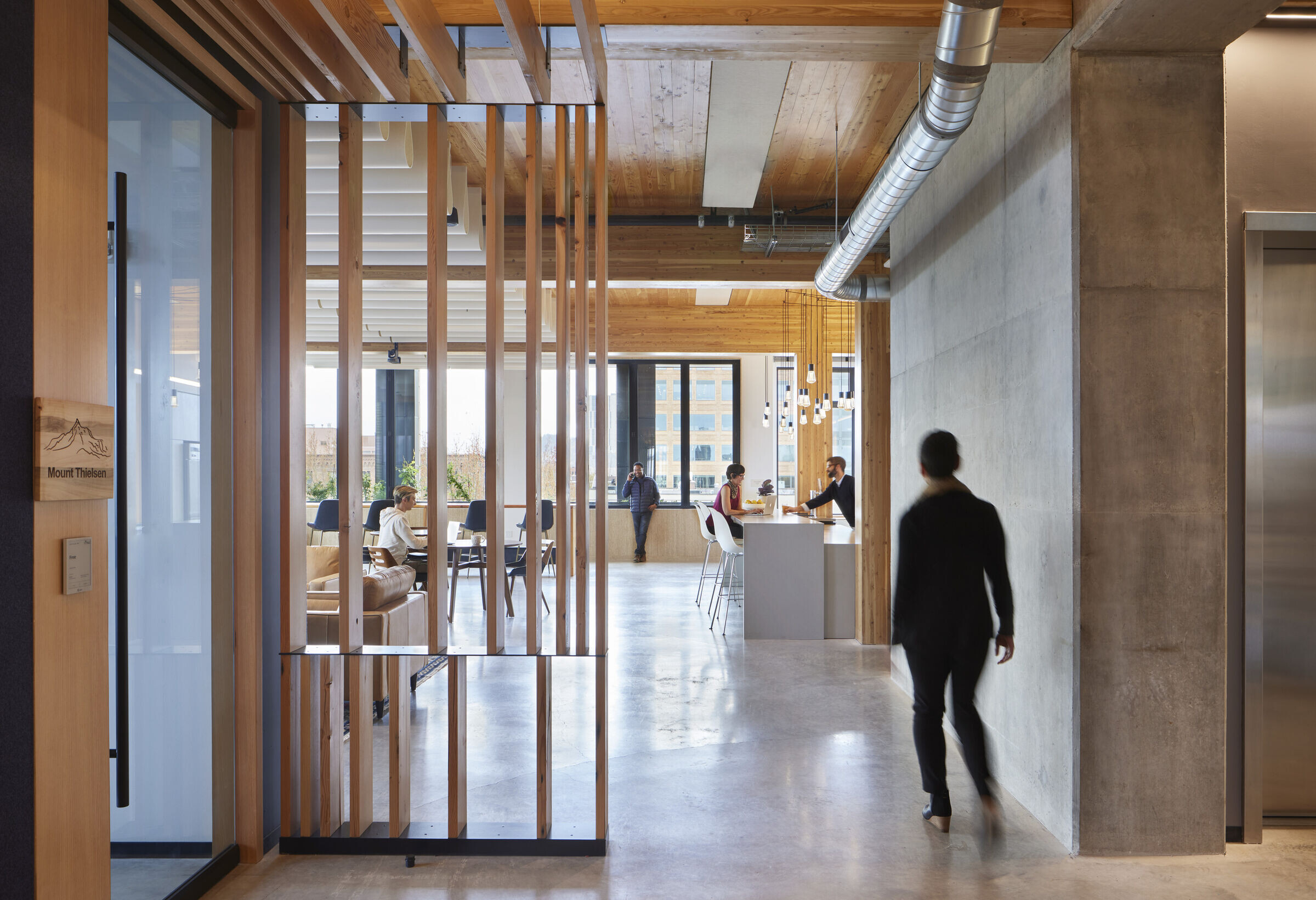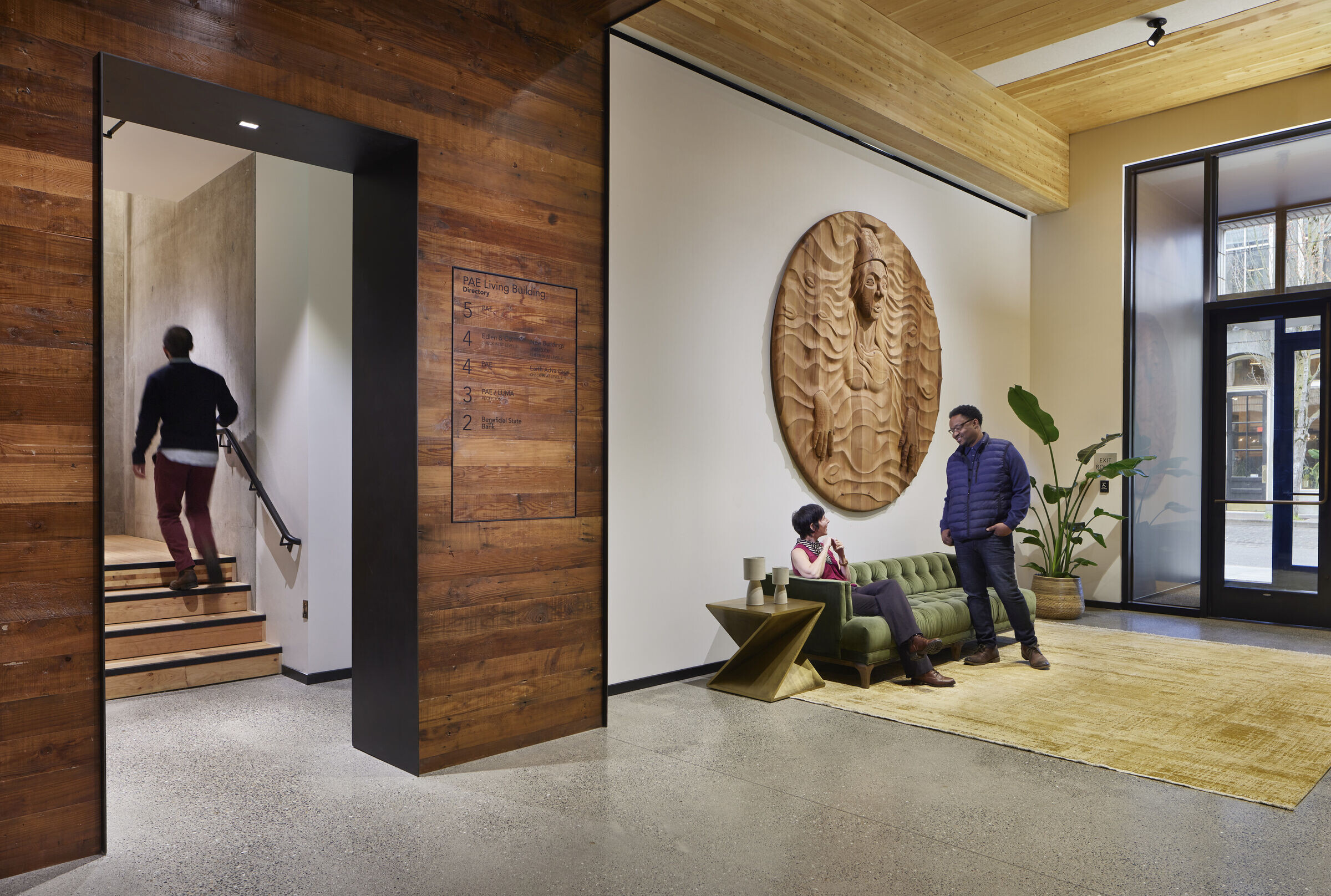 Team:
Architect: ZGF ARCHITECTS
Developer: Edlen&Co.
Contractor: WALSH CONSTRUCTION CO.
MEP Engineers and Technology design: PAE
Lighting Design: LUMA
Structural and Civil Engineer: KPFF
Real Estate Partner: APEX REAL ESTATE PARTNERS
Landdowner: DOWNTOWN DEVELOPMENT GROUP
Red List Materials Research: BRIGHTWORKS
Sustainability Water Treatment (Rainwater and Composting): BIOHABITATS
Photographers: Benjamin Benschneider, Lara Swimmer
Materials used:
Facade cladding:
Norman Brick Veneer - Mutual Materials
Metal Panel, Sherwin Williams Fluropon Pure coating
Flooring:
Polished Concrete, Consolideck LS/CS, Prosoco
Carpet (Office), Opposite 817, Modulyss/Bentley
Carpet (Vestibule), Flor Anthracite, Interface
Walk-Off Grating, Design Track Foot Grille, Mats Inc.
Resilient Base, Thermoset Rubber, Tarkett
Rubber Tile, Tuflex Spartus, Roppe
Elevator Tile Flooring, Fusion Sintered Stone, Neolith
Doors:
Hollow Metal Doors, Curries/Assa Abloy
Flush Wood Doors, Oregon Door
Framed Glass Storefront Doors, AA425, Kawneer
Sliding Glass Single Door, Rollglass 100/150, KleinUSA
Sliding Glass Double Door, S42 Series S1200, Raumplus NA
Door Hardware:
Assa Abloy
Windows:
Fiberglass Windows (Casement, Fixed, Awning), Universal Series, Cascadia
Operable Folding Wall, SL70, NanaWall
Storefront, Trifab 601UT w/ Glassvent UT, Kawneer
Fire Rated Exterior Windows, Fireframes Curtain Wall Series, TGP
Window Covering:
Venetian Blind by Warema, C 80 AF, Draper
Glazing:
Double Glazed IGU, LoE 366, Cardinal Glass (Used with Cascadia Window System)
Double Glazed IGU, Solarban 72 w/ Acuity, Vitro (Used with Kawneer Storefront and NanaWall Systems)
Fire Rated IGU, Pilkington Pyrostop 60-361, TGP (Used with TGP Fireframes System)
Roofing:
TPO Roofing, FleeceBACK, Carlisle Syntec Systems
Ceiling:
Acoustical Panel Ceiling, Optima PB, Armstrong
Direct Mount Acoustic Panel, FSorb
Acoustic Baffle, Drop, Turf
Mirrors:
Toilet Room, Infinity Wall Mirror, Room&Board
Interior Walls:
Fabric Wrapped Acoustic Panels, Divina Melange, Kvadrat/Maharam
Fabric Wrapped Acoustic Panels, Xorel Dash, Carnegie
Metal Panel, Blackened Stainless Steel, Hanset
Reclaimed Wood Cladding, WOW Wall Cladding, Salvage Works
Reclaimed Wood Screens, Custom Salvaged Beams, Endurawood
Tile, Crackle Collection, Ann Sacks
Tile, Made Elements Field, Ann Sacks
Tile, Bottega Caliza, Porcelanosa
Tile, Biolith, Biomason
Interior Millwork:
Maple Veneer Plywood
Solid Vertical Grain Fir
Vertical Grain Fir Veneer Plywood
CLT OSB Panel, Second Story, Sankofa Lumber
Solid Surface Vanity/Sink, Krion, Porcelanosa
Quartz Countertop, Santenay Honed, Pental
Solid Surface Countertop, Carbon Concrete, Corian
Toilet Accessories:
Various products, Bobrick
Coat Hooks, 4 Hook Vasco, Blomus
Interior lighting:
Axis Beam 2, Axis Wall Wash Perfekt, Axis Air, Axis Skyeplane
ALW MoonRing Ellipse, ALW Superplane 2.5
A.Light Accolade D4
Vode WingRail, Vode BoxRail, Vode Zip One
Electric Mirror Eyla
Pure Edge Tie Stix
Kelvix Linear LED Tape
Lindsley Reed
USAI Micro, USAI Beveled Mini
Amerlux Fino
Rich Brilliant Willing Mori Seed
Lightolier Track and Alcyon LLAH Cylinder
Vibia Palma
Tech Lighting Alva Pendant
Unika Vaev Abstracta Lily
Insight Pilot PGM
Interior furniture:
Herman Miller
Wood Structure:
Cross-laminated Timber Panels, Structurelam
Glue-laminated Columns and Beams, Structurelam
Ceiling Fans:
Haiku, BAF