Located in the Four Seasons Hotel, the brief from leading hospitality group Bulldozer, was to develop the Scalini brand, creating their first ever venture outside of the UK. Throughout the years Scalini has maintained its high-end food offering and welcoming interiors to international celebrities alike. Founded by two brothers in 1960s London it has continued to maintain the high standards of cuisine, experience and offering. Renowned as a celebrity favorite, it was essential that we created the same desirable atmosphere loved by many. Dubai was to witness a new evolution to this already well-established brand, maintaining its authenticity yet appealing to the local region.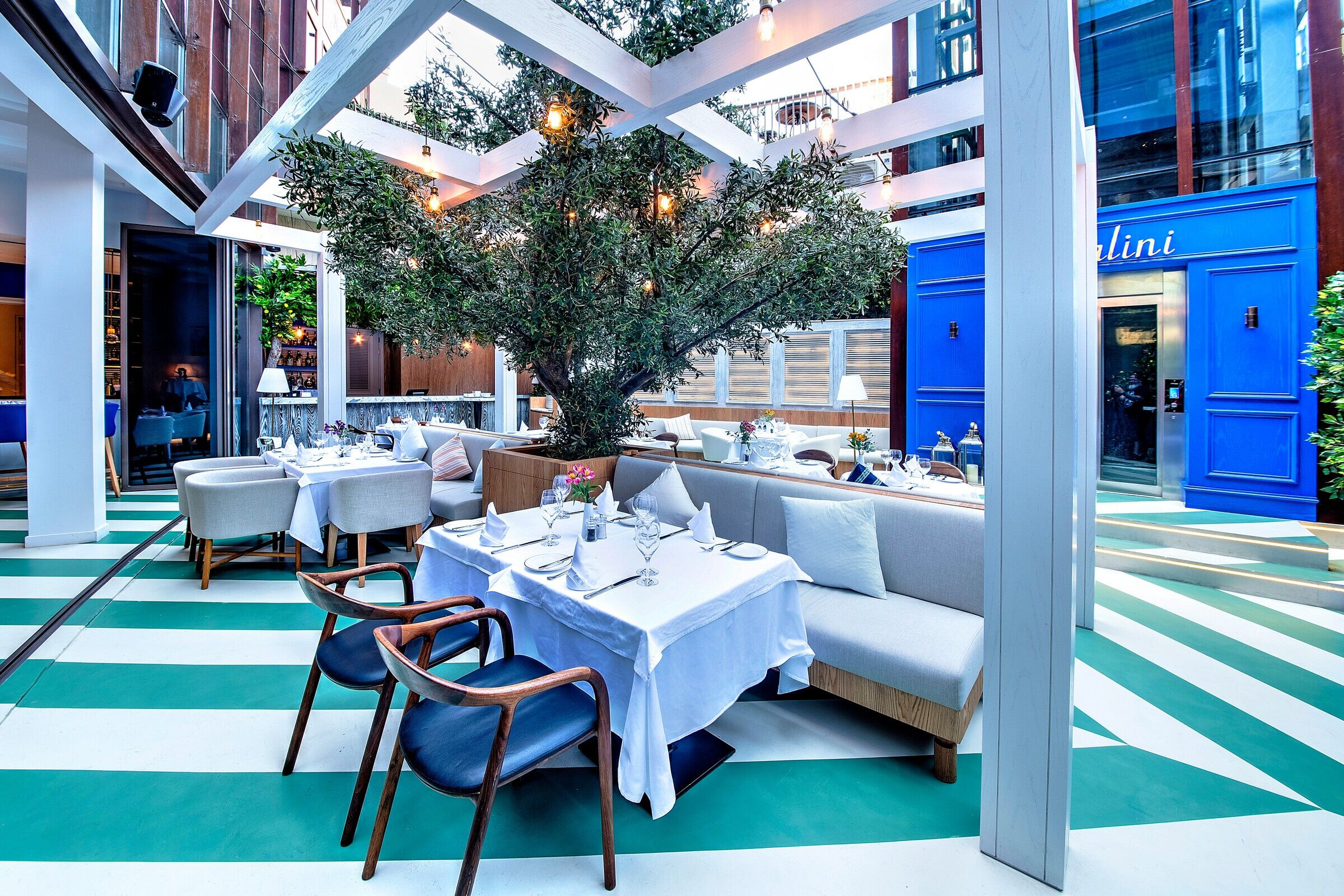 Envisaged to have an innovative refreshing palette and colour scheme, the venue was to be evocative of a southern Italian coastal vibe.
The venue itself features an exquisite external dining opportunity, dedicated lounge and bar - offering up the finest of mixology, along with a showcased kitchen and a variety of seating options that allow for the creation of dynamic sight lines within.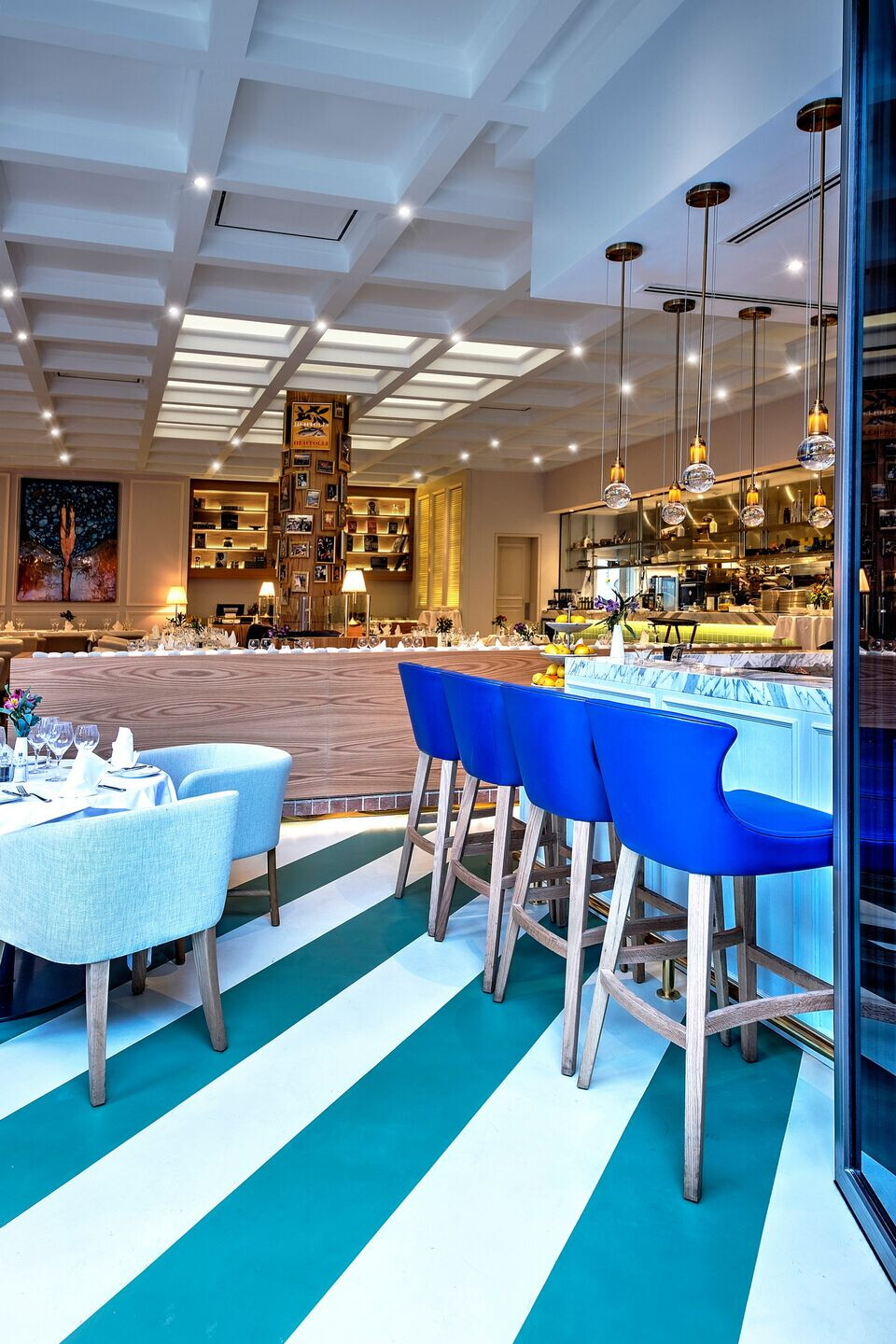 The interiors are refreshing, clean and contemporary, however finely detailed, combining the use of natural inherent materials harmoniously balanced with new innovative solutions without ever compromising its integrity to design nor to its humble beginnings. The full fit-out budget was applied to the delicate use of linen for the upholstery as well as the bespoke shelving and paneled walls adorned with curated artwork, creating an atmosphere of exquisite details, pure refined elegance and comfort, adding to the venue's approachable character. The venue itself is versatile in its spatiality allowing for multiple dining scenarios to be undertaken, from private, semi-private and shared areas.
Deep aqua marines seamlessly morph into a candy stripe of orange and white, harmoniously balanced with natural rustic and white-washed woods and an authentic terracotta flooring, evoking memories spent by the sea – sumptuously beautiful, elegantly refined, calming, and ultimately appealing to the end user. The handmade reclaimed terracotta tiles were applied in differing flooring solutions across the internal dining space.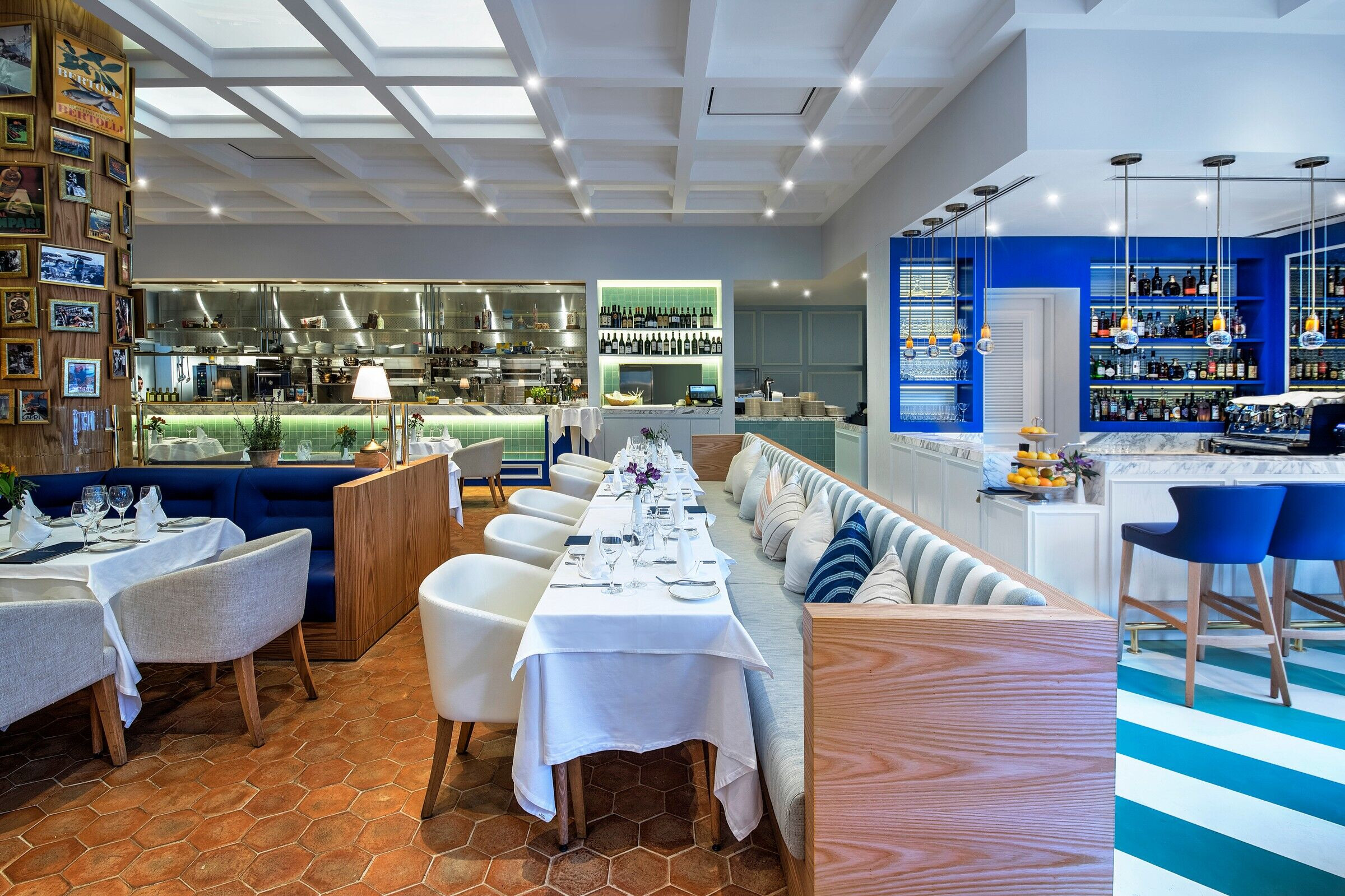 The outside terrace is an enchanting environment, with lighting and furniture utilized in a way to feel incredibly intimate. A setting to enjoy one's evening within a harmonious and relaxed atmosphere, or rather the perfect transportation into the captivating dining destination within. Moreover, this area was thoughtfully carved from an obsolete and unwelcoming inherited space into a memorizing and fully functional external realm.
Scalini brings the authenticity of its beginnings yet has evolved to accommodate the current needs and trends of Dubai's elite, socialites and foodies, perfectly meeting the brief set out at the onset. Scalini brings a sense of London, Italy and its respected traditions to Dubai's ever diversifying food scene. A truly heritage enriched experience created through the exceptional hospitality service passed on through generations and southern Italian coastal interiors, there's no other destination which would deliver this complete package.
Scalini is expanding across the Middle East, with Bishop Design as the dedicated interior design consultants.