The Salem Health Rehabilitation Center was previously located on the hospital's Center Street campus, two miles from the main hospital. The opportunity to move the center to the main campus came in 2010 when the hospital's neighbor, the Oregon School for the Blind (OSB) became available. Salem Health purchased the property and began developing a plan for the property.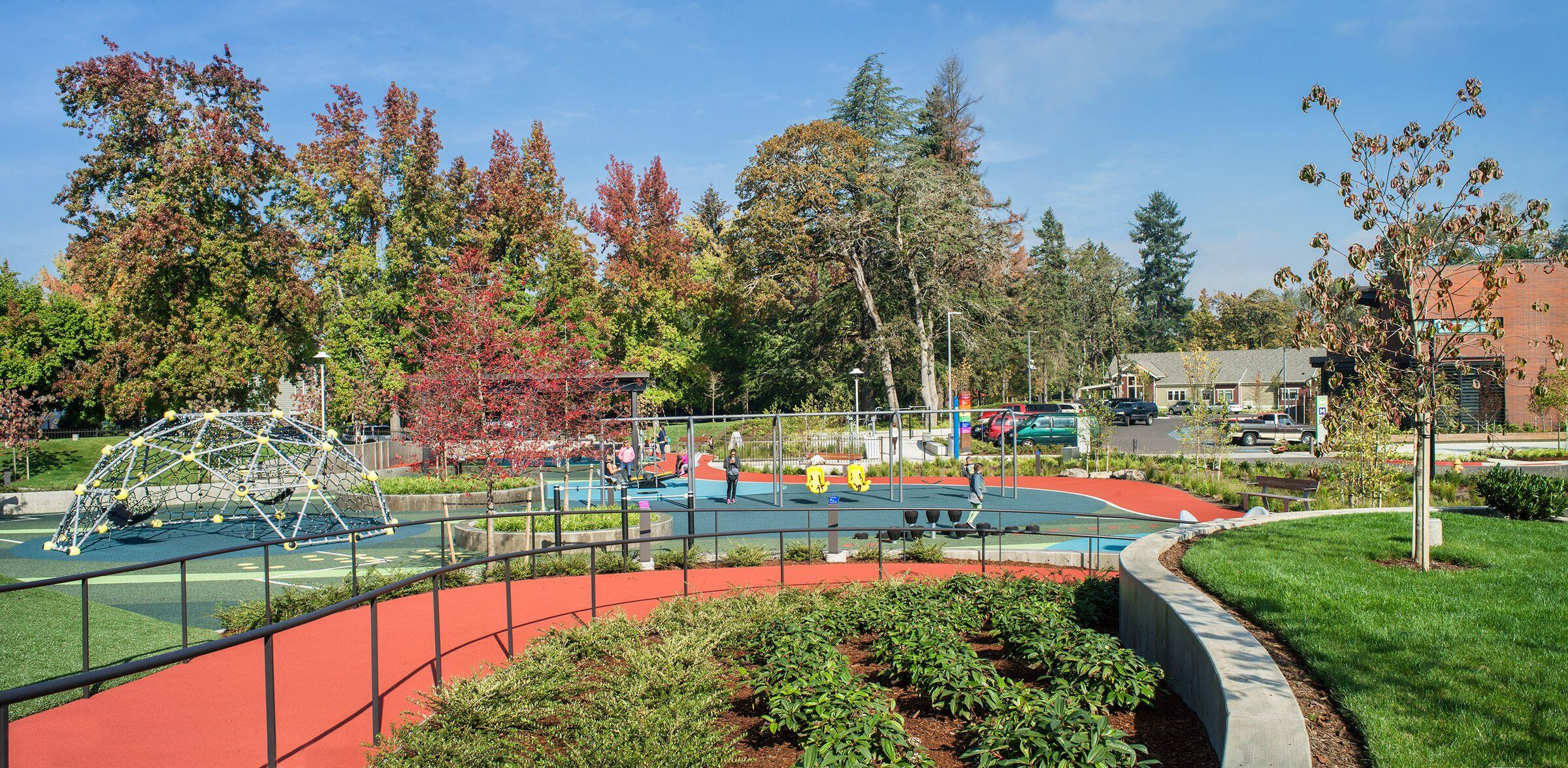 Developing this plan for the site did not come without its challenges. The OSB had many buildings, all in varying degrees of decline, and the site is adjacent to a historic neighborhood. The design team and hospital spent several months working with the neighborhood and OSB alumni to develop a building that responded to their concerns. In addition, the NW portion of the site was within a flood plain and had several Oregon White Oaks, a protected tree in Salem, that would need to be considered.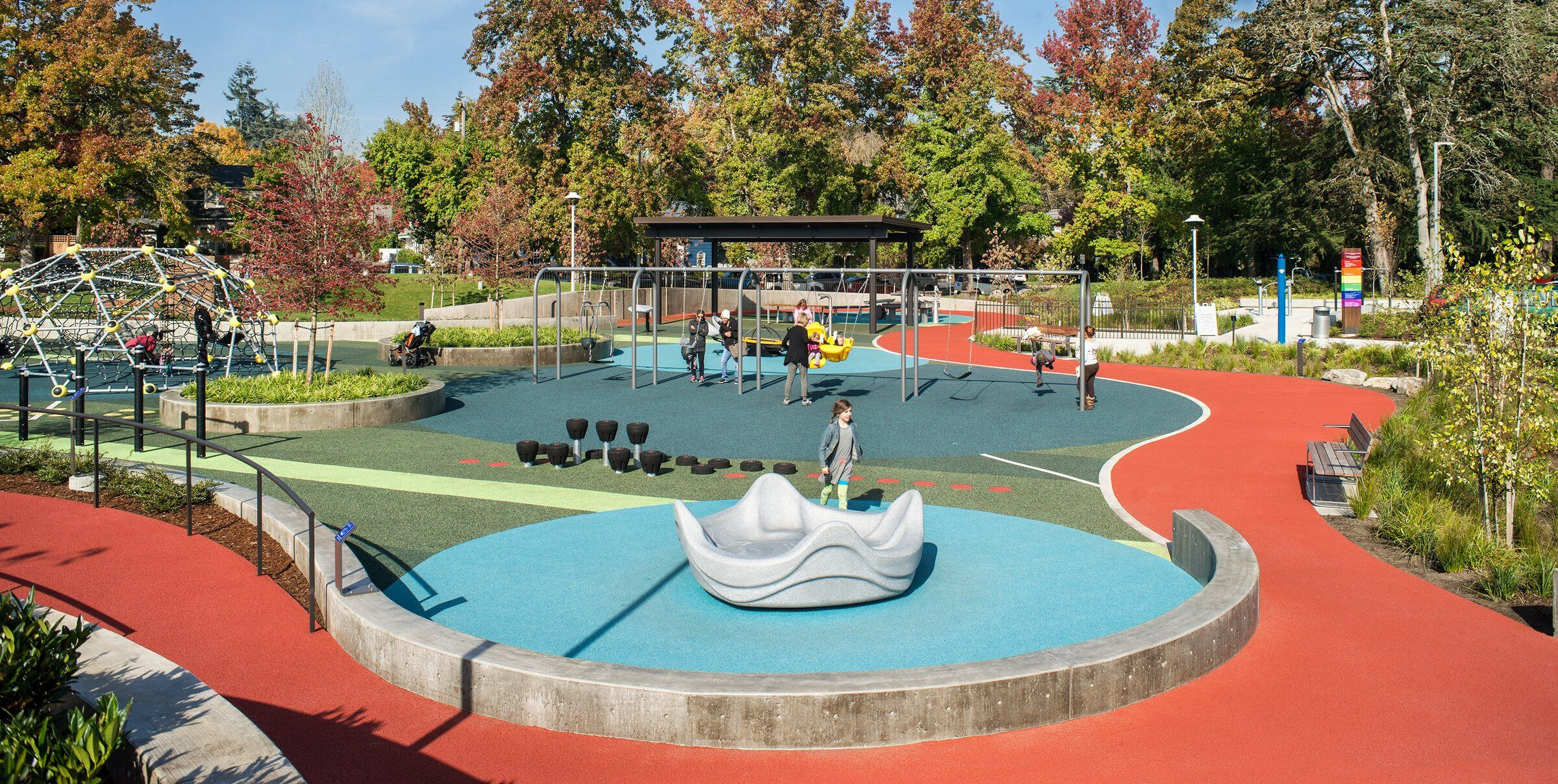 The new center needed to preserve the park-like environment and serve patients needing various forms of therapy. Much time was spent working with the staff to identify the appropriate therapeutic adjacencies. The staff are passionate about their patients. They want patients to feel that they are no longer in a hospital and have "graduated" from the inpatient rehab center, well on their way to recovery and self-sufficiency. The final design of the building stays true to this request. The hospital wanted the building to be seen as a "sculpture in a park". Subsequently, the building is curved with a two-story glass-filled lobby to welcome patients.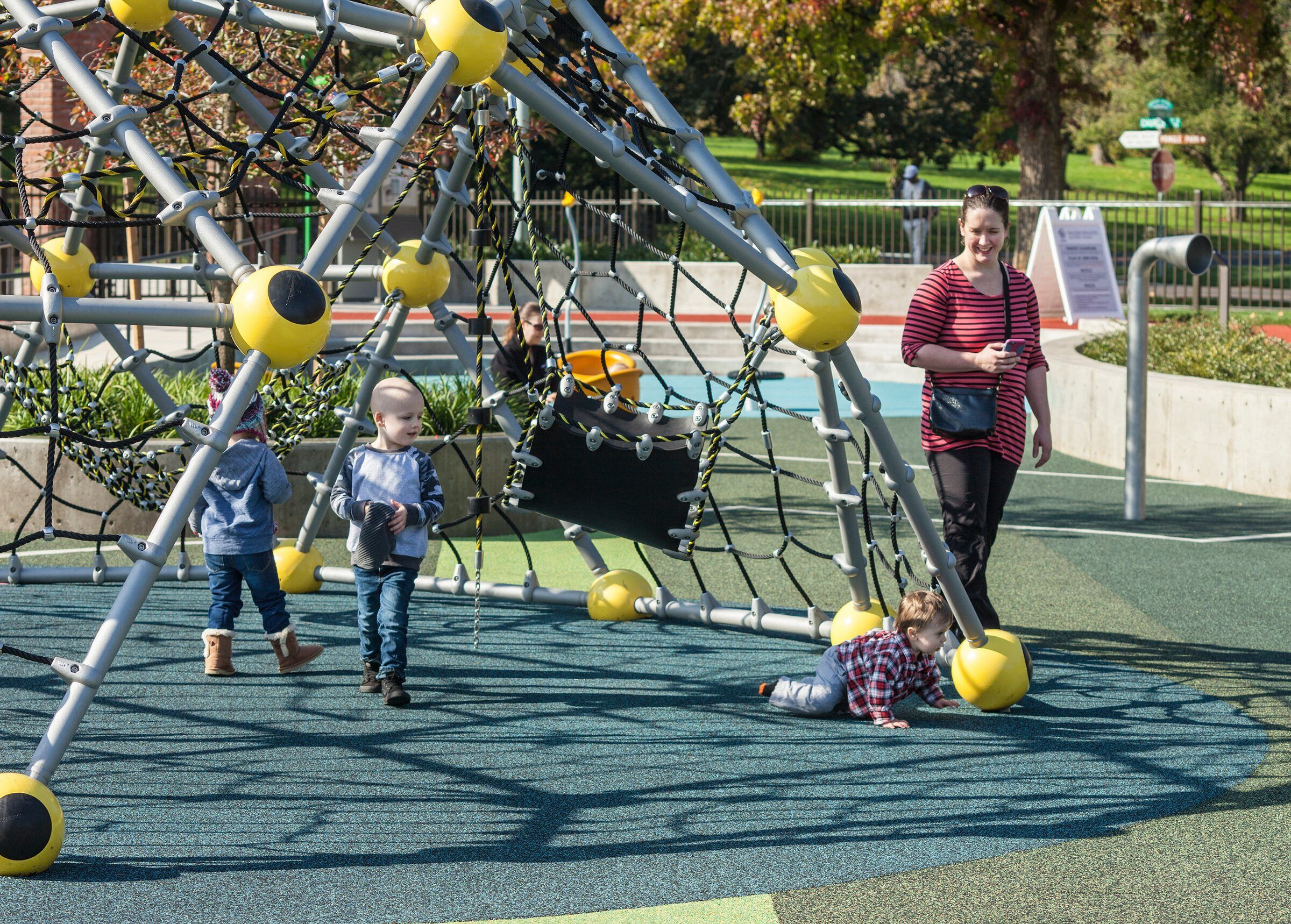 The curved design strives to acknowledge that not everything in life is straight, and not everything is designed for people facing physical challenges. We understood that if the building removed all challenges, it would not provide the real-world therapy needed to move toward self-sufficiency. The building's design offers opportunities to challenge and support patients during their therapy. These include dual-height handrails, areas for respite using wood benches created from the trees removed from the site, fatigue-resistant gym floors, and floor patterns designed for gait training. The main lobby features a full curtainwall, polished concrete floors, and staircase treads made using the site's White Oaks.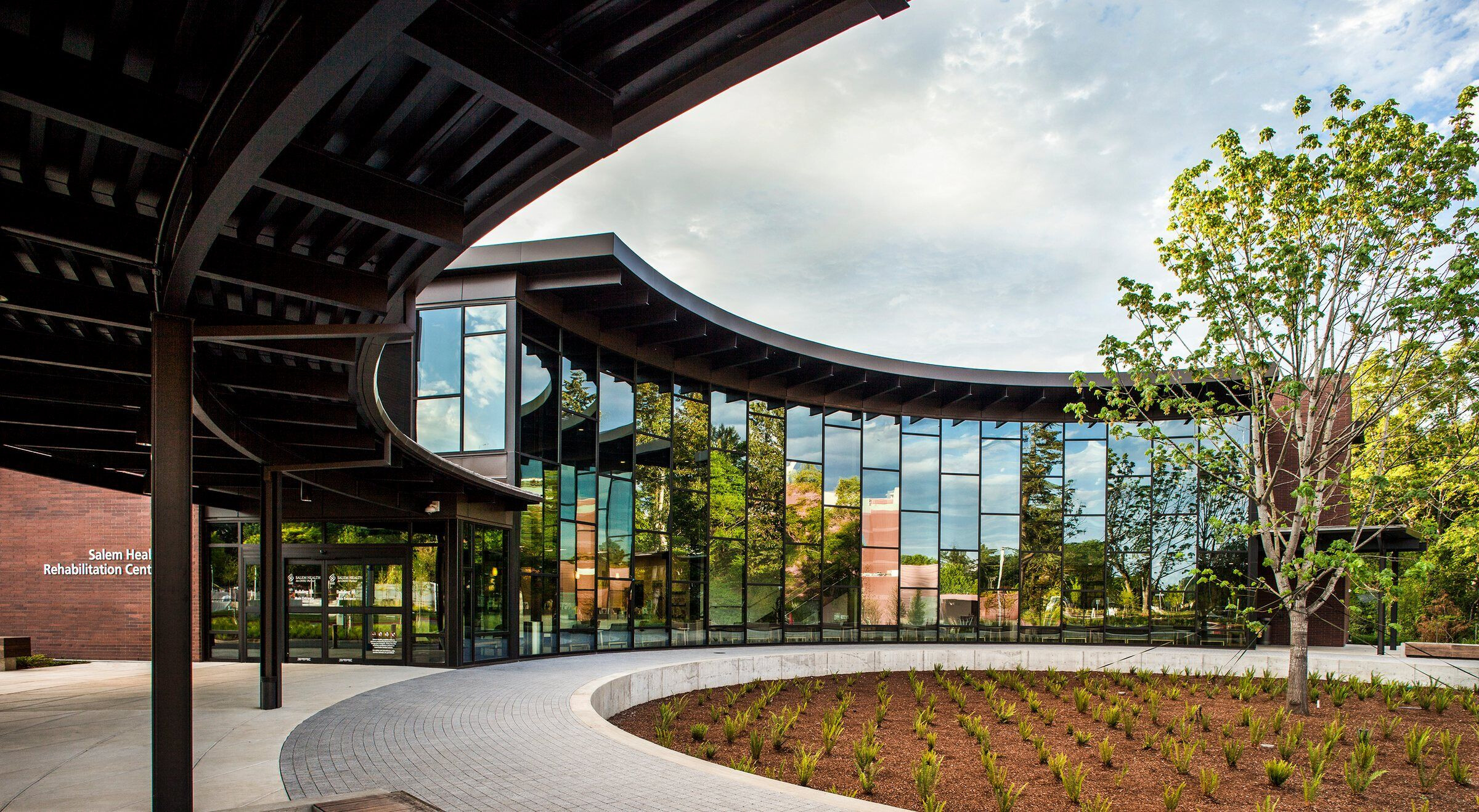 The rehab gyms are designed for departments to share equipment and to allow for future growth. The floorto-ceiling windows in the adult gyms help bring the outdoors in. The pediatric gym features a chalkboard wall, specially designed swing structure, tricycle parking, and a rock-climbing wall. The Aquatic Therapy department is designed for many different age groups. The details of the pool room help create the ultimate therapeutic environment through elements like full-height windows with privacy etching, moisture resistant wood cubbies, and an acoustic metal deck. Special features of the pool include a stepped pool floor and handrail that extends the full perimeter of the pool. The site also features the Let's All Play Place, an allabilities playground designed for pediatric therapy.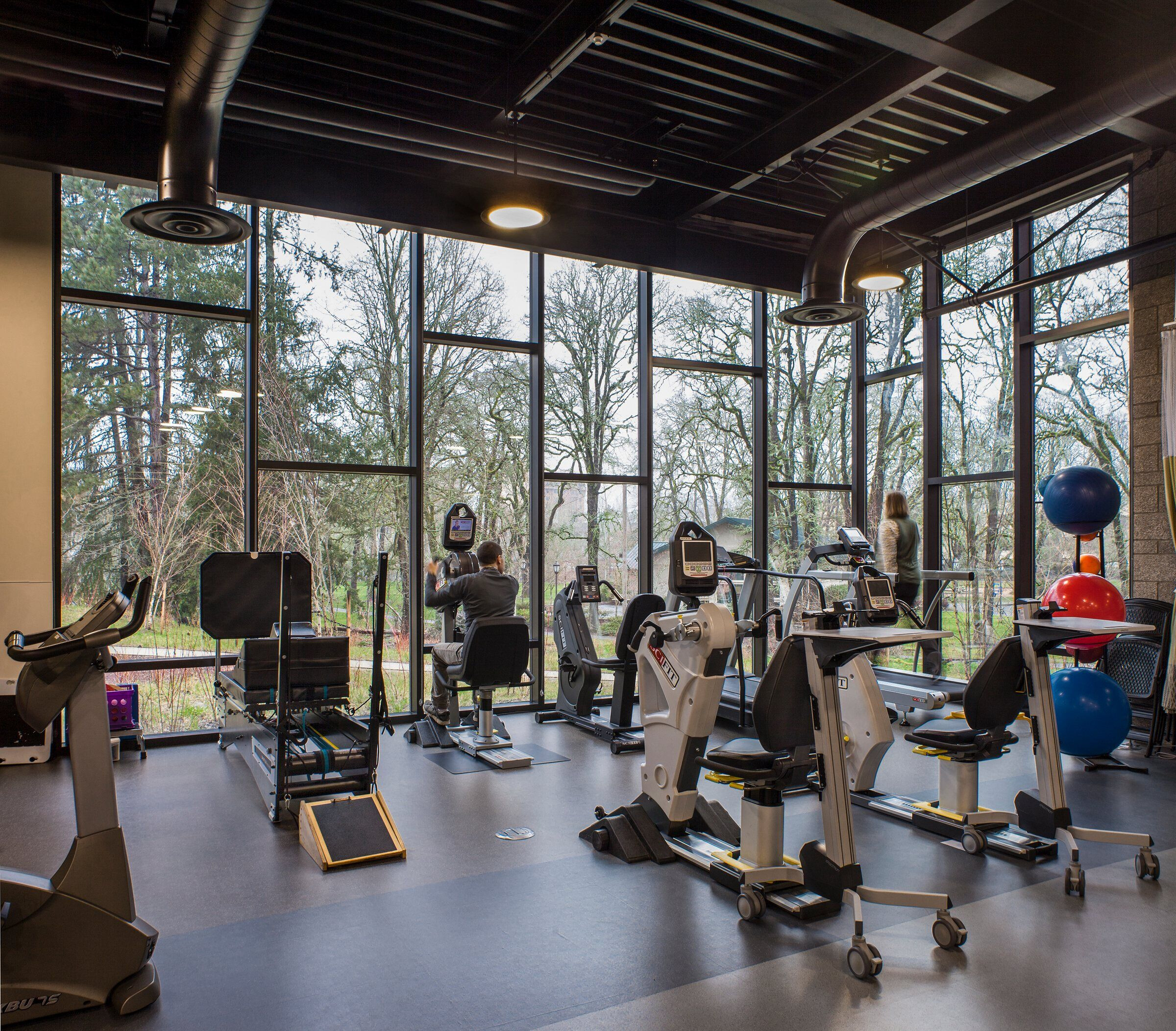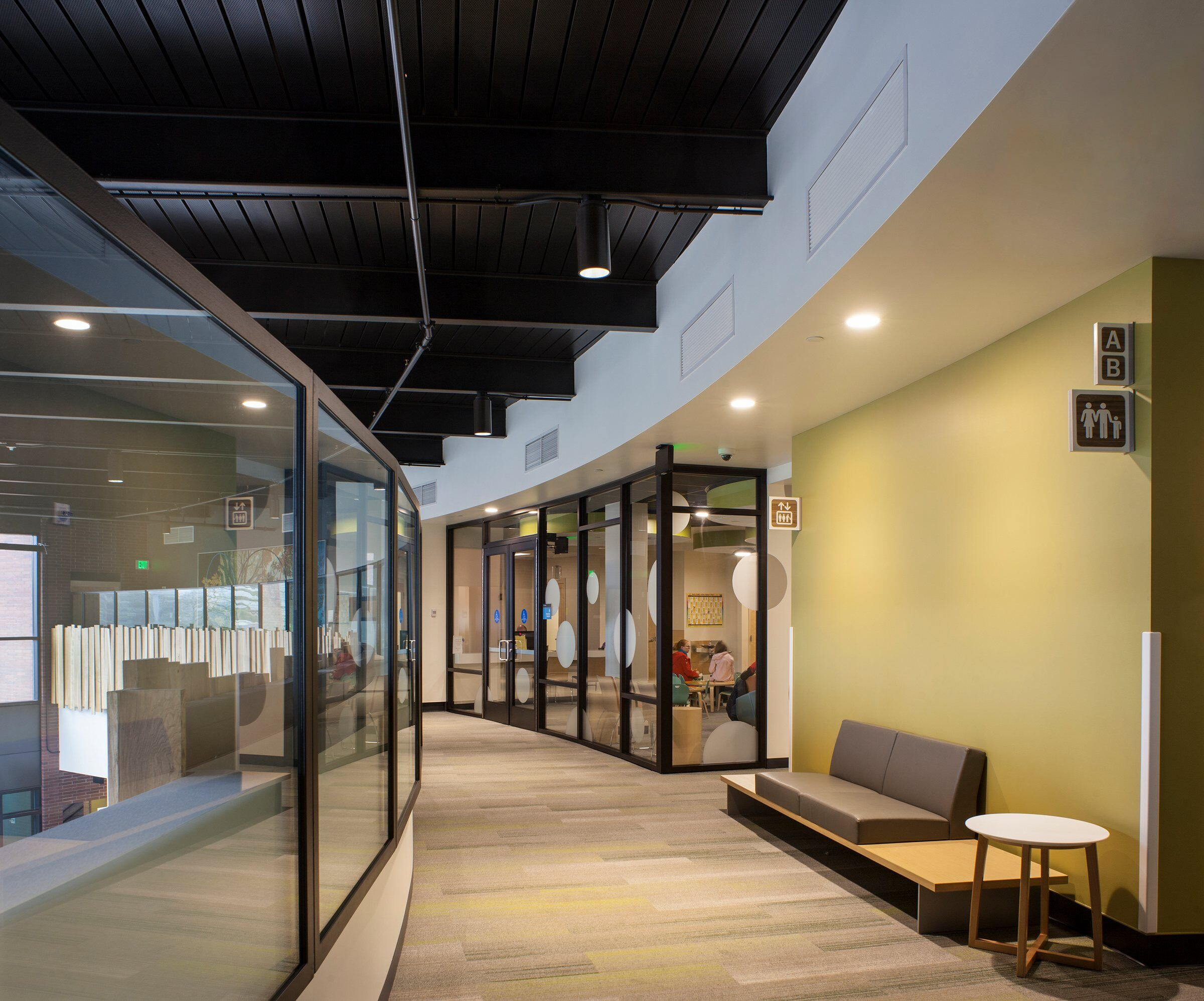 Material Used :
1. Facade cladding:
CMU – Willamette Graystone CMU Ground Face Natural,
Norman Brick - Interstate Brick – Mountain Red
2. Flooring:
Rubber Flooring: Mondo 6MM Sport Impact
Carpet Tile: Interface, Silver Lining, color: Mica Fade & Mica Line
Carpet Tile: JJ Flooring, Kinetex, Flash, color: Verde
Carpet Tile: JJ Flooring, Kinetex, POP, color: Verde
Luxury Vinyl Tile: Amtico, Wood Collection, Color: Fused Birch
3. Doors:
VT Industries wood doors Grade A Plain Sliced White Birch Book
Stanley Duraglide 300
4. Windows: Kawneer 601T Storefront, 1600 System 1
5. Roofing: Johns Manville JM TPO – 60 Mil, Invinsa Roof Board, Securock, ENRGY 3, Tapered ENRGY 3
6. Tile: Wall Tile: Royal Mosa, Mosa Murals Color: Dark Anthracite #1 and #3
7. Interior lighting:
Cooper Lighting, Metalux; Bartco BSS210; Cooper Lighting – Portfolio LCR6A;
McGraw-Edison TT Toptier LED
Interior furniture: Task Chairs: Steelcase – Reply
Waiting Room Chair: Encore, Fling
Lobby Lounge Chairs/Sofa: Coalesse, Passerelle
Check-in Chairs: Stylex, Paz