After establishing several successful restaurant concepts in Las Vegas, Holly and Shawn McClain of the McClain Group set their sights on their home base, Detroit. They engaged local firm McIntosh Poris Associates to design a street presence and interiors for Olin Bar & Kitchen, a new Mediterranean-American Brasserie located in Downtown Detroit. Olin is at once a cozy neighborhood hang-out and a sophisticated dining destination. It simultaneously captures the history and modernism of the city through a balance of upscale industrial finishes and eclectic design choices. The result is a fun and funky restaurant space that attracts both locals and out-of-town guests who prefer a local dining experience in an era inundated with chain concepts.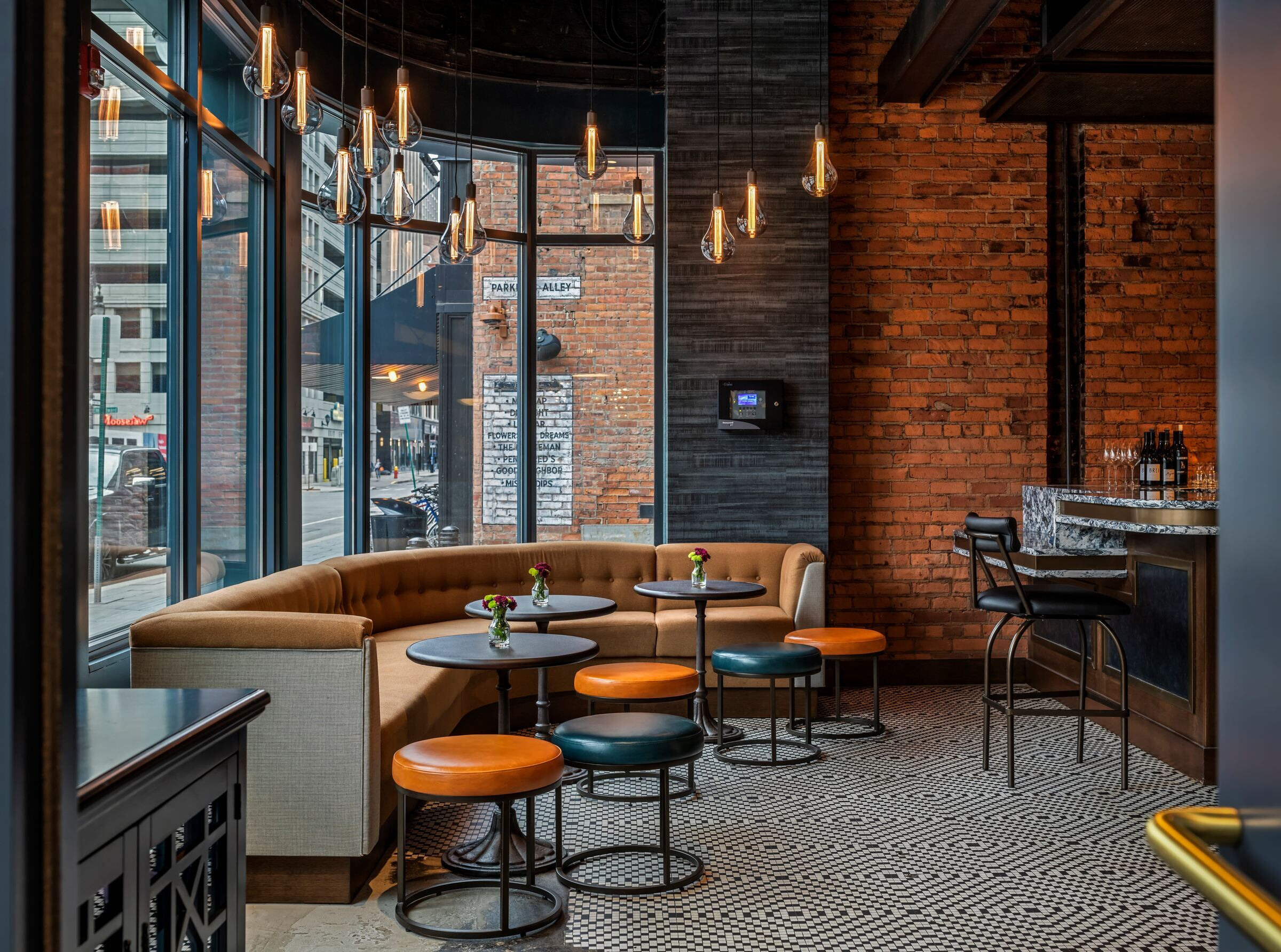 Olin occupies the ground floor of an Art Deco building that formerly housed a puppet theater. The building's exterior features original limestone paneling and a distinctive curved corner indicative of the sleek architectural style. The architects preserved the limestone fascia and added a newly designed storefront, consisting of blue-gray metal panels with traditional decorative pilasters between large glass-paneled windows. This gives Olin a distinctive presence on the busy Woodward Avenue corridor.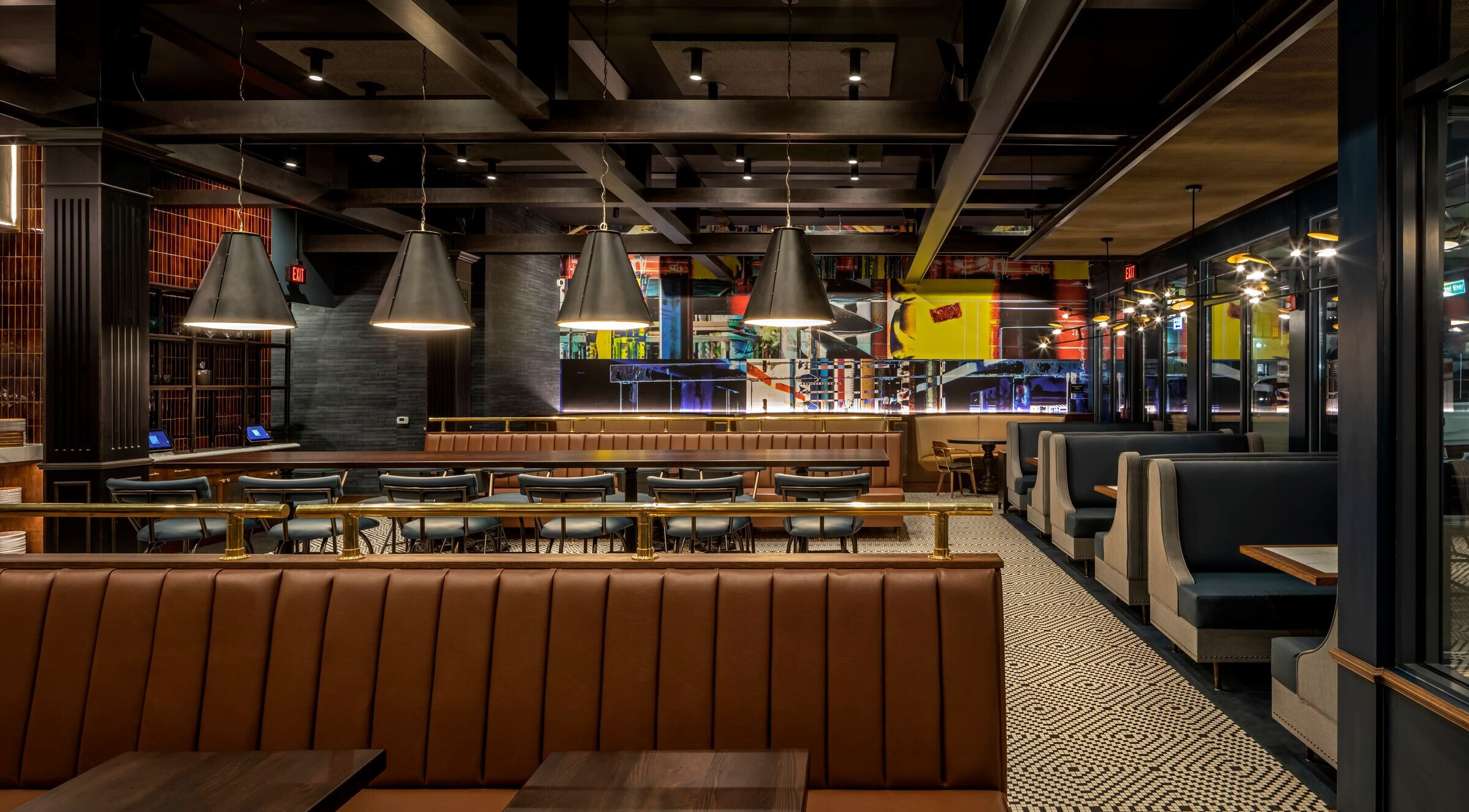 While the building was in good structural condition, the interior hadn't been renovated in decades and needed to be brought up to meet current fire-safety codes, which involved applying a sprayed fire-resistive material to the ceiling and columns. An interior wall was previously covered with a black adhesive material, which was stripped to expose the original brick, adding to the restaurant's clubby ambience.
The new program includes a 3,900-square-foot ground-floor open kitchen, a restaurant, a bar, a lounge, and restrooms as well as a lower-level prep kitchen. McIntosh Poris designed the interiors to have a casual, relaxed atmosphere that appeals to a diverse clientele. The aesthetic incorporates the original Art Deco details and the texture of exposed interior brick walls with new touches, such as contemporary lighting fixtures and abstract murals from local artist Lisa Spindler that play off of the space's industrial-themed elements.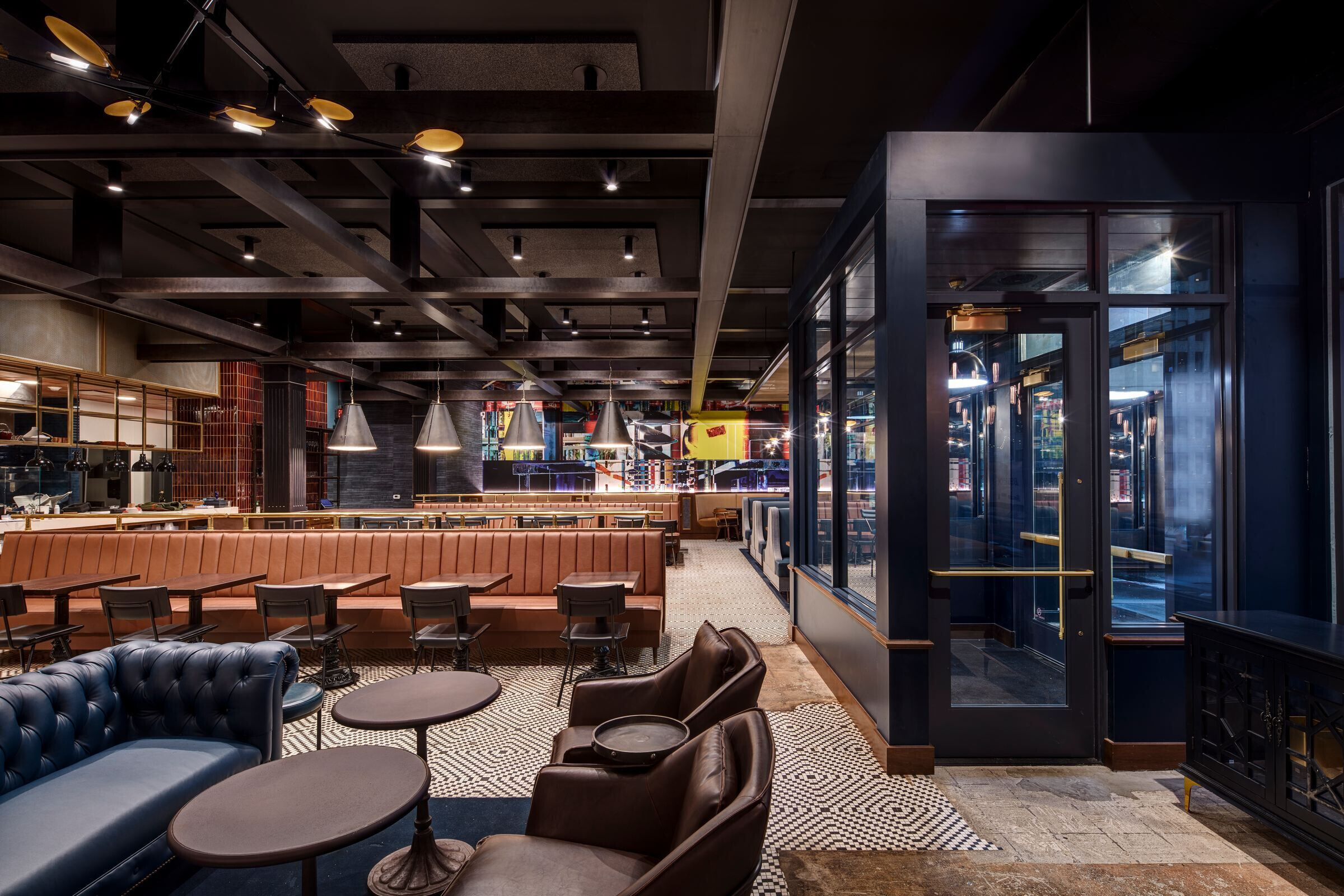 Traditional fluted columns on the interior reflect the storefront design, and the existing black-and-white mosaic floor was preserved to add a twist to the eclectic dining room. The coffered ceiling and wood beams are exposed for an open and airy feeling, with acoustical ceiling panels to mitigate noise. Blue porcelain tile and a backlit mesh soffit highlight the open kitchen, which also includes bar-height seating for an immersive dining experience.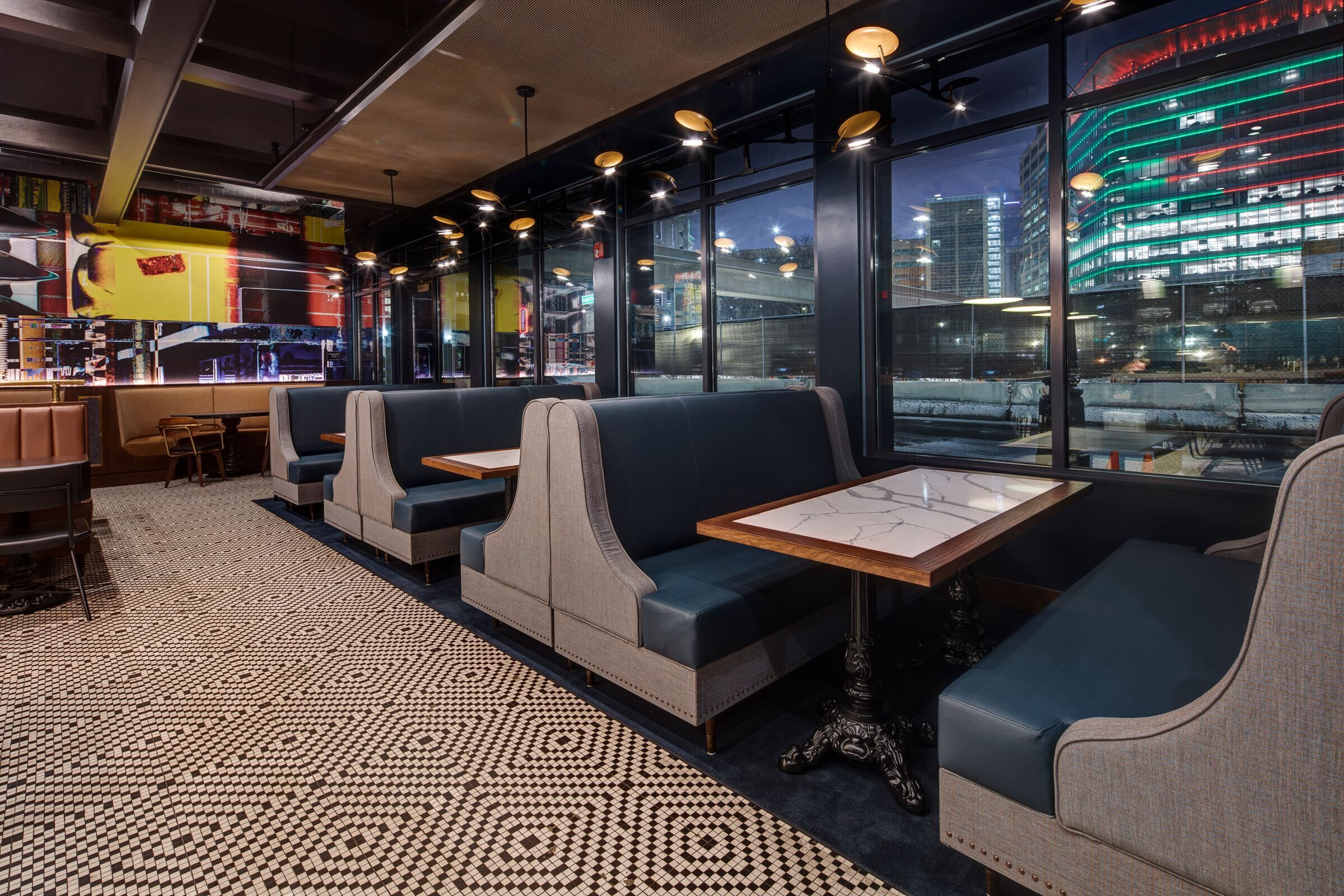 Guests may choose from a variety of other dining settings. Large half-round booth seating provides an intimate dining experience while banquettes, open booths, and communal table seating offer more social settings with visibility to the outside. Lounge seating, including custom Chesterfield-style sofas and deep leather chairs, has a residential feeling and accommodates couples or small groups. Blue and rust hues appearing throughout the restaurant are emphasized in the seating upholstery.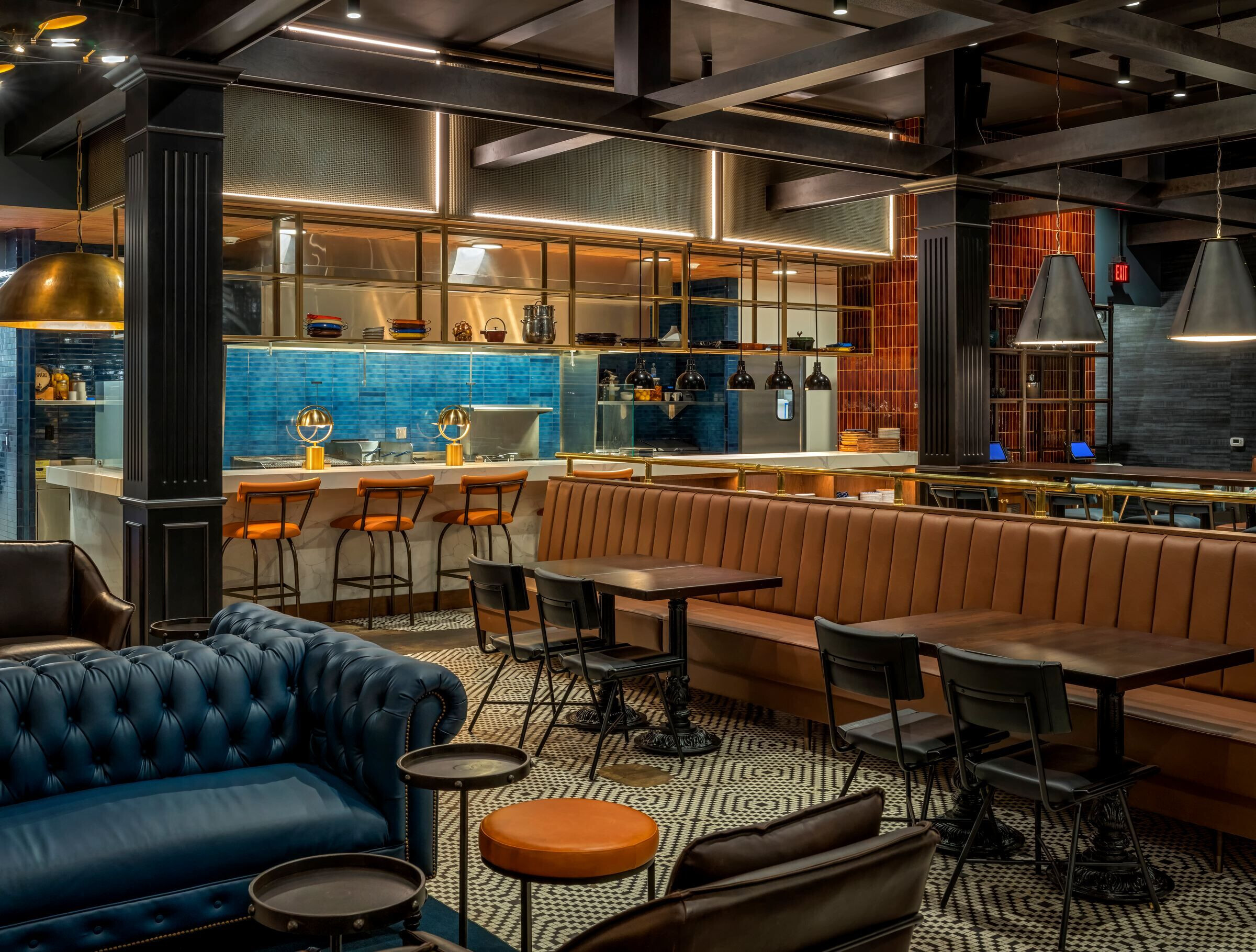 An existing brick wall and metal-mesh ceiling canopy define the bar, which is made of wood and is highlighted by a blue and gray quartz countertop. The backbar incorporates metal mesh, seeded glass and an antique mirror. Overall, Olin's interior was designed to have an inviting, eclectic feeling.