We were asked to create classy and timeless restaurant by the water's edge at the Port Vell Yacht area in Barcelona. The design tries to re-create a marine atmosphere, blurring the limits between the interior and the exterior terraces while enhancing the views to the port.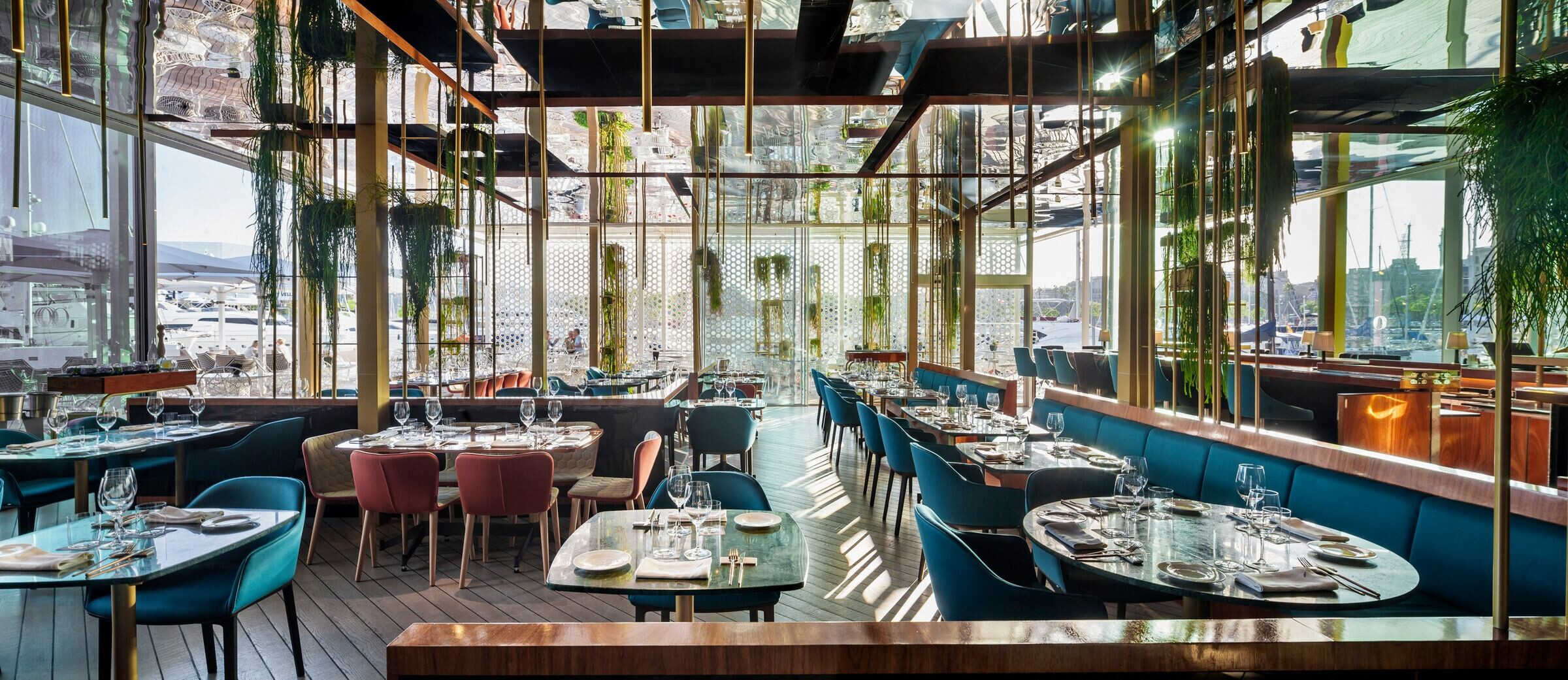 The aim of the design is to enhance the views and to surround the customer with the specific landscape qualities of its location by the water. Sitting at the restaurant should be like sitting on a yacht deckstaring at the sunset.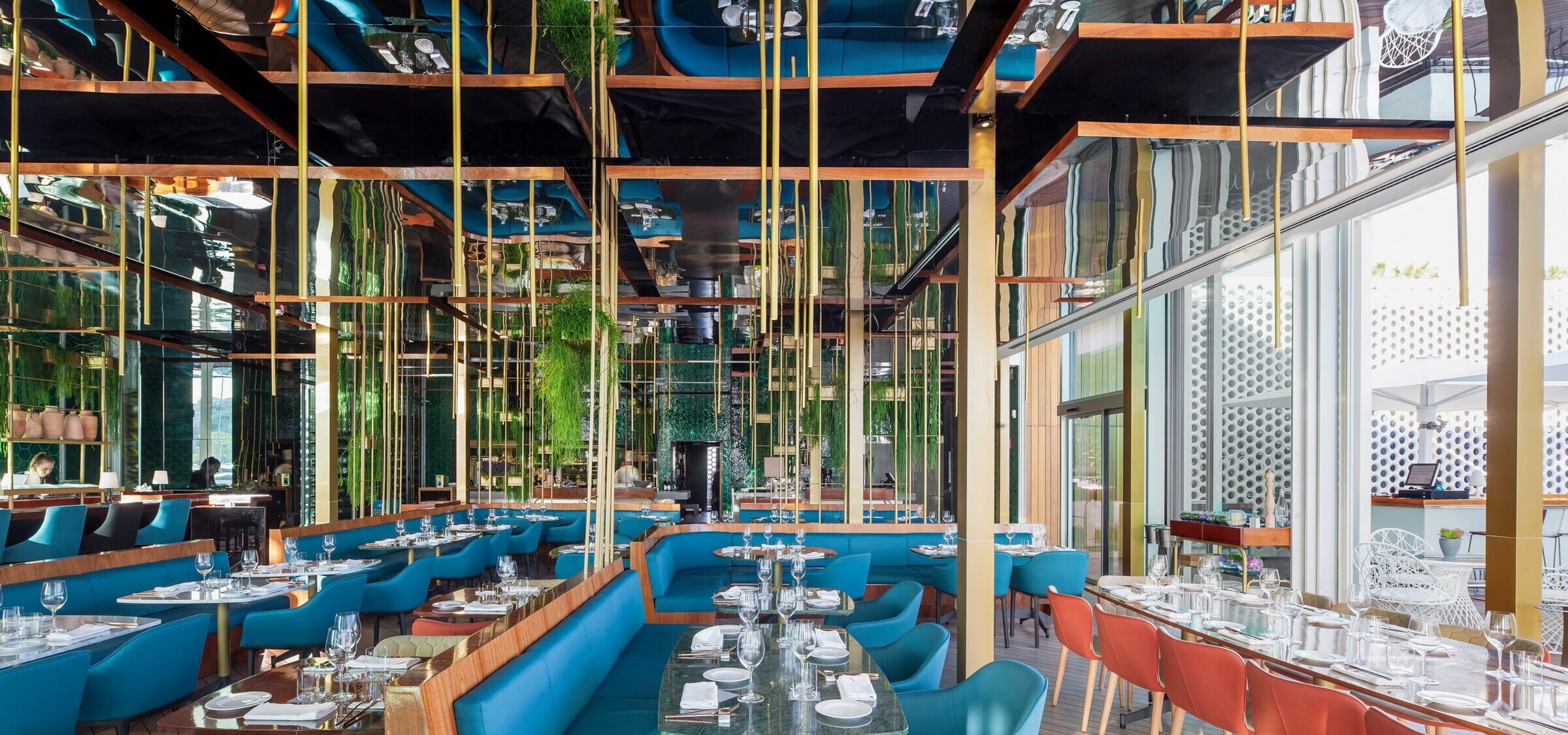 By using glossy reflective surfaces to create the ceiling of the restaurant, we recall the calm water in the port around us andwe amplify the spatial perception of the space while bringing the exterior landscape inside the restaurant. The materiality of these ceiling elements, as well as the general feeling of the space, finds inspiration in the classy and elegant J-class boats, with their shiny dark hulls, their sun dyed wooden floors, and their golden details.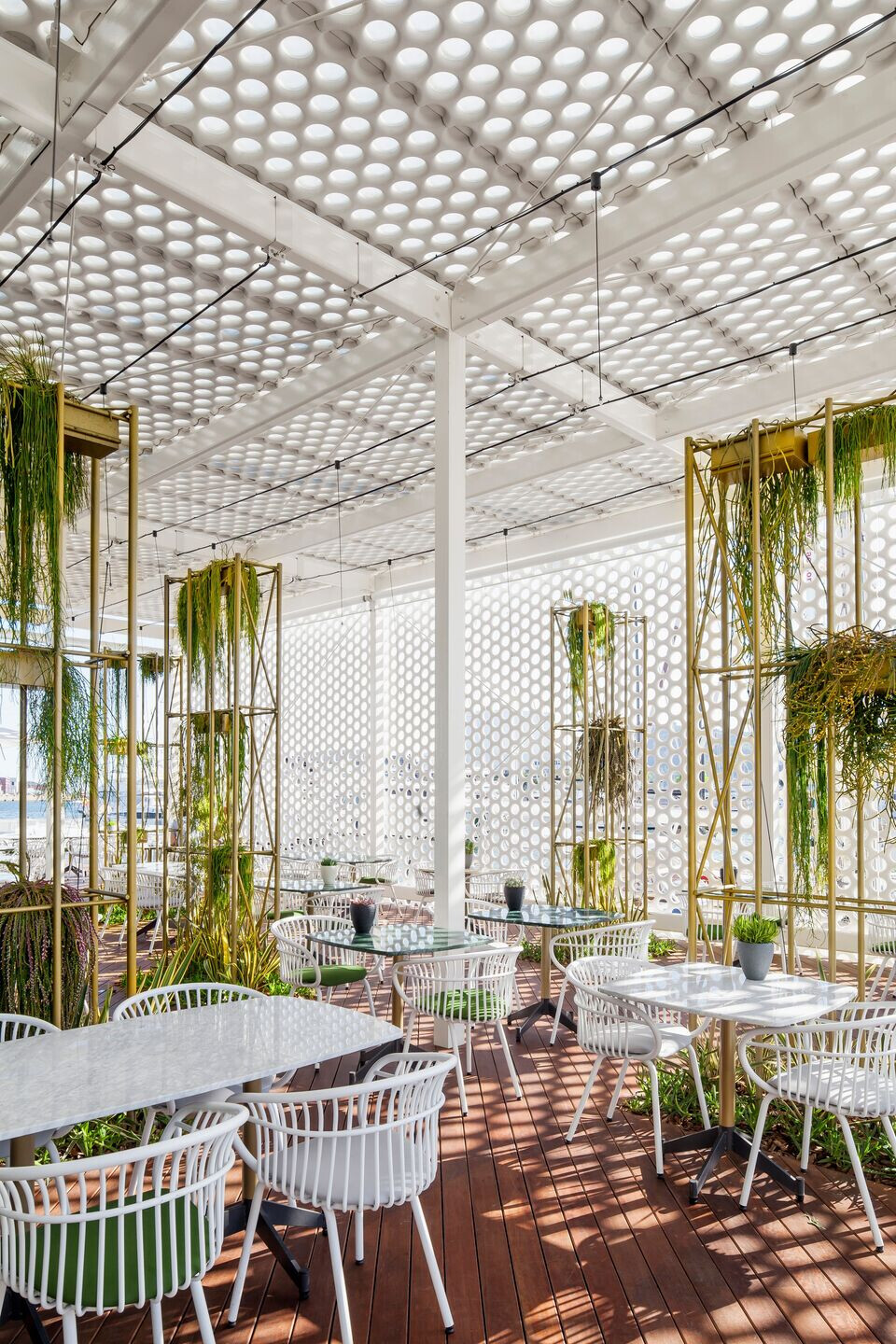 The verticality and rhythm of the structure of the building reminded us of the forest of boat masts in the Marina around the restaurant, which we decided to reproduce in the inside. We added some more verticality to the space by introducing some golden tubular structures to support hanging plants. All these vertical lines are reflected in the ceiling, recreating the reflection of boats and masts in the port water and creating a magical atmosphere.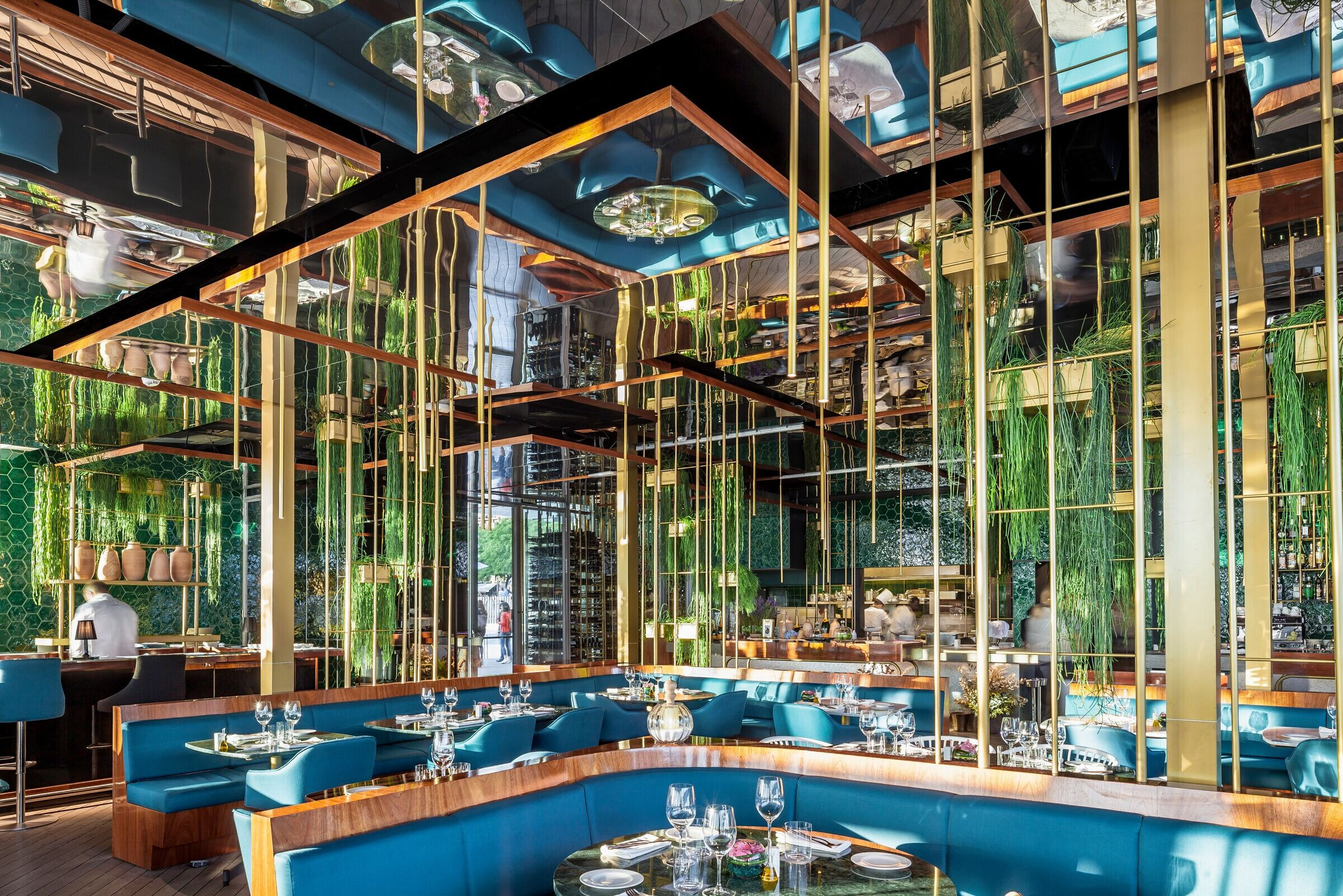 Once in the terrace, the sun-protecting white lattice element of the architecture made us think of a Mediterranean greenhouse, fresh, green, cosy. In our design, the terraces are treated as Mediterranean greenhouses on top of the water. The golden tubular structures from the inside jump to the exterior terraces, blurring the limits between interior and exterior. The greenery consists of climbing and hanging plants which enhance the verticality that we are looking for and is reminiscent of deep-ocean seaweed.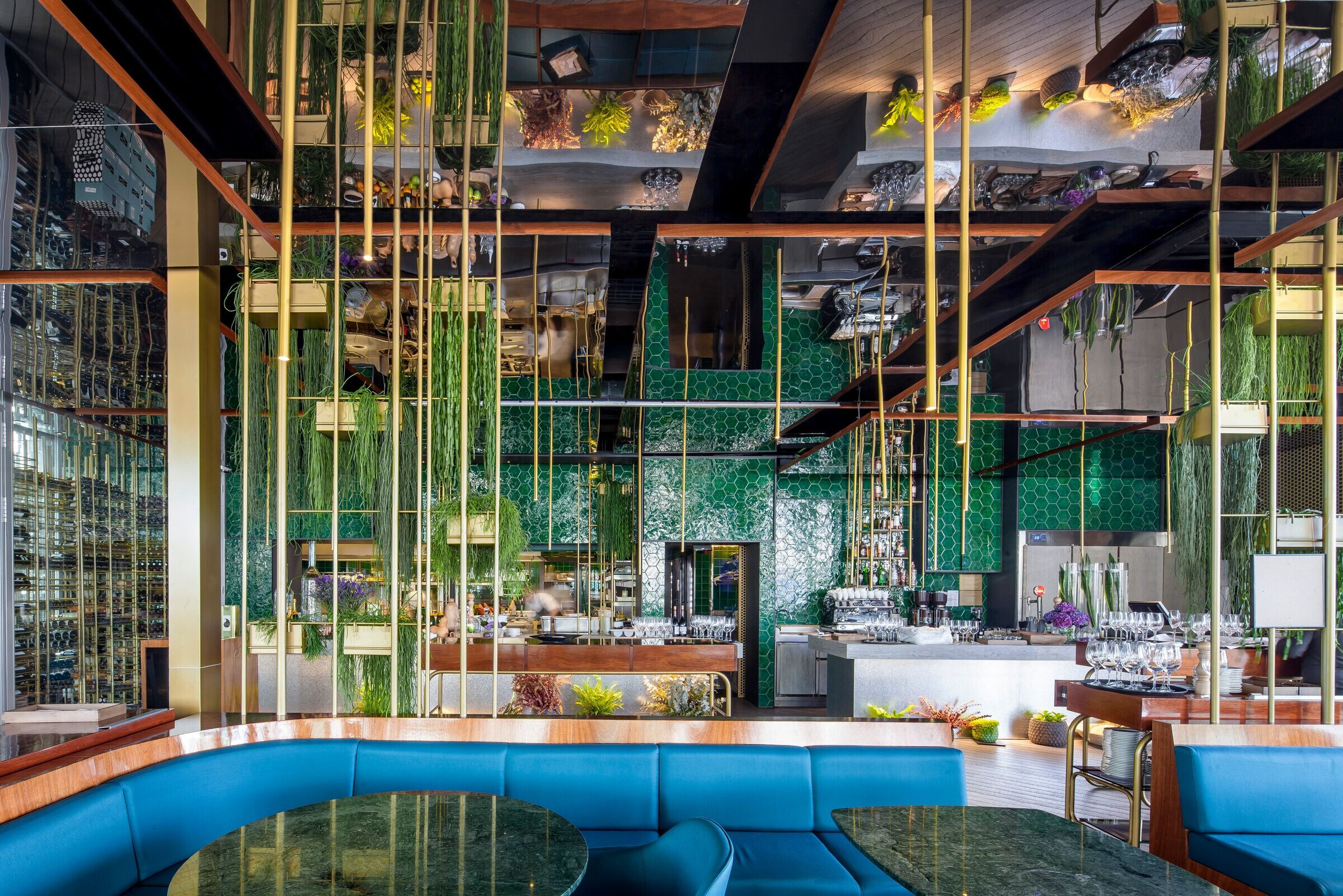 The lavatories invite us once again to travel through the Mediterranean, but now also through time. Antique navigation maps, star constellations and Mediterranean mythological characters appear as light traces above a black background to accompany and guide us in this journey across the sea, dark and mysterious.
Since the client had a great interest in giving wine a special presence in the space, we decided to turn the wine cellar into the restaurant lobby, placed on one of the corners of the square floor plan. Once inside the restaurant, a big table with a display of fresh product and color welcomes us, and behind it a big opening allows us to see the activity inside the kitchen.