Located on a beautifully landscaped bluff overlooking Puget Sound, Loom House is an extensive renovation of a classic 1960s mid-century home. Designed by The Miller Hull Partnership, LLP, an award-winning architecture firm known for its sustainable and regenerative design, Loom House achieved Living Building Challenge 4.0 Certification in early 2021, making it one of only four residences in the world, and the first renovated home, to do so. Inspired by weaving together people, place, community, and equity, Loom House provides owners with a prototype to renovate their homes using resilient retrofitting strategies.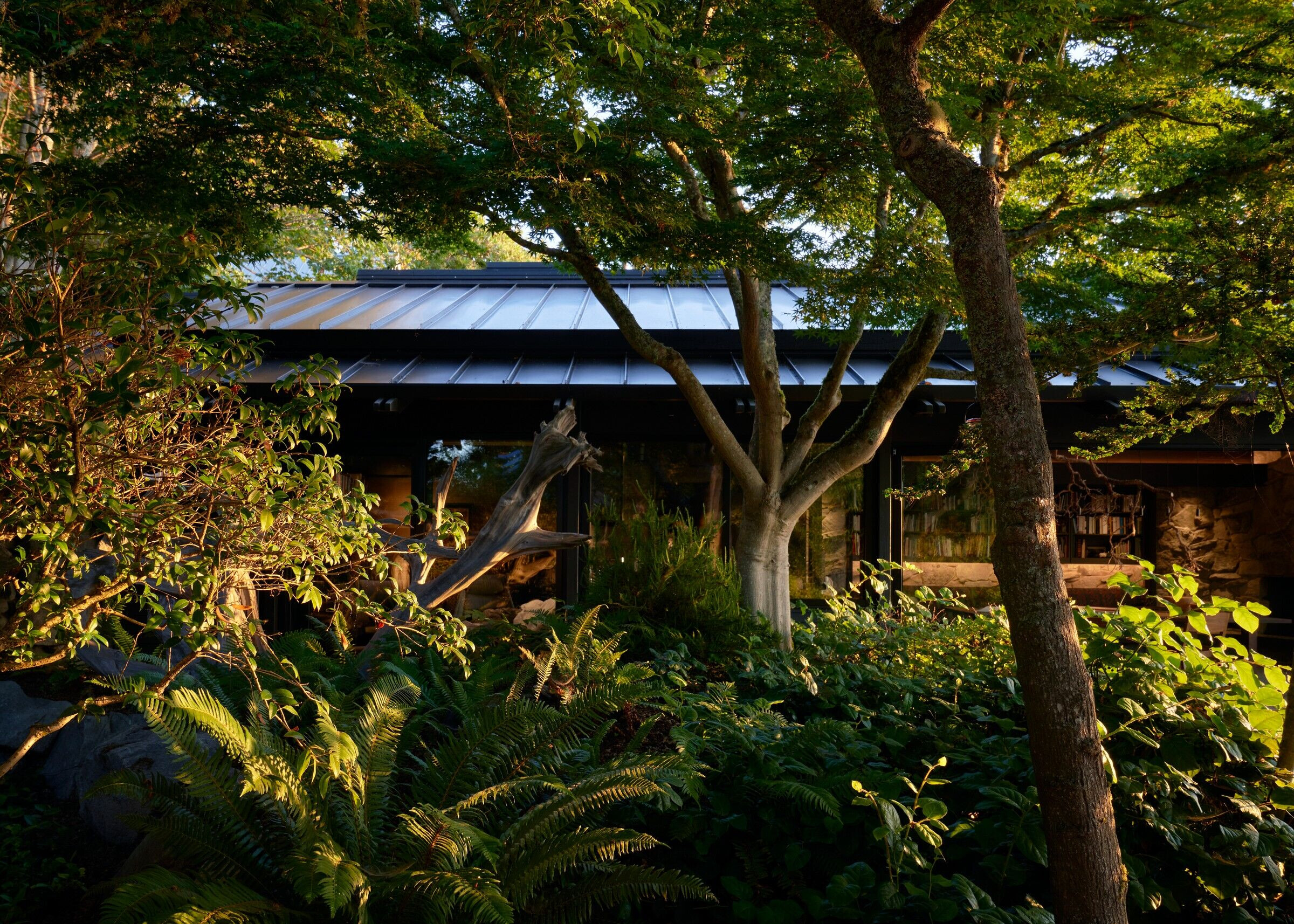 The 3,200-square-foot residence consists of a renovated north and south home. Miller Hull worked to improve the building envelope, provide self-sufficient systems and offer updated interiors while maintaining the original architectural character of the home. A new, 725-square-foot detached carport and storage area was added to the property to house the owner's electrical vehicles and bicycles.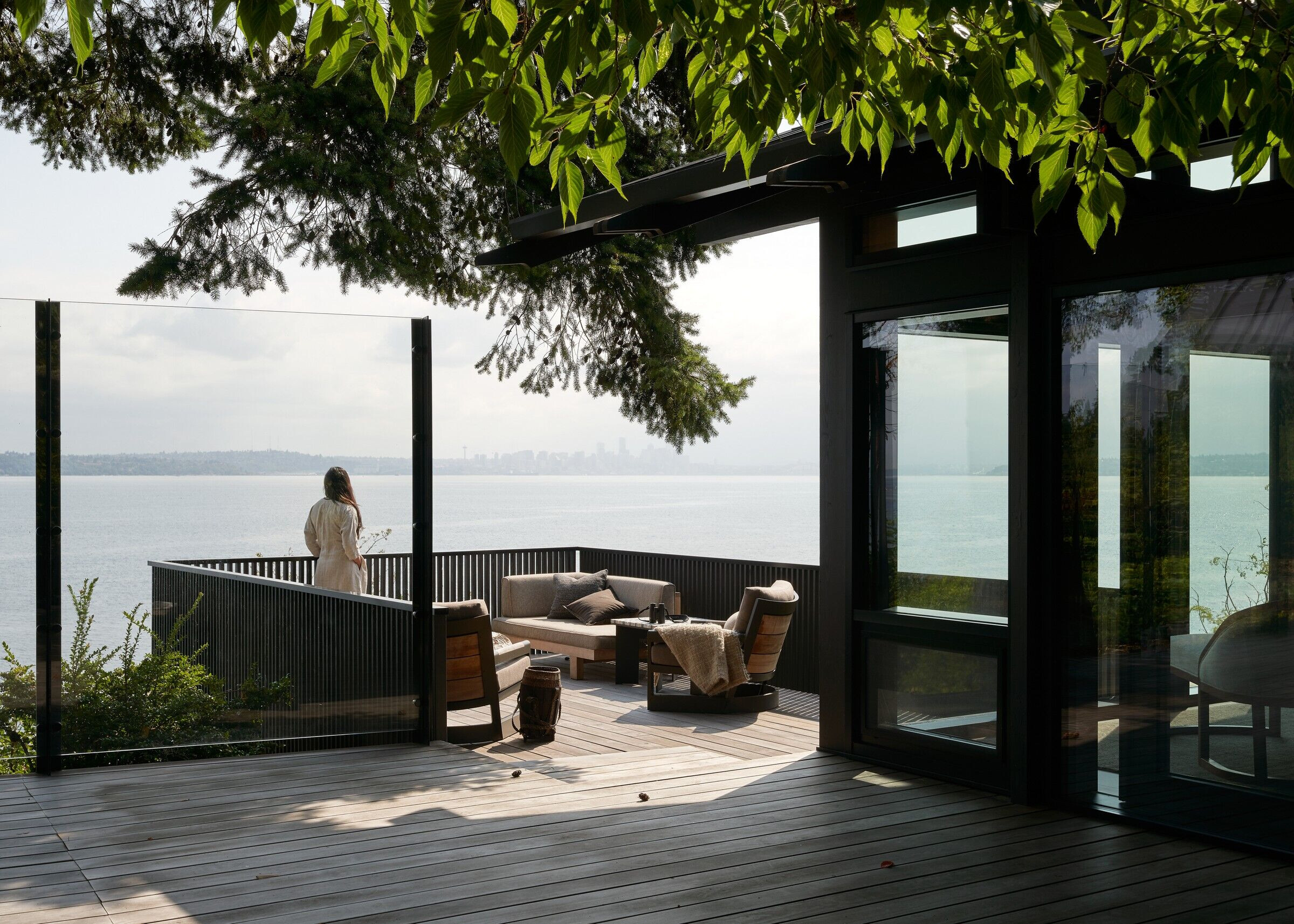 The design respects the original architectural character of Hal Moldstad's mid-century bones and thrives in a rejuvenated Pacific Northwest landscape. Thoughtful improvements complement the existing landscape which consists of ornamental plantings of Japanese maples, flowering trees, rhododendrons, and azaleas. A variety of edible berries, as well as vegetables and a mycological foraging forest, will provide urban agriculture for the property. A new entry bridge curates a path through the mature, 200-foot tall evergreens that guide residents and visitors to a redefined main entry. The home's previous maze of small rooms was transformed into an open great room with a new stair leading to a lower-level primary suite, replacing an underutilized garage. Triple-glazed windows and skylights throughout the project maintain a connection to the gardens, Puget Sound, and beyond.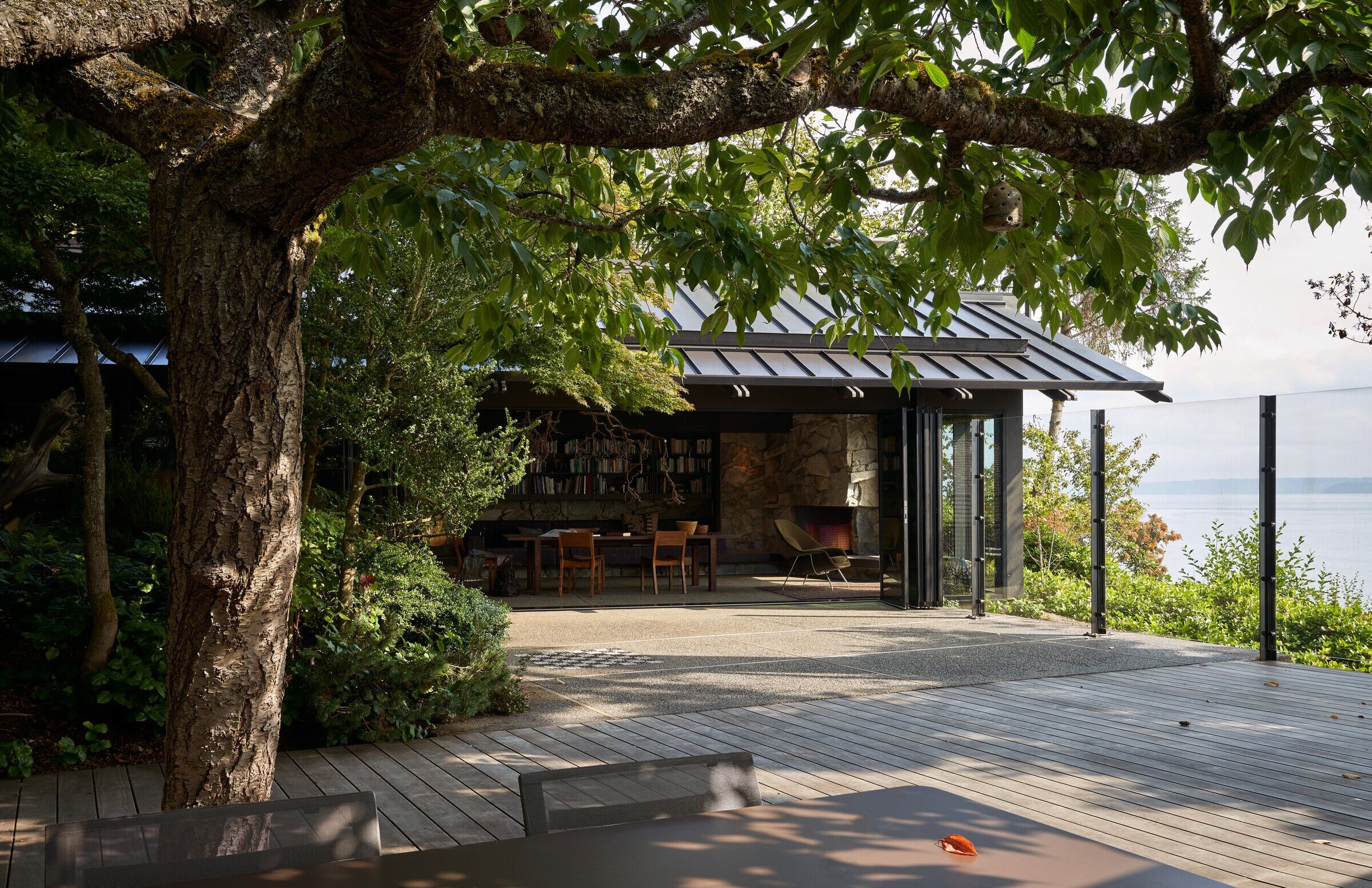 The impact of Loom House has continued to drive the project forward, advocating for change far beyond its property line. From design through construction, the goal of the project was to create a global impact by showing a path to Living Building Challenge Certification for all residential remodels. Net positive energy and water were integrated seamlessly into the existing site and structures, and the project team successfully lobbied the City of Bainbridge Island to change the city code to treat grey and black water on-site, paving the way for other residents in the area to follow. The project team went beyond Living Building Challenge requirements and extended Red List-free materials into all the home's furniture and furnishings, permanently eliminating chemicals of concern from a wider group of craftspeople, installers, vendors, and manufacturers.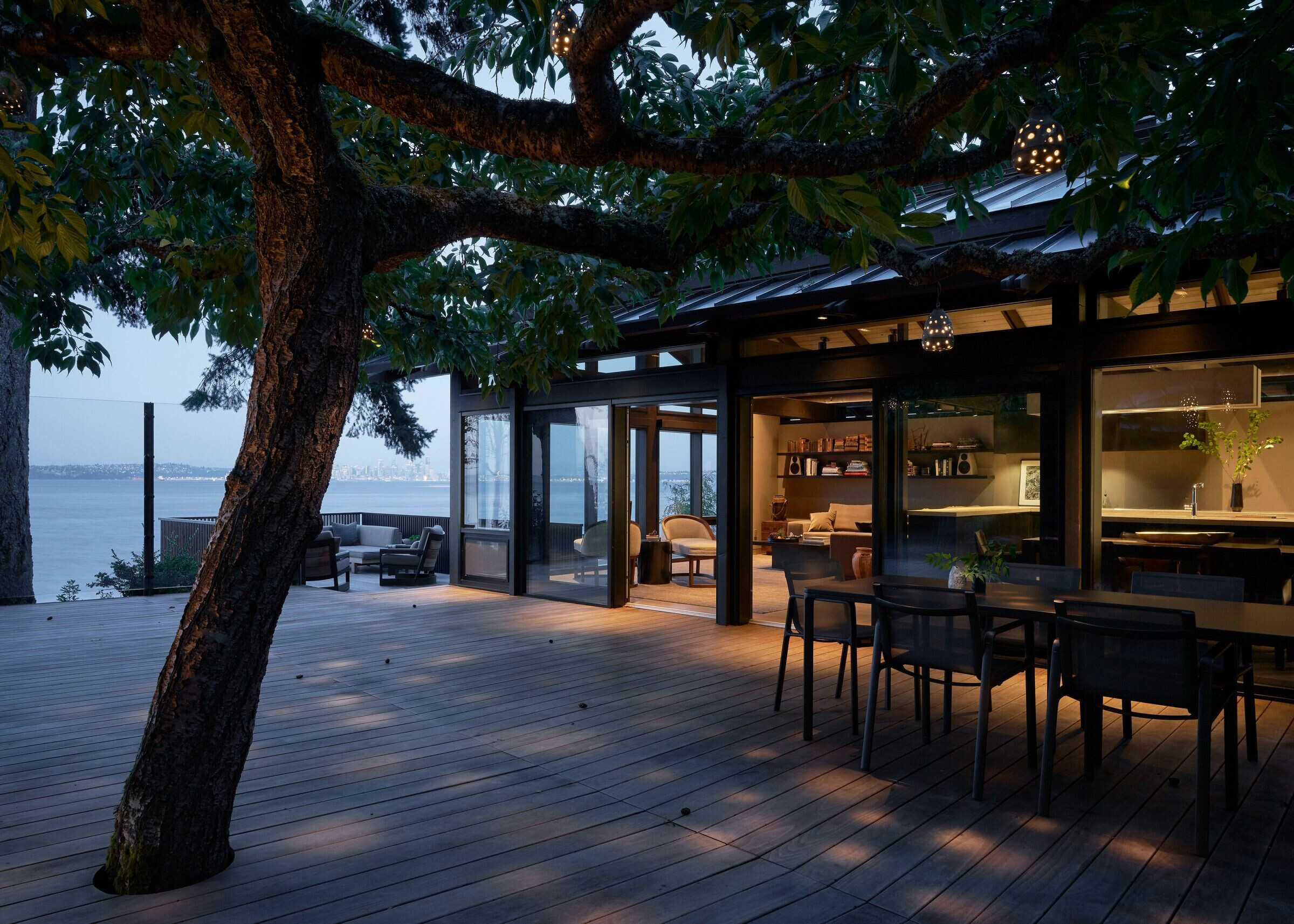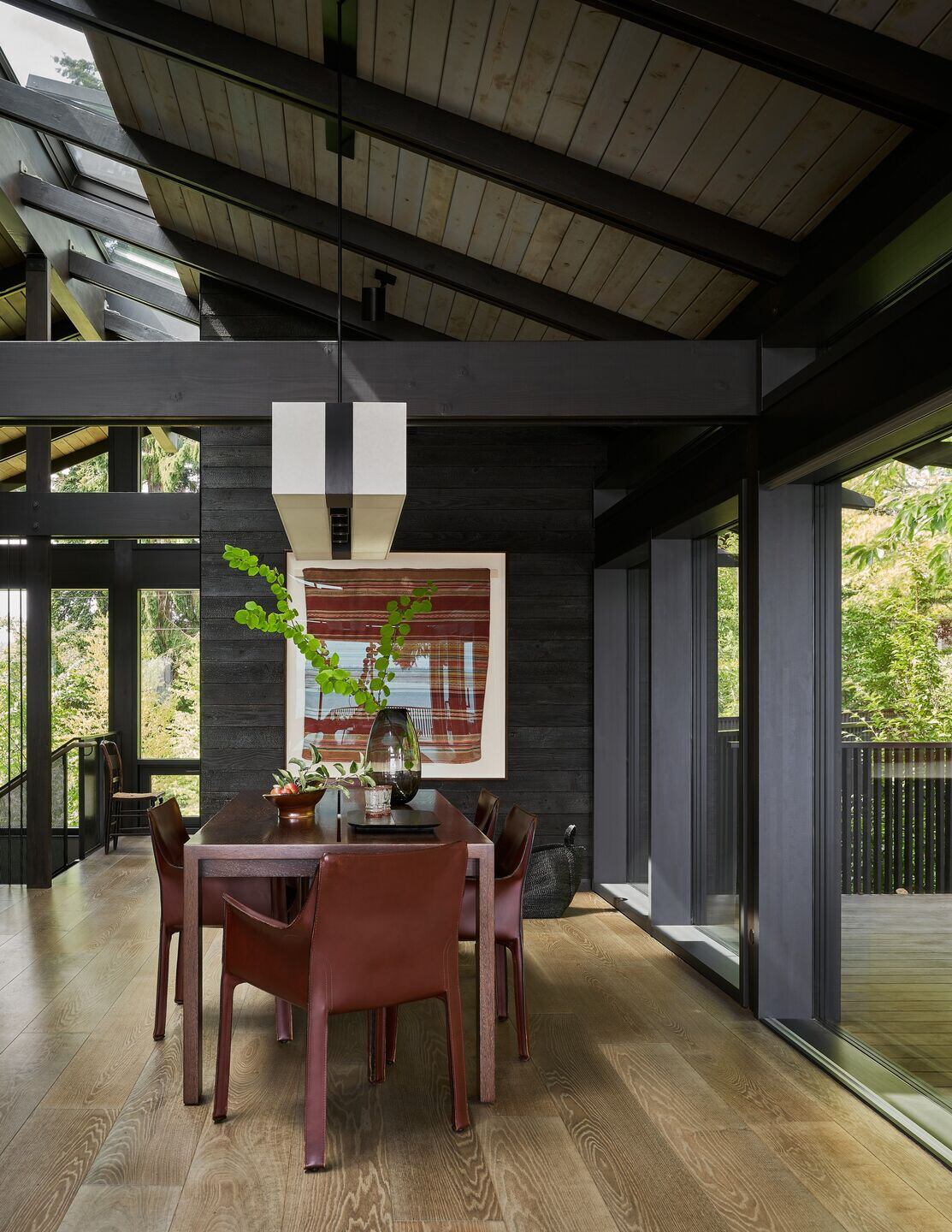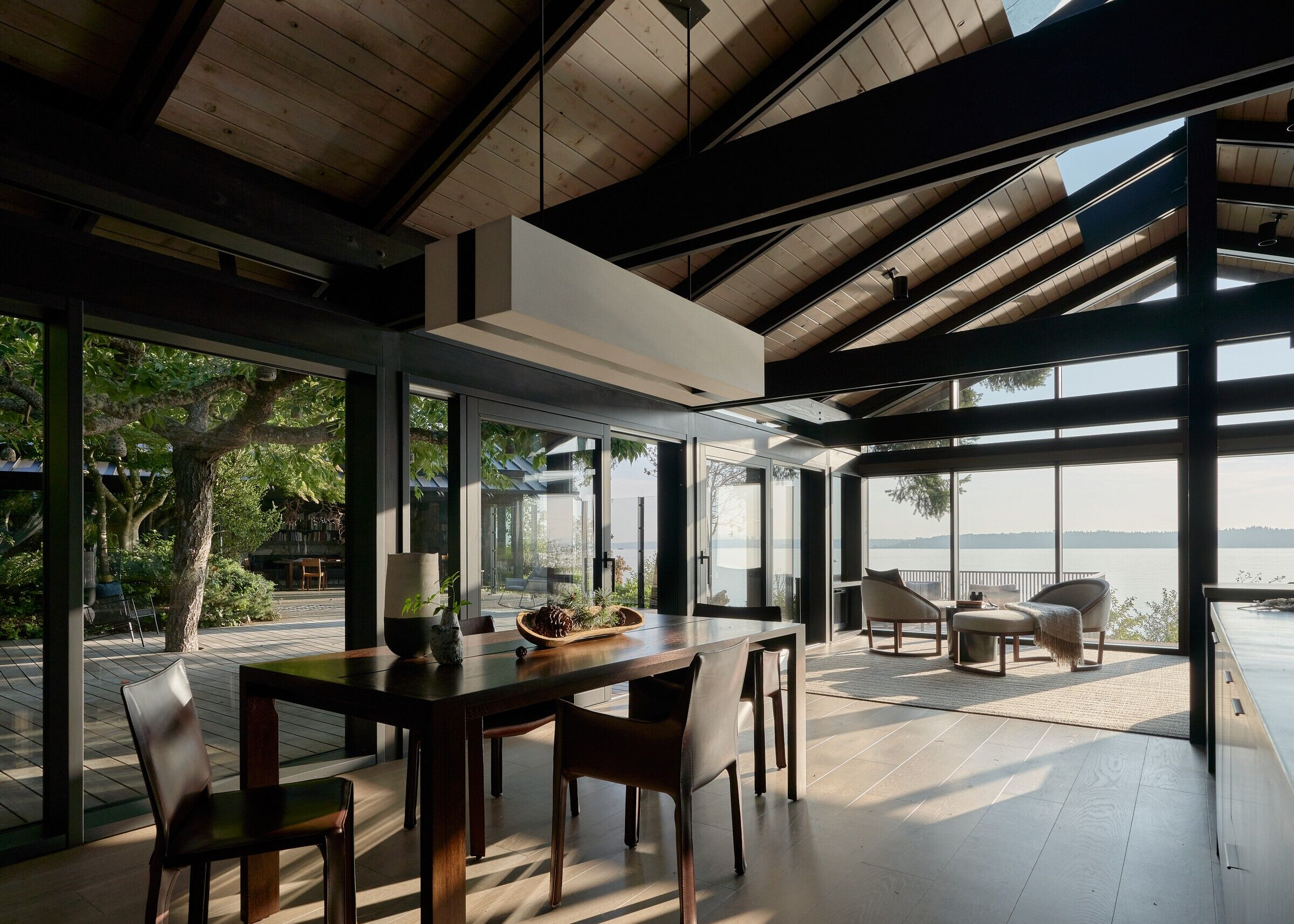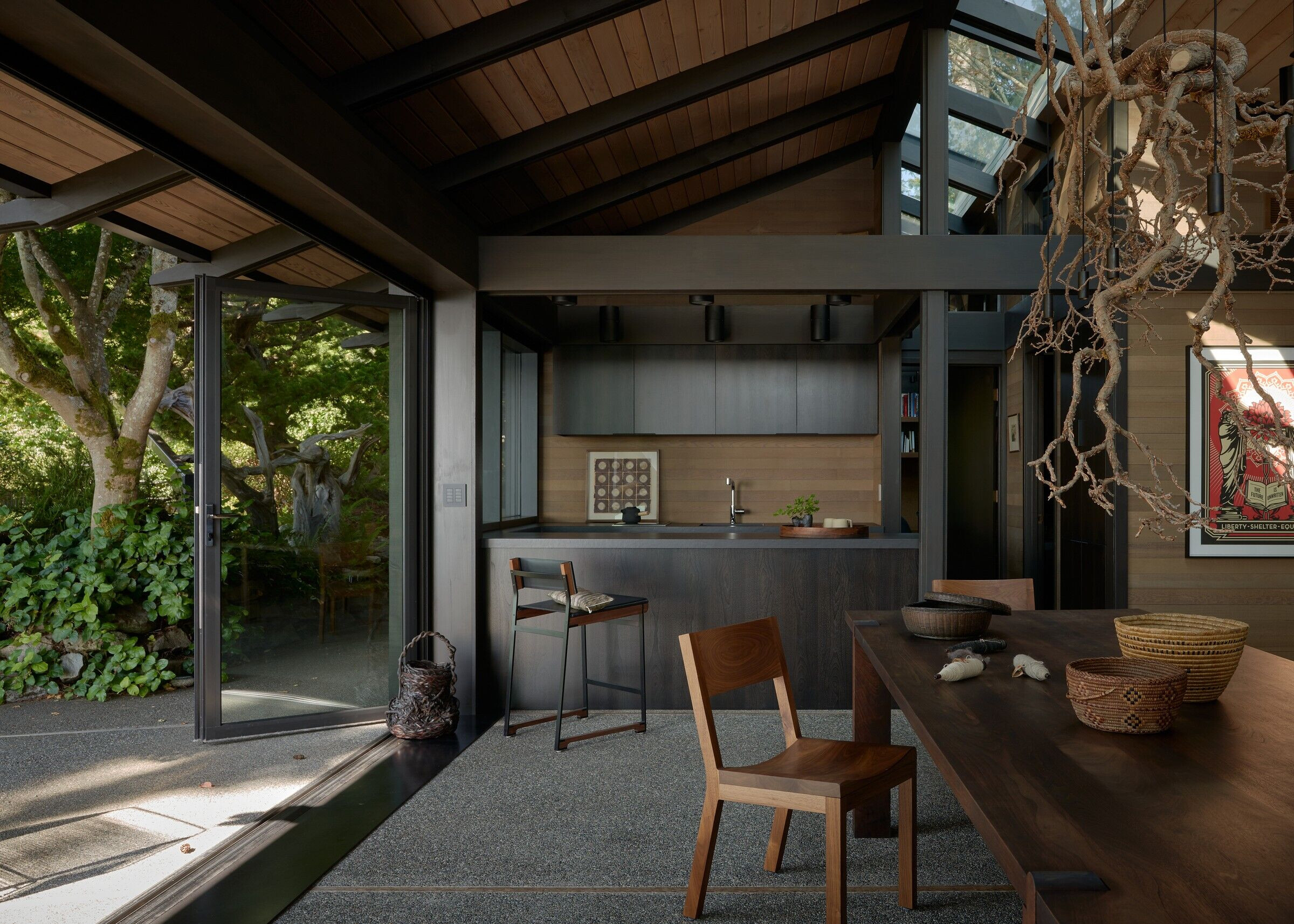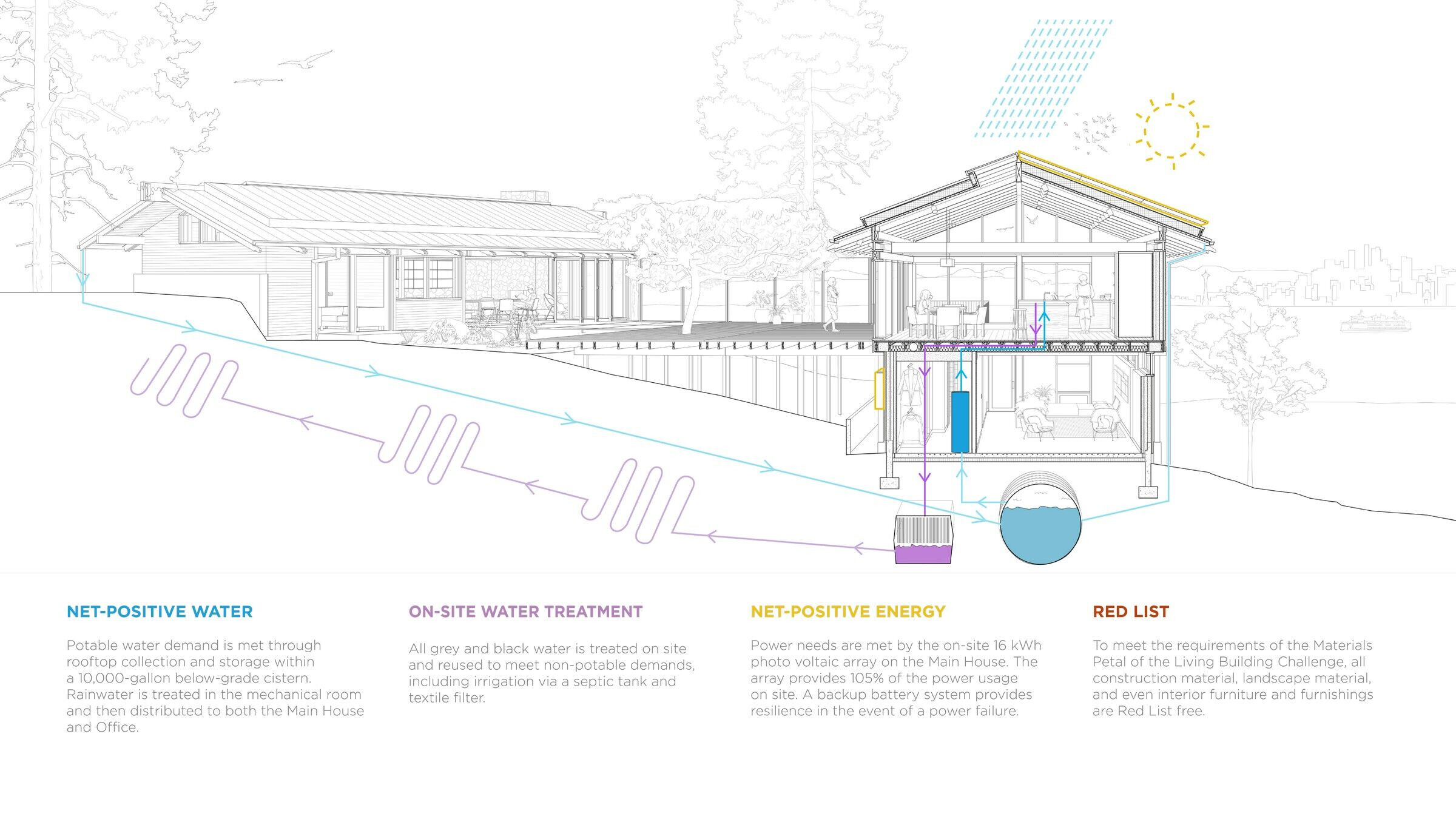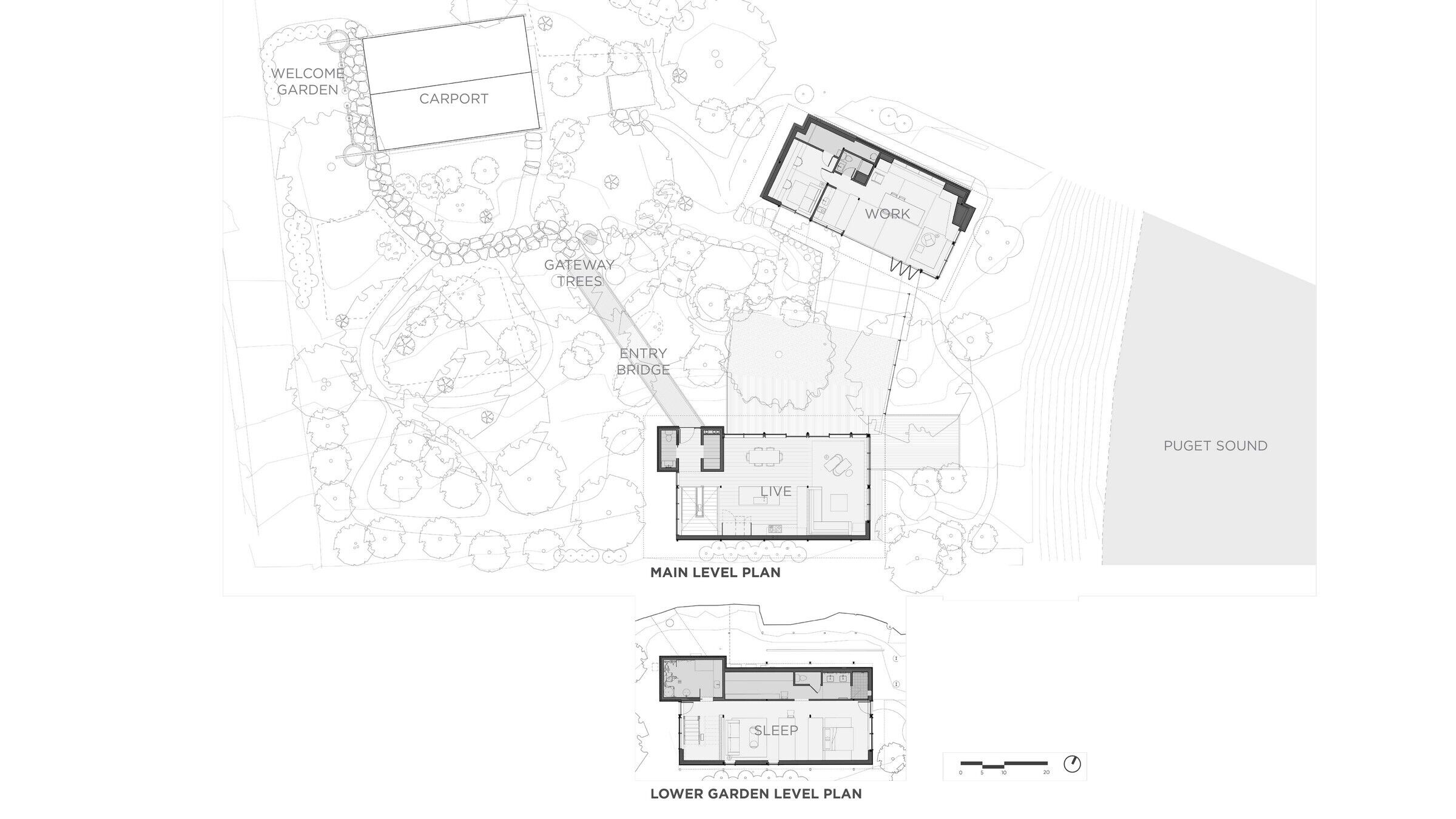 Material Used :
1. Flooring – FSC-certified American White Oak (10" Rift Sawn White Oak)
2. Ceiling – existing wood. (lower level living space ceiling: Protek Italian plaster with semi-transparent stain
3. Kitchen Casework – Edensaw FSC-certified white oak with Milesi finishes, Walnut casework w/ Milesi Finish at kitchen. Rift Oak w/ cerused finish (using milesi) at bedroom. Kitchen countertops and powder room sink was custom concrete. Other countertops were solid surface (Dekton). Countertop at main bathroom is stone.
4. Tile: Heath ceramics at main bathroom. Daltile at guest shower.
5. Windows – Unilux Triple Pane Curtainwall w/ Nanz Hardware
6. Sliding Doors – Nanawall Sliding doors are Triple Pane Lift and Slide doors from Unilux. Bifolding door is a triple pane bifold door from Nanawall. Entry door was custom by She-metal, handle by Stefan Gulassa.
7. Insulation – Knauf In the walls. Other insulation for underslab, roof and rainscreen walls.
8. Metal Roof – Taylor Metal Products with Fluropon Free coating 16" Standing Seam Metal Roof
9. New Exterior Siding – FSC-certified Blakely Island Timber cedar siding Shou Sugi Ban Siding, douglas fir.
10. Wallpaper – Morris & Company/Antsey Wallpaper Co.
11. Some Furniture Includes – Durante Furniture, Chadhaus, Token NYC, Tufenkian Rug,
12. Water Treatment – Orenco
13. Water Cistern – Xerxes
14. Lighting Controls – Lutron
15. Heating/Cooling – Daikon
16. Heat Recovery Ventilator – Broan
17. Photovoltaic Panels – LG NeON