There are many workplace in Saraburi. However, there are few places for hanging out or casual meeting especially for middle class clients like manager of the factory and tourist both local and overseas. These groups prefer the place for socialization with their friends, their family and their business partner. "Long Nour Bar & Bistro" one of the most famous place for hanging out for late teenager and early adults. These target group often came to this place in late night which means the owners lost their business opportunities in early night-time.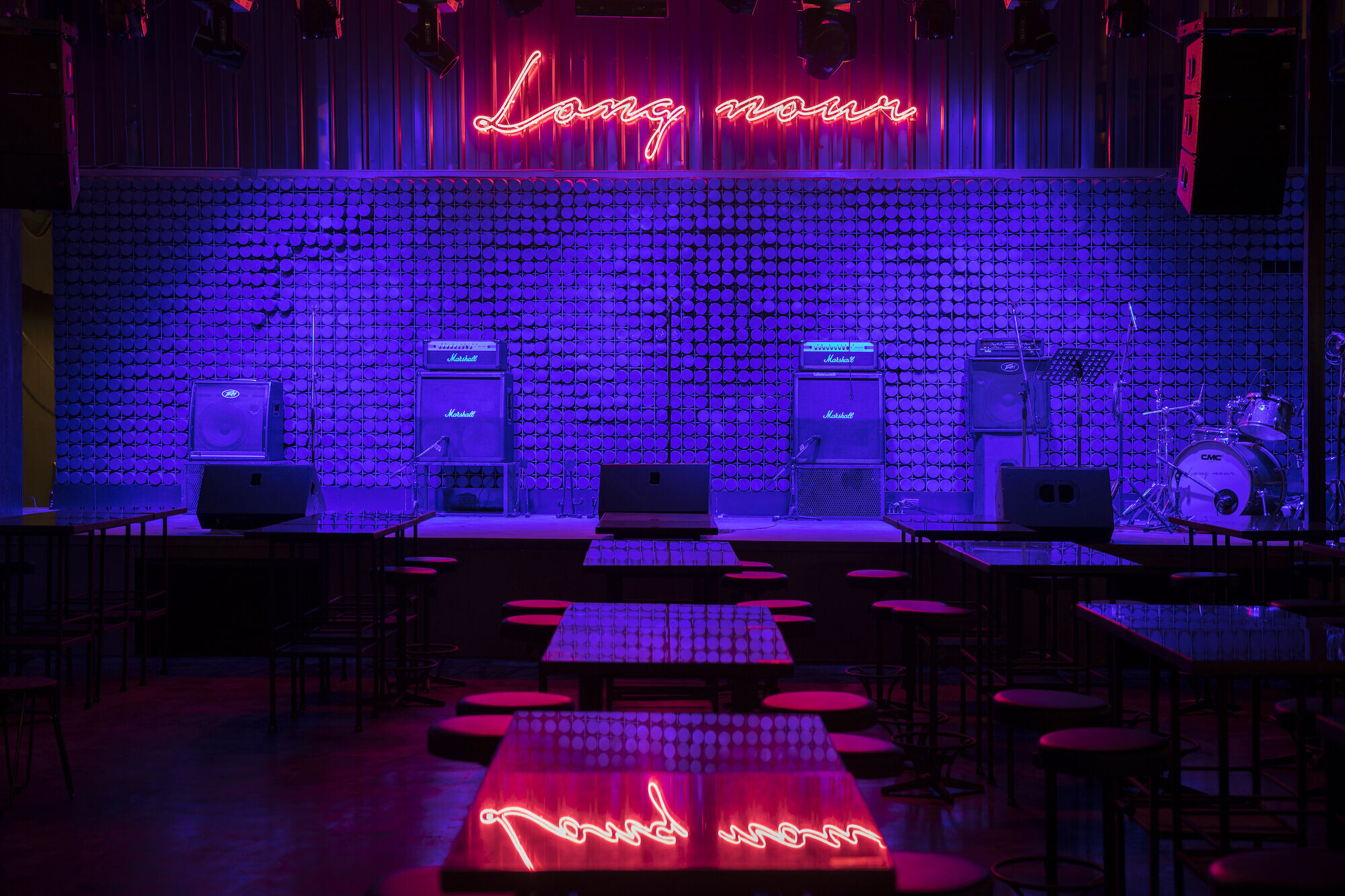 However the existing perception of this place was not designed for the new target groups. In order to expand the business to new target groups, Dersyn Studio is required by shop owners to create a major facelift project as well as area rearranging for the existing "Long Nour Bar & Bistro" project which has been operated for several years.
According to the main activities of this place which are listening to music and enjoying concert, "Sound Wave" is used as the main concept of the major facelift project. Dersyn Studio study the characteristic of sound wave and translates in to physical form which installed in many parts of this project from shop front to the back stage.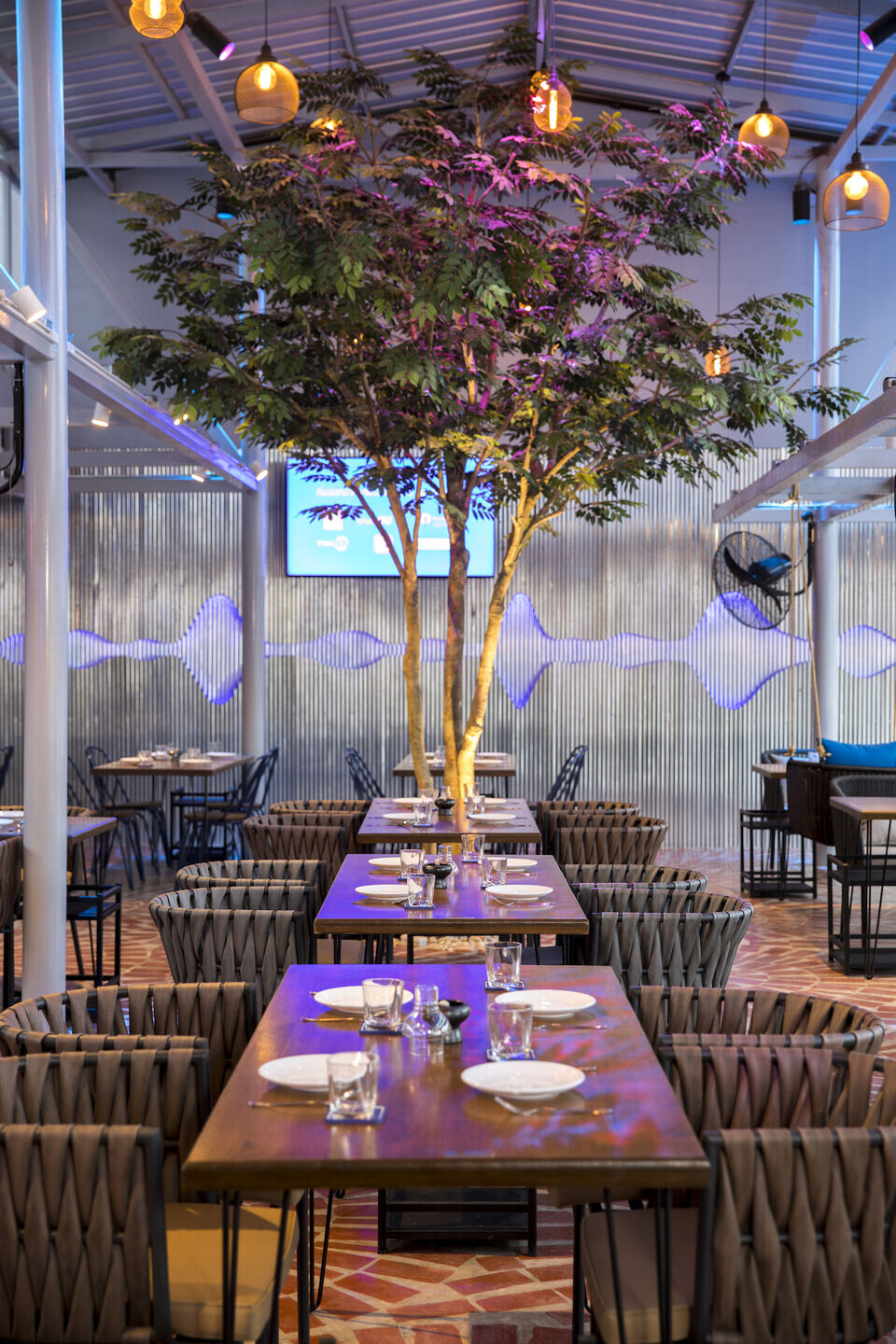 With the new design of the major facelift, Dersyn Studio and shop owners believe that it will create more warmth and cozy perceptions which are ideal for new target group while energetic perception still remain for the existing target group.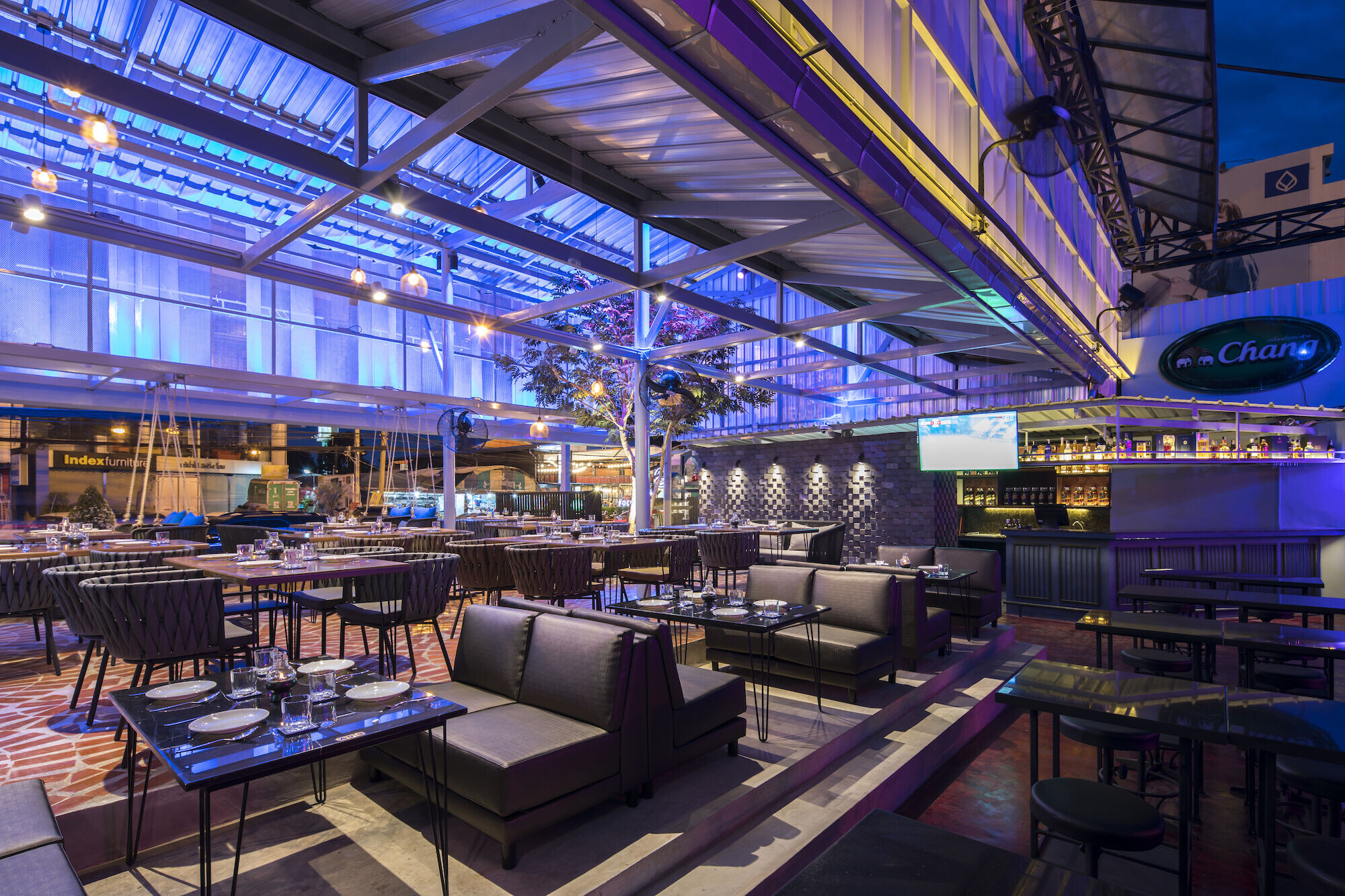 Spatial Design
There are 2 main area for shop client. Firstly, Restaurant space which has more cozy perception from several trees which are planted within this space. There are several choices of seating for this area like long benches, dining chairs and especially swing seats. This variation is aim to serve individual needs of the client. This area is located at the very front area of this place. The reason why this area is located at the very front area of this place is to create new cozy perception for this place. Secondly, Pub space which has more energetic perception from reddish color floor finish and especially red color eye-catching shape spiral staircase which inspired by melody note. Most of the furniture are repainted or refinished existing furniture. New long bench, new counter bar and new stage will be installed in this area. These new installations aim to serve new target groups who may use this area as well. So "POSH" looking is required.
Comfort
Although this place for hanging out and enjoying concert, universal design concept is implemented within this place. Unlike most main entrance of the dining place which designed as few steps, this place use low sloping ramp with non-slippery finishing. This way of main entrance designing is useful for accessibility both clients and heavy-weight belongings. Due to the non-slippery ramp installation, wheelchair users can access this place as well. This is ideal for the new target group like family group who may come to this place with the elderly people.
There are several trees planted at the restaurant area. The aim of this implementation is to create more cozy perception from both inside-out and outside-in. These trees can also be used for special event decorations.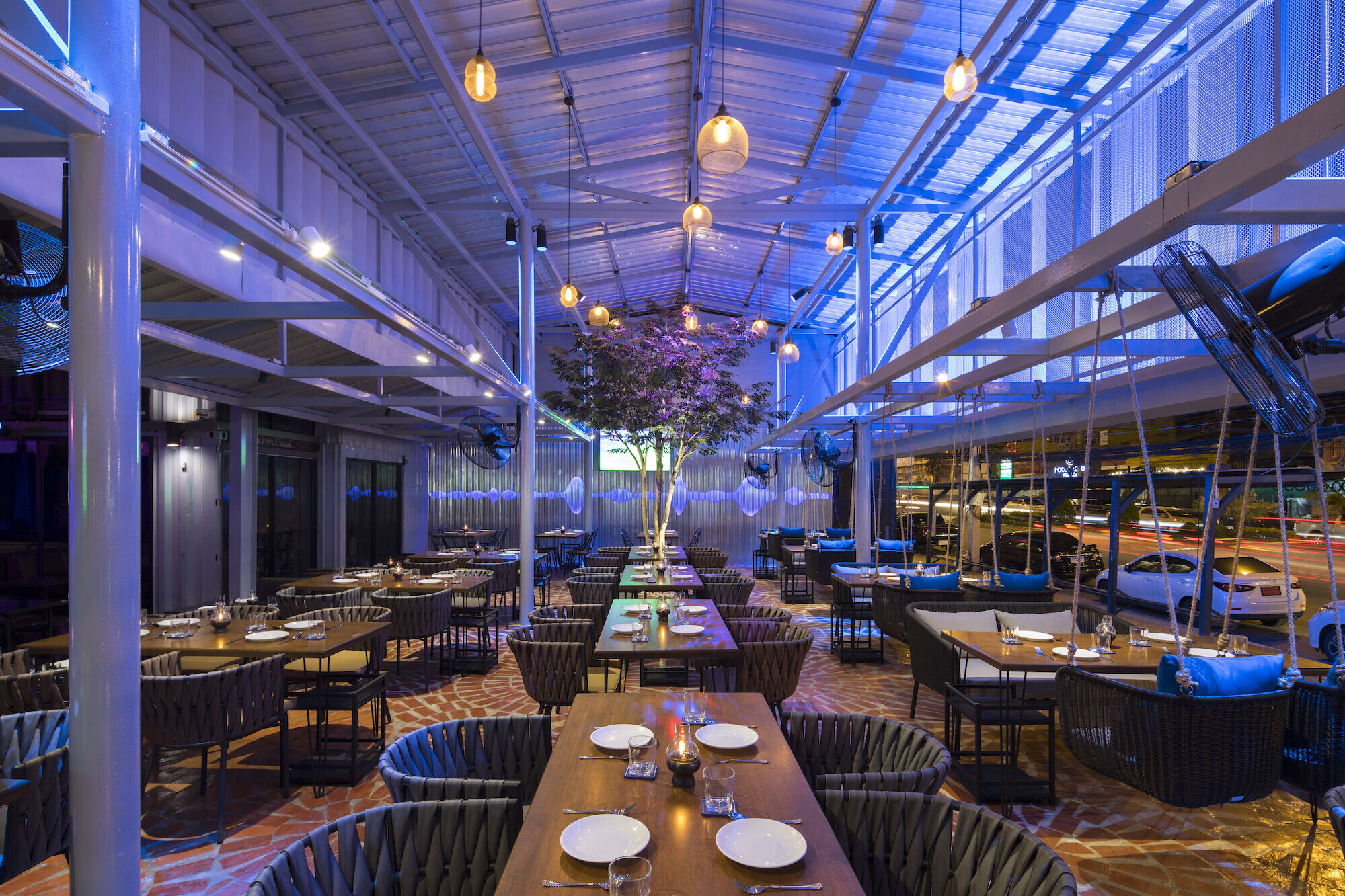 Innovation
"Sound Wave", as main concept, not only used as general decorations but also used as the innovative "push 'n pull" wall decoration at the wall behind the main stage. This wall is made of black color plastic pipe with black color capping and some spacing behind. When the singer push some units randomly it will create waving surface from the simple flat surface. This effect is inspired by the effect occurred when the extremely thin flat surface like top part of the drum hit by the drumstick and create drum sound.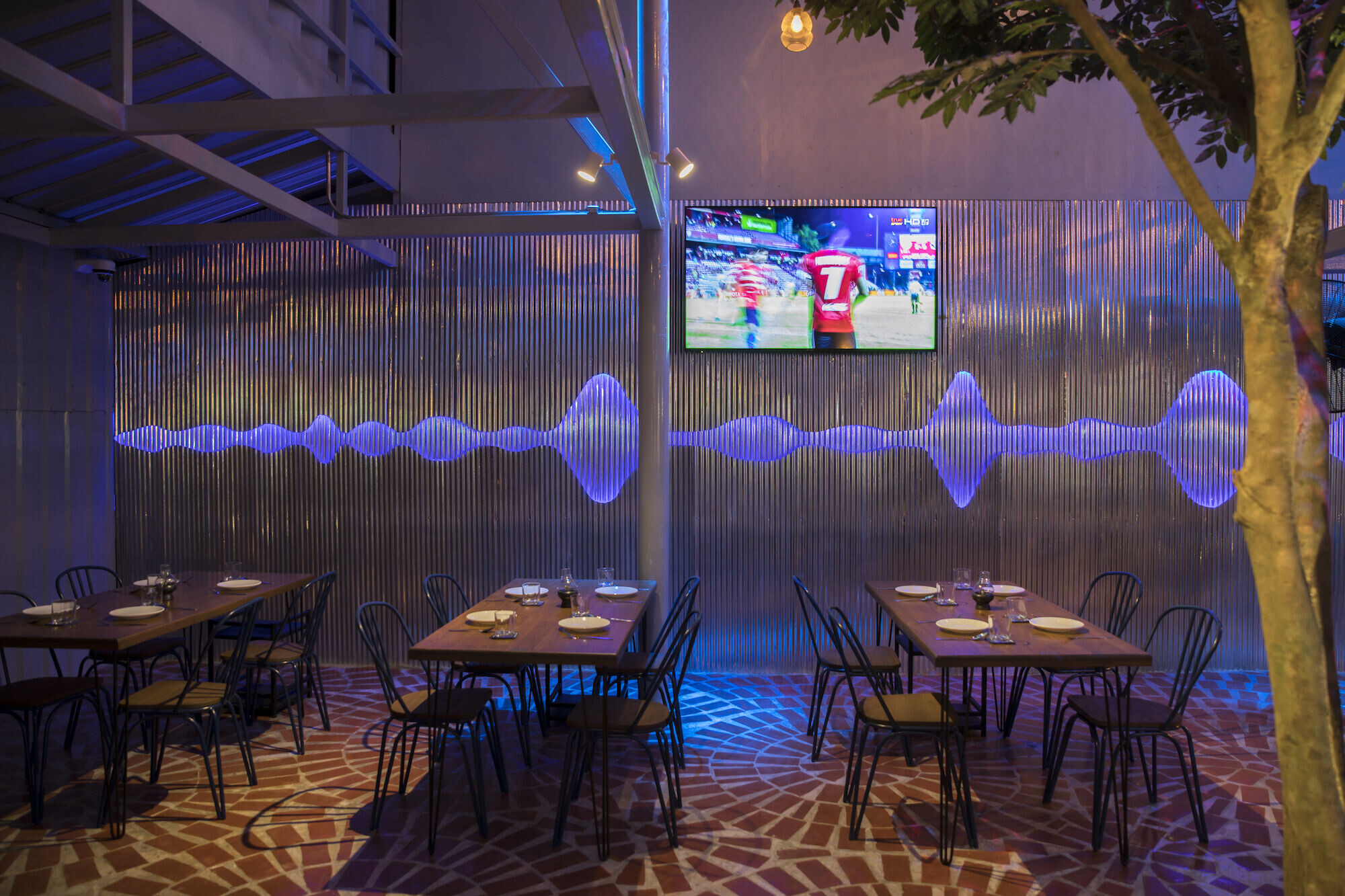 Aesthetic
According to the main design concept "Sound Wave", Dersyn Studio use physical form of the sound wave which is generated by "Long Nour Bar & Bistro" pronunciation as the front faced. This facade is made of perforated metal panel and painted with pearlescent color. This means the color of front faced may varies within the "pearl color shading" from each angle and time of the day that people look into it.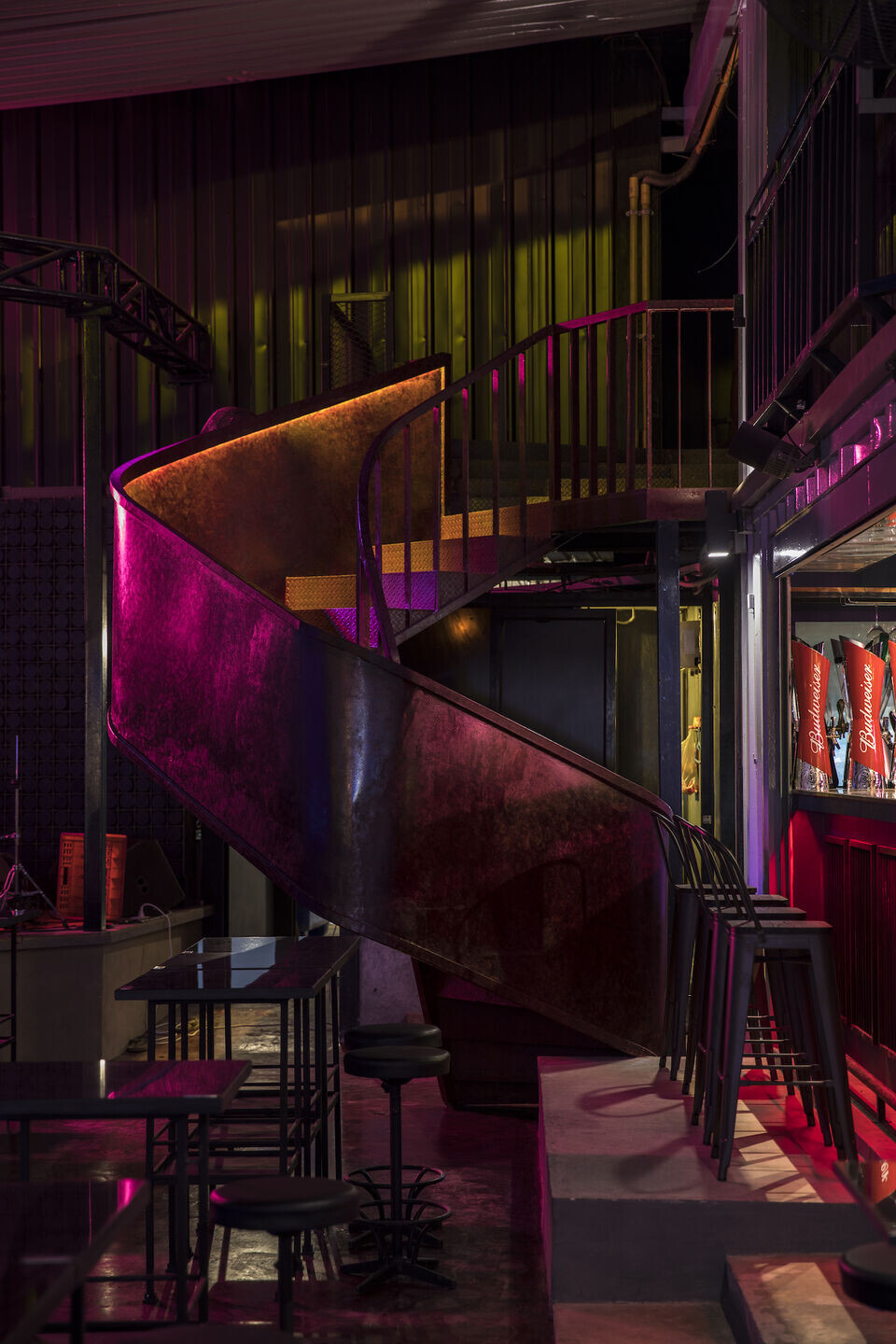 Dersyn Studio uses 2 color scheme from lighting source at this front façade. White color for early night and purple-pink color for late night. The white scheme is used to invite family group target and the purple-pink color is used to invite the existing group target which require something more energetic. Circular shape brick floor pattern is used as the floor pattern of this area. This shape is inspired shape of the water wave which occurred by the sound wave.
Burgundy red acid stain is uses as the floor finished of the pub area. There are eye-catching wall decorations at the wall of the stage and long bench area. These decorations create energetic perception for the main target group of pub area.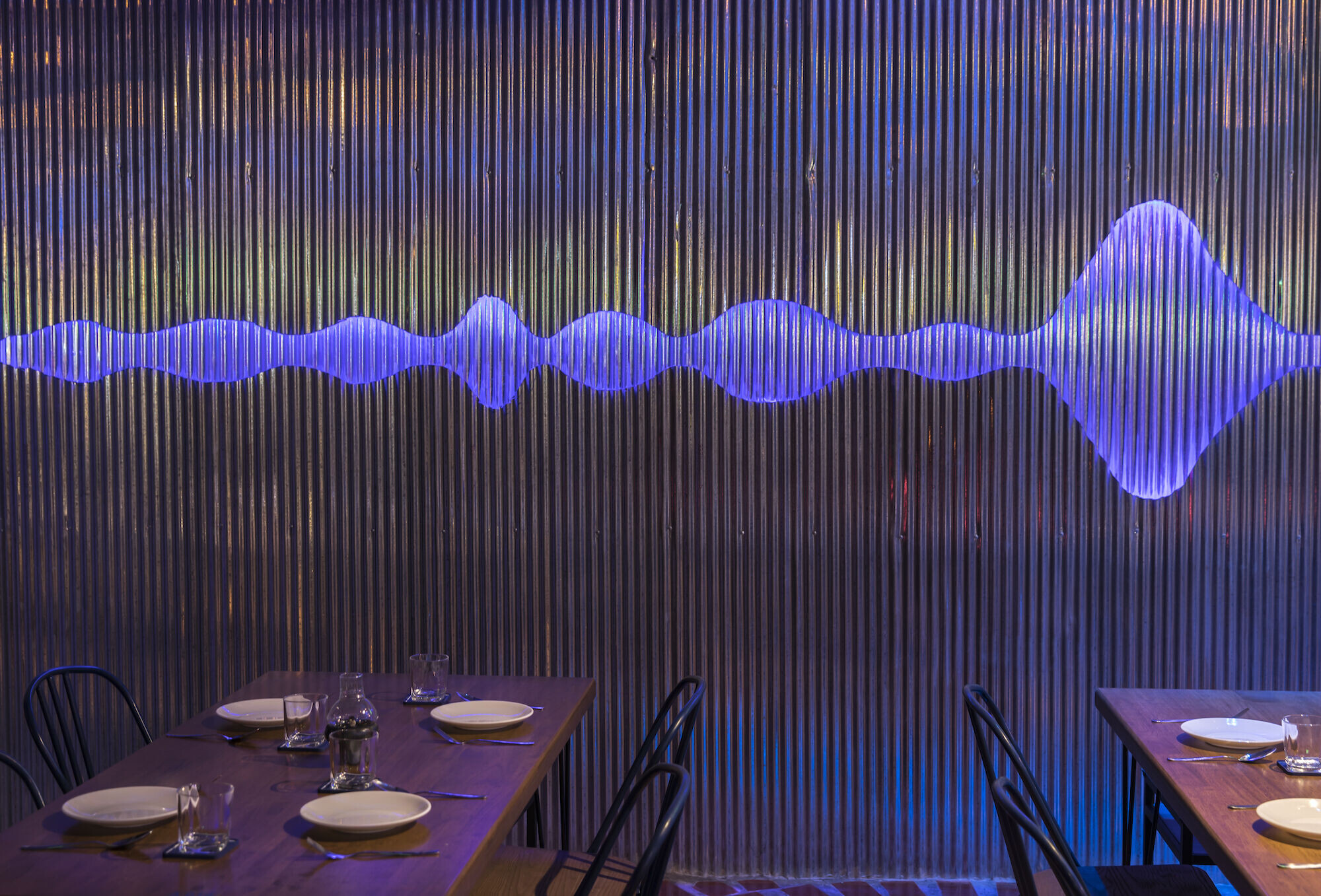 Realization Efficiency
The open plan lay-out of pub area is designed and prepared for multi-functional usage. The existing Long Nour Bar & Restaurant is famous for local festive celebration such as the Songkran Festival, people celebrate this event by splashing water to each other. So, material selections of this area must be humid resistant. All wood like appearance is made of imitate wood which is normally produce by recycled plastic and wood ash. All leather like appearance is made of PVC leather which can be cleaned easily and, of course, humid resistant. All construction technique and installation must be fast and easy. Due to the nature of hanging out place which is festive redecorations.
All these concepts of space flexibility are still remain to serve both existing and new target groups.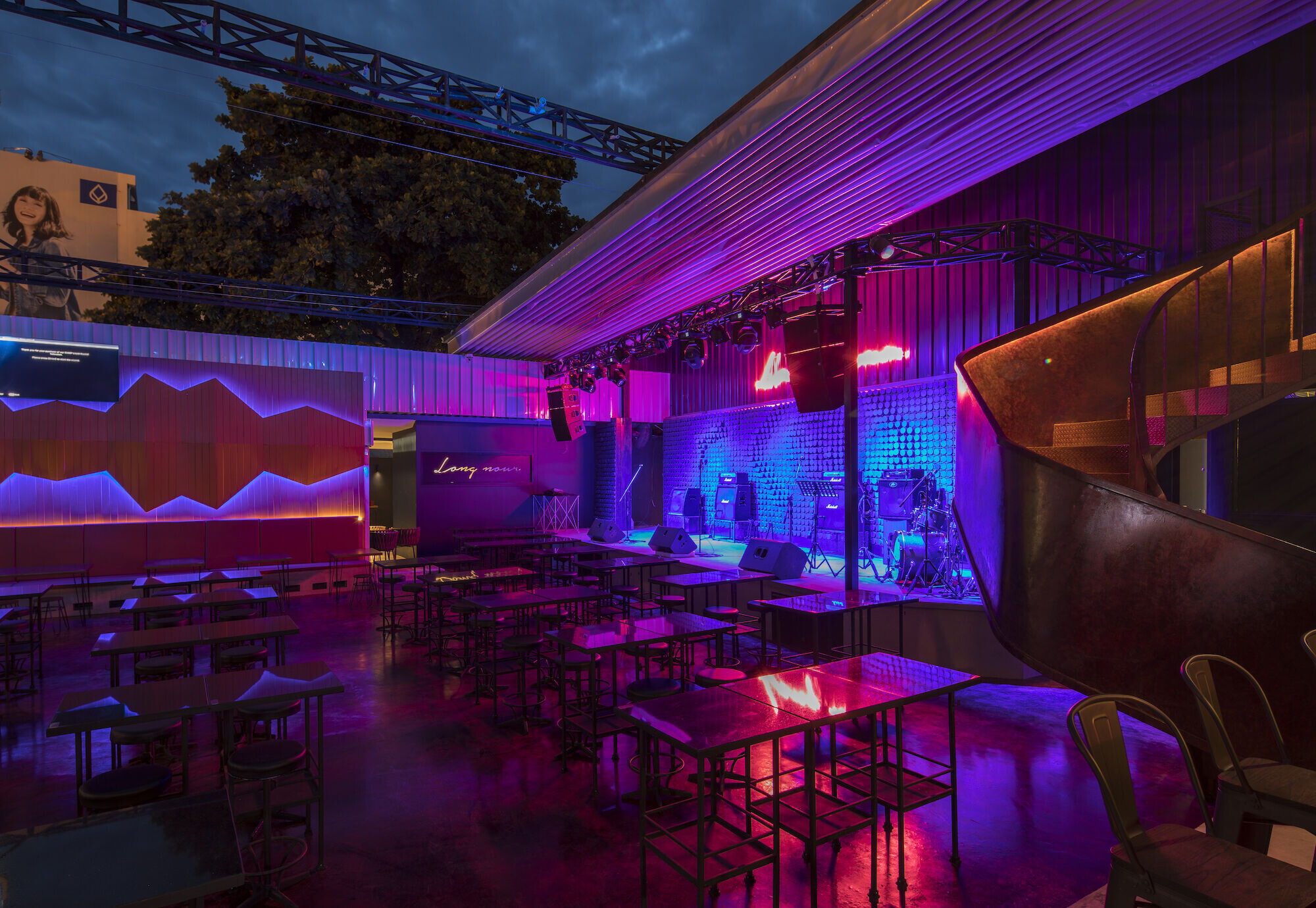 Team:
Architects: Dersyn Studio Co., Ltd.
Photographer: Supachai Rodprajong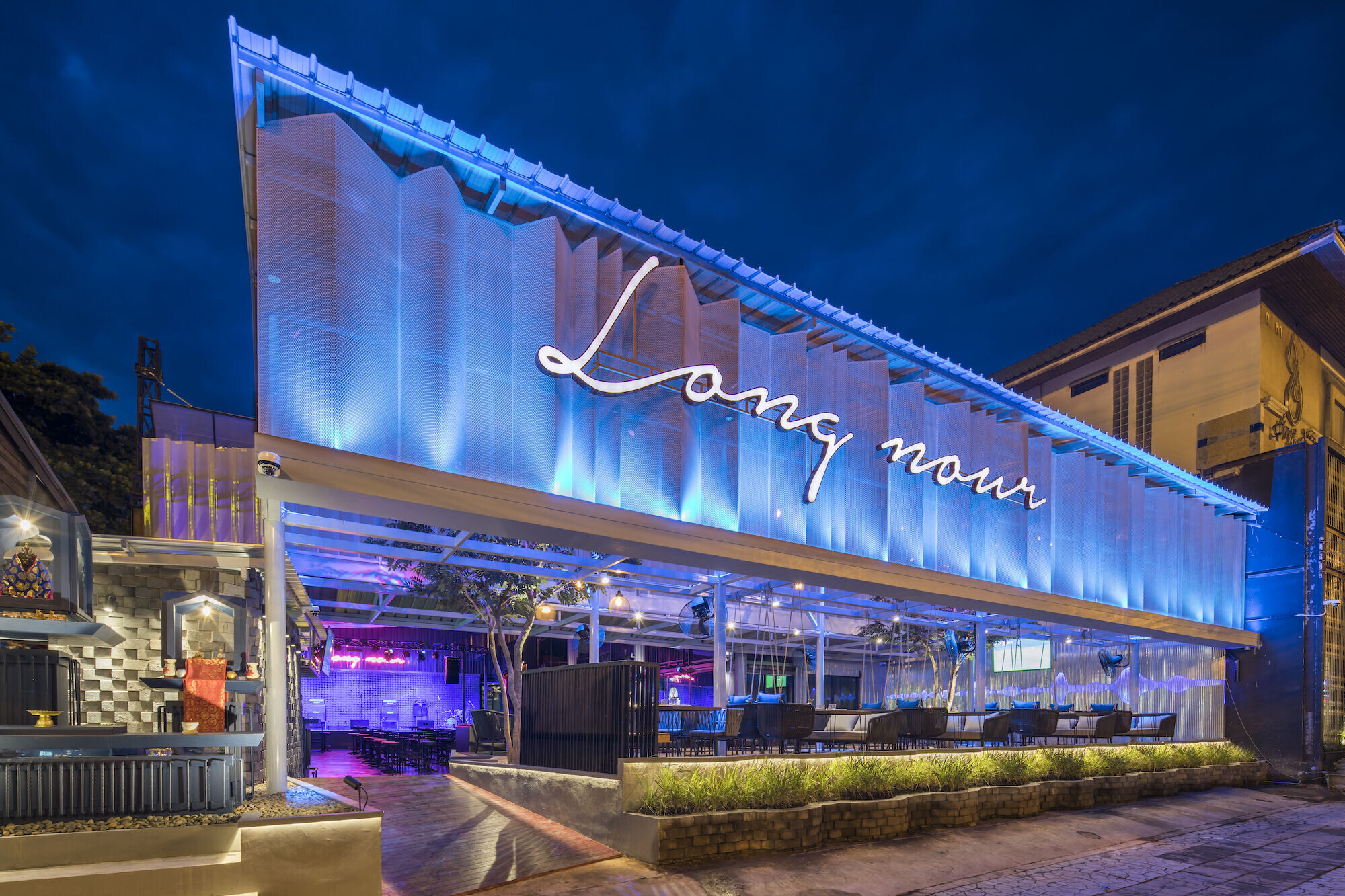 Materials Used:
Facade cladding: Perforated sheet, Lee Ngiab Seng
Flooring: Epoxy sealer, Heavy Duty Coating Absolute Endurance, Beger Brick, AC-184/M, A.P.K. DAWKOO
Doors: Steel+Glass, Made to order by consultant
Windows: Steel+Glass, Made to order by consultant
Roofing: Metal sheet, M-Lock 700, Metal Building Thailand
Interior lighting: Lightenna Co., Ltd.
Artificial wood: Conwood
Artificial grass: Aboutgrass
Acrylic color: Captain
Brick block: APK
Perforate sheet