An authentic gastronomic space full of the history of the purest American dinner style opens its doors in the heart of the Madrid capital in Fuencarral.The architect Héctor Ruiz-Velázquez undertakes the challenge of integrating the local spirit of one culture into another and shapes the new space of the Johnny Rockets brand from its most original essence with a new vision of the future.
In the 50s in the US, fashion, cars, spaces, aesthetics are dyed with brightness, intensity and red, a chromatic range that defines the rise of the industry and its impact on the modernity of a young society and hopeful at that time the future. Youth, music, speed the new has its meeting point in these places, a perfectly orchestrated prop where you can hear, feel that spirit of American freedom of that time.
Johnny Rockets has managed to maintain that unique feeling and universalize it in all its stores around the world. It maintains that iconic glamour that can be revived in its seats, in its food, in its music and focused on its restaurants since the birth of the brand in 1986 in California.The creative design of the space dynamically revolves around a central core: the kitchen. The visible preparation of the dishes emphasizes the value of its gastronomic offer, its mythical burgers become an attraction for the delight of consumption.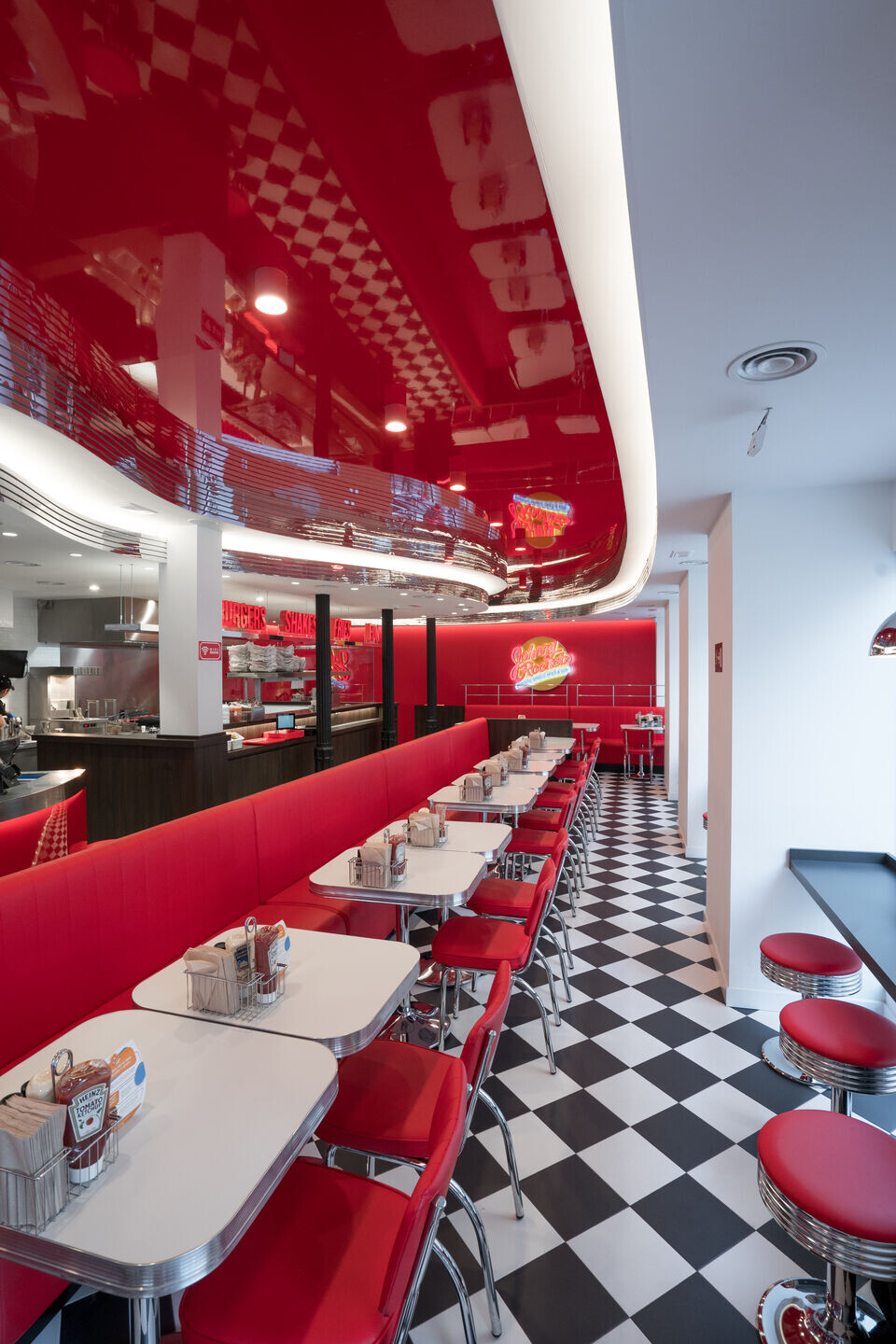 The tidy and clean space of the elegant dining room on its classic black and white checkerboard, mixes the spirit of the Cadillac and the iconic Jukebox in all the details of its interior architecture, in its moldings, in the ambient light, in the material and the arrangement of its seats.The design feel of this new restaurant aims to be cheerful, pleasant, and theatrical. It achieves this through the architecture of the space, turning the new Johnny Rockets into themed gastronomic experiences that motivate and envelop focusing on what really matters: their food.
The space is participatory in all its extension, the kitchen staff and the diners are visually and spatially interrelated in an integrating restaurant,where the red, the chrome details, the touches of warm wood, the sinuous volumes of the counter, the indirect lighting and the curved and dynamic ceiling are part of a scenography thought and designed to enhance the sensory experience of the public.