The project for the new 5-star hotel in Port de Sant Miquel in Ibiza is a project that would occupy the site of an old hotel built in the 1970s and located on the same plot.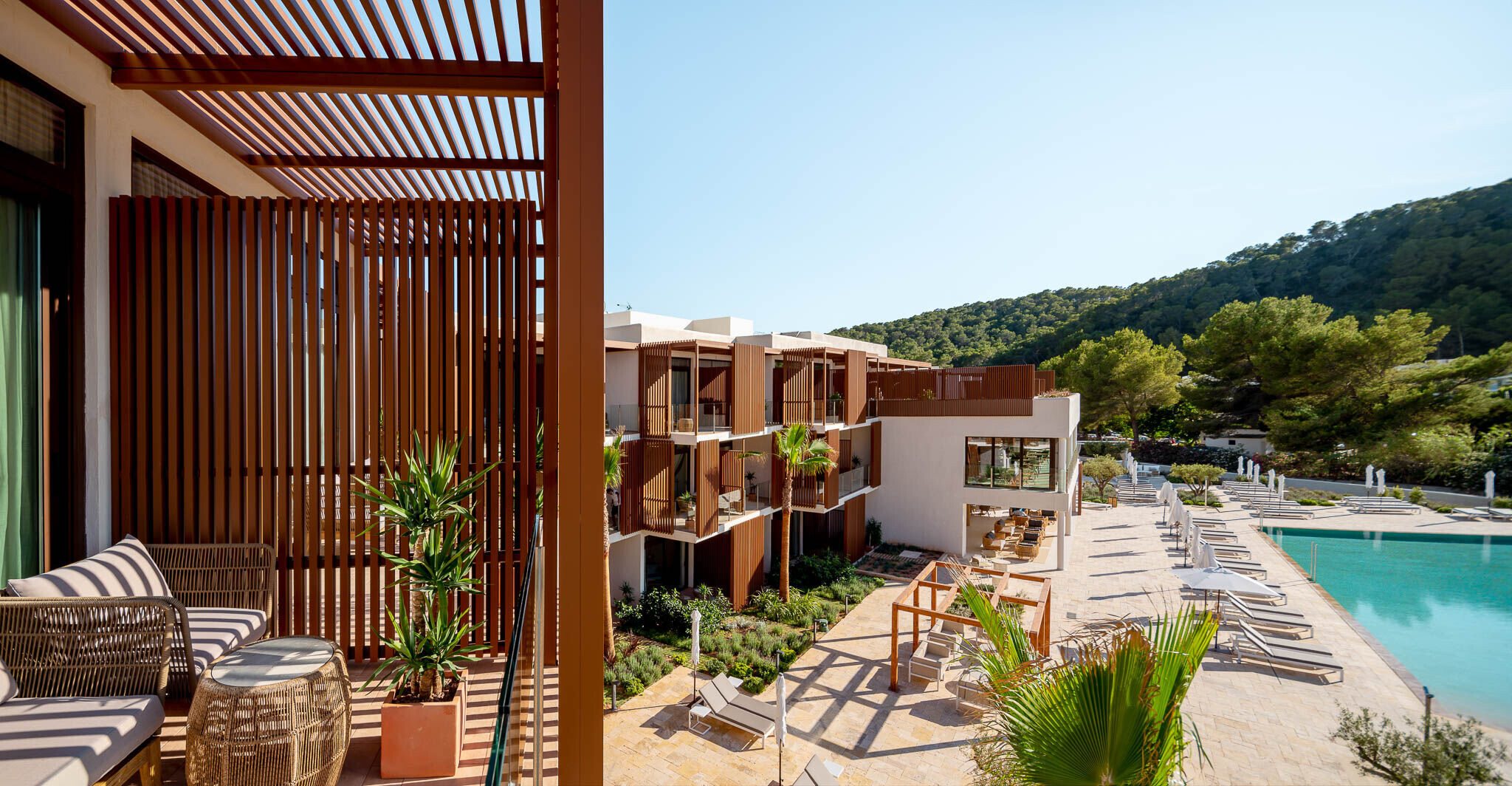 This proposal stands out for its clear intention of creating a sustainable building suited to its surroundings, generating a minimum impact on the landscape and adapting the architecture to an Ibizan style: white plaster walls, ceramic floors, lattices, cane pergolas... all recovering the memory of traditional construction traditions. Another differentiating factor is that the building breaks down into different blocks to avoid a dense and compact design.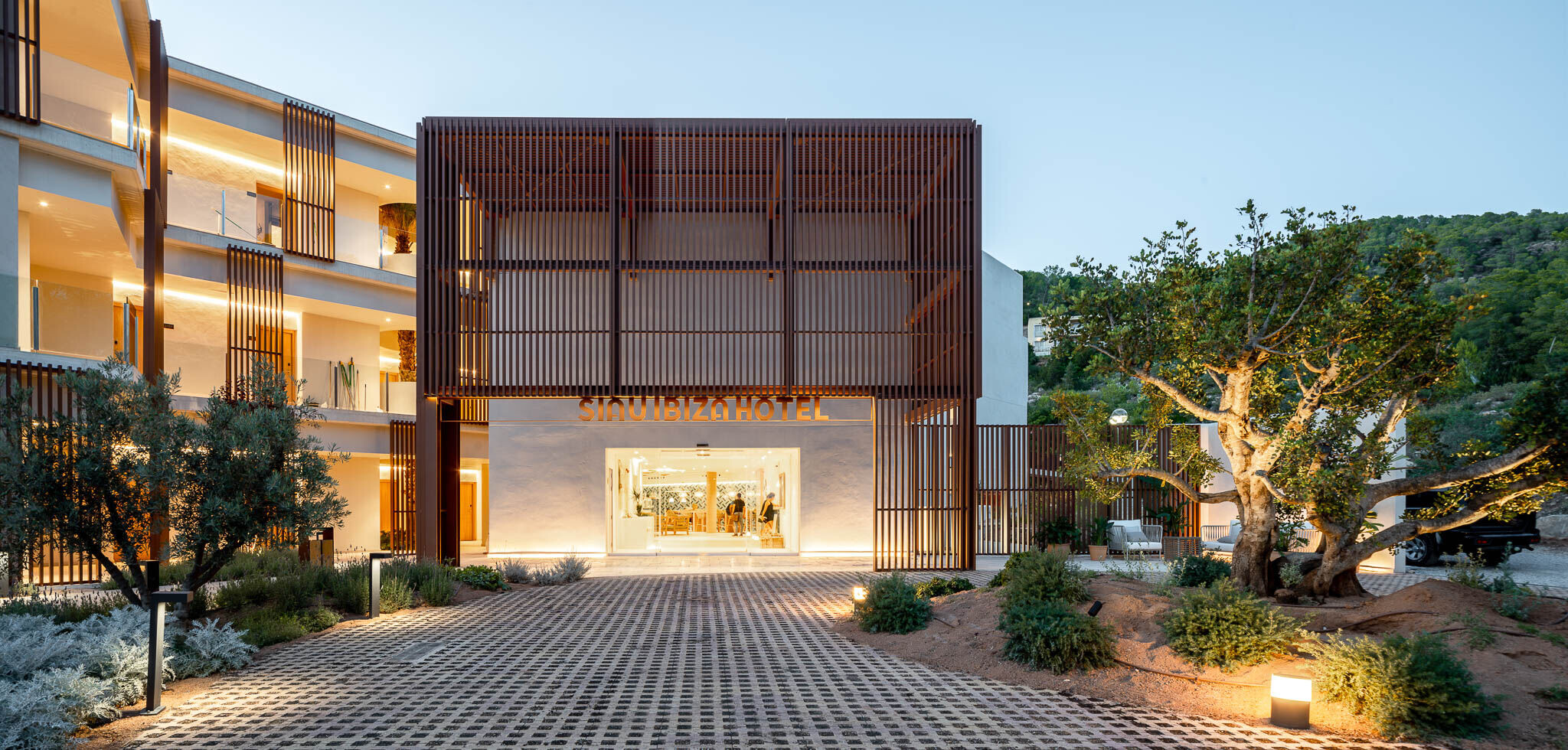 In this way, the architectural proposal presents a large central volume in which there are different common areas. From the central module, a series of side-by-side independent modules are positioned that contain the rooms in sets of two.Thanks to this decision, not only do we achieve a lower landscape impact, but we also gain a better positioning of the building with respect to the boundaries of the plot.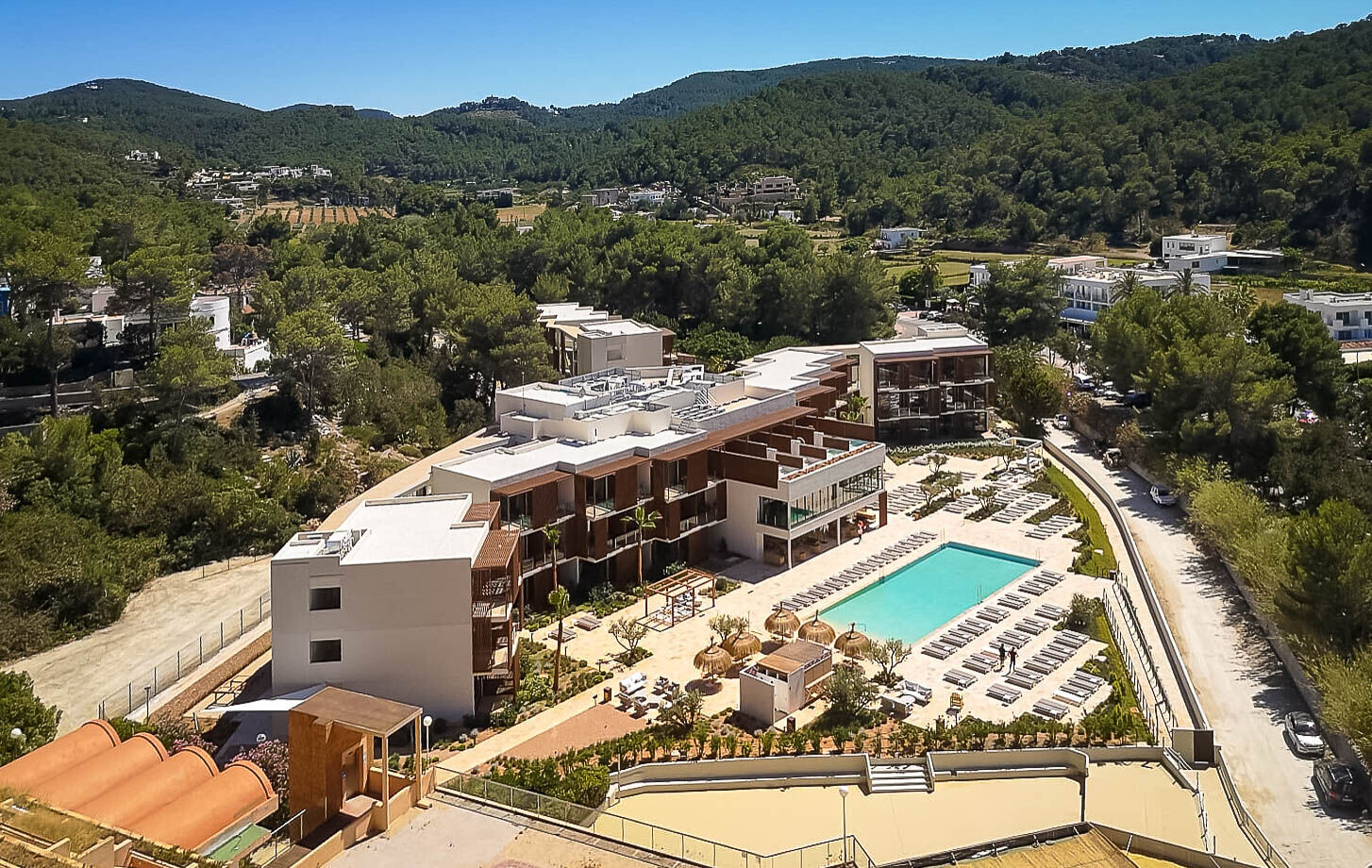 The hotel has a total of 96 rooms, 4 of which are Junior Suites and one is a Presidential Suite. The main access is located in the block of common areas, which cross the plot, with their lobby spaces on the first floor and the restaurant on the second floor facing towards the sea. The position of the access and the block of common areas manages to minimize routes, both for customers and service. The rest of the blocks, where the rooms are located, are separated and joined between them along the plot by winding walkways, thus avoiding a monolithic feeling and generating large outdoor spaces that are interspersedbetween the building, always keeping the sea as the great protagonist.
The hotel's interior design proposal follows the same guidelines as the architecture, with an Ibizan style, and aims to set guests in their surroundings through the interior image of the spaces.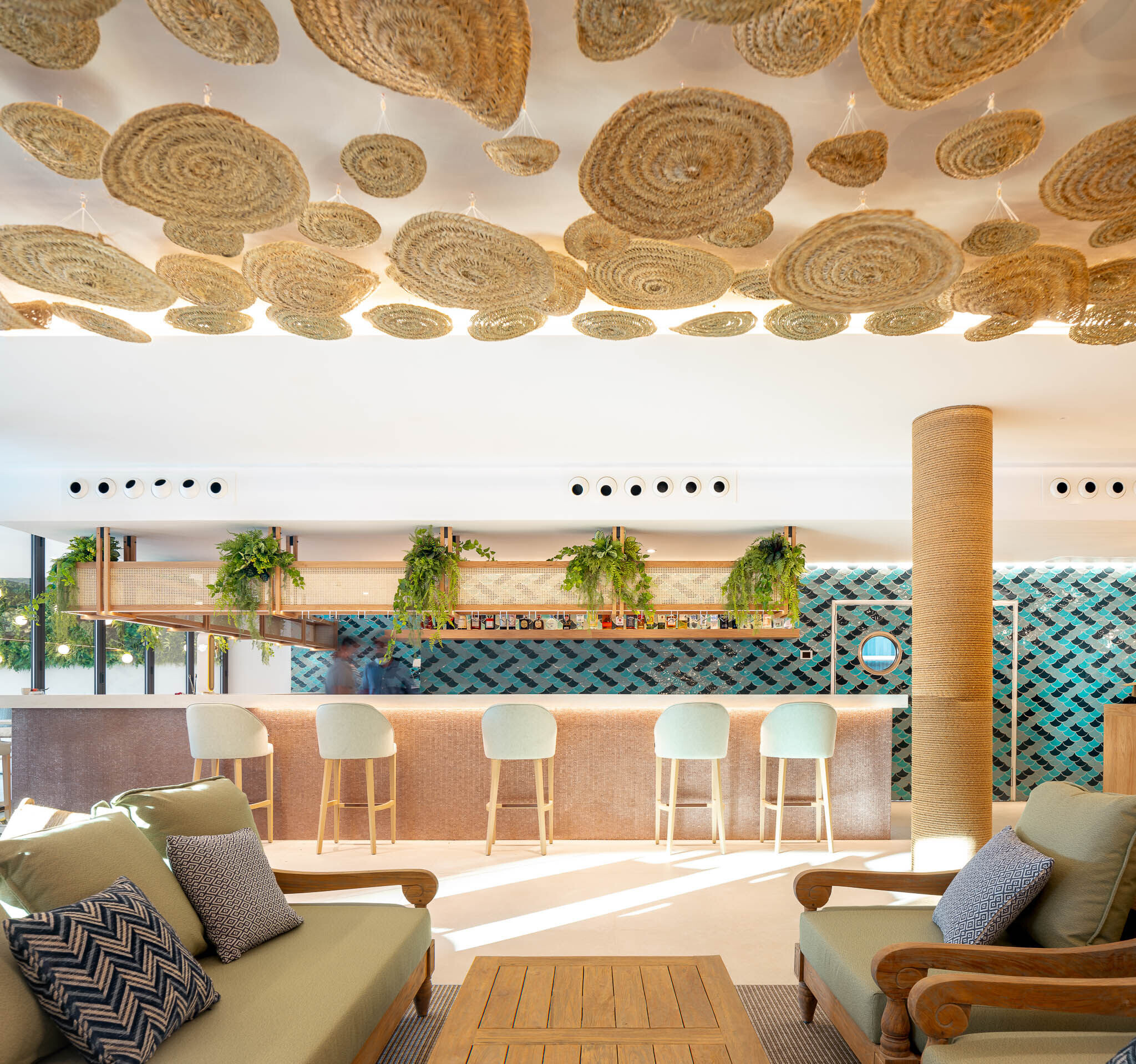 That is why, accompanying the white plaster walls and the ceramic floors and ceilings, the interiors are dressed with natural materials such as wood, rattan, fabrics and textures that remind us of Ibizan traditions. An interior design that blends in with its surroundings but at the same time mixes with unique elements and colors that give the spaces a differentiating point thanks to the originality of the proposed solutions. A luxury image for a first quality environment that tries to captivate the client with its sensations and to transmit all the essence of the Mediterranean and the island.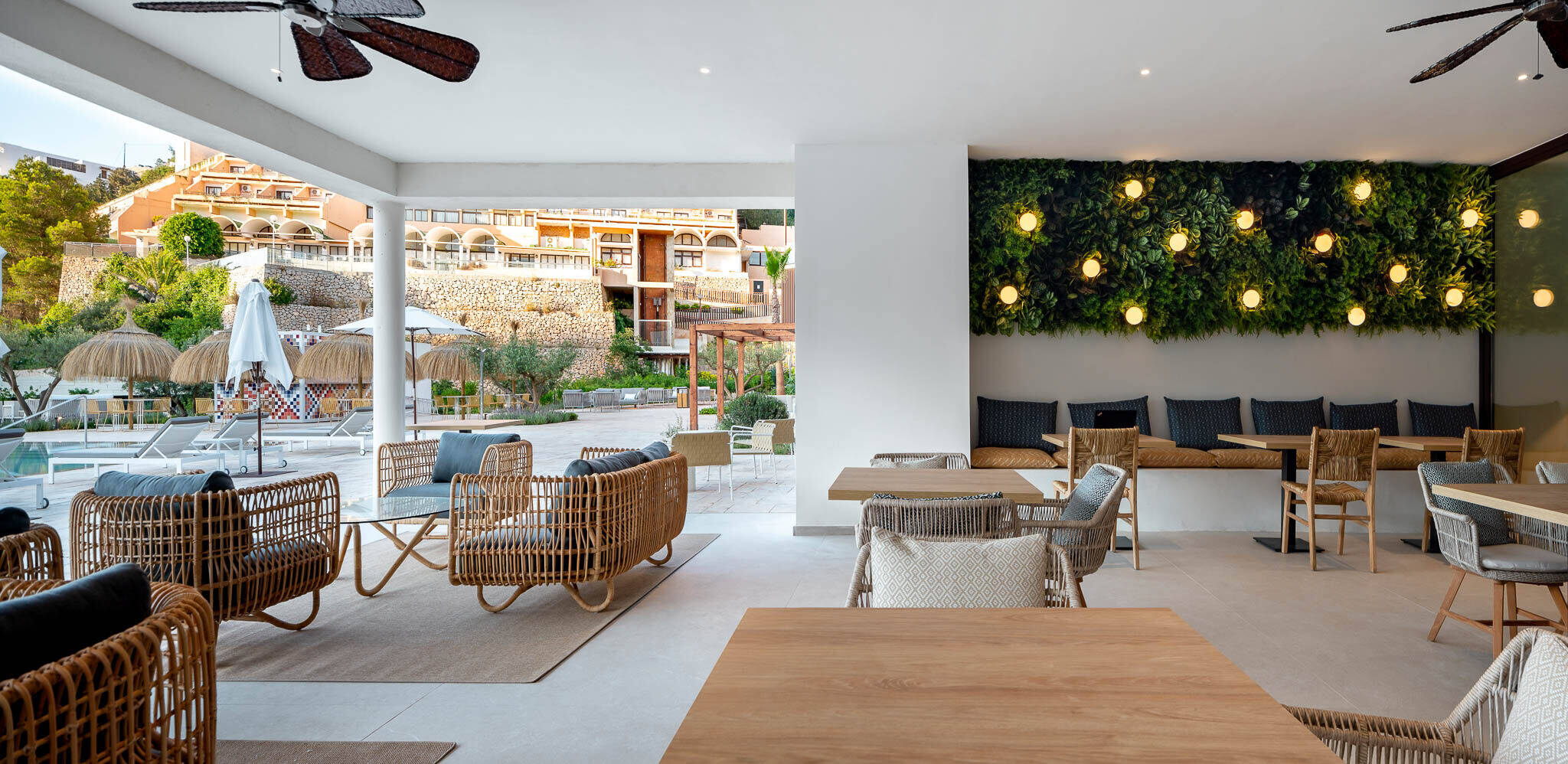 Material Used :
1. Facade material - Aluminum slat lattice (Strugal)
2. Exterior carpentry - Strugal
3. Flooring - Del Conca, Marazzi (Ivory velvet limestone)
4. Suspended ceilings - Rockfon (Mono Acoustic)
5. Other representative companies - Marazzi - (Frammenti), Mutina (Rombini), Ezpeleta (umbrellas), Expormim (furniture), Point (Deckchairs), Taller de las Indias (furniture)