The former quarry and the existing heating center project in concrete formed the basis of an architectural competition for the housing construction, from which the design emerged victorious.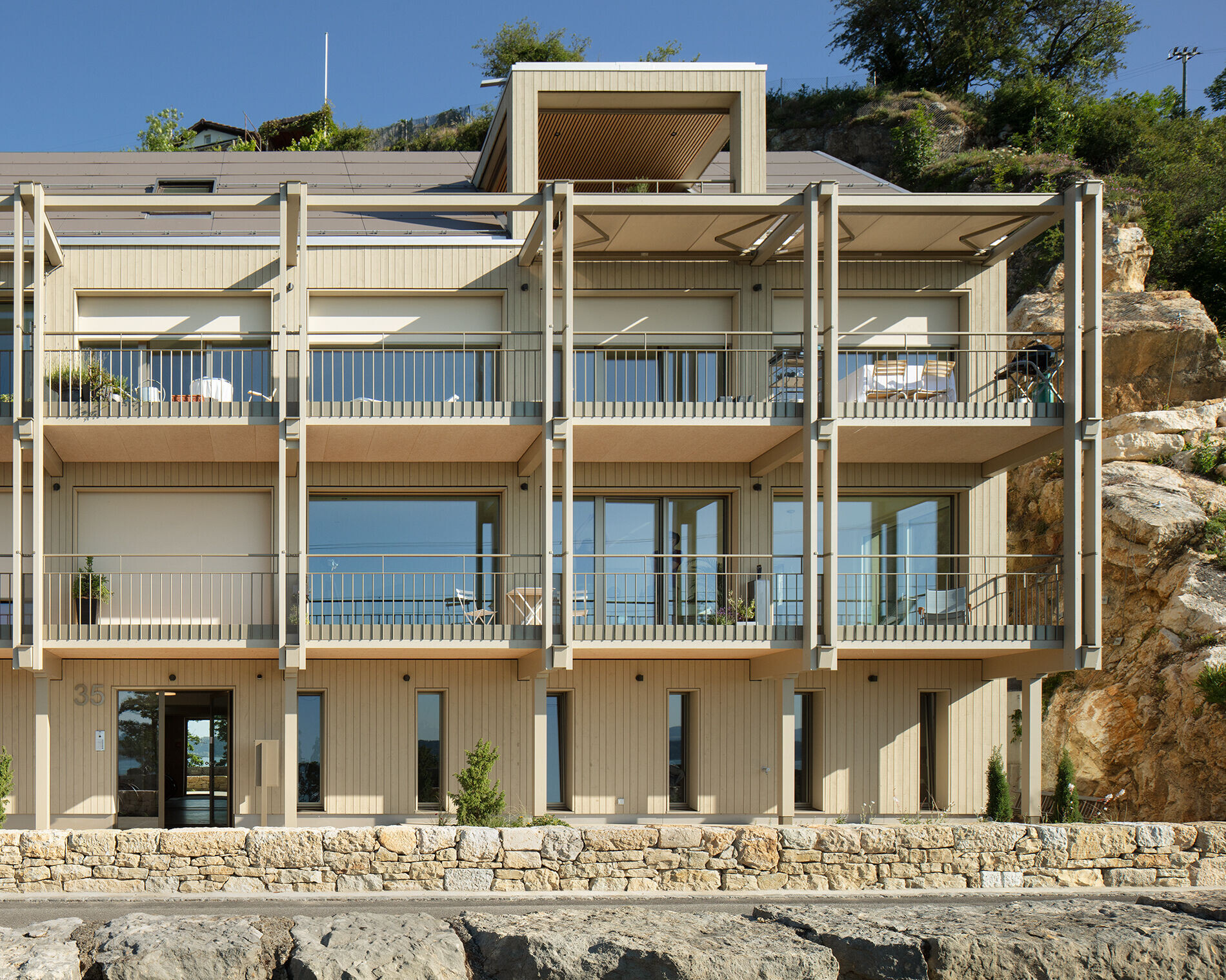 A wooden structure was chosen for reasons of statics as well as sound and vibration insulation against the heating center with its mechanical conveying systems. High degree of prefabrication and large elements allowed rapid assembly in the tight space conditions with temporary use of the road.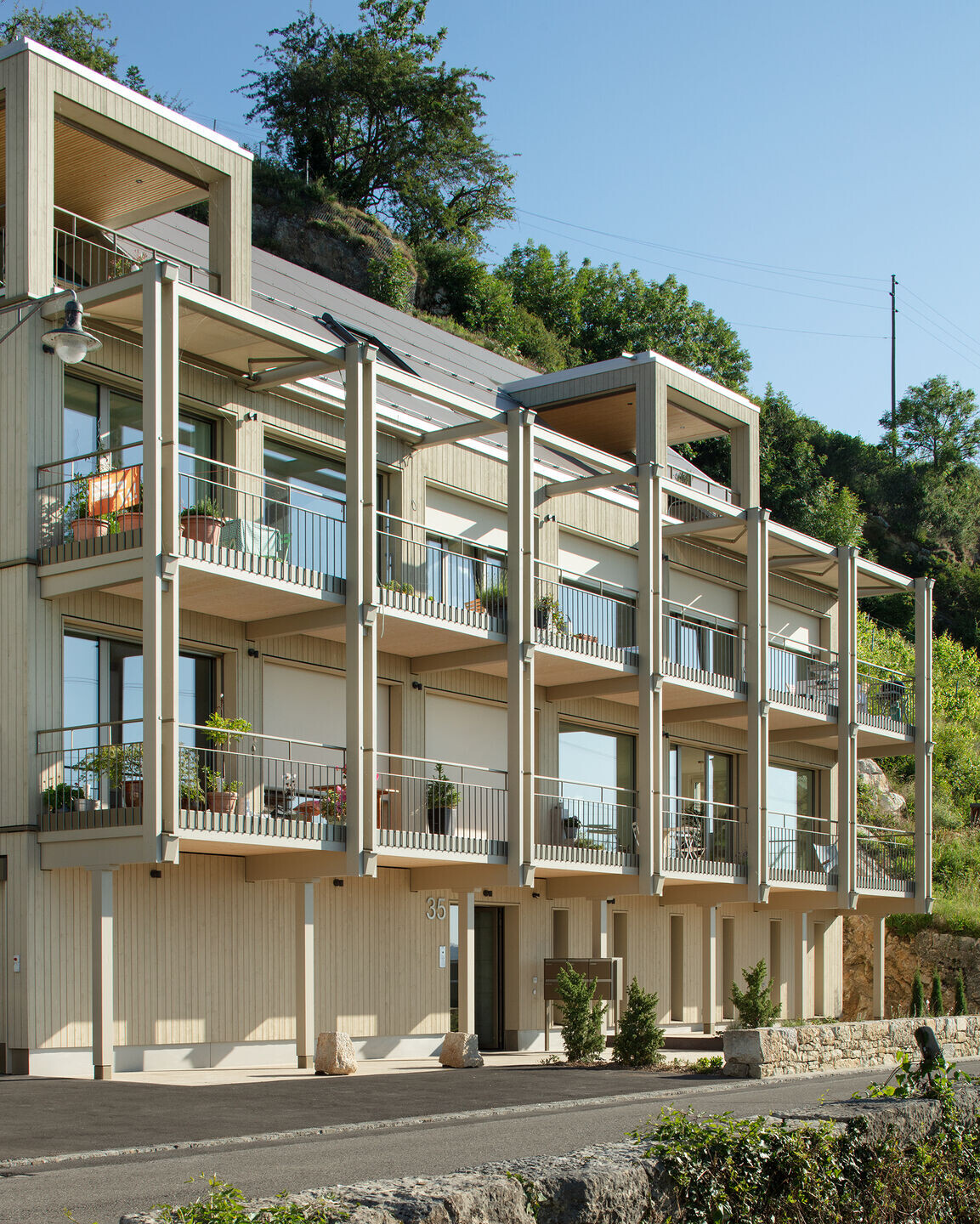 The structure with wood-concrete composite ceilings, load-bearing wooden element walls and access core in concrete created elevator and stair core provides space for 6 floor apartments in two floors and in the first floor, as well as ancillary rooms and garages on the first floor. The heating center occupies most of the ground floor and also protrudes into the basement.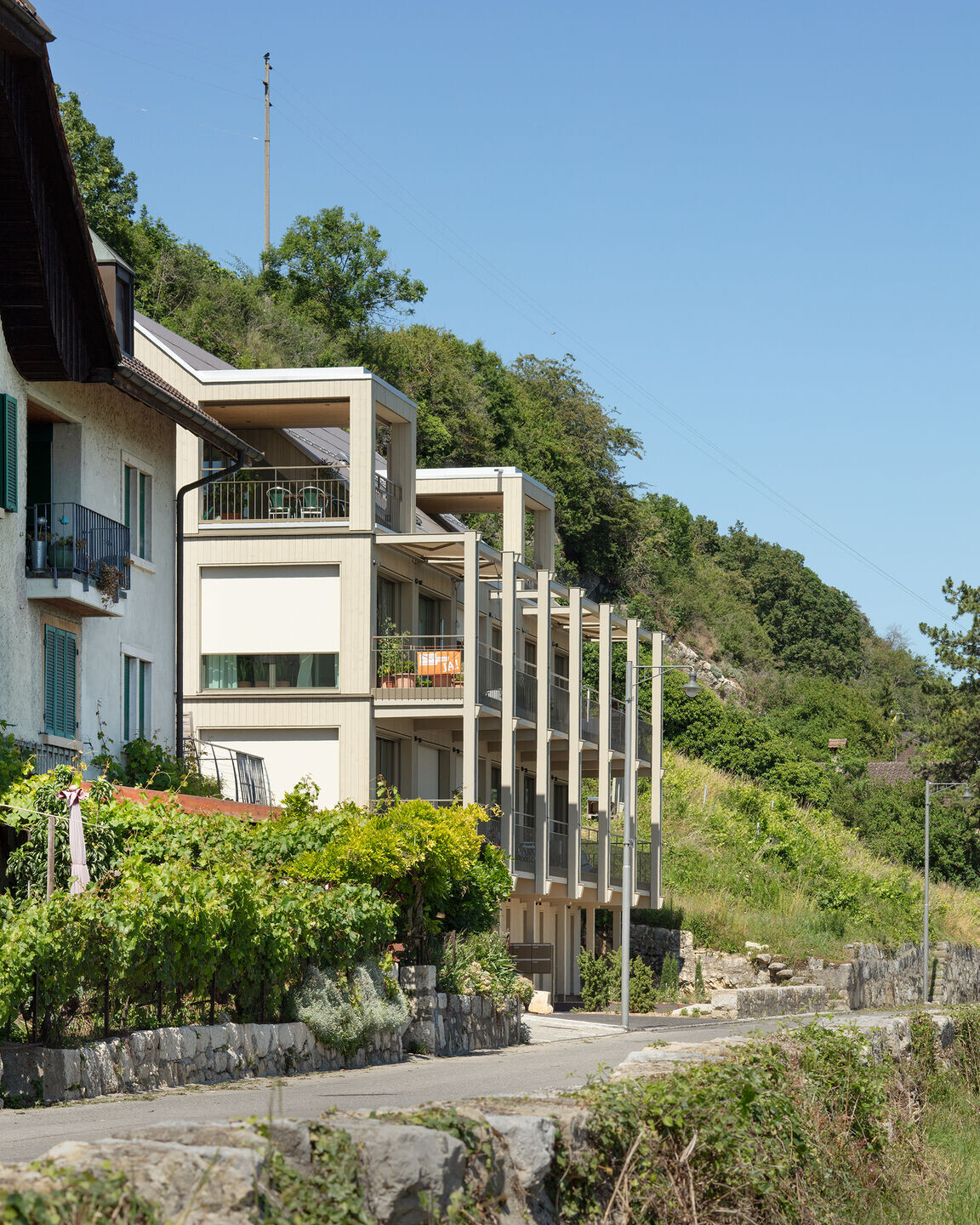 While the interior of the condominiums has been individualized through planned finishing according to the buyer's wishes, the uniform building envelope adapts to the special requirements of the protected village of Ligerz. In addition to adequate size and a lakeside façade with clear, calm geometry, color integration into the village image was a particularly important issue; in consultation with the conservation organizations, an opaque mineral thick-layer glaze was selected that matches the color palette of the existing village houses. The tradition of painted wood, which can also be found in many old buildings in the Bernese Seeland, is taken up here and implemented with a contemporary language. Likewise, the element of the pergola facade, which forms the entire south or lake side of the volume and shapes its appearance.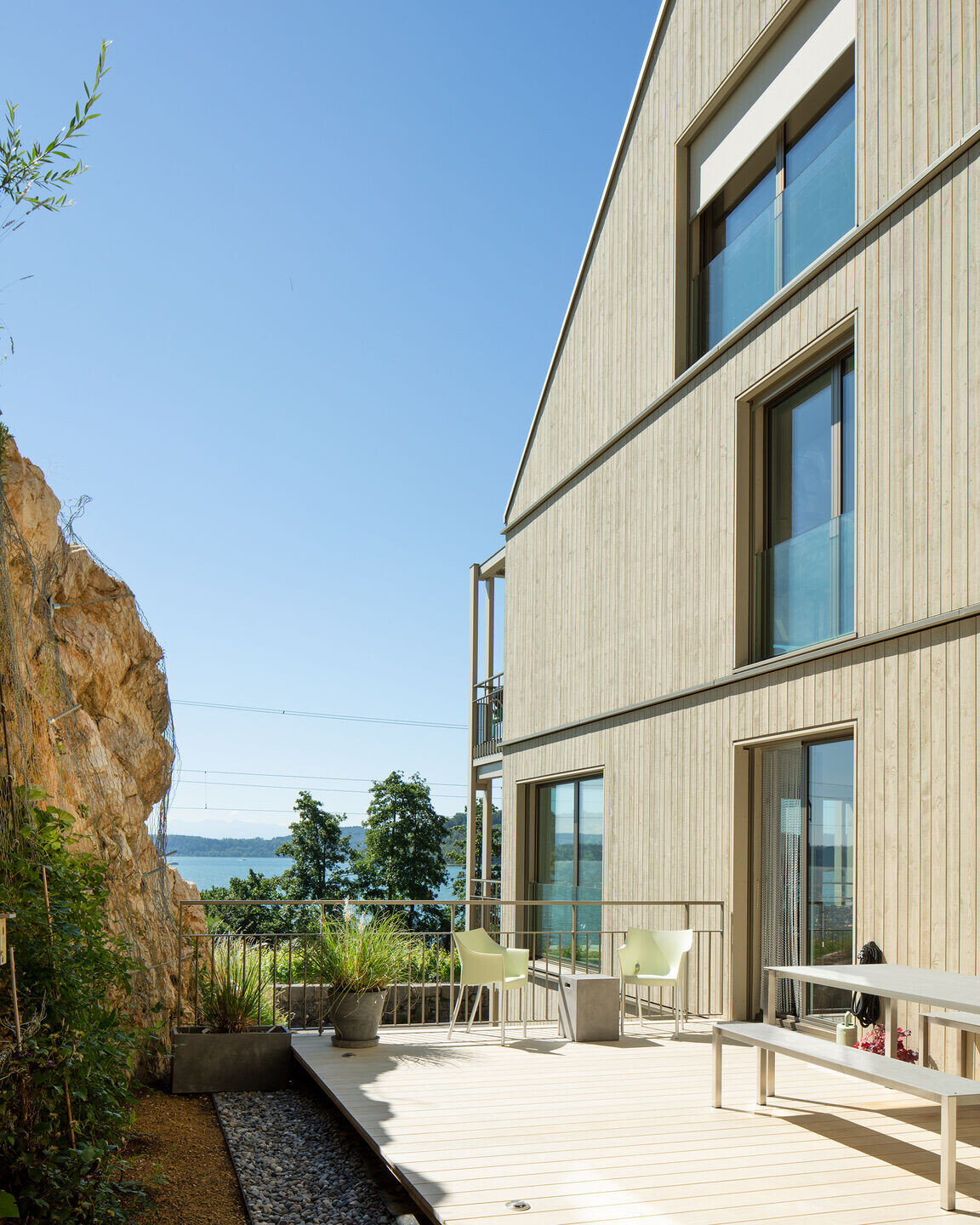 In accordance with the structural logic of the slab-support system, the balcony arbors are not statically cantilevered; instead, the lowest level rests on a "scale" (support in the middle of the projection) on the first floor, and the second level rests on external pincer supports, leaving the arbor surfaces clear. The wooden connections form a synthesis of traditional and the latest timber construction techniques: saddle timbers in oak, minimal contact surfaces in the load transfer of the tongs, railing elements fastened by means of clamping clamps, so that no fastening screws perforate the wooden supporting structure.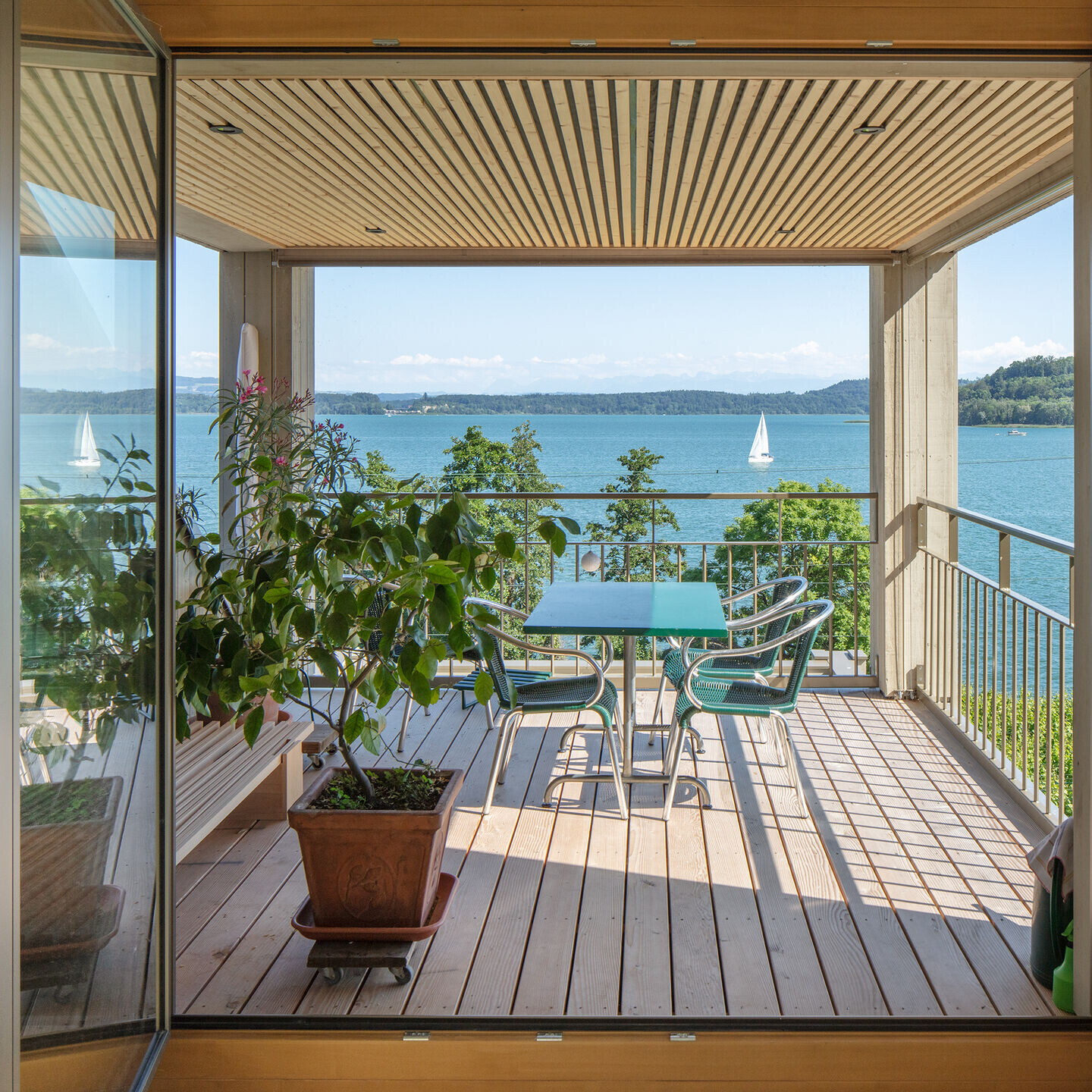 By its conception, the wooden building makes the concrete heating center disappear in its first floor and remains true to the name that the quarry with its wooden shelters had once received: "wooden hut".