Maydan Architects designed Geometric House, named for its angular design scheme, for a local artist and her husband, a Senior Tech Executive. Located in Los Altos, California, the 7,267 square-foot modern minimalist home boasts 4 bedrooms, 4.5 bathrooms, and a guest house with an additional bed and bath. The homeowner tasked Maydan Architects to create a space befitting an artist. The resultant design is striking and one-of-a-kind, with a symbiotic relationship between the architecture and the artwork it frames, both artistic mediums drawing inspiration from and complementing the other.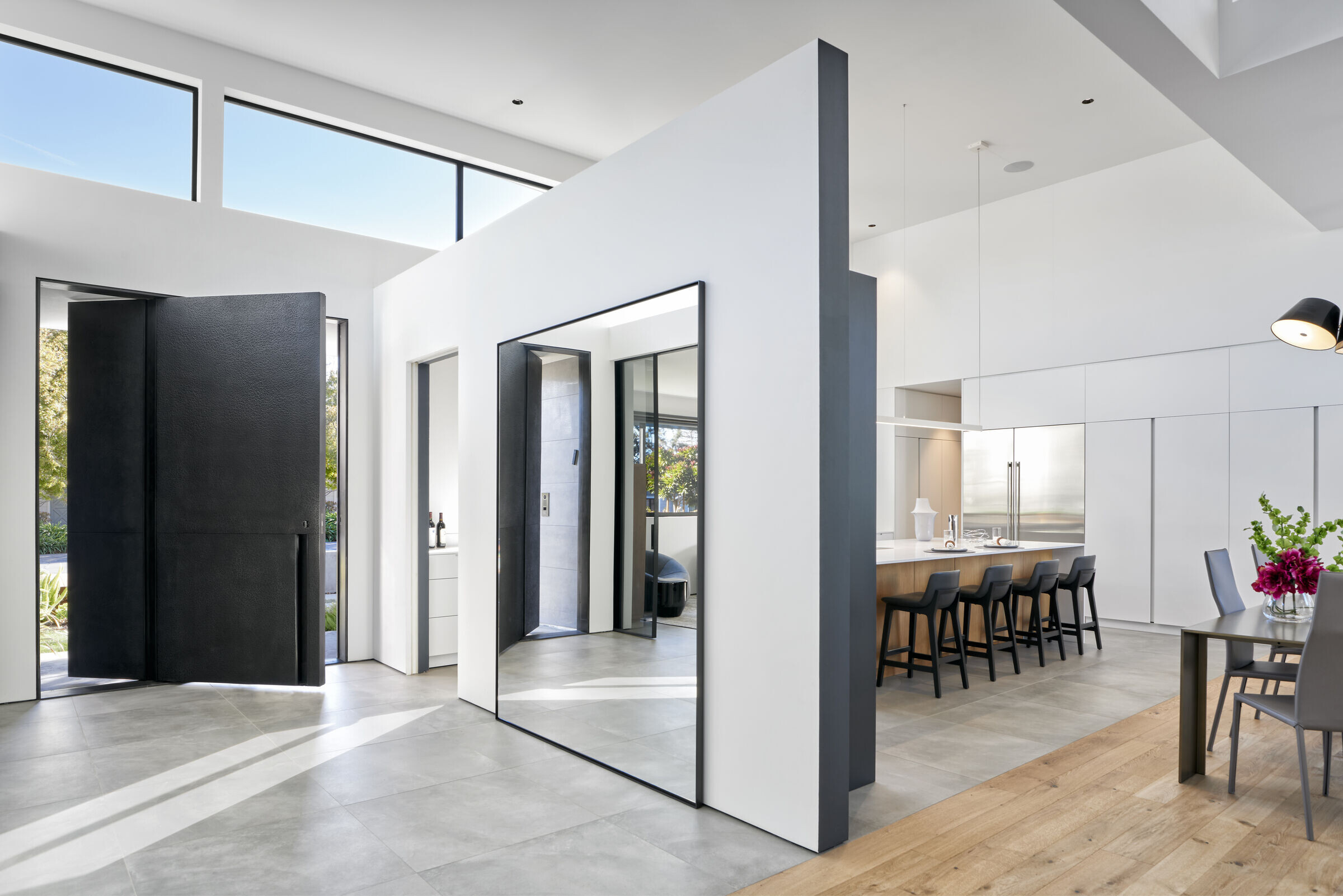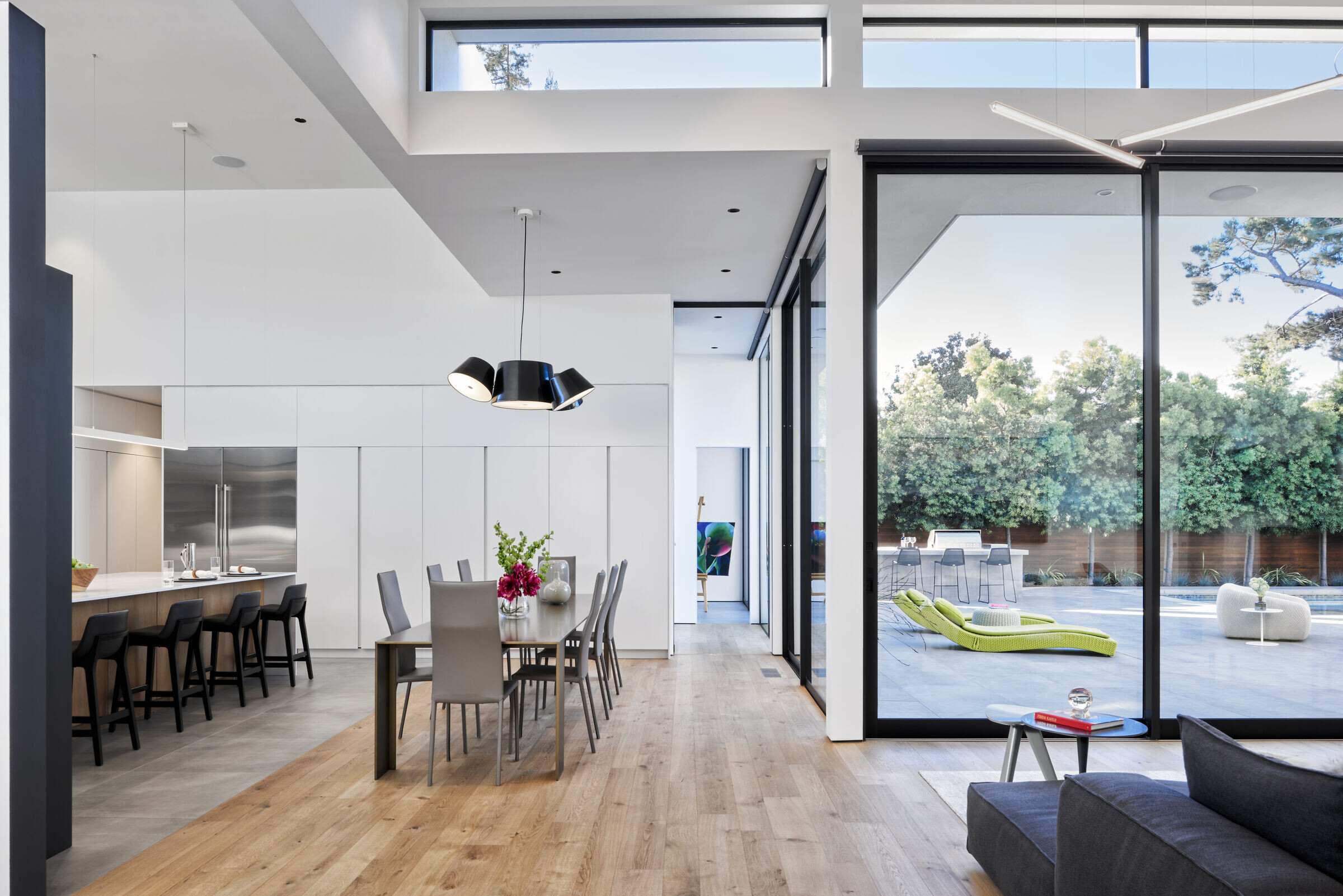 A renovation that turned into a new-build, the footprint for the project was dictated by an existing foundation with an 85-foot-wide flat-front facade. Working from this base, Maydan Architects expanded the footprint by 3,000 square feet through the addition of a basement. The clients desired stand-out exteriors, and while the city prefers facades to be unimposing and blend with the neighborhood, Maydan was able to please both parties with a design that broke up the mass of the building. By incorporating unique overhangs angled in different directions and adding horizontal elements to mitigate the perception of height, Maydan ensured that the home appears grand but still melds with the neighborhood. Ceramic tiles make up the concrete-look exterior, adding a touch of elegance and sheen.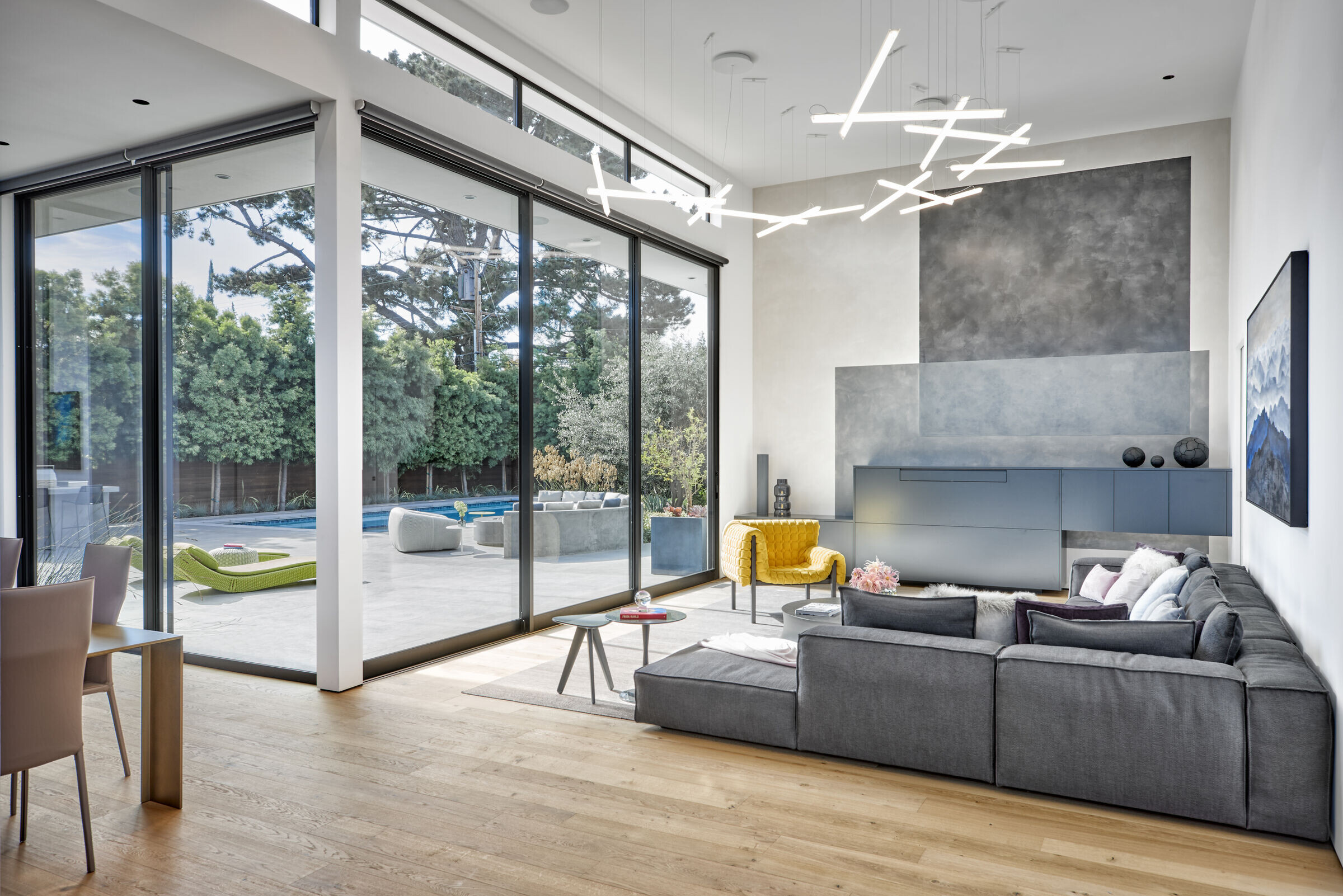 First and foremost an artist's home, Geometric House was designed to elegantly frame and complement a curated selection of art pieces. The homeowner worked closely with Mary Maydan to develop a concept for the central painting that hangs above the sofa and provides a focal point for the entire living space. In a departure from the homeowner's more figurative paintings, this piece was thoughtfully styled to blend in seamlessly with the ultra-modernist architecture.
While painting was reserved for the homeowner's stunning works, other mediums, such as printmaking, mixed media and photography, were selected at Dzine Gallery in San Francisco, which curates pieces by top San Francisco and Bay area artists. The art collection throughout the home displays various styles and compositions, from paint and printmaking to mixed media and photography, creating a distinct experience in each room and chosen to enhance and harmonize with the architecture and furnishings.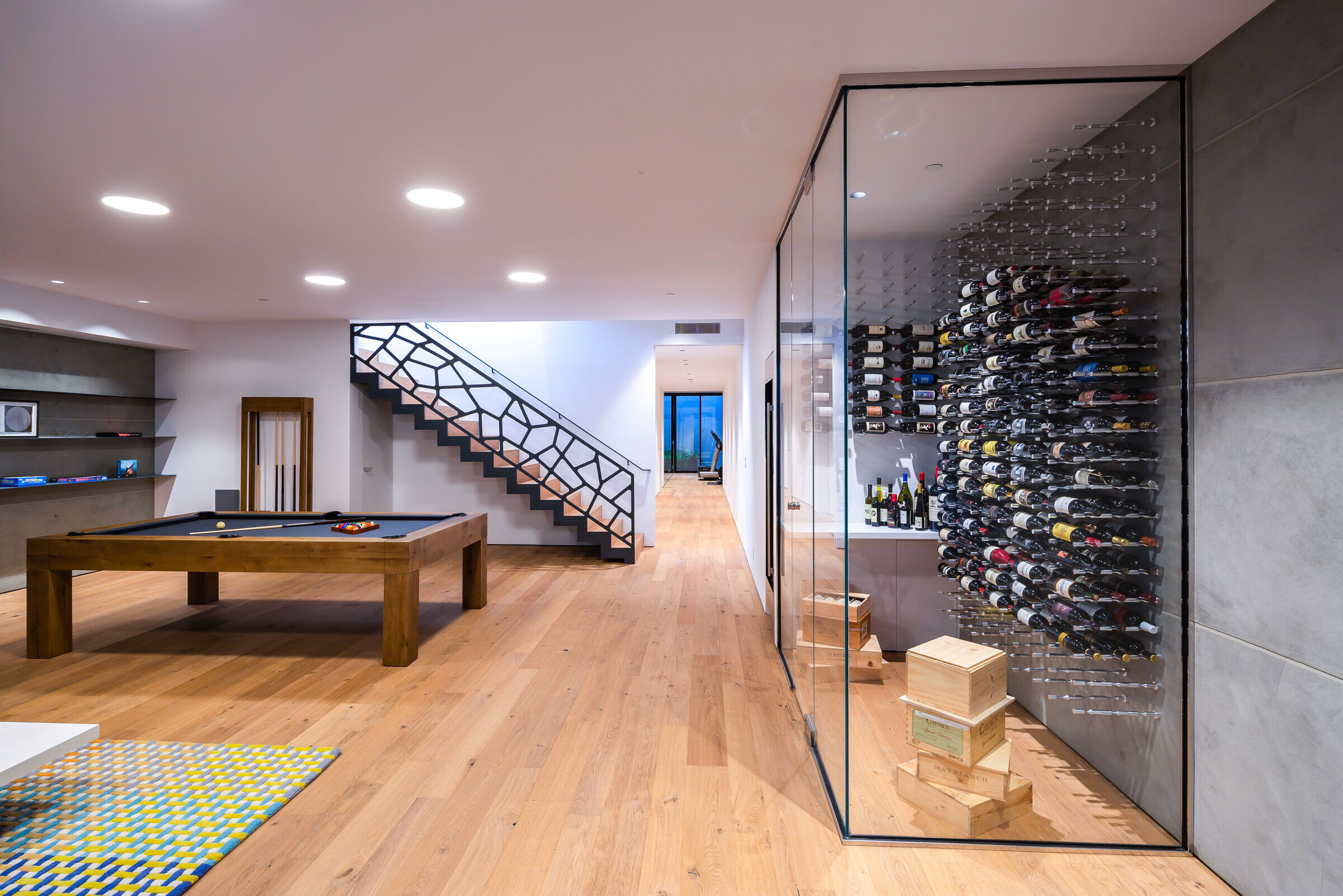 Maydan Architects focused on incorporating bespoke design elements that set the home apart and speak to the overarching "angles" theme. The oversize blackened zinc front pivot door was fabricated by Adam McNae. The door, weighing close to 1,000 pounds, is built from old steel plates sourced from construction yards that were restored and layered with plywood and rigid foam. A stunning 16' plaster wall created by Alon Cohen of Coral Colours greets visitors upon entrance. Throughout the home, white oak hardwood floors and gray ceramic slabs of tile offer interesting contrast, while maintaining a seamless flow. The doors have concealed jambs and are installed in a way that creates just a thin reveal around the door leaf itself. The neutral interior color palette is livened with bold pops of color in the furniture and decor, including bright yellow, red, lime green, and purple.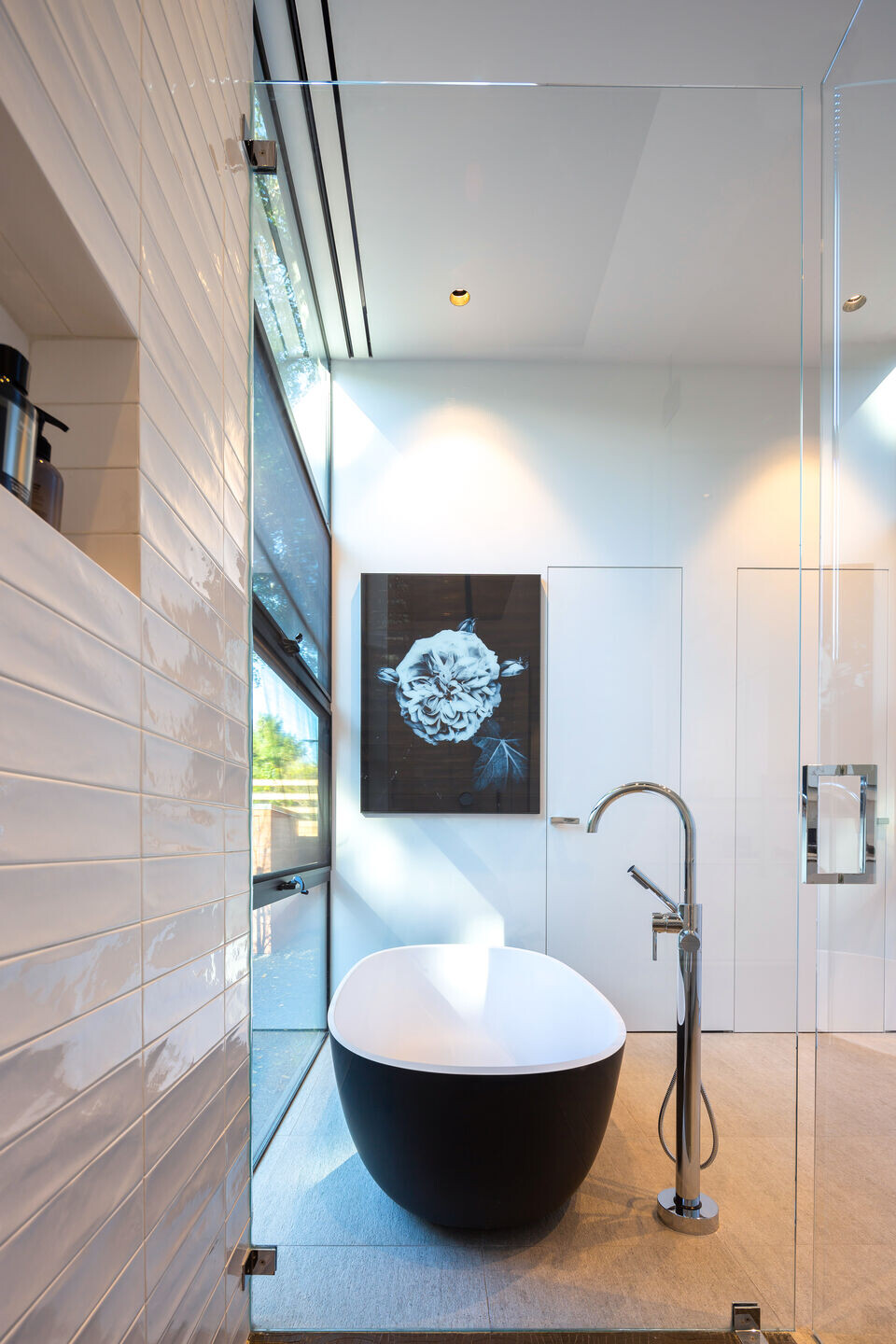 A 16-foot ceiling in the great room creates a striking effect, while the lower-height dining room ceiling establishes a feeling of comfort and intimacy. By playing with the ceiling heights, Maydan was able to achieve both drama and coziness while adding visual interest. The connected kitchen was custom-designed by Maydan Architects, including the cabinetry and the island. The geometric theme is further supported by 3-D tiling in the bathrooms. In the office, a three-sided glass fireplace is surrounded by large slabs of Neolith ceramic tile that give the illusion of being supported by the fireplace glass. The basement houses a recreation room with a custom wine cellar, as well as a luxury media room with a stunning ceiling designed to mimic a star-filled night. Statement walls made of plaster and formwork, also by Cohen, create a concrete look in the recreation room.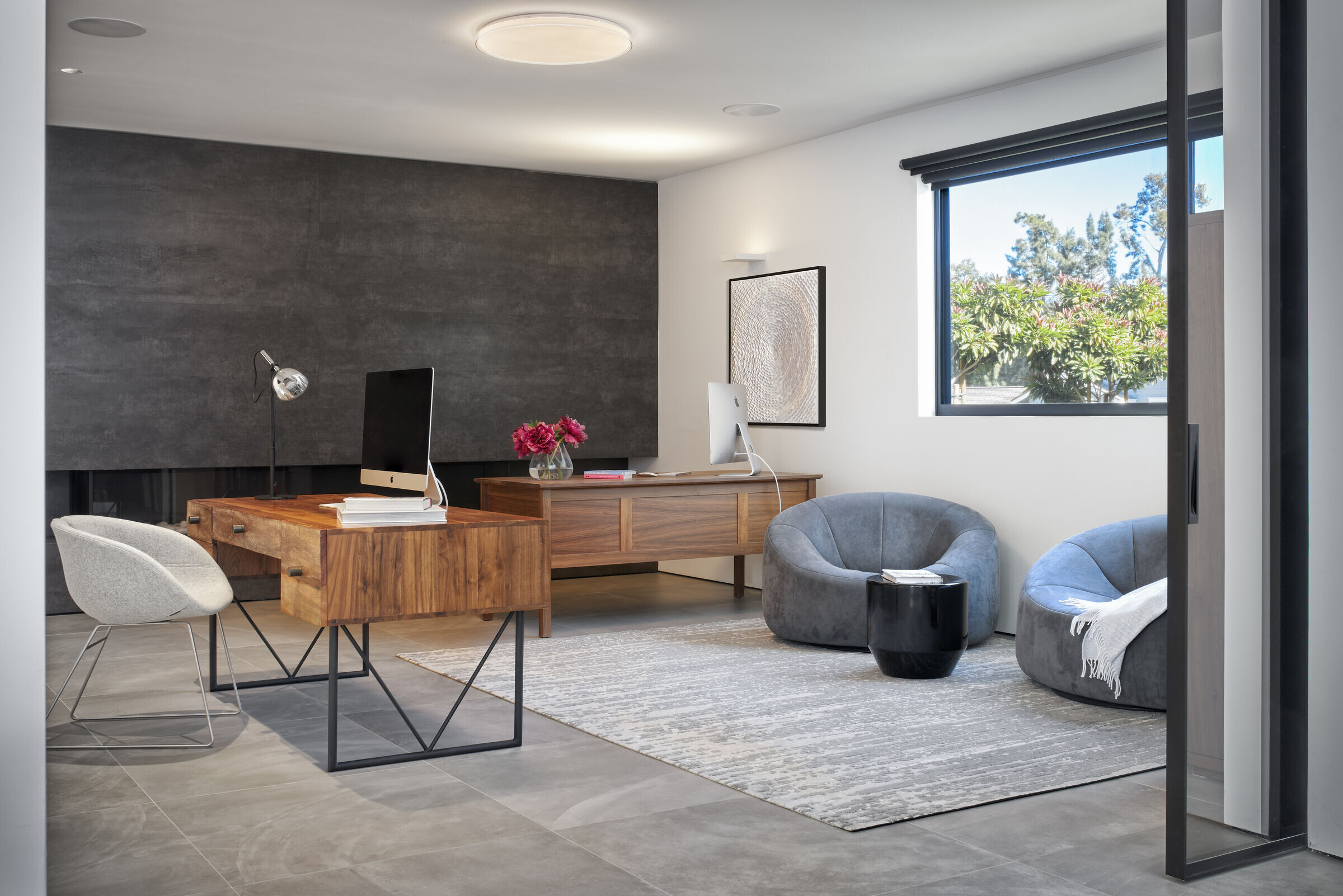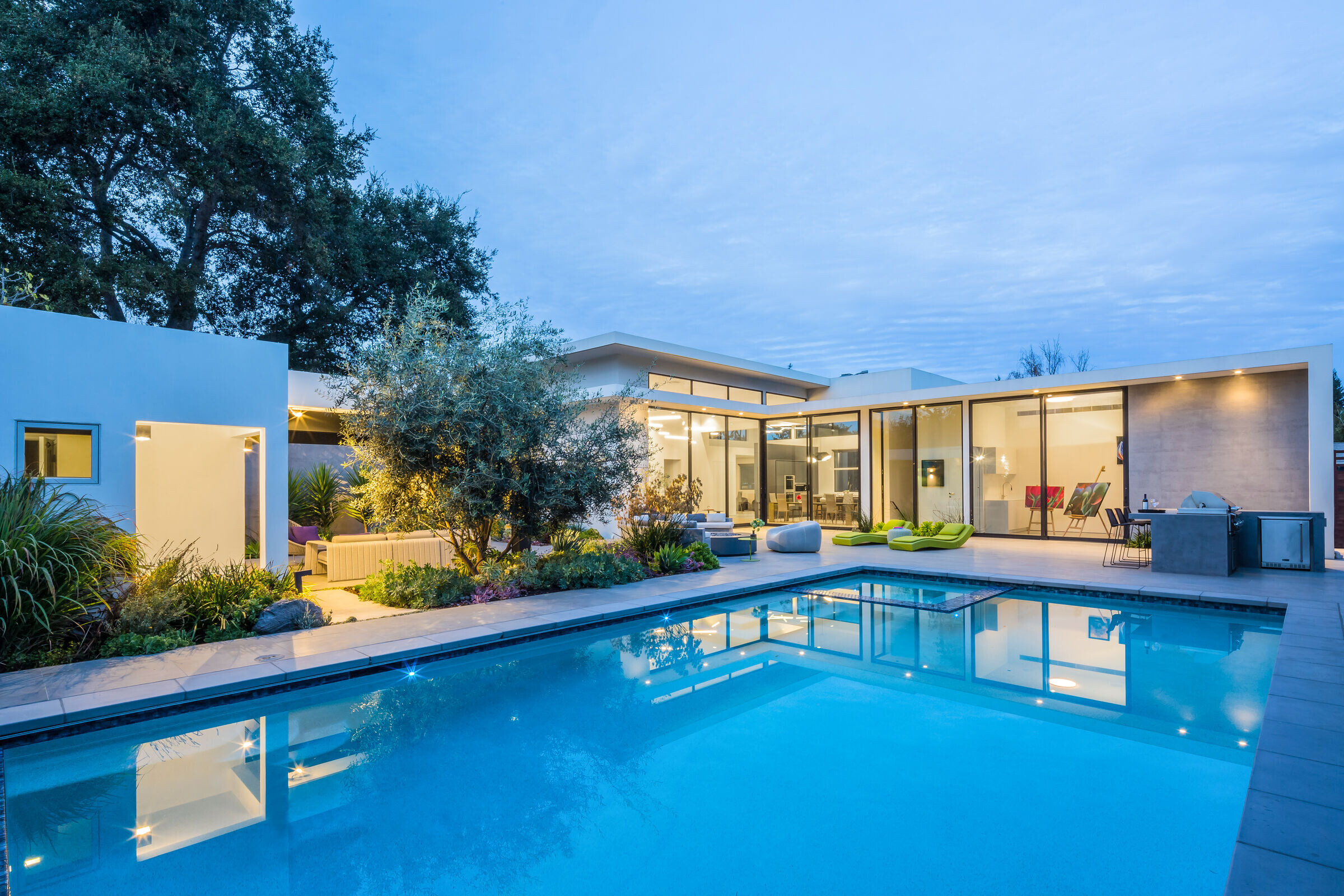 Geometric House has many sustainable elements including the use of solar panels, a geothermal heat pump, and the use of green building materials, such as zero VOC paints. LED lighting, electric car plug-ins, low water landscaping, and tankless water heaters add additional layers of sustainability.