The apartment has 540m² and is located in São Paulo. Residents wanted a "house with meaning", being a point of refuge and reconnection. The North for the project was the lifestyle and identity of the family, who love to receive and see the house always full, in spaces with integration and functionality, without losing the bossa and unique design.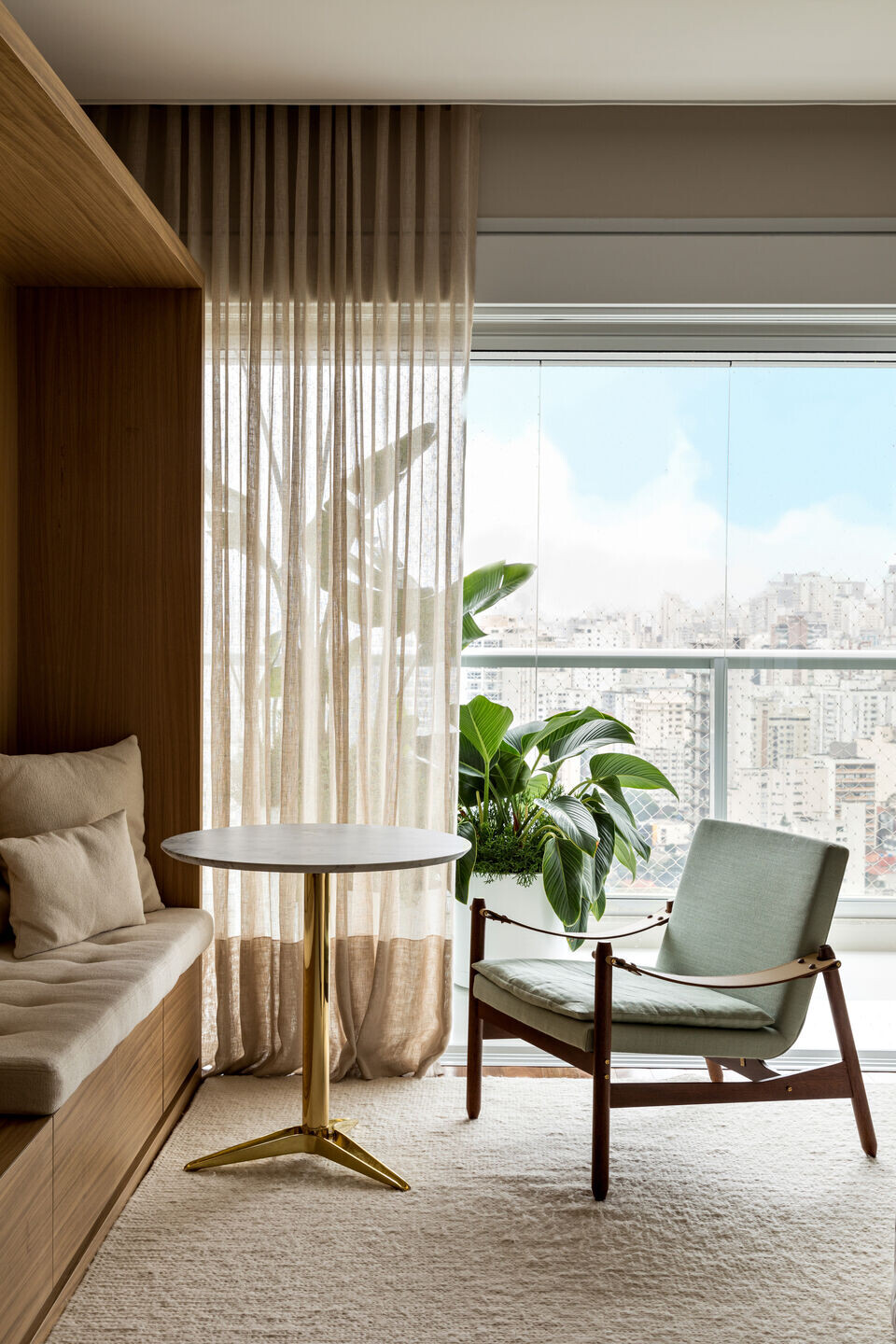 As good wine lovers, one of the main requests was a cellar for a thousand bottles, as they collect special labels brought from trips and that mark important moments, so we transformed the apartment's old pantry into an air-conditioned cellar, with a bench for two people next to inside for intimate dinners. Customers' favorite occasions are long dinners with family and friends, so the dining table is located right in front of the cellar and at a strategic point between the kitchen access and the gourmet area.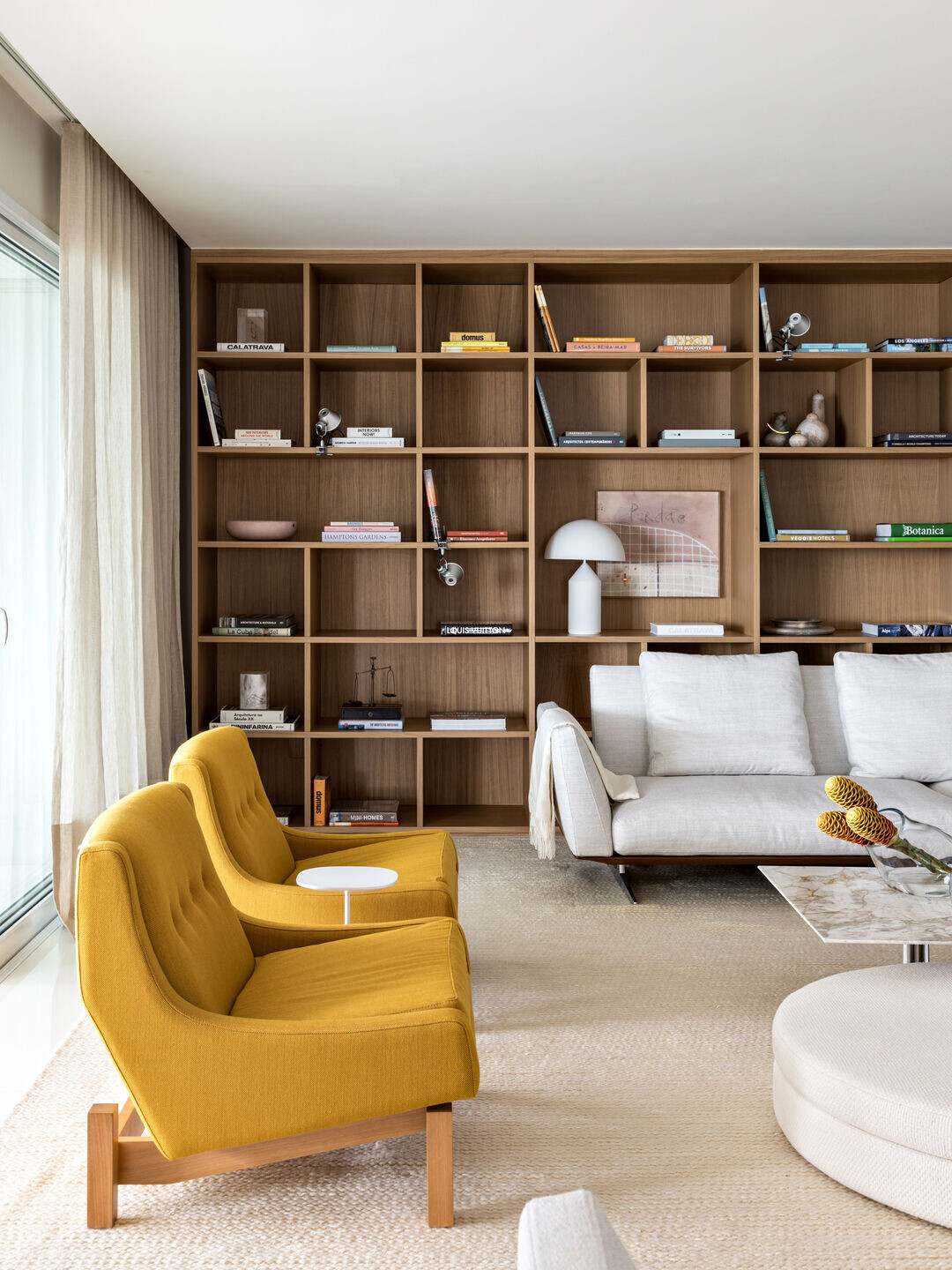 The balcony is one of the most used spaces by the family, with a privileged view of the Ibirapuera Park with the São Paulo skyline, a TV room, a very generous custom-made L-shaped sofa, reading armchair and ecological fireplace. In the social area, the large wooden bookcase with illuminated niches designed for the living room can be considered a strong element and one of the project's guiding threads. The rooms are cozy and without excesses, but full of elements with meanings, which were designed according to the personality and essence of each resident.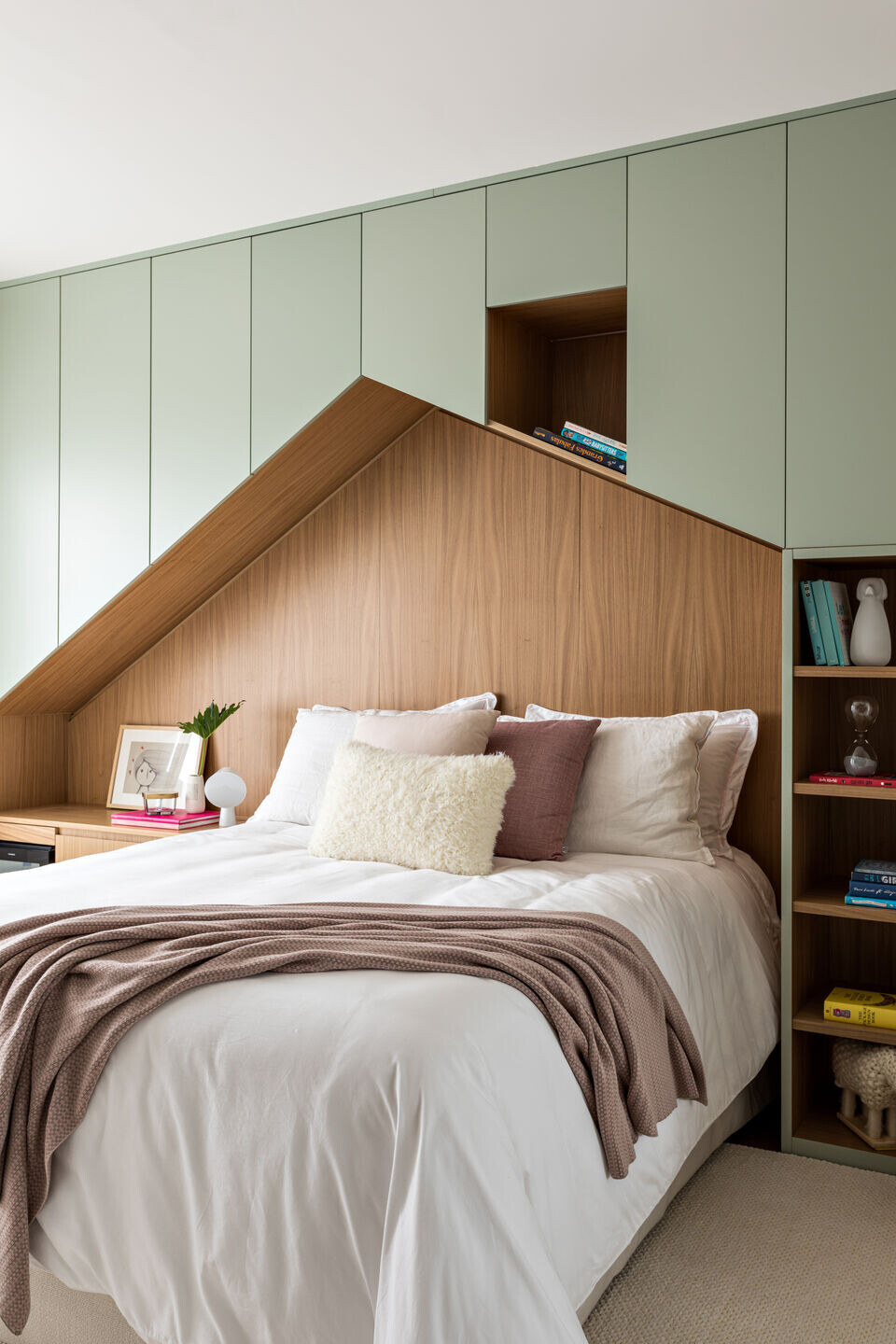 For an even more modern and original home, materials from natural origins were chosen, such as natural wood veneer, linen, sisal, wool, leather and marbles, a neutral base, a mix of Brazilian and international furniture, and a lot of green to complement the incredible view of Ibirapuera Park.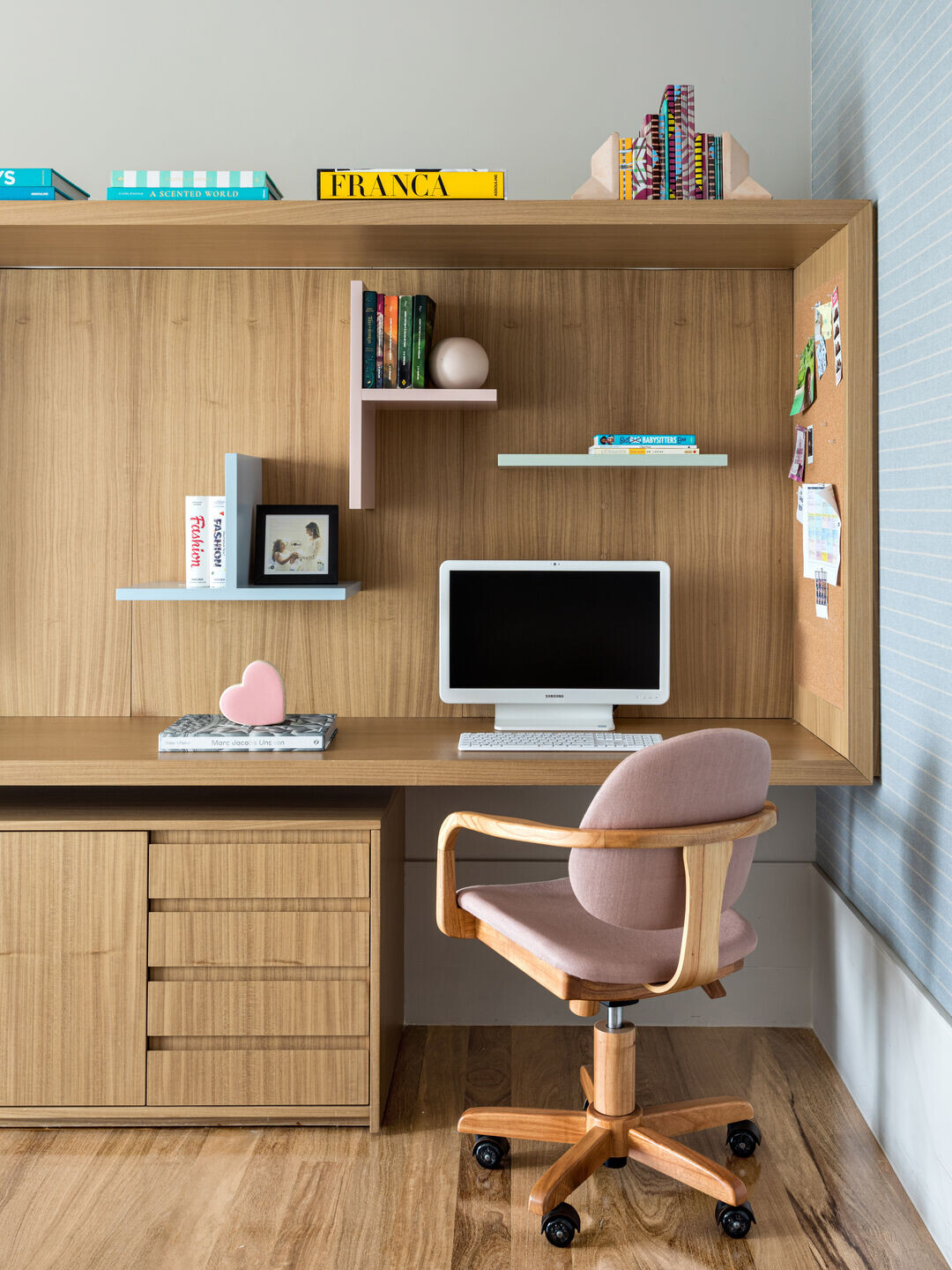 Team:
Architects: Nildo José + arquitetos associados
Photographer: Fran Parente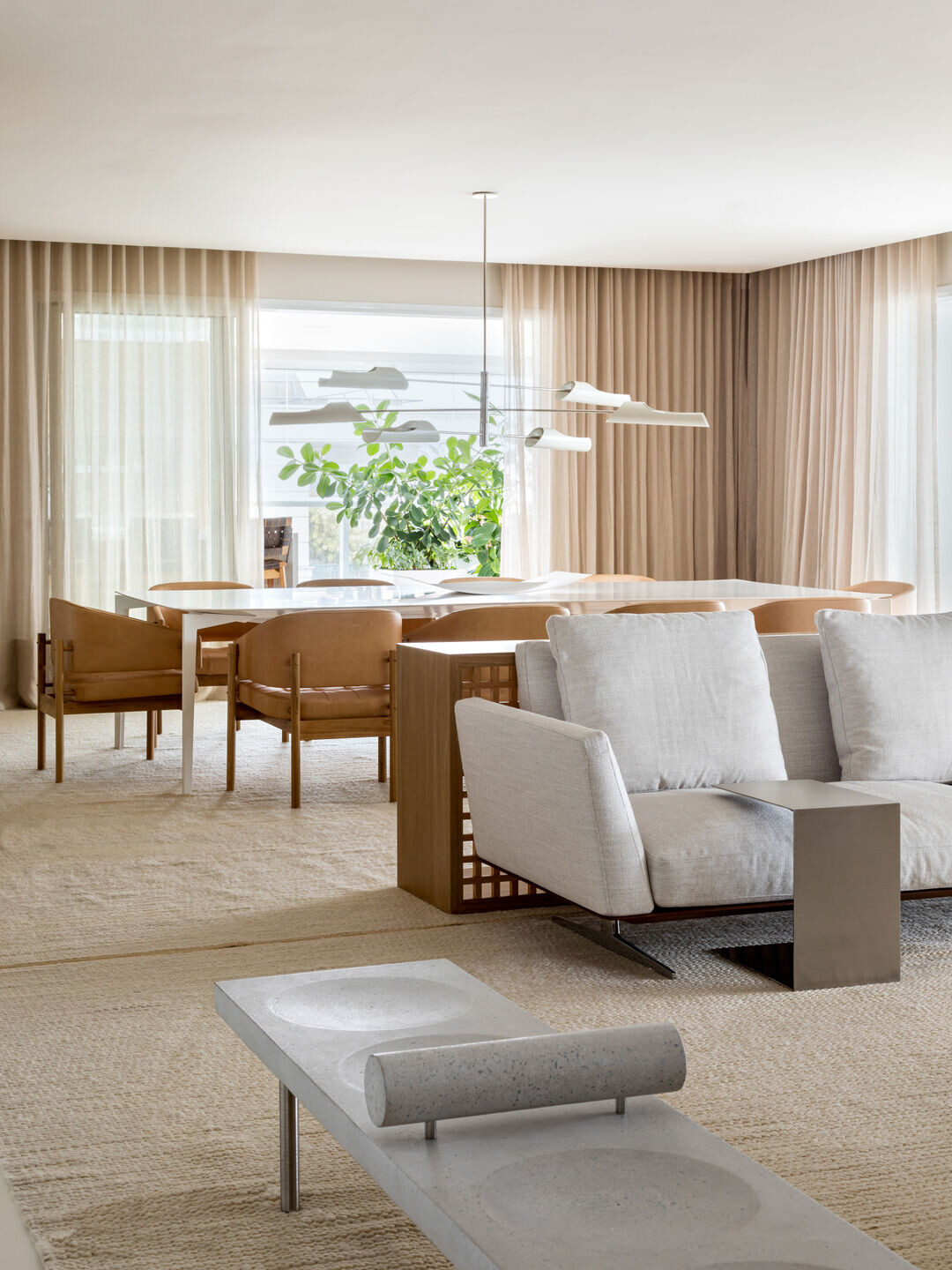 Materials used:
LIVING/DINNER:
Woodworking: Contemporary Earth
Parati armchairs: Dpot store
Calacata paraná marble coffee tables: mont Blanc top, stainless steel laser glass structure
Handloom puff: JRJ fabric and tutte belli execution
Carpet: Daqui;
Flexform sofas: Casual furniture
Kid chair: Etel store
Domino bank – claudia Moreira salles: Dpot store
Works of art: white canvas: celia euvaldo;
"disk" on the side of the white canvas: carbon gallery
Sideboard (custom design): contemporary earth woodworking
Dining table: solos
Dining chairs: senior armchair
Curtains: uniflex city garden
Pendant: david weeks studio (brought from NY)
WINERY:
Art Des Caves
Stools: Joy – sollos: Dpot store
TV ROOM:
Reading armchair: Louisiana armchair, depadova, casual móveis;
Floor lamp: tolomeo mega – artemide, Dimlux store
Garden side table – sollos: Dpot store
Rug: Bykamy
Green armchairs: feel good – flexform – Casual interiors
Coffee table: Monica cintra
Stainless steel fitting tables: Laser glass (custom designs)
Sofa (custom design): Tapestry jocal
BALCONY LOUNGE:
Armchairs: presidential armchair: Etel store
Made-to-measure coffee table: top in calacata paraná marble, stainless steel laser glass structure;
GOURMET:
Round table: Studio bola;
Gray chairs: gervasoni – Outdoor casual
Landscaping: Bia Abreu
Jz tea cart: Etel store
Artwork: Station gallery
Gusmão stools: Dpot store
DAUGHTER 01:
Futton, bed, puff and pillows: tutte belli
tapestry
Carpet: Dom aqui
Giraffe bench: baraúna woodworking: Dpot store
Omar chair: Dpot store - puff dressing table: marche art de vie store
DAUGHTER 02:
Cushions: Codex Home
Blanket and bedding: Trousseau
Chair: Low Armchair: Etel
Carpet: Dom here
MASTER SUITE:
Ipanema armchair: Etel store
Table Trinta: Sollos – Dpot store
Futton and bed: Tutte Belli Tapestry
Bedside lamps: Tolomeo
Artemide: Luminata store
Bedding: Trousseau
Peseira: Miss Galante
Artwork Headboard: Galeria Carbono
Carpet: Dom Daqui
Landscaping: Bia Abreu
Balcony armchairs: Dina armchair – Dpot store