The flat is situated on the 4th floor of a building from the 50ies in the heart of Milan, originally as it was usual for those years, kitchen area and living room were separated and there was a long corridor connecting the different rooms. The principal aim of the 55 sqm flat was to optimize the available space and to restyle the overall feel of the flat, bringing the space to a contemporary mood. Minimal Nordic style with a cozy feeling was the overall theme for the design of this home for a busy and successful single woman.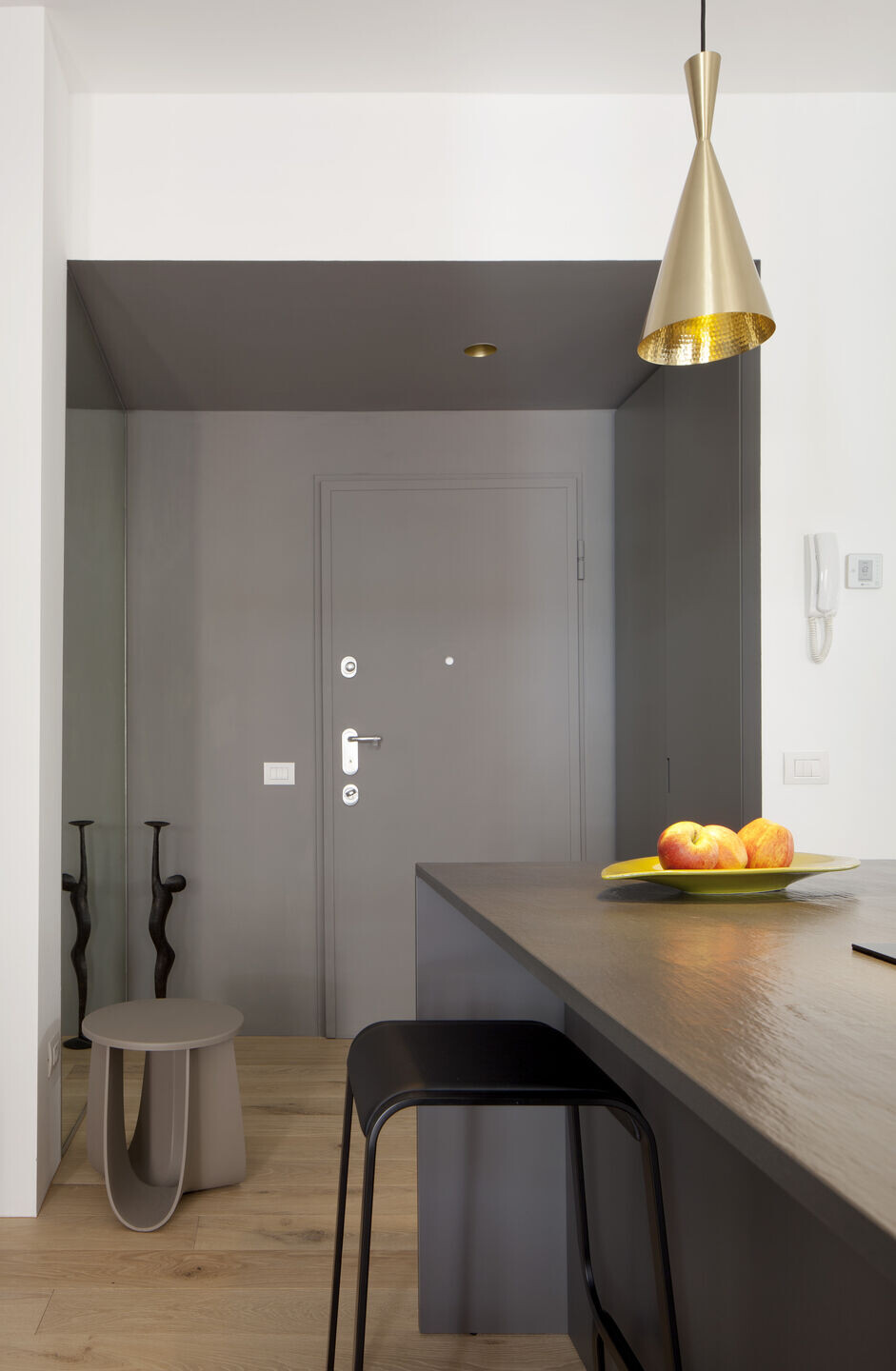 By changing the layout of the apartment, a bigger living and kitchen area could be created and there was still space for valuable service areas like a laundry space and a spacious walk-in closet. Enlarging the day-space and reducing the night-space allowed also to create a corner for a small home office space. The bathroom provides a bathtub as well as a spacious shower, by rounding the edges of the bathtub and the washstand the available space could be optimized for a comfortable use.Combining cool cement toping and warm wood flooring the wet and dry areas of the bathroom are visually and sensorially separated.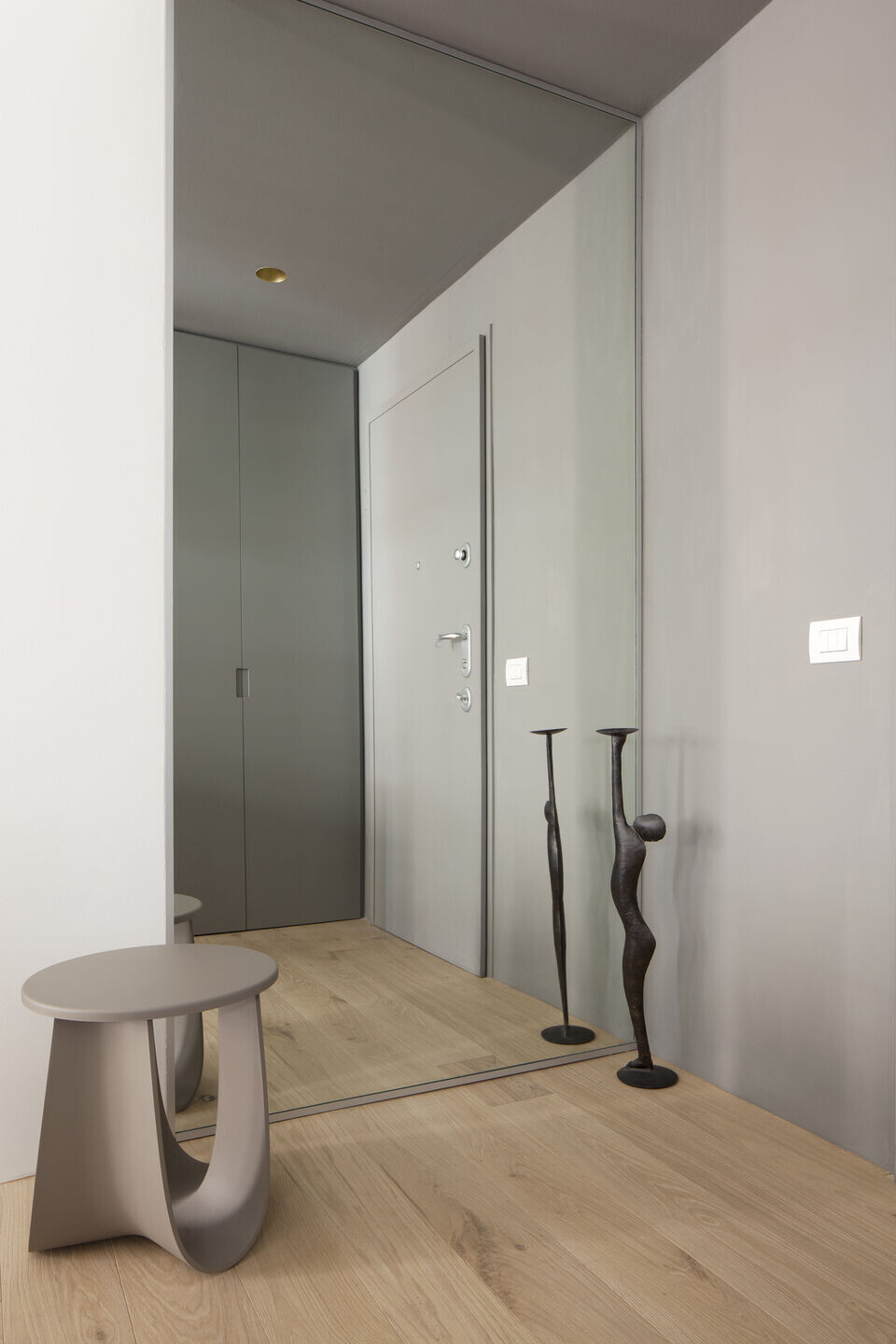 For a soft touch in the living room and in the bedroom, there has been used a colorful treatment with a soft Alcantara surface. This is both positive for acoustics as well as entertaining to the eye.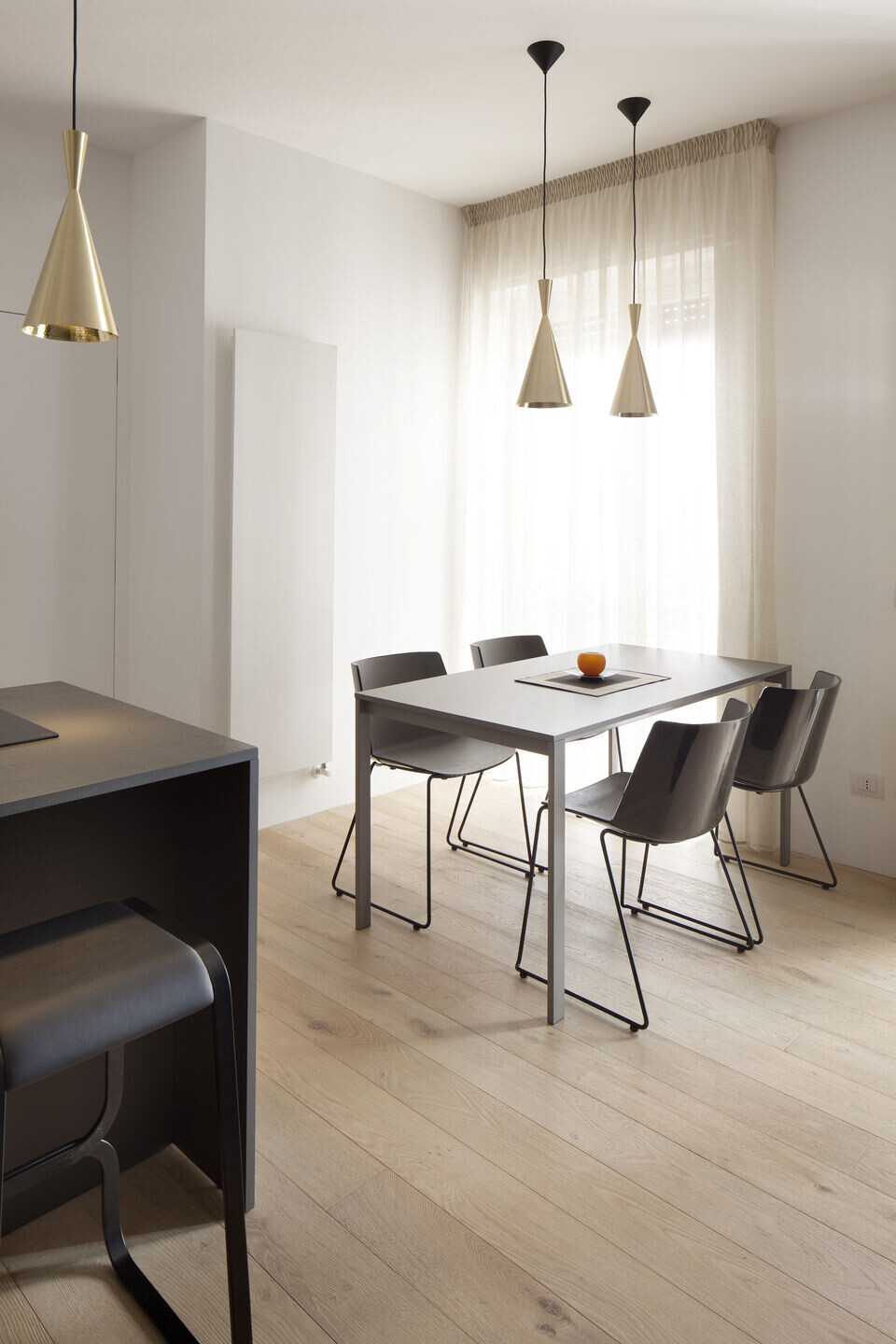 The entrance has been visually separated by lowering the ceiling and using a different colour, the result is a separated entry box, that creates a feeling of openness by entering the living area. The kitchen and dining area has been designed in line, visually with the colours as well as geometrically, following the same axis of alignment.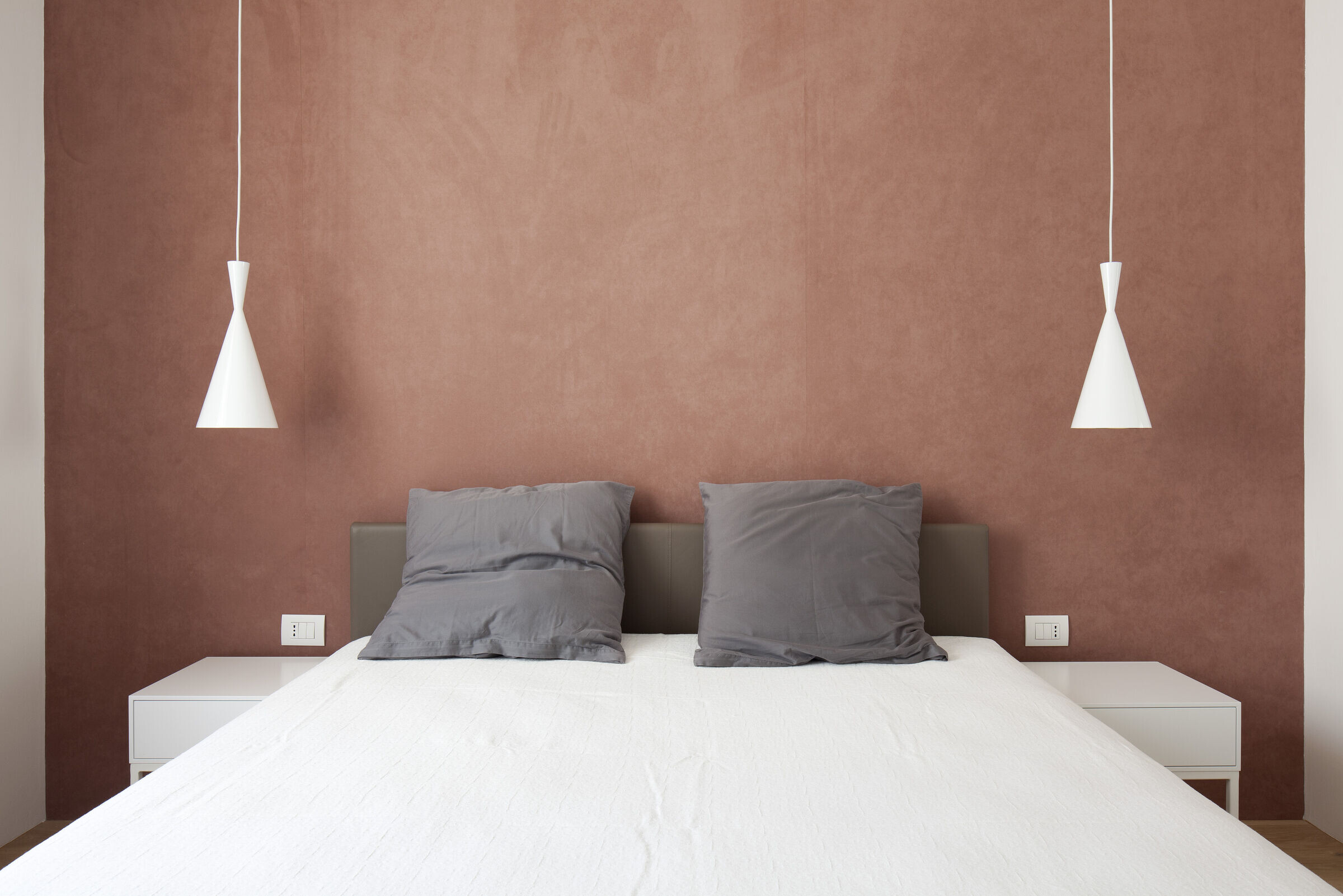 An essentially cool palette of colours combined with clean geometric lines form a cozy living space.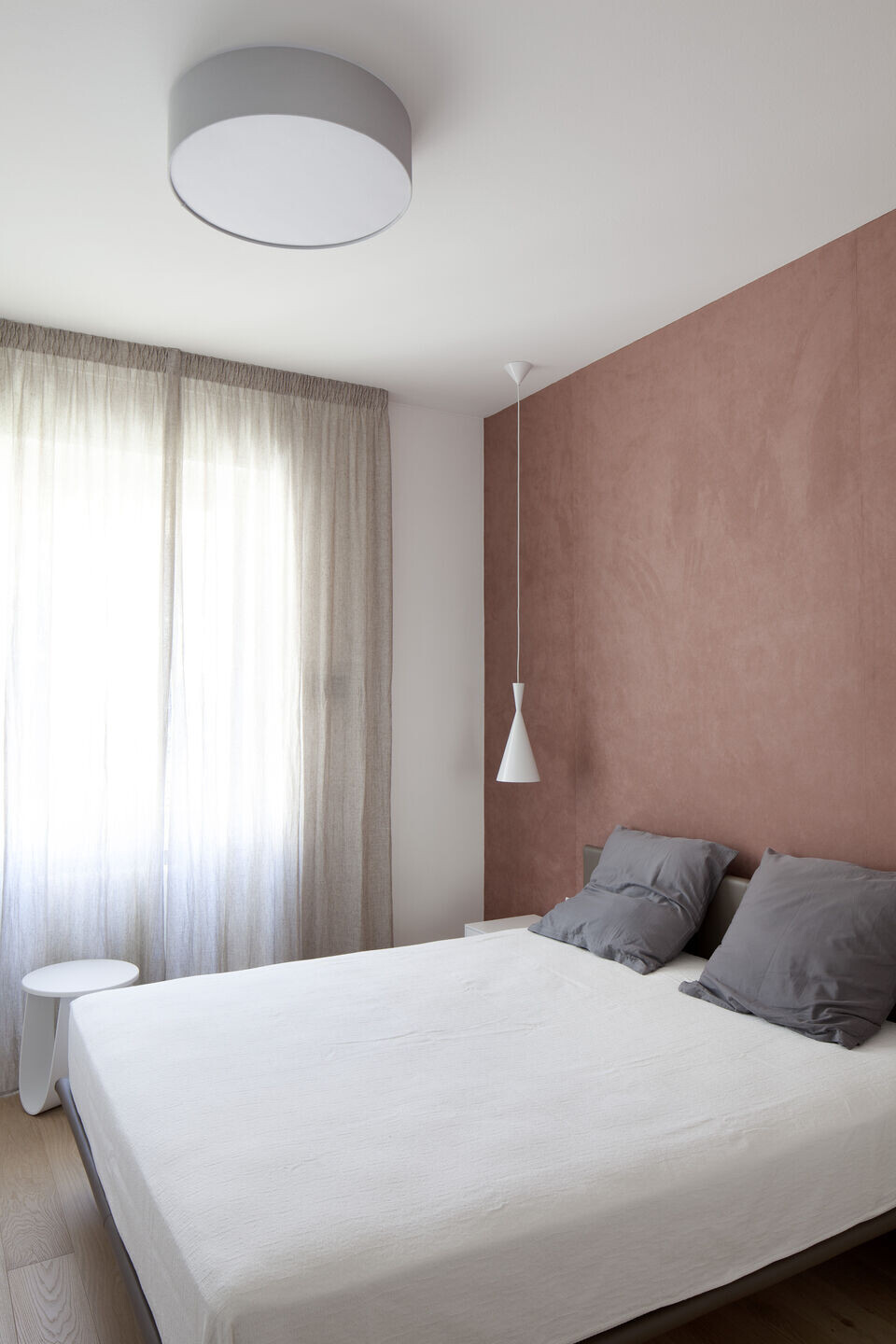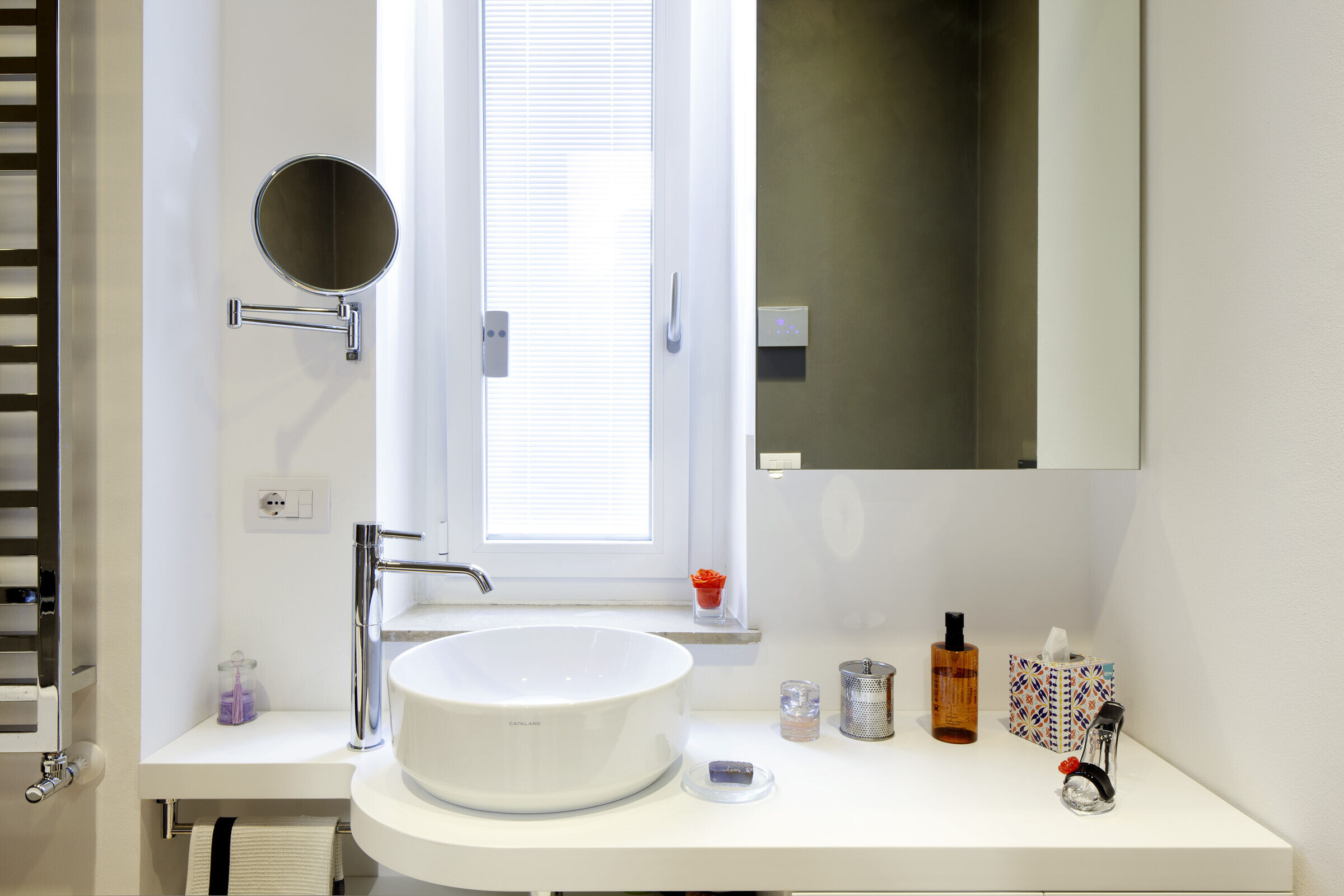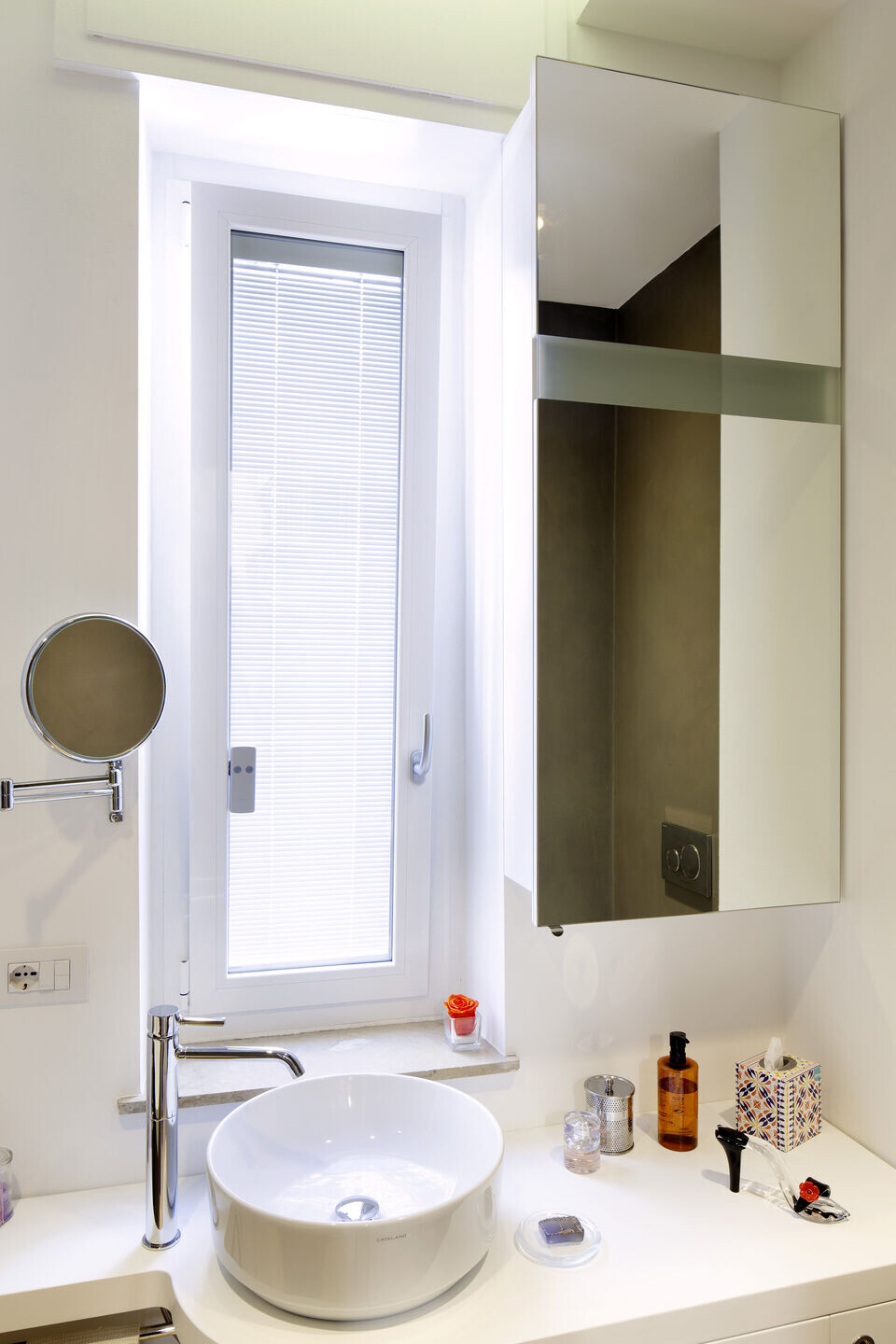 Material Used :
1. Flooring: wood floor: Tolstoi220, Milano parquet, cement topping for bathroom floor and wall
2. Doors: Essential, Scrigno, white
3. Interior lighting: Twiggy Foscarini, Beat Tall di Tom Dixon, Kap by Flos, indirect lighting with built in led strips
4. Interior furniture: Forma Mentis di Valcucine, kitchen top in Fenix, Bora induction stove, stool: neri Continuum,Lapalma, sofa: Letti&co, modell Open 03, carpet: Myfelt; desk and shelfs: bespoke design by GRAF+BÄDER, bed by Zanotta, modell Milano, dinign table be-Easy by Kristalia, dining chairs: Aikuby Jean-Marie Massaudfor Mdf Italia, armchair model LC24 by Letti&Co, mirror: Shiki by Tonelli design, wardrobe and laundry area furniture bespoke design by GRAF+BÄDER, stool Sag by Mdf Italia, ceiling lamp Treviraby Rossini Group
5. bahttub: Oval byKaldewei, Alcantara wall cladding, Faucets: Nostromo by Fantini, curtains in linen: Magic art. 2563-317 by Christian Fischbacher