A house raised on one floor, on a corner lot of 700m2. The mandatory withdrawals occupy a large part of the land, that's why it was decided to be solve it with an L-shaped configuration, that with the same construction, forms an enclosure towards the street and contains the social area and a private patio to which the House opens for the enjoyment of outdoor spaces. The Urbanization where the project is located, prohibits front enclosures, which harmonizes the coexistence between neighbors, but it limits the privacy of the ground floor spaces, so these perimeter facades show hermeticism and introspection towards the interior.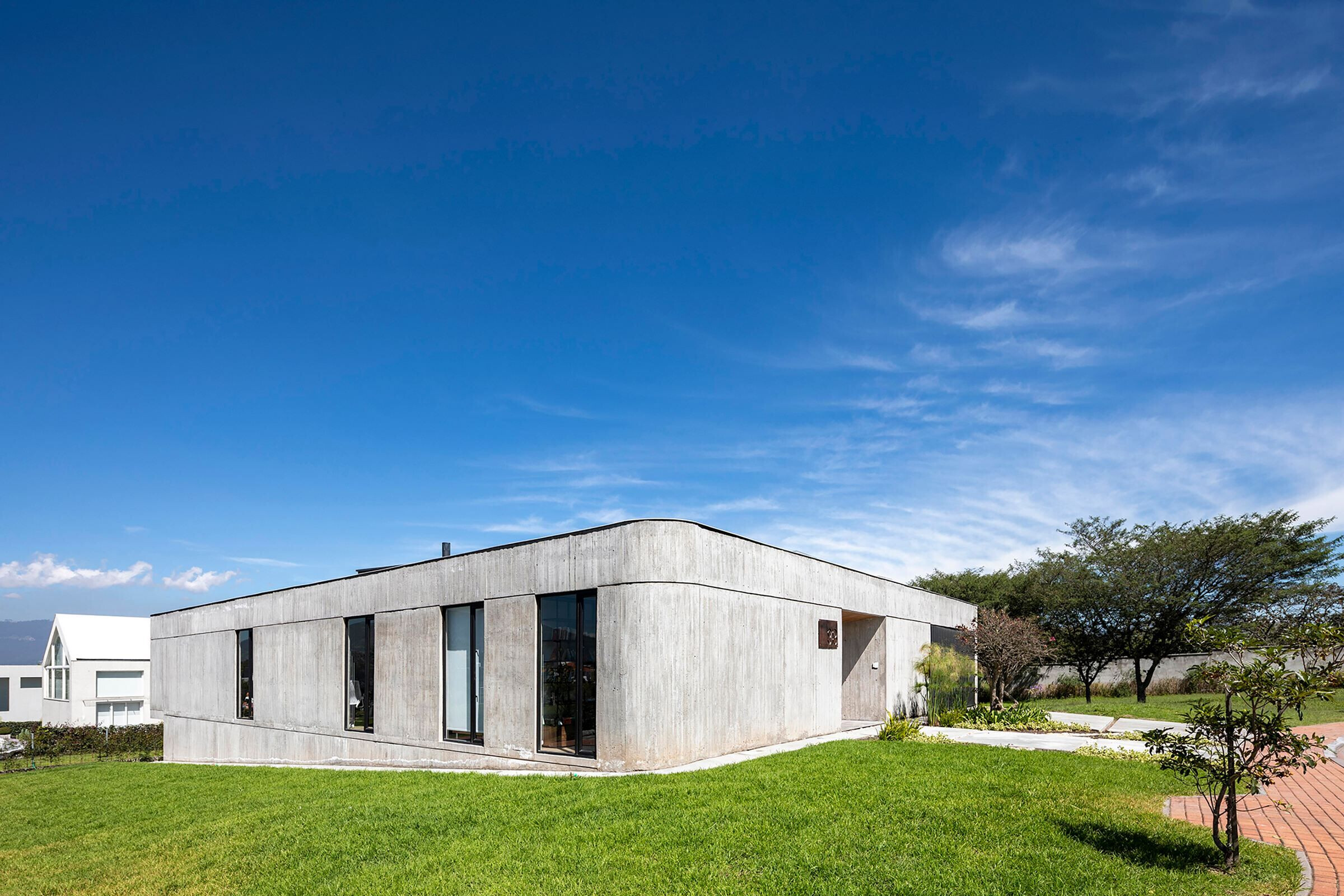 In the L shape, the program is organized between the private and services area, maintaining a height of a single floor, which enhances the contemplative gardens that are yielded to the public space of the urbanization, and the social area manages a large roof slightly inclined to a floor and a half high, where a wonderful space is generated, and joins a large porch that merges with two large carob trees that pre-existed for many years in the lot.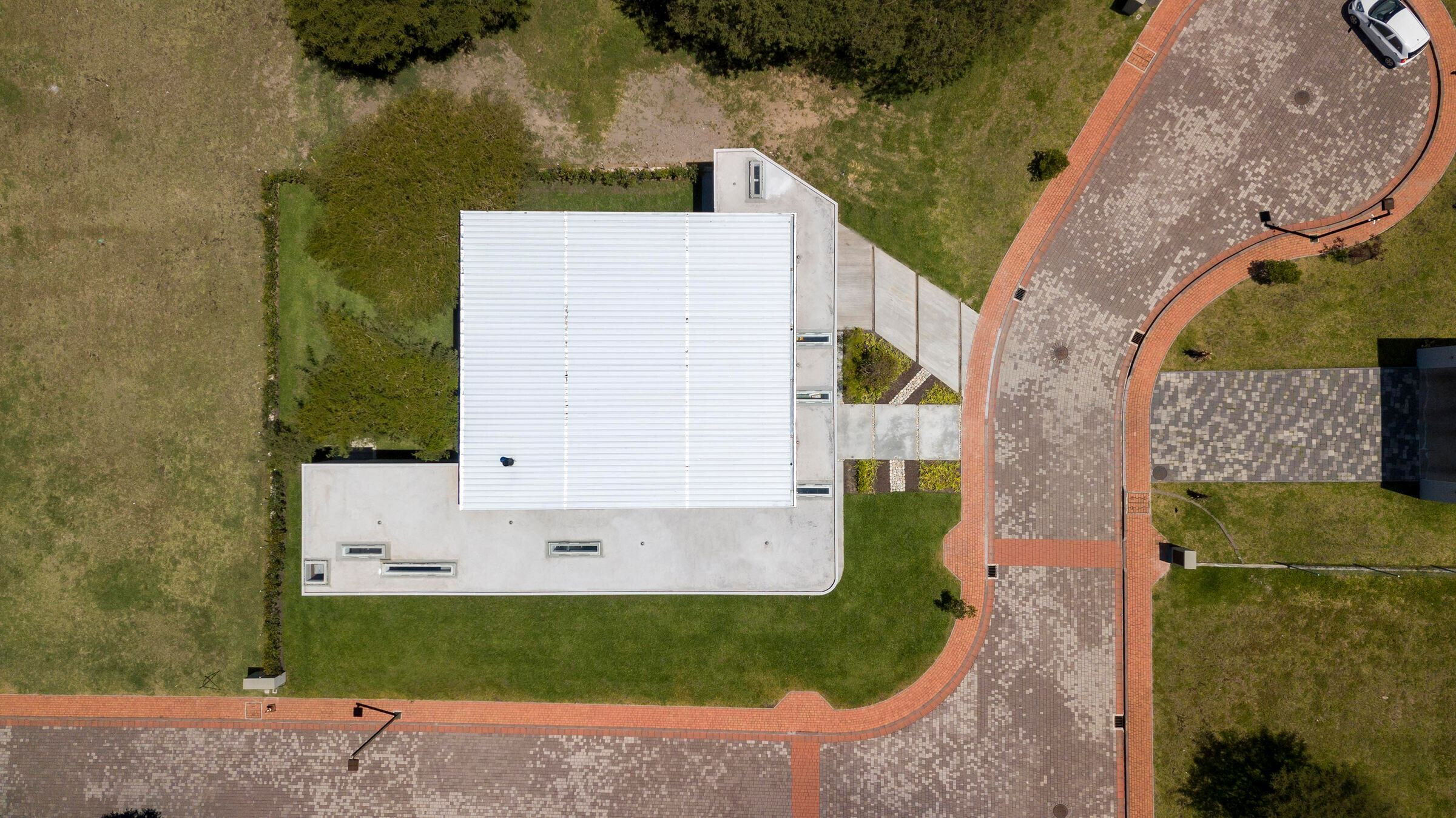 The duality of spaces between public and private is also manifested in the construction system; The private area is made with a system of concrete load-bearing walls, with discreet openings, making the rooms contained and warm spaces, while the social area is completely opened by large windows that merge with the garden and the sky.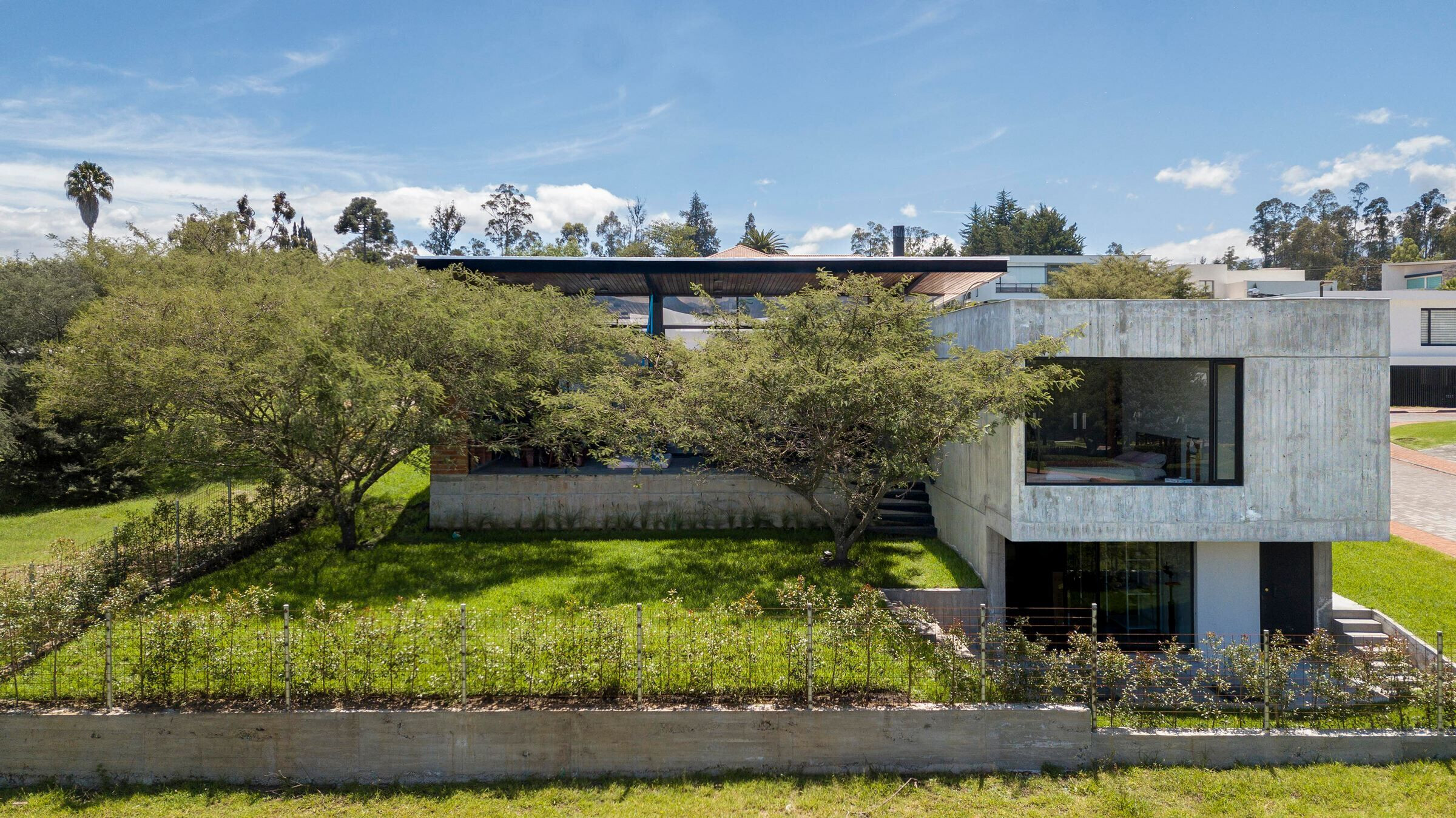 The concrete walls were formed with a formwork system of eucalyptus staves, which appear in all the spaces of the house, showing an extreme prolixity due to the quality of the exposed concrete, which is consistent with the pine stave in the false lay-outs. This vertical modulation of the marks of the molds in the concrete is repeated in the metal and wooden doors, generating order in the facades.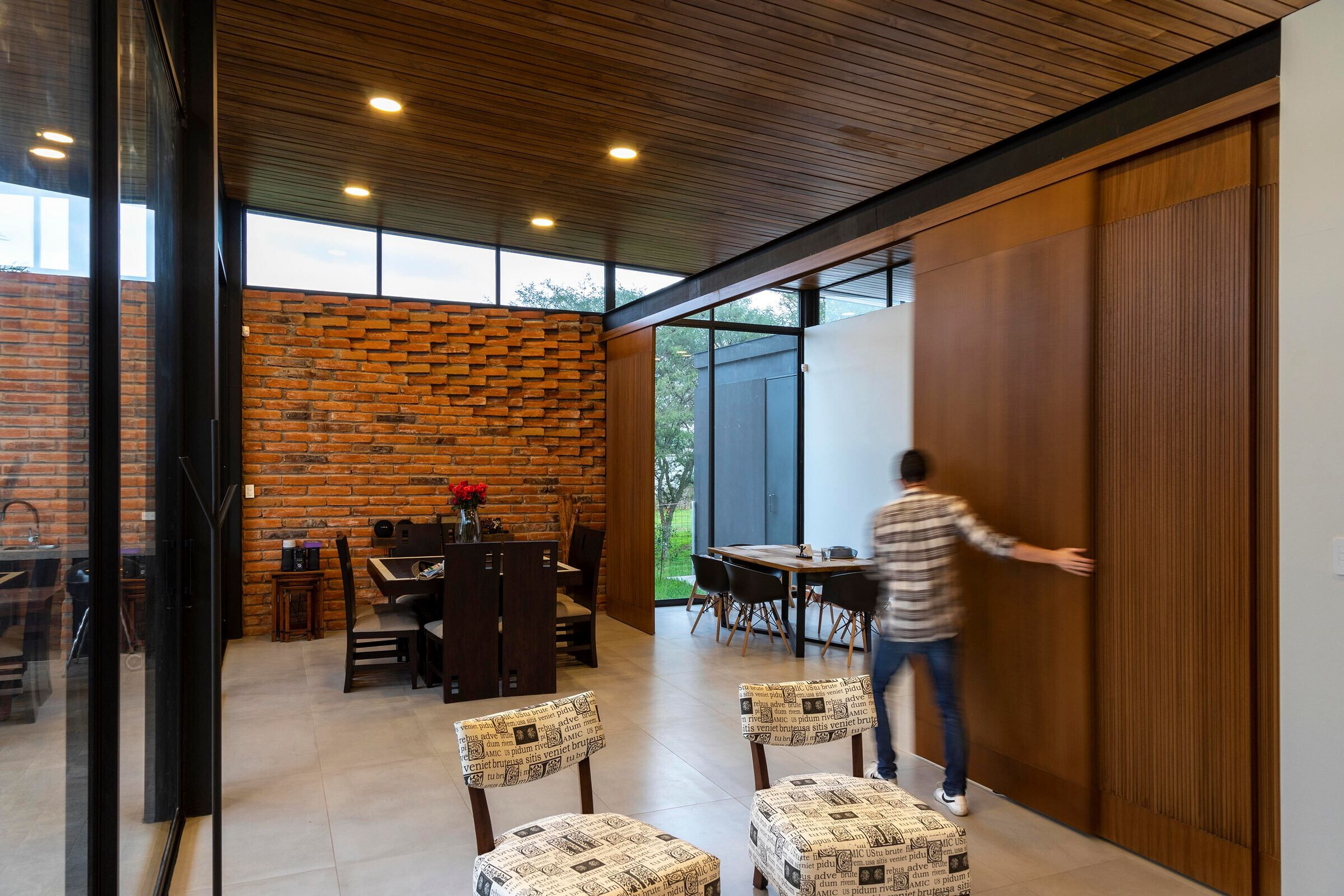 The project generates an important contribution to the ornament of the city, by being implanted in an L parallel to the surrounding roads, even marking the corner with a curve that gives continuity to the urban layout and with its resolution on a single floor, it generates a great sense of space in the front gardens and having respected the existing trees from the very beginning.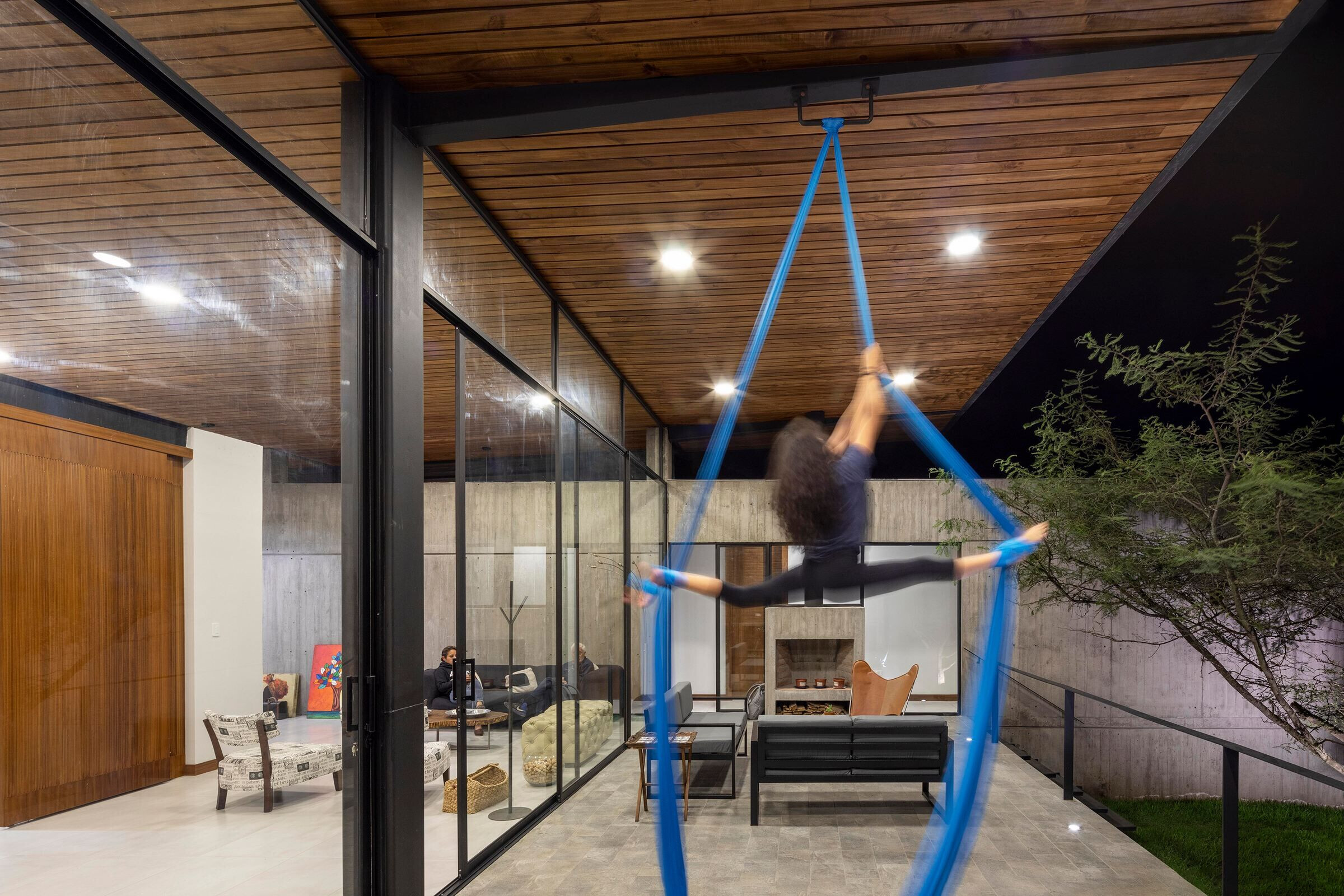 The construction of the House was interrupted by the confinement of Covid 19. It was projected a few months before, and we never foresaw the situation that would occur in the world due to the Pandemic. We have verified that these open, generous and ventilated spaces, have made the confinements for the family, more bearable, making the House capable of adapting to the different conditions that may arise, prioritizing the comfort of the habitants.
Material Used:
1. Facade cladding: Concrte
2. Flooring: Porcelain, Graiman
3. Doors: Wood, Madevi
4. Windows: Clear glass and black aluminium, Aluminio y Vidrio Rosero
5. Roofing: Galvalume, Dipac Manta
6. Interior lighting: LED, Maviju