Projects Office design new space for young mental health patients in Scotland.
● Design for good mental health by emerging architects
● Defining a radically different kind of space: not institutional, not domestic
● User-led, unconventional research phase
● During the course of the project the scope of the original brief was increased & additional funds raised to implement best possible space for mental health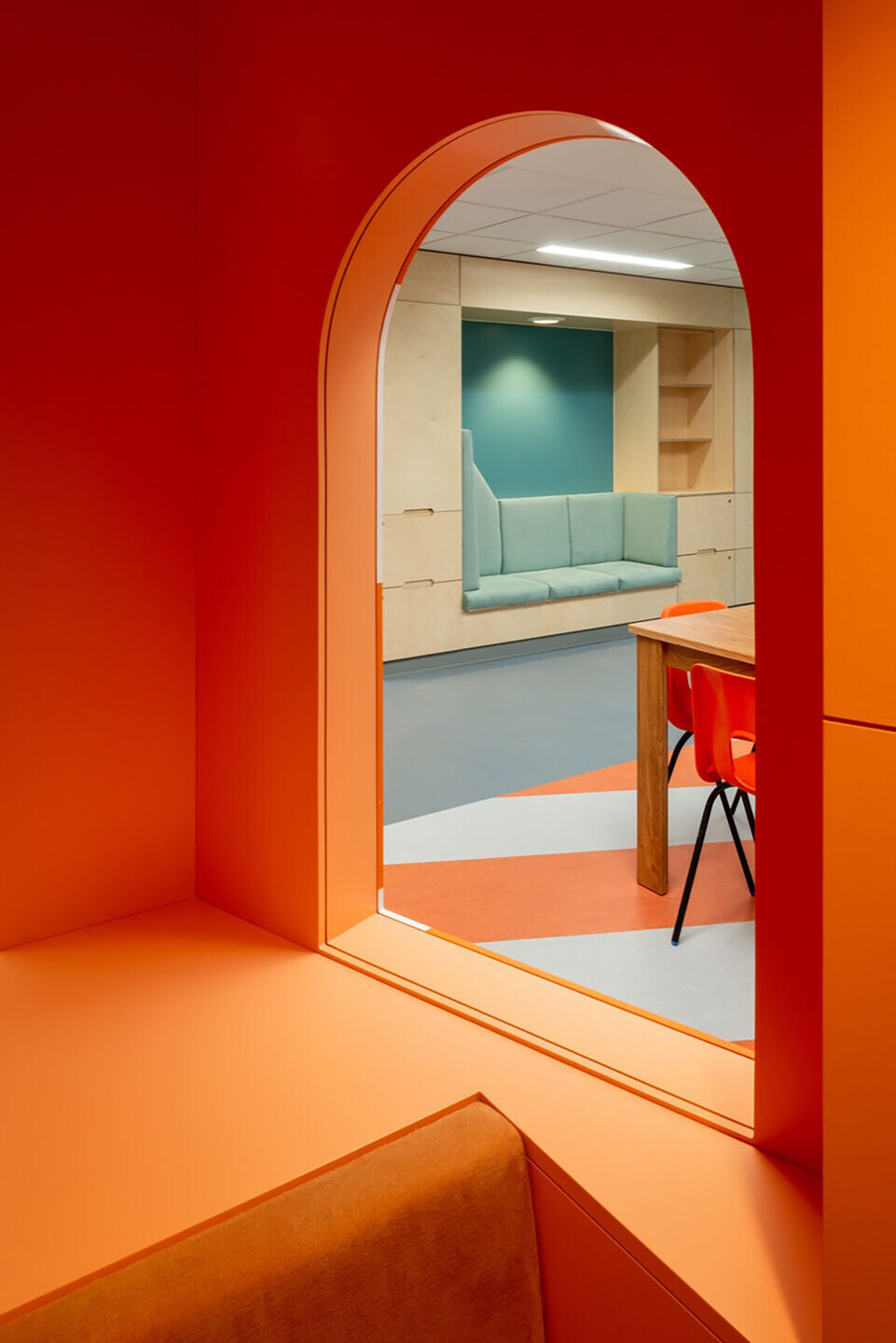 A radically designed Child and Adolescent Mental Health Service (CAMHS) has opened in Edinburgh. The unit will bring together a number of existing services in a new purpose built facility at the new Royal Hospital for Children and Young People.
The new unit, which comprises outpatient facilities for 5-18 year olds and an inpatient unit for 12-18 year olds, is colourful, light-filled, playful and practical. It challenges assumptions about how healthcare environments should look and feel. The enhanced interiors were designed by architects Projects Office and funded by the Edinburgh Children's Hospital Charity. The project was delivered by Ginkgo Projects for NHS Lothian.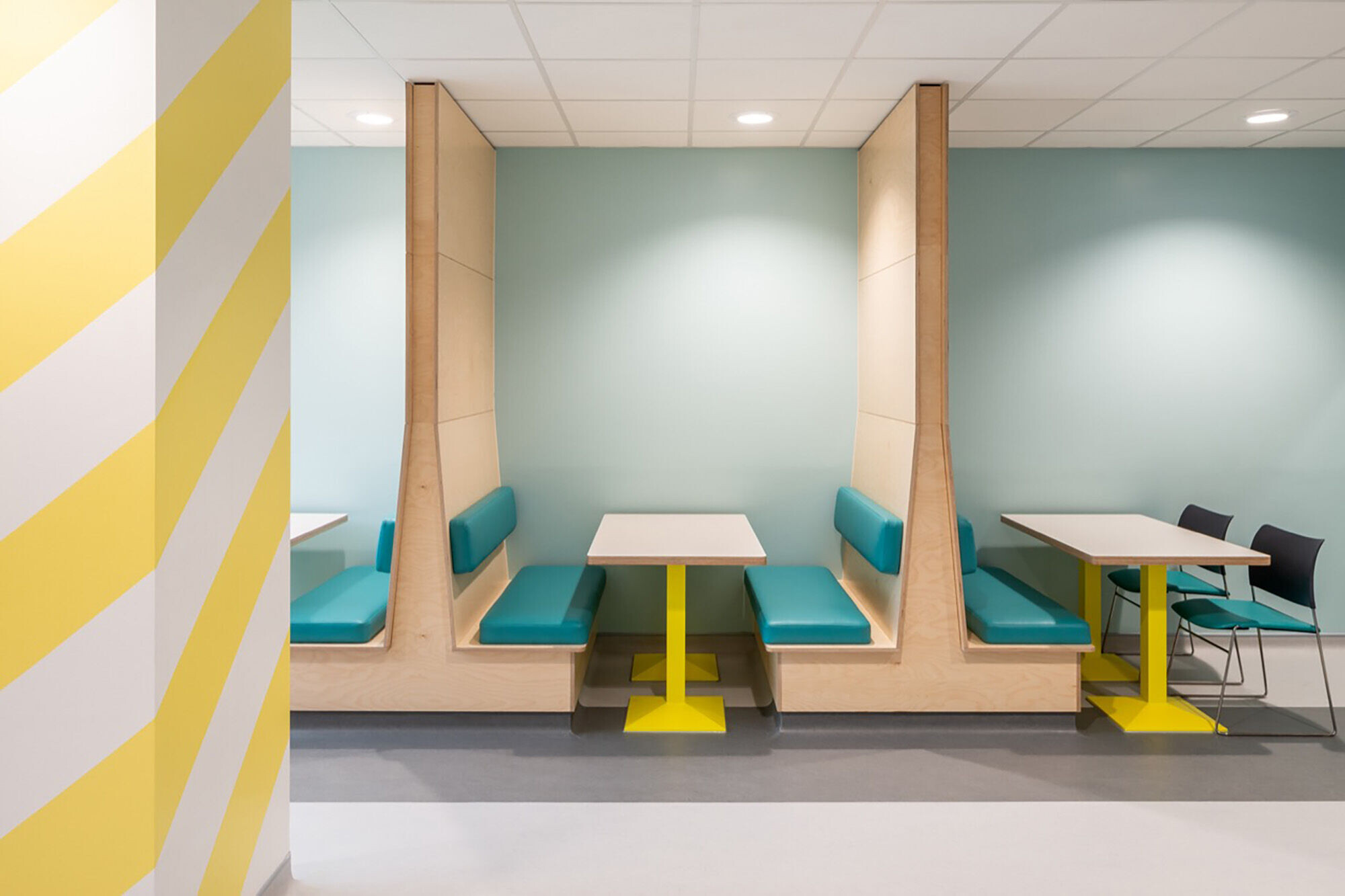 Directly inspired by conversations with patients, parents and staff, architects Projects Office have designed a new tool for improving mental health care: a third space which is neither hospital nor home, but a healing space with its own unique identity. Working with a forward-thinking NHS team, the architects and consultant artist James Leadbitter engaged with patients, clinicians, family members and carers through workshops, interviews and informal conversations. From games with eight-year-olds, to intimate conversations with parents, the emotional insights, creative ideas and practical suggestions which came out of this unique engagement process informed the unit's layout, look and feel.
Combining subtle interventions with bold colours and forms, the design facilitates conversation, enables privacy and ensures safety for young people in acute distress.
Architect and Projects Office co-founder, James Christian says "It's been a great privilege to work with an inspired NHS team and charity funders who were keen to embrace unconventional ideas. At a time of stretched NHS funding and increased demand for mental health services, we believe that good design is a powerful and cost-effective healing tool. We also believe that asking patients, staff and parents what they really need and want from healthcare spaces leads to richer, more useful spaces."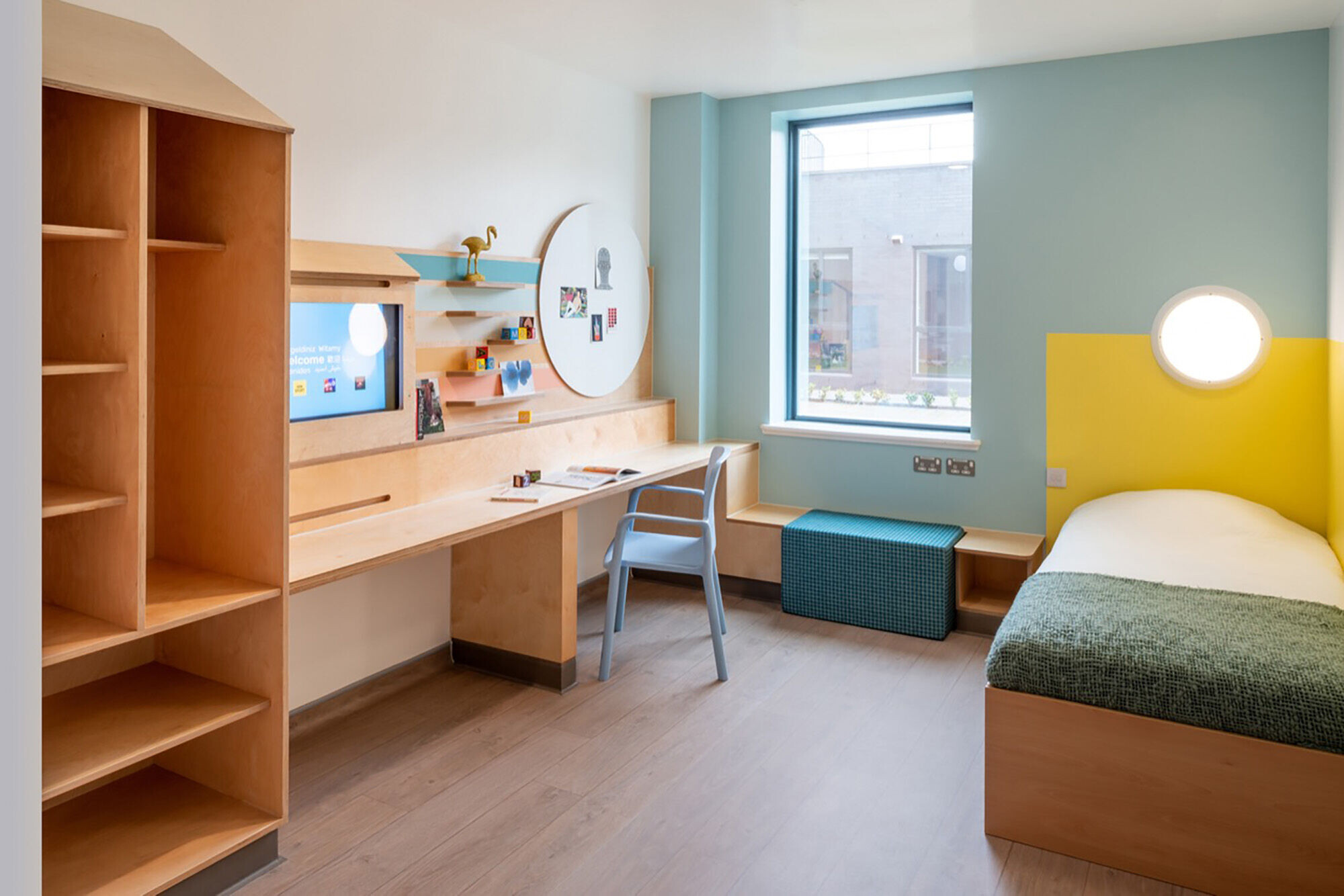 A few of the features informed by user engagement include:
Flexible seating: many teenagers consider their bedrooms at home to be their private space. However, in a CAMHS unit, the bedroom is where many patients spend time with their parents. Sitting side by side on a bed can seem unnatural, while sitting on a desk chair facing a child on the bed is overly formal. "I wouldn't really go into my teenage daughters' bedroom at home", one mother said, "It feels intrusive". Projects Office's simple solution – a movable upholstered ottoman which transforms from window seat to seating for two – enables families to arrange seating in the way which works for them. It's a small intervention with powerful implications for enabling intimate conversations in stressful circumstances.
Space to retreat: young people suffering severe distress may need different levels of privacy, while remaining safe and visible to staff. Projects Office designed opportunities for retreat within a shared communal space, including upholstered nooks and an inhabitable 'lighthouse'.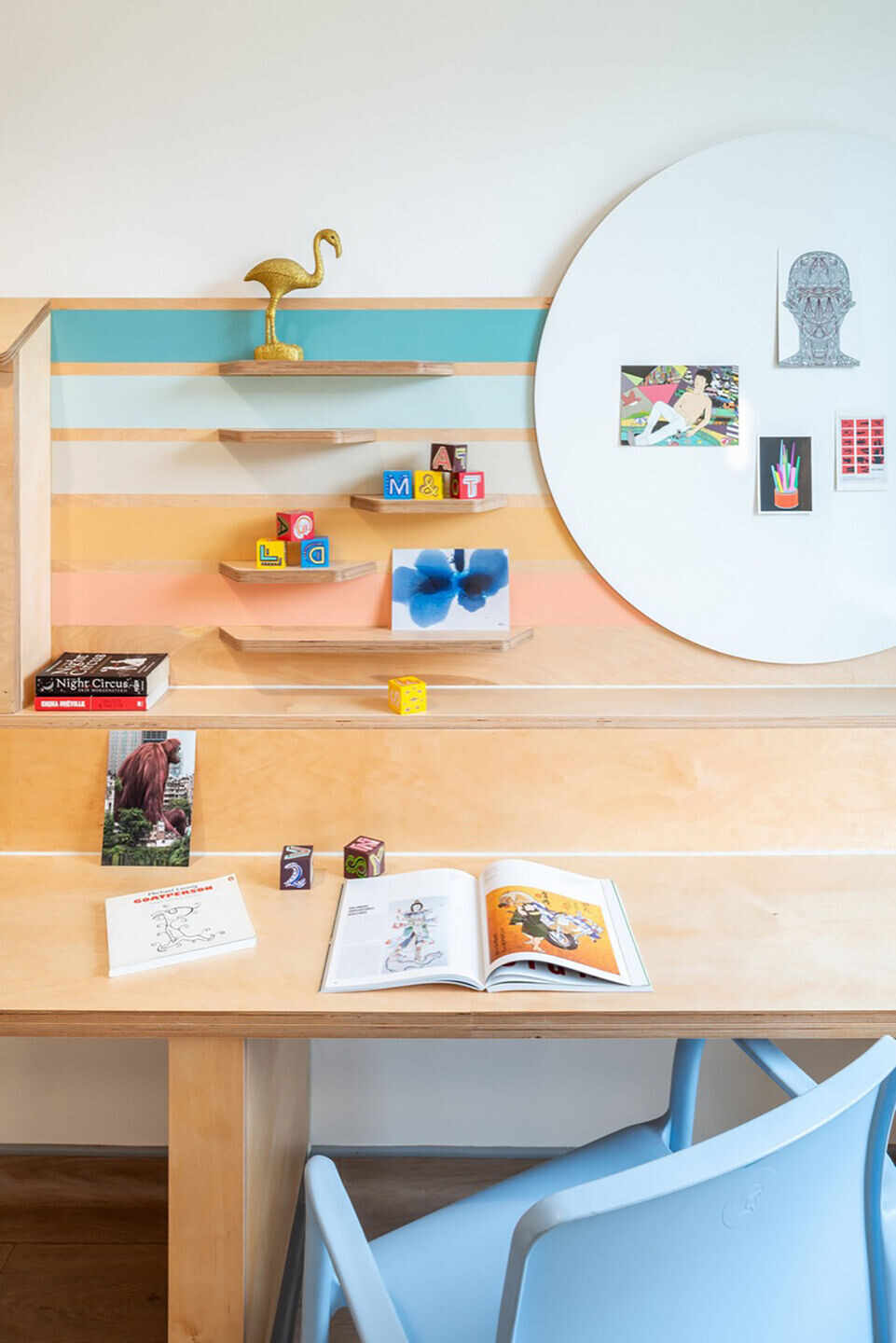 Coastal theme: the sea and the seaside was frequently mentioned by users of all ages in relation to good mental health. The architects developed a theme which mediated from 'seaside' to 'rugged east coast' to provide age-appropriate, aesthetically coherent spaces.
Third space: "My anorexic daughter is sick, she needs to know this isn't a holiday". To prevent "colluding with the anorexic state of mind" which can deny the severity of the illness, parents advised that the unit should not be too homely. It also couldn't be clinical, which can be scary to young people. Instead, Projects Office created a new 'third space': an environment with a strong sense of identity clearly distinct from both hospital and home.
David Pickering-Gummer, General Manager REAS, NHS Lothian said, "The facilities within the new Royal Hospital for Children and Young People are simply fantastic and the CAMHS facilities are no exception. The spaces have been designed with real thought to ensure that they can not only facilitate first-class patient care, but will help to put our patients and their families at ease.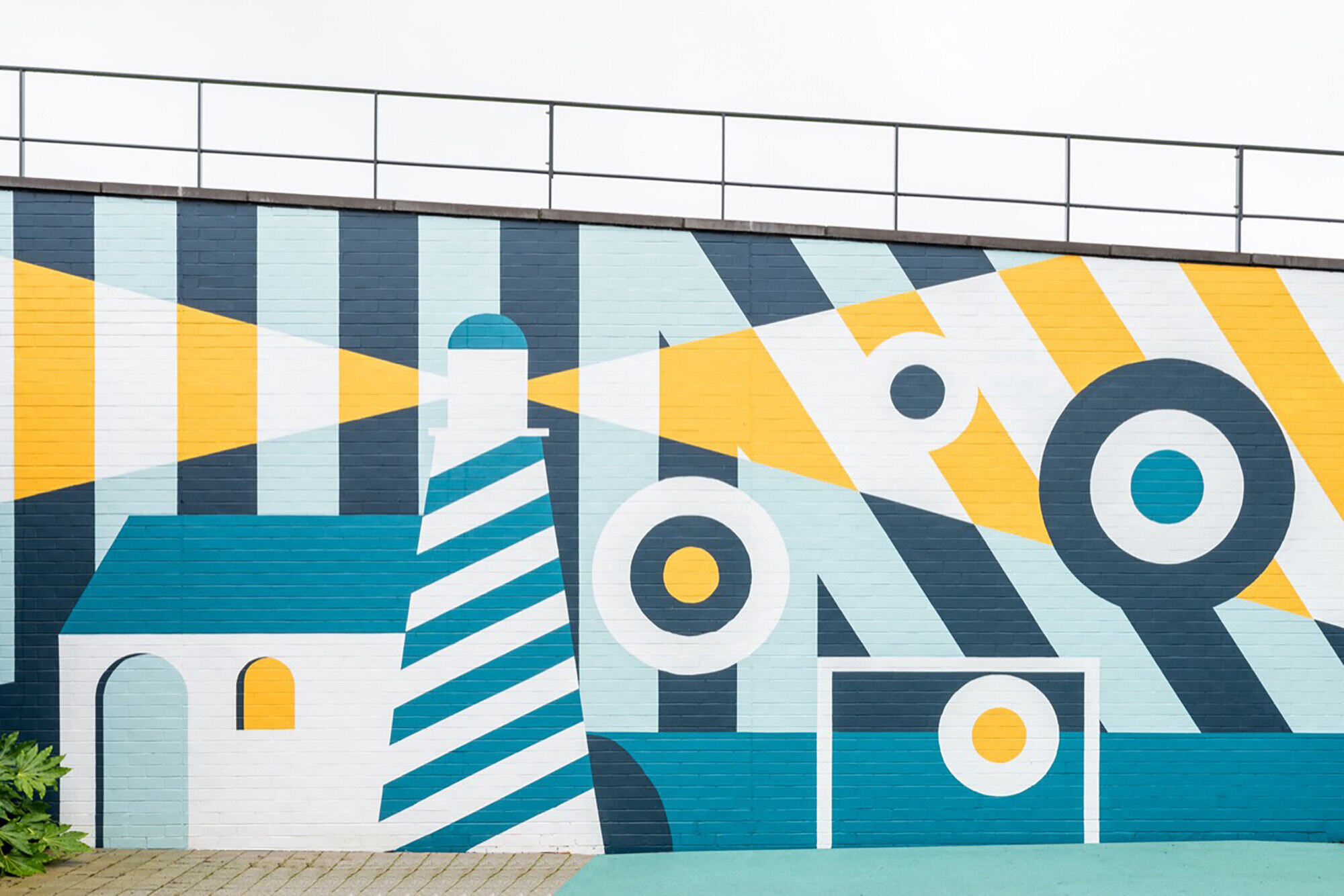 "We are delighted to have worked with Ginkgo and Projects Office in designing this incredible space and are grateful to Edinburgh Children's Hospital Charity for their continued funding and support."
This charity-funded project has transformed the space into a colourful, comfortable interior environment connected to courtyards, activated by murals and play equipment designed by the architects.
Roslyn Neely, CEO of ECHC, said: "ECHC is committed to improving the mental health and wellbeing of all children and young people and we are privileged to have funded the enhancements of all areas within CAMHS at the Royal Hospital for Children and Young People.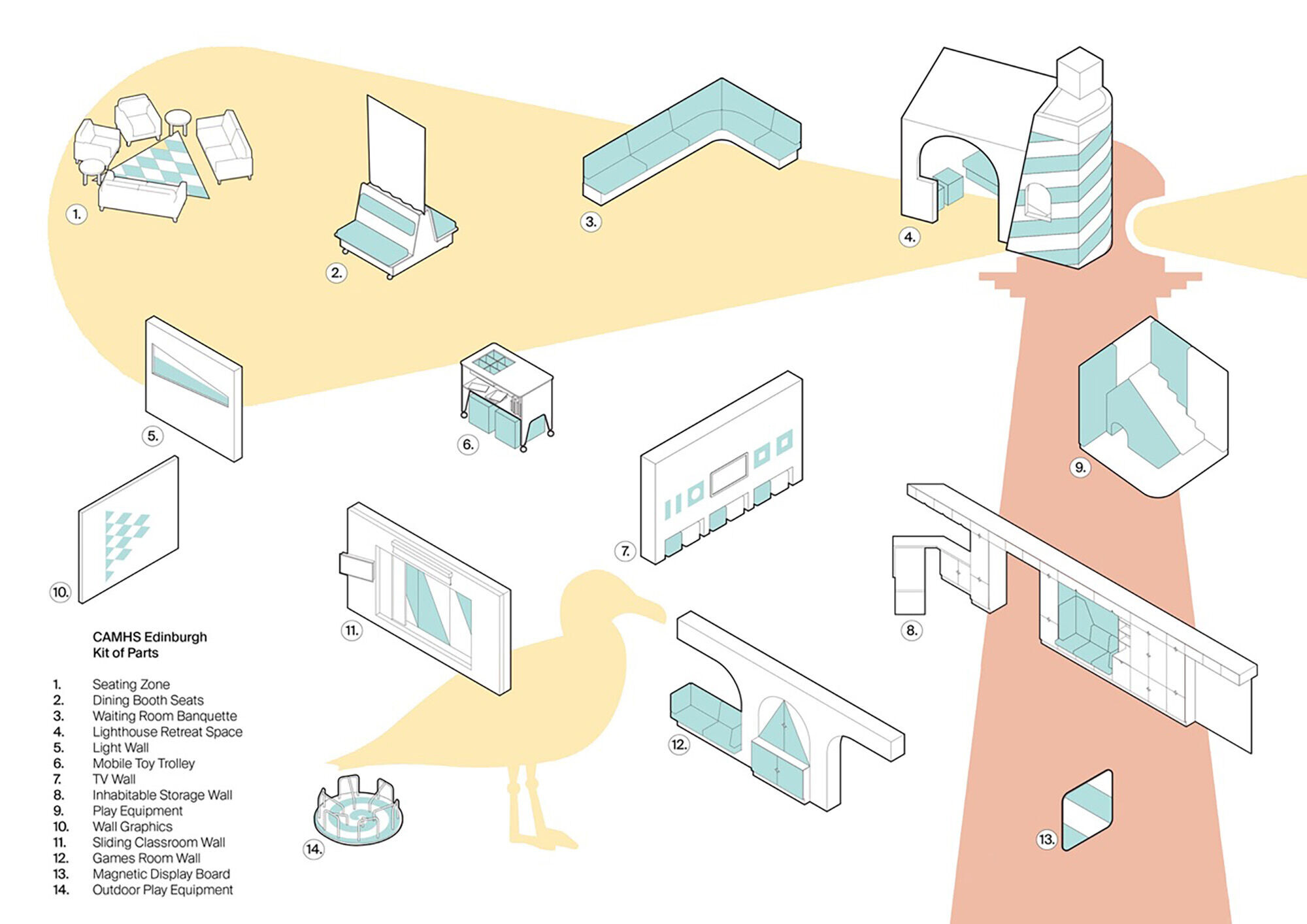 "Coming to CAMHS can be a very stressful time for children, young people and their families so it was important to ensure that, from the moment they arrive, they know they are in a safe place where they will be supported and valued.
"We are very pleased to have worked with Ginkgo and Projects Office on this project. They have gone above and beyond to make sure children and young people were involved in the design and have transformed the space from bare and clinical to bright, welcoming and suitable for children and young people experiencing mental health difficulties."
The project is part of an art and therapeutic design programme curated and delivered by Ginkgo Projects for the NHS Lothian. CAMHS – South Edinburgh is a 250sqm outpatient child and adolescent mental health unit designed by Projects Office to have a consistent look and feel to create a sense of familiarity and reassure service users who will use facilities at both sites.