Two-floor, quick-service restaurant flagship in the city of Zhuhai in China's Guangdong province offers a calm, engaging café and an elegant retreat for diners in a bustling neighborhood.
Landini Associates,the internationally renowned design firm recognized for innovative restaurant environments, has completed its latest collaboration with the Café de Coral Group: A new flagship concept in the city of Zhuhai, China. This new location for Café de Coral — China's largest quick service restaurant brand, with over 160 locations around Hong Kong — offers two contrasting dining experiences with its first-floor café and an upstairs dining room getaway.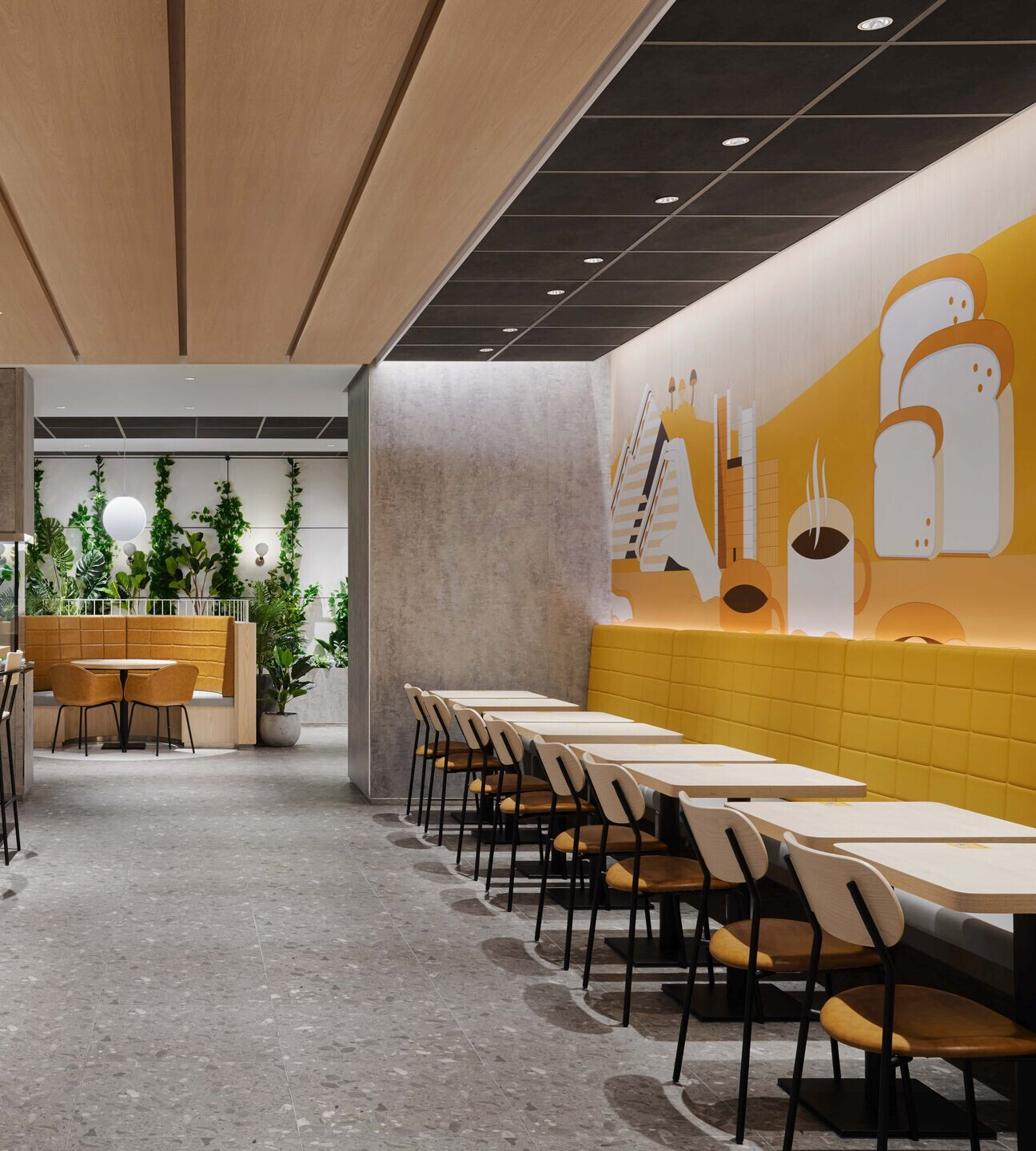 Known for "Reinventing Normal" in restaurant and retail design for leading brands, Landini Associates has designed a striking façade of yellow glass as an evolutionary expression of Café de Coral's confident and magnetic brand. The result underscores this image, presenting a calm authority that stands confidently aloof from the bustling streets.
Inside, Landini Associates has conceived two distinct dining experiences including the ground-floor urban café concept, which offers a stylish sanctuary from the cacophony of the streets — a place where diners rest, regroup and recharge. One level up, the Café de Coral experience evolves into home-away-from-home for regular customers, presenting an elegant, decluttered environment with a recognizable yet restrained personality.
"On the surface a contradiction, the restaurant is beautifully efficient but restful, too," says Landini Associates creative director, Mark Landini. "Despite its calm ambitions the interior surrounds a vibrant working restaurant, full of efficient function. It's this activity and the customers who enjoy it that's the theatre, the color and the fun."
A palette of warm timber, terrazzo, white finishes and hints of color, along with an open concrete ceiling, enhance the simplicity of Café de Coral's classic décor.
Founded with the humble ambition to feed the working class of Hong Kong at affordable prices, the Café de Coral Group has emerged as one of the largest publicly listed restaurant businesses based in China. Outgrowing its competitors, operating multiple brands, and catering for hundreds of thousands of guests a day, Café de Coral Group's enterprise includes quick-service restaurants, casual dining chains, institutional catering and food processing, with over 470 dining outlets in Hong Kong and Mainland China. The company has been a member of the Hang Seng Corporate Sustainability Benchmark Index since 2015.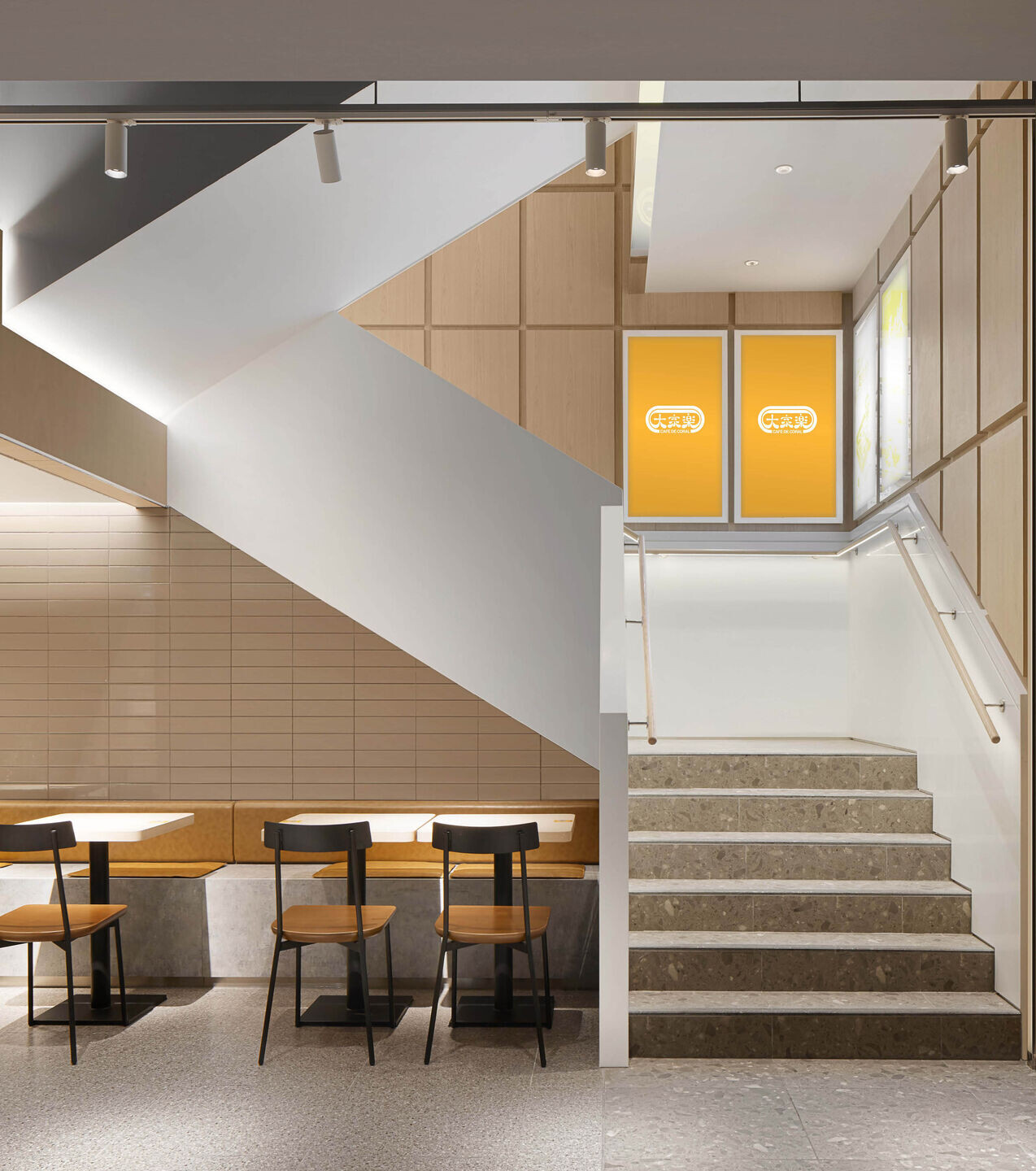 Pioneering retail and foodservice concepts created and designed by Landini Associates have been built globally, attesting to the firm's emergence as a design guru and CEO-whisperer for major brands. Examples range from the firm's new design for Slim's Quality Burger in Australia to its award-winning designs for McDonald's in cities from London to New York to Hong Kong. The firm has also earned acclaim for notable retail designs for ALDI, Walgreens, Hilton Hotels Worldwide, Dunkin', LVMH, Loblaws (Canada), Esselunga (Italy), and Pullman Hotels (Seoul) among many others. Cafés and boutiques designed by Landini Associates are among the most innovative and alluring designs, including many located inside hospitality venues.
This project adds to Landini Associates' collaborations with Café de Coral Group, including the designs of various restaurant locations around Hong Kong. The company's managing director has lauded Landini Associates for its great work and for "improving our operational excellence," adding that the design firm "has been instrumental to our growth and success."