STUDIOSC, a boutique architecture and interior design studio, is pleased to announce the completion of the New York headquarters for 1000 Heads, a global marketing agency with locations in six cities around the world.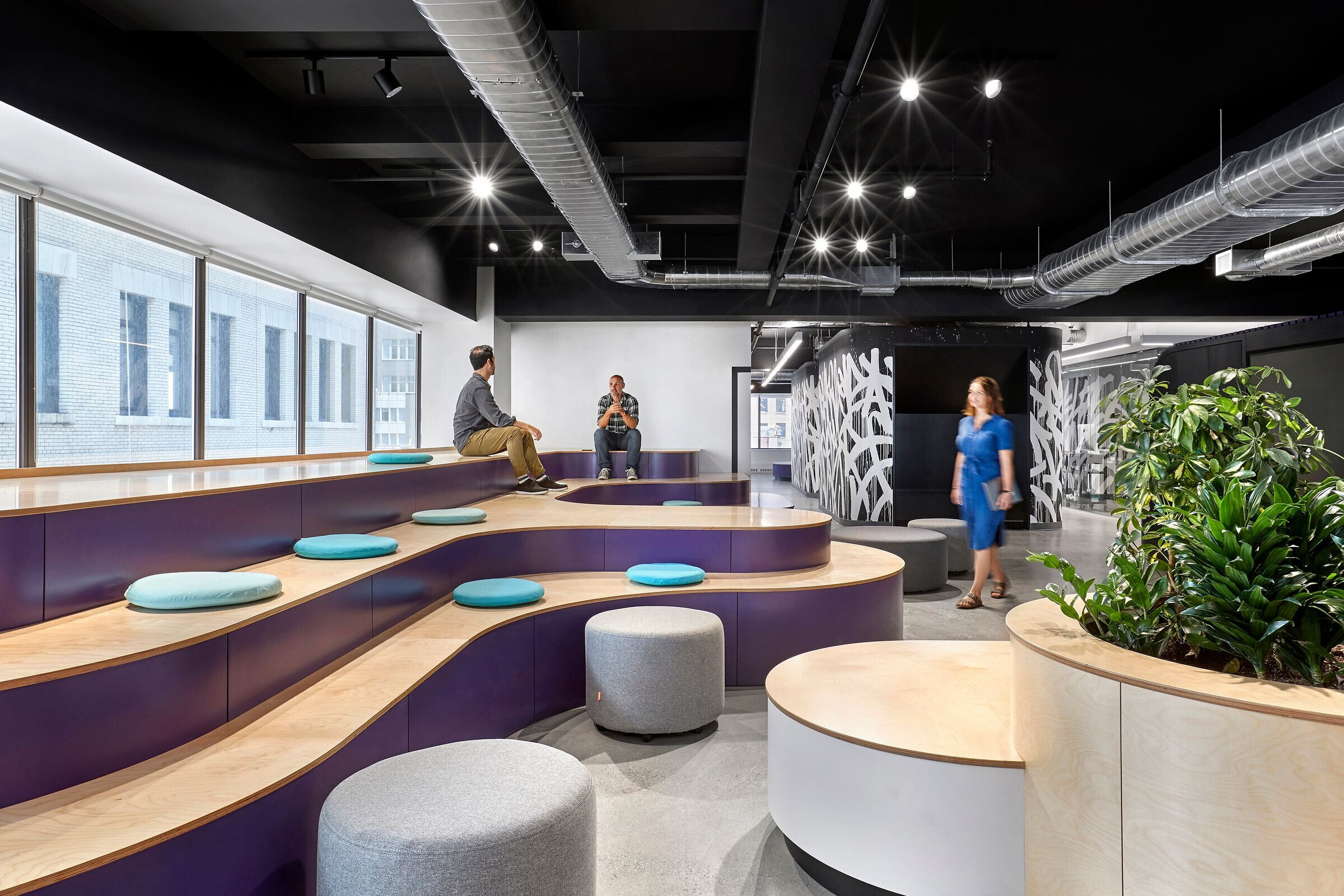 After signing a lease at 55 Broadway in downtown Manhattan, 1000 Heads approached STUDIOSC about their office relocation and design. The space was an empty "white box" and they were looking for a new office vision that would transmit their company ethos throughout the space all while making sure the office was uniquely New York.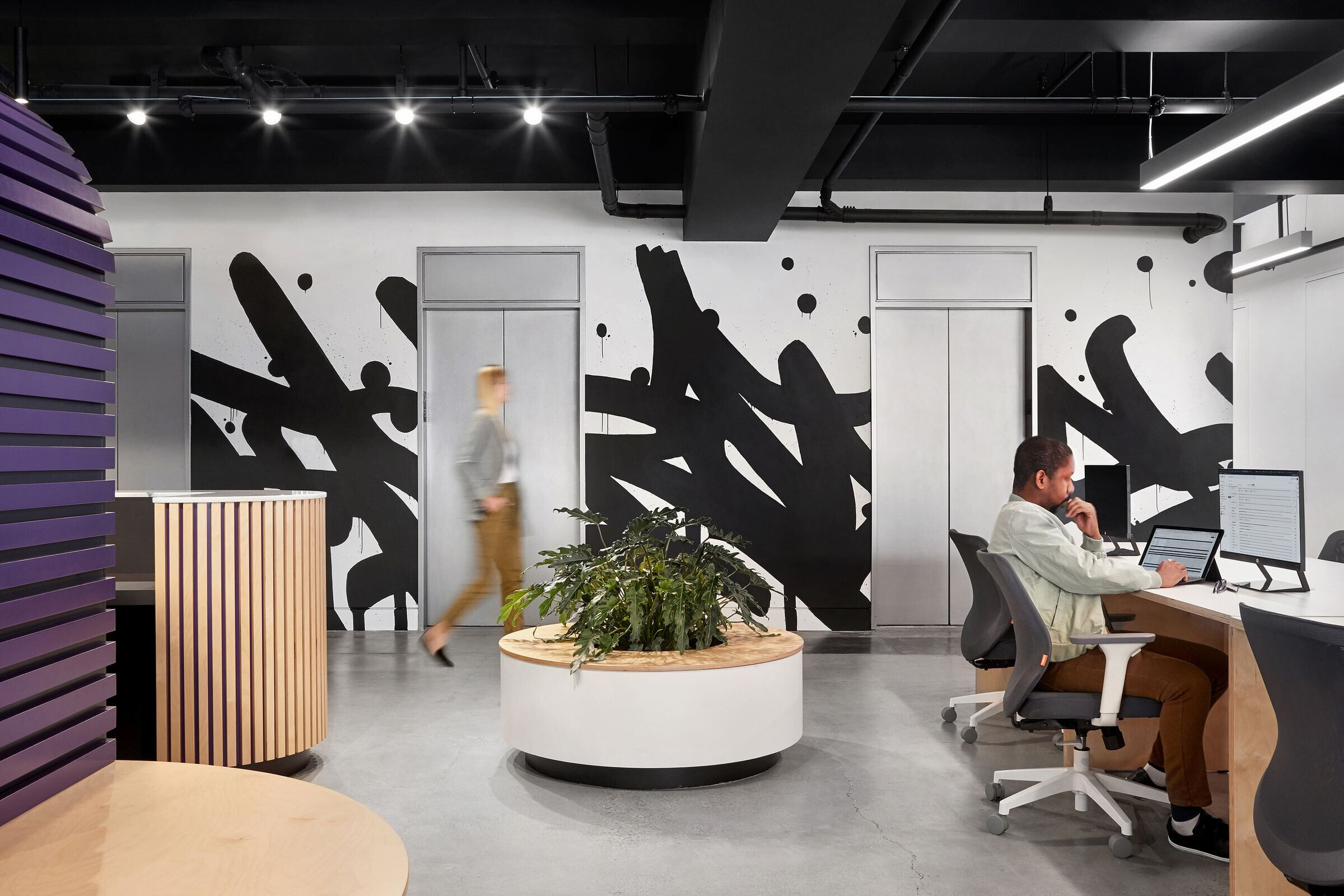 STUDIOSC principal, Stephen Conte, immediately though of a university colleague who has been crafting a name for himself in the artworld, Bisco Smith. "Bisco's work is all about written narratives using street art that resonates with New York. 1000 Heads prides itself as a word of mouth agency with a unique story to tell. Combining the two felt natural and merged their story, art and architecture as the driving concept behind the project."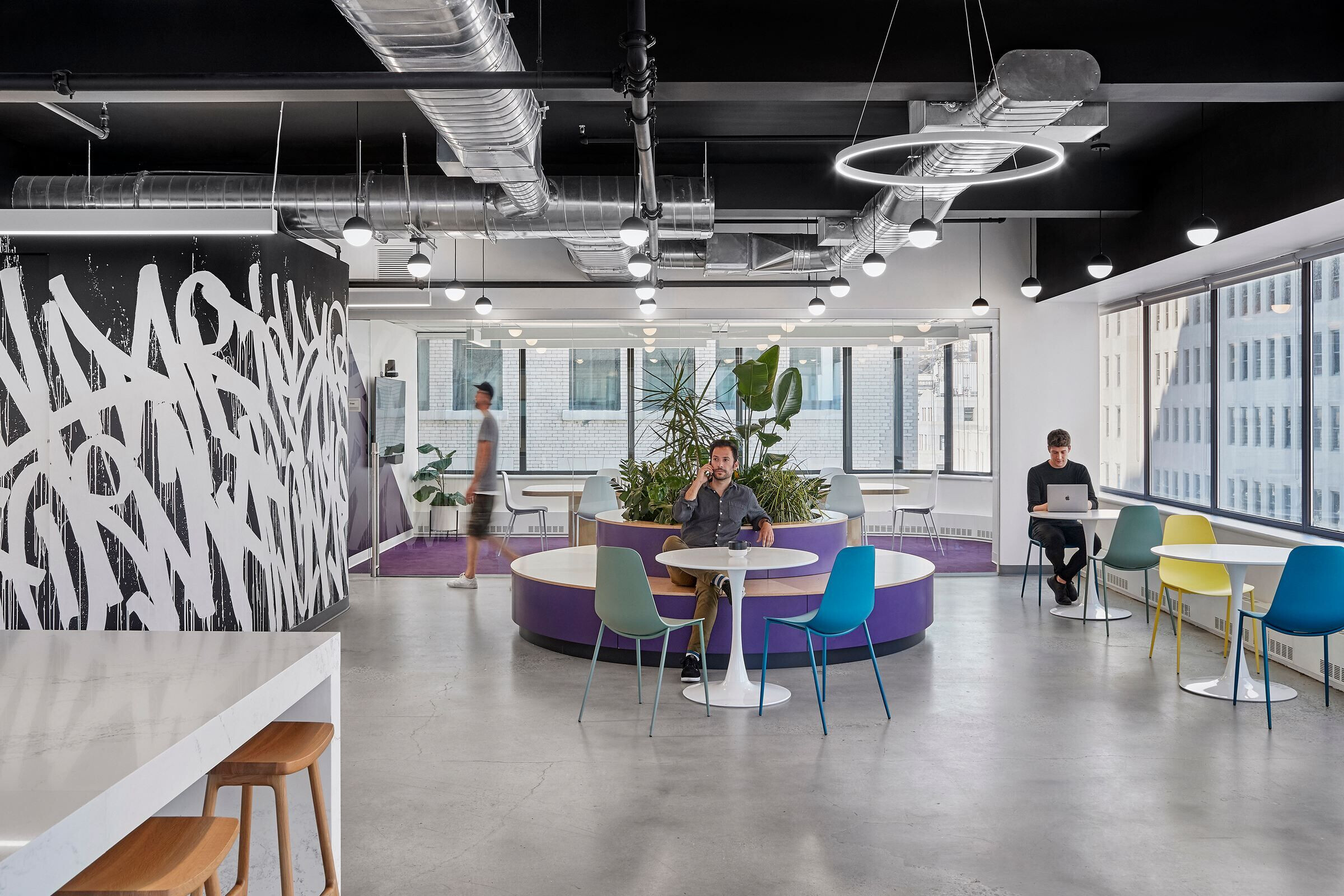 A cafe space was created on one of the best corners of the office, offering light and views and a space to work, relax and socialize. We felt it was important to create certain spaces that promoted wellness, so we positioned the company café in the best location for views and light. Interior quite spaces and smaller break out rooms allow for various moments throughout the day and a larger common space with curving bleacher seating provides a flexible work space as well as an all hands meeting area for the company.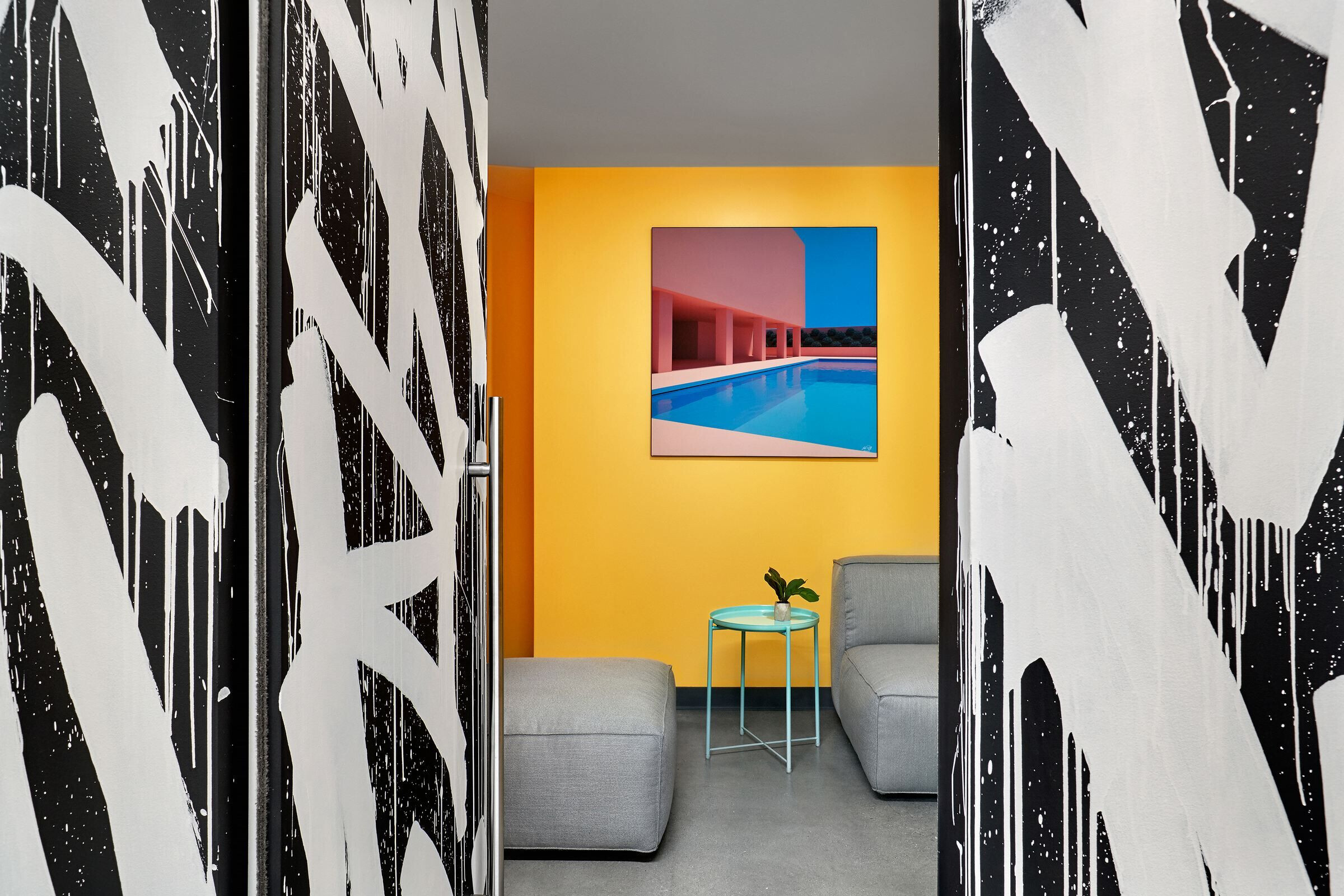 What was the brief?
To create an office for the NYC headquarters for the global marketing agency, 1000 Heads.
What were the key challenges?
The office design had to reflect the unique story of the company, which is originally from England, while telling the story of the company and creating its own identity as the NY office.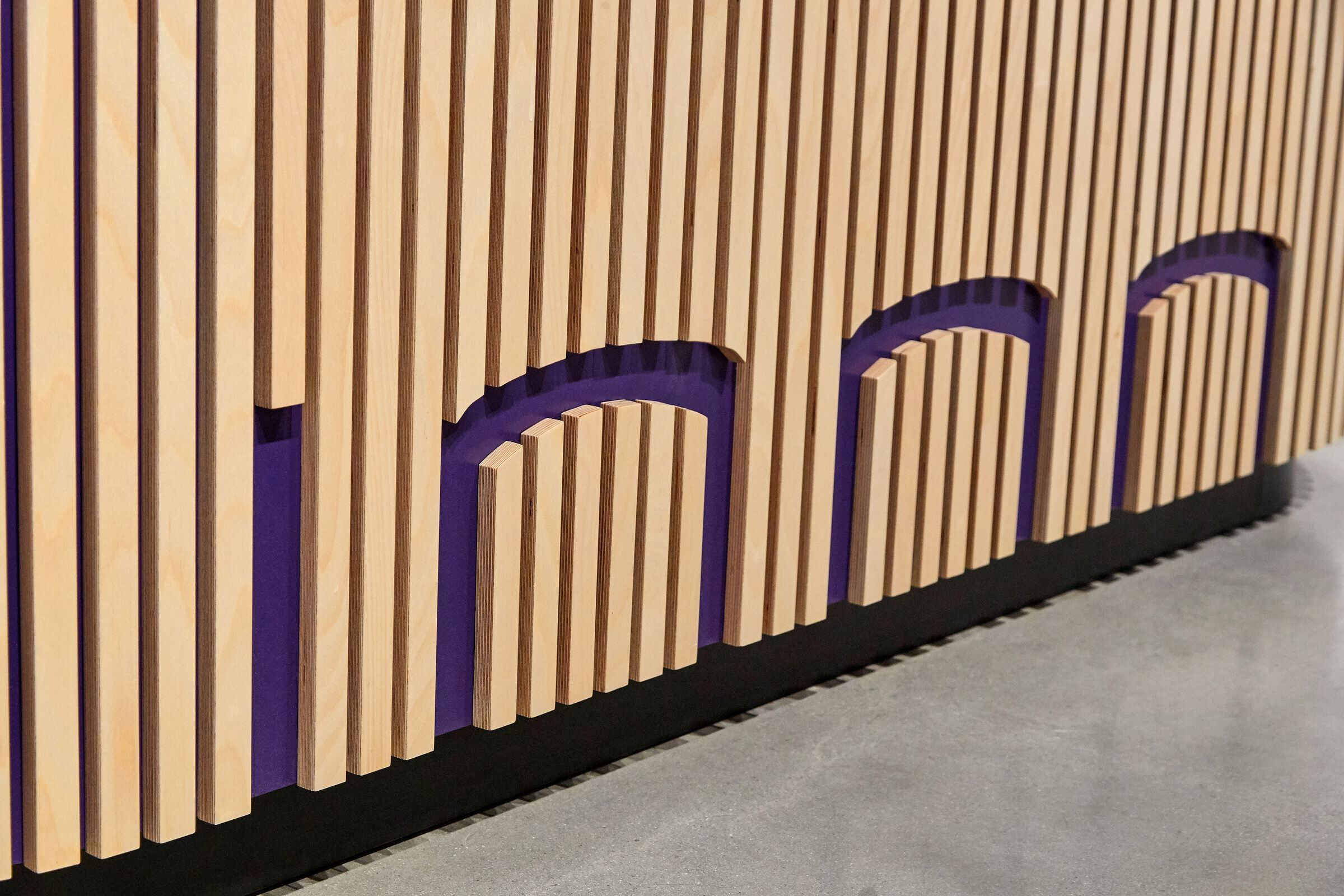 What materials did you choose and why?
Working on a tight budget, we chose to feature woodworking and millwork within the central part of the office, then separating the 2 sides adjacent to that central space between workstations and a more public space for the office.
Material Used:
1. Interior furniture: Coference Room Chairs: Artcile : Svelti Chairs
Common Central Area: Popin: Block Party 24"
Common Central Area: Popin: Party Lounge Round 40"
Huddle Rooms: Article: Angle Chair
Quiet Room: Article: Simplis Chair
Café: Article: Svelti Chairs
Café Tables: Ikea Docksta Table
Café Lihgting: Monae Mini Pendant- Kuzco Lighting