In the Flemish Ardennses, Villa RS by JUMA Architects is situated in a picturesque landscape with church towers in the distance. The horizontal nature of the house, as well as the black façade of burnt wood, are intended to deflect attention to the surrounding nature.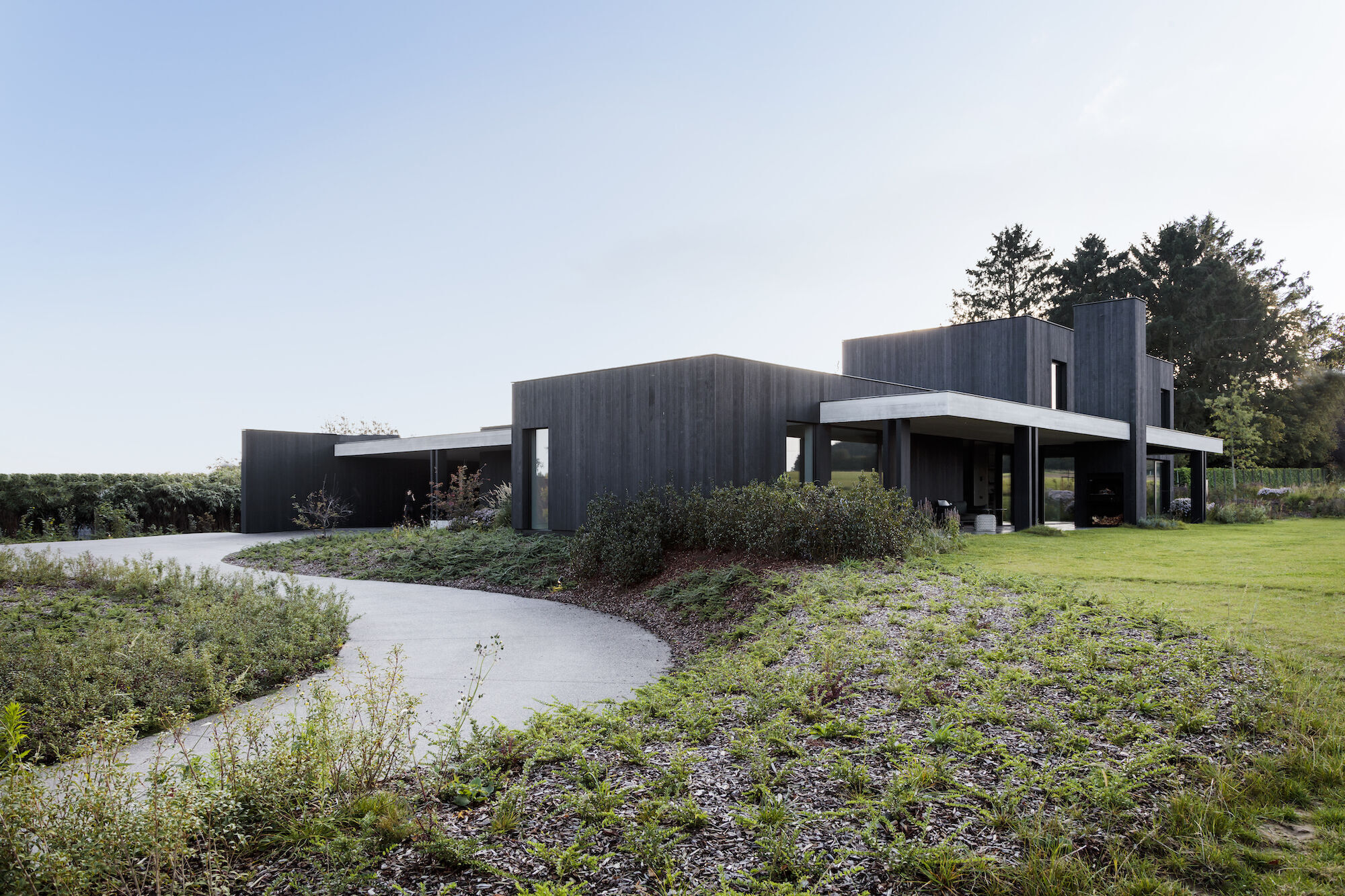 The house is positioned at a right angle to the road. When weather permits, sliding windows and doors on both sides of the volume can be completely opened up to blur with the landscape. In a further response to the site and orientation, a garden wall along the mirror-like infinity pool affords privacy while offering protection from wind. A terrace on the north side is covered and includes a wood-burning stove, allowing for the space to be enjoyed throughout the year.
The front façade, by the carport, has been opened up with the implementation of wooden slats that create an inviting and intriguing character while also preventing the entry area from being too dark or sombre. Wooden slat elements are echoed throughout the house and also recur in pairs to support concrete canopies.
Black cladding as a design element also finds repetition in the driveway, which is a washed concrete slab of black pebbles. Floors and terraces in living areas are finished in Ceppo, in a colour that closely matches the concrete appearance of ceilings and canopies.
Inside, light tone-on-tone colours harmonize with the architecture and result in a feeling of spaces that seamlessly flow into each other.
In the dining room, a light tadelaks has been applied to the walls, which complements oak veneer joinery and a kitchen worktop of sandblasted Travertine.
Addressing the idea of allowing the family to grow in place, the upper floor has three identical children's bedrooms with a shared bathroom.
The main bedroom with ensuite and dressing room meanwhile offers the luxurious feeling of a hotel with a terrace that allows one to walk straight out to the pool. The ensuite is finished with brass taps by Vola and brass accents around mirrors and lights.