Per la prima volta nei trent'anni di storia di Davidson, hanno cercato di creare un luogo di lavoro a Brisbane che incarnasse il loro marchio, la loro cultura e le loro convinzioni e che promuovesse l'esperienza dei dipendenti; il tutto eseguito a distanza durante il culmine del lockdown COVID-19.
Abbiamo iniziato con un processo di scoperta completo, che ci ha permesso di impegnarci ad un livello più profondo per capire i valori e l'essenza di ciò che significava essere parte di Davidson. Attraverso la nostra immersione profonda abbiamo scoperto i valori fondamentali e la passione per le persone e li abbiamo aiutati a comunicarli attraverso il flusso naturale dell'ambiente di lavoro.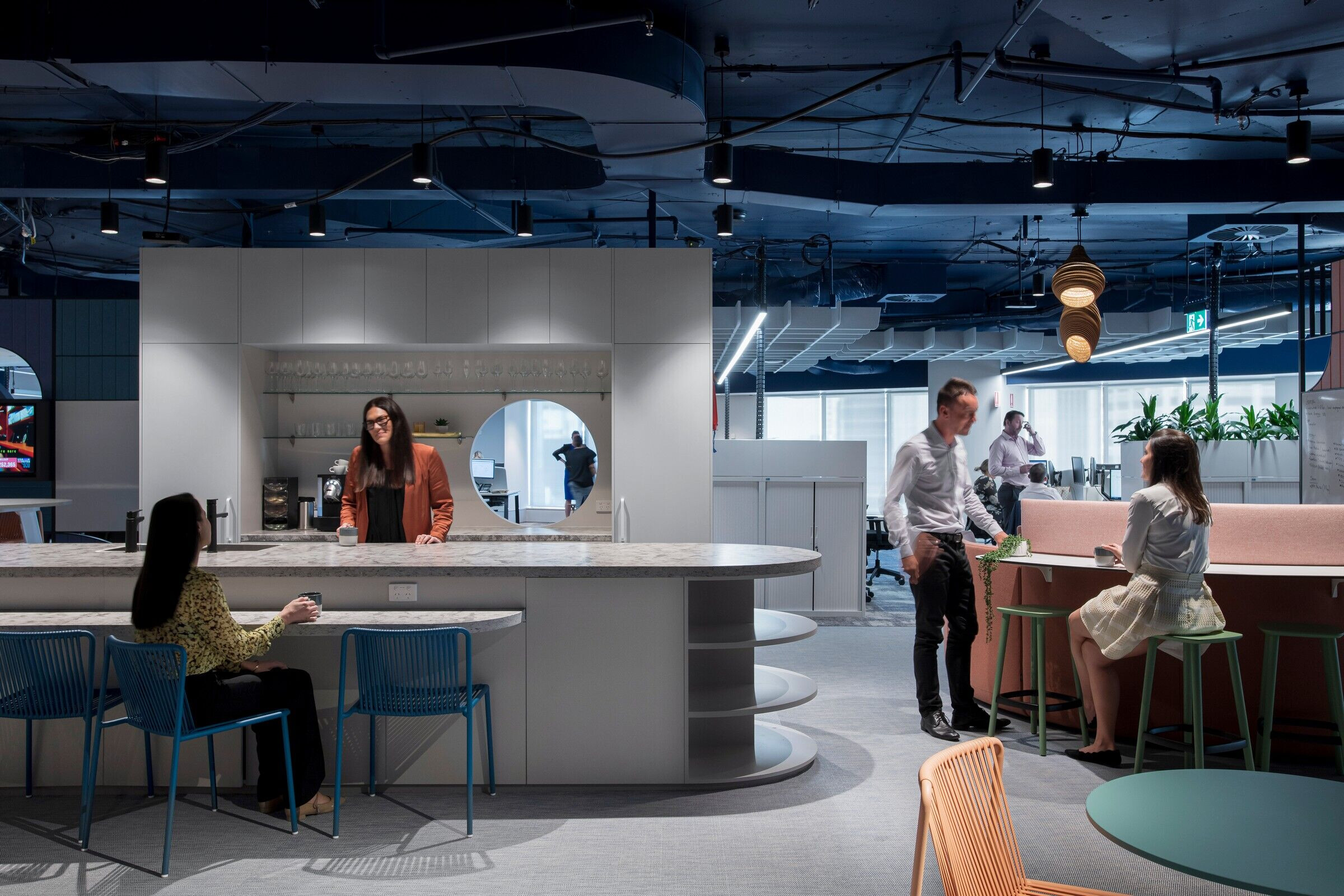 Il salone circolare del bar è un cenno diretto agli Yarning Circles della Yalari Mob, che riflette il punto di raccolta indigeno attraverso l'uso dello spazio e dei toni di colore della terra, messo a terra dal tappeto circolare ed enfatizzato dalle luci sospese. Le selezioni dei materiali sono state fatte consapevolmente per impegnarsi con produttori etici e sostenibili, dalle piastrelle della moquette Onterra ai pannelli Woven Image Acoustic Ceiling.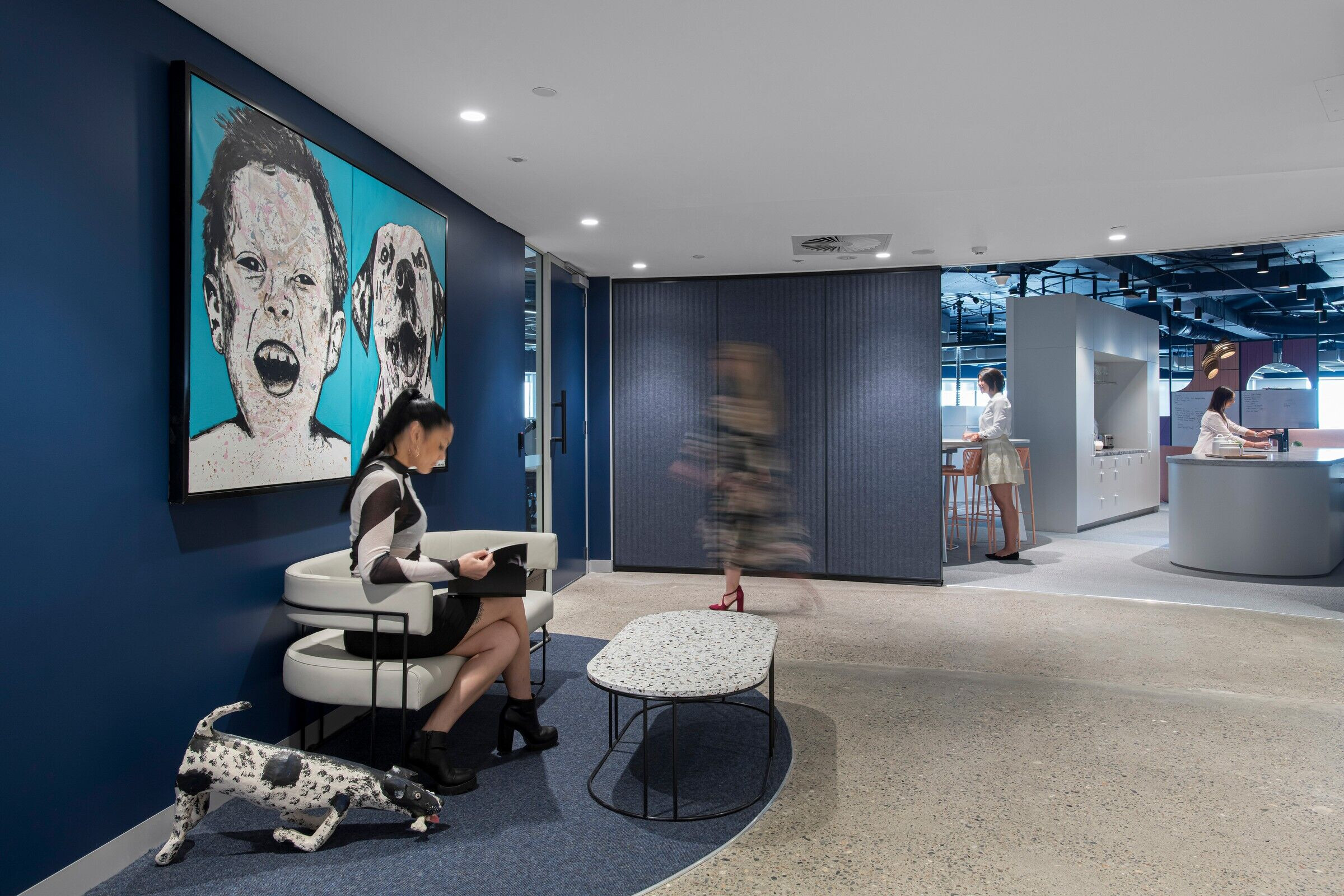 Abbracciando la natura curva del pavimento e l'offset del nucleo, lo spazio di lavoro permette una vista ininterrotta, collegando l'intero business senza barriere. Questa connettività permette all'osmosi naturale di verificarsi, coinvolgendo l'abilità e la conoscenza del team, imparando gli uni dagli altri.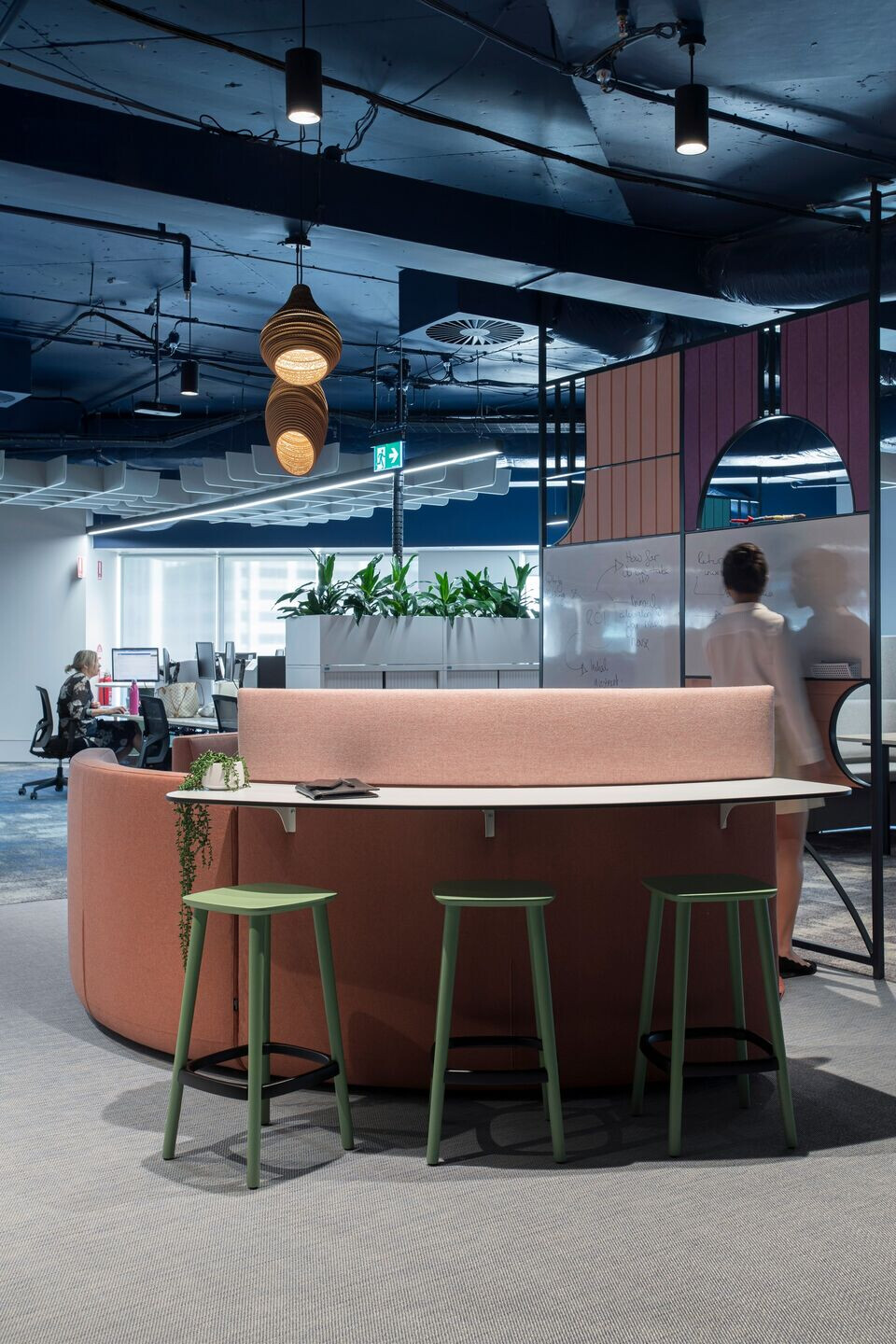 Supportati da diversi stili di spazi per la collaborazione di squadra, cabine tranquille, aree di relax e cabine telefoniche, i dipendenti sono incoraggiati a ottimizzare le loro prestazioni lavorative impegnandosi con lo spazio giusto per il compito, offrendo una maggiore flessibilità.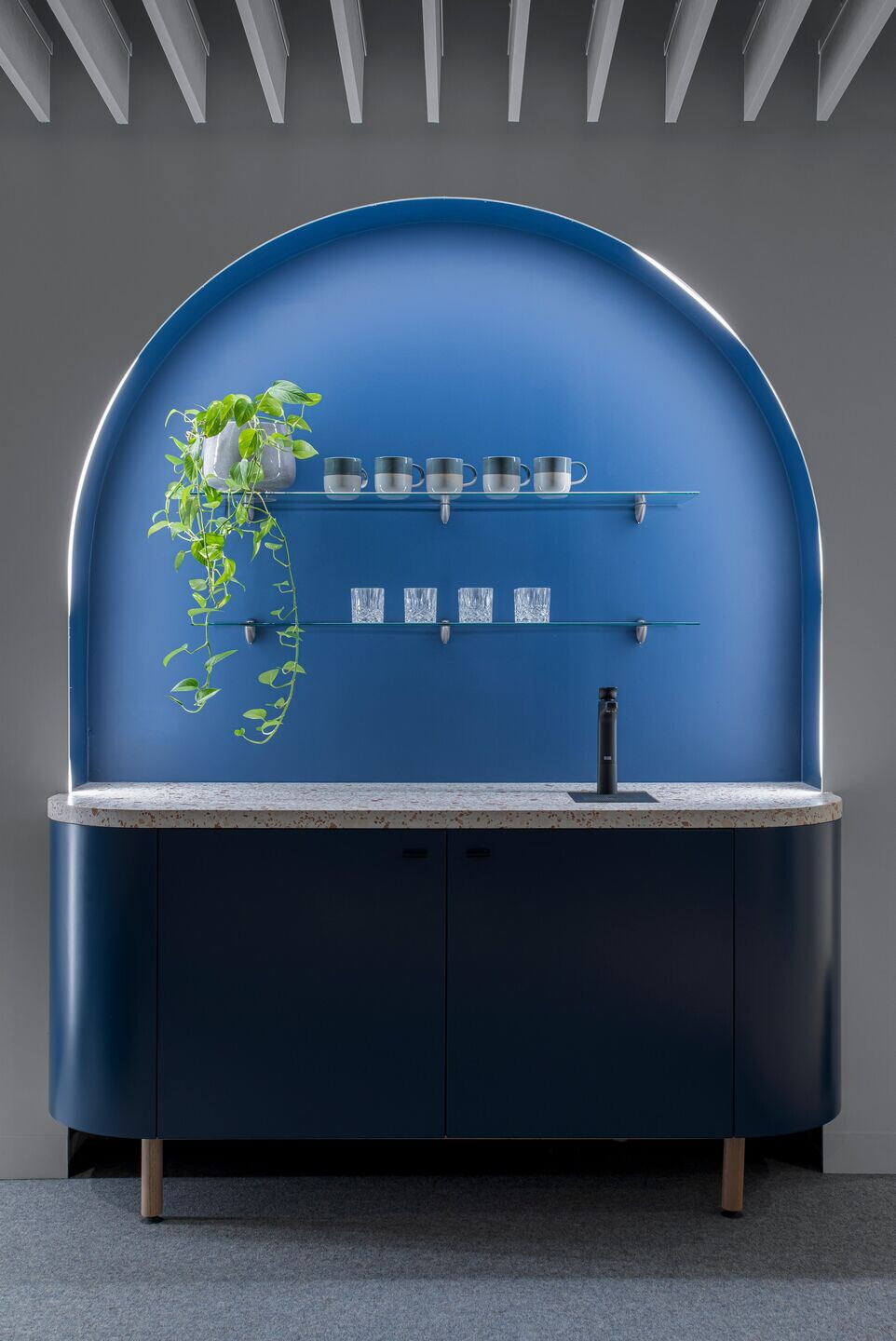 Il fulcro del business è uno spazio caffetteria; aperto e collegato all'ambiente di lavoro che lo rende un luogo di ritrovo che incoraggia la comunità. Sottilmente, questo spazio è ispirato ai manufatti del Nepal. La finestra della sala è schermata da lame mobili simili a ruote da preghiera e il pallet di materiali è ghiacciato; riflette il cielo blu intenso e i climi più freddi. I colori vivaci e le opere d'arte alle pareti sono ispirati dagli spruzzi di colore delle tradizionali bandiere di preghiera, dando allo spazio una sensazione di apertura e di appartenenza.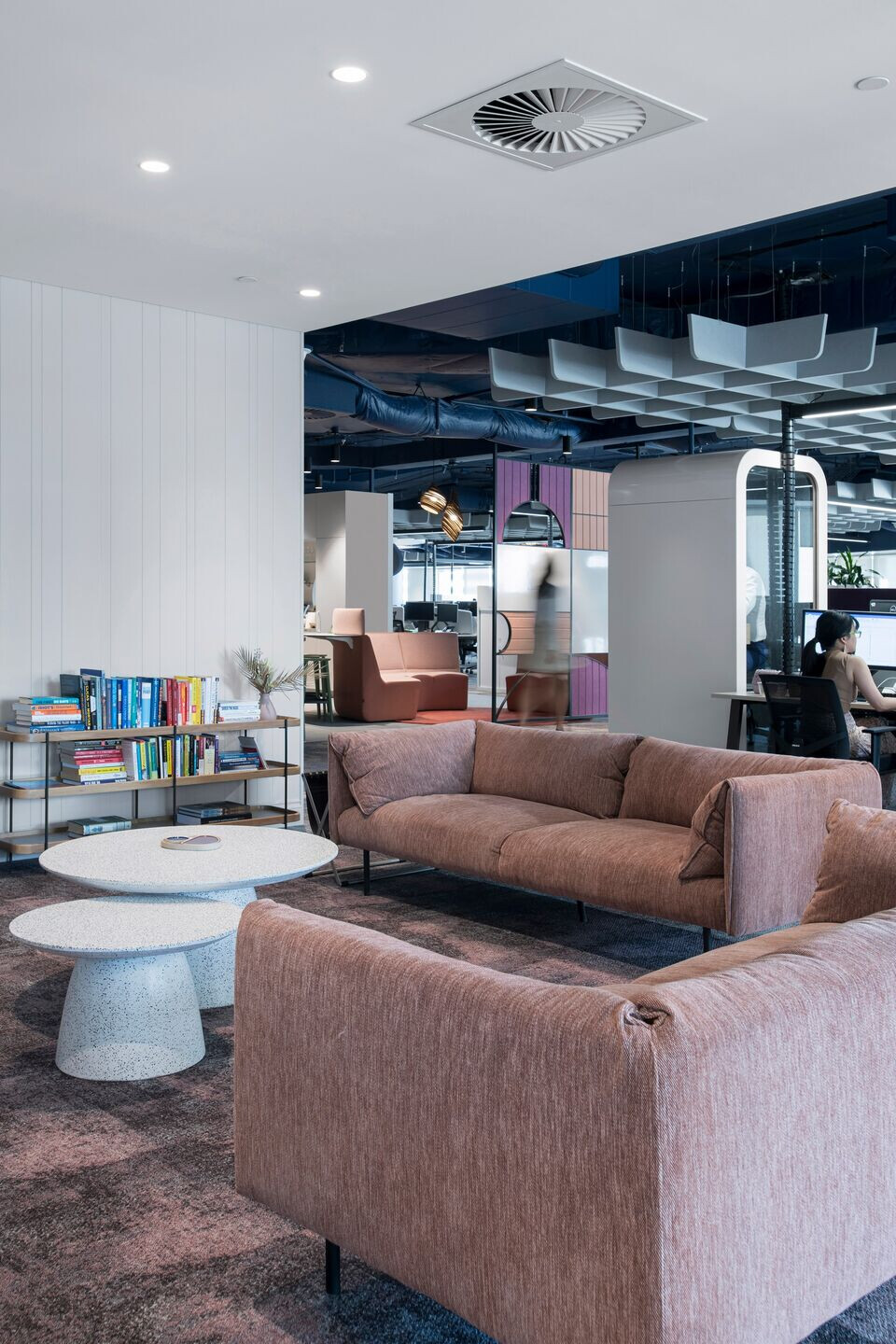 La materialità abbraccia l'essenza di Davidson; onesta, autentica e fidata, eseguita attraverso il cemento sigillato, i servizi a vista e la forma a "D" della firma, abbinata al loro blu navy e a un tocco di arancione.
Il briefing del cliente era minimo; volevano ospitare i loro oltre 60 dipendenti in un luogo di lavoro che permettesse loro di lavorare efficacemente e li rappresentasse professionalmente ai loro clienti.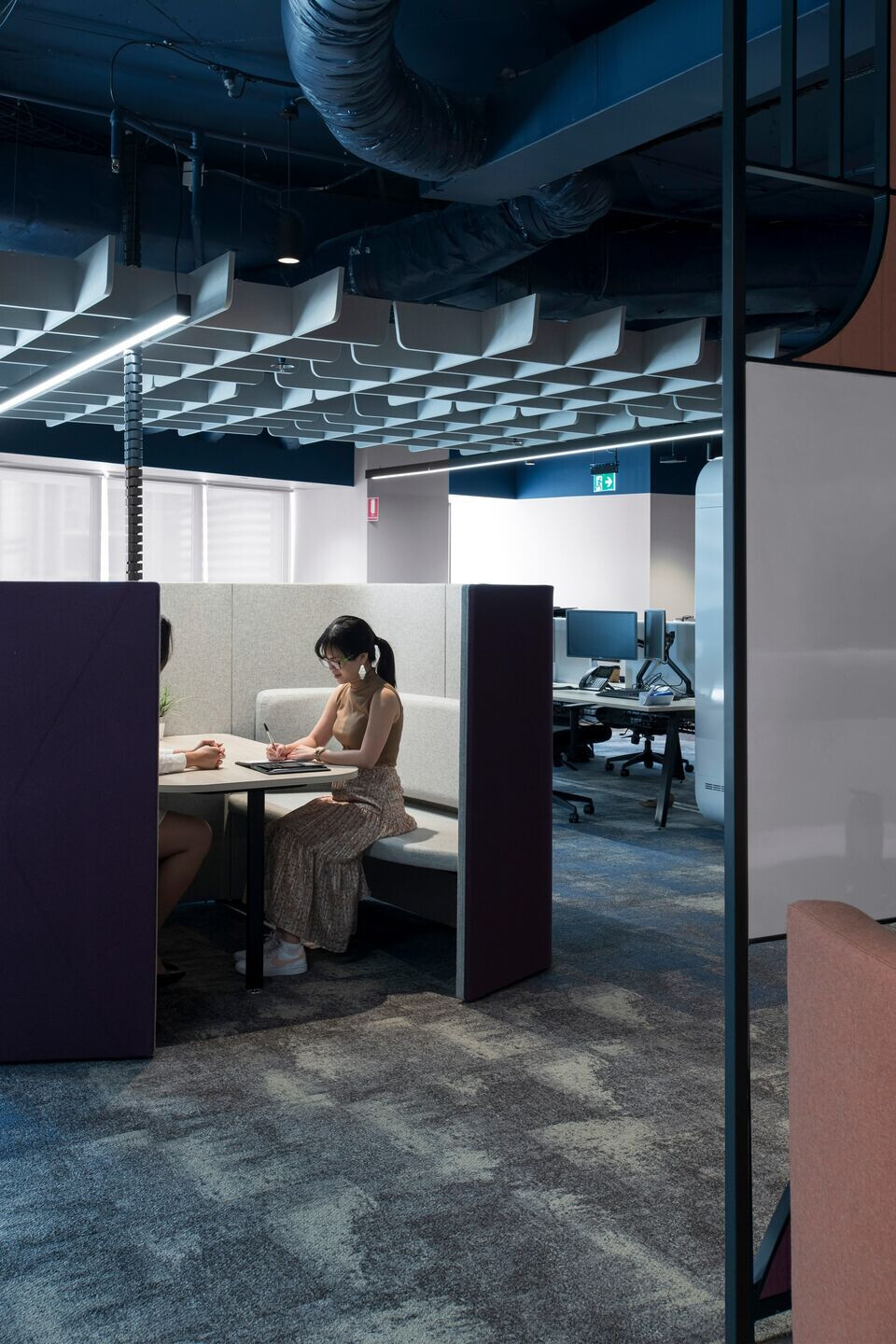 Materiale Utilizzato:
Mobili
Catifa Up Chair; Stylecraft, Catifa 53 Cross 53 Stitch Chair; Stylecraft, Sedis 2 Seater Lounge Chair; Stylecraft, Sedis Coffee Table; Stylecraft, Avion Occasional Table; Stylecraft, Bloom Circle Lounge; Stylecraft, Blade 4 Star Base Table; Stylecraft, I am Flip & Fold Table; Stylecraft, Disc Table; Stylecraft, Blade High Table; Stylecraft, Blade Table; Stylecraft, Ayre Task Chair, Specfurn Babila Stool, James Richardson Tribecca Chair, James Richardson Tribecca Stool, James Richardson Pedrali Fluxo Table, James Richardson Haven Quad Pod, Zenith Archie Stool, Zenith Epic Workstations, Zenith Tambour Storage, Zenith Framery O with Wide Table, Office Scape Crescent Swivel Chair, West El, Team Air Drafter Chair, UCI Woodrow Hourglass Stump, Fenton & Fenton Willow Range, Loob Planter, The Balcony Garde Piccolo Stool, Freedom Felix Angled Arm, Globe West Felix Fold 3 seater sofa, Globe West Paloma Coffee Tables, Globe West Sketch Humla Shelf.
Illuminazione
Titanium G2 Light, Unios Titanium Pendant, Unios Nusa DUA, Yellow Goat Designs Flex Troffer LED, Eagle Lighting RapidLED, Eagle Lighting Akira Round 600, Unios FX Spotlight & Track, Unios Aeon Flex Top, Unios Aeon Flex Side,Unios Silhouette, Ross Gardam Lifelight, Clevertronics Ultrablade Pro, Clevertronics Slim LED, Digilin XTA 2.0 Slot, Xero XTA 2.0 Beam, Xero.
Finiture
Tretford Carpet, Gibbon Group Comfortable Concrete Carpet, Milliken-Ontera Urban Poetry Carpet, Milliken-Ontera Pebble Carpet, Cavilier Bremworth Marine Carpet, Interface Flow Collection Flooring, Bolon IQ Surface Flooring, Tarkett Taralay Flooring, Gerflor Buffalo Granite Floor, Stone & Tile Studio Plan Stippled Rug, Designer Ruge Wash & Wear Paint, Taubmans Echopanel, Woven Image Zen Echopanel, Woven Image Coloured Float Glass, GJames Powdercoat, Dulux Powdercoat, Interpon Element Acoustic Grid, Woven Image Caramalita Stone, Fibanacci Stone Zone Upholstery, Instyle Laminate, Formica Foss Upholstery, Kvadrat Luna Concrete, Essa Stone Laminate, Polytec Laminate,Laminex Timber Veneer, Eveneer.
Accessori e impianti
Cabinet Pulls, Made Measure Concealed Bin, Hafele Tapware Reece Sanitary Ware Caroma Astra Walker BAH1 Door Pull, Barben PWD Accessories Bradley.