A new ground up design by STUDIOSC, this multifamily residential building seeks to bring a new contextual language to a larger scale project in a transforming neighborhood. A major focus of the project is on the lobby, which cuts through the building from street front to a secondary entrance from the parking lot and is highlighted by a dramatic vaulted entrance and soaring ceiling heights. A subtle cut in the floor as well as a sculptural spiral staircase flows to the lower level amenity spaces to the lobby above connecting three levels both visually and physically.
The materials used in the lobby were designed to portray a modern elegance while applying an updated idealization of colors and patterns found throughout the neighborhood, providing a cohesive design that transitions throughout the building's shared spaces.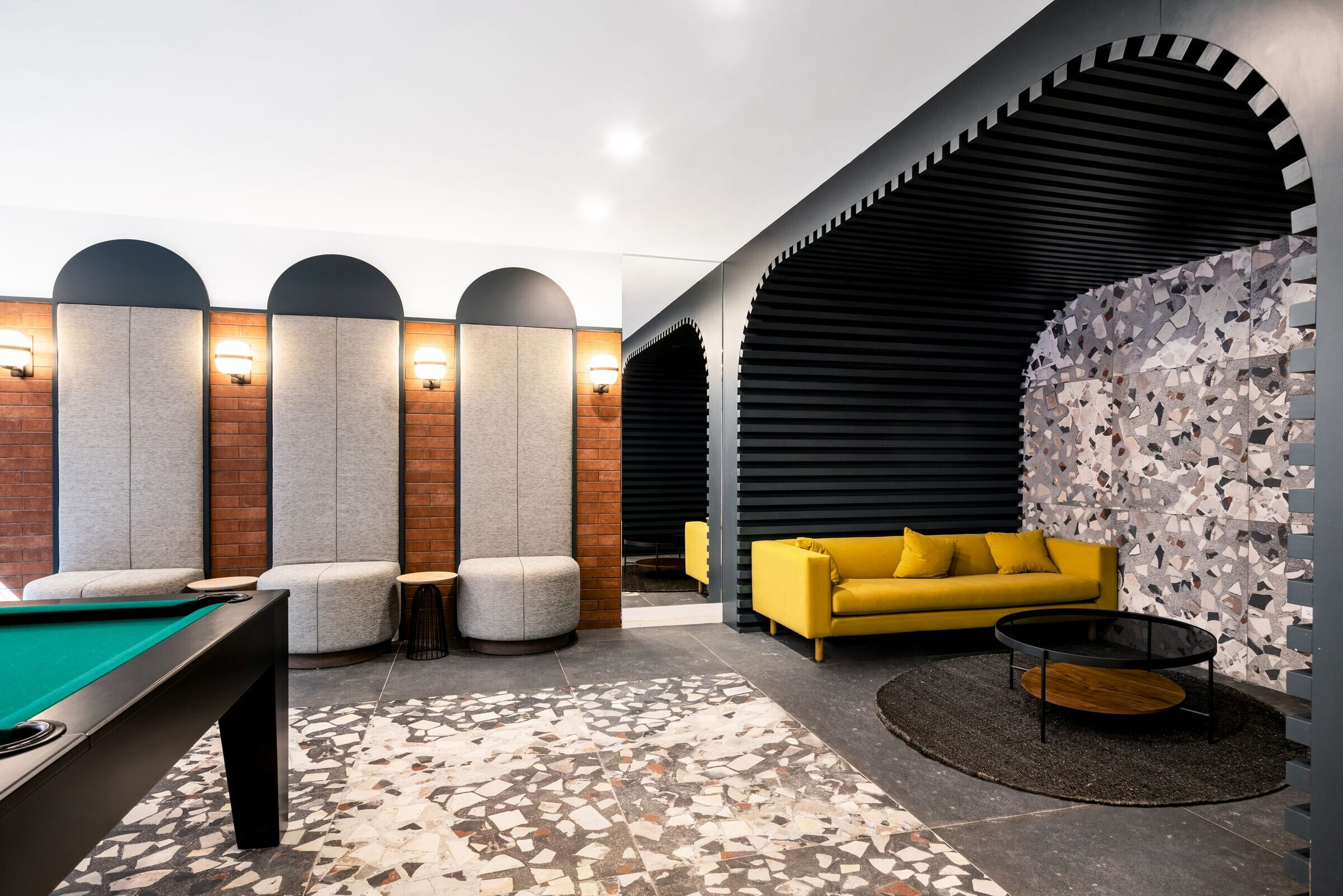 This was achieved by mixing reoccurring design elements such as the terrazzo patterned tiles, modern brick tiles laid in dramatic vertical archways and other unique elements that helped to tie together the design. The result is a design that gives typically disparate spaces a unified design that creates an identity for the entire building.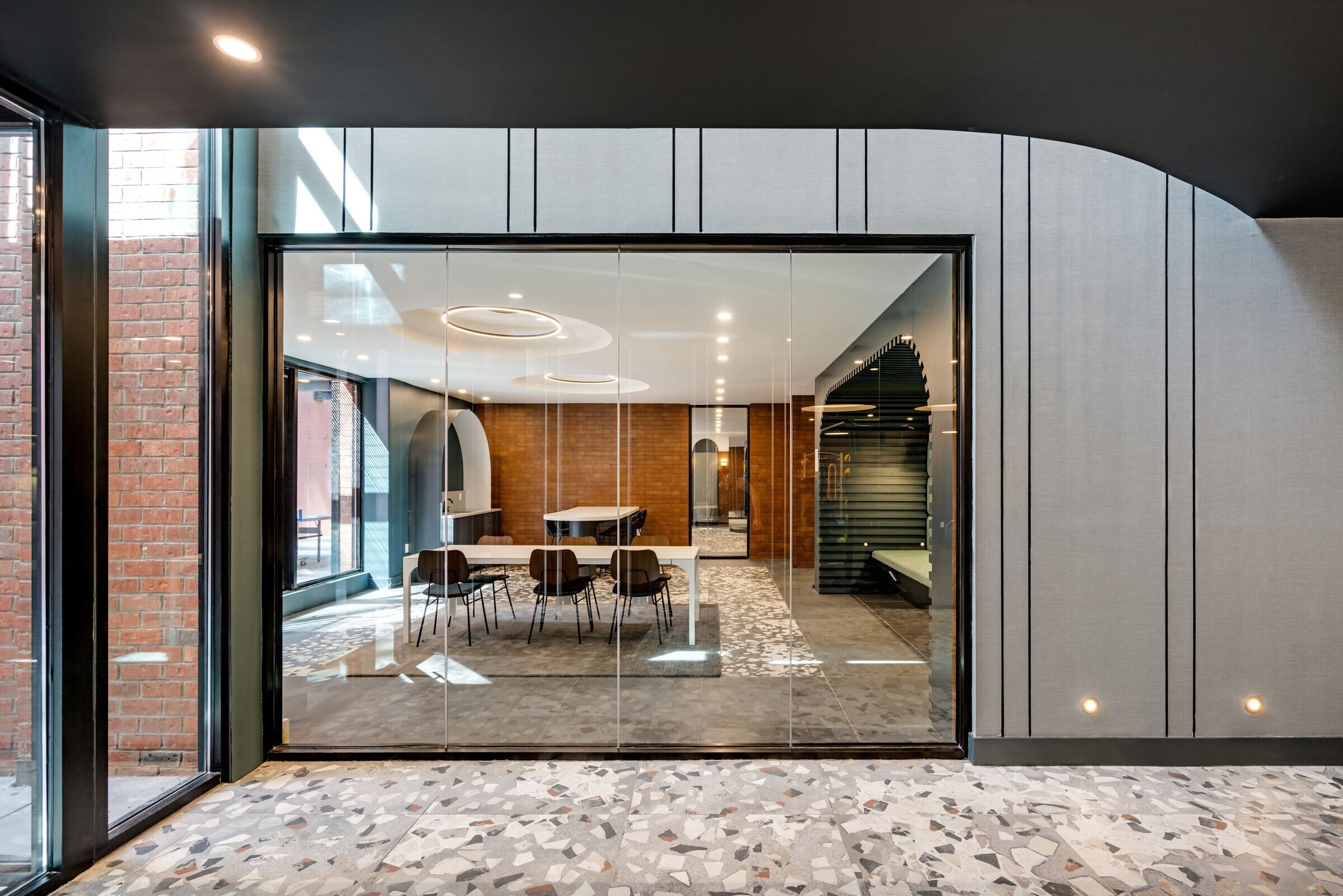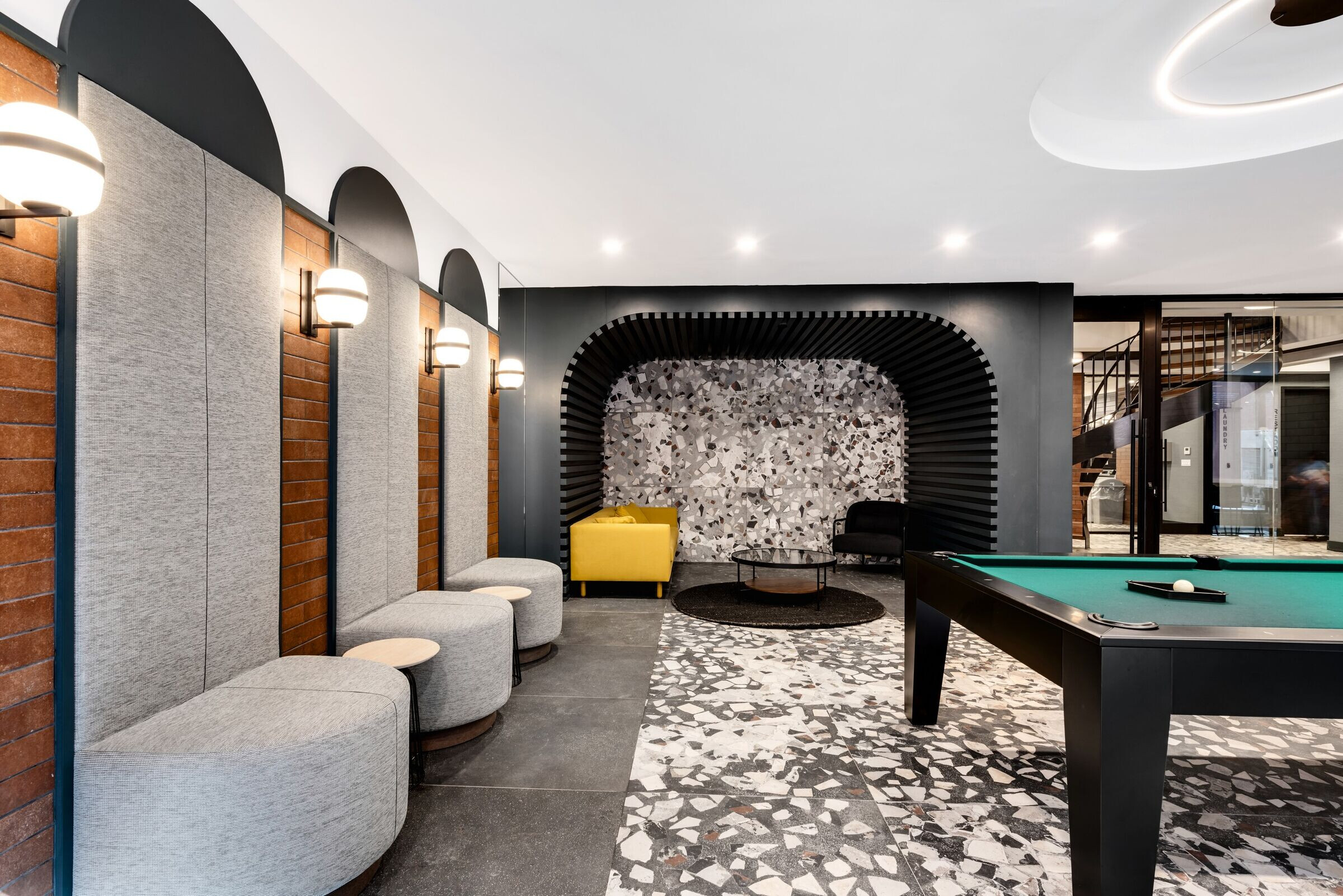 Material Used :
1. Fioranese Ceramica I cocci - Lobby Wall - CALCI / NATURAL 36"x36"
2. Fioranese Ceramica I cocci - Lobby floor - CALCI / SPACCATO 36"x36"
3. Brick World – Lobby Vertical Brick wall - SOHO CATO
4. Dynamic Arch Dark tile – Lobby Elevator shaft wall-
5. Santa & Cole - Lobby sconce - Wally wall lamp
6. Foscarini - Lobby pentant - Gregg suspension light
7. Blu Dot - Lobby lounge chair - Field lounge chair in gray
8. Fioranese Ceramica – Lounge Floor and wall - I cocci // CALCI / SPACCATO 36"x36"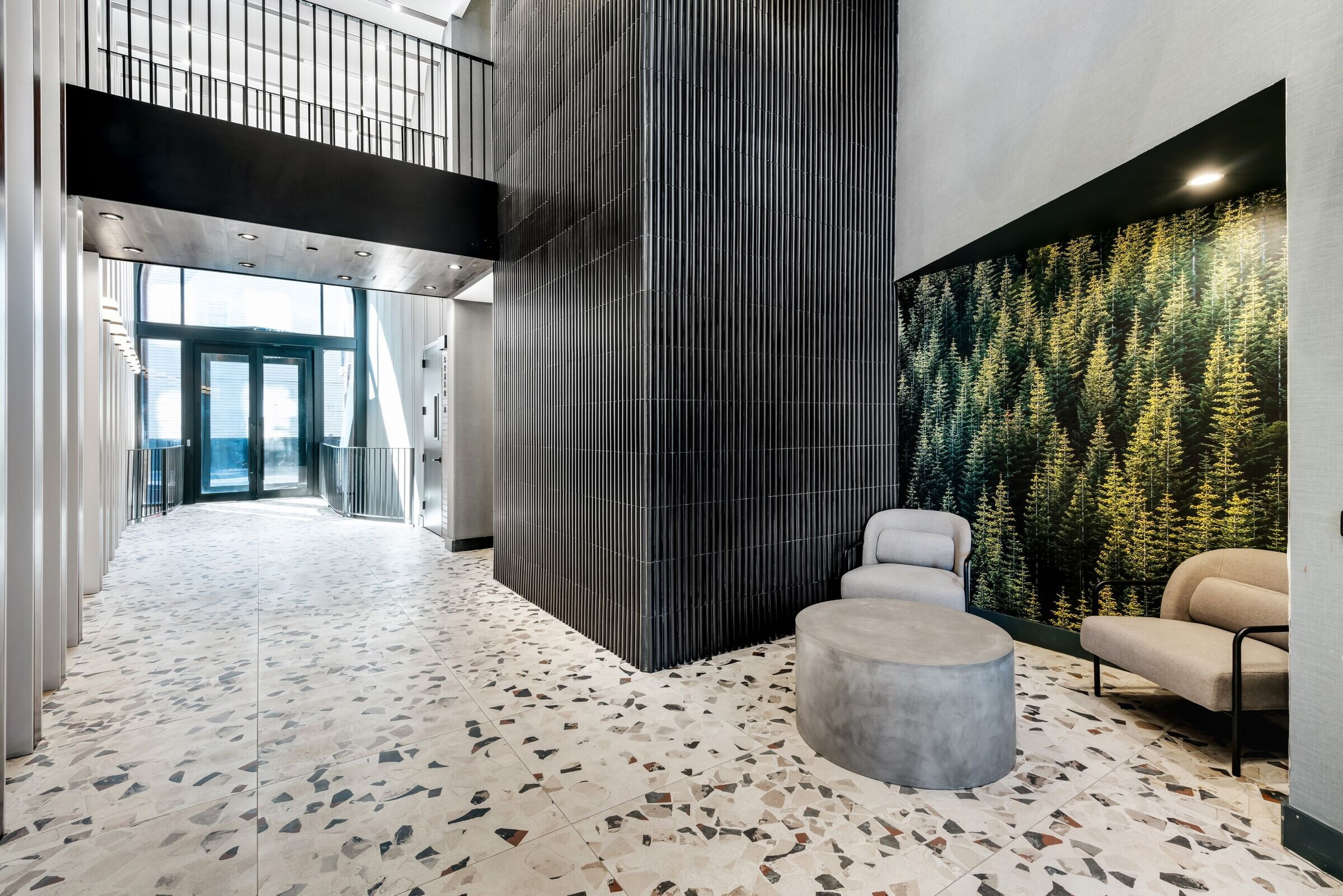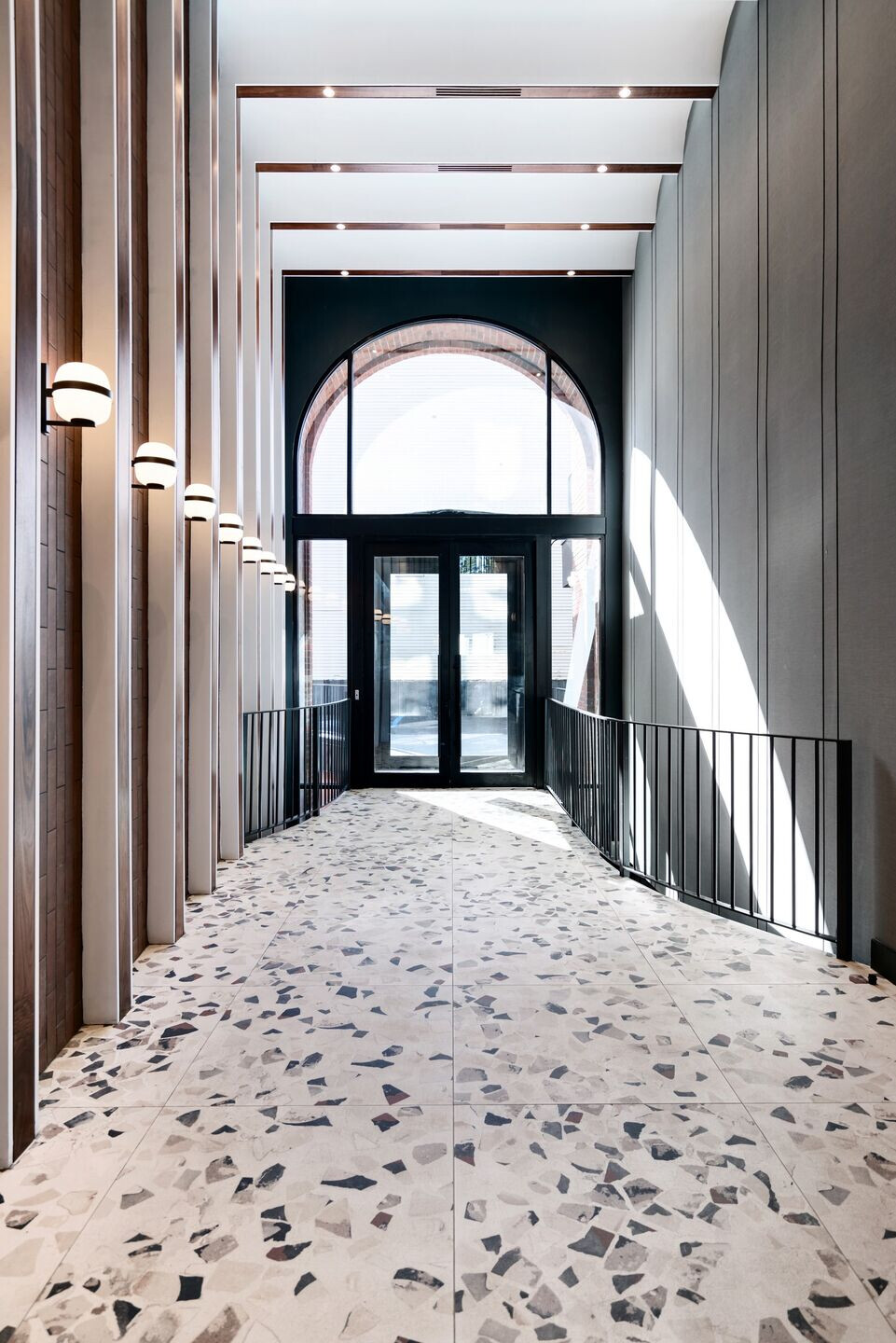 9. Fioranese Ceramica – Lounge Floor - I cocci // CALCI / NATURAL 36"x36"
10. Wolf Gordon – Lounge Wallpaper - Islay Kilt Satin
11. Vonn – Lounge Circular pendant - round pendant
12. Cedar & Moss – Lounge Pendant - tryon pendant
13. Industry west – Lounge Dining chairs - Aria Chair
14. Industry West – Lounge Bar stools - Sling barstools
15. Article – Lounge Coffee Table - Vitri coffee table
16. Bludot – Lounge Sofa - Mono Sofa in Ochre