Positioned facing a spectacular golf course, this family home is stacked across four floors and capitalizes views to the vast greens from all levels. The house is vertically segregated with formal and informal zones on the lower two levels while bedrooms and private spaces are configured on the upper two floors.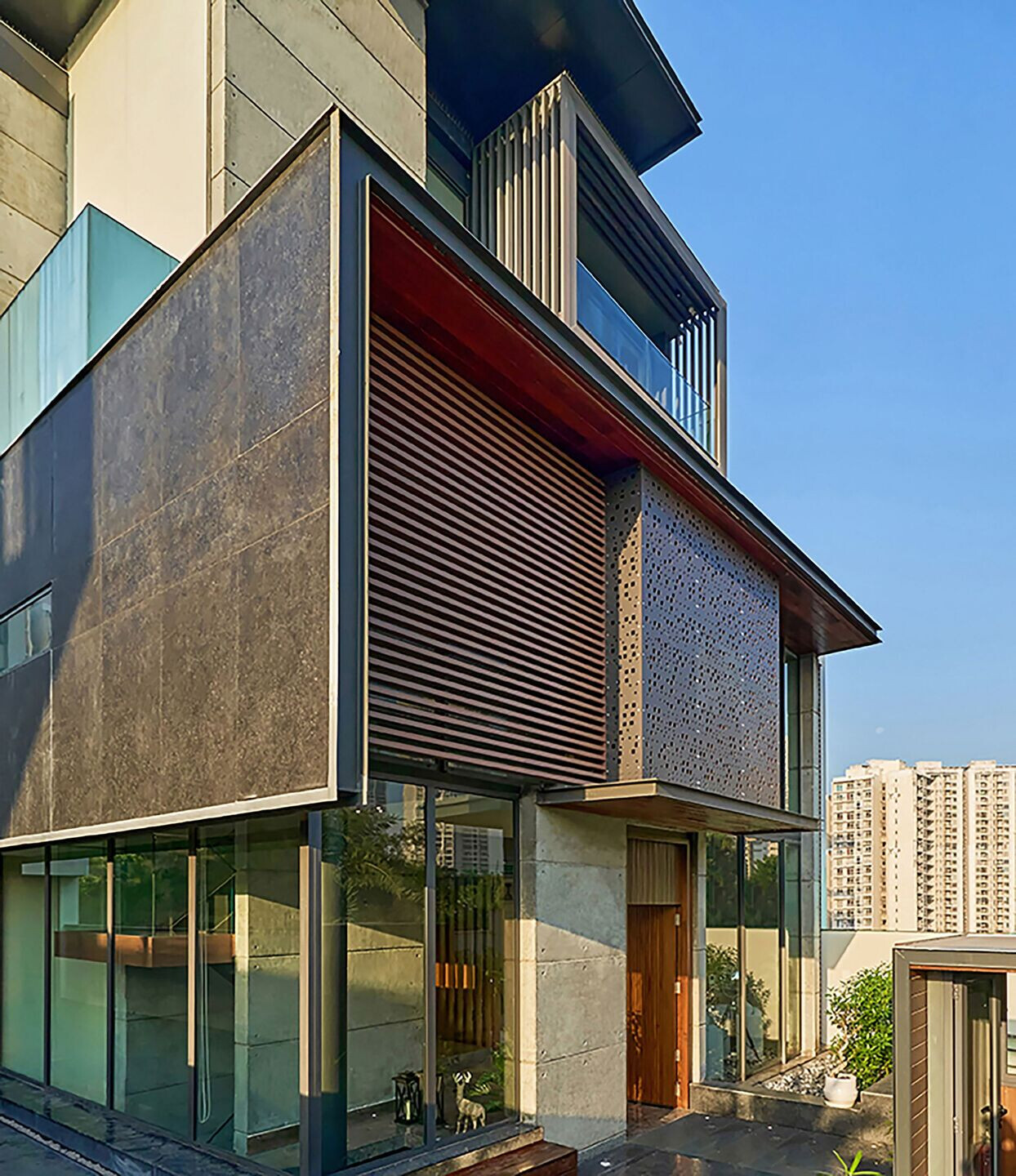 The ground level facing the access street looking further to the golf greens, is a double height volume with a lone element hovering above, that houses the prayer room. This north east facing space wrapped with punched metal sheets on all sides, glistens as the morning sun penetrated through its perforations.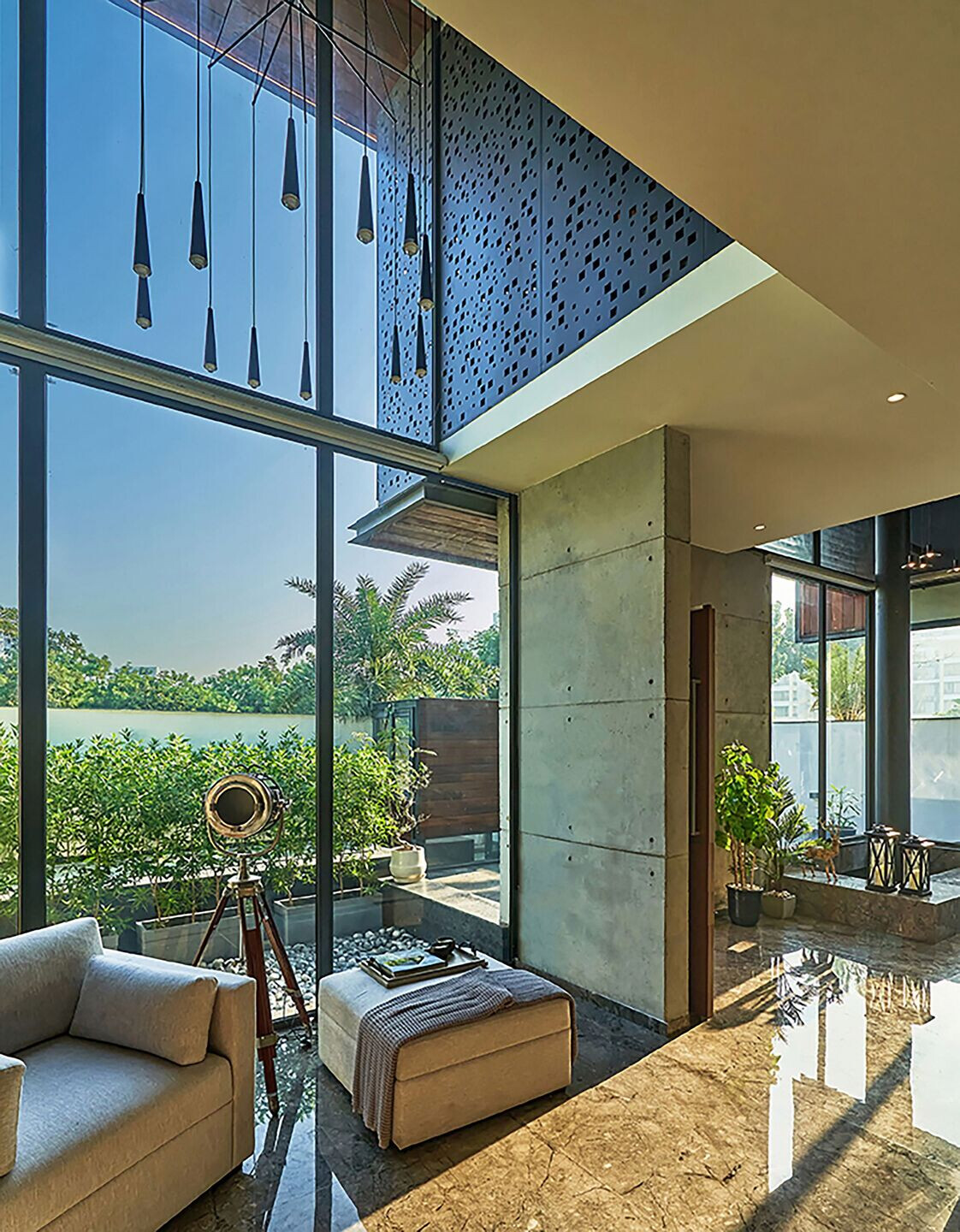 The lower two storey building mass is capped with a charcoal clad folded ledge forming a podium of sorts, further defining the private living zone on the second and third floors. All levels are accessed with a common metal and stone staircase which fluently becomes part of these spaces.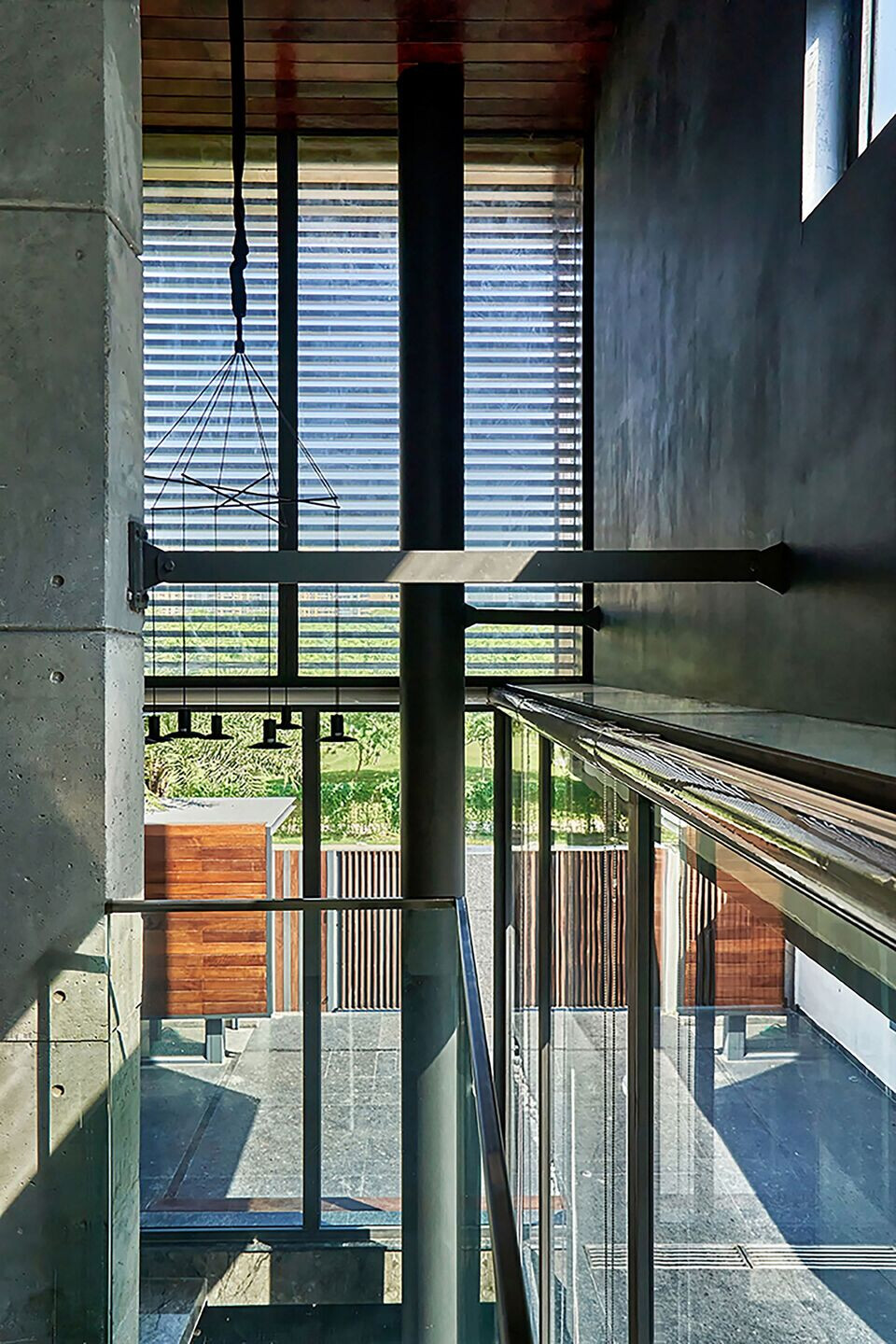 The vertical transition between these two thresholds is defined via an open terrace with a striking infinity water feature that rests on the folded ledge. A timber deck next to the waterbody creates an apt space for the family to congregate and appreciate the dramatic views to the greens. To add another level of linkage, an open to sky courtyard clubs the two upper floors beyond this deck space.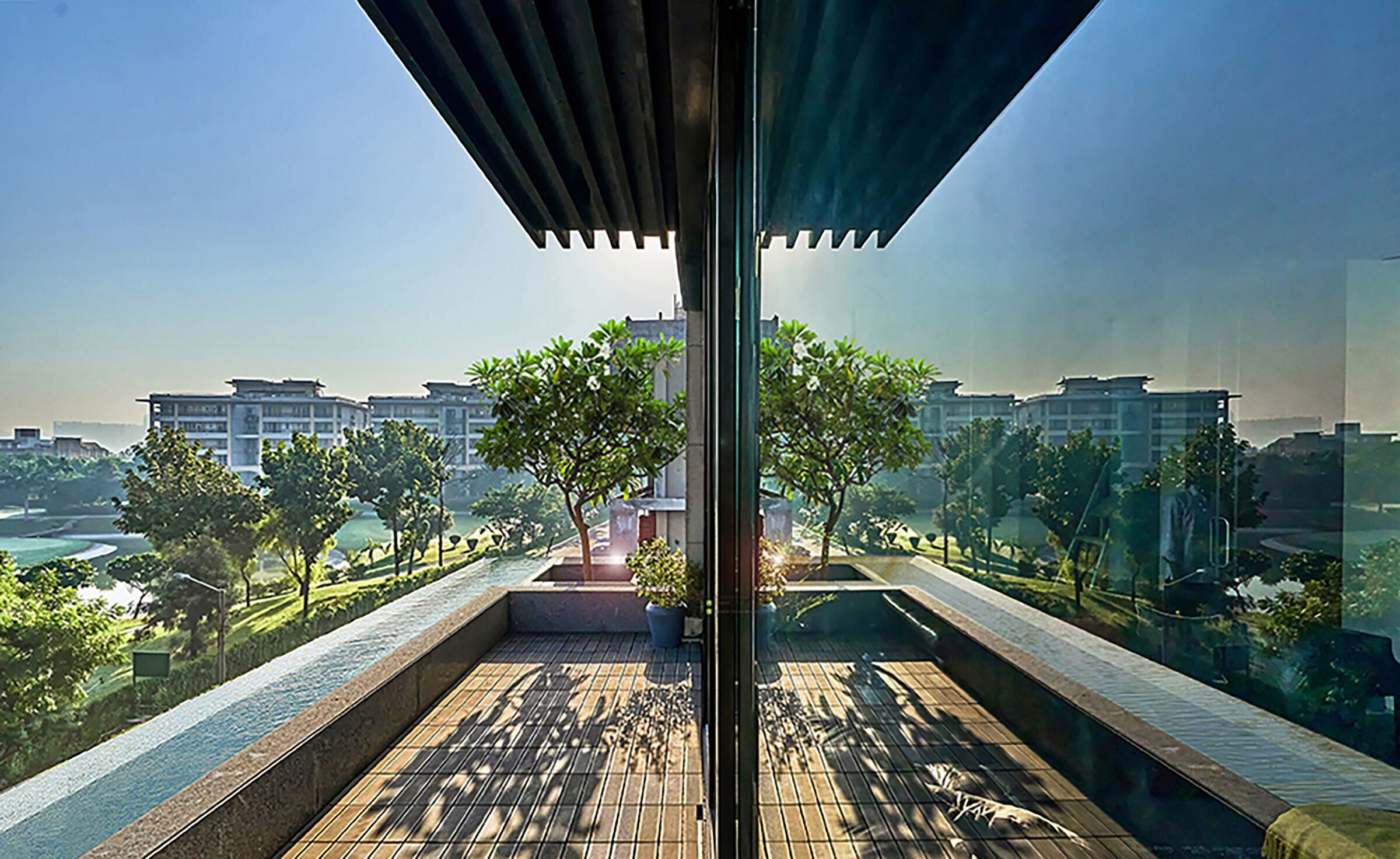 A private metal internal staircase interconnects these floors with a full height glazing facing the courtyard. Despite the master bedroom being positioned in the extreme rear, one gets unhindered views out across the courtyard and deck. A study is perched above with glazing to both flanks facing the inner courtyard and the golf greens on the other. Its fluted aluminium clad balcony enjoys the view to the deck below at the simultaneously.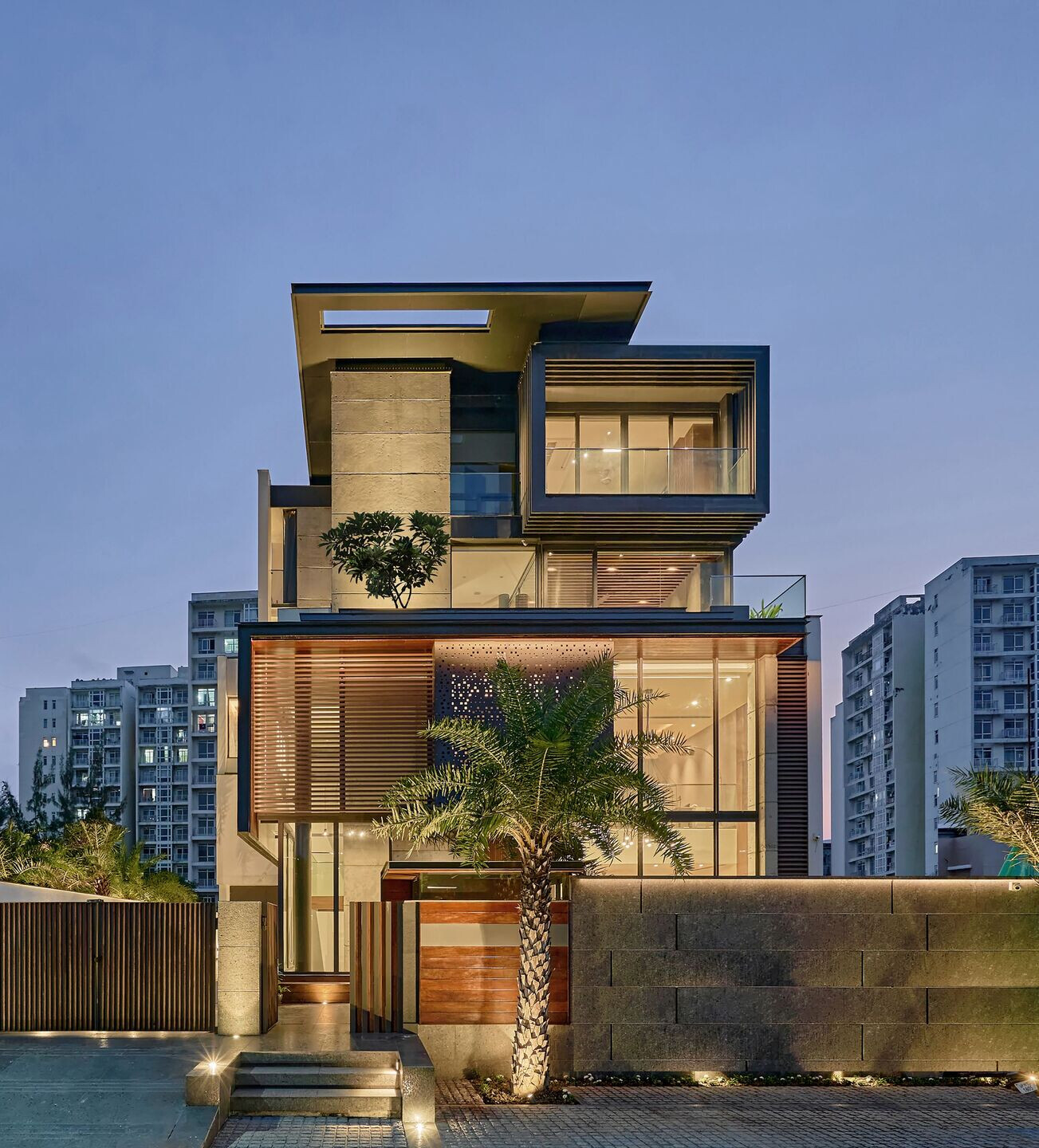 A compact lap pool defines the lower ground level along with a lounge and bar towards to the rear of this floor. The glazing along staircase is configured to help the pool deck get seamless gleam of direct sun in the mornings. An exercise zone is configured under a wide skylight along the pool.
Material Used:
1. Fen Next: Facade & Glazing
2. Windows Art: Aluminium cladding
3. Coverlam: External tile cladding