Quel était le cahier des charges ?
Étude architecturale et conception intérieure d'une maison souterraine dans la municipalité de Kissamos. Il s'agissait d'un terrain de 7 acres, assez allongé et incliné d'est en ouest, avec une vue imprenable sur la mer. L'espace environnant comprend une piscine de 40 m2, un coin salon extérieur et un espace barbecue spécialement conçu. La maison souterraine, d'une superficie de 126 m², est située au point le plus occidental et le plus bas du terrain. Cela garantit la vue ininterrompue de la maison vers la mer, ainsi que son caractère bioclimatique.
Quels ont été les principaux défis à relever ?
Sur le terrain, il y avait déjà une maison en pierre à deux étages. L'objectif de notre nouvelle étude architecturale était d'ajouter à la parcelle deux nouvelles maisons indépendantes de catégorie énergétique supérieure. Une maison souterraine et une maison en pierre à deux étages.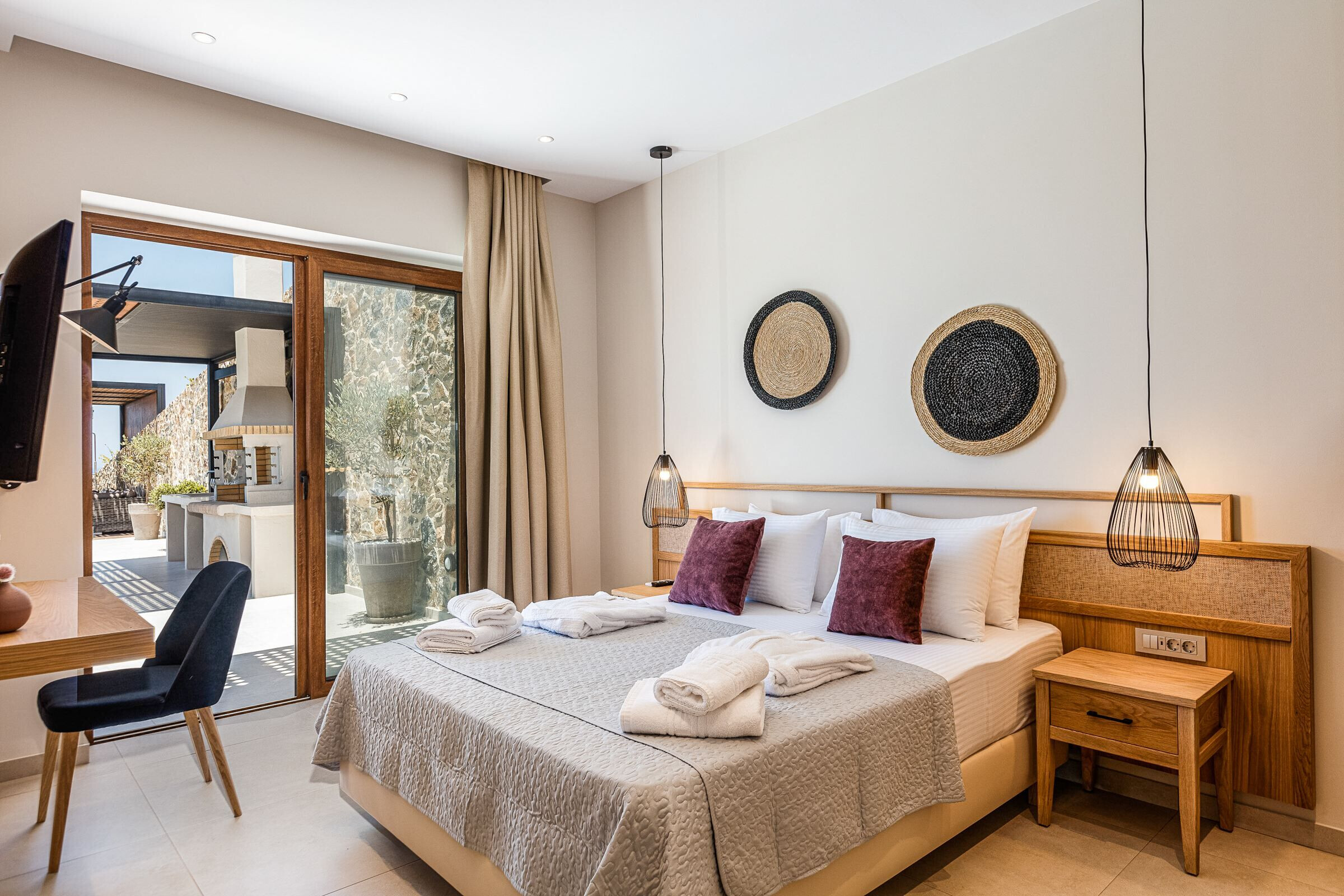 What materials did you choose and why?
The decoration of the house was based on creating a holiday atmosphere, choosing textures and materials in beige tones. For basic furniture, natural wood has been chosen as the main material. Special constructions such as wardrobes, headboards and boudoir have been designed by our study team.
Material Used:
1. Facade cladding: Stone
2. Flooring: Tiles, Keratile & Stn cerámica (outdoor tiles)
3. Doors: Wood, Local carpenter (Wright Wood Company)
4. Windows: PVC
5. Roofing: Plasterboard Ceiling, Knauf
6. Interior lighting: Wood, Alouminium, Glass, Led, Lamps, Zabelis, Nova, EgloHilcott
7. Interior furniture: Wood, Local carpenter (Wright Wood Company)