The project is the exhibition and sales center of the residential property Fontanelle developed by Vanke, located in Keqiao District, Shaoxing, China. Used to be the capital of state Yue in ancient time, Shaoxing is renowned as the "Oriental Venice". It boasts prominent textile craftsmanship, making it comparable to Como, the "Silk City" of Italy.As envisioning the space, the design team drew on the aesthetic of silk, while integrating the poetic scenery of southern China with the stylish and artistic ambience of Apennine Peninsula, hence creating a modern aesthetic space that leads a new lifestyle.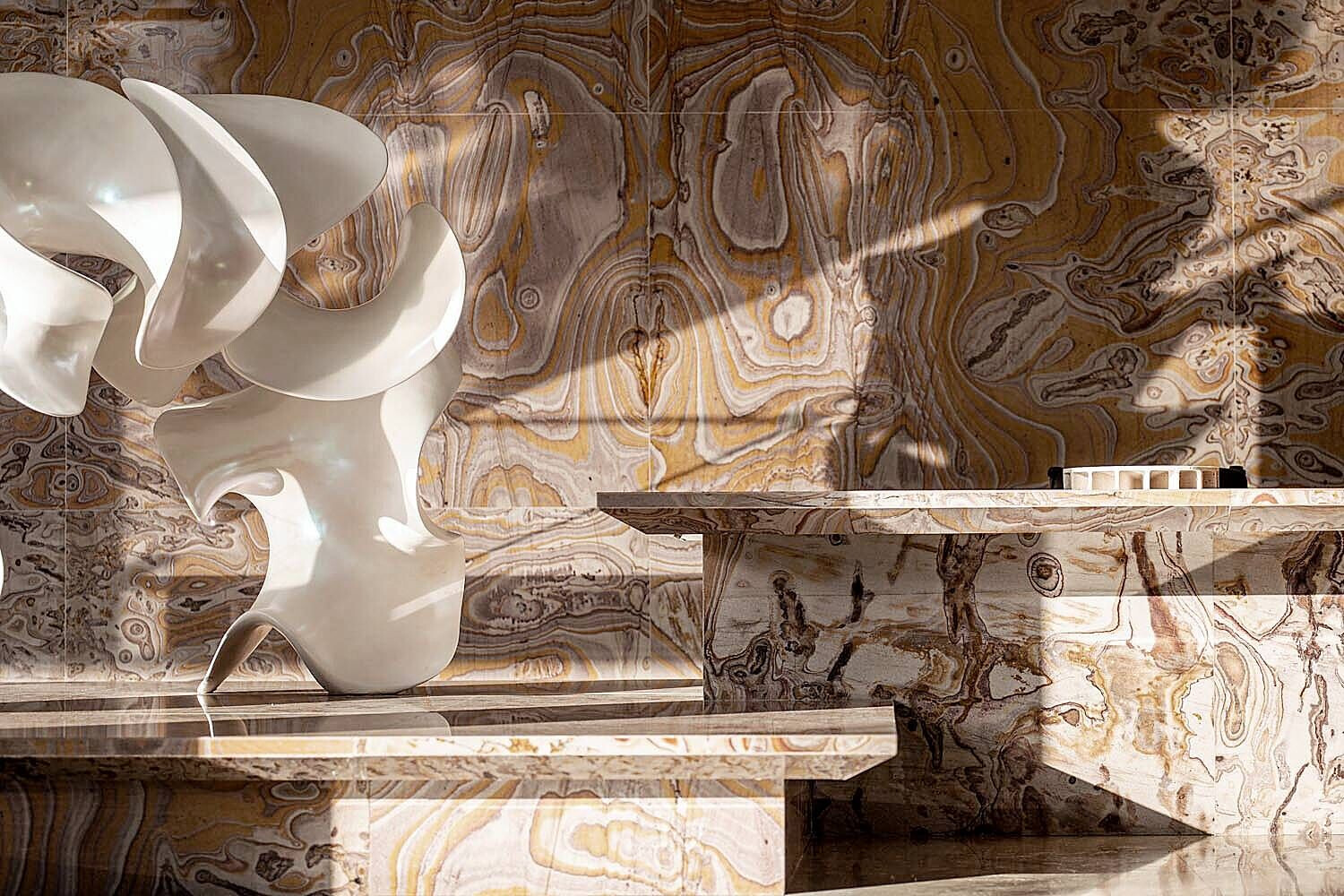 Design concept
Sitting at the intersection of roads on the lakeside, the site has a fan-like shape. Occupying a total land area of 3000 square meters, the building volume and the courtyard feature graceful ribbon-like form, which echoes local flowing water yards.The interior space is liner and narrow, with a footprint of 600 square meters. The design team extracted design concept from silk, and conceived the space by taking full account of visual effects, functionality and spatial narrative, with a view to showcasing a quality lifestyle space.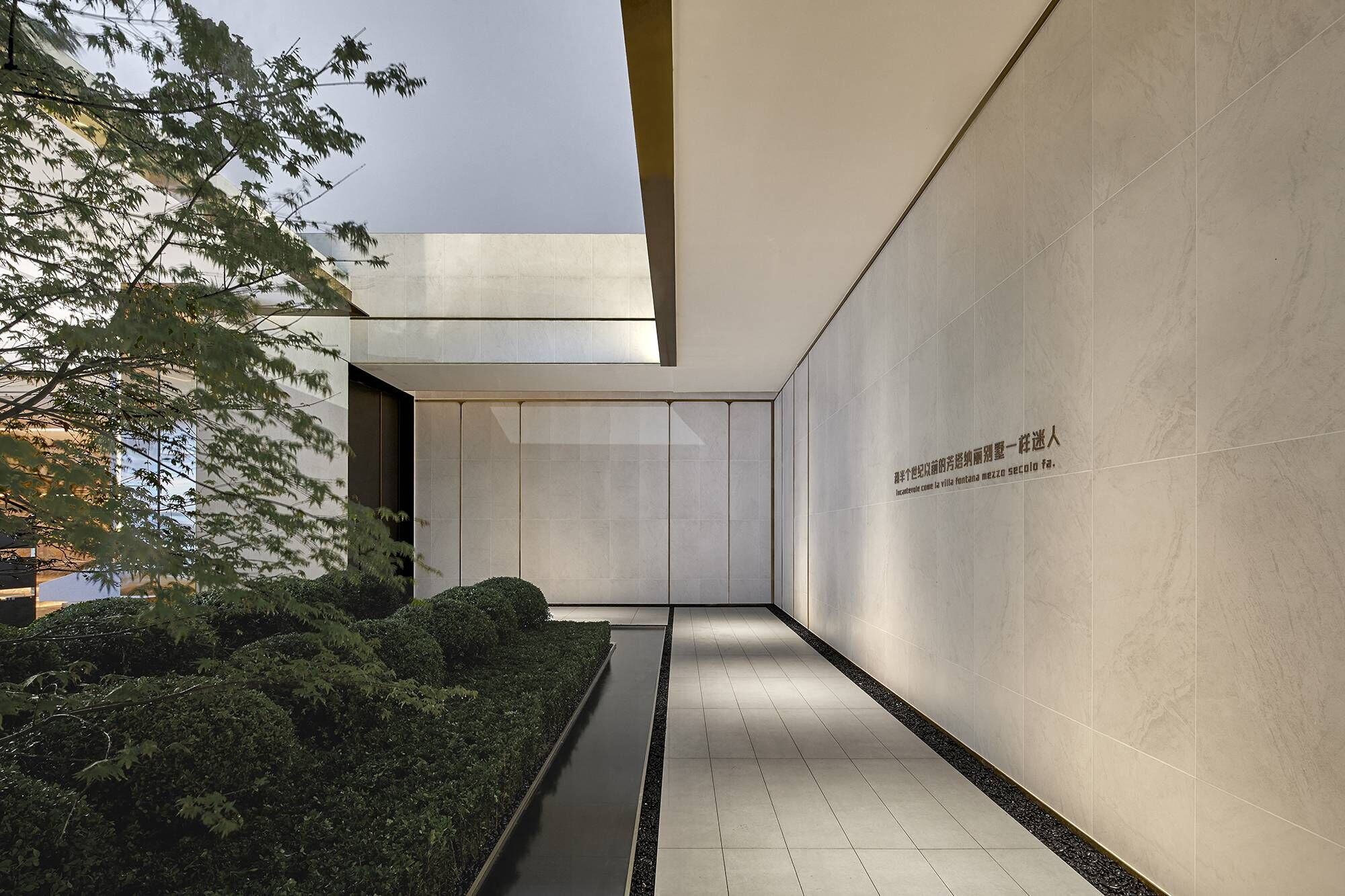 Visual effects
The space impresses the visitors with unique visual effects at the first glance. It continues the geometric architectural elements and connects to the landscape of the courtyard. Enveloped by transparent French windows and gray stone material, it brings in outdoor scenery and interacts with nature via window openings.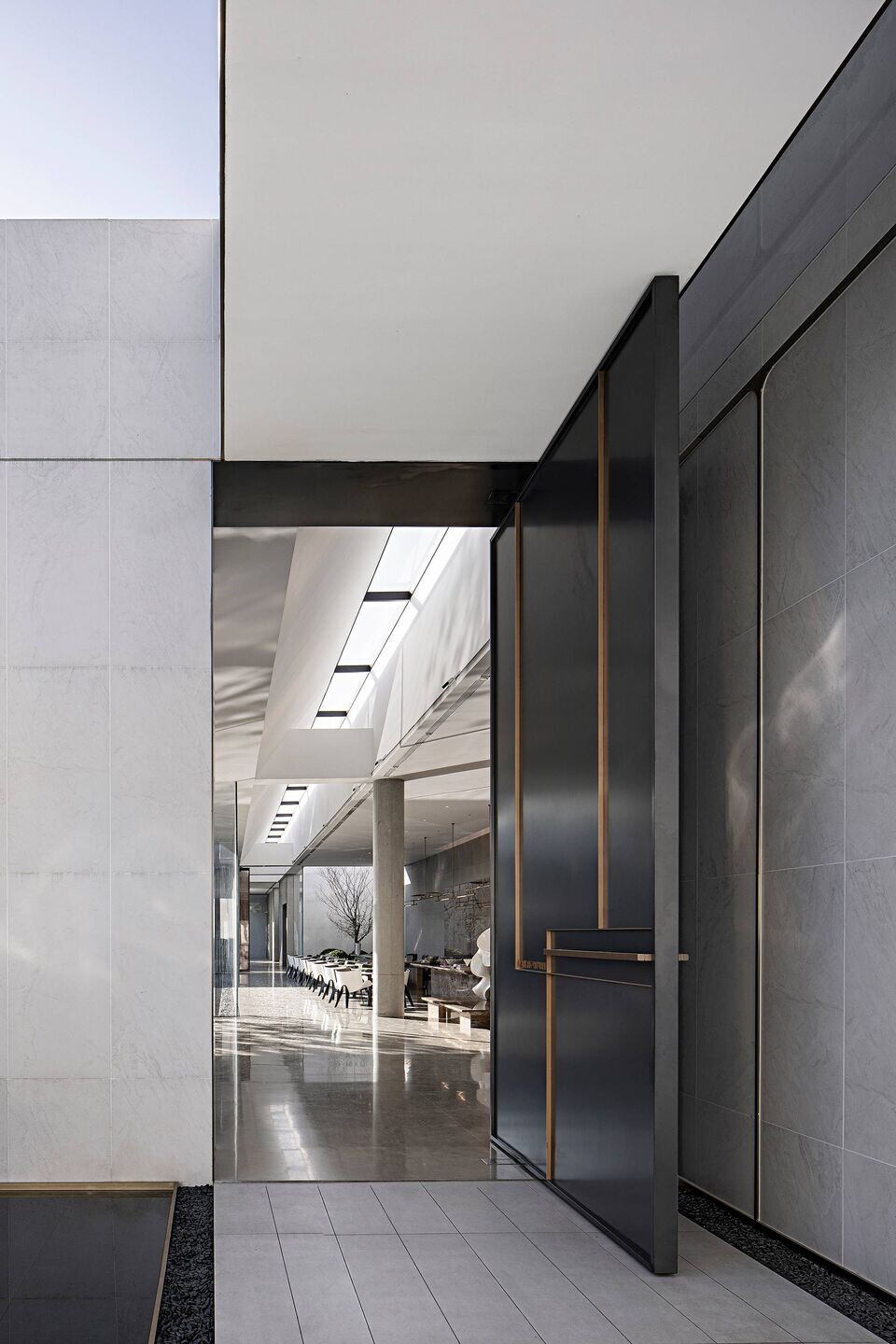 Lines and light are subtly refined to create a broader field of view within the limited space.Moreover, the skylight optimizes natural daylighting and helps save energy.
Circulation
The designers extended the progressive garden-style circulation route to the interior space and emphasized an axis-based spatial sequence and relationship.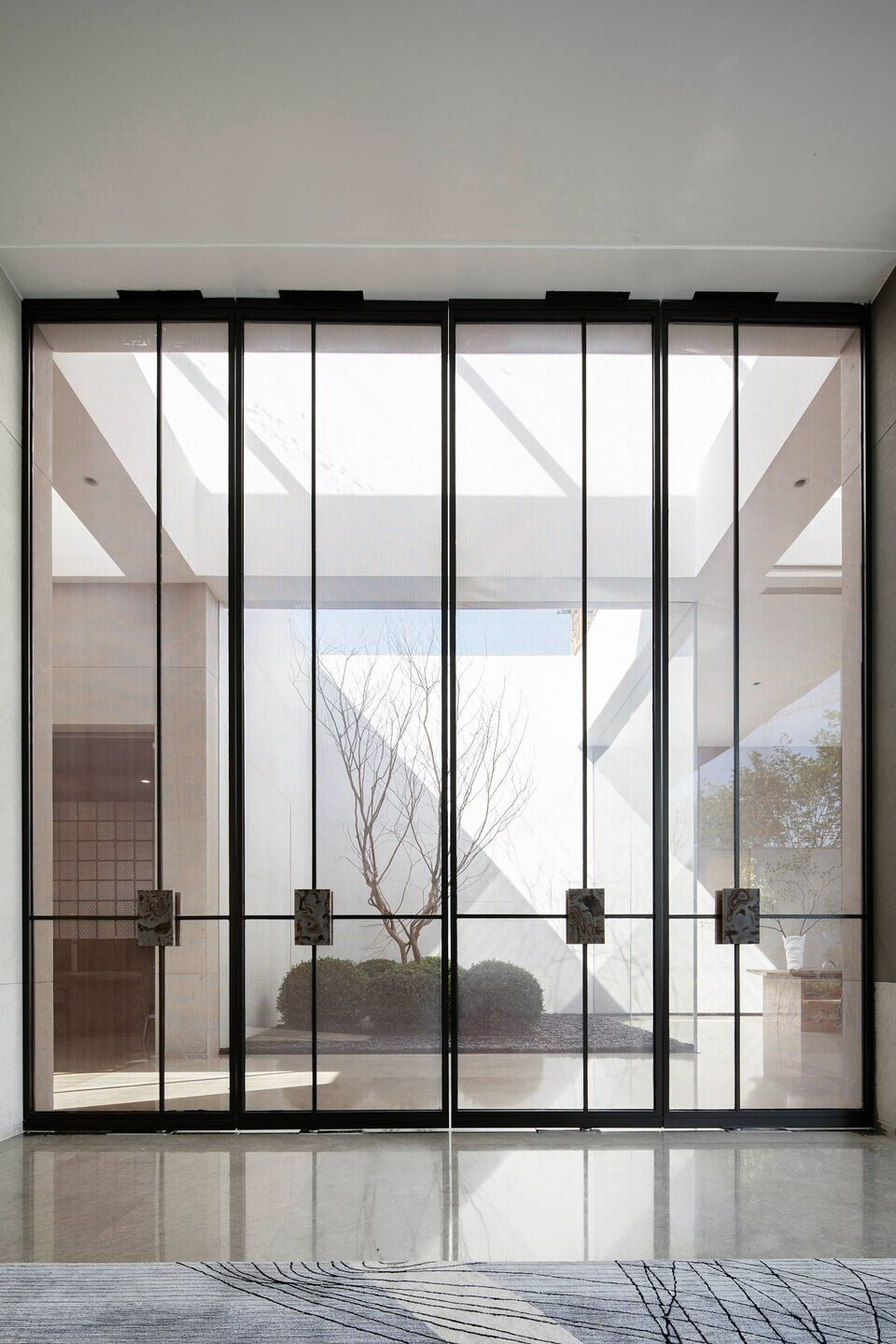 Functional divisions like negotiation area, book bar and water bar are scattered along the linear plane. By making use of the advantages of the architecture and landscape, the space maximizes the sensory interaction between human and nature along the circulation. Materials and hues show subtle contrast, which highlights the aesthetics in life.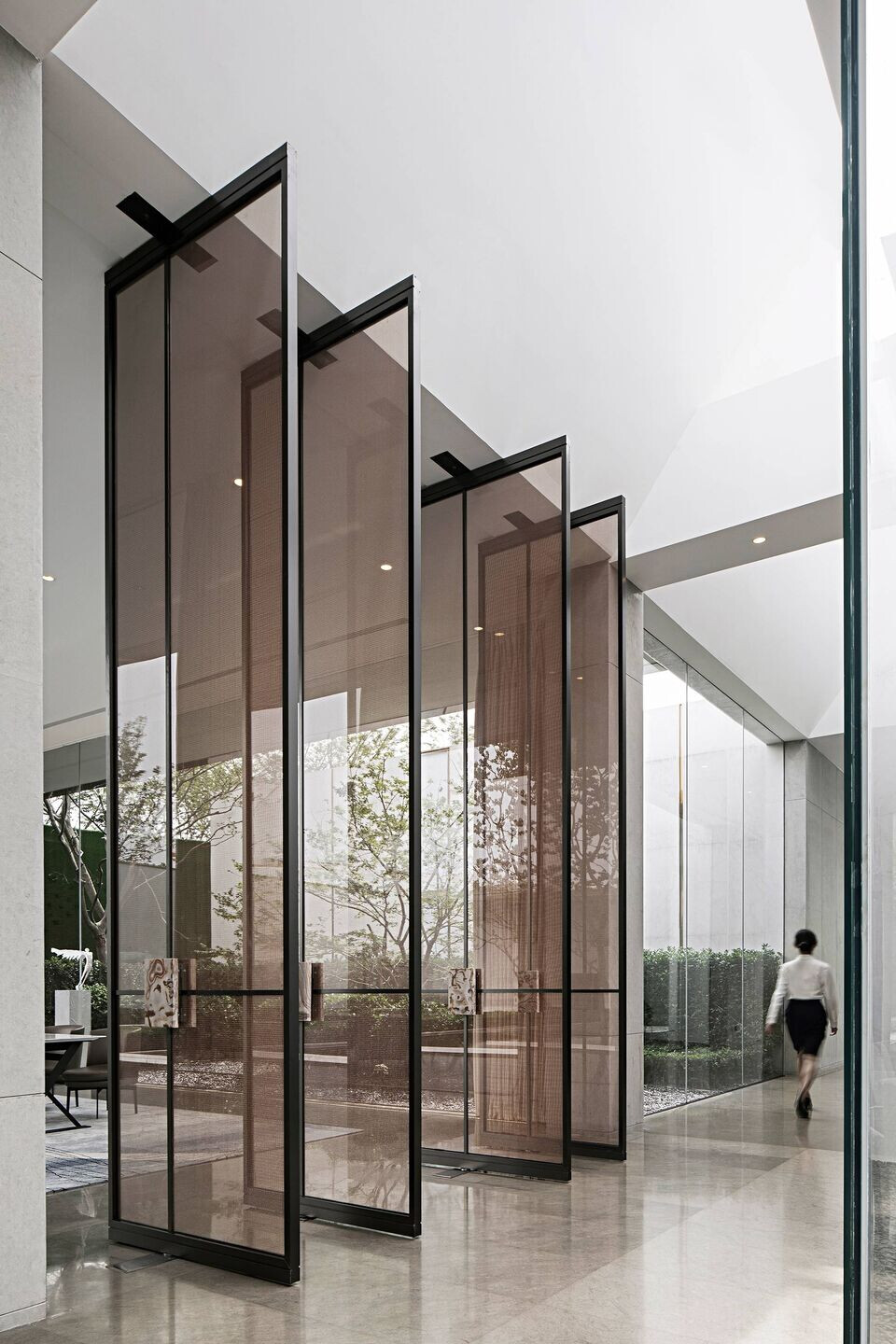 Details
Exquisite details add the finishing touch to the interior space. Based on the understanding of the local silk culture, the design team brought in artworks and opposite scenes at key spatial nodes, softened the rigid lines of the architectural structures and landscape, and effectively linked up different areas.Various details, such as the silk-shaped art installation, the stone countertop with special grain, red silk background wall and glass door, as well as the Shaoxing-featured round fan installation, create an atmosphere that is as dynamic and delicate as silk.

This space showcases lifestyle aesthetics, and returns to the dialogue between nature and humanity.It carries the tacit understandings of fashion for thousands of years in China and Italy, the two ends of the Silk Road, whilst also bringing imagination and expectation of future life based on the design logic derived from local context.