The Université de l'Ontario français (UOF) is Ontario's first French-language university governed for and by Franco-Ontarians. Rooted in downtown Toronto's East Bayfront, an emerging start-up and innovation neighbourhood, the 50,000 sf campus is home to the mobilization and creation of French-language education in Ontario. Occupying the entire second floor of a mixed-use building, Gow Hastings Architects designed the inaugural campus to retain existing industrial elements while introducing a new vision for academic design focussed on student-faculty interaction.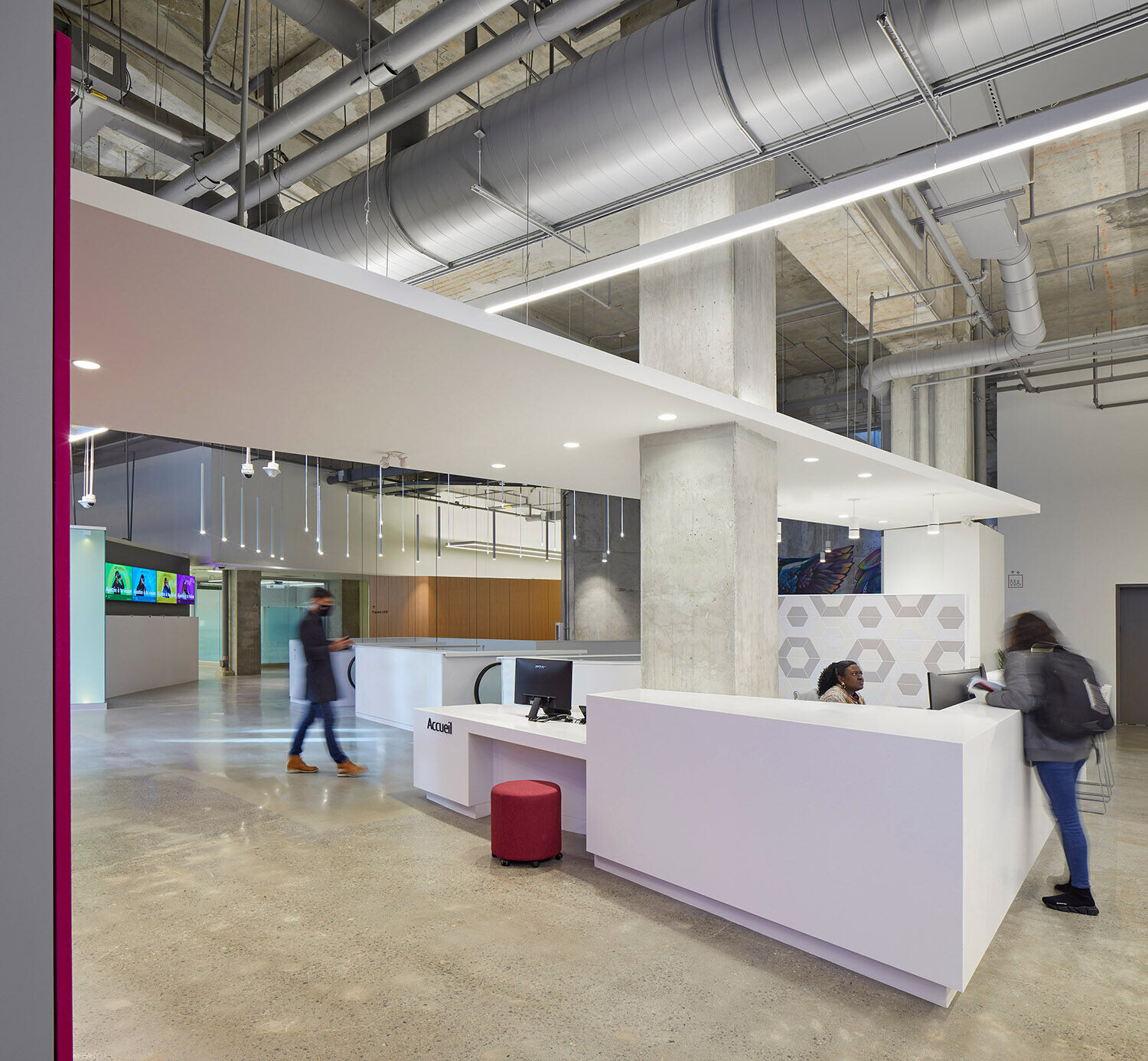 The design embraces the irregular shape of the building, its exposed concrete walls and structure to embody the spirit of the surrounding waterfront. Students ascend to campus on escalators following a 60-foot incline – a dramatic vertical climb heightened by a constellation of glittering tubular LED spike lights and a spectacular 9-metre-long mural painted by a Métis graffiti artist. Unlike traditional universities that segment students by building, UOF's welcome zone culminates at the reception desk situated at the top of the escalators.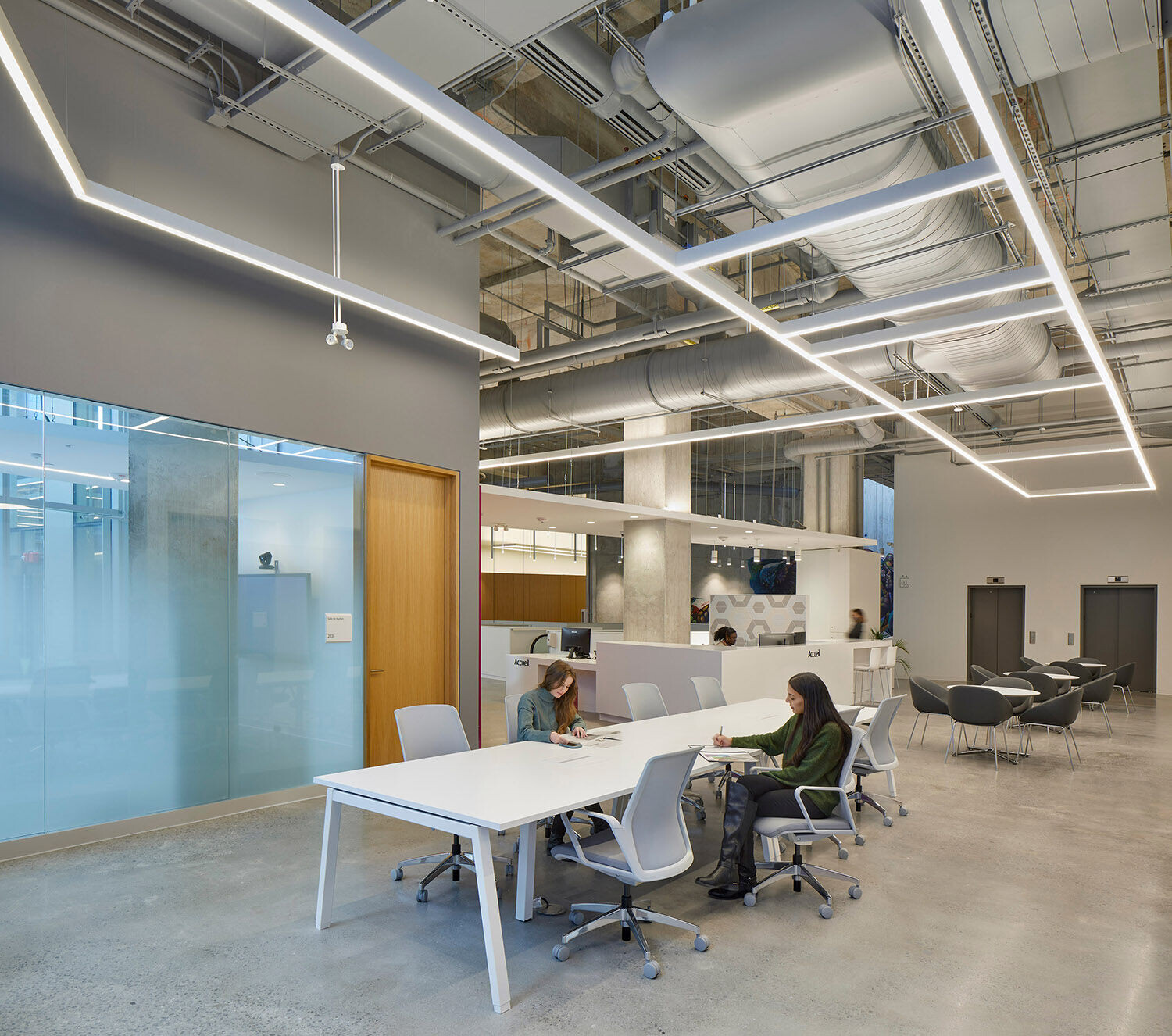 A white bulkhead suspended over the reception desk establishes a horizontal plane that lowers the ceiling's double-height expanse and attracts the attention of visitors. The horizontal plane builds a portal to campus' smaller vessels, while the desk serves as a one-stop shop that directs guests to all campus offerings. The campus flows from open volumes into enclosed classrooms, offices, workrooms, meeting rooms, computer labs, recording studios, and multi-faith rooms. These program spaces are inventively shaped, with angled exterior walls and irregular column spacing bringing a creative cohesion to the unit.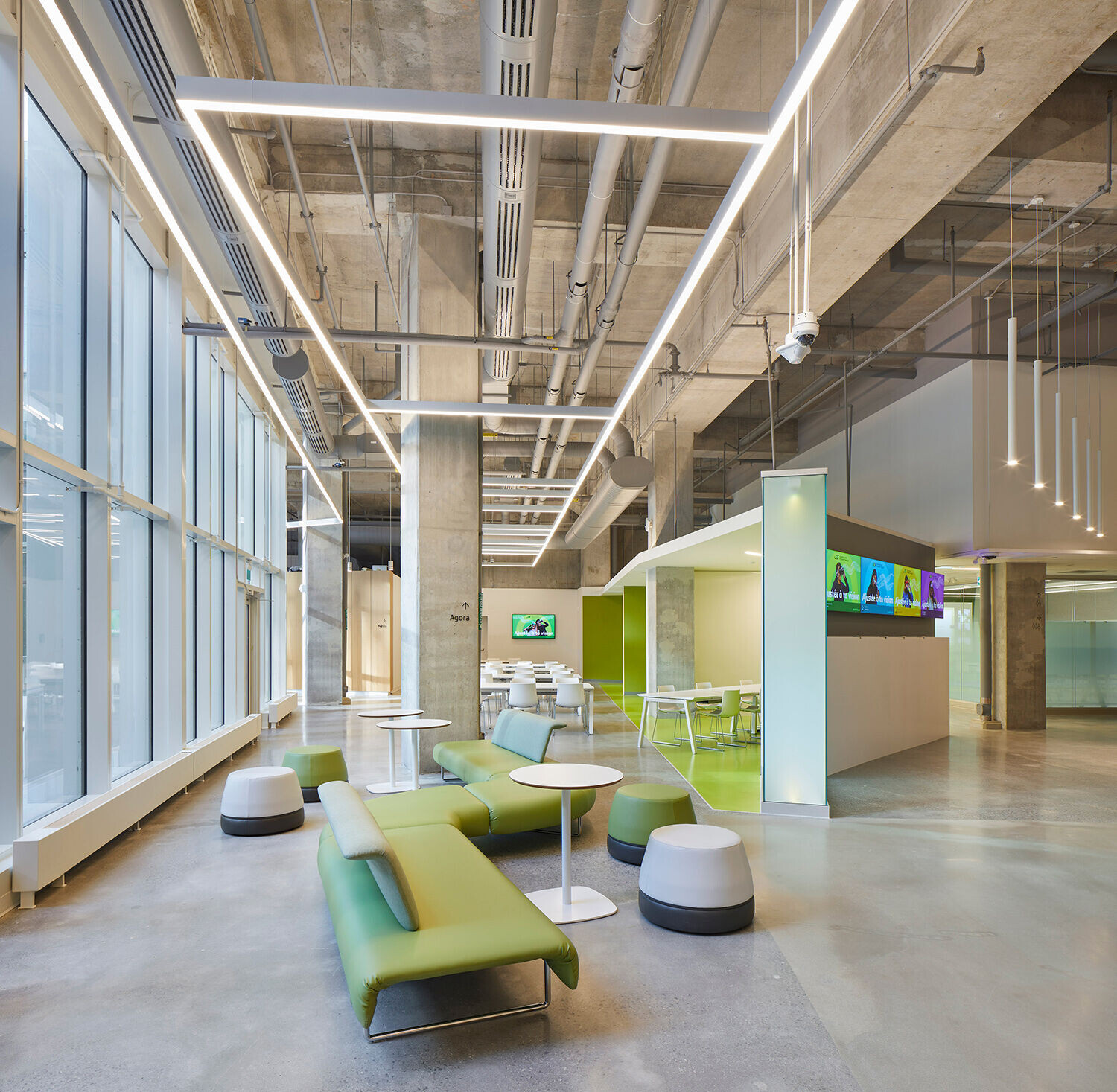 Light ladders – a custom LED lighting solution formed by integrating linear fixtures – cleverly extend through circulation spaces, connecting each vessel and encouraging the eye to climb onward. Seating arrangements set atop swathes of resilient sheet flooring form chartreuse colour blocks that contrast the cool raw concrete. The university's bold branding palette of brilliant green and rich magenta is further infused across campus in oversized text on the underside of the escalators, seating and felt feature walls.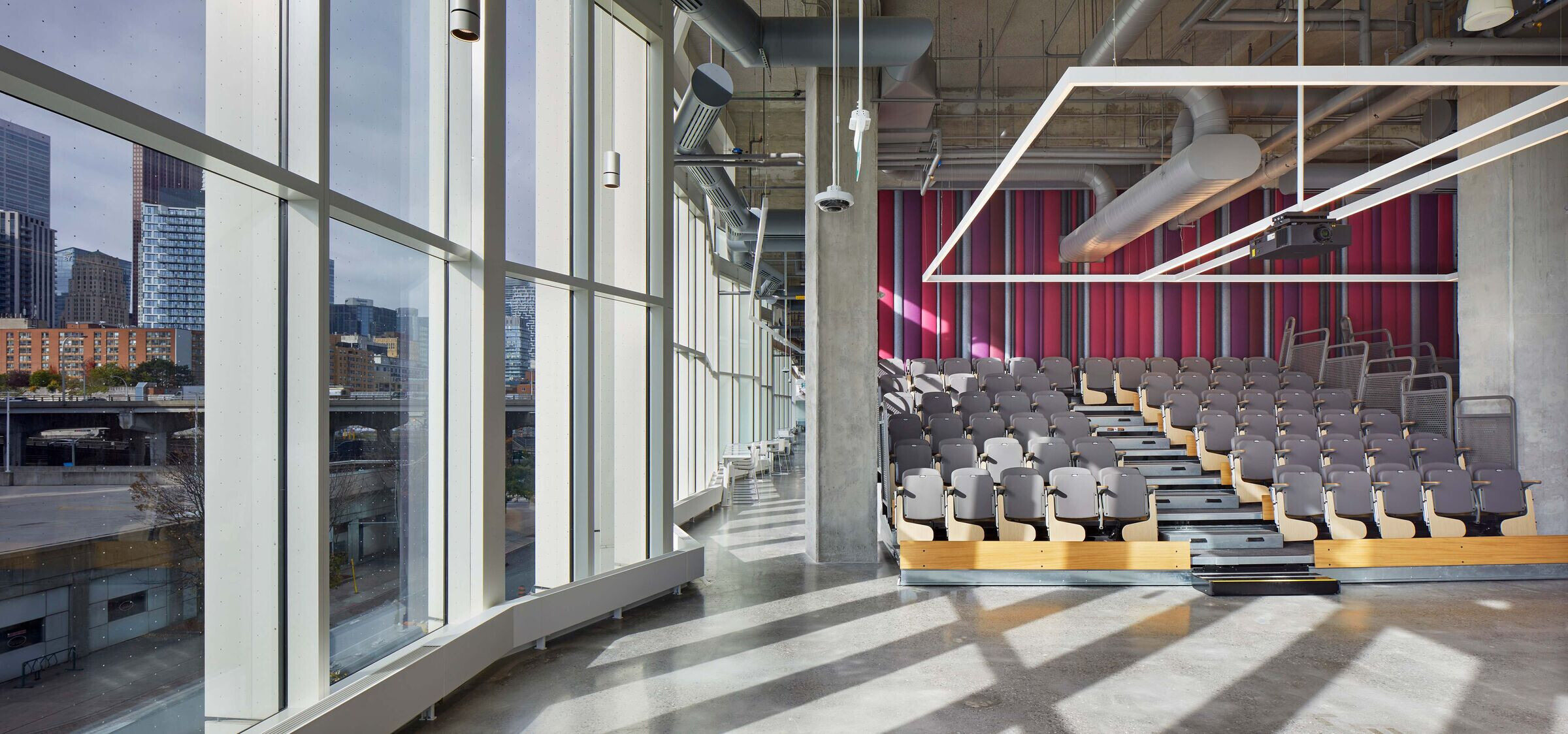 Conceptually unique assembly areas, including two agoras, a third space and the sandbox, are suited to academic collision required for UOF's transdisciplinary program offerings. The first agora holds 150 students in tiered telescopic seating for large lectures, facing a floor-to-ceiling view of the harbourside sugar factory and ships settled at port. The second agora, in the centre of the floorplate, is a rectangular classroom activated by fluid and moveable table arrangements, able to easily switch from conferences to seminars. Linking the agoras is the third space, a transitional seating area with the ability to shift between an open lounge and a programmed classroom, or work in hybrid to form an entirely new use. Boosting interaction between faculty, the sandbox is a collaborative think tank where teaching professionals can workshop new learning methods to keep UOF avant-garde.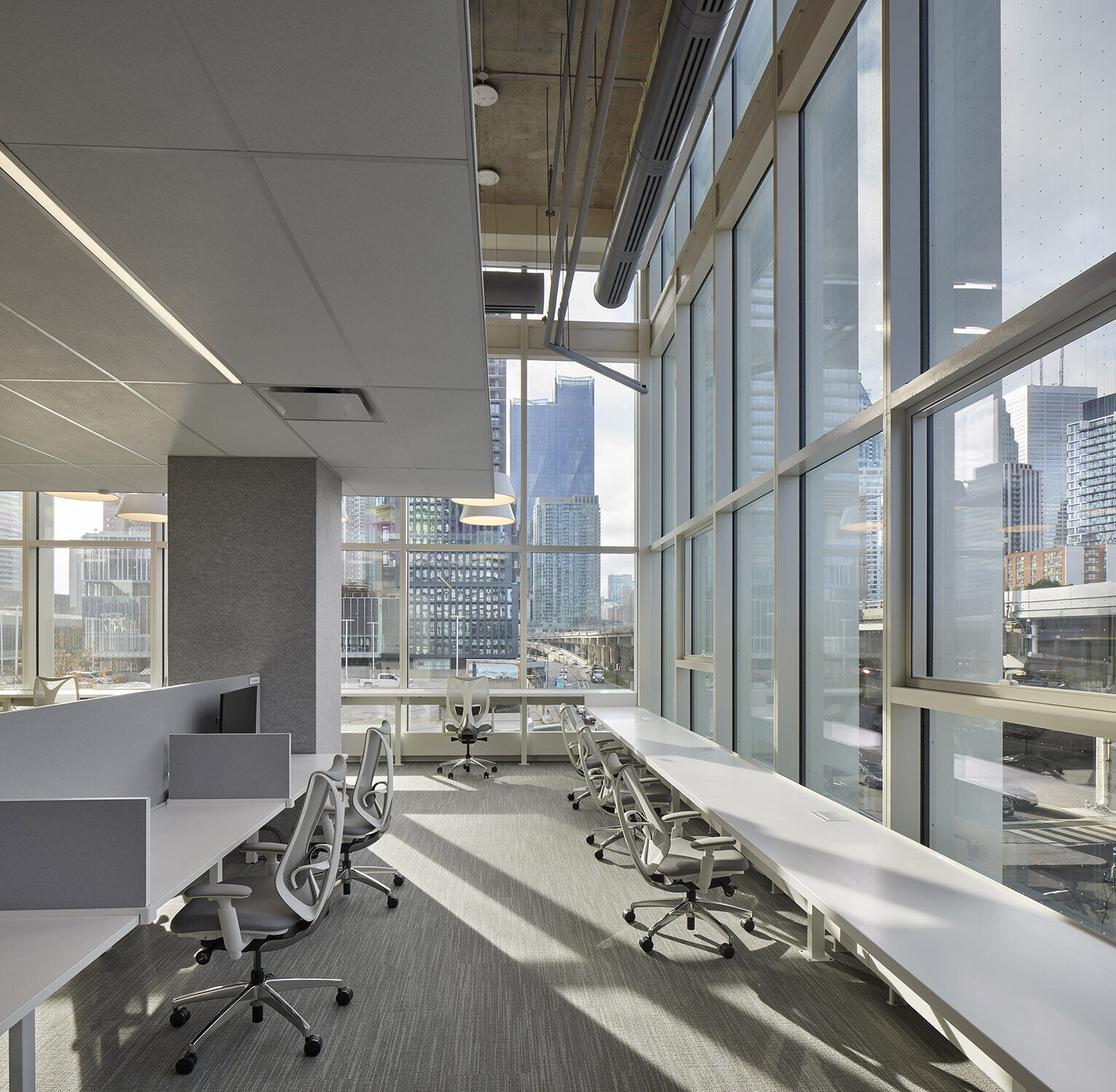 Wrapped in floor-to-ceiling glazing, the 360-degree campus showcases the city on all sides – as well as the university's new brand identity. The perimeter of campus is largely dedicated to public space, allowing equal access to panoramic views and natural light. The fully glazed public space has the added benefit of bringing light deep into interior rooms through connecting corridors, activated for informal learning with large white pendant lights and encapsulating oversized lounge chairs that feel like private study niches. Extending across the western corridor behind a wide span of glazing is a raised supergraphic layered with exterior UOF signage – a billboard easily seen from the adjacent highway to proudly announce UOF's arrival.