The waterfront residential design integrates aspects of minimalist modernism with vernacular Asian motifs and traditional sustainable practices. The aesthetic is generated by maximizing and expressing the use of devices to make the building more energy efficient. The plan amplifies the stunning front and lateral views to the water, as well as rear views back to Castle Hill. Neighboring buildings are masked from the dwelling units by angling sidewalls, allowing central spaces views of the waterfront.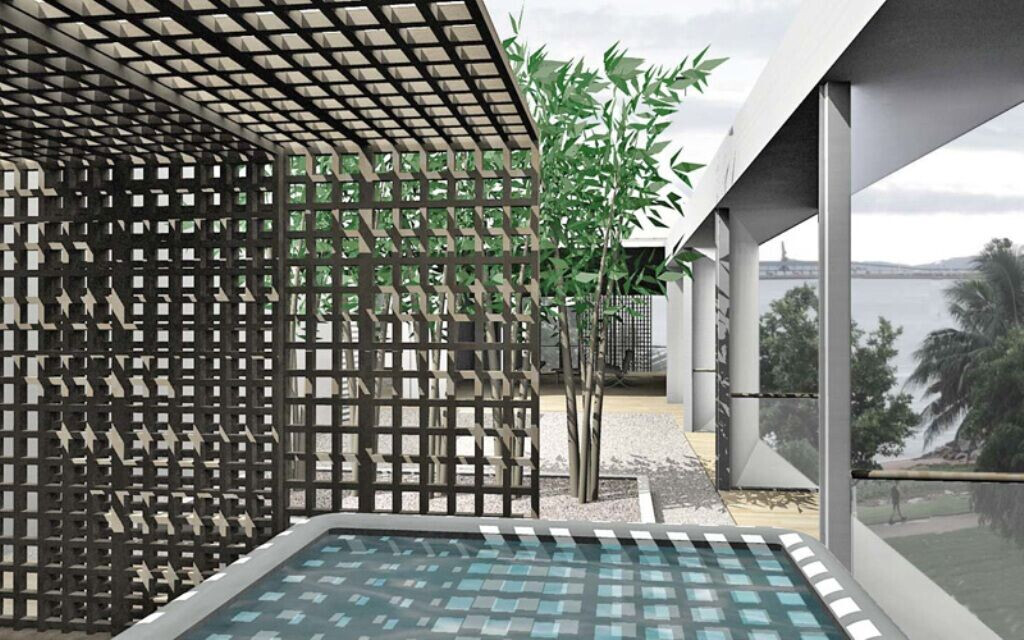 Front and rear decks on all dwelling units are conceived of as virtual rooms with operable hardwood shuttering on the front and rear planes of the building, allowing maximum operable flexibility of open and closed positions. Folding glass "NanaWalls" behind the shutters allow decks to be fully integrated with the adjacent living spaces. The structure throughout is white precast concrete.
The Penthouse features a series of interconnected small pavilions, divided by courtyards and shallow pools, all connected with a breezeway that runs the length of the building. The pavilions also connect to the adjacent exterior courtyard and deck spaces with folding glass "NanaWalls." Each roof is angled to face north to maximize the solar exposure. On to these north-facing roofs photovoltaic solar collectors are integrated into the standing seam roof system. A system of gutters and slightly sloped roofs over the Penthouse breezeway channel water to storage containers located on the penthouse and entrance.