With this playful series of sculptures, Acrylicize wanted to create art that would inspire and engage the local community -- making moments, not monuments.
The Manchester Lamps consist of five playfully oversized domestic lamps that invite interaction and engagement within the city center. Each of the five installations marks a significant local historical innovation, with the corresponding time period echoed in each lamp's distinctive design style; Art Deco, Art Nouveau, Victorian, mid-century and contemporary.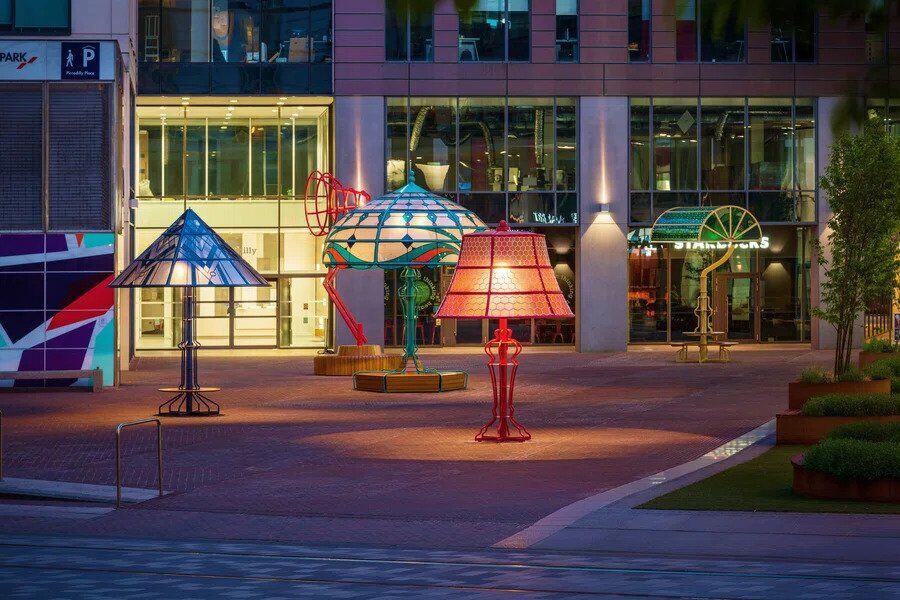 What Manchester does today, the rest of the world does tomorrow
- Former Prime Minister, Sir Robert Peel
Five stories of innovation to tell
Woven into the intricately designed shades of these lamps are the stories they tell. The Art Deco lamp celebrates Earnest Rutherford, whose research conducted at Manchester University in 1932 led to the splitting of the first atom. The book pages and fountain pen designs on the Art Nouveau lamp pay homage to Chetham's Library, the oldest public library in the UK. The honeycomb lattices across the mid-century bedside light represent the famous Mancunian 'worker bee' mantra, whilst the humble green desk light represents world-famous mathematician and Manchester resident, Alan Turing. The modern Anglepoise lamp is turned upward, projecting a vibrant display of shape and color onto the surrounding wall, and representing the next chapter in this city's compelling and ever-evolving story.