Quel était le briefing ?
Studio One Eleven a transformé un grand magasin abandonné en un nouveau projet - The Exchange - qui contribue à la revitalisation du centre-ville de Bellflower, la principale artère commerciale de la ville. The Exchange adapte le magasin JC Penny de 1952, situé au 17434 Bellflower Boulevard, pour en faire un espace créatif de bureaux, de travail collaboratif et de production alimentaire. L'Exchange, d'une superficie de 41 000 pieds carrés, abrite le nouveau siège de la société de construction et de développement Howard CDM au troisième étage, un espace de travail collaboratif sur la mezzanine existante et une future brasserie/restaurant au rez-de-chaussée. Le projet public/privé comprend également des améliorations de la rue, notamment une modération du trafic, afin d'apporter une vitalité économique au quartier.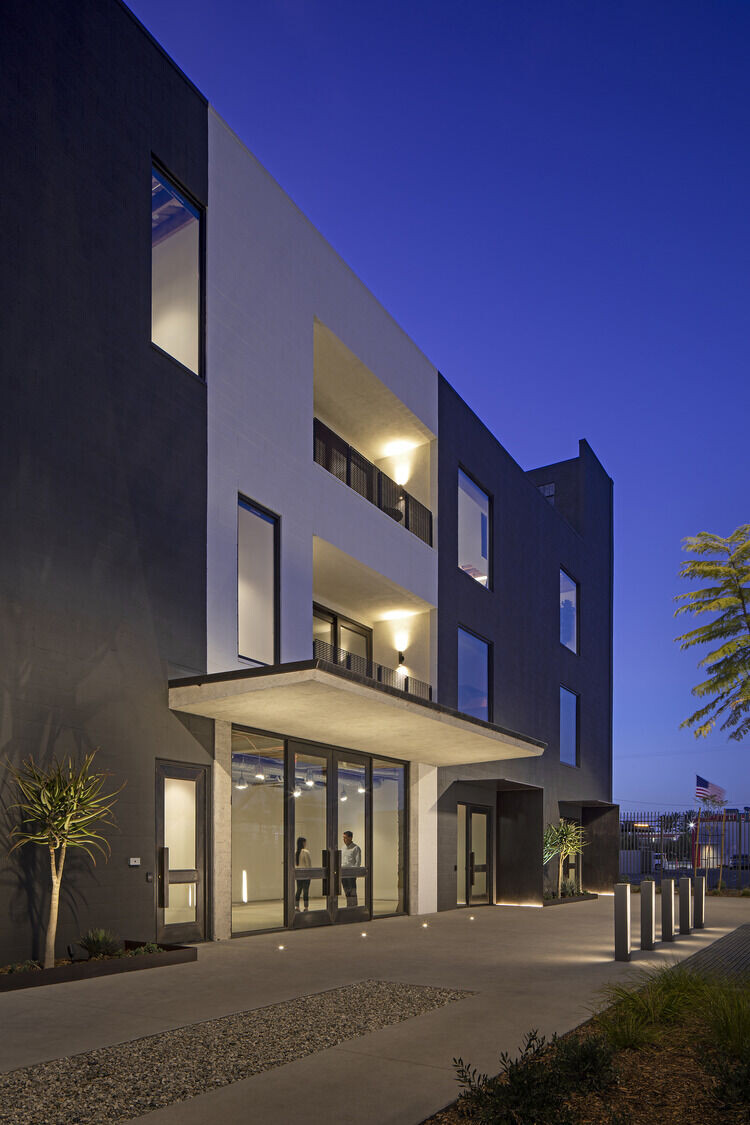 Quels ont été les principaux défis ?
Avec The Exchange, Studio One Eleven et Howard CDM se sont associés à la ville de Bellflower pour apporter de la vitalité à cette ville au sud de Los Angeles. Le recyclage de bâtiments classiques tels que celui-ci présente un potentiel énorme. Il était prévu qu'il soit démoli de manière imminente avant que l'équipe ne le sauve avec un plan de réutilisation adaptative viable. Cette réimagination en tant que destination de commerce de détail et de bureaux est une étape cruciale dans l'amélioration de la communauté environnante.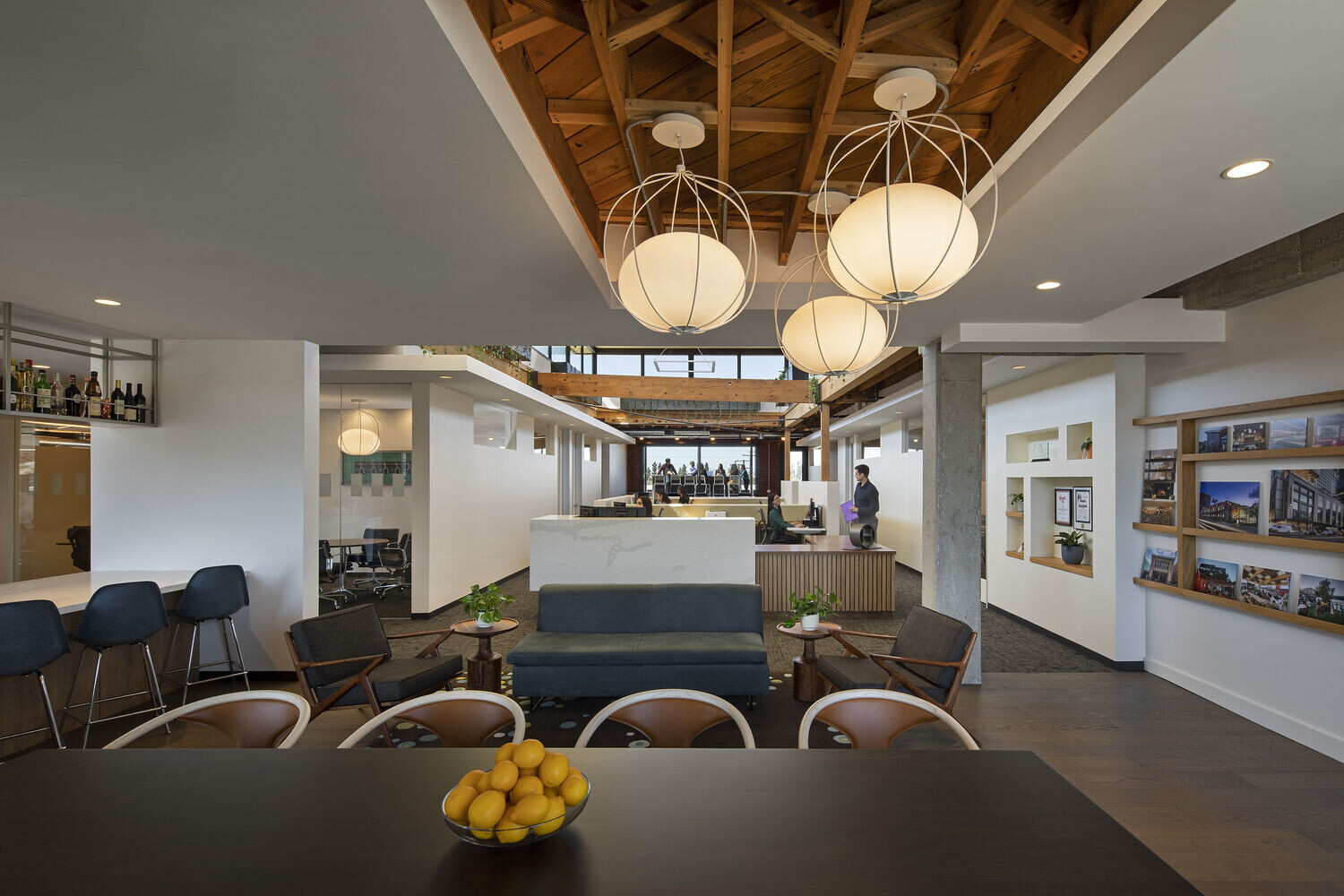 Quels matériaux avez-vous choisis et pourquoi ?
Une partie du processus visant à redonner vie au bâtiment consistait à exposer sa structure en béton d'origine, ses briques rouges et ses plafonds en bois, et à incorporer une palette de matériaux complémentaires créant un environnement de travail sain et stimulant.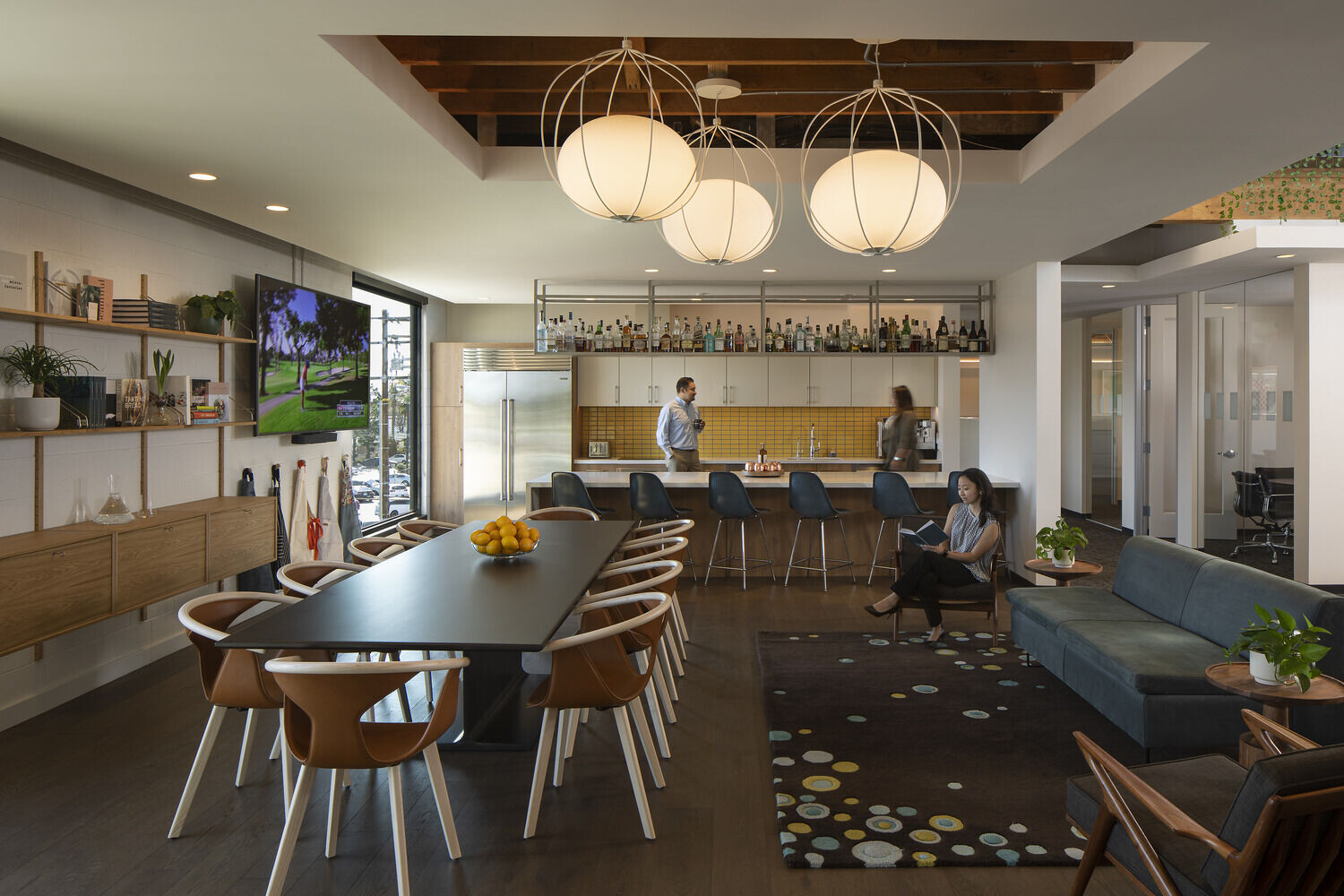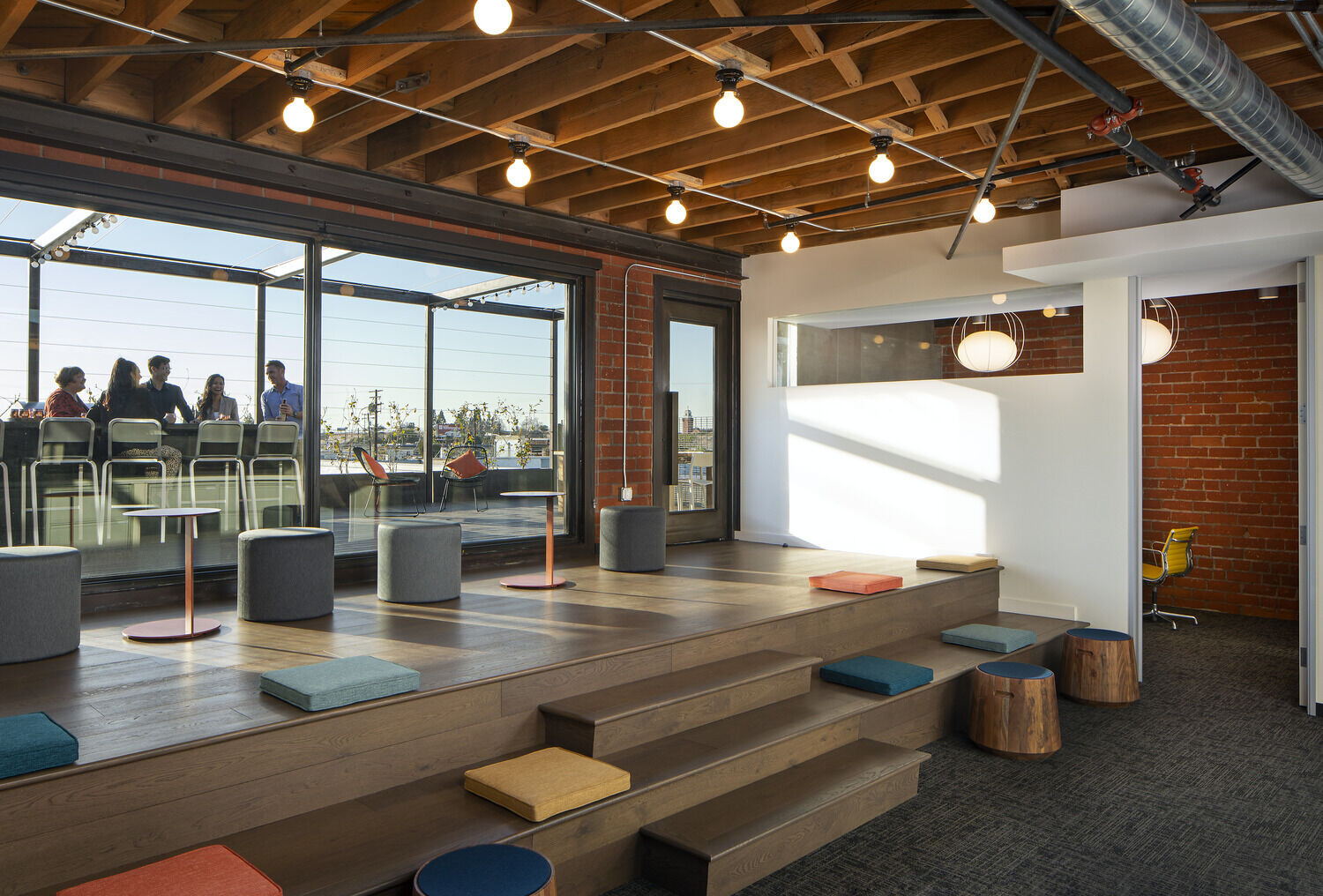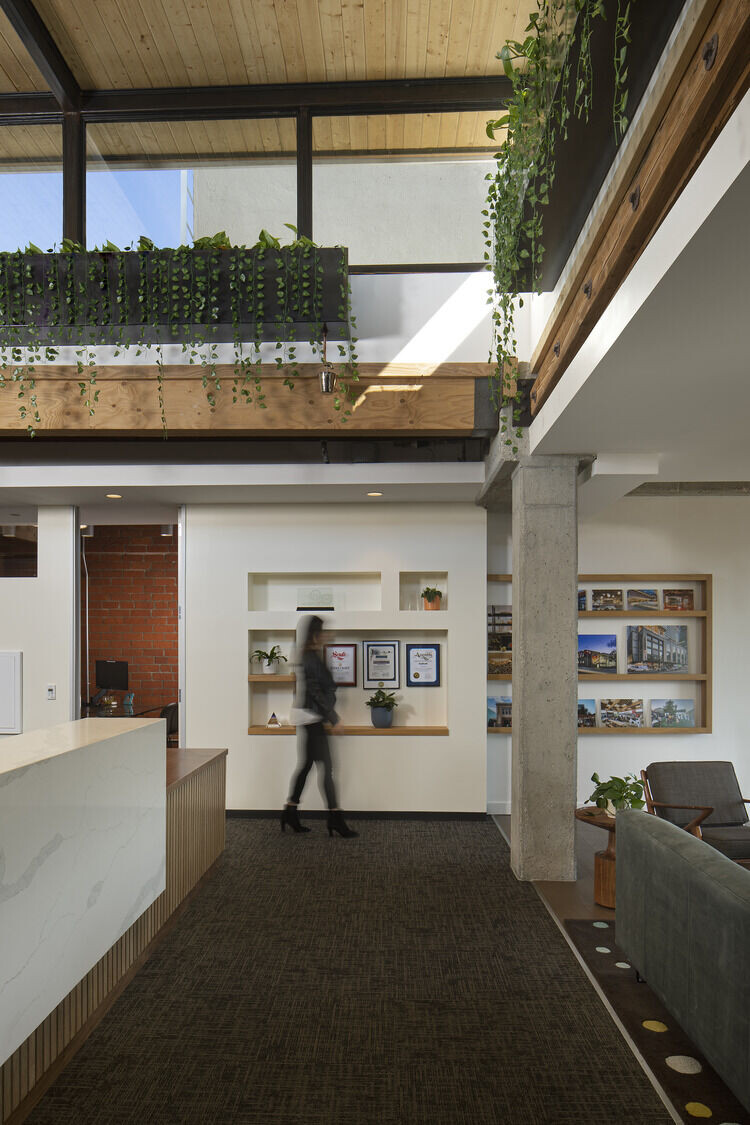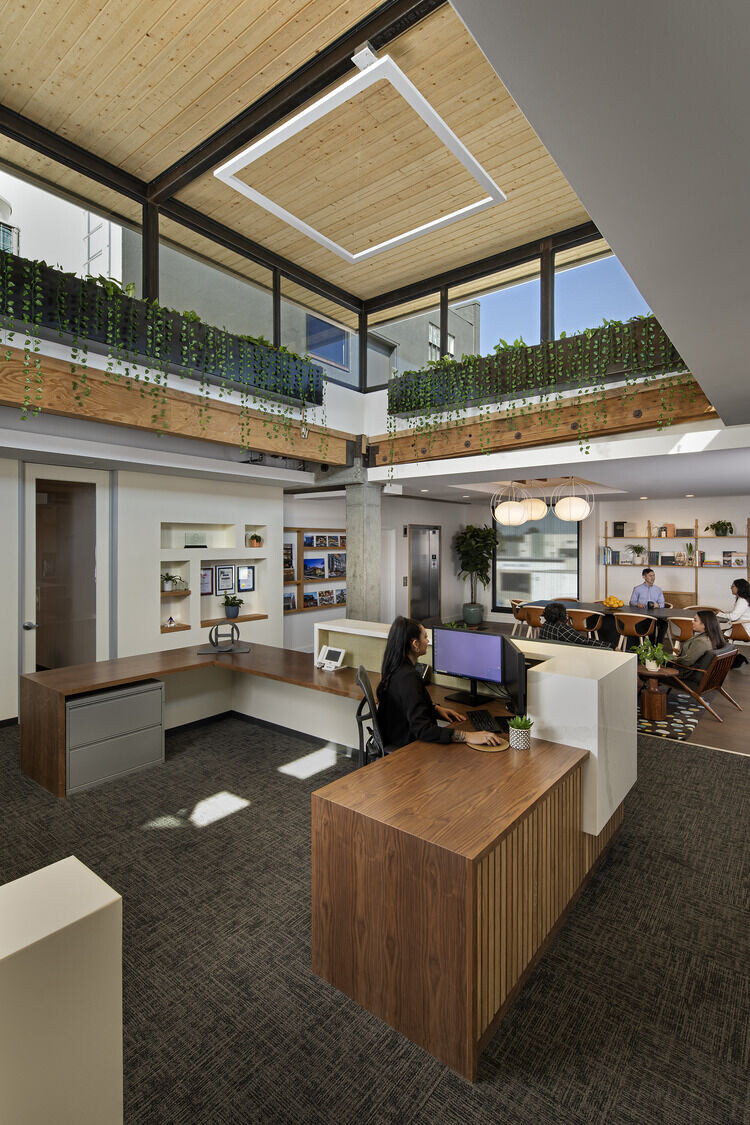 Matériel utilisé :
1. Facade cladding:
Front: Metal Rainscreen, A18, Bok Modern
Rear: CMU
Sides: Brick Infill Concrete Frame
2. Flooring:
Level1: Porcelain Tile, Cliff, Negro 24 x48", Roca Polished Concrete
Level 2: Wood Floor, European White Oak, Pravada Polished Concrete
Level 3: Wood Floor, European White Oak, Pravada
Carpet, Nordic Stories, American Techtonic 120 Flume, Milken
Carpet, Walk the Line, American 120 Memphis, Milken
Porcelain Tile, Cliff, Negro 24 x 48", Roca
Recycled Decking, Transcend Spiced Run, Trex
3. Doors: Steel Windows and Doors, MDSS Inc., dba Midway Glass
4. Windows: Steel Windows and Doors, MDSS Inc., dba Midway Glass
5. Roofing: Foam Roofing, SWD Urethane Spray Applied Polyurethane Foam Roofing System, Air-Thane Foam Rooming
6. Interior lighting: USAI, Lumenwerx, Zumptobel, Luminii, BK Lighting, Tokistar, Molo Design, BuzziSpace, LightArt
7. Interior furniture: FF&E