"The tea house is a gathering place, a place to share and come together in an spend quiet time with each other, away from the distractions of modern life."
In 2017 architect Paul Cooksey was chatting to his good friends about their plans to renovate their lean-to kitchen of their bungalow home in Adelaide's eastern suburbs. The home had wonderful generous living spaces and bedrooms, but the kitchen was undersized for a family of 5 and didn't make best use of the incredible garden and site footprint.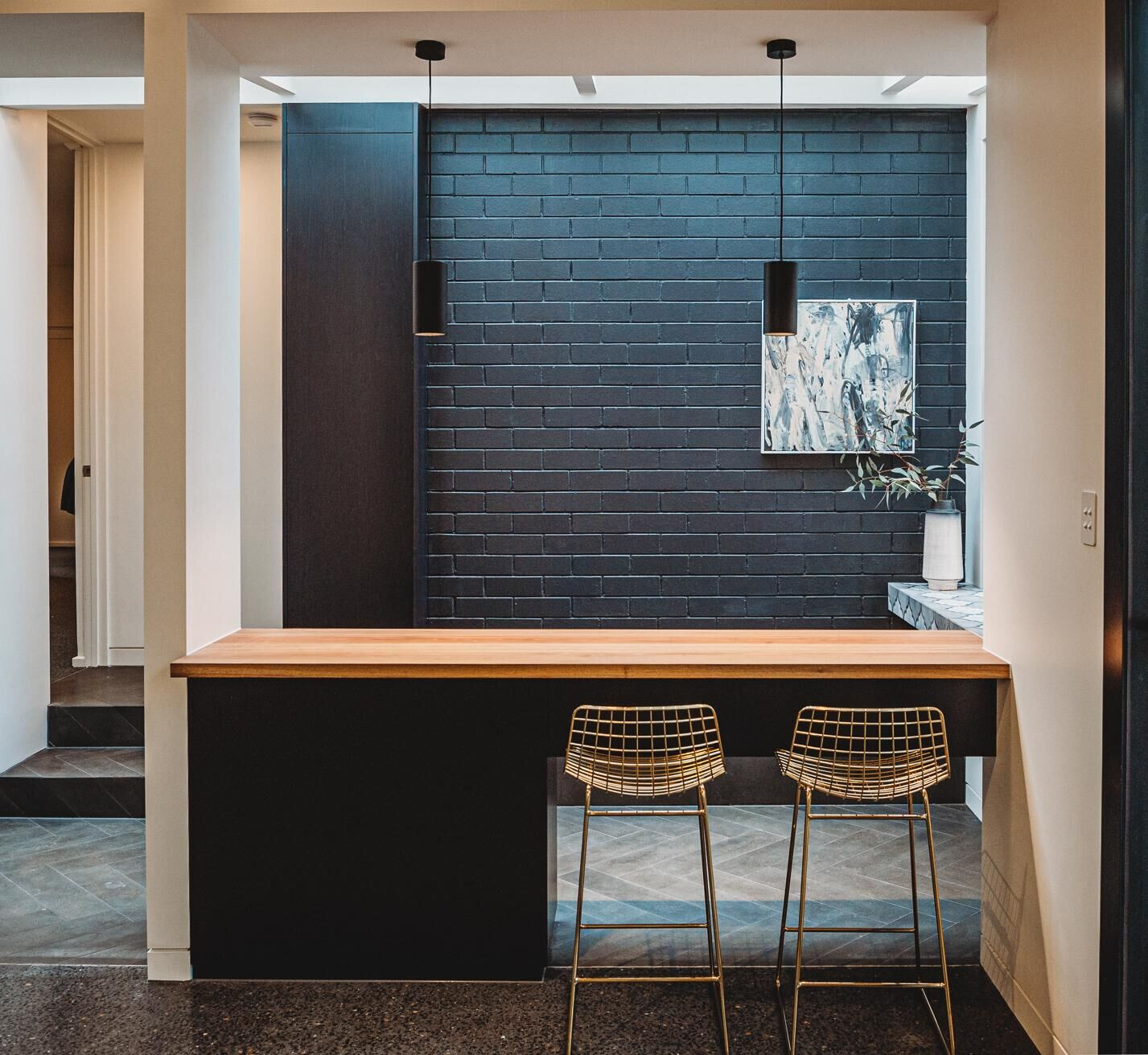 The house also had a studio space on the same site which was under used as a guest house/storage space.
"Would you let me try and help?" Paul asked. And off we went.
Architect's Words:
The concept design was always linked around two central themes - Gathering and Gardens. Gathering because the idea was to join the separate studio space as part of the existing house, providing more amenity and function to the existing structure. This mean the new extension was going to be a kitchen were different members of the family, living in different parts of the house could come together for generations to come.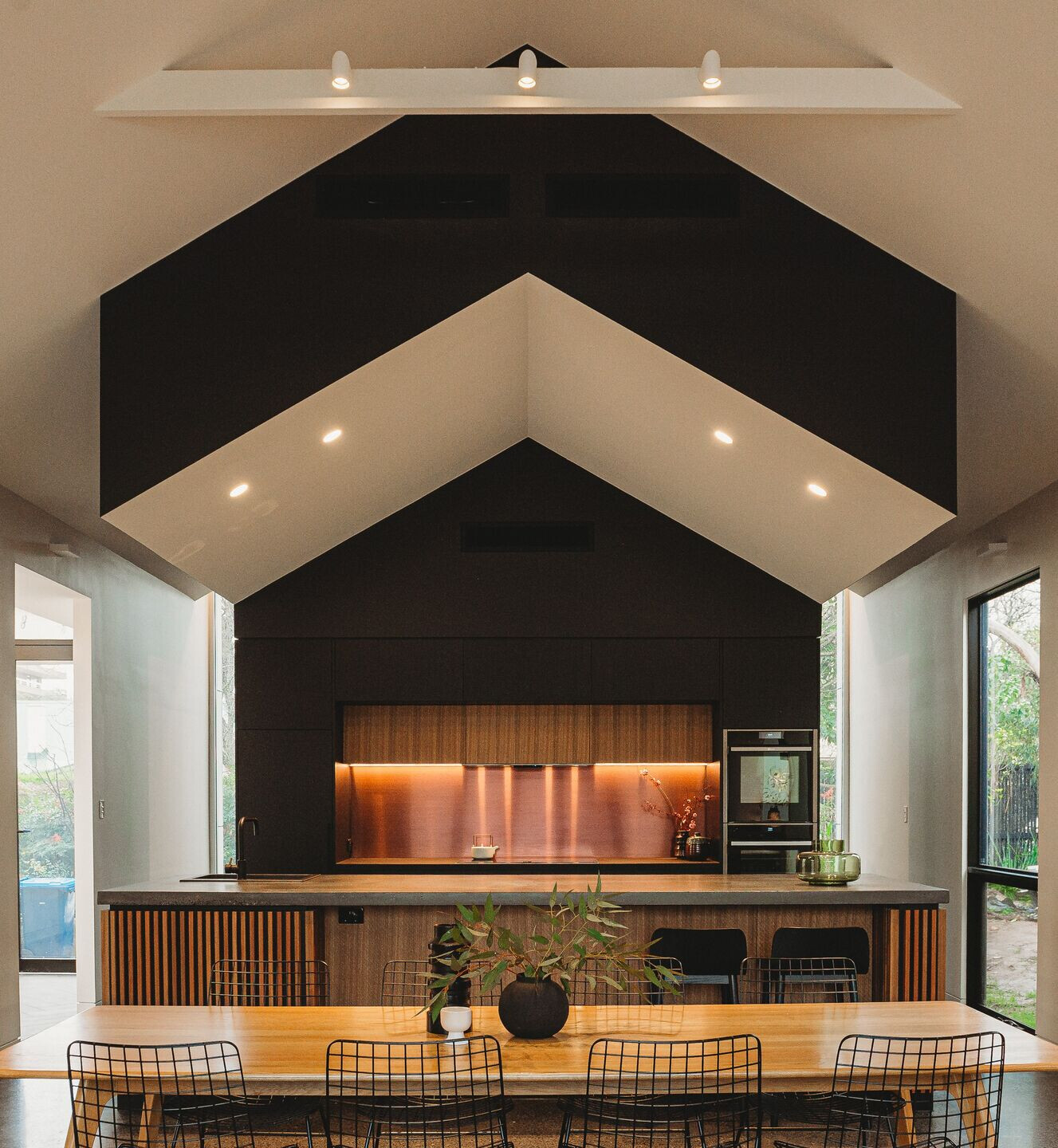 And gardens because the house had previously been home to a well respected landscape architect and had been surrounded by native planting and earthy textures. The new extension wanted to celebrate this history with a new room that felt like it was part of the garden- a pavilion of sorts - that sat humbly in place.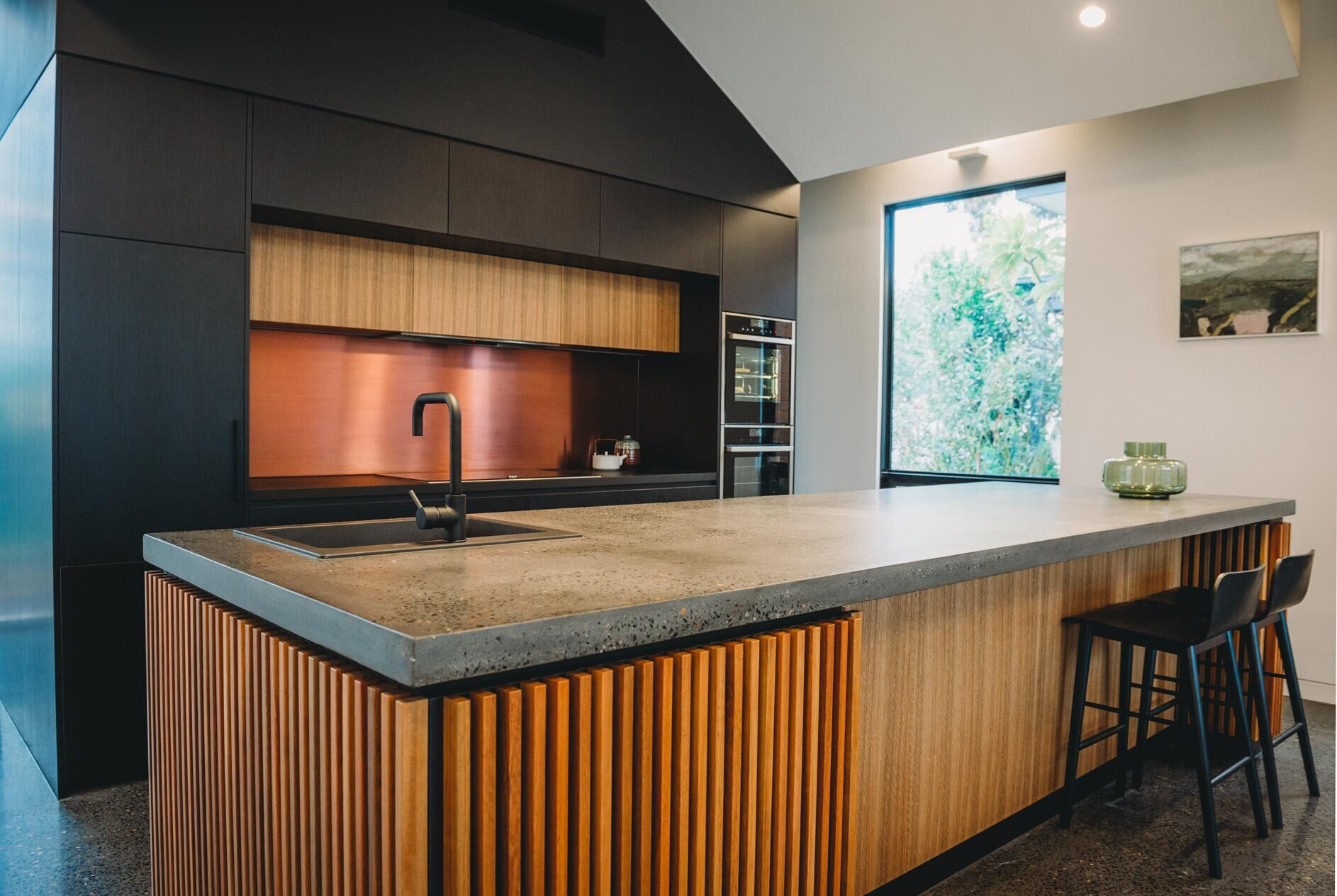 The building form reflected this approach by breaking up the different parts of the home in a way that didn't make the house seem massive from the street or from within. There was an urban rhythm to the suburban street and we didn't want to create a massive box that destroyed this.
We used materials and building forms that referenced the original villa. The skylights to either side of the new extension meant that the new building sat separate, yet connected . The central kitchen pavilion is separated by these sky-lit corridors. The client really wanted a dramatic black kitchen and so we 'dropped' in a black form from the apex ceiling, to create a dramatic zone of difference, framed in white circulation spaces.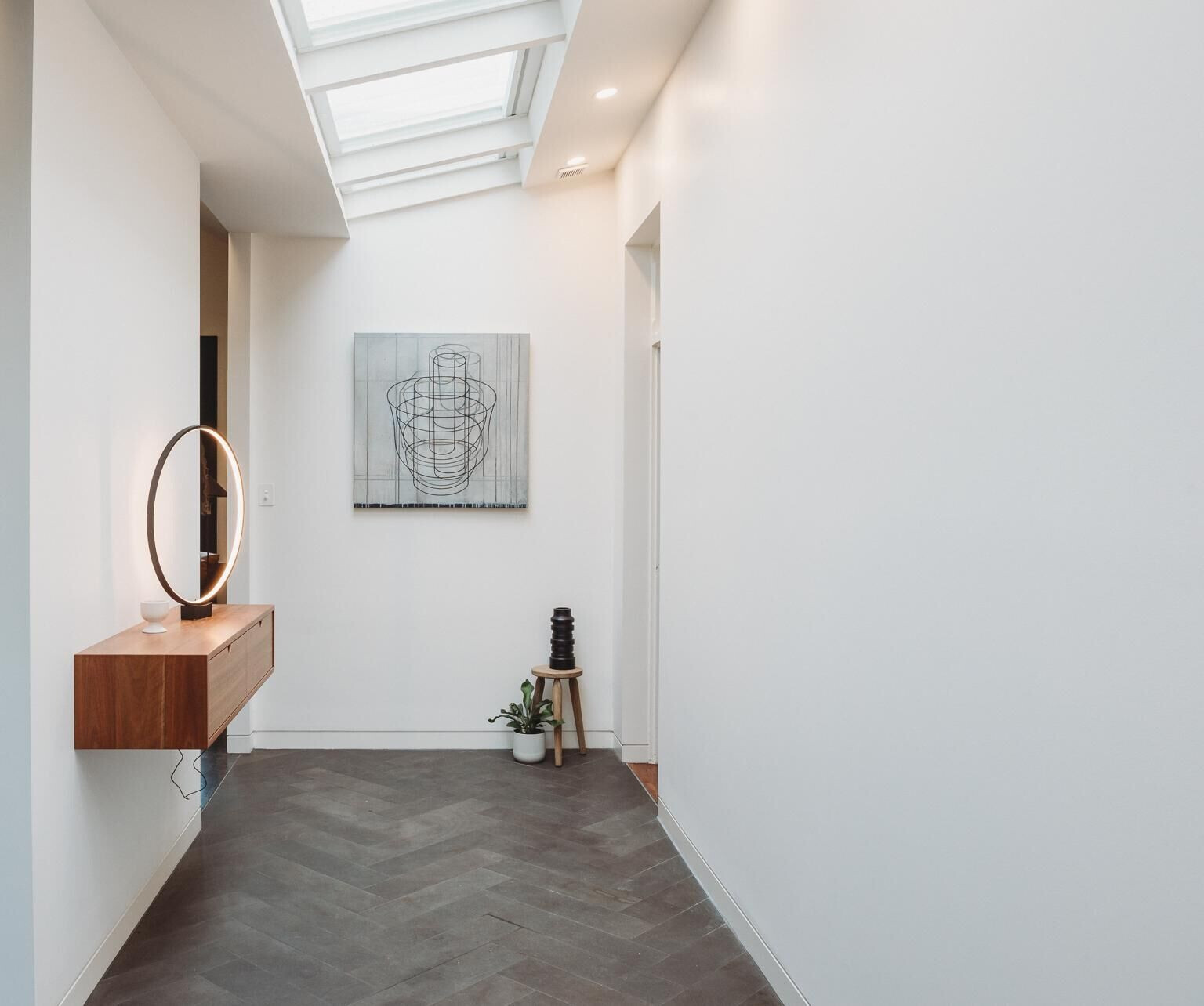 Other areas we found spaces for was a small powder room for guests, a safe way to access a pre existing cellar and space for bar. The bar was necessary because following the line of the extension to the rear is a pool - that on fine days becomes part of the living zone.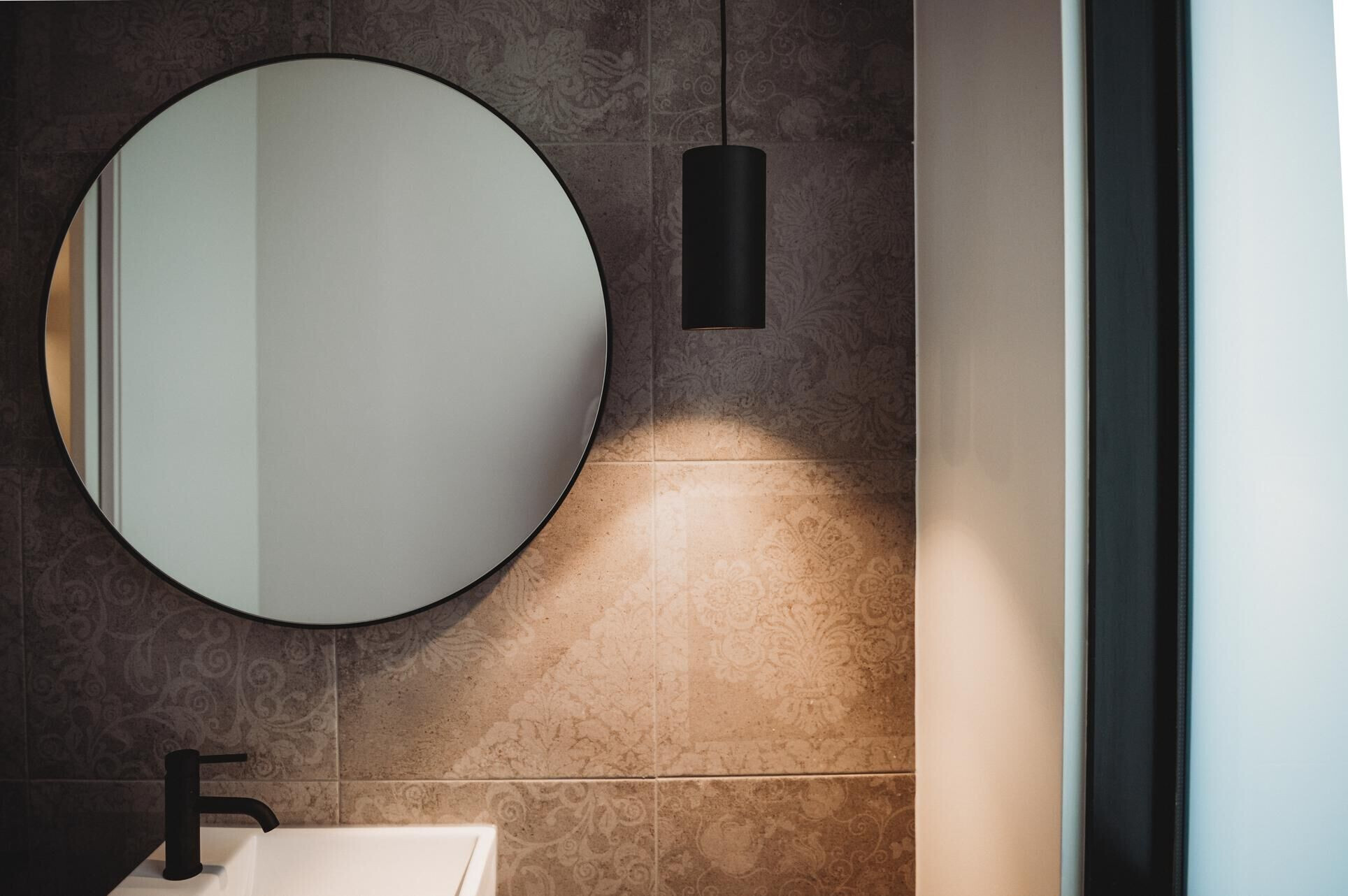 We then renovated the studio space to better fit in with the families needs, getting in a laundry, media room, study, master bedroom and ensuite, with walk in double shower.
The final product is a family home which will be a gathering space for friends and children for generations.