A greener future for China. Powered by the Sun.
For their latest project, Koichi Takada Architects takes inspiration from Shanghai's forest-rich landscape and creates a series of 32 architectural "trees" that form a canopy above a new marketplace in China. Solar Trees Marketplace pays homage to the past, reinterpreting the traditional Chinese market as a community place, while forging a greener future for China. The nature-inspired design, which will be powered by solar energy, is currently under construction and set for completion in early 2022.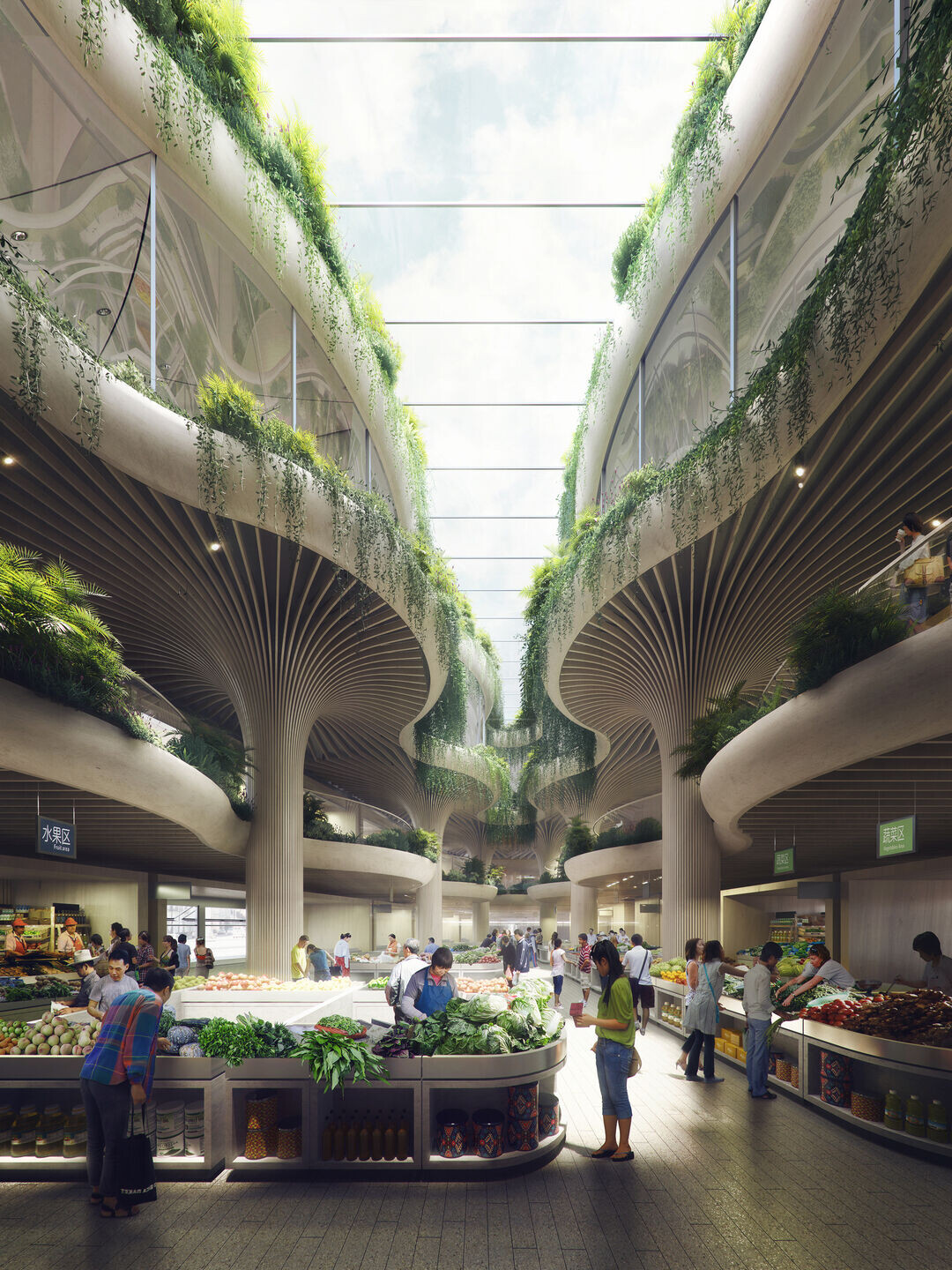 "We want to humanise buildings in the district, to be more engaging to the public and contribute to the regeneration of communities and their neighbourhoods. We want architecture to celebrate cultural identity, along with encouraging pedestrian activities and a more walkable and liveable city."

Koichi Takada
Solar Tree's Marketplace is in the Minhang district, 20 kms south-west of Shanghai, spanning a total floor area of 3450 square meters. The three-story mixed-use development will serve as a gateway to the new Shanghai Tian An Caobao Road Area Residential Masterplan by Tian An China.
32 architectural 'trees', rise from the ground to form a canopy of timber branches above the marketplace. Echoing the green spine that connects the 155,000 square metre residential masterplan, the forest concept also references China's commitment to be Carbon Neutral by 2060. The project adheres to the goal of transforming one of the world's most polluted cities into a healthier and more liveable urban environment, setting a new green benchmark for mixed-use residential developments.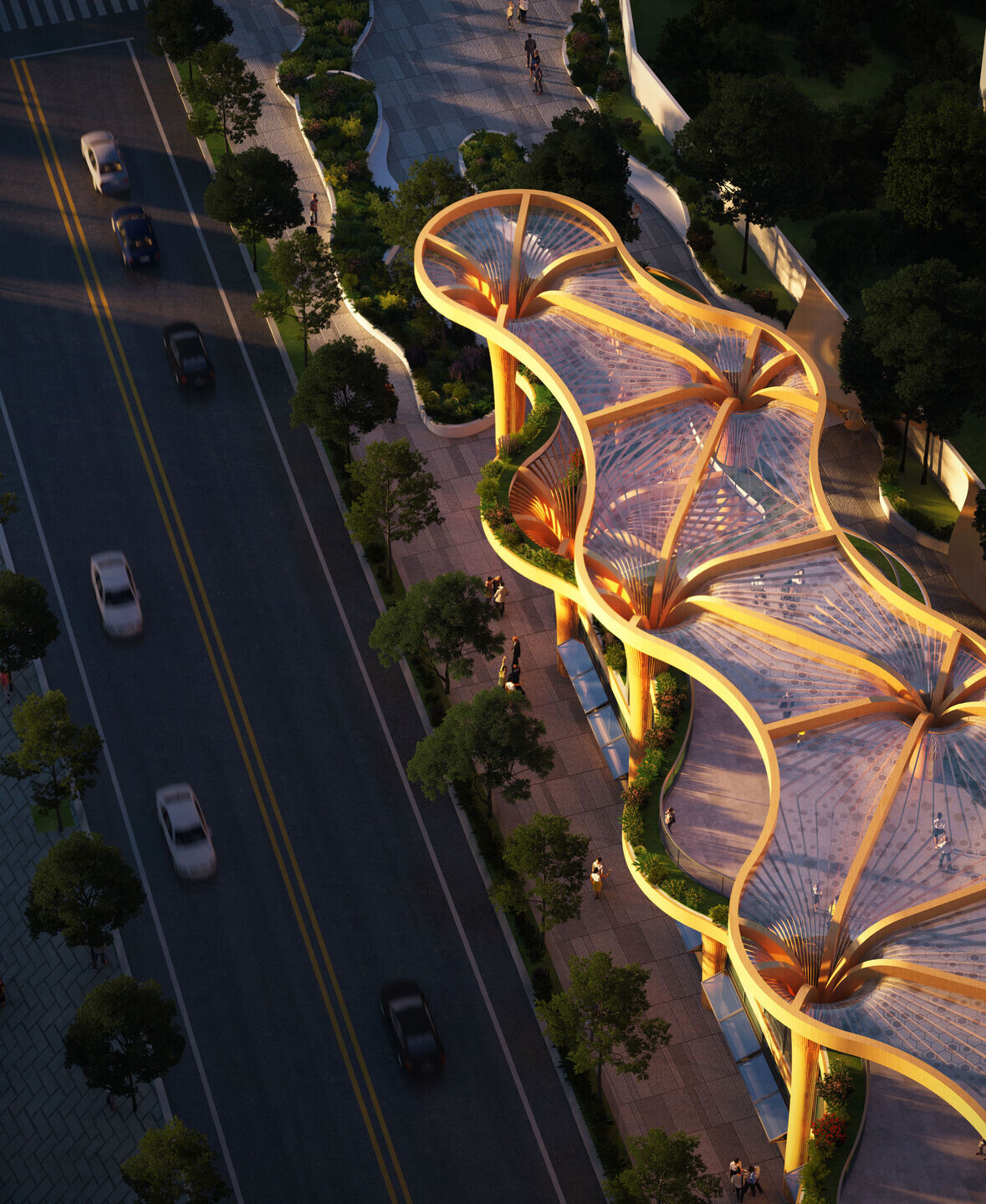 Engagingly Green Architecture.
Distinguished by its biophilic structure, Solar Trees incorporates considered environmental and sustainable design initiatives. Like actual trees, the timber branches of thirty-two man-made trees sit above the footpath to provide shelter and shade, while allowing natural light and fresh air to permeate the marketplace.
Solar panels on translucent canopies further generate power for the development and provide a visual cue to Tian An China's green agenda.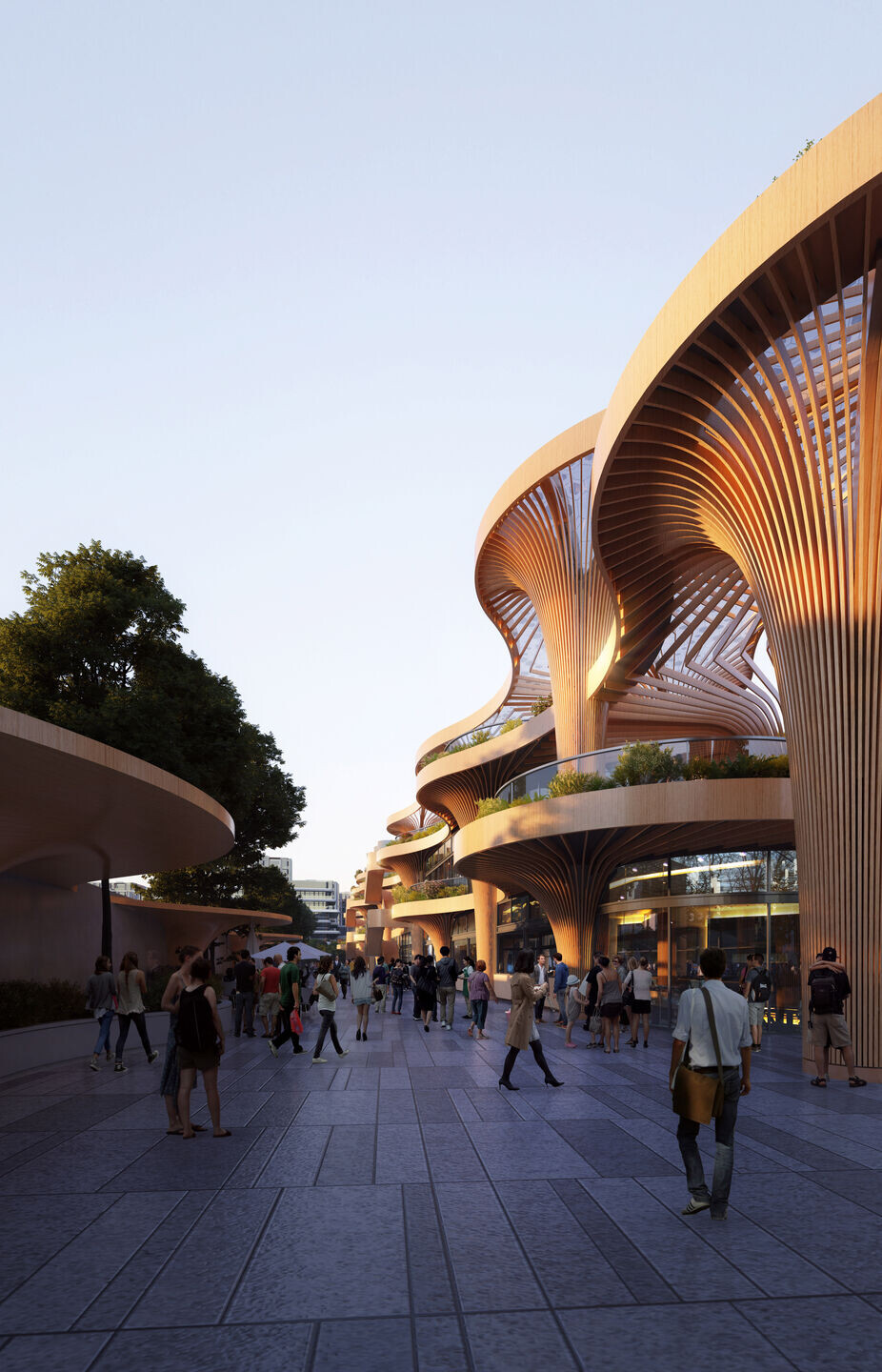 A future for traditional Chinese marketplaces – a balance between the old and new.
As well as designing for the future, and more specifically china's commitment to be carbon neutral by 2060, Koichi Takada Architects also pays homage to the past. The inclusion of modular market stalls will bring a sense of authenticity to the contemporary development, referencing their history as social and cultural gathering spaces and allowing a new generation to gather at its heart. The marketplace aims to strike a balance between the old and new. Reflecting the Chinese tradition of making guests feel at home - bīn zhì rú guī – the marketplace will generate a powerful sense of community and integrate the private and public domains.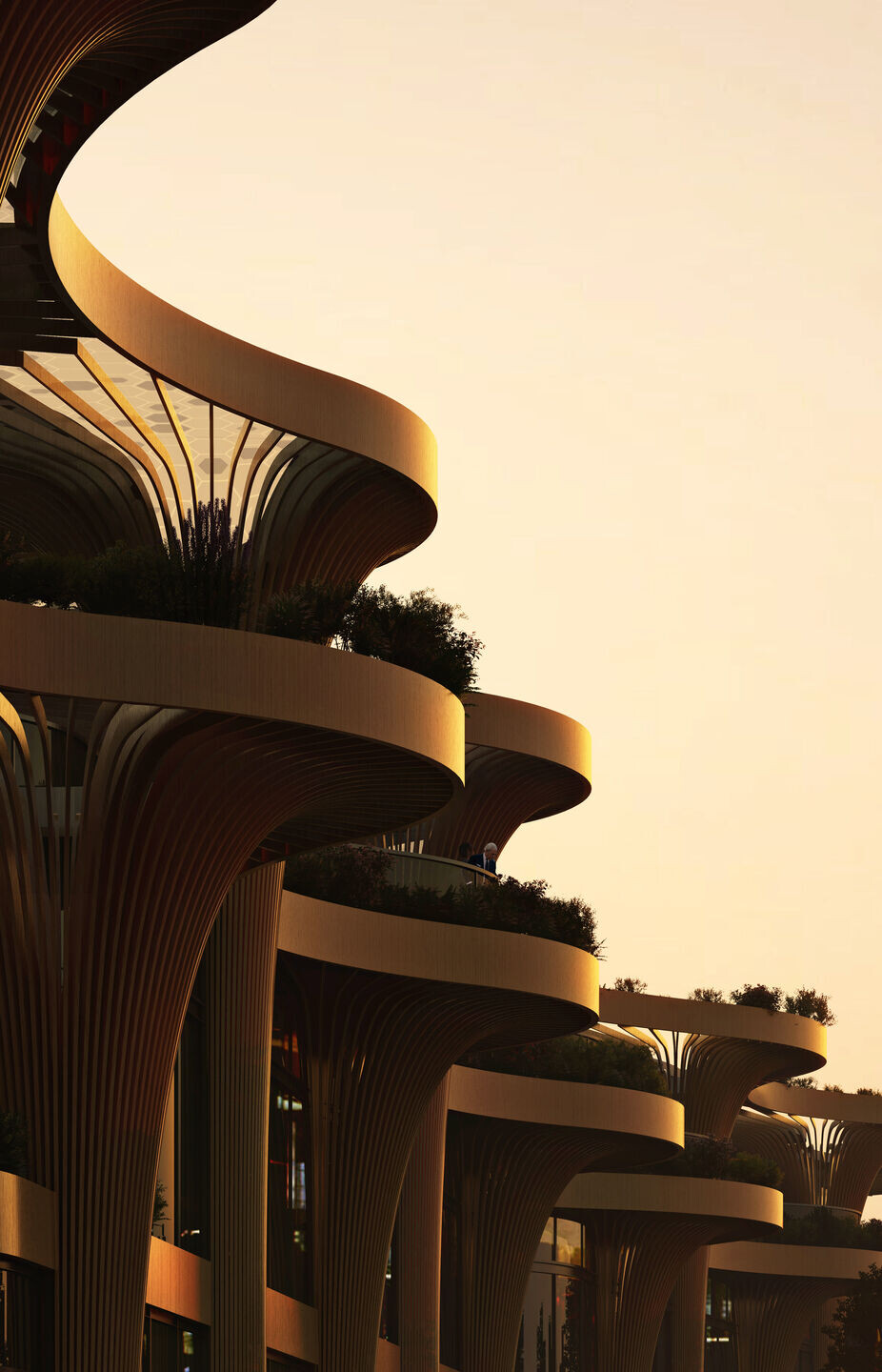 A Green Corridor of Native Trees.
50 camphor trees planted outside welcome the beginning of the green corridor that runs through the masterplan. Three thousand trees and shrubs indigenous to Shanghai, including white Magnolia (Shanghai's city flower), Ginkgo, Camphor and Celtis Sinensis create a new and significant park. Colour coding of different plantings also acts to identify and distinguish neighbourhoods within the masterplan and offers a guide for residents to find their way home.
The marketplace becomes an extension of the natural landscape, the solar canopy filtering the sunlight to allow people to enjoy the health and wellbeing benefits of shopping outdoors.