Los Angeles-based new media artist and designer Refik Anadol and his team at Refik Anadol Studio create mesmerising digital artworks by using artificial intelligence technology (AI) to extrapolate vast collections of data into visual imagery.
Anadol's work starts with digital data sets, such as photographs and sound recordings. He then uses artificial intelligence algorithms, which are sequences of computer code, to extract the defining features of the data through a process called machine learning. After the algorithms have analysed the data, they can be used to generate dynamic, visual representations of the information they have digested, which Anadol calls "data sculptures". He uses this new imagery to represent how computers and computing technology can mediate ever more of our human experiences. Anadol's creations offer new ways of looking at the digital information we generate, capture and store — and the possibilities opened up when we allow computers to take over.
Quantum Memories, 2020, commissioned by the National Gallery of Victoria, is Anadol's most technically and conceptually ambitious data sculpture to date. It will be presented on a towering 10m x 10m screen in NGV International's Federation Court.
Quantum Memories draws on more than 200 million publicly available photographs of nature from the internet, including images of clouds and water, millions of landscape photos from Australia, and views of Earth taken from the International Space Station. Anadol says this raw material presents a snapshot of humanity's collective memory of nature.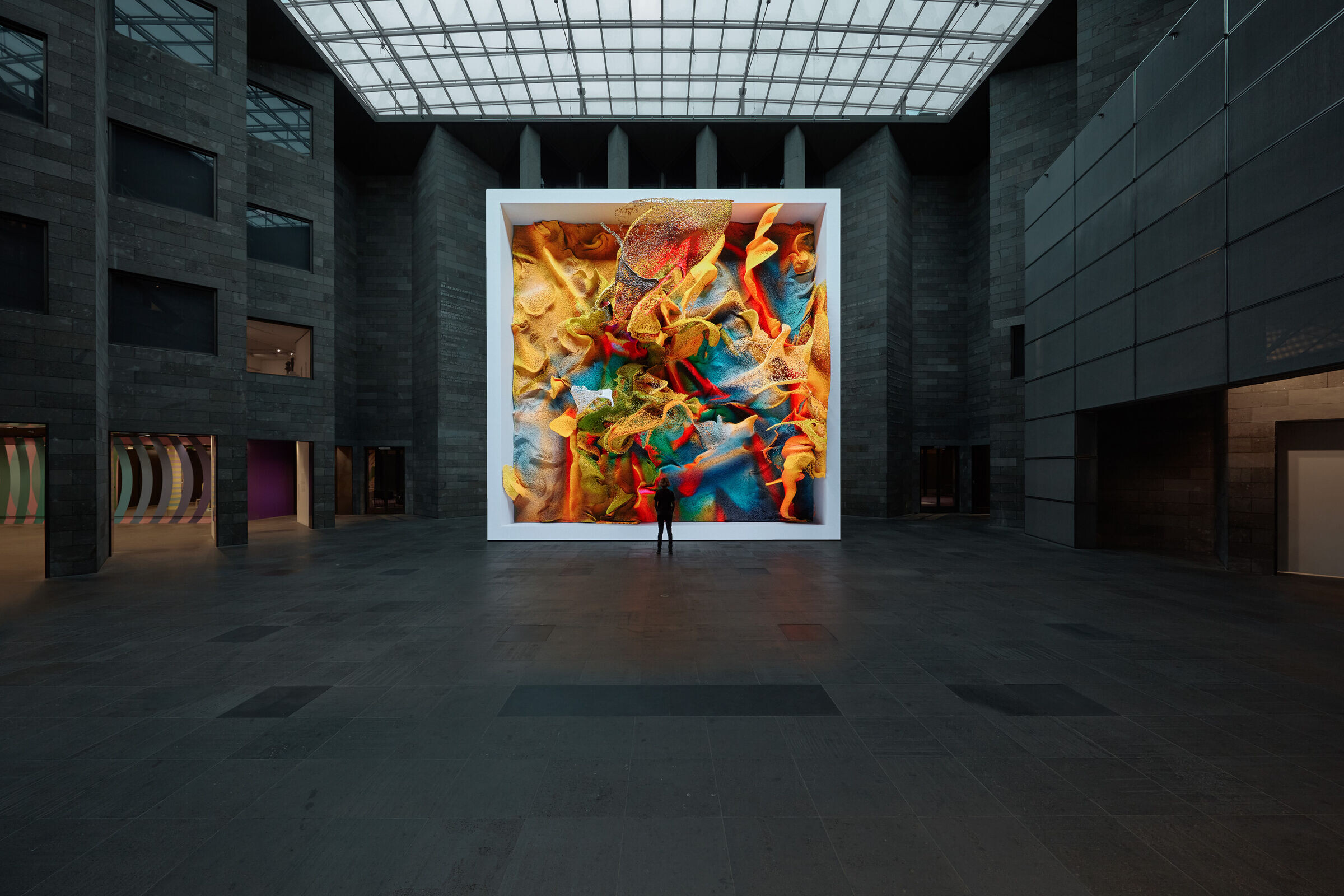 Quantum Memories also makes use of quantum computing, a new form of computing that exploits the unusual physics of the subatomic world. It is the first known commissioned artwork to use AI and quantum computing together.
The world's largest technology companies are racing to develop quantum computers in hopes they will transform many areas of industry and science. The technology is still experimental, making Quantum Memories an exploration of how a technology only just taking shape in the lab can be used in art. Anadol uses data from a prototype quantum computer developed by Google to guide the imagery produced by his AI algorithms, creating the striking experience at NGV International.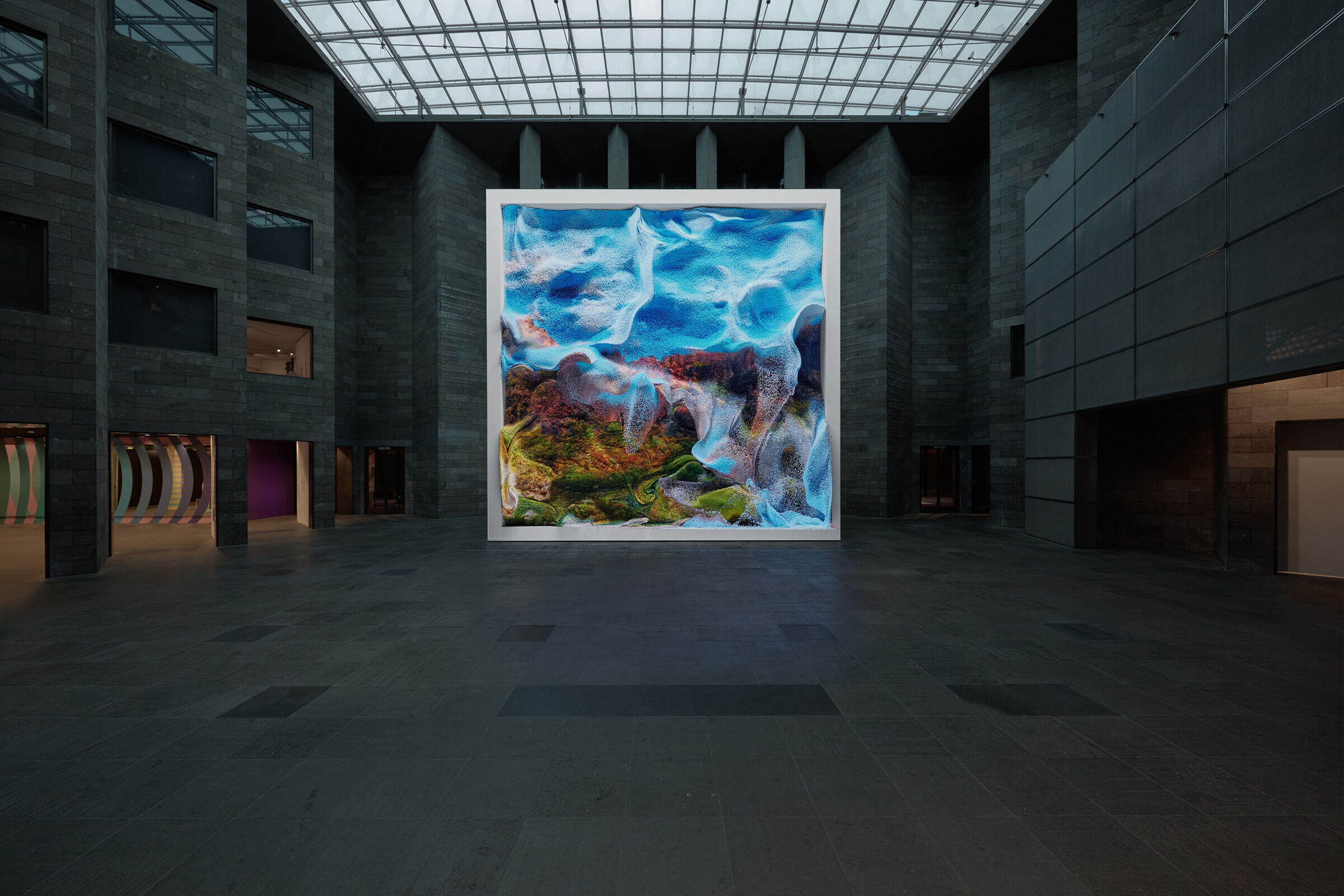 For Anadol, the swirling shapes, patterns and colours we observe in Quantum Memories offer a thought-provoking representation of the ways in which a computer might interpret our sensory experiences of nature. This prompts the viewer to reflect on the multi-faceted relationship between technology, humanity and the natural world.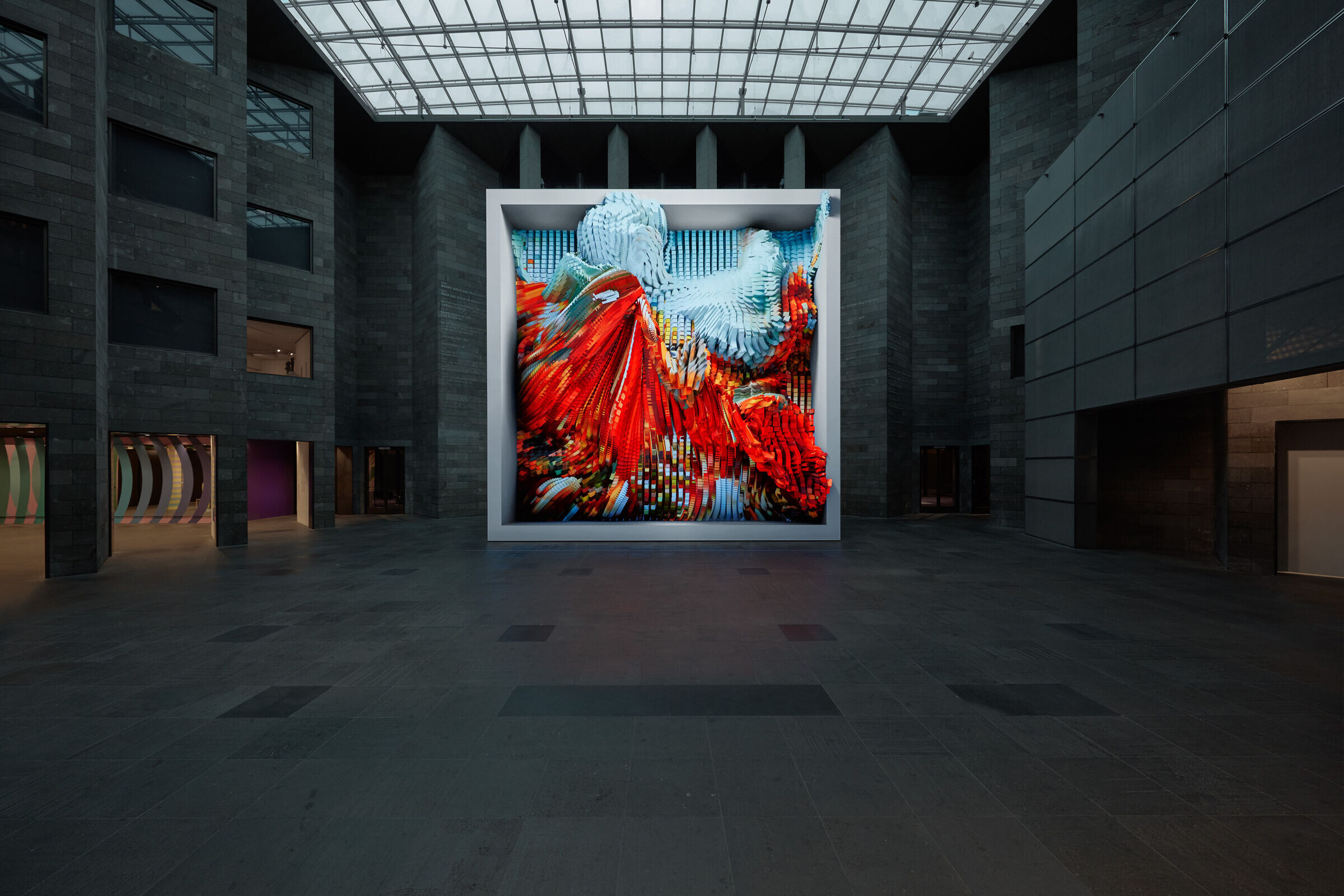 THE PROCESS OF CREATING QUANTUM MEMORIES
● How are artificial intelligence algorithms used in this artwork?
First, Anadol used image analysis software to remove photos of people or the built environment from his data set of more than 200 million photographs of nature. Next, Anadol processed this data set using machine learning algorithms—sequences of computer code—that learn the patterns seen in the images. Afterwards, they can generate new images that resemble the different scenes in the original photos, but depict places that do not actually exist. These machine learning algorithms can produce many different kinds of images and run on a computer on site at NGV..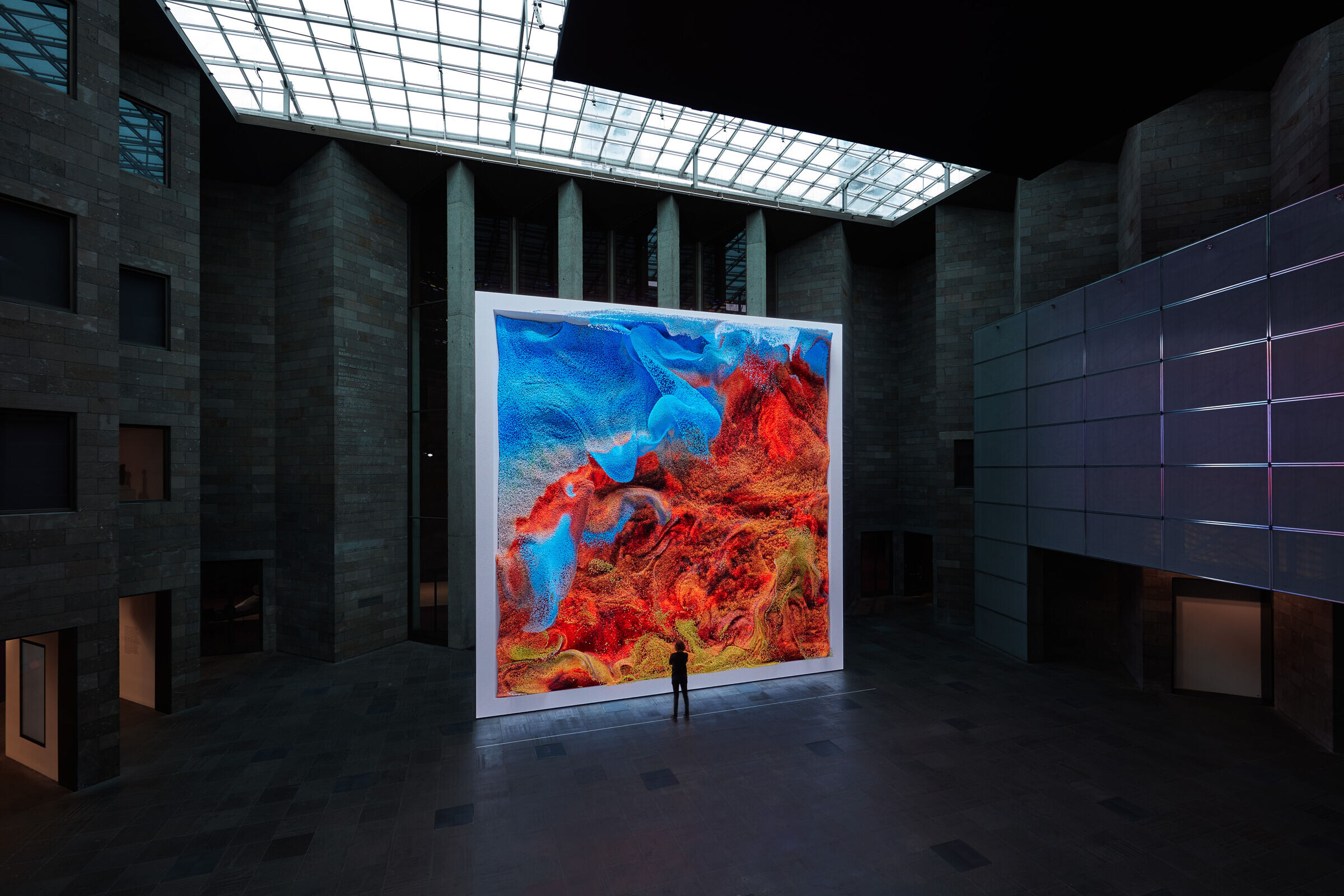 ● How is quantum computing used in this artwork?
Anadol collaborated with Google researchers in California, who provided data from one of the company's experimental quantum computers in Santa Barbara. He used that data—strings of numbers—as a kind of prompt to direct the AI algorithms trained on millions of nature photos to produce new images. The ever-changing artwork seen at NGV is a kind of translation of the quantum data into the visual realm.
A programmer can 'steer' the algorithms to generate different kinds of images. Anadol can do this manually in the lab, by clicking or typing parameters. However, using the quantum data from Google provides a more random, but also a more meaningful way of steering what the algorithms generate.
Anadol did not have to use data from a quantum computer, but the artist wanted to work with an emerging technology that is still taking shape. Google and other technology companies believe that quantum computers will one day be extremely powerful and transform science and industry. Anadol was previously a resident artist at Google's Artists and Machine Intelligence Program, which brings artists and engineers together to realize projects using artificial intelligence.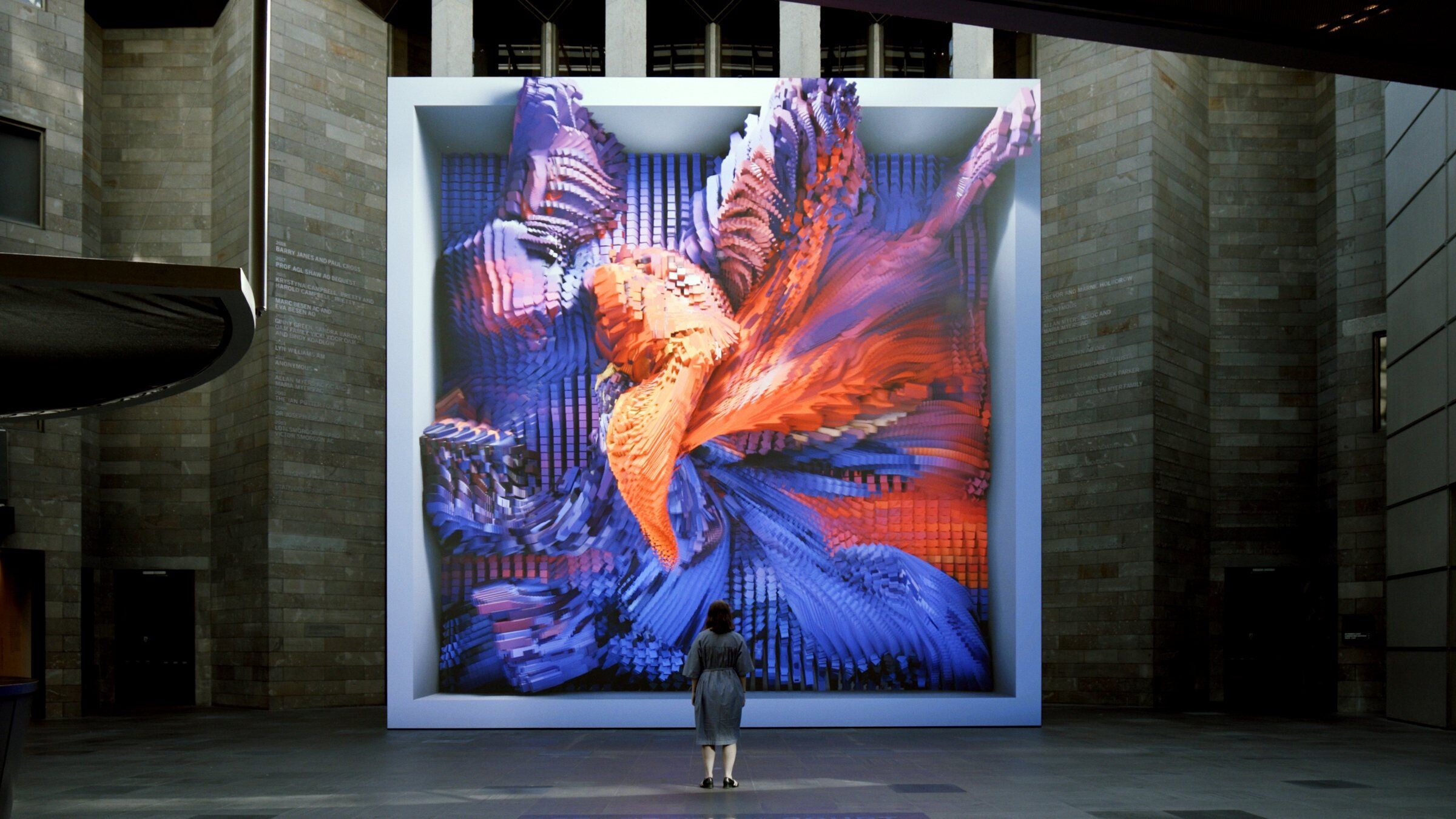 WHAT IS NEW AND GROUNDBREAKING ABOUT THIS WORK?
● First known commissioned artwork to be created using quantum computing and artificial intelligence together.
● Single largest image data set used to create an artwork. More than 200 million publicly available images of nature from the Internet were sourced to create this artwork.
● Largest digital art installation to be presented by NGV, viewed on 10 x 10 metre LED display supported by NEC.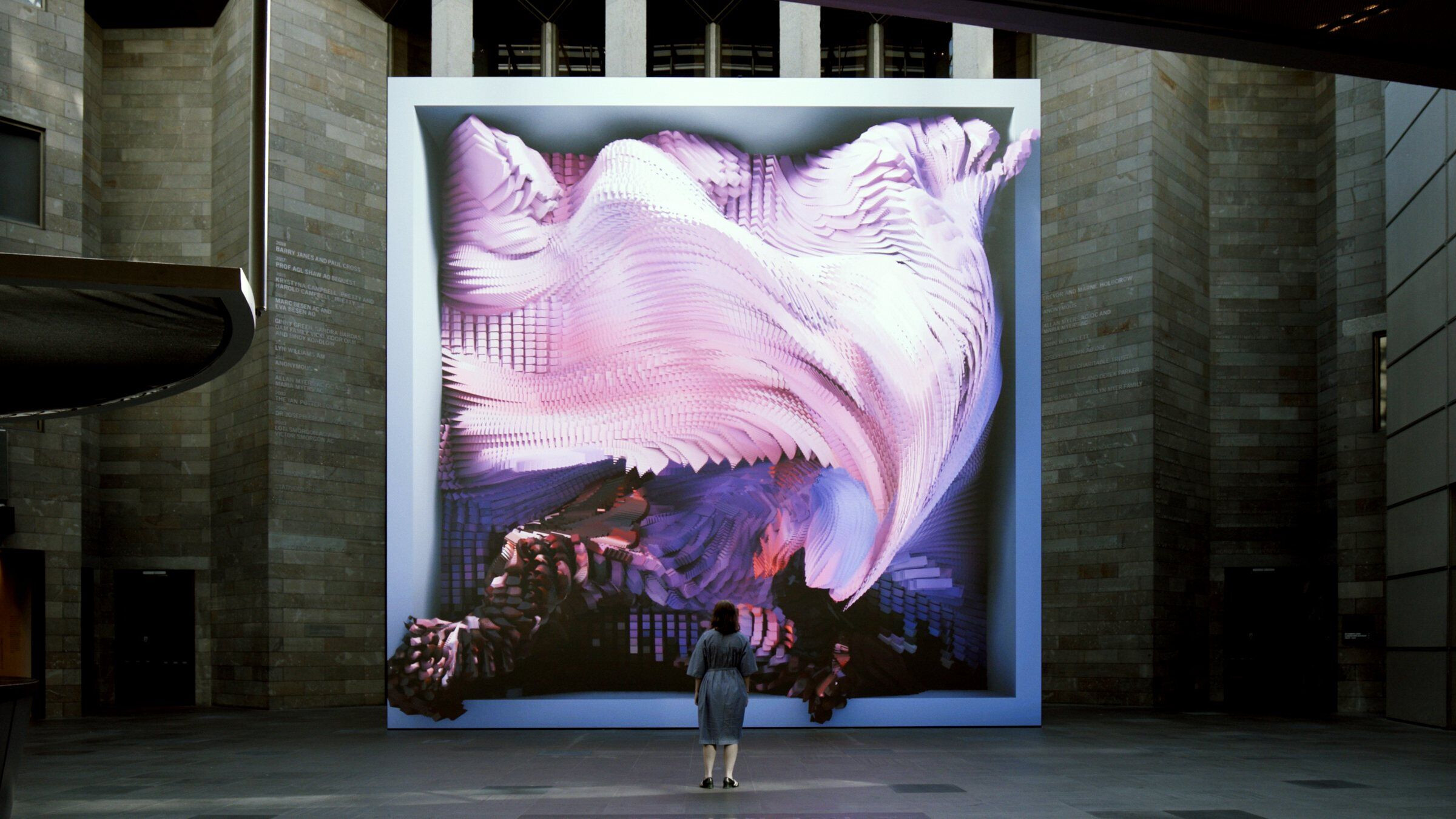 HOW WILL THE VIEWER ENCOUNTER THE WORK / WHAT WILL THEY SEE?
Quantum Memories, 2020 by Refik Anadol Studio will make its world-premiere as part of the NGV Triennial, which opens in Melbourne in December 2020. Visitors to the NGV will experience the artwork on a towering 10m x 10m LED display screen, on which the mesmerising visuals with be generated. The screen will be on display in NGV International's Federation Court.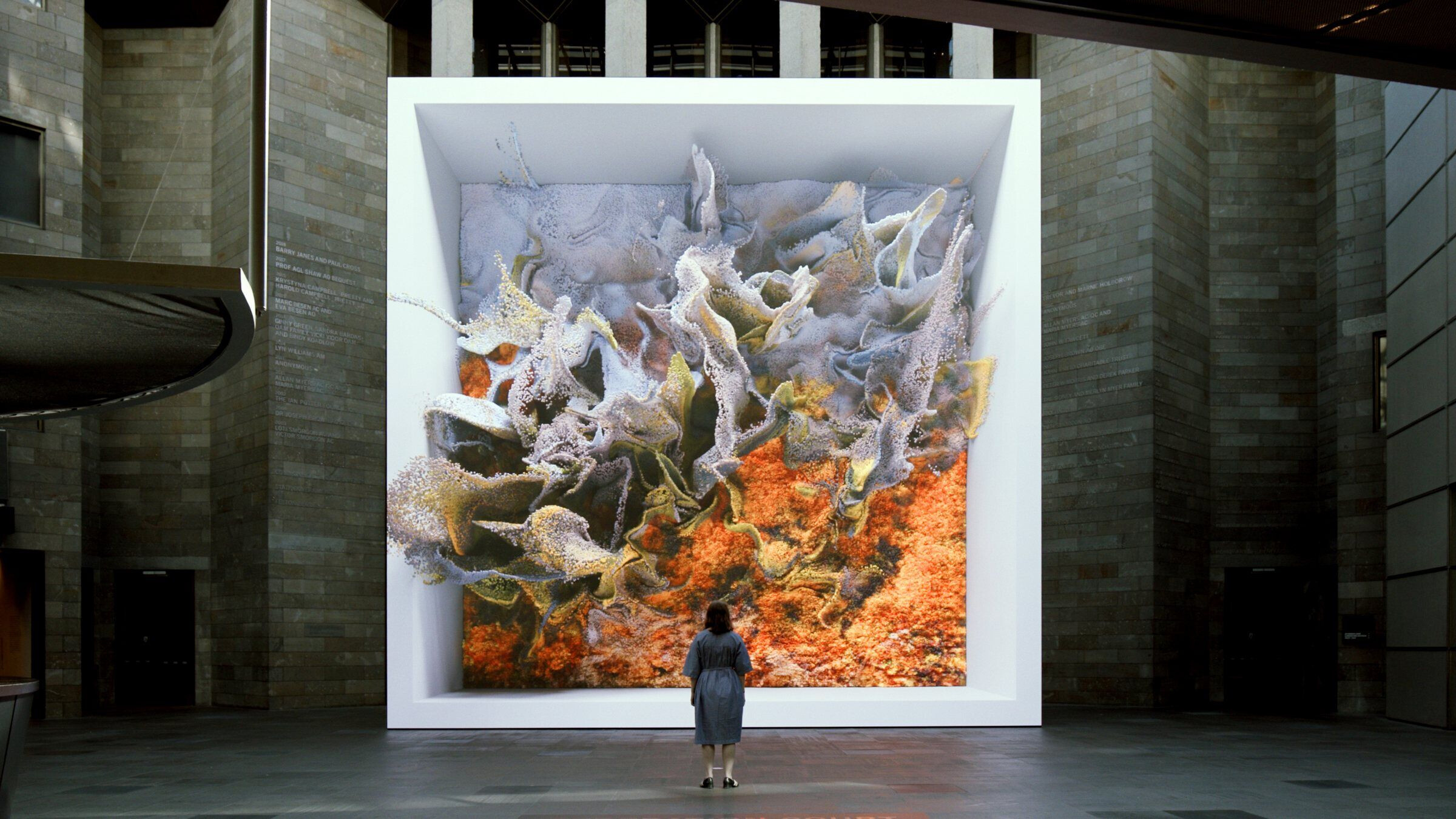 WHAT QUESTIONS DOES IT PROMPT THE VIEWER TO REFLECT ON?
For Anadol, the swirling pigments, shapes and patterns observed by the viewer on the LED screen offer a thought-provoking representation of the ways in which a computer might interpret our sensory experiences of nature. This prompts the viewer to reflect on the multi-faceted relationship between technology, humanity and the natural world. Quantum Memories also aims to expand our definition of space. By creating a data 'universe' built from our digitally recorded memories of nature, the work presents possible ways in which our collective memory can be spatially experienced, as well as the power of quantum computers to both simultaneously access and augment our human experience.
By utilising cutting-edge technologies that are still evolving, and in the case of quantum computing, still highly experimental, Quantum Memories presents an optimistic vision of our shared future with computing power and machines, one that is mutually beneficial for humanity and AI.
HAS THE ARTIST SHOWN WORK LIKE THIS BEFORE?
This is the artist's first major solo presentation at an Australian art institution. Previous works include Machine Hallucination, which used artificial intelligence algorithms to source millions of photos of New York City in order to create a new cinematic experience of the city.