Apartment with reduced size designed for a young single guy who loves to receive friends and family, and to give parties. For being his first apartment, the biggest challenge was to be able to develop a design that was rich in design and detail and fit in the client's budget. At the end, we realized that it is not always necessary to spend a lot to develop a project rich in details. The apartment has a contemporary style, evidenced in the colors, in the game of benches and niches, and also has an industrial language, since we have the cement burnt on the floor, the rustic bricks on the wall, the train clock, and the neon in the bar area.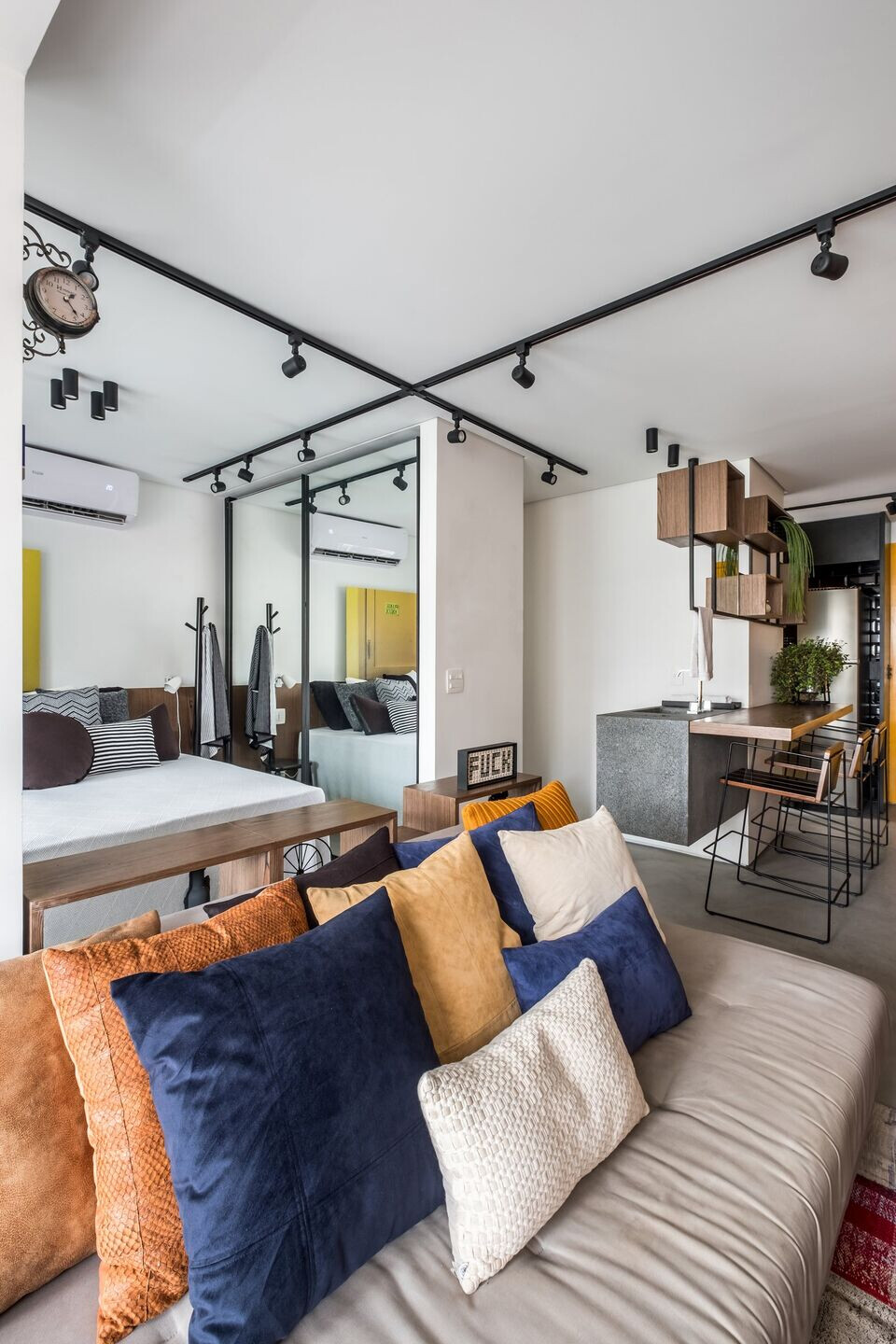 The integration of all environments was an important factor. It was used the same floor throughout the apartment, not having any demarcation between the spaces. You can't realize where the kitchen ends and the bar begins, and when the bar becomes the living room, or when the living room turns to the dining room on the terrace. The brick wall, which takes up the entire length of the apartment's main wall, also demarcates this integration. The bricks composition was created arriving on the terrace, because we could not change the facade of the building, and it was an interesting solution to be able to maintain the intended use of the bricks without demarcating where the terrace would start. The shelf at the entrance receives visitors with objects and plants that mix colors and shapes, and connects the entire apartment through the set of sideboards and benches, which becomes both the mobile for TV equipment and the support bench to the dining table.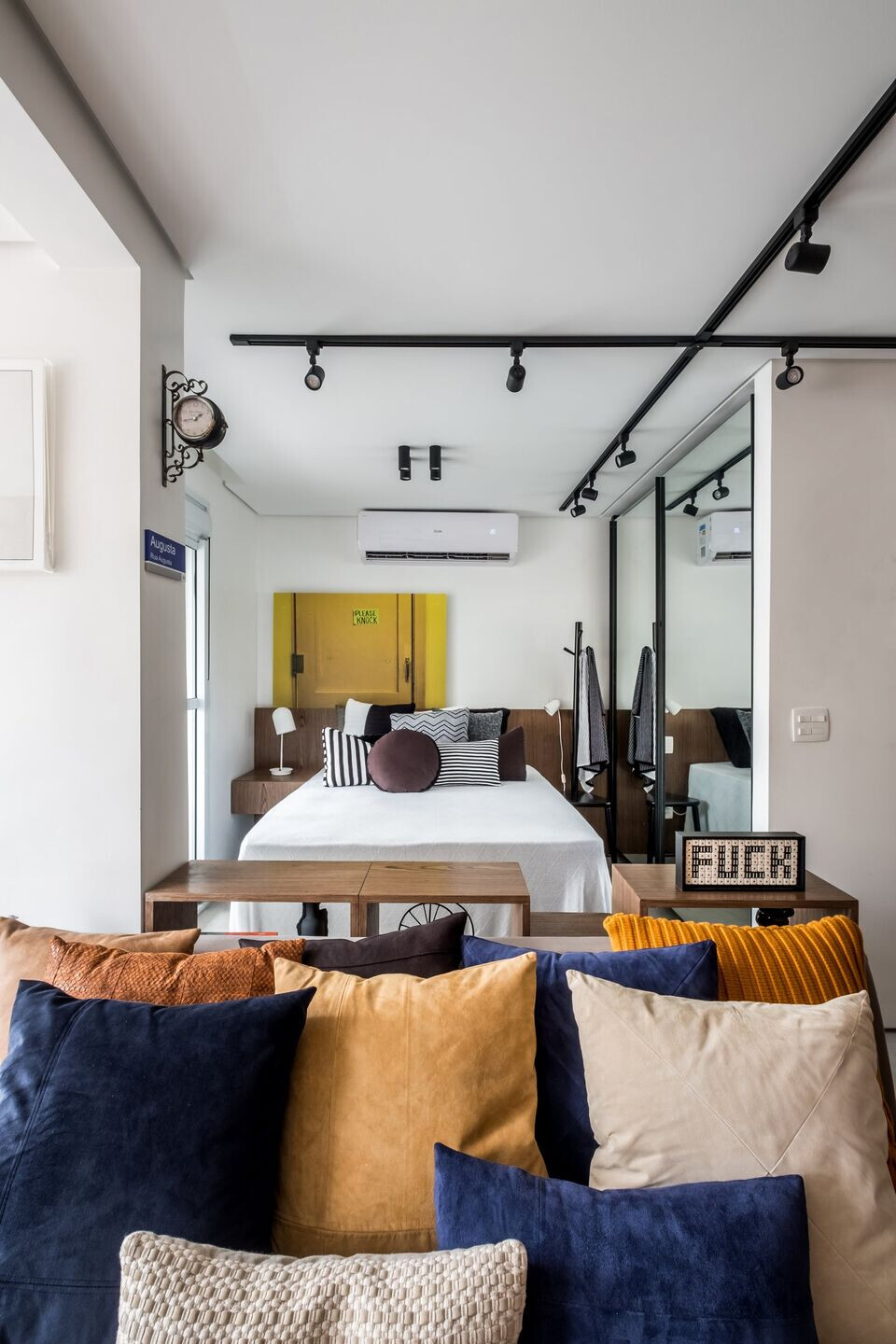 The lavatory floats, defying gravity. Note that it is fixed only to the side wall. For this, it was necessary a metallic structuring embedded in the lateral wall, from where all the hydraulic points come. The upper mirror also seems to float, in the same idea, through the black iron structure that forms the towel rail.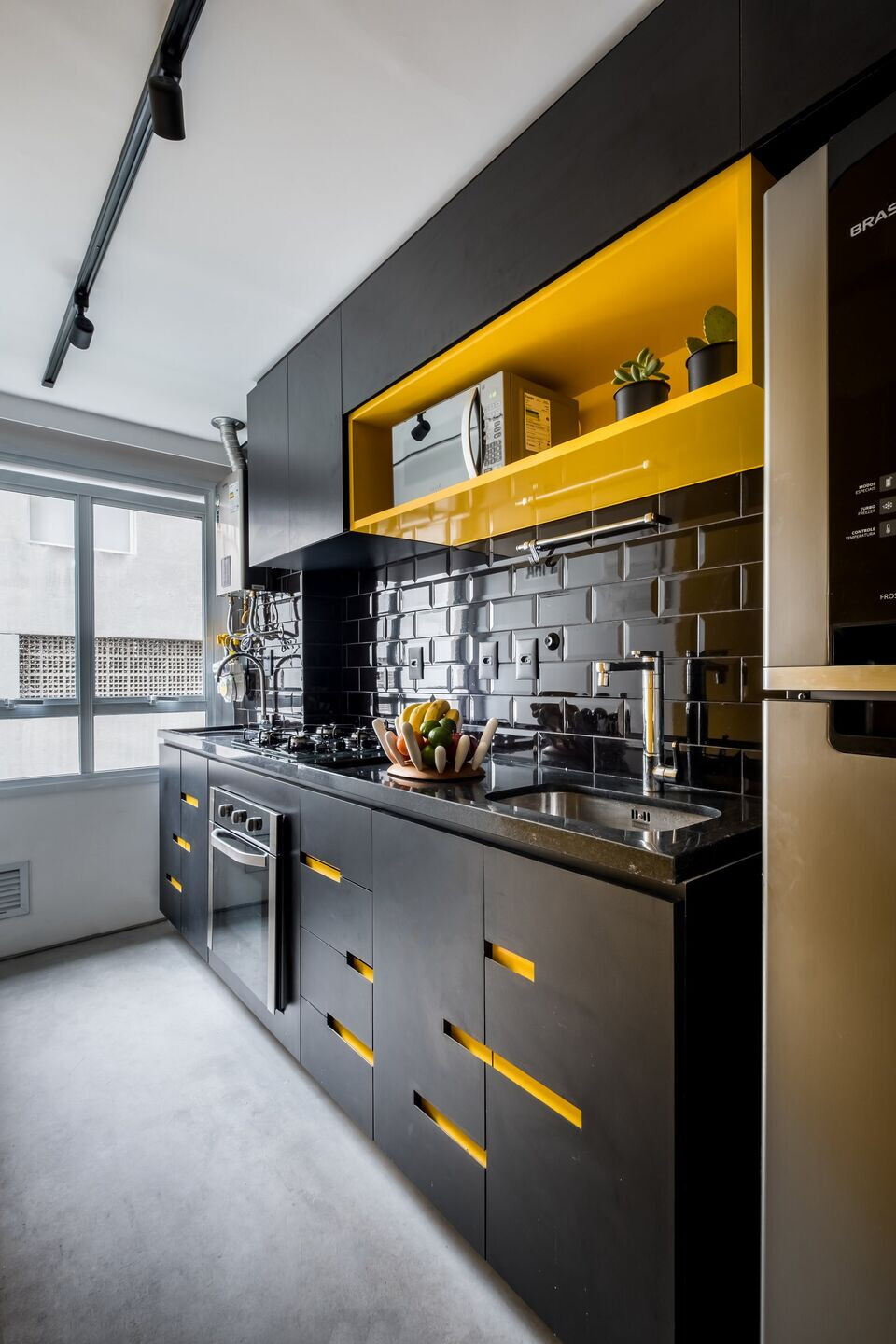 Between the bedroom and living room, the composition of niches that hide the back of the sofa, and the train clock fixed on the wall, demarcate without a visual barrier where the room starts, which is integrated with the rest of the apartment. At the wooden headboard behind the bed, we elected a photograph of a yellow door, alluding to this bedroom that does not have a door. In the kitchen, we desired to escape from the conventional giving movement and asymmetry for the yellow handles in the cabinet, which stand out in the whole black background.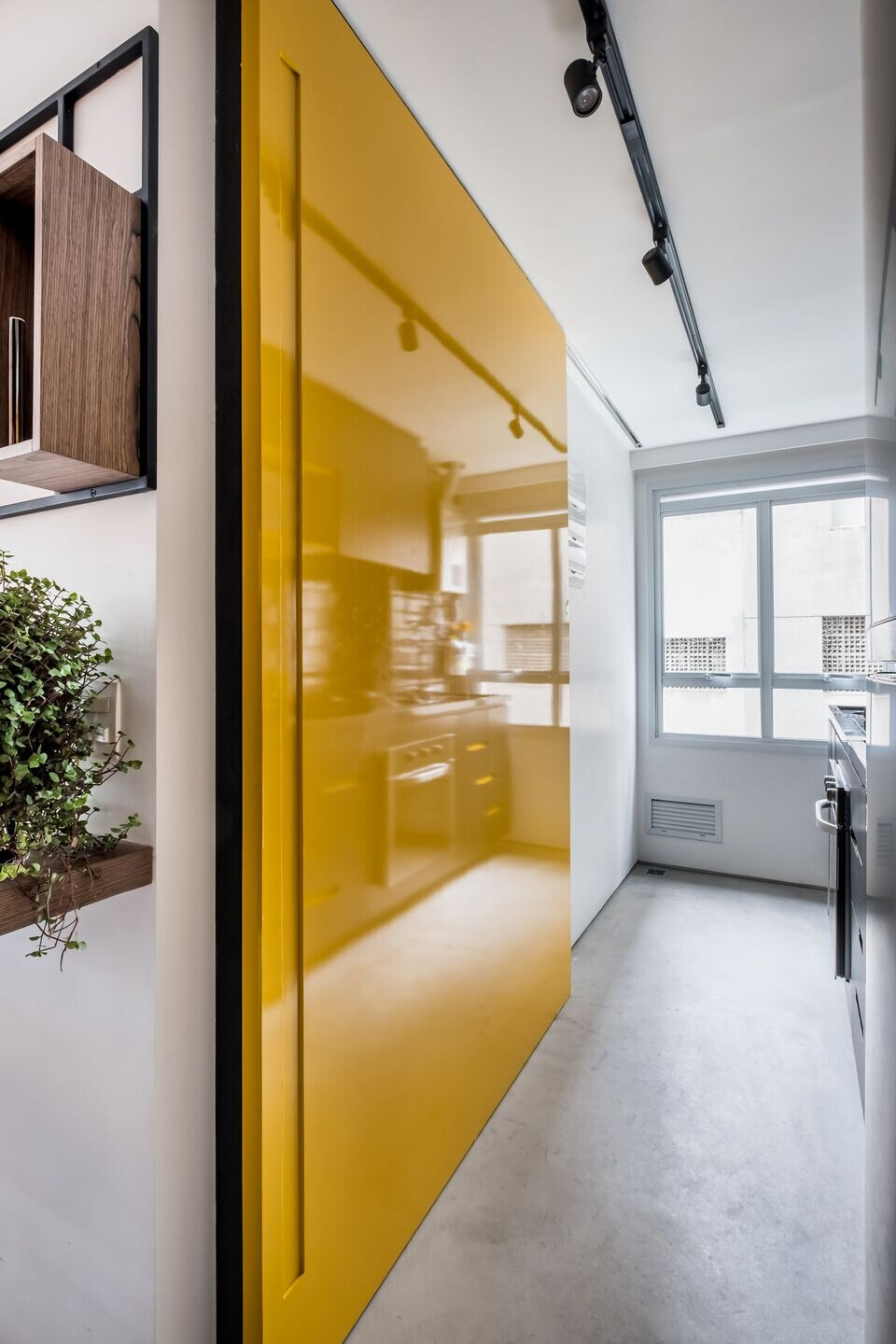 The laundry,is hidden behind the yellow sliding door, which when closed, looks like a panel. The bar, which is the center of the project, has the neon light as a highlight, widely used in bars and restaurants in the early twentieth century, and today much used in decoration.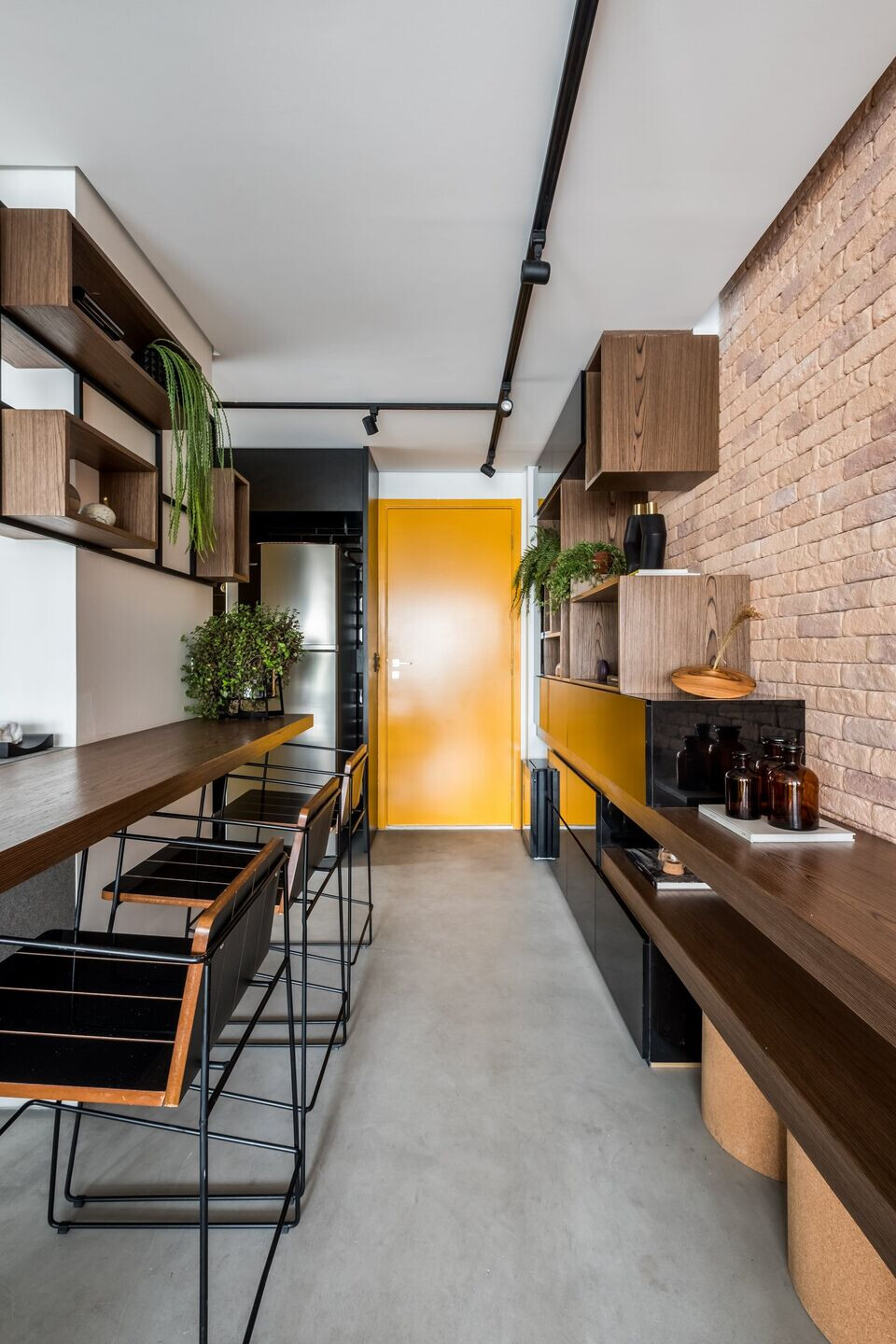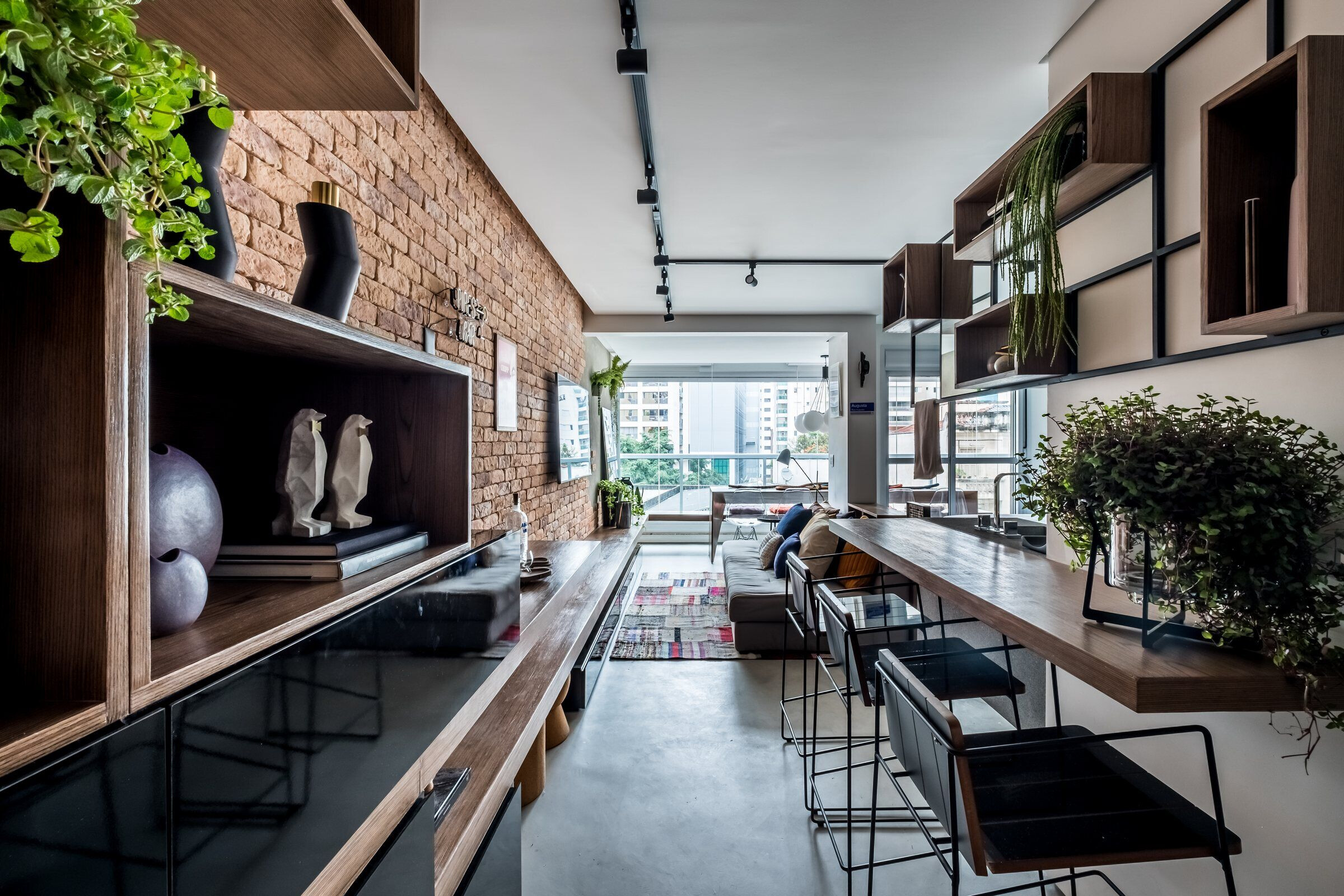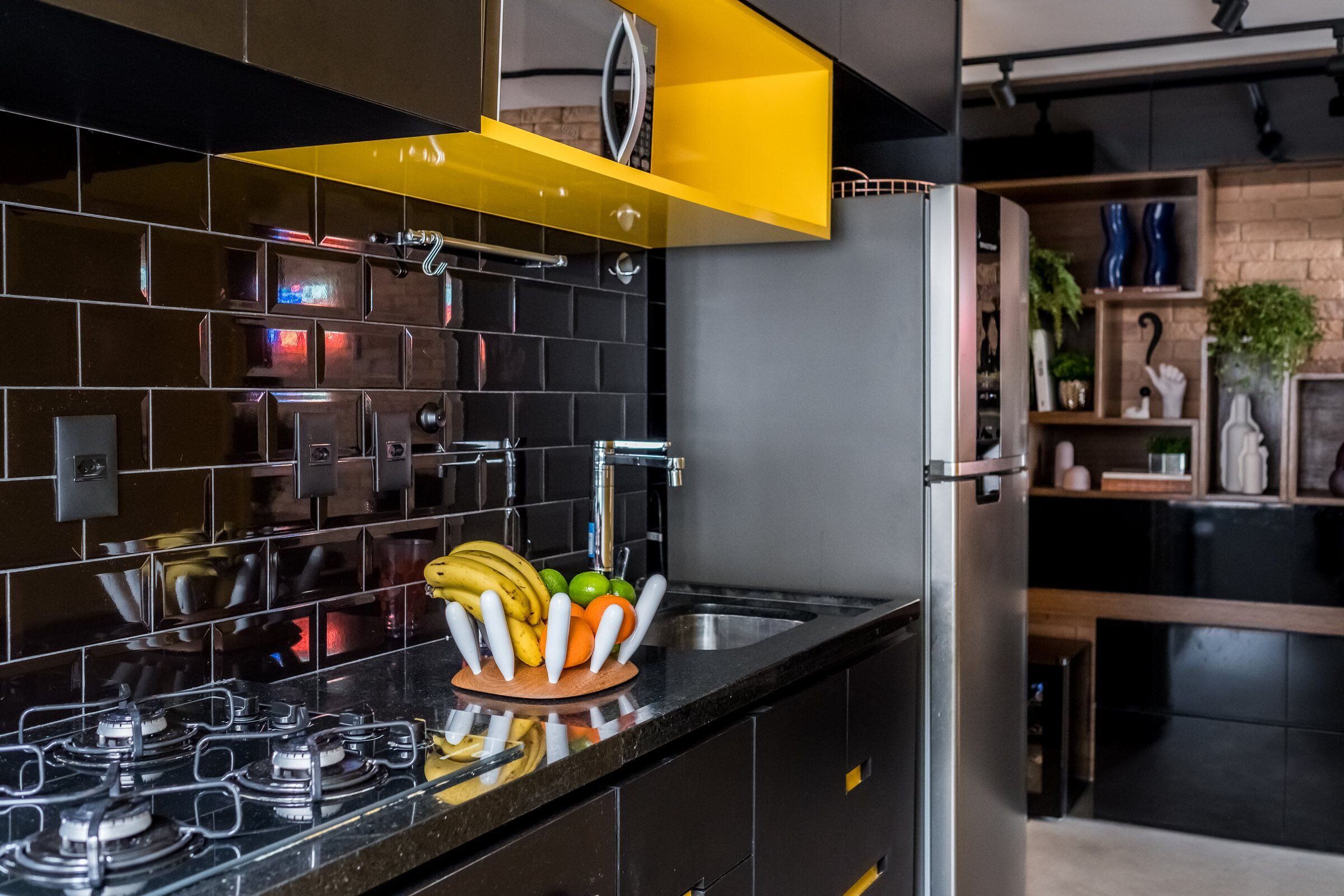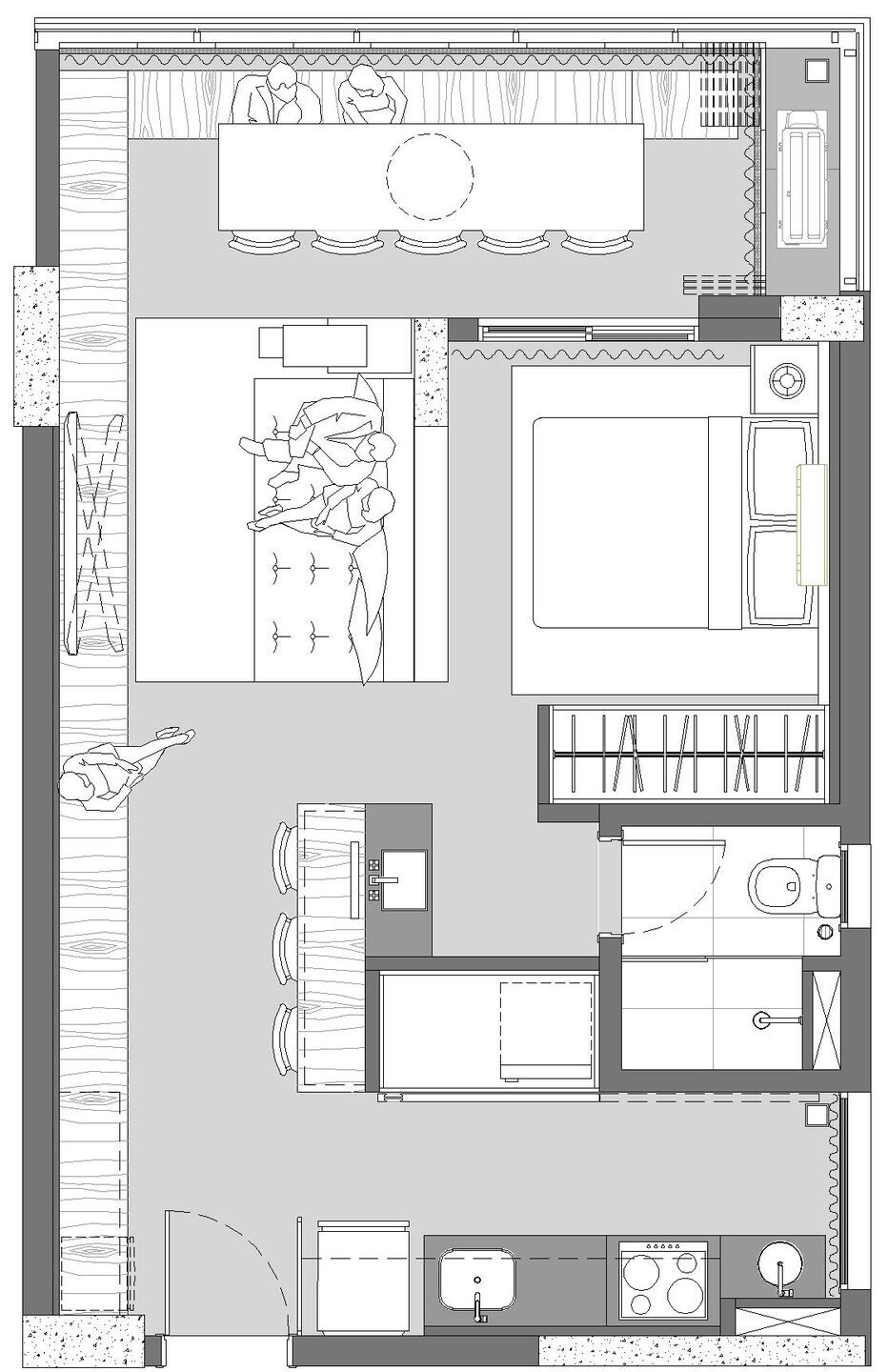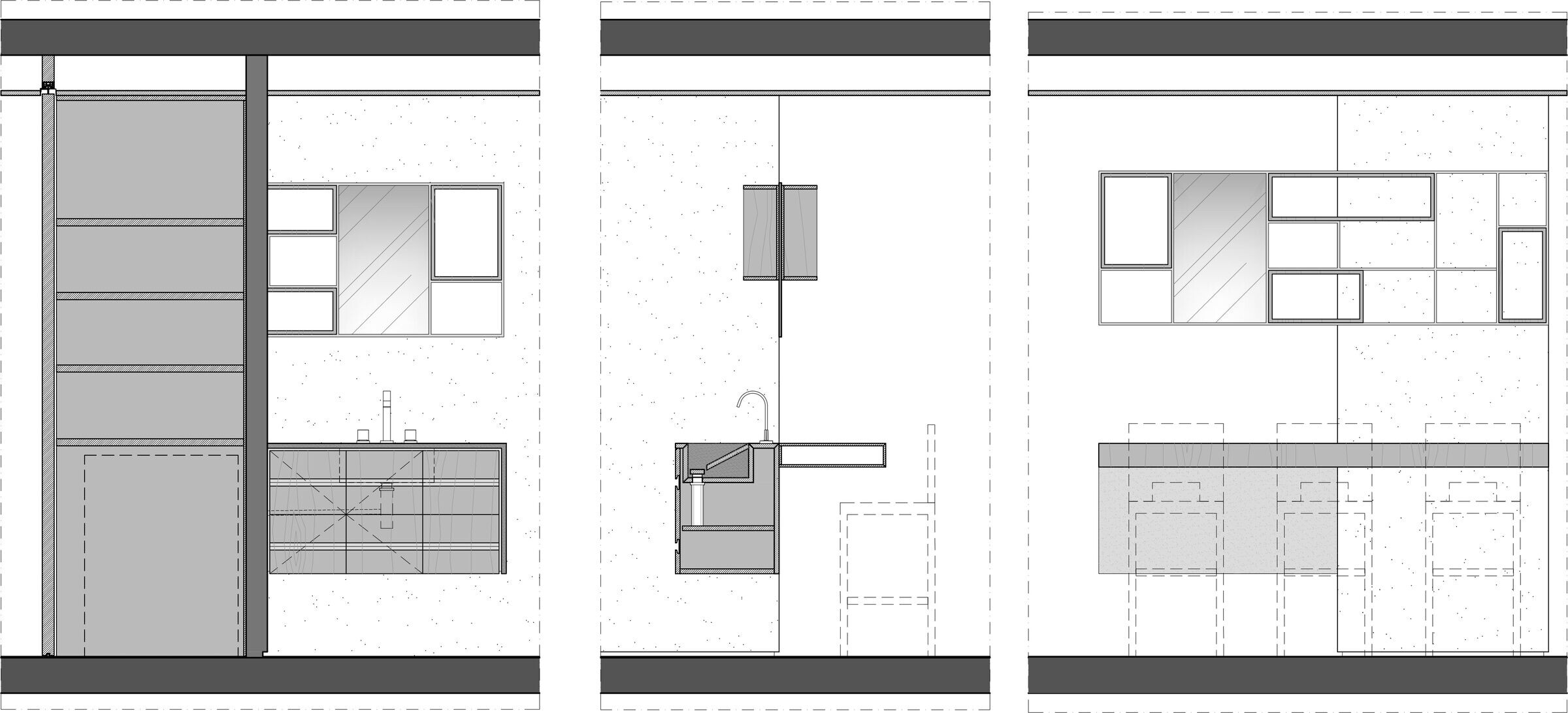 Material Used :
1. Floor: Mr Cryl Gray - Protécnica
2. Lavatory: Black rustic granite - Alonso Marmoraria
3. Furniture: Nogueira wood + black laminate MDF + yellow laminate MDF
4. Carpet: Phenicia Concept
5. Cushions: Codex Home
6. Necklace at the table: Eva Soban, Dpot Store
7. Photos: Art Shot Galery
8. Bricks: Pedra Paulista
9. Fruit Bowl: Studio Gustavo Dias, Dpot Store
10. Concrete Tray: Traço Objetos, Dpot Store
11. Lamps: La Lampe Store
12. Pendant: Yamamura Store
13. Concrete Pinguins: Estudio Iludi, Dpot Store
14. "Fuck" sculpture: Luiz Pedrazzi Designer