When the Consulate General of the Netherlands in Guangzhou approached Superimpose Architecture to design a small pavilion to display Dutch design strategies in China during the Guangzhou Design Week of 2021, Superimpose enthusiastically took the opportunity to implement their vision towards design representation.
The project is a collaboration with the Dutch Consulate, multimedia designer Shard Island, and light innovator and supplier Signify. Superimpose designed the pavilion to be paperless and remotely accessibleas a response to the restrictions caused bythe pandemic situation, and to challenge conventional methods of presenting content in expositions. The pavilion is an integrative design that allows for small-scale live presentations and discussions,and online and pre-recorded offline video presentations to substitute for the typical large-scale and non-targeted presentations. A QR code at the entrance of the pavilion provides more information about the content of the exhibition and replaces the typical cardboard posters, pamphlets and booklets. Theimmersive designserves as an open platform for Dutch creative companies to reach out, to communicate and to interact with Chinese counterparts.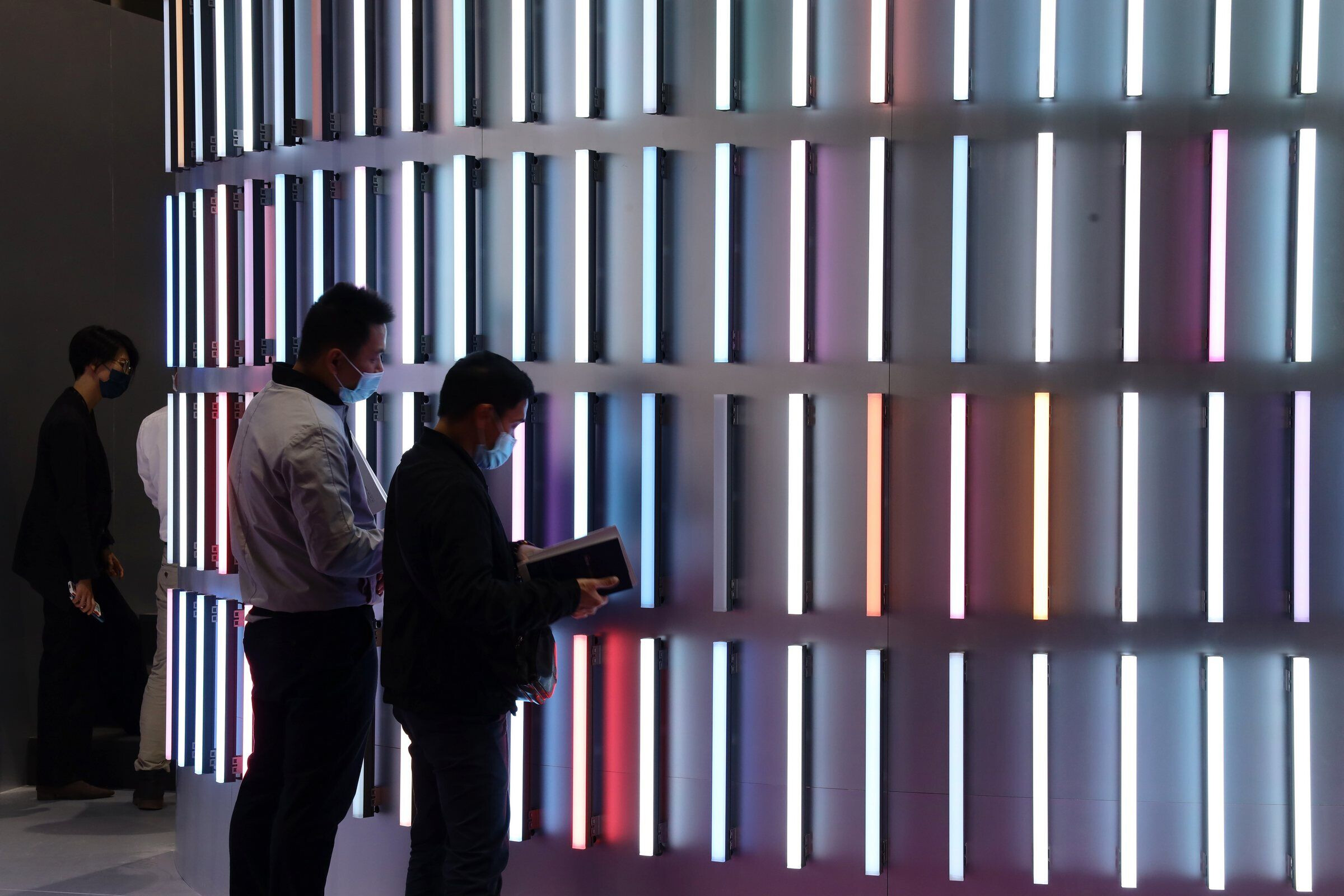 The pavilion is a platform that enables and encourages presenters to discuss design projects beyond their visual appearance, elaborate on decisions made during the design process, and sharehow the design outcome responds to a particular problem statement.As one of the main events in this pavilion, the discussion theme 'Superstrategies' questions how to put design forward as a profession of critical thinking.
The pavilion is located on a small exhibition plot of 48 square meters. In order to create an intimate atmosphere for design sharing, a semi-circular wall separates a small auditorium from the exhibition hall. The curved wall naturally provides a comfortable circulation and allows people to enter the auditorium space from both sides. The auditorium hassteps,which provideseating with optimized views towards the stage.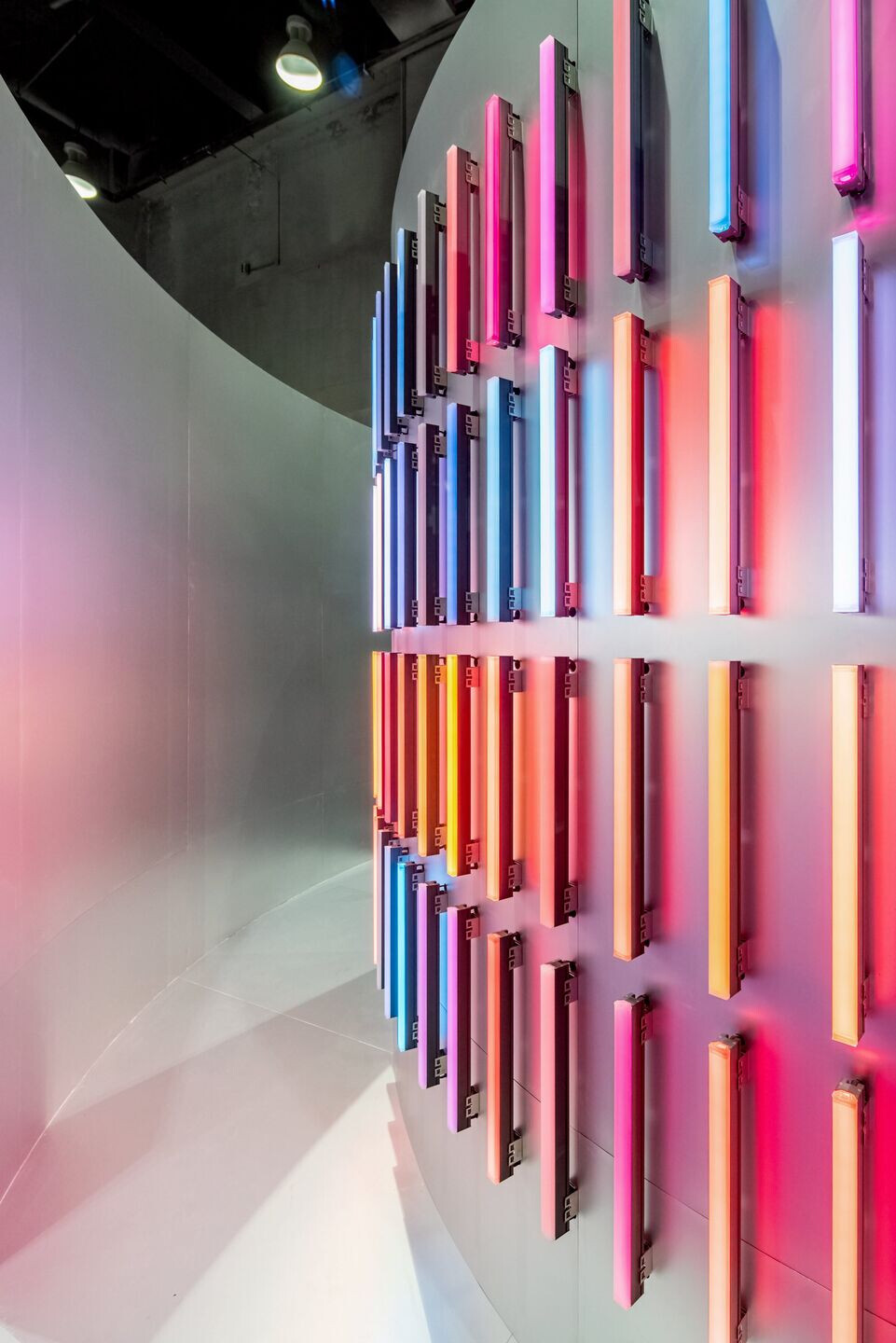 In order to attract visitors into the booth through the power of color, 124 linear LED light fixtures arranged in 4 horizontal bands are mounted to the exterior of semi-circular wall. The horizontal bands are an abstract representation of the typicallycolorful Dutch flower fields. Multimedia designer Shard Island developed an interactive script for the pavilion lights. When there is an event happening in the pavilion,it directly converts real-time presentations into abstract colors through theLED lights on the exterior curved wall. This innovative representation is achieved by streaming the presentations through a wireless transmission system and withadvanced interactive multi-media technology.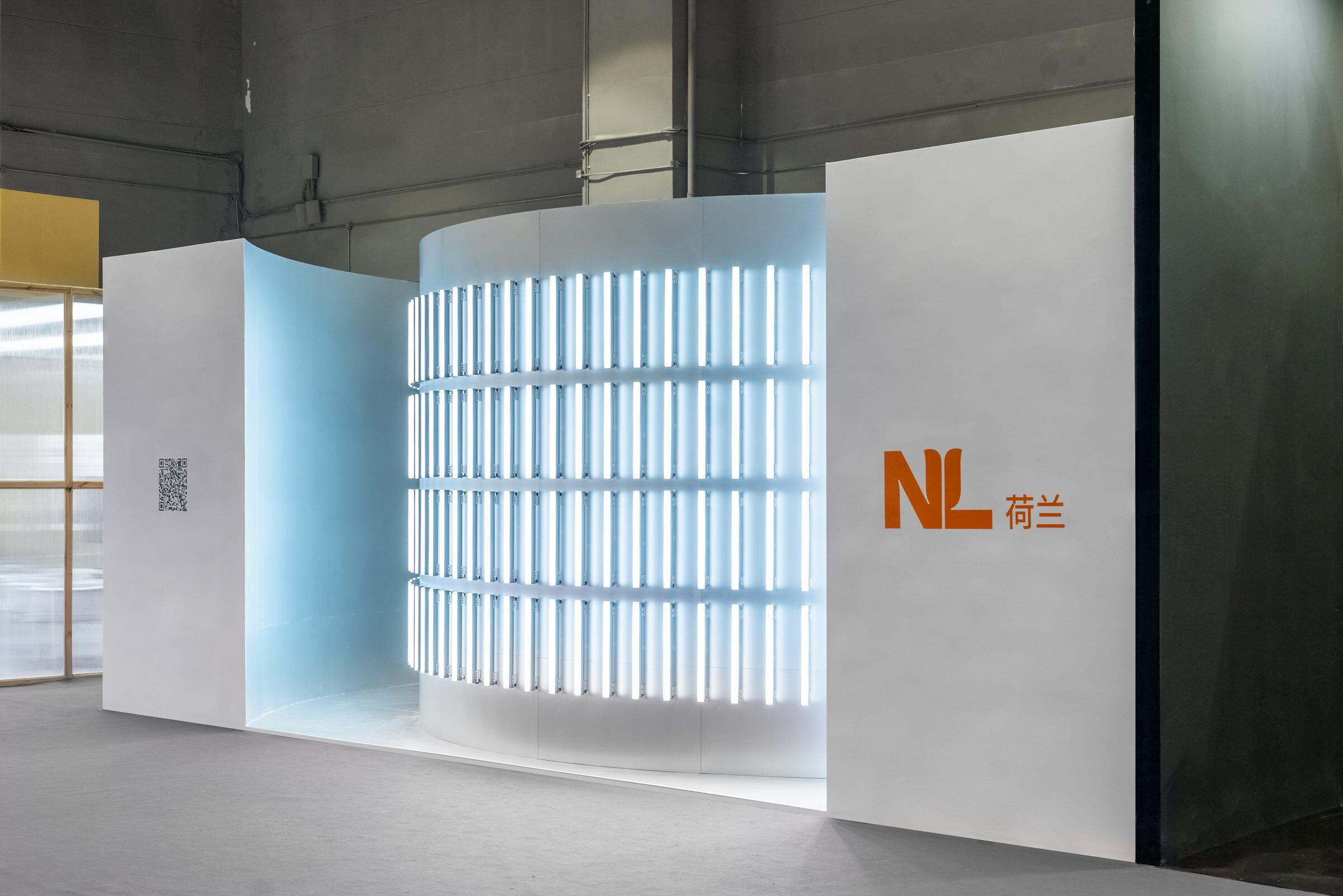 The pavilion is mainly constructed by white painted plasterboard, while a brushed metallic veneer layer on the curved wallsreflect the LED lights. Dark carpet is used on the auditorium steps to improve the acoustic situation. The LED lights will be disassembled and re-used after the exhibition.
Team:
Carolyn Leung, Ben de Lange, Ruben Bergambagt, JunWei Loh
Collaborator(s): Shard Island, Consulate General of the Netherlands in Guangzhou, Signify