The design intent emerged from the existing landscape scenario at site. The approach to the existing house was through a circular driveway with its end as the drop off. The most striking aspect being fully grown forty feet high palm trees flanking the drive, configured in a doughnut shape. This landscape element forms the heart of the design and becomes the primary focus eventually.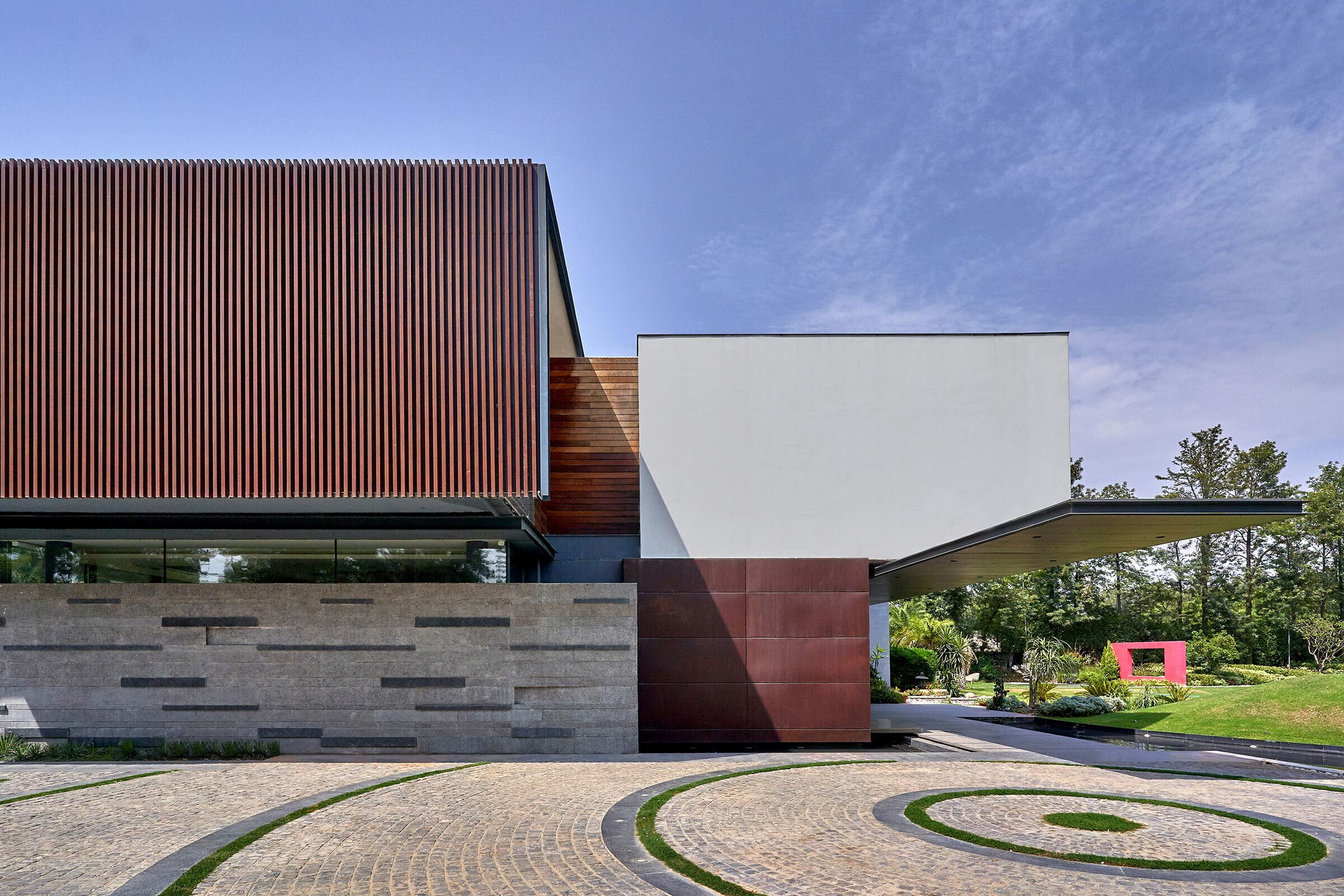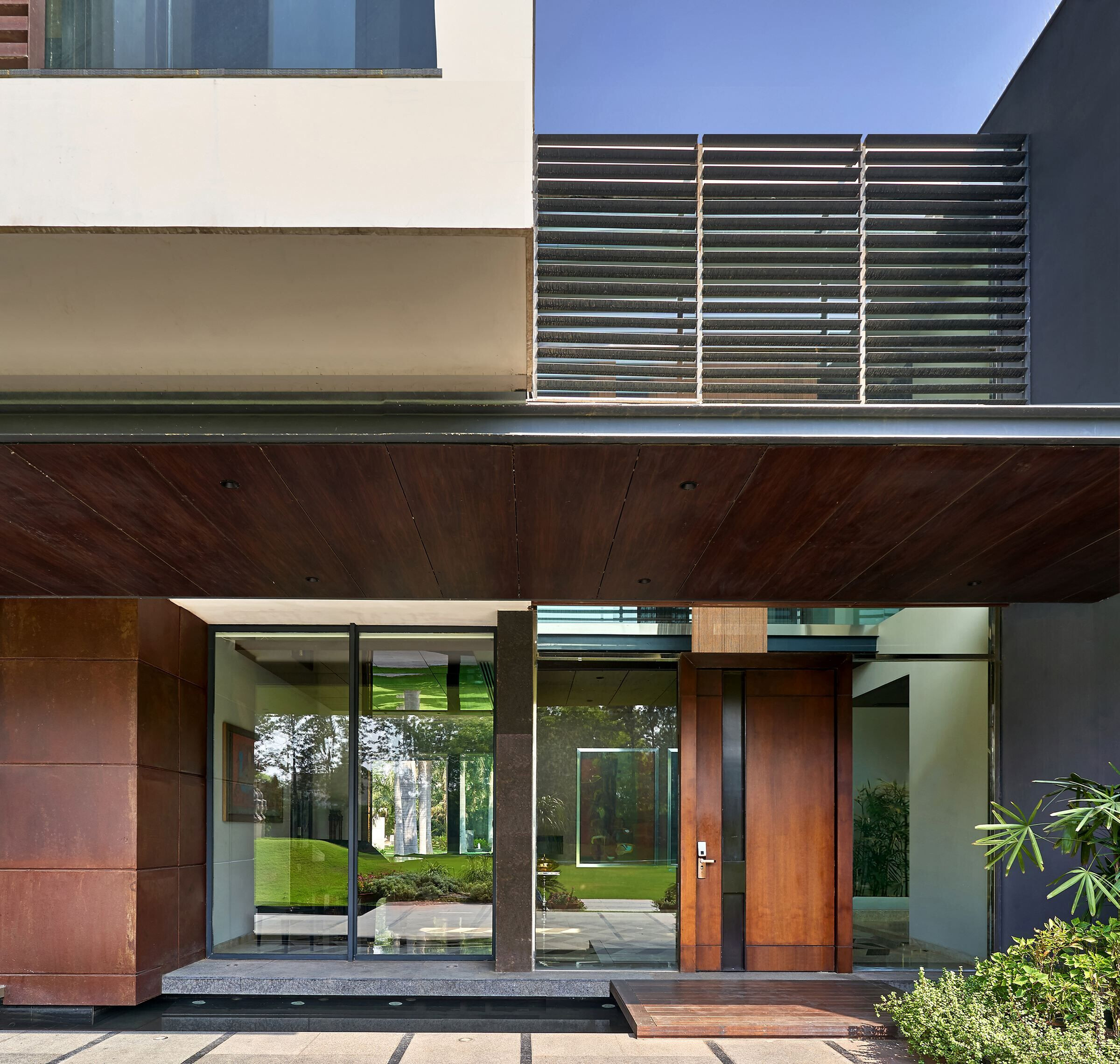 This existing setting was capitalized now in an inverse landscape typology whereby one views this palm grove, not as the first point of visual contact but as a culmination. As a result, the approach to the house is now routed through the east face of the building. This helped in two ways; the proposed double height entrance foyer filtered in the morning sun and secondly, series of spaces unfold as one enters into the house creating a dramatic sense of arrival with a cascading water feature as if vying for center stage. To achieve routing the entry through east face, a dramatic hundred feet monolithic granite clad wall added was introduced.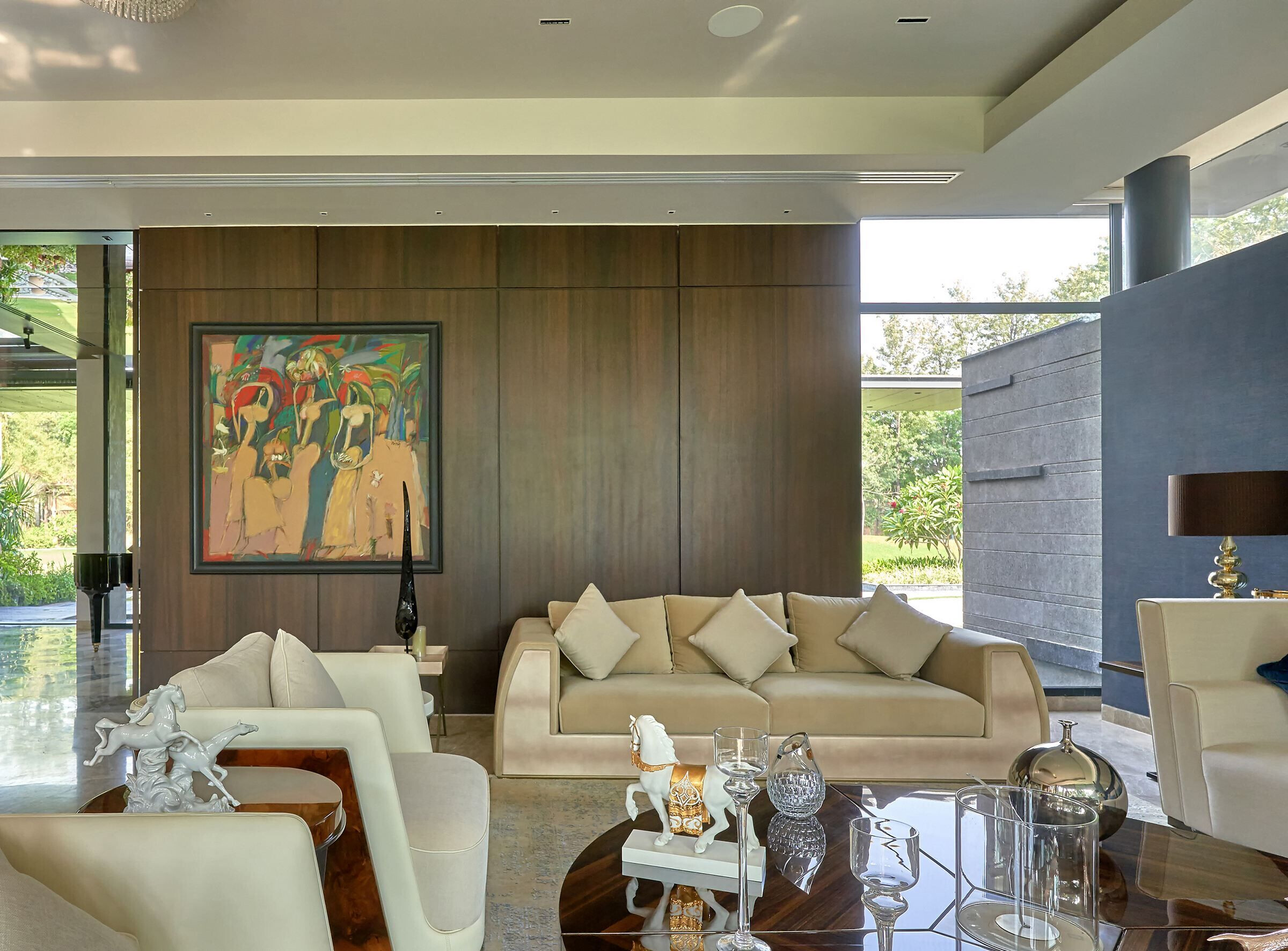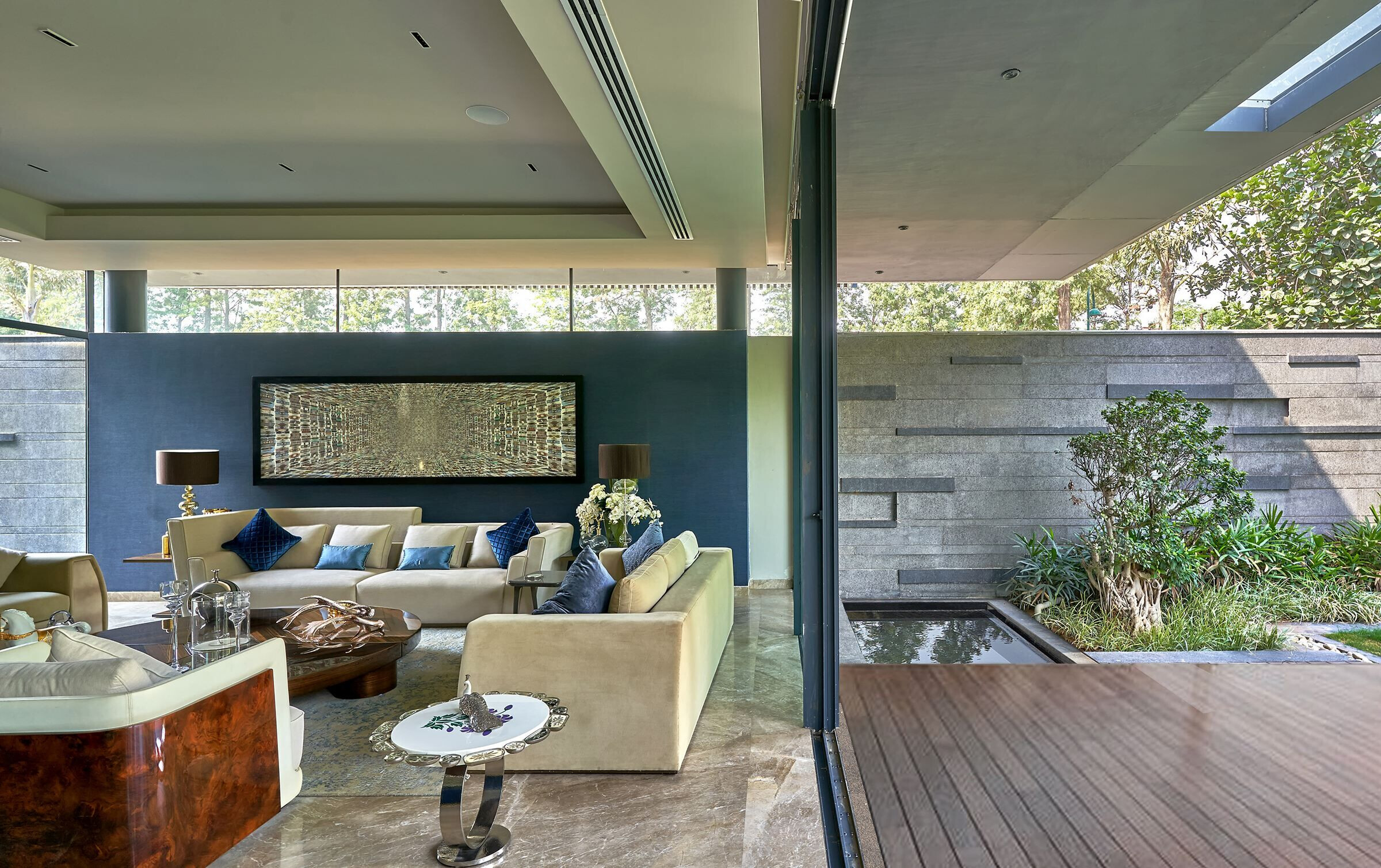 So, while this visual axis was established on the East West axis, the upper floor extended out from the older block towards the south on the North South axis. This juxtaposition was further accentuated by cantilevering the upper volume onto the drive court on circular columns as legs with a contiguous clerestory glazing on the ground floor and made it fell like hovering above. The sense of movement on the upper level in north south direction is further heightened by inclusion of a bridge that spans the length of the double height foyer.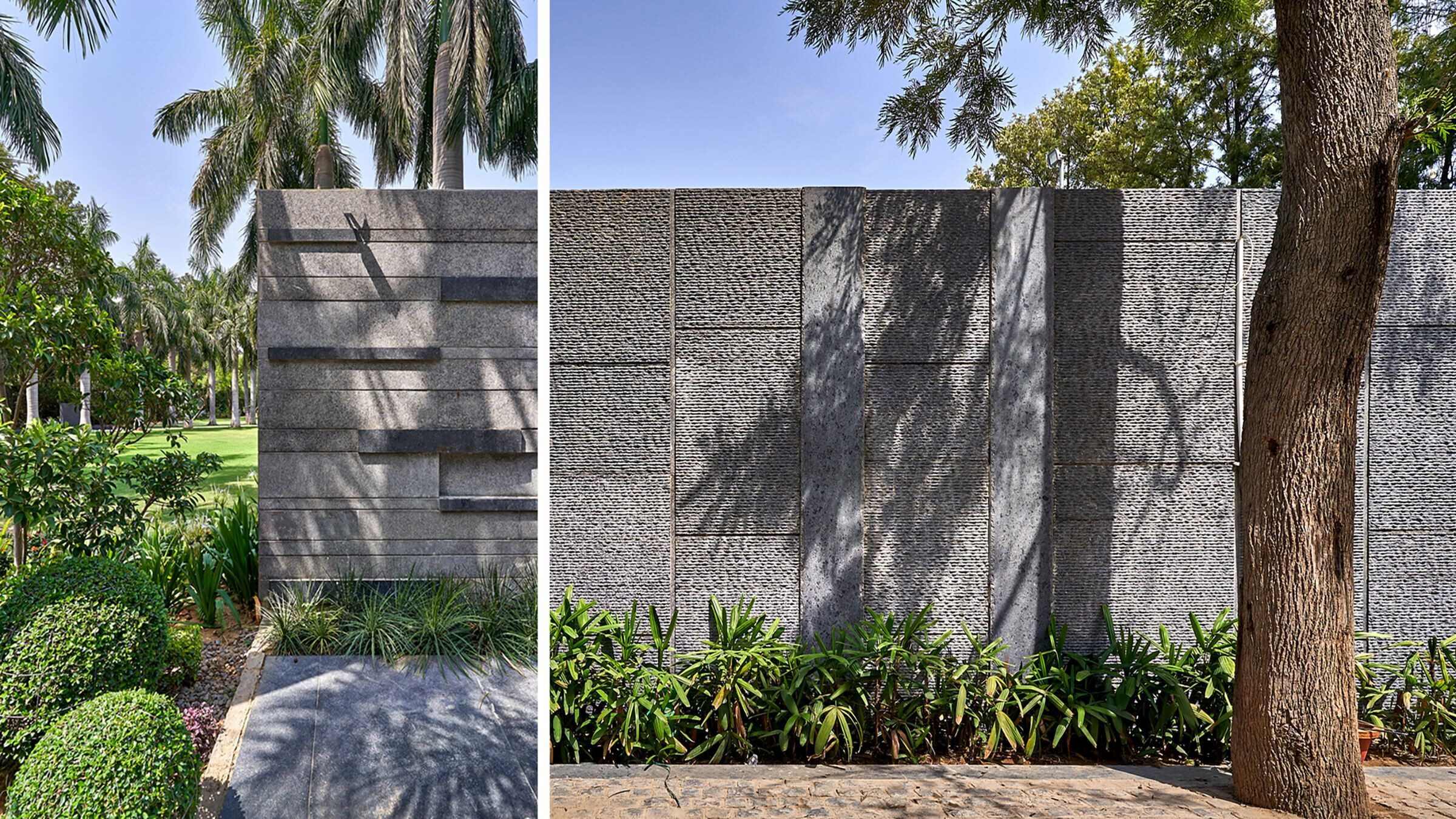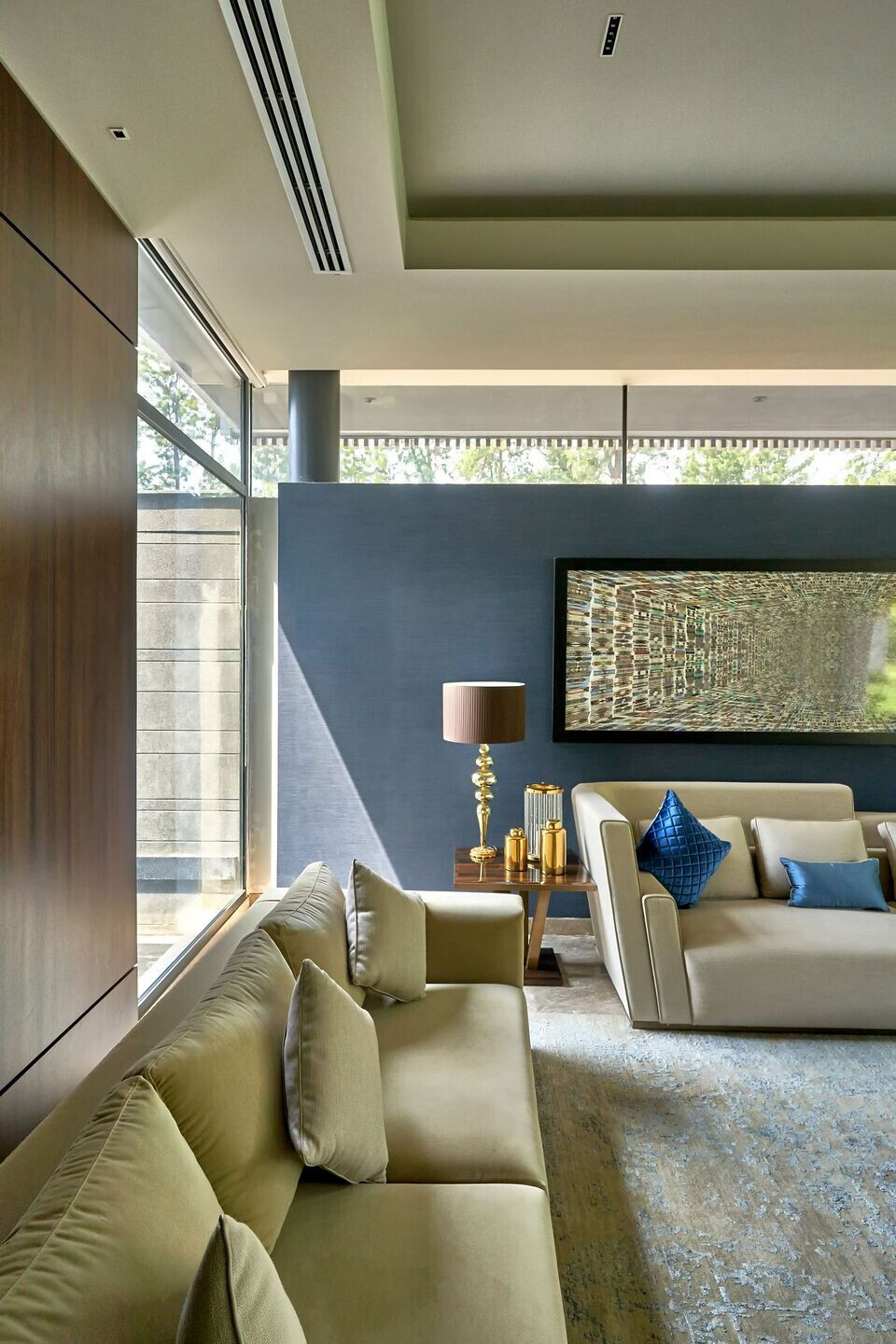 The program on the ground floor is configured between three zones. Starting from the north in the first zone sits the existing block. One granite wall spanning along east west demarcates this zone. Between this and second wall sits the semi-private zones i.e., family dining and lounge. The third zone is formed by placing the main feature wall that separates the Formal zone of the house with the drive court.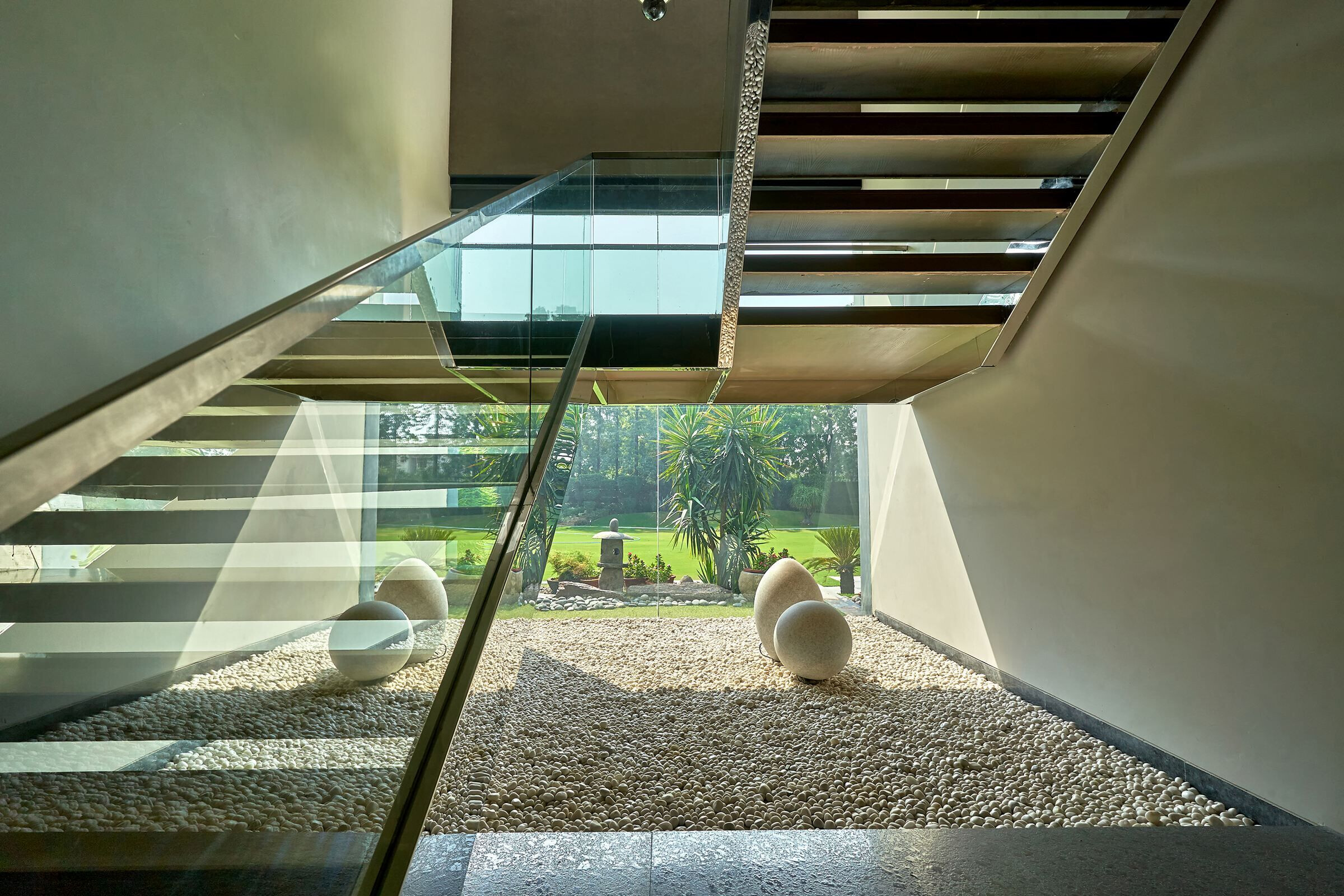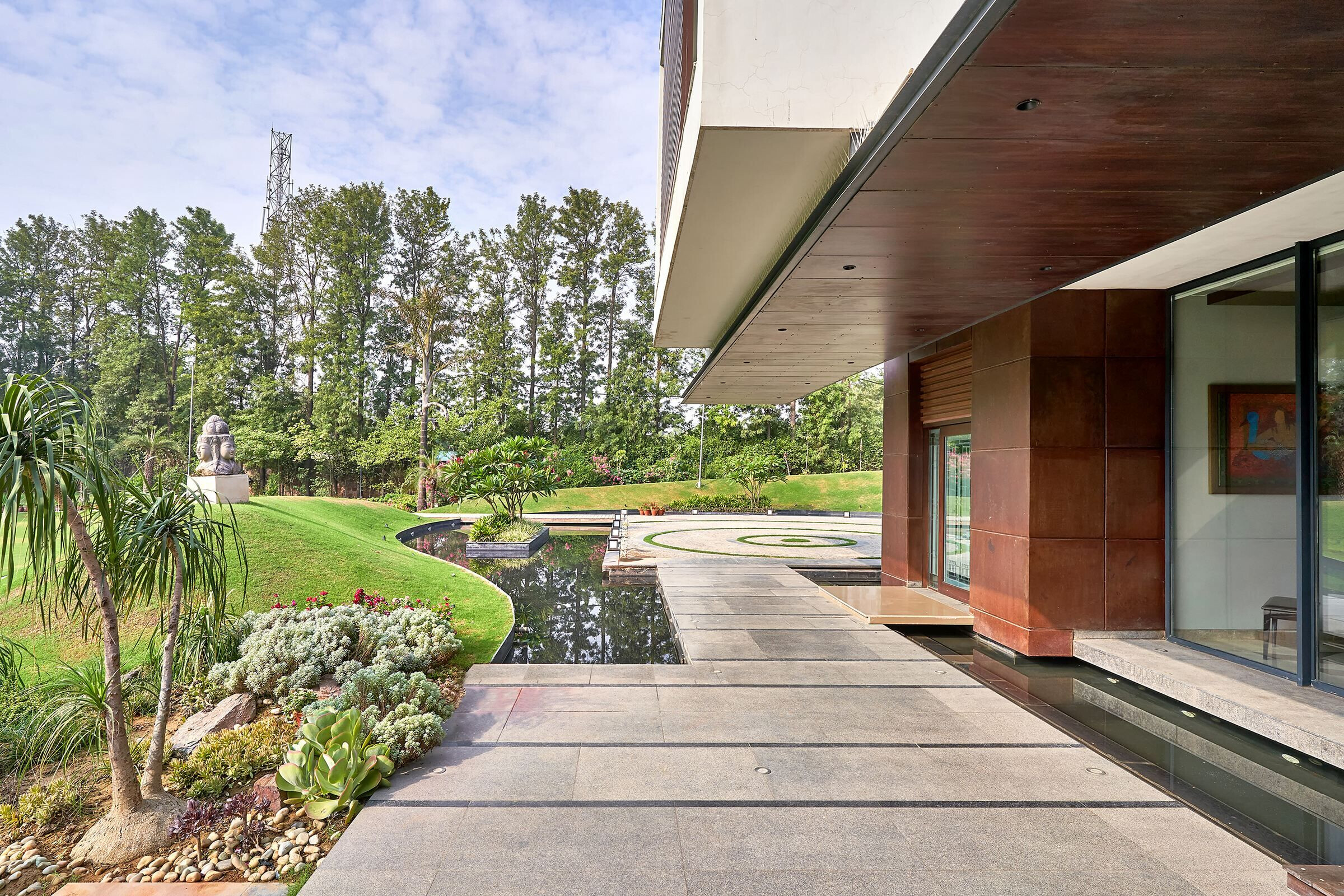 The house is a perfect blend with the landscape and gives the feeling of being one with its surroundings whereby living spaces are woven together through indoors and outdoors.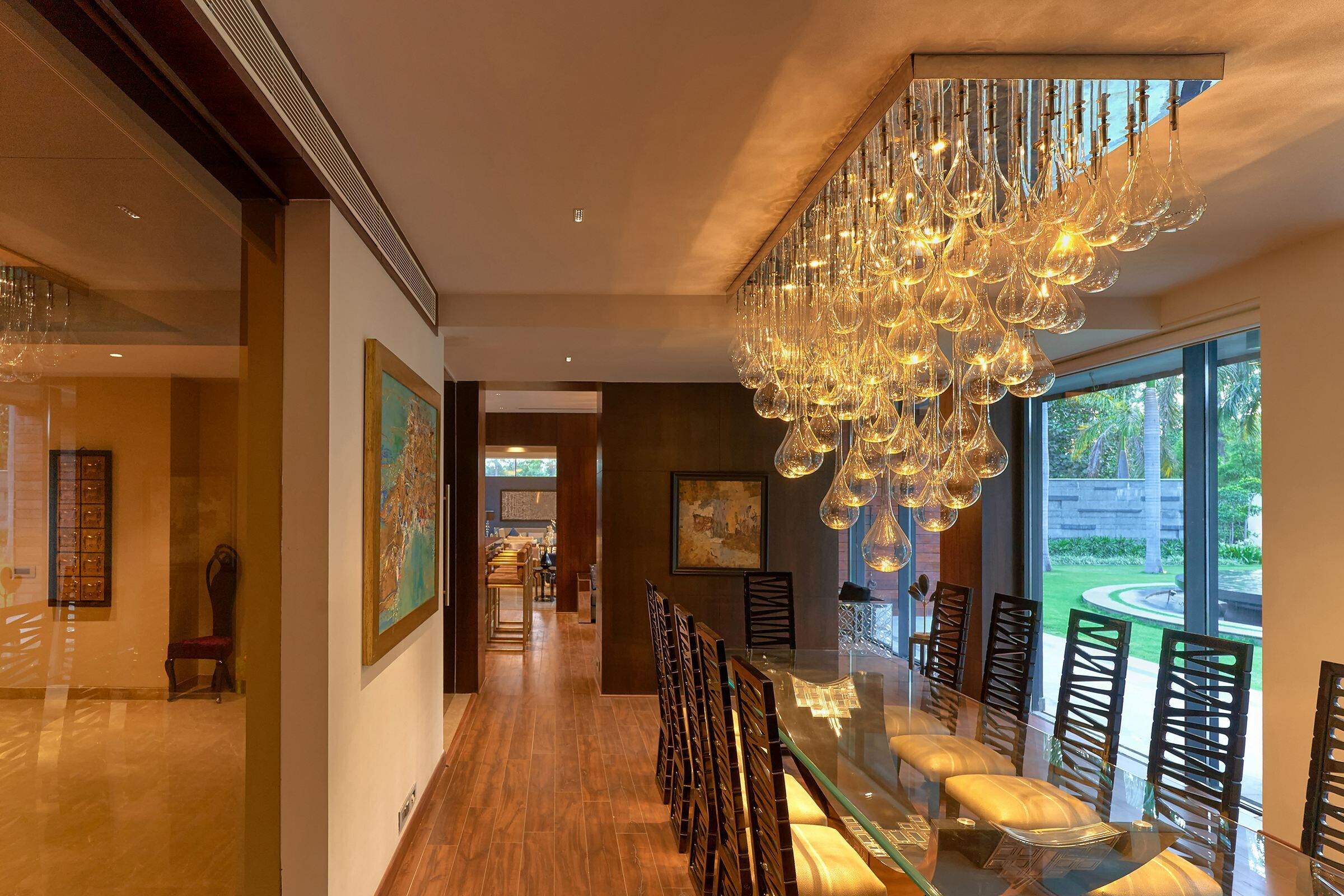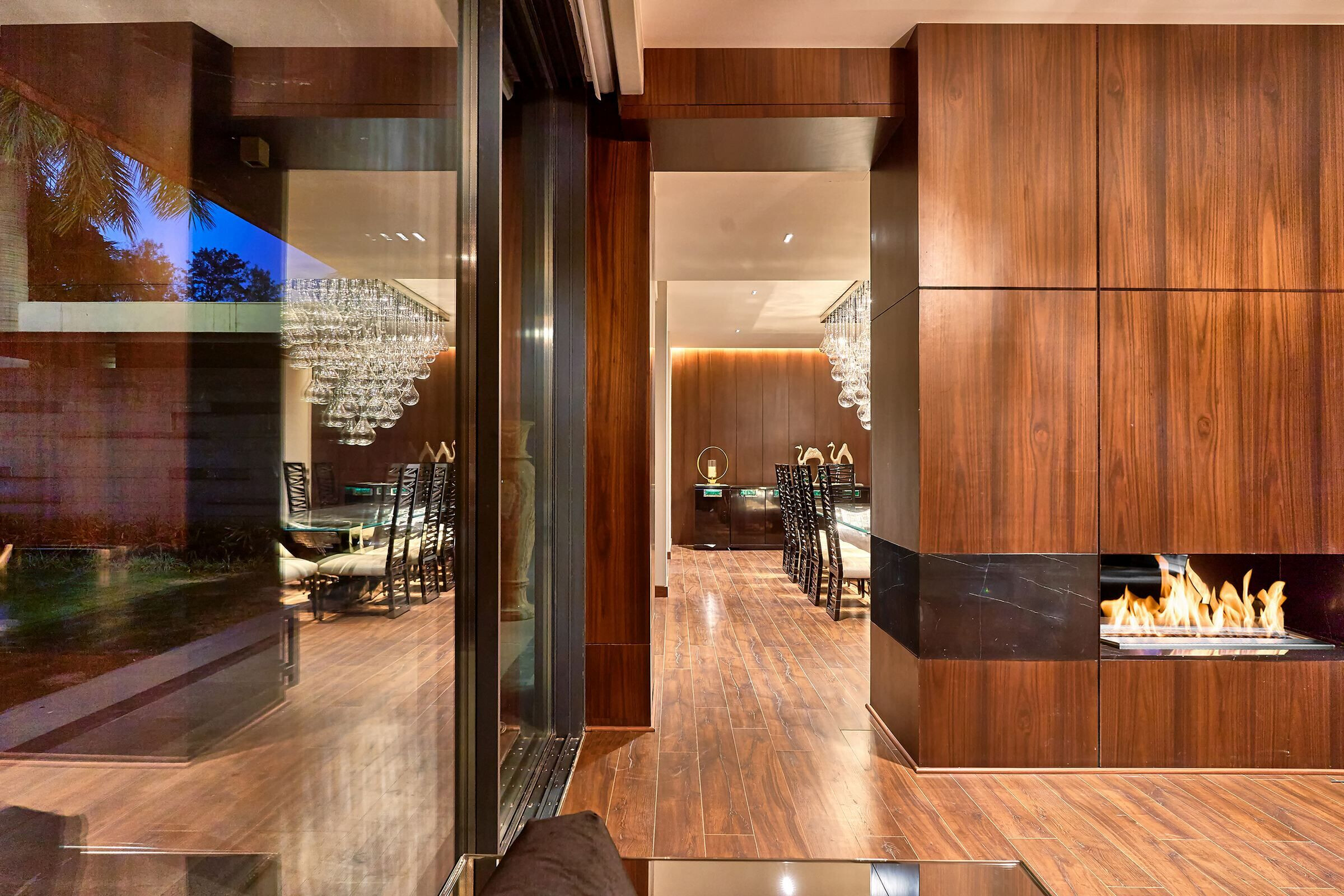 Throughout the house, the texture of the granite stone and natural finishes complements detailed metal work such as vertical screens, louvers and canopies. High‐quality contemporary furnishings and finishes introduce a sense of understated luxury with a modern take and impart a sense of calmness and cohesion.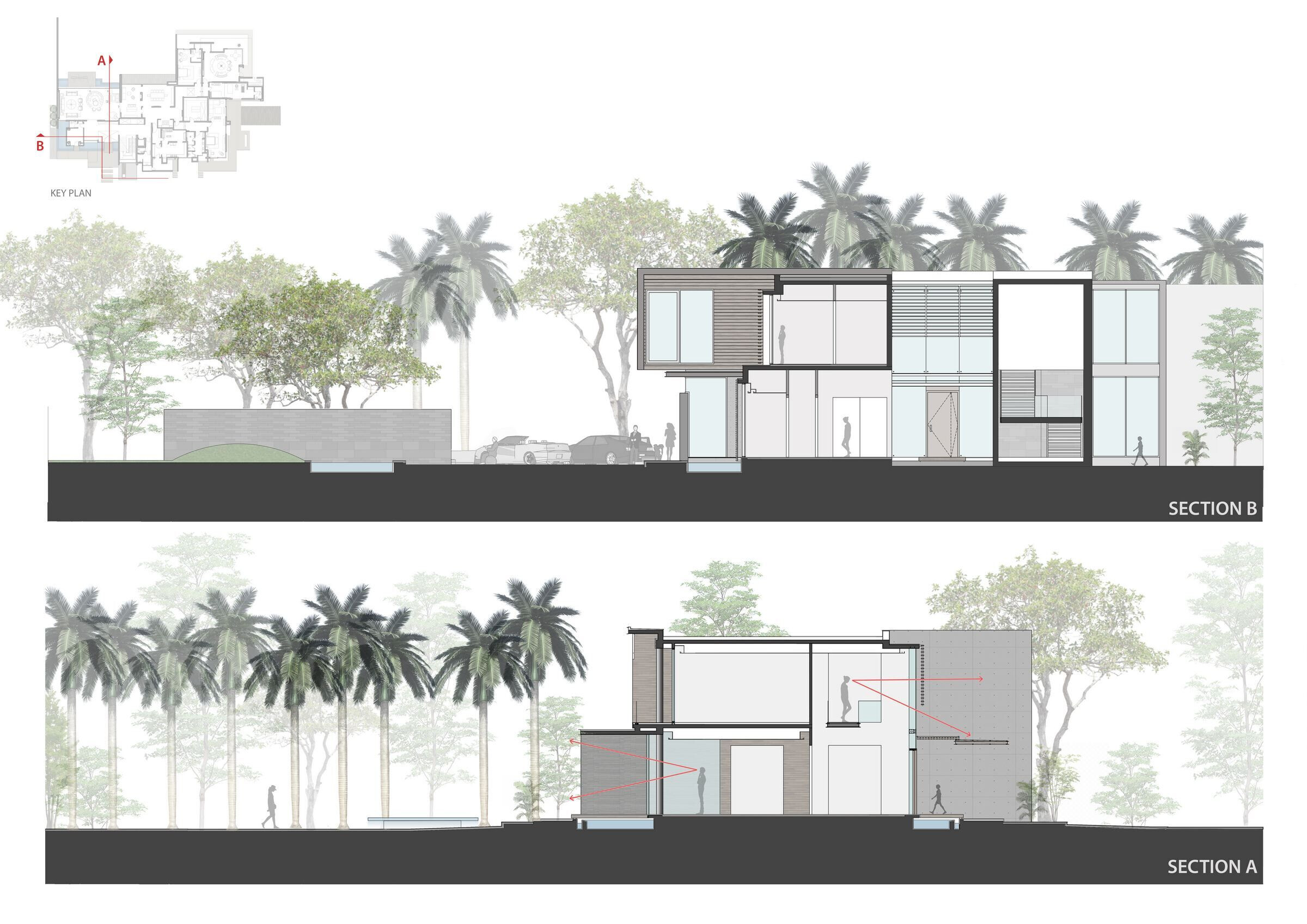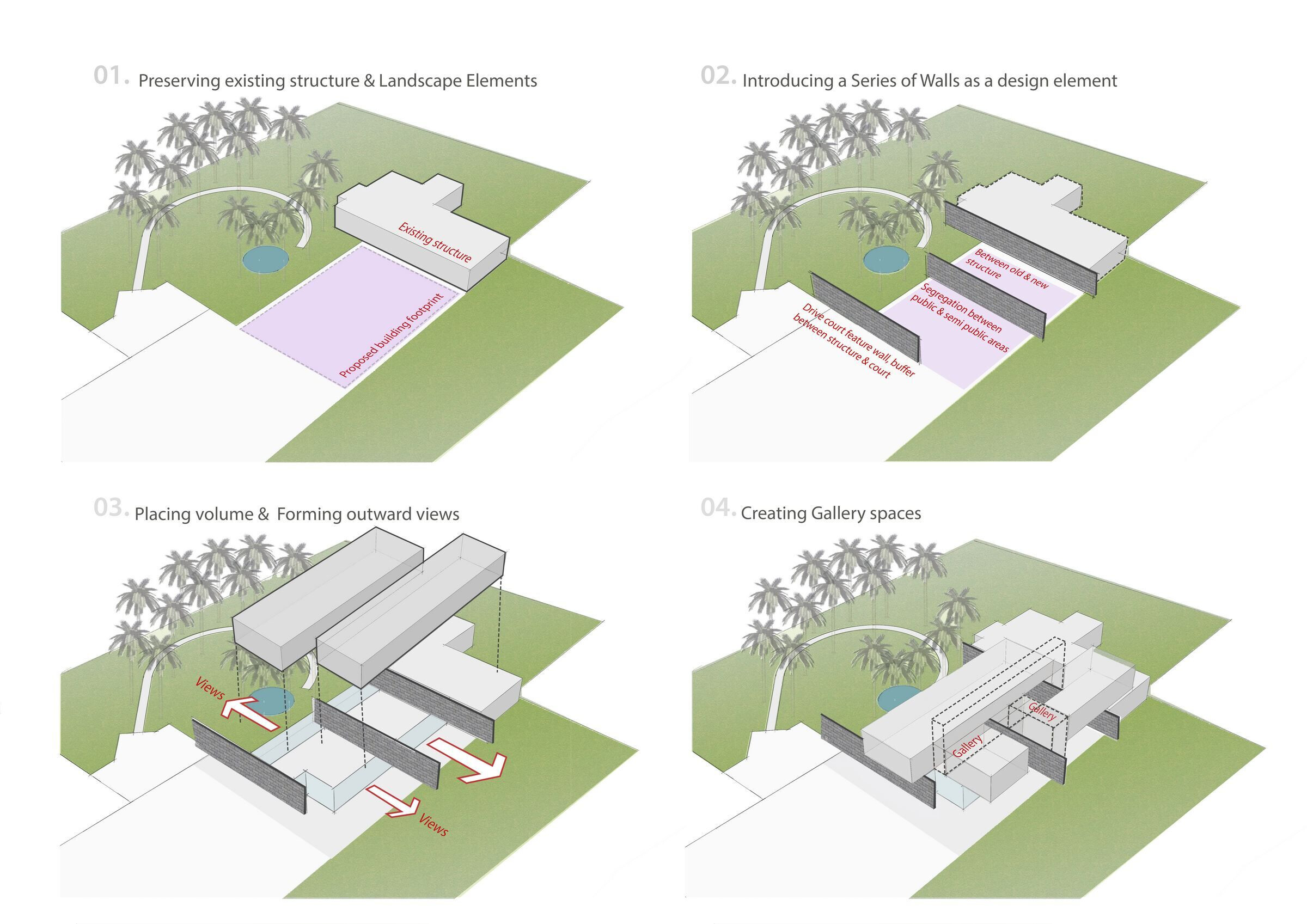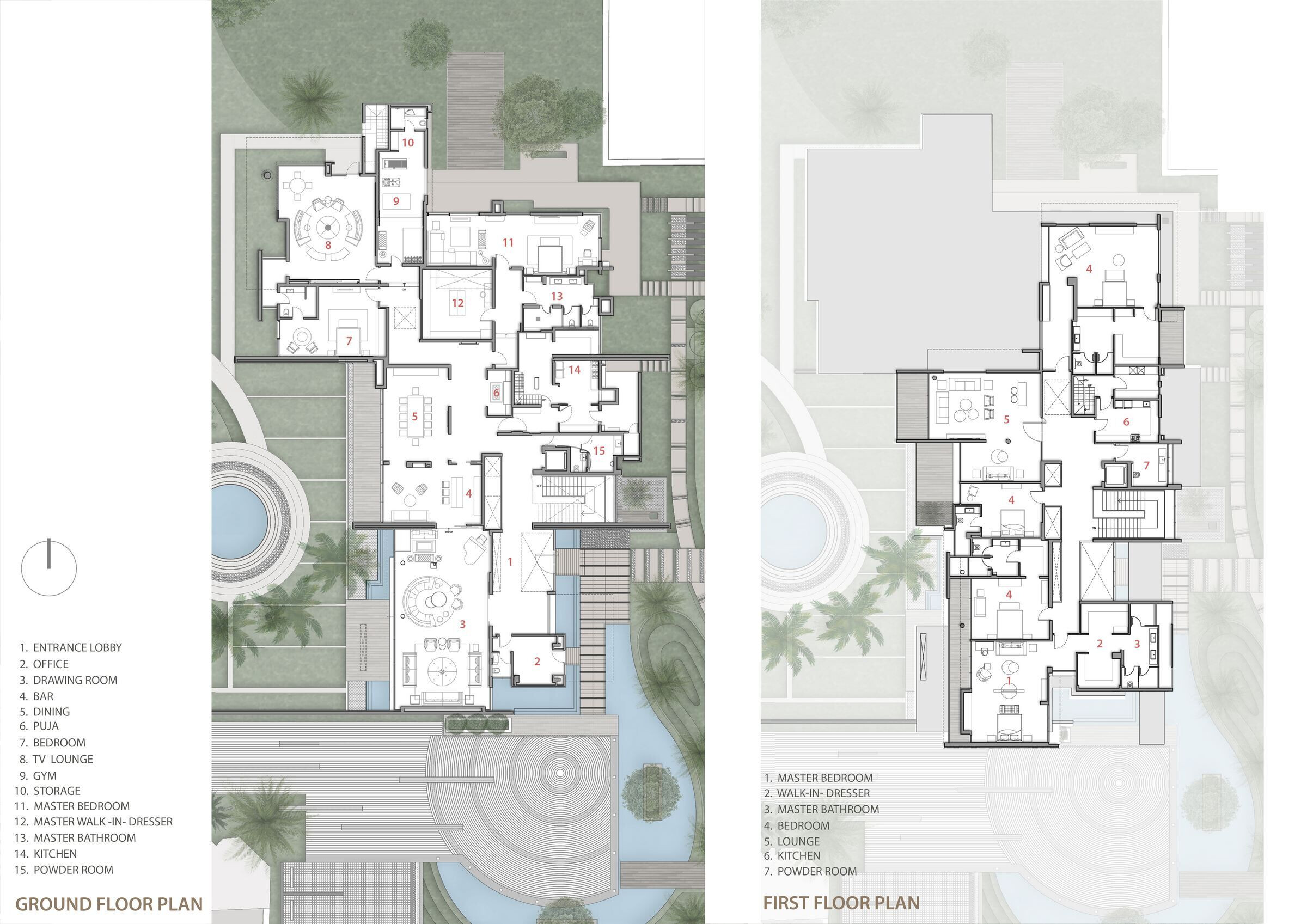 Material Used:
1. Facade cladding: Granite, Aluminum, Corten Steel,
HPL(Greenlam)
2. Flooring: Marble, Granite, Limestone
3. Doors: Veneer Doors(Century Plywood)
4. Windows: Aluminium fenestrations (Canderview), (Schucco)
5. Roofing: Concrete, Metal, Aluminium
6. Interior lighting: Troll, Jainsons
7. Furniture: NewAge
8. Sanitaryware Hansgrohe, Kohler
9. Glass: Asahi India (Double glazed)
10. Elevator: Schindler (3300 IN)
11. HVAC: DAIKIN (By Magneto)
12. Interior Fit-outs: SPAGO, NEWAGE