STORY BOARD
PHASE 01 BLOCK -
So as to create spaces where a student and teacher can come together and interact , we decided to anchor the new proposed blocks along the periphery of the space and orient them towards the central larger gathering space. A series of courtyards were perceived such that one big space gets sub volumes and the journey from one space to another is like unfolding of spaces offering discoveries of new elements , each time a student or a teacher moves from A to B . This series of unfolding volumes retains the child like curiosity inside a student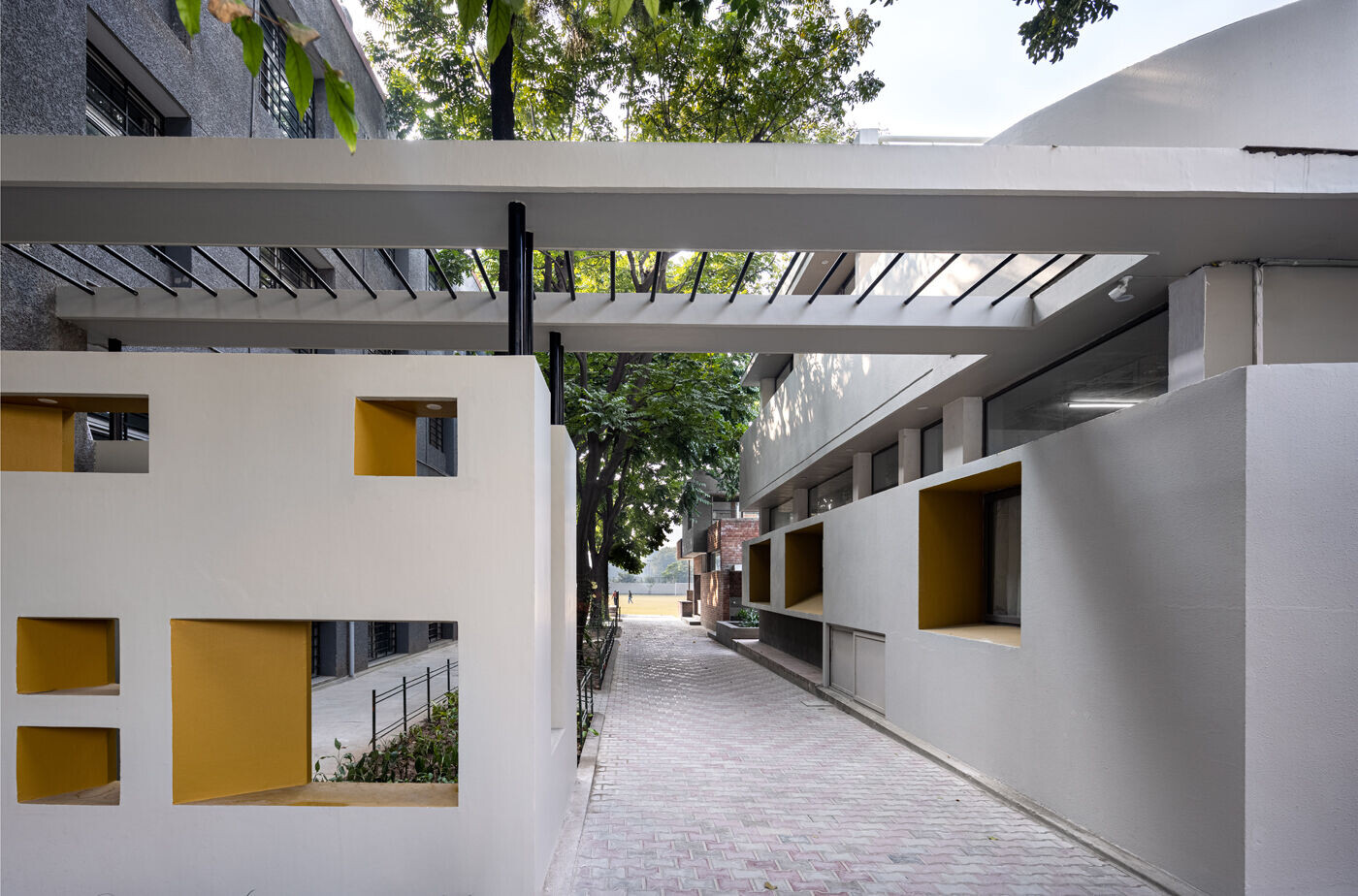 EXTENTION BLOCK 01 - KINDERGARTEN SCHOOL
COURTYARD AND THE PAVILLION SEATING
This block was planned around a courtyard in such a way that all the classes look into the court space . To encourage the students interaction two classrooms were shifted at the upper level offering a shaded verandah space which we transfornmed into a pavillion gathering with theatrical experience having a stage on one end . This is a part of circulation in order to create actor spectator relationships in the space . The transition from the shaded verandah into the classroom is through these raised seatings where the kids can site and play . These raised steps move inside the classroom and also become part of the formal seating arrangements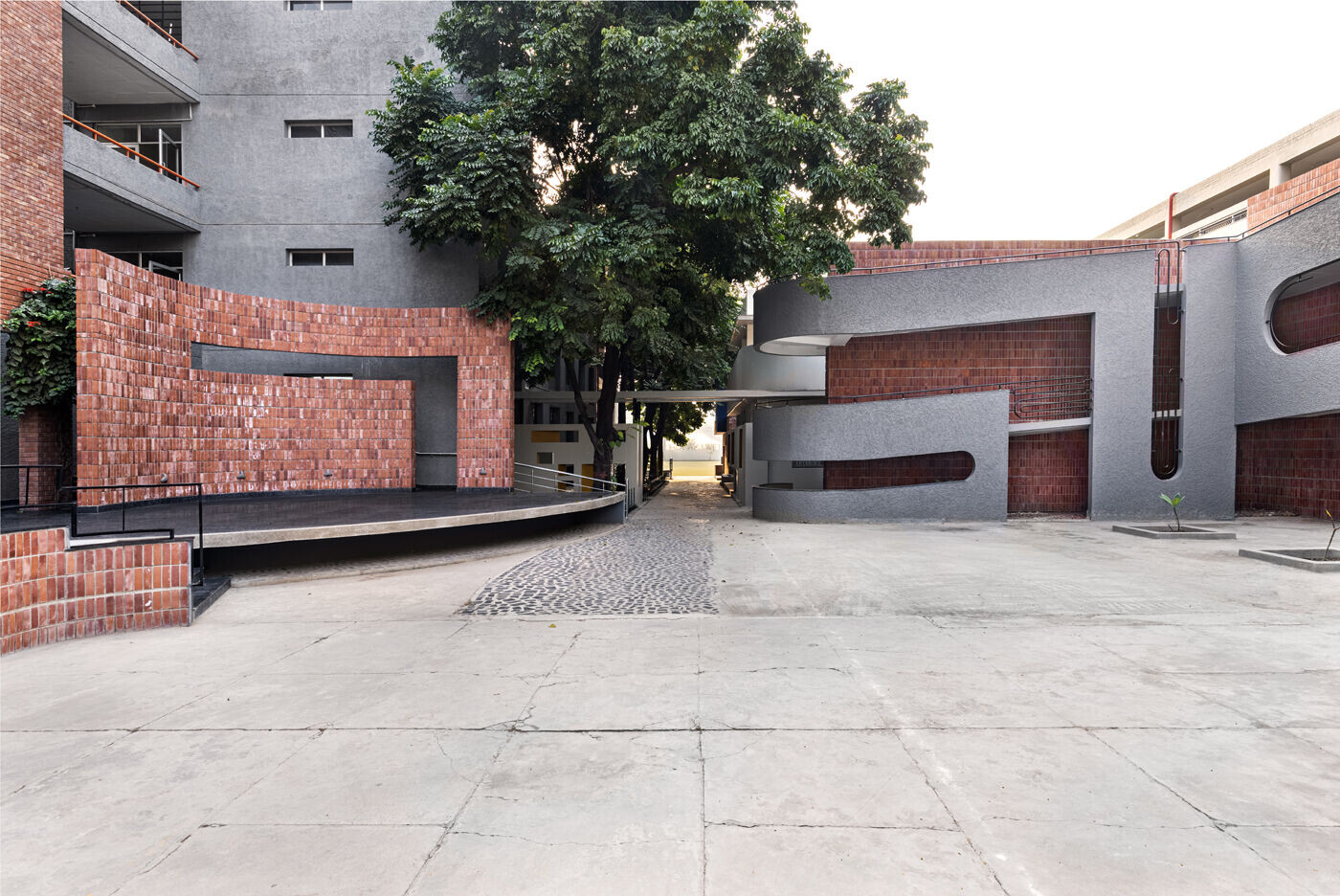 CLASSROOM ARRANGEMENTS
- SERVED AND SERVANT SPACES
The kindergarten kids activities inside a classroom is very dIverse , The activities varying from physical to formal seatign demand arrangement and re arrangement in the space . So as to declutter the space we decided to reduce the formal chairs to half and incorporate permament civil seating with broken tiles finish. This not only allows freer space but also introduces textures to the kids as an informal learnings . The storage space requirement from regular books to bigger toys demanding larger storage areas were planned in such a way , that they move out of the edge of the space , hence a 2'6" deep cantelever from 18" above floor level was planned that incorporates all storages. This projection also help create the form of the building . Also we introduced recessed square openings at lower heights for kids to peep out and see the outer world their own way . These openenings got natural rain water projections because of the form . These were aesthetically treated from inside and given colors as per the classroom type that helps kids identify there spaces and also leaves a larger impact into their memories with the classroom .The window opening towards the other side is raised above 7'-0" and received natural light from the ventilator above .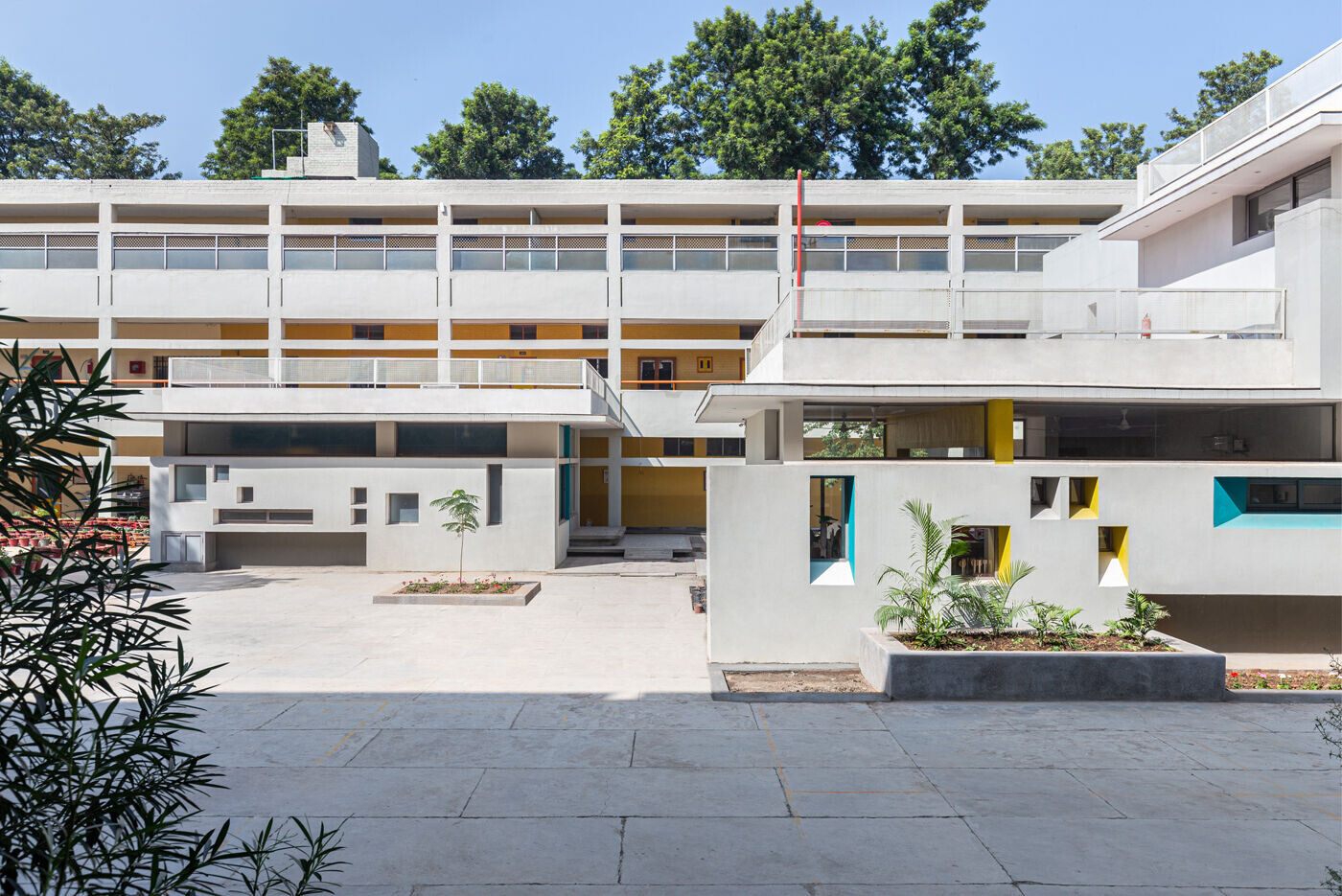 Facade interaction - The arrival into the space confronts the façade with colored openings creating vibrancy in the space
The courtyard space has steps all around creating a mini stage like atmosphere. The court space receives south east sun during the day
The upper level has two classrooms with terraces to hold activities outside . This helps create connect with the stage as well
PHASE 02 BLOCK
Stepped courtyard - The second block has class rooms for the senior children , as a result the courtyard space in this block behaves differently . The lower level has a staffroom and classrooms together , hence the connection to the upper level is via a stepped staircase that encourages students and teachers to sit and discuss on subjects informally . This access leads to the outdoor informal seating at the upper level connected to the Library block
Library Block - The 10,000 books archive was arranged in such a way that the lower 5'-0" high space was used to incorporate the Library books and the upper level was to connect with the trees outside . This was there is enough natural light in the space and there is a sense of enclosure encouraging focus . The space connects directly towards outside where an extended curved free wall envopes you like a protecting teacher offering you connect witj the open sky and trees around . This is where kids participate in art activities
STAGE
The stage anchored towards the third vertex is shaped in a quadrant circle form so that the performer can connect to the intermediate spaces between the blocks , forming space for formal gathering during school events .. The back drop of the stage is done as a curved wall aligning with the existing old block form to merge with the surroundings
RAMP
The new ramp of 150 ft length was acomodated in the central space in such a way the it is made to appear as if wrapping itself to conceal the huge length of the ramp . The old material pallette of brick and textured plastering is continued , hence the stage and ramp together form an enclosed form
STRAMP
Rear side stramp was created to create a story of a snake crawling on the steps, hence on step ( number 4) extends from one end to the other connecting the amphitheatric steps on one side to the stramp on the other. Broken tiles step no 4 breaks the grey tone of Jeera Bajri on the steps