Michael W. Folonis Architects has transformed the site of an abandoned mobile home park in Santa Monica, CA, into Millennium East Village (MEV), a 280,136-square-footcommunity-oriented, five-story, 362-unit mixed-use project including affordable housing.
An easy solution for such a massive site would be a monolithic box. But Michael Folonis, FAIA, sought to create a complex that is open, accessible, and welcoming to the neighborhood while enhancing the tenant experience with natural light and ventilation in every unit.
The resulting configuration features four linear interlocking elements with façade indentations that provide relief along the street front while allowing for ample windows and terraces for the units. Shifting floor plates create a variety of outdoor spaces of all scales above grade, as well as establish dynamic visual connections. Walkways harbor intimate spaces that engender a sense of community among tenants. Amenities include an outdoor play area for children, a clubhouse, an indoor/outdoor gym, pool, vegetable garden, and rooftop barbeque areas.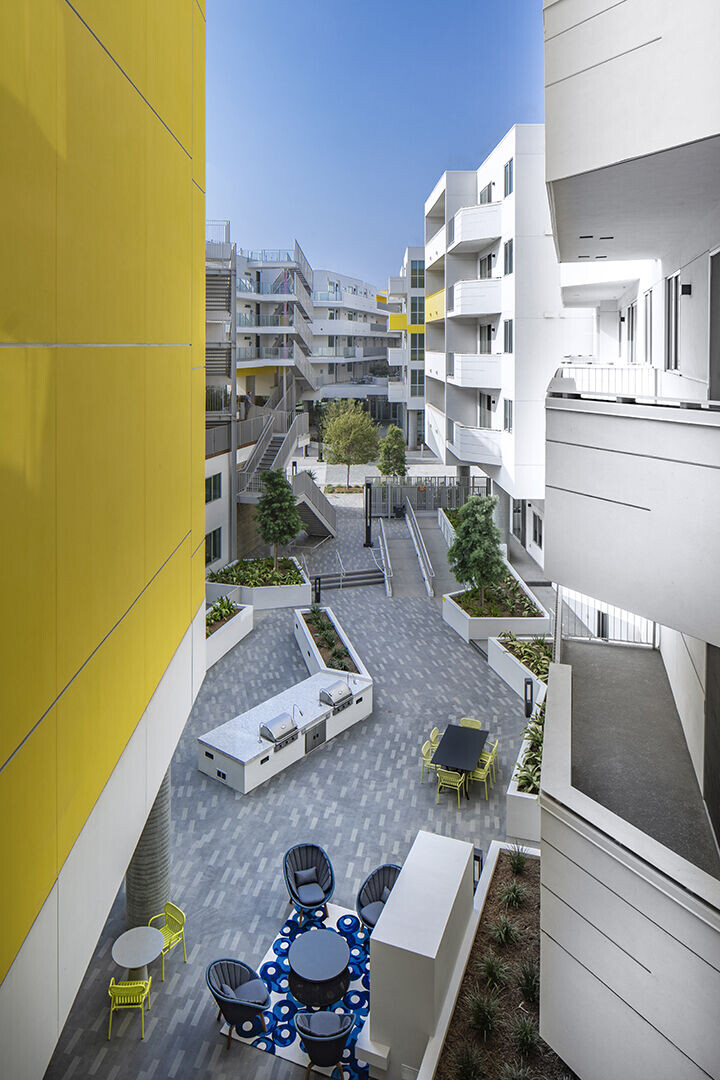 Ground-floor retail spaces are geared toward neighborhood-serving essentials, such as dry cleaners or grocers. A mix of studio and one- and two-bedroom units are distributed throughout the complex. The South wing is a quasi-freestanding volume that contains four three-bedroom units targeted to families, along with protected common areas for kids. In all, there are 340,000 square feet of communal open space.
The buildings' exteriors are white and gray stucco with aluminum windows and steel handrails. Yellow surfaces are introduced to enliven and break up the expanse of white, as well as to indicate openings through the structures. A narrow rectangle motif repeats in the forms of sidelights, transoms, and outdoor lighting fixtures.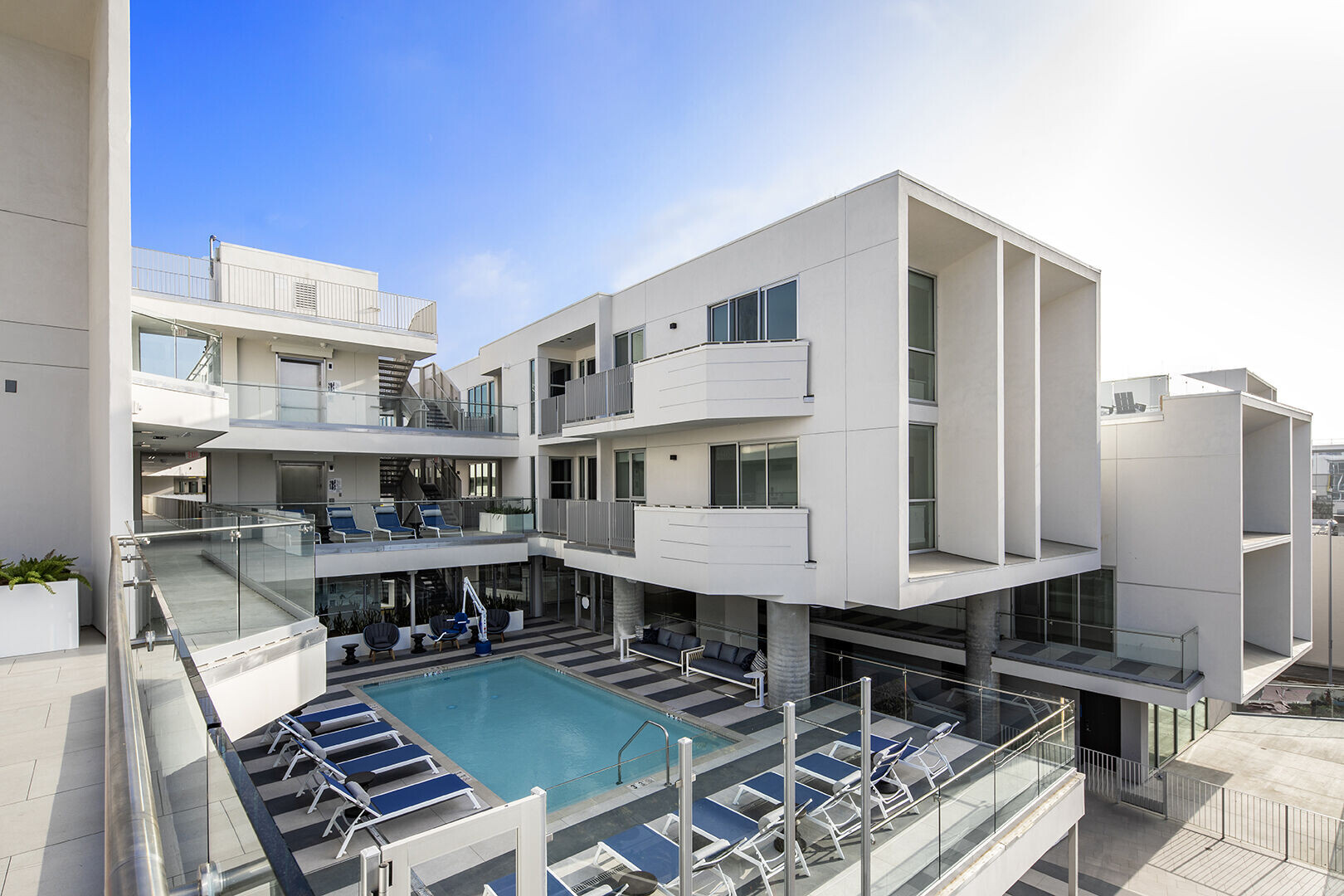 The design integrates passive solar principles and incorporates sustainable strategies, garnering LEED Platinum certification. Fenestration responds to its solar orientation, and perforated metal screens help to mitigate heat gain. Energy generated by rooftop photovoltaic panels illuminates walkways and outdoor public spaces. Commercial spaces utilize daylight-harvesting sensors to reduce electricity for lighting. Drought-tolerant plantings, below-grade drip irrigation, and gray water reuse minimize landscape water consumption, as do drywells that help harvest excess water from paved surfaces. Hot water pre-heat, dual-flush toilets, and water-efficient fixtures reduce water usage in the building. Low-VOC paints, finishes, and carpeting in residential units prevent toxic off-gassing. Subterranean parking includes electric car recharging stations; substantial bike parking is available. Accessible alternative transportation is within walking distance.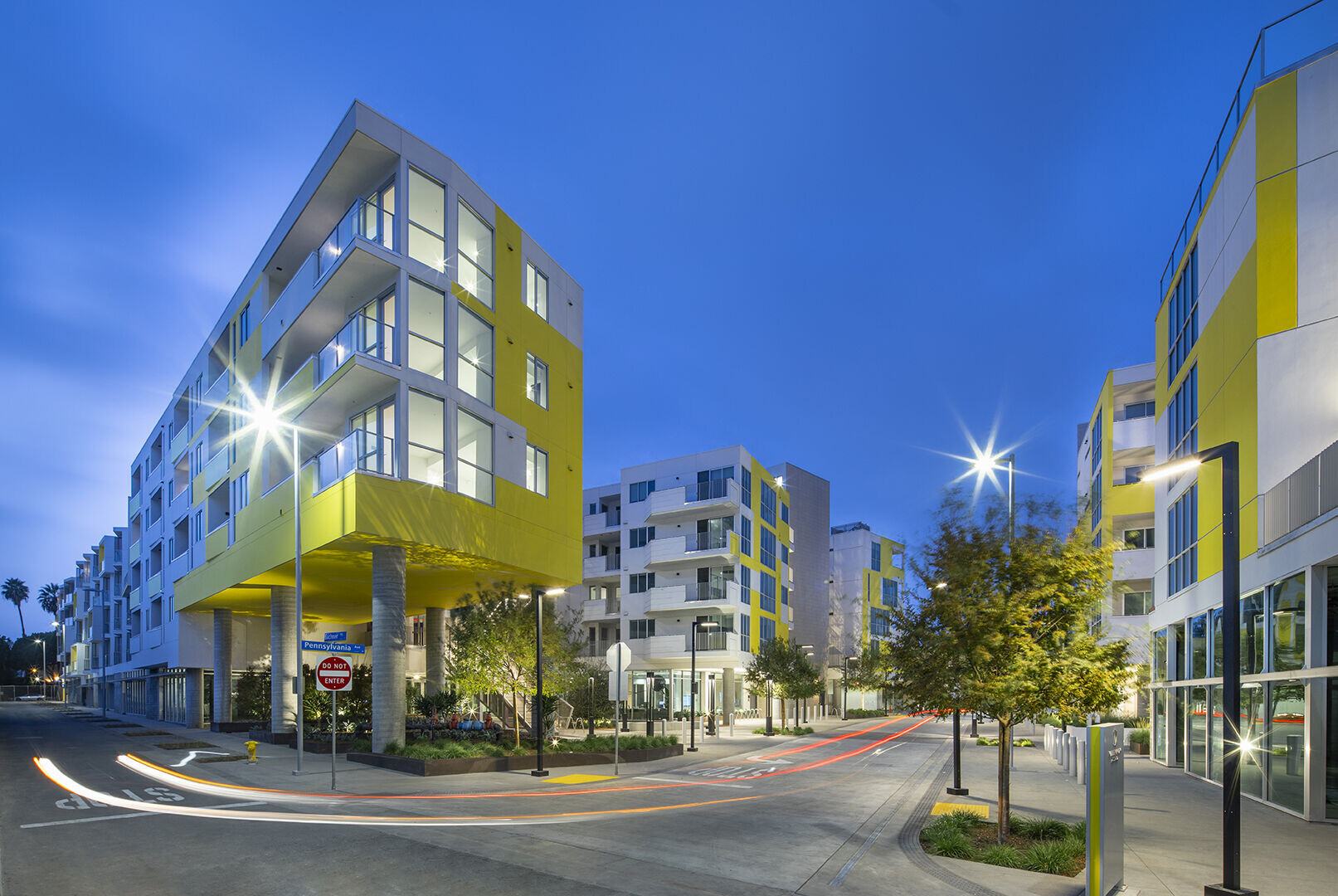 Millennium East Village delivers a high volume of units while maintaining a sense of community, both within the complex and in connection with its context. Its modern and unexpected forms, bright surfaces, and plethora of spaces that cater to outdoor living convey the essence of Southern California living.
The project has received design awards from the American Institute of Architects' Los Angeles and San Fernando Valley (CA) chapters, as well as from the land-use organization Westside Urban Forum.