LA Cool is an outdoor living space addition to realise the original vision of our 2015 project, Newport House. Perched above Newport Beach in Sydney's spectacular Northern Beaches, LA Cool embraces the beautiful views of Newport Beach and Pittwater, the infinity pool, pavilion and living spaces equally ideal vantage point to soak in the views. Alongside is LA Cool's generously sized pavilion, featuring both a covered and uncovered section, allowing the space to be used throughout changing seasons and weather. The Pavilions roof is pierced with strategically placed skylights to allow natural light to bathe the comfortable living space.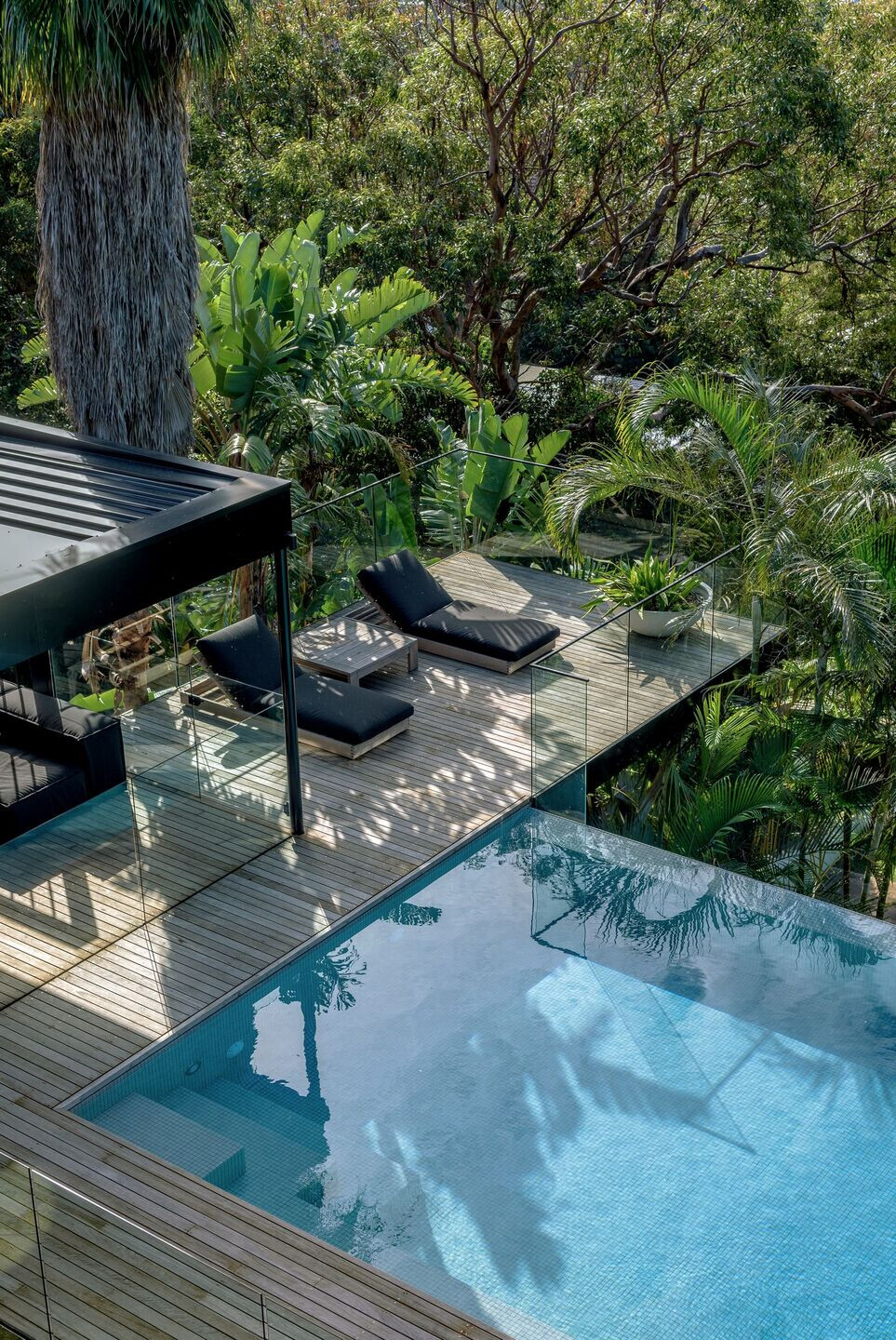 Our clients came to us with a vision of an outdoor living space they could use all year round and would accommodate their growing family needs. They wanted a warm, generous space for family gatherings and new memories which spoke to everyone; parents, kids and grandkids. Our solution, LA Cool, an outdoor pavilion, lawn and pool designed for gracious living through all seasons.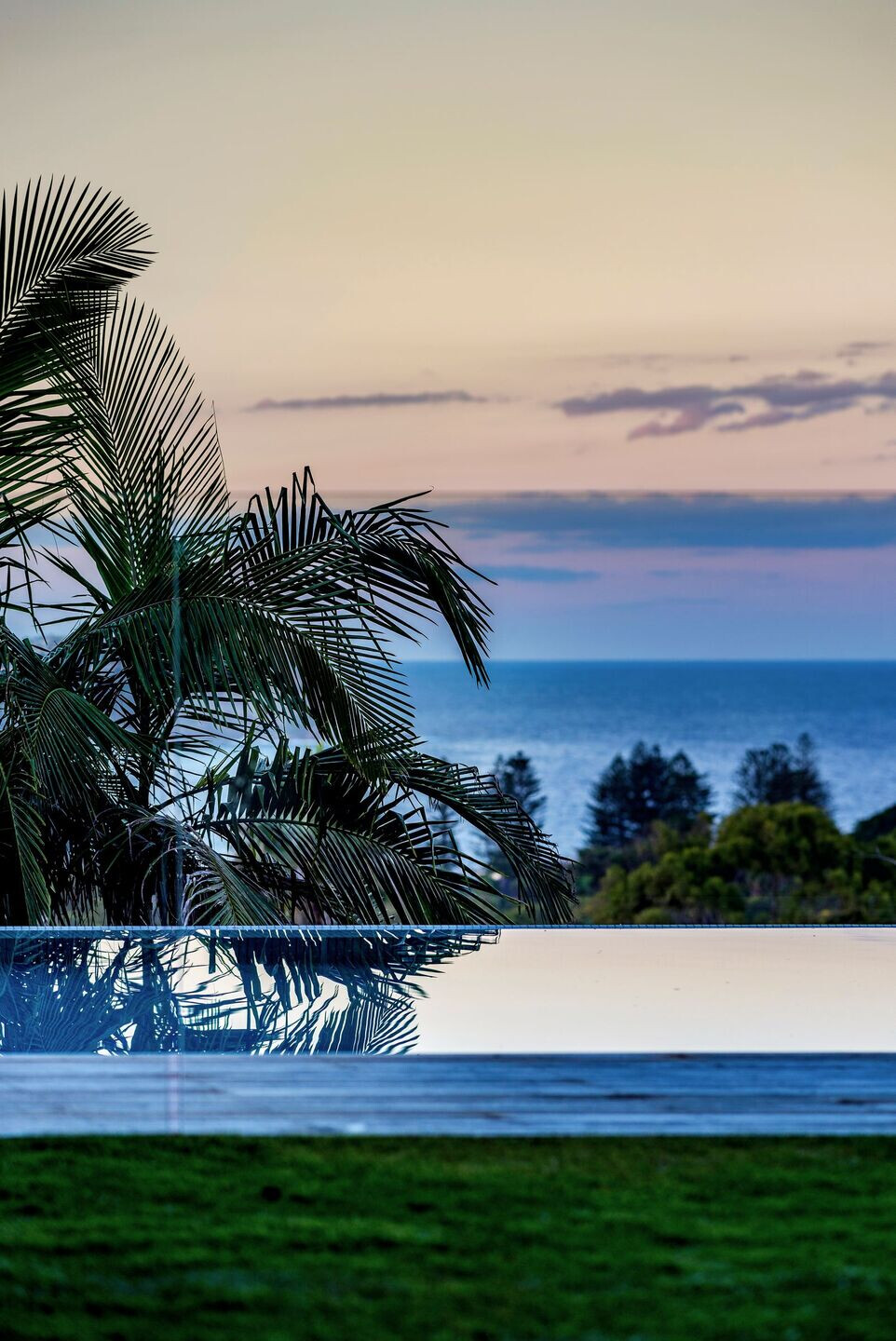 Fitted with a fireplace, kitchen amenities and woodfire pizza oven, it was vital to our clients to be able to use the outdoor living space all year round, rather than it be relegated purely for use during the summer months. These amenities allow the space to be used throughout the year, be it for dining, entertaining or simply relaxing.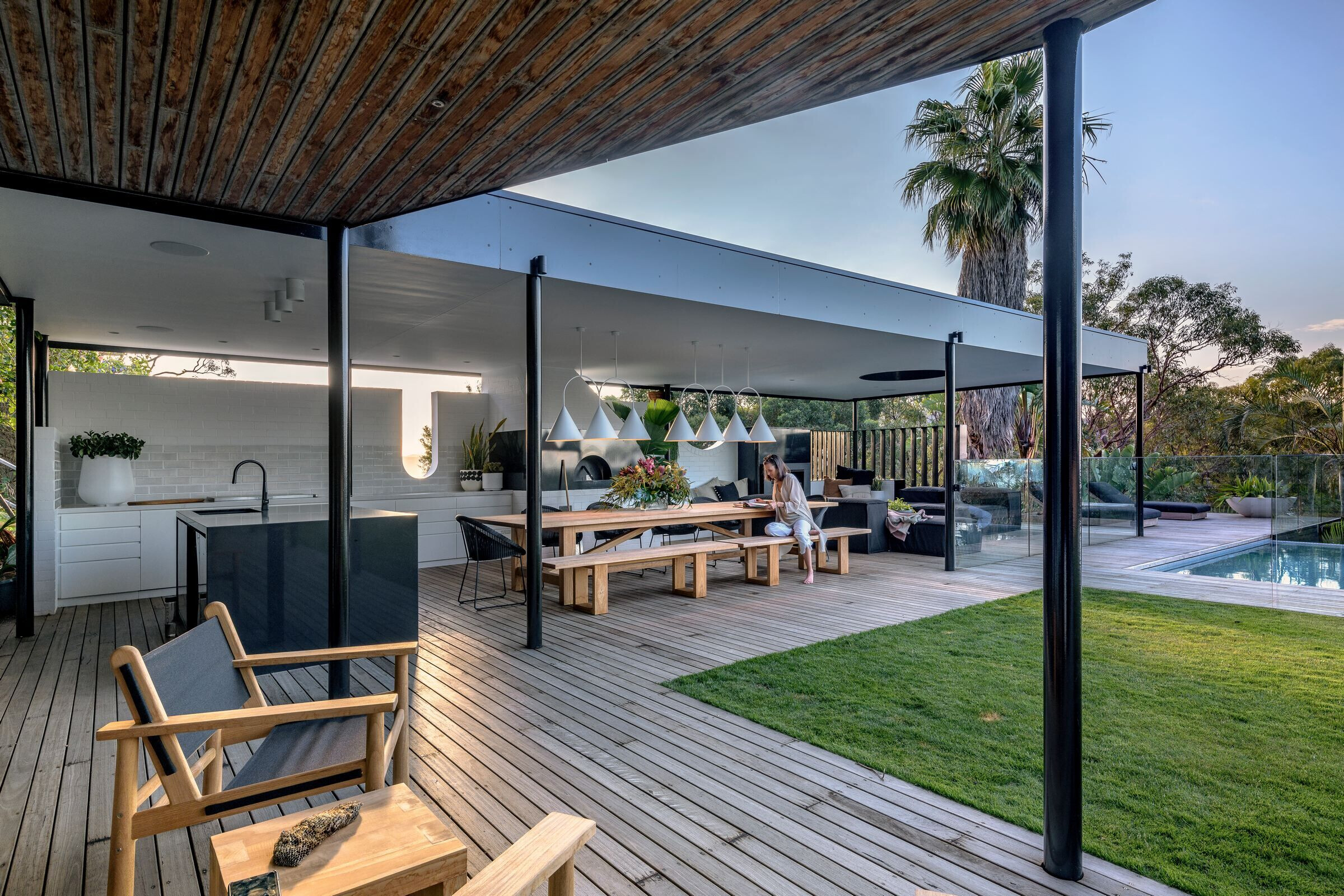 LA Cool was inspired by the sleek, low-lying modernist outdoor living spaces of American West-Coast modernism. Favoured by the American jet-set, these low-slung living spaces are modest, unobtrusive to surrounding homes, yet simultaneously provide overhead shelter, allowing the view to be soaked in. Naturally, LA Cool's pure colour palette was inspired by the existing Newport House, which we designed in 2015. By employing the same pure, natural colour and material palette of Newport House, the two halves marry together seamlessly, creating the ideal home with both indoor and outdoor living spaces.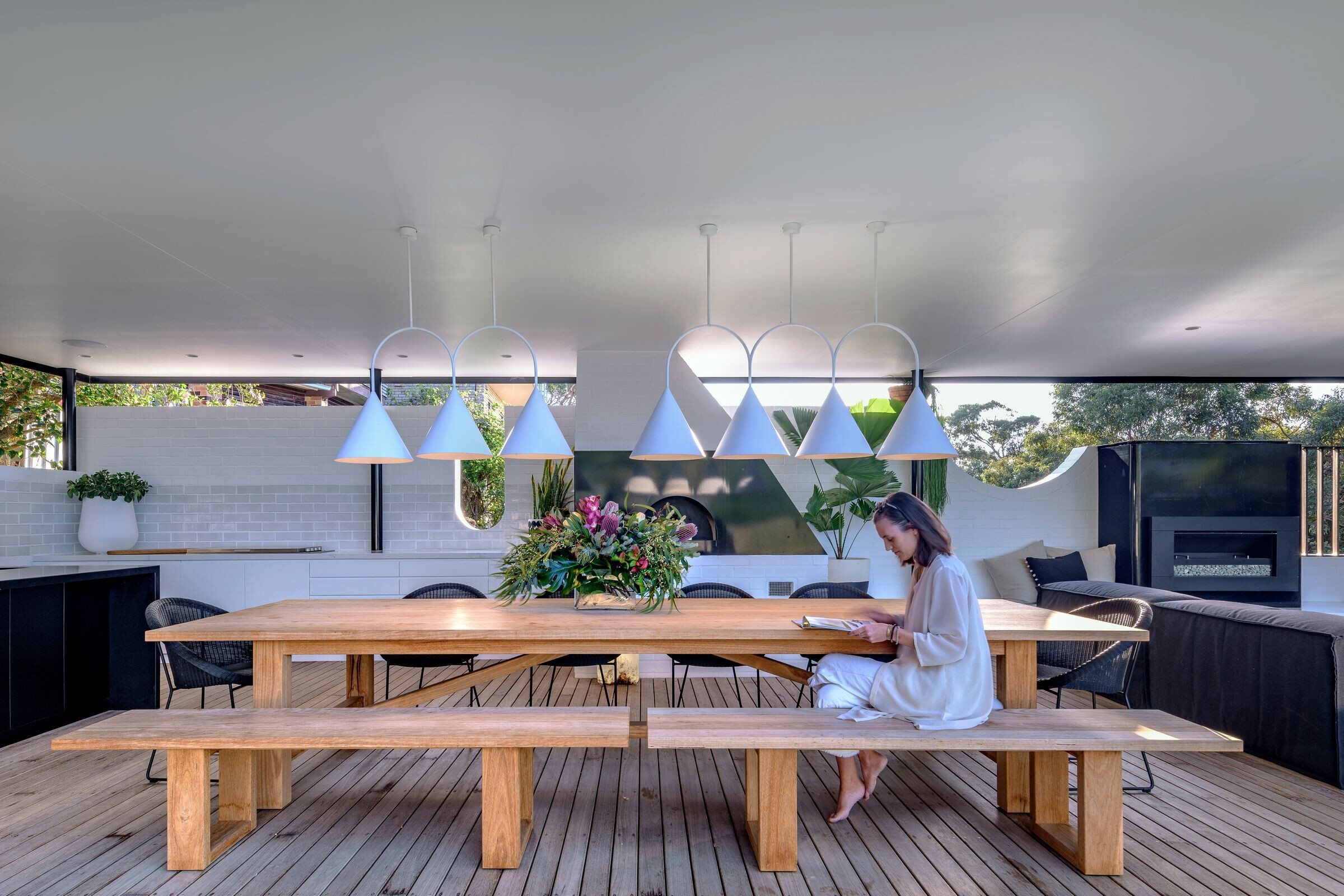 Ultimately, the largest inspiration for the design was the 180-degree views of Newport engulfing the site, and how to best capture them, whilst simultaneously allowing the outdoor living space to be used 365 days a year. Our solution was a series of strategic, sculptural cut-outs in LA Cool's western wall allow evening light to pierce through the pavilion, onto the living space, not only opening the space, but creating a wonderful, ephemeral, breathable environment, further embracing the natural Australian landscape and views surrounding the home.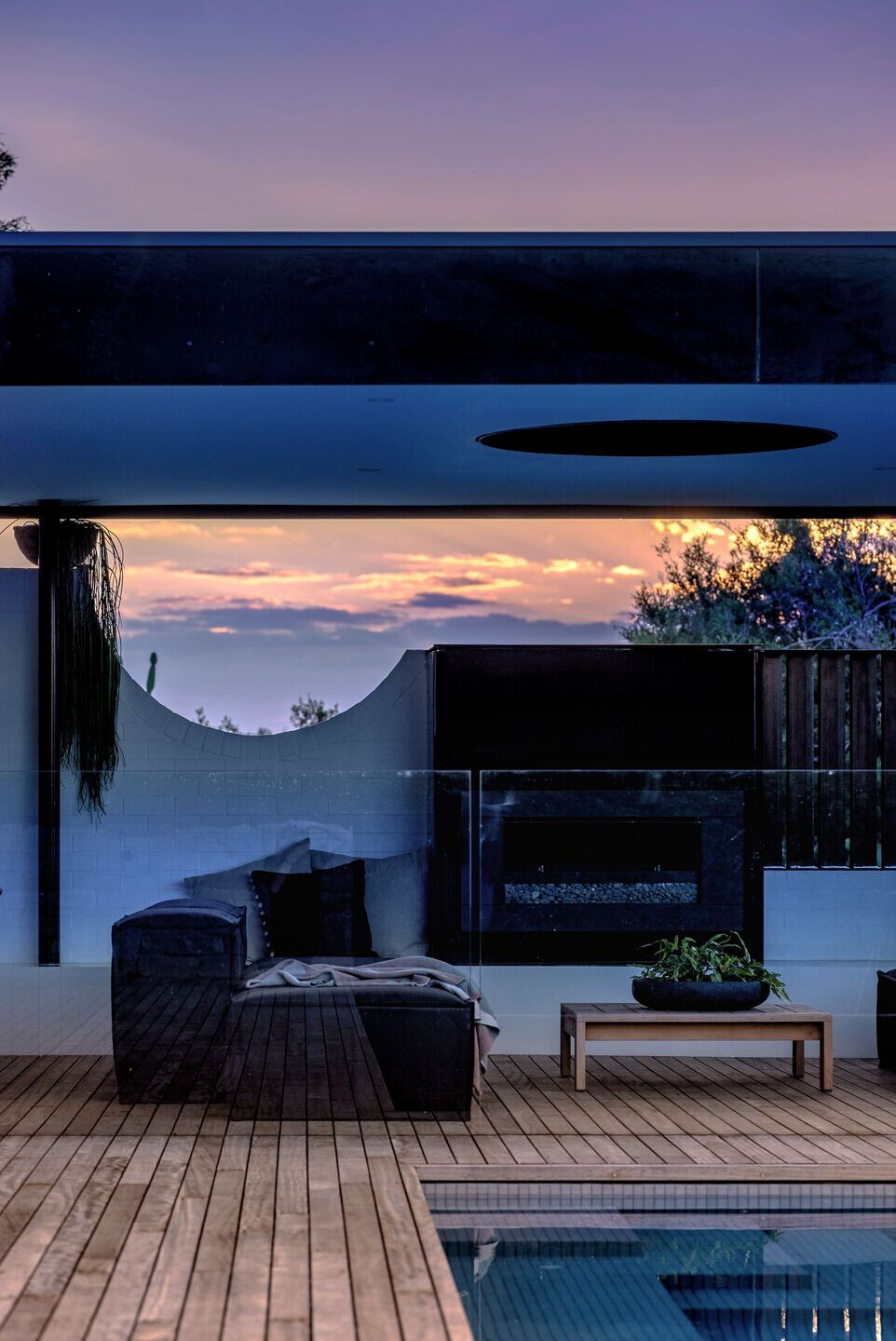 Our clients aim was to have a usable outdoor living space they can enjoy all year round, which has been achieved. LA Cool's cosy furnishings, fireplace, pizza oven and clever design cocoons warm air within during winter, yet allows cool breezes to permeate the space through summer. LA Cool is the Outdoor living space usable all year round our clients envisioned; we were so happy to hear LA Cool allowed our clients to celebrate their best family Christmas yet.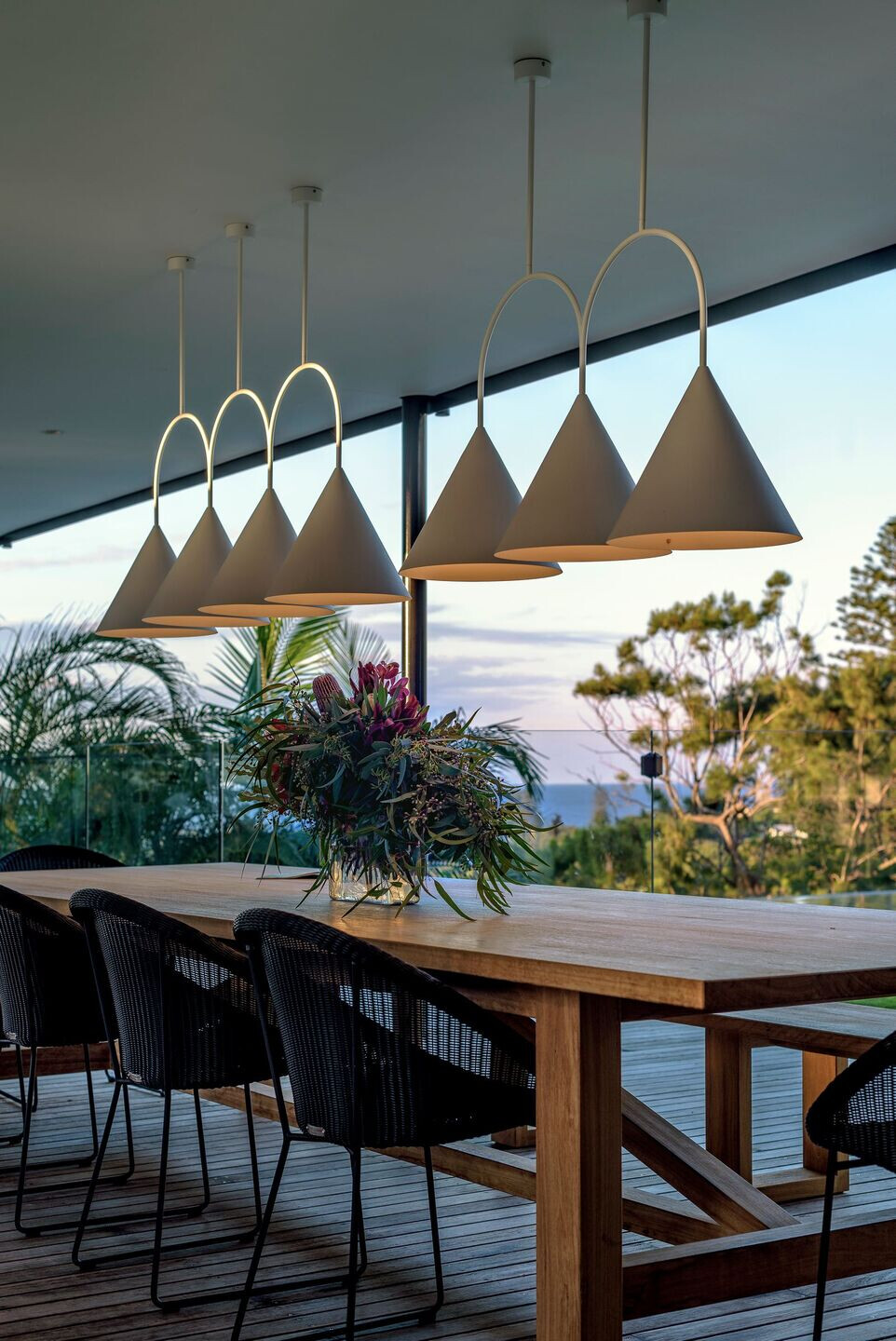 Our favourite element of LA Cool are the strategically positioned skylights and cut-outs, which allow natural light to pierce and light the outdoor space. A large skylight is positioned over the lounge, whilst the westerly wall features strategic cut-outs to capture evening light across LA Cool's dining space.
Material Used :
1. LAAL - CONEHOME LIGHT - double arch/short w large cones + triple arch/short w large cones - finish: white dry
2. Sydney Fire Bricks - Calabrese Grande Woodfired Pizza Oven
3. ESCEA - EF5000 Outdoor Gas Fireplace - black fascia stainless steel
4. PGH Bricks & Pavers - Seascape Bricks - Sea Salt - splashback
5. PGH Bricks & Pavers - Dry pressed bricks - Dulux Lexicon Half - wall bricks
6. Artedomus - Vixel C.02 - pool tiles
7. Custom - Blackbutt decking by builder
8. Dedon - Lounge - by client
9. Custom - Table - by client