Houses of T(h)ree:-
3 Houses for
3 Families of
3 Characteristics in
3 Generations
all in 1 lush greenery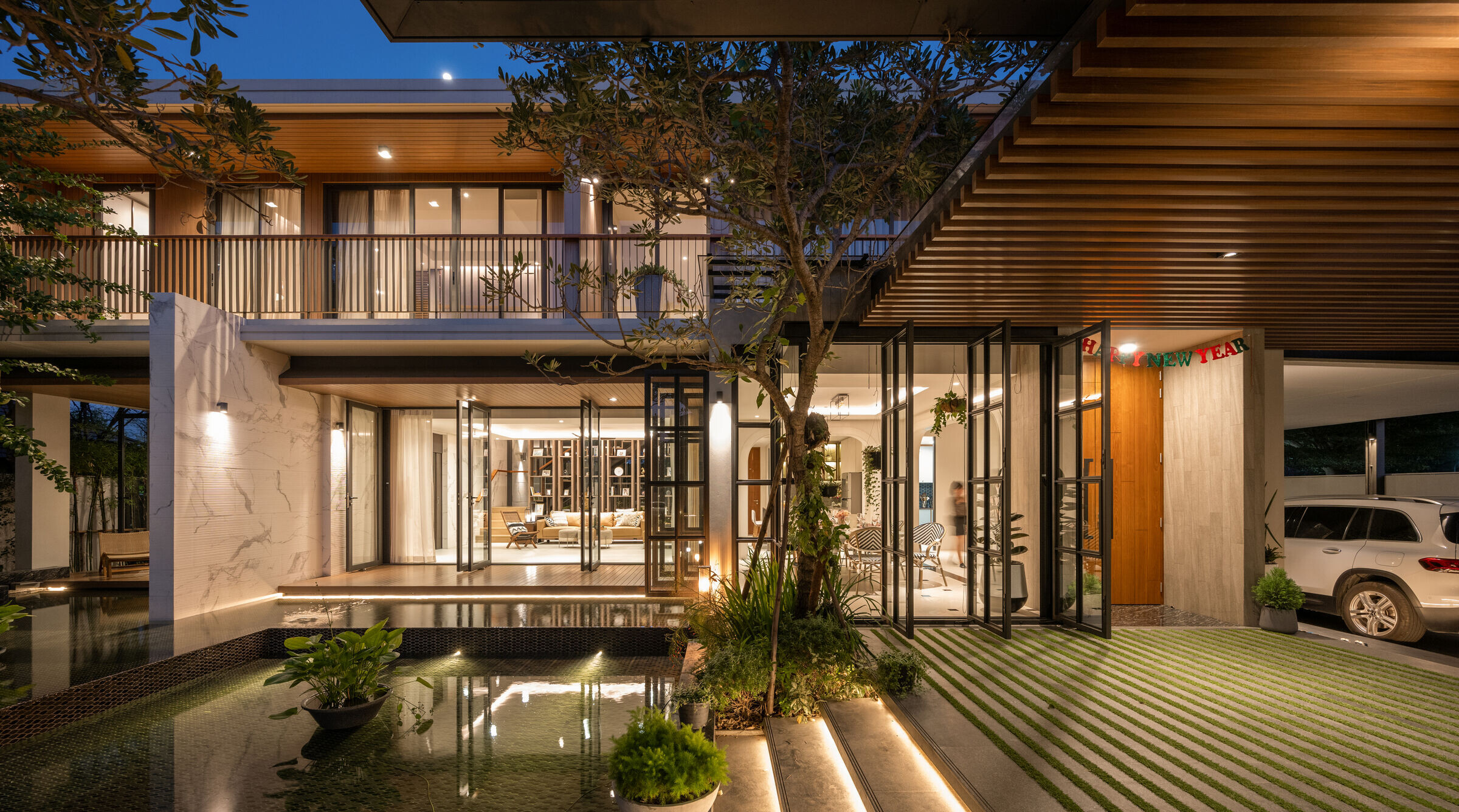 A compound of 3 houses for 3 families. One for grandparents and the rest for two siblings with young families. Each with personal needs and preferences. The two brothers are both starting a family with little kids of totally opposite lifestyle. One loves to be outside among the trees while the other just want to stay inside and looking out from a perfectly cozy enclosed space. The central house is for the grandparents who just want simple one story with large living space for the family gathering from time to time.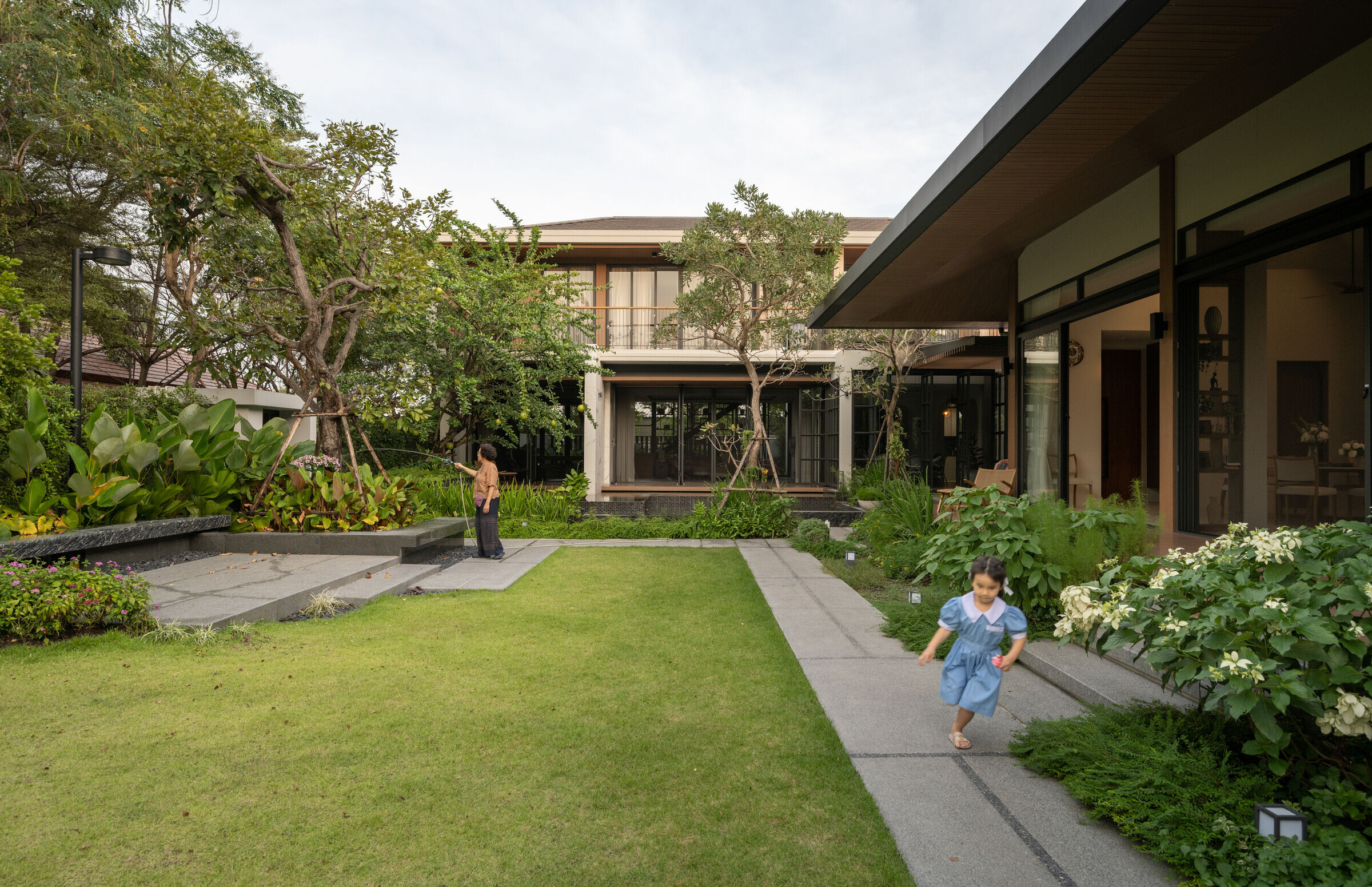 The architect's key role is to find the solution to have three different houses coexist with appropriate distance but close enough to keep an eye on each other. The common play lawn has then linked them up nicely while lush greeneries help soften the edges between them and increase privacy a s needed.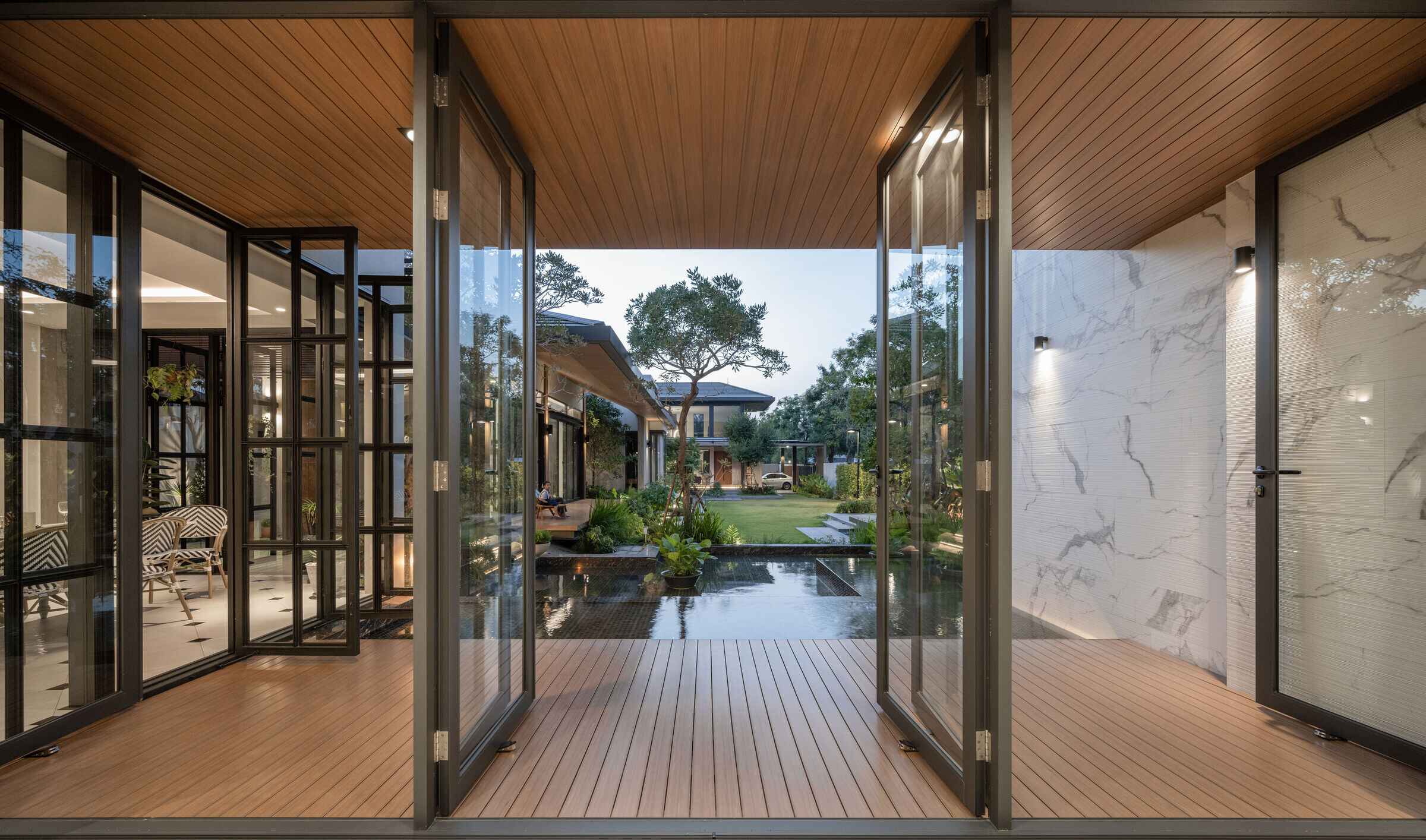 The first house sits with adequate distance from the rest by placing reflecting pond which allow perfect vista from the living room to the common lawn while maintain buffer from the activities there from time to time. Dining room is projecting glasshouse which partly sits on the reflecting pond and reaching out to the green like dining in the garden. The overall first floor is treated like broadly open space with a feature wall that penetrate and divide the space between common area and private study room. This feature wall looks like it's supporting the upper floor's mass.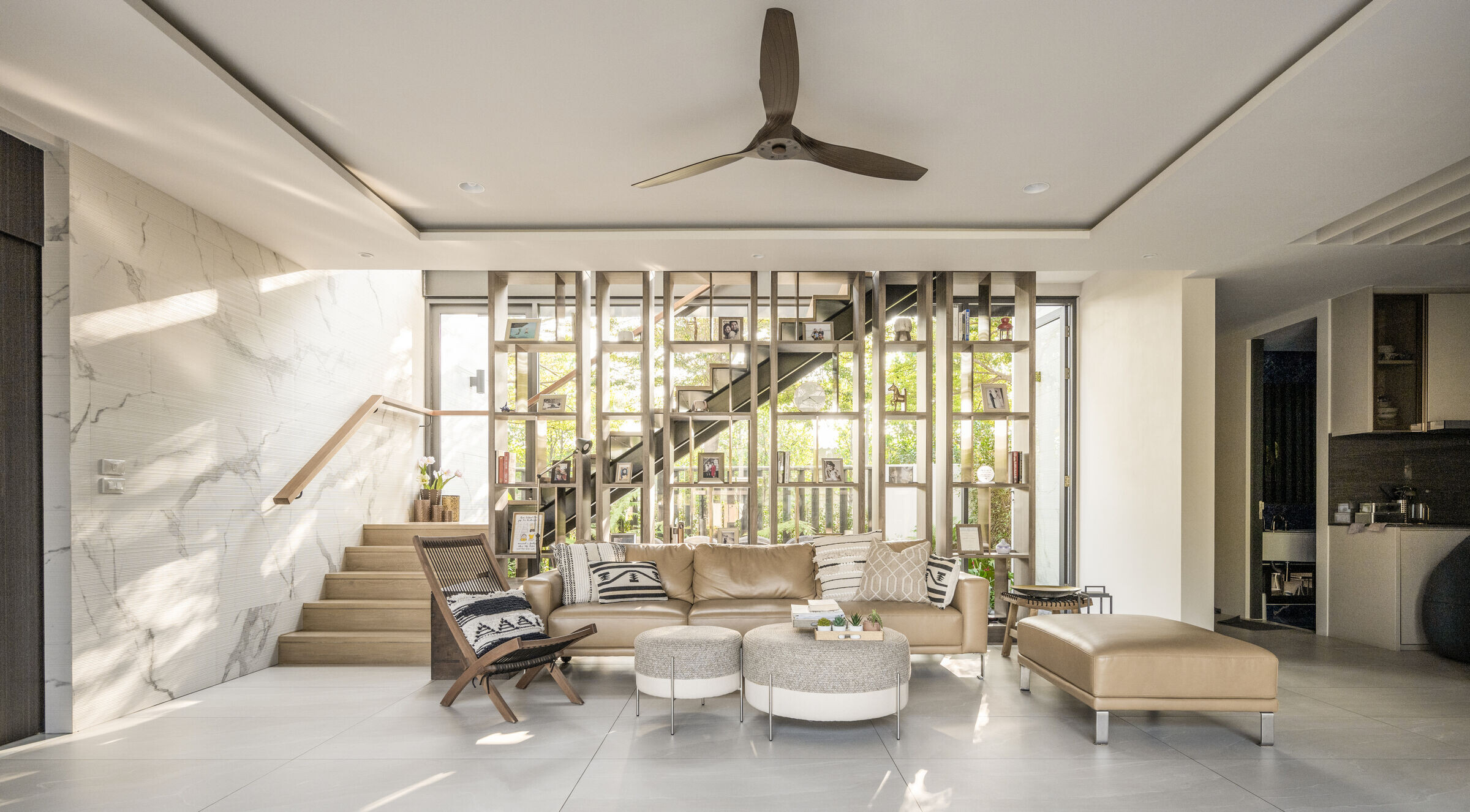 The second family house on the opposite side of the plot is also with opposite requirement. The house is fully enclosed with fully glazed double space living room. With the tidy minimal decoration, the house is aim for direct and sincere expression. Practically a Japanese-like modern architecture.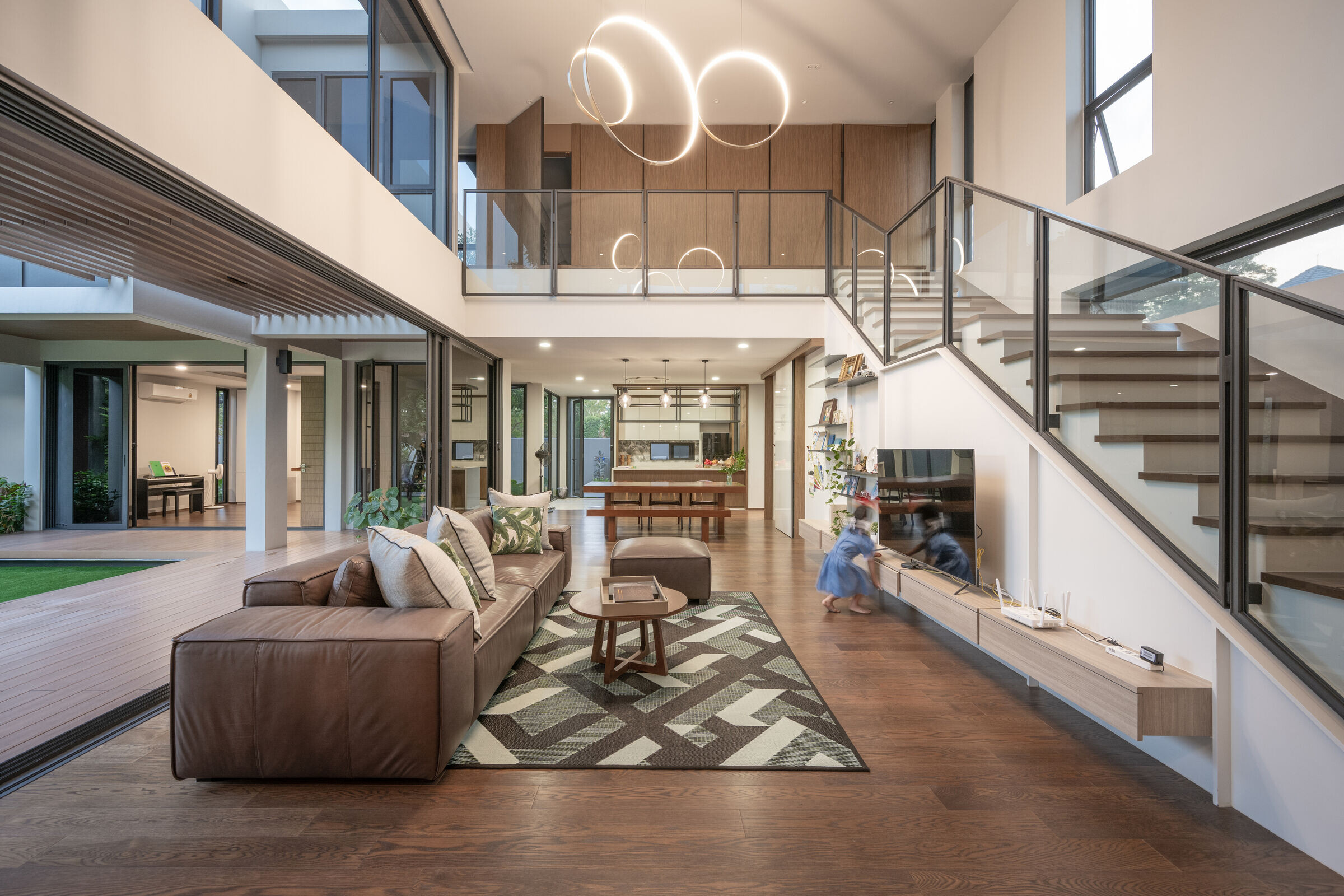 The grandparent's house is flanked by the common lawn which serves the purpose of the family gathering and fully exposed to anyone to join the activities. The simple pitched roof with angled ceiling increases the volume and openness and extending the space to the terrace and then to the lawn. The living and sleeping quarter then divided by small pocket garden with feature tree to end the visual. Giving the general impression of staying in a tropical villa.