Project description Challenges and Solutions.
• HMAS L02 was a complex project that involved many challenges.
• The project is an alterations and additions to an existing heritage listed Victorian cottage.
• The Heritage Overlay and retention of contributory Victorian weatherboard cottage presented a challenge given its significantly dilapidated state.
• Managing the complex site with rigorous planning overlays required extensive consultation and negotiation with various stake holders.
• Making good a 100+ year old cottage that is barely standing without being able to take down and rebuild like for like for like proved difficult for the team. A complex strategy of making good an aged frame one stud at a time using traditional carpentry techniques and large scale detailing was implemented to ensure to building was a true representation (and somewhat improved) version of its former glory.
Site Context, Challenges & Solutions
• A very long site of 70M+ x 6m wide with the original cottage and two storey garage bookending ends of the site.
• This challenge was in two parts one; how to add on a new building without it dominating the existing heritage cottage and two; avoid a gun barrel long hallway to get to the new additions of the building.
• Our design solution involved clearly articulating the old form the new further emphasizing the heritage cottage and bringing in a new entry down the side of the house to an open central courtyard, this essentially become the new private front garden and front door. This then freed up the cottage to become a master bedroom suite allowing the new build and primary living spaces to have the benefit of a North and South facing private open space, light source and cross ventilation. This solution takes advantage of such a long site and creates unique indoor / outdoor spaces that work with but challenge the typical Victorian cottage typology.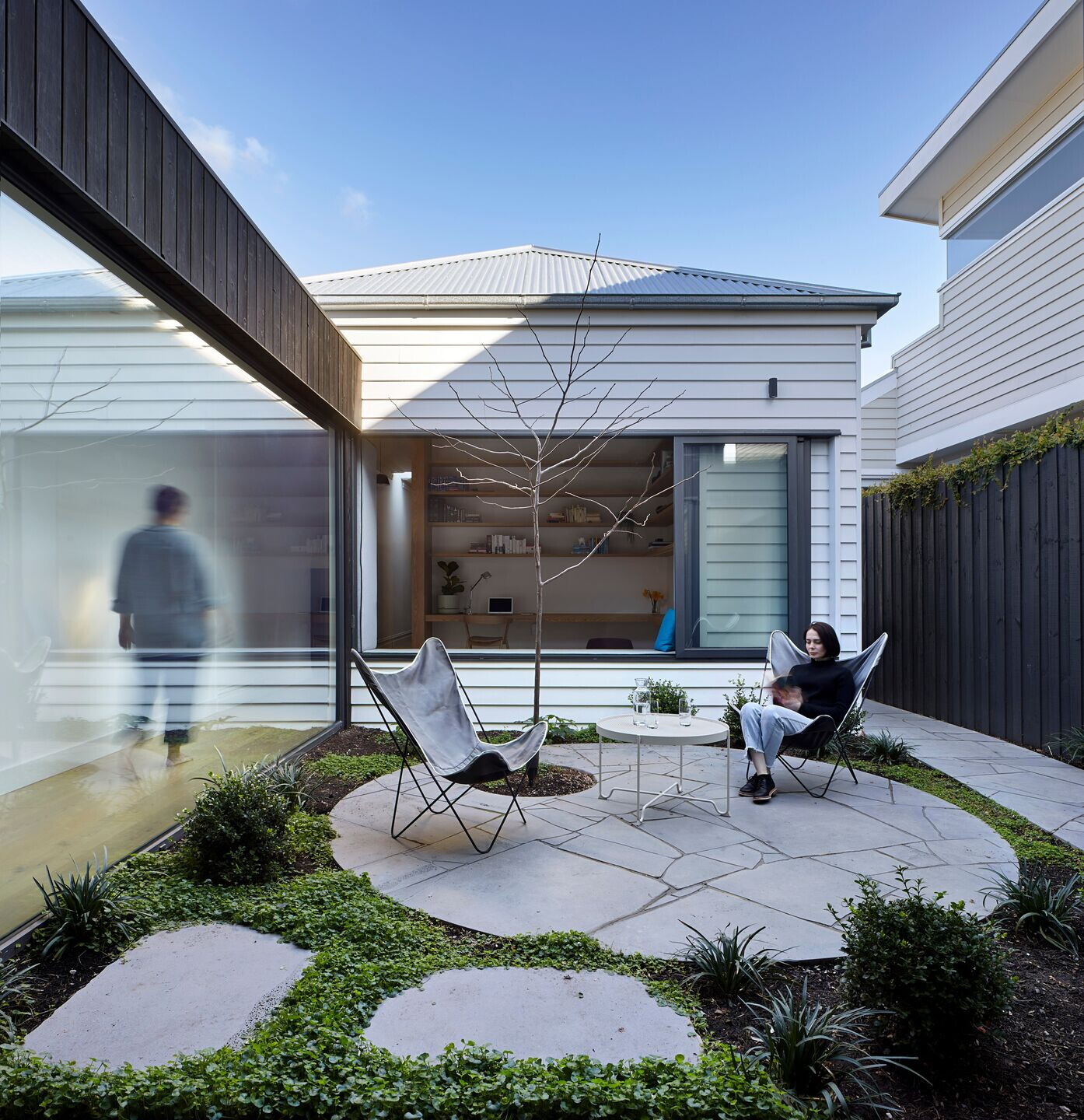 Sustainability Considerations
• Opportunities for passive design principles are possible dual to the separation of the two built forms. Natural light and solar access is possible due to this disconnection allowed to exist due to the very long but narrow site.
Charred Timber was selected because of its low maintenance and environmental virtues.
• Provides long term durability.
• Long term Maintenance only required re-oiling every 7-8 years to replace some moisture back in the timber.
• Create a carbon crust that is U.V. resistant & not susceptible to Silvering out.
• Improves timber durability & resistance to insect attack.
Insulated metal cladding and double glazed thermally broken windows add to the high levels of insulation assisting building performance.
Low vocc paints, stain and fabrics used throughout the interior.
10,000 litre water tank submerged in front yard.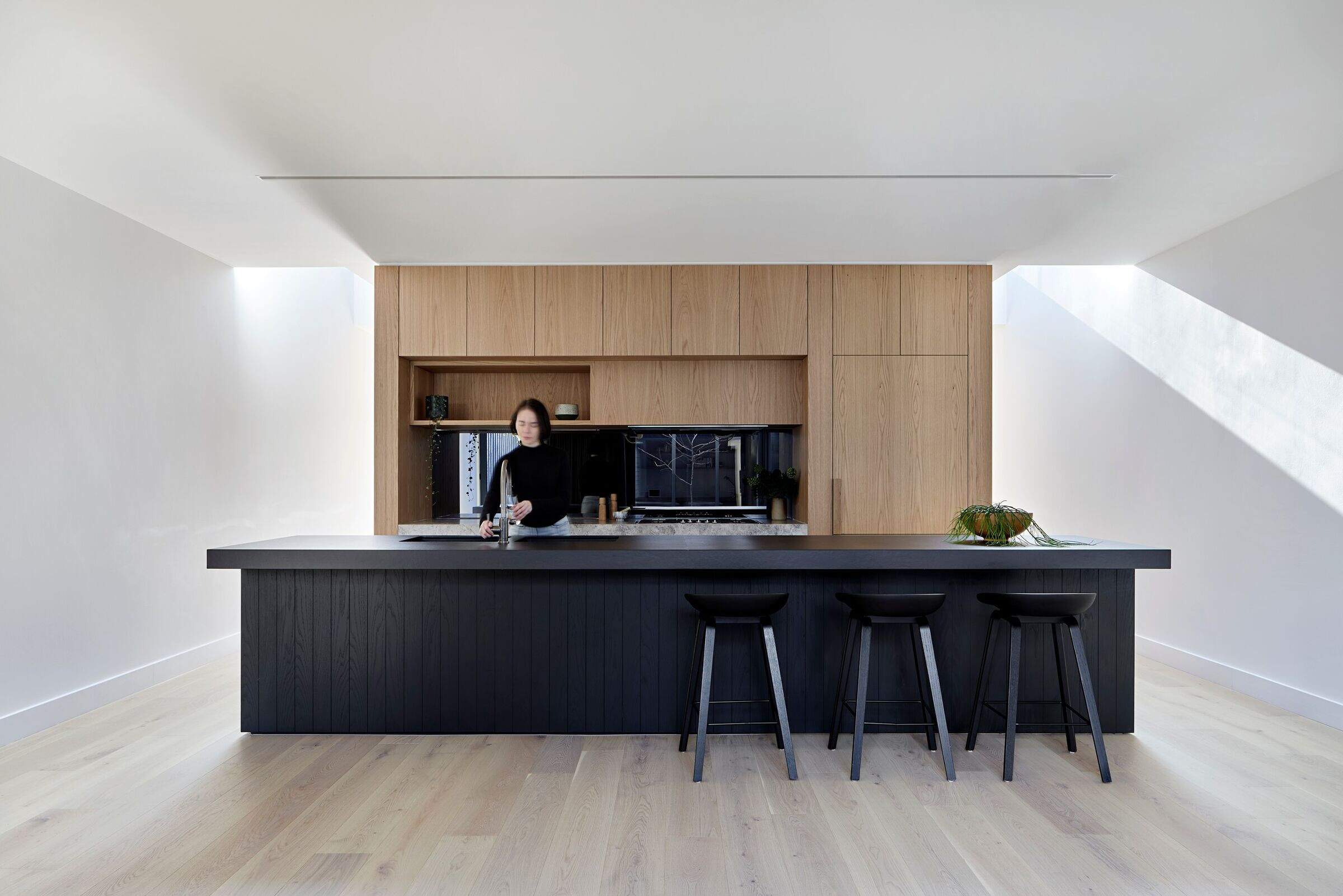 Design Excellence
HMAS L02 takes its name and built from influences from the Williamstown shipyards and the construction of HMAS Canberra which was being built at the time of this project. The legacy and history of boat building locally and this aircraft carrier were huge influences when approaching this design challenge. The striking bow of HMAS Canberra was referenced when designing the form of the building. The skewed and slanted built form provided the perfect solution to tapering side setbacks and a north facing eave overhang / sunshade.
Williamstown has always been synonymous for its ship building industry and to pay homage to this felt appropriate and gave the project a strong connection to its location.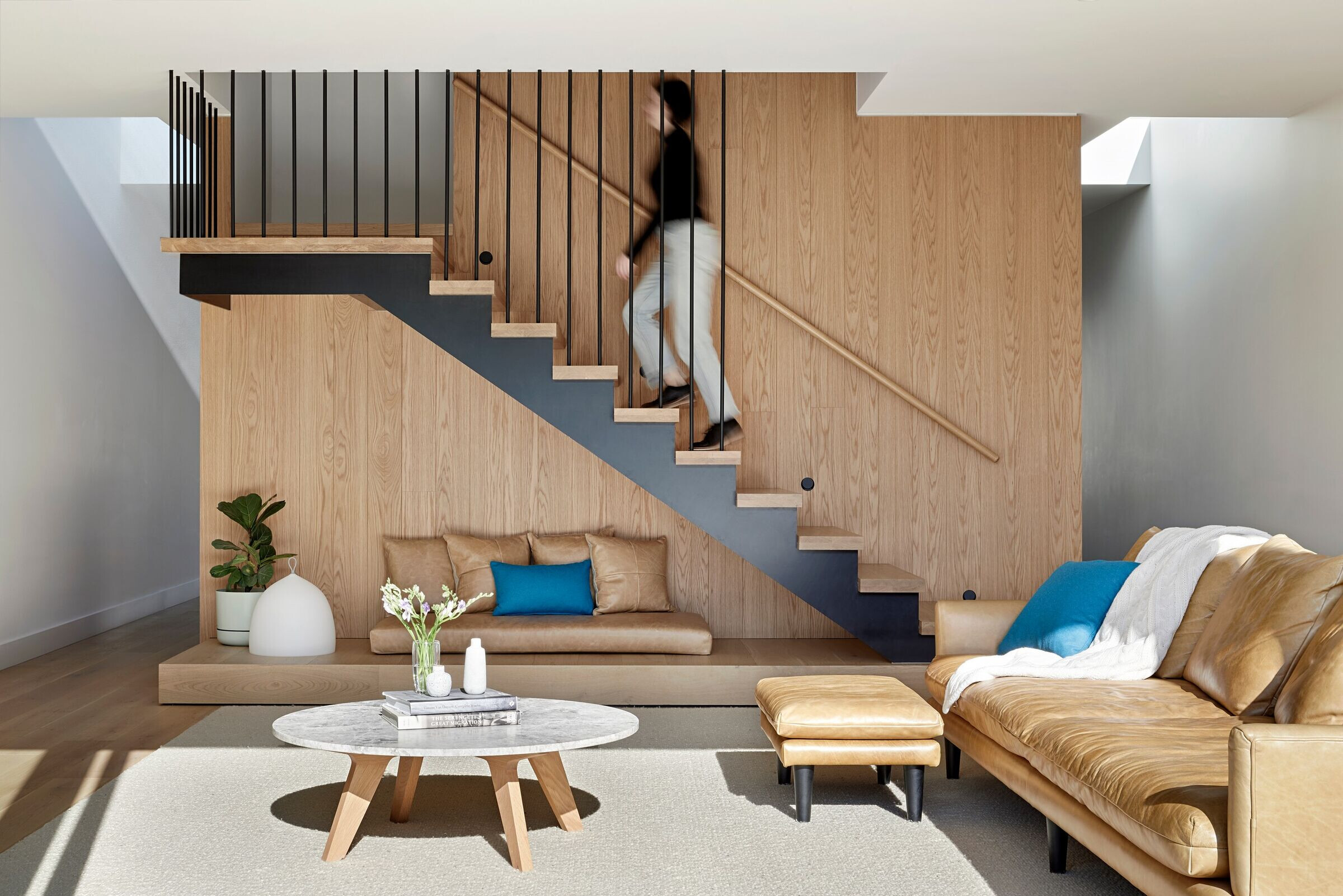 Along with is contextual roots this project put forward solutions that challenged the status quo single fronted terrace response. Turning the front three rooms into a large open plan master bedroom suite appeared at odds to the heritage norms however by placing contemporary joinery and fixtures as loose furniture wrapped by traditional detailing in the cornices and skirtings allowed this mix to work and have a mutal respect for each other. HMAS L02 demonstrates design excellence through an innovative spatial program and unique built form response.