Gramercy Senior Housing est un complexe de logements abordables situé sur un terrain de la longueur d'un pâté de maisons qui appartenait autrefois à la ville de Los Angeles et qui servait de dépôt de remorques. Ce projet, qui est l'un des premiers à utiliser les fonds de la ville pour le logement supervisé (Prop HHH), offre des options de logement indispensables aux personnes âgées à faible revenu et sans abri dans l'un des marchés du logement les plus chers d'Amérique.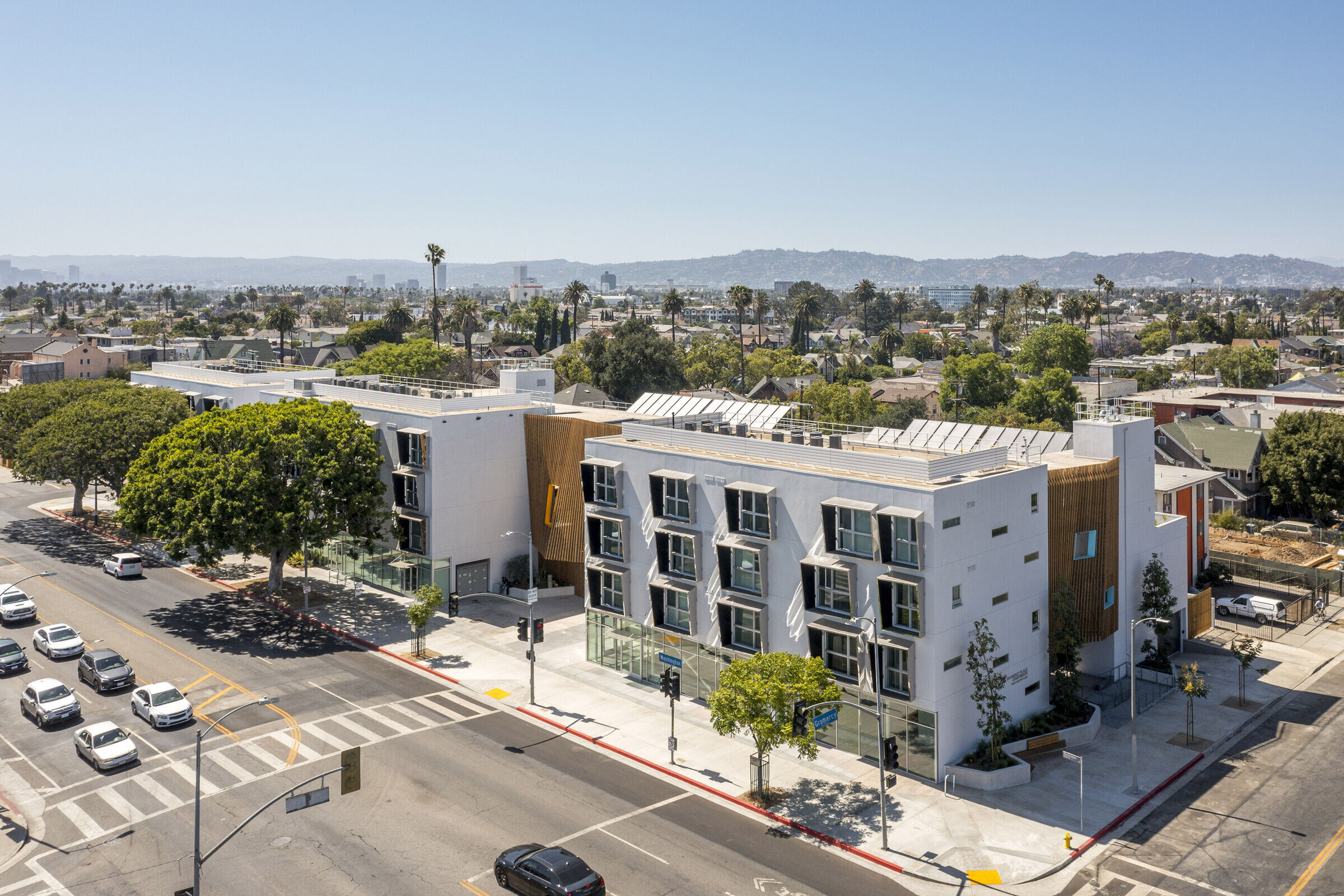 Le site, longtemps marqué pour le réaménagement, est resté intact pendant des décennies, présentant une façade blanche disgracieuse au quartier. Après de nombreux faux départs, en 2016, un processus de concours a été organisé pour déterminer l'avenir du site, et le promoteur de logements abordables Hollywood Community Housing Corporation (HCHC) a été sélectionné pour diriger les nouveaux plans de construction.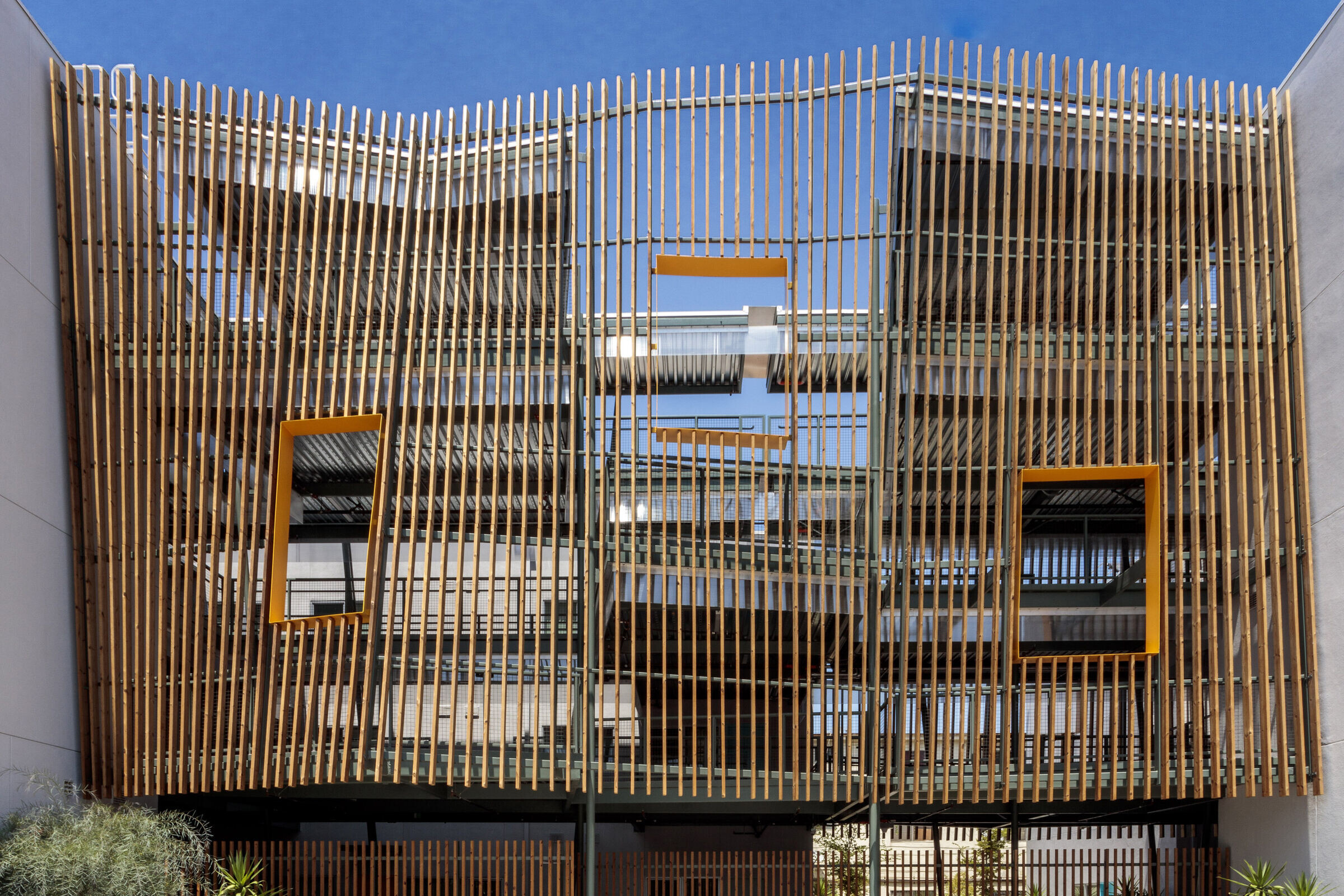 Le projet à usage mixte et à haute densité de 70 000SF comprend 64 nouveaux appartements pour les résidents seniors (55+) gagnant moins de 50 % des niveaux de revenu médian de la zone (la moitié étant désignée pour les anciens sans-abri), un café commercial, des espaces communautaires et une place publique au niveau de l'entrée.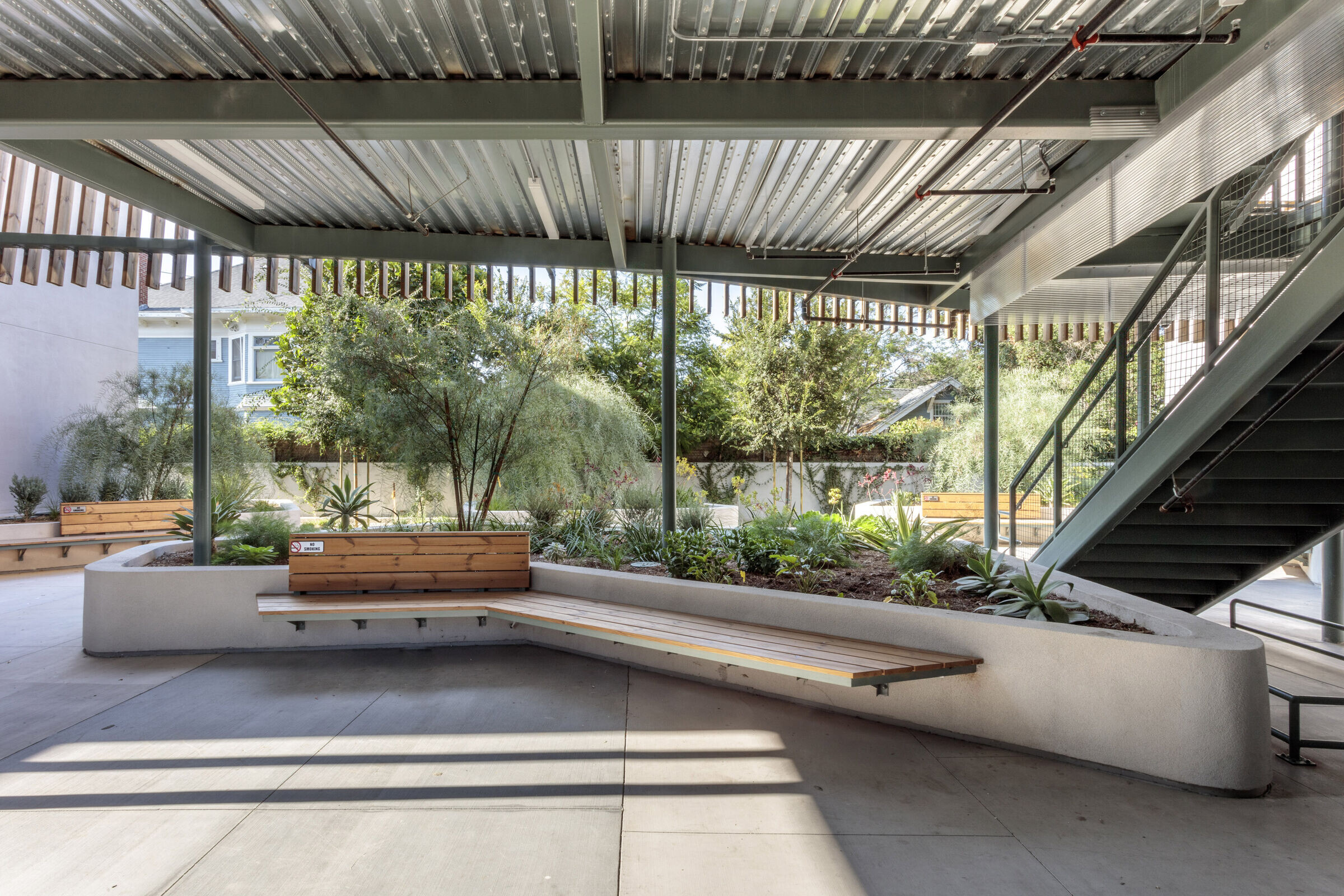 Le processus de développement de la KDA s'est appuyé sur une vaste campagne de sensibilisation du public. Le projet est conçu comme six bâtiments distincts, reflétant l'échelle des résidences unifamiliales environnantes. Construit sur un terrain étroit bordé par le très fréquenté Washington Boulevard à l'ouest et des maisons artisanales à l'est, le complexe se présente comme un ensemble linéaire de six structures distinctes reliées par un système de passerelles extérieures terminées par un treillis organique et lâche qui contraste intentionnellement avec les blocs résidentiels organisés de manière rationnelle.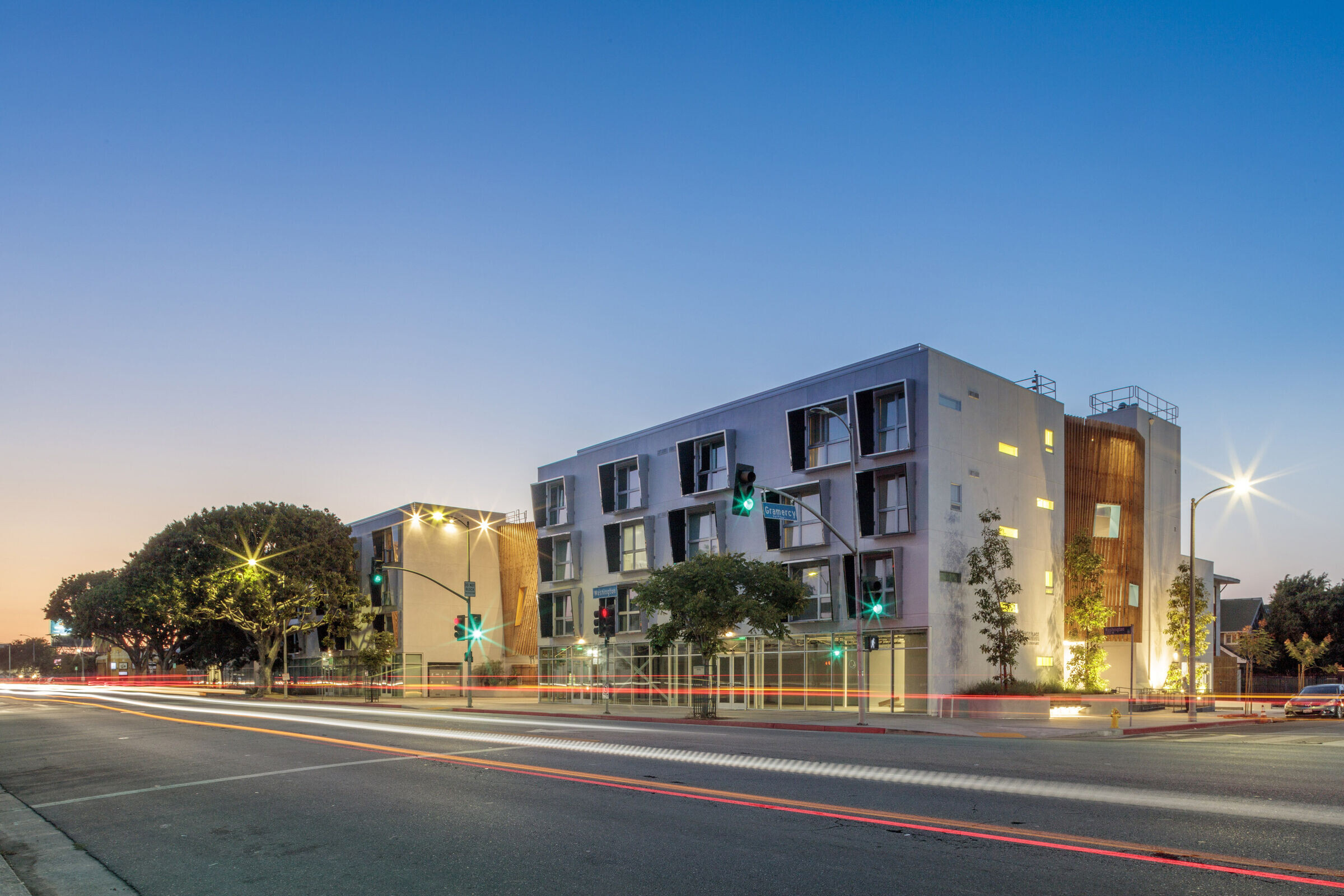 La masse des bâtiments le long du Washington Boulevard est conçue pour être plus haute afin de protéger ceux de l'autre côté, offrant ainsi plus d'intimité aux résidents et maximisant la lumière disponible pour les parcelles environnantes. Optimisés pour la construction modulaire, les plans d'étage très efficaces de chaque structure permettent une lumière et une ventilation naturelles des deux côtés, tandis que les espaces de cour à l'extérieur des appartements servent de salles de séjour partagées où les résidents peuvent se réunir. Un jardin comestible sur le toit offre un espace communautaire partagé supplémentaire.

L'équipe :
1. Ingénierie structurelle + conception de l'étayage : John Labib & Associates
2. MEP/Durabilité : PAE Engineers
3. Civil : KPFF Consulting Engineers
4. Architecte paysagiste : lieu
5. Code / incendie : Simpson Gumpertz & Heger
6. Acoustique : Newson Brown Acoustic Engineers
7. Spécifications : CGA Associates, LLC
8. Déchets et chargement : American Trash Management, Inc.
9. Éclairage : Oculus Light Studio
10. Graphiques environnementaux : Lucy Newson Design
11. Imperméabilisation : James West
12. Sols/Géotechnique : Geocon West
13. CASP : RJC Group Inc
14. Atténuation du méthane : Methane Specialists
Material Used:
Exterior
1. Windows: Alpine Windows. Acoustically enhanced vinyl windows with 1" insulated glazing units. Series A680-80, A6-81-80 and A6-82-80.
2. Storefront: CR Laurence. US Aluminum Series FT601 2x6 for 1" insulated glazing units. Vitro Solarban 70 XL clear glazing and Opaci-Coat 300 warm gray spandrel glazing.
3. Exterior Doors: Masonite Vista Grande patio doors and Door Components Inc. honeycomb core hollow metal doors.
4. Interior Doors: Masonite Flush Series particleboard core and hollow core.
5. Door Hardware: Schlage, Pamex and Ives.
6. Design/Build Roof Truss: Elliott/Drinkward Construction, Inc.
7. Wood Slats: Thermory. 2x6 Scots Pine.
8. Traffic Coating: Tremco. Vulkem 351. Slate Gray.
9. Concrete Paving: Davis Colors pigment additive, Outback, Silversmoke and Dark Gray.
10. Planters: Tournesol Boulevard, Green-form Bonsai and Green-form Osaka.
11. Light Fixtures: Lithonia, Kuzco, Rab and BL Lighting.
Interior
1. Tile: Daltile. Portfolio Colorbody Porcelain. Ice 12x24 wall tile and Iron Gray 2x2 floor tile.
2. Waterproof Deck Coating: Pli-Dek system over plywood substrate.
3. Vinyl Floor: Mohawk Group. Pro Series Luxury Vinyl Flooring. Travane 6x48 TV35 Golder Oak.
4. Vinyl Wallpaper: Astek wall coverings. Dornick, Morning Light and Climbing Eucalyptus.
5. Countertops: LG Hi-Macs. Platinum Granite.
6. Architectural Casework Cabinets: Centerline Wood Products with Snergy thermally fused laminate finish. Folkstone Gray and Deep Blue Sea.
7. Appliances: GE EnergyStar Certified.
8. Drop-In Showers: Fiber Care. HES62-36BF-T stall. 3 wall handicap accessible with trench drain, grab bars and seat.
9. Plumbing Fixtures: American Standard and Delta.
10. Light Fixtures: Elite LED lighting.
11. Solar Hot Water System: Cal Solar.