"Good Food, Good Life", the first Southeast Asia Winner of the international C40 Reinventing Cities, by global climate leadership group, C40 Cities, is our masterplan to repurpose Singapore's heritage fire station. It is envisioned to be a community node that reconnects Human to Human relationships, as well as with Nature through Virtuous Food cycle. Guiding this is the reignition of the fundamental essence that has united Singapore's multi-ethnicity during her founding years: Kampung Spirit ("Village" in Malay), which has defined a distinctive way of life that taps into the altruistic side of humanity - Good things are shared, and burdens are carried. This then laid the foundation of Singapore's urban planning system where common spaces are deliberately planned to foster inclusive communities.
The plan is further informed by UNESCO listed intangible culture - the hawker heritage, a Singapore unique interpretation of community-led placemaking that integrates food, as well as the site's advantageous sitting in the midst of the island-wide connecting nature routes. These set the design parameters of the 4-step "Communi-trail" node that brings focus to educating the cycle of food production and food security through the 4 key pillars: Initiate, Transform, Share, Recover. Its architectural gesture draws on the influence of the community to organically enhance Singapore's multicultural vibrancy in year-long curated outdoor spaces of the tropical country. This initiative supports the overall Nation's movement towards securing food to cope with land scarcity.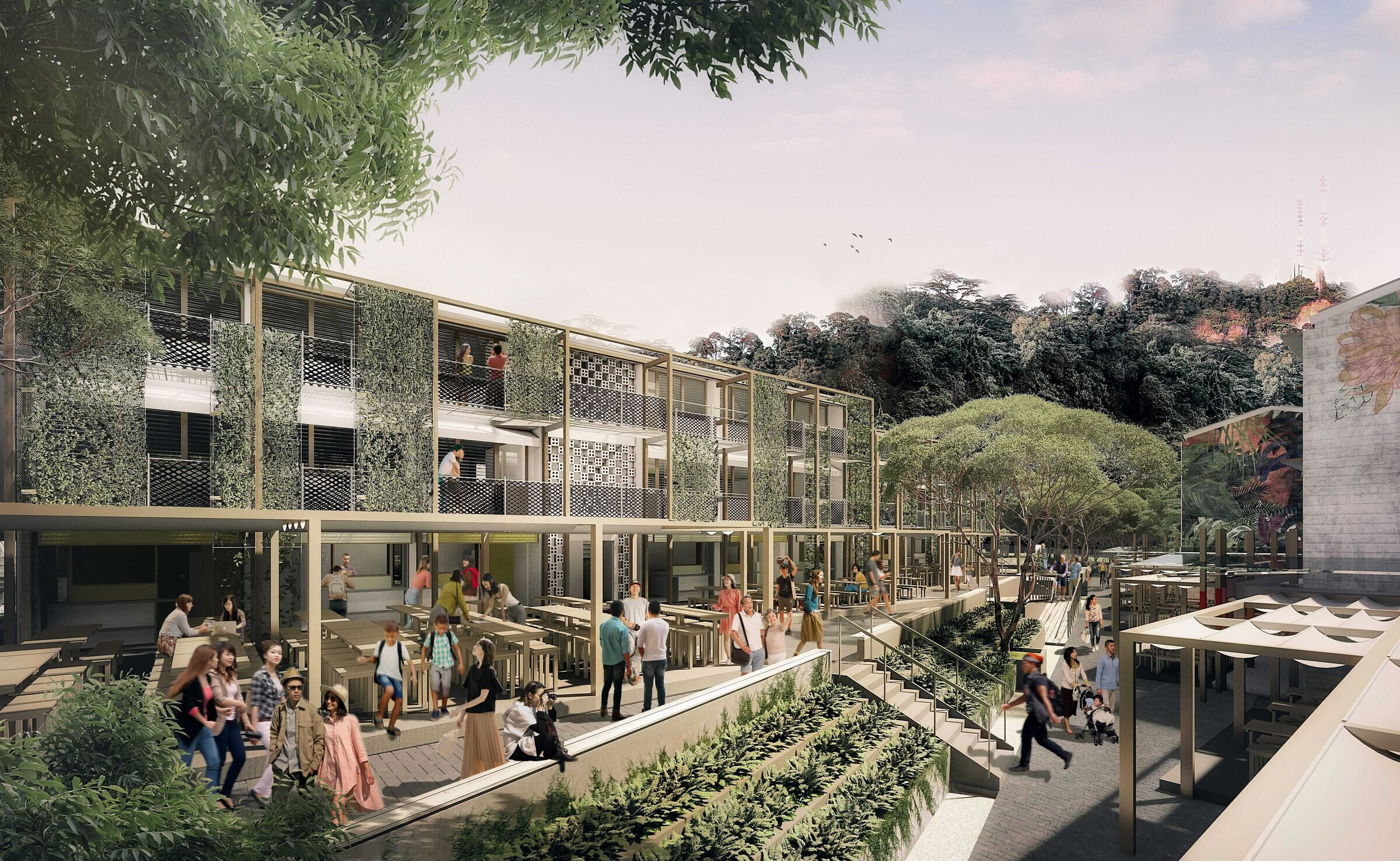 An adaptive reuse strategy is adopted for the site to ensure minimal interventions that alter its historic value. This enables the local heritage compound to resume dialogue together with The People. Additions made are done to work with Nature's process in the tropics. This sustainable method references the circular economy model and is interpreted right down to the tenants' curation list, making "Good Food, Good Life" the first-ever Singapore public compound to adopt such an innovative and holistic approach to heritage conservation.
"Good Food, Good Life" is an expansive multi-disciplinary collaborative effort, grounded by context and design consciously with Nature to optimize every square meter for an inclusive environment. It will reopen to once again, serve the community, but as a common 3rd place to understand the integrated relationship of People, Planet and Place through sustainable food and closed loops.