Giallo Dentro, a project developed in 2015, is located in the Isola district of Milan, inside a historic 19th century building. It is based on the philosophy of yellow, which is the common denominator of the whole project. The distribution of the house spaces, whose surface is only 50 square meters, is designed to be used flexibly and to make the most of each environment according to the daily needs of its tenants.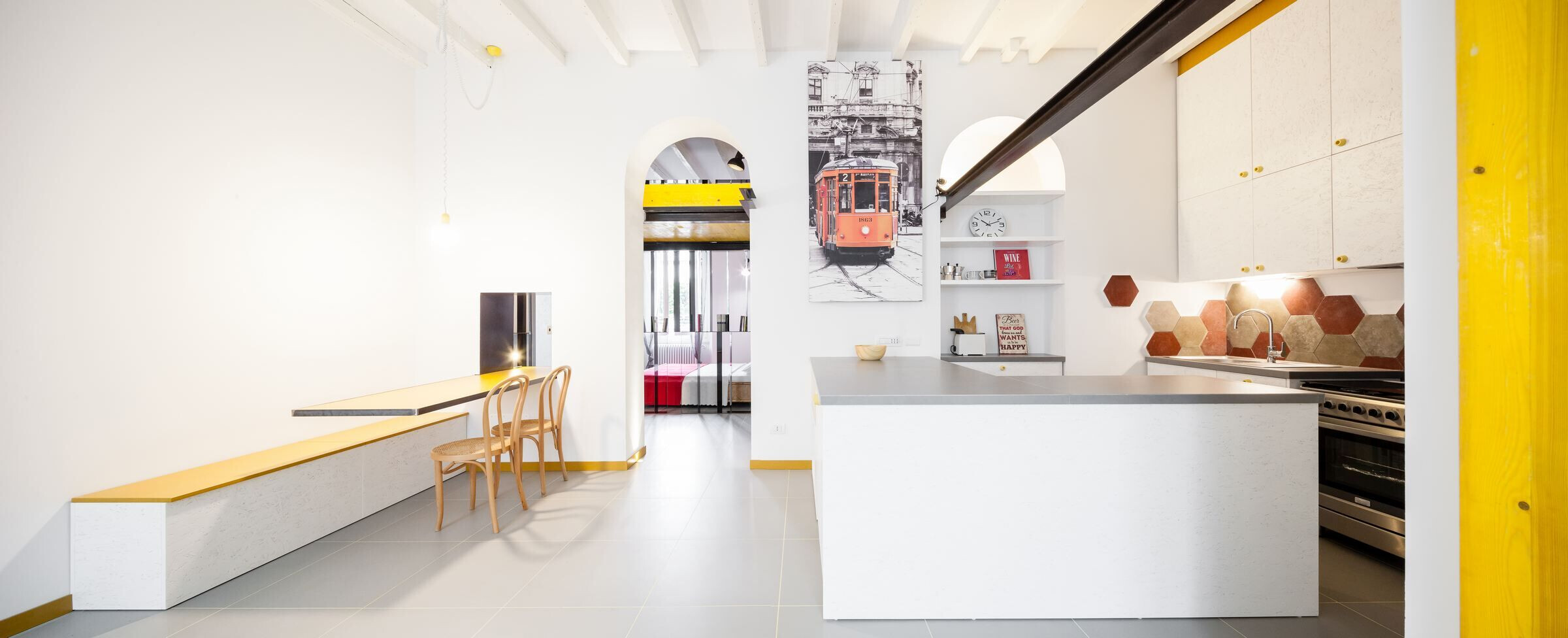 And here the anteroom becomes a study, thanks to the sliding dining table that turns into a desk; the kitchen hides a mobile element within the peninsula that acts as both a seat and a storage unit; the mezzanine turns out to be a comfortable bed for guests; the bathroom, on the other hand, having a shower inside and a sink in the anteroom can be used by several people at the same time.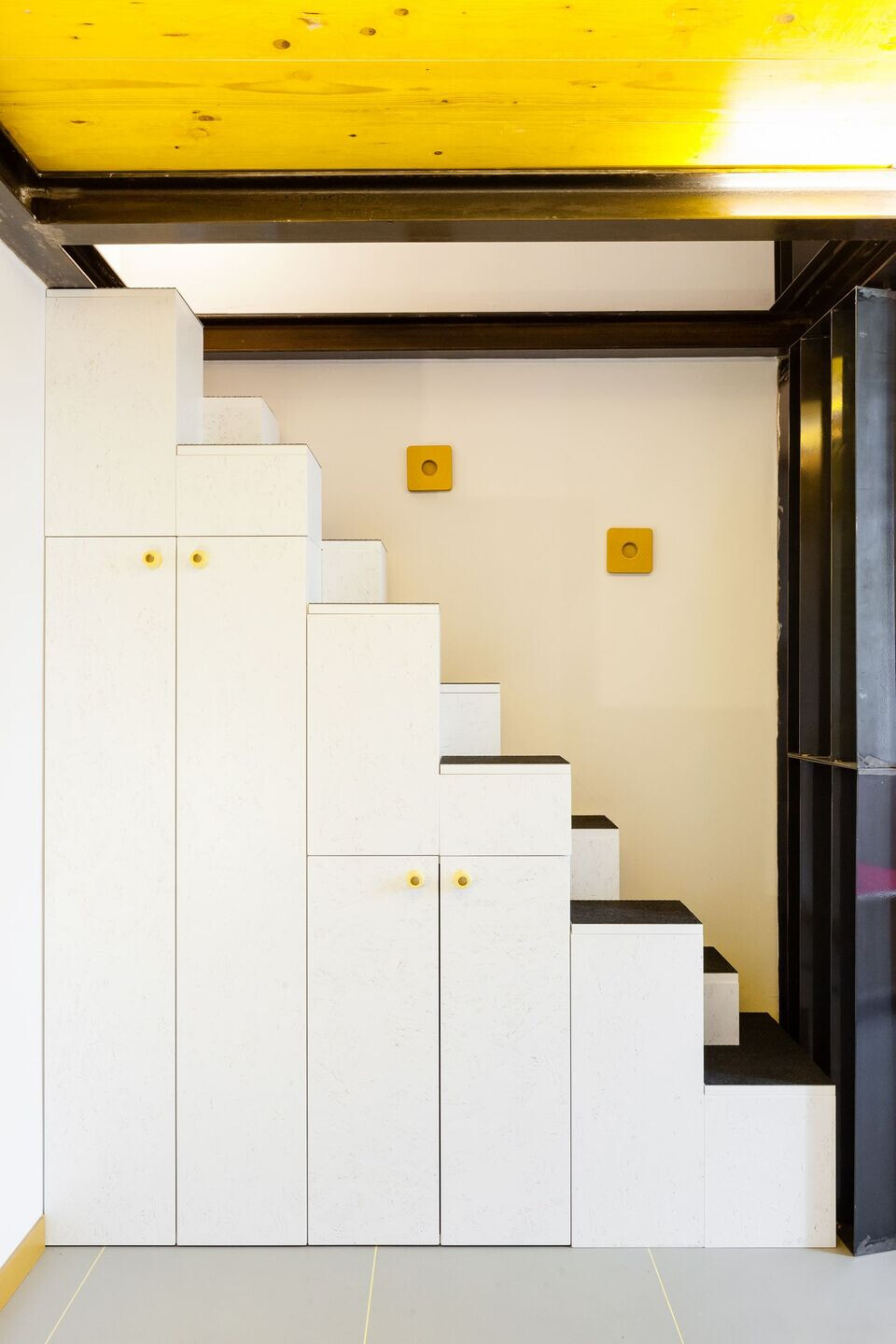 One of the interesting aspects of Giallo Dentro is the attention paid to the reuse of materials such as the original tiles of the house which are now the kitchen wall tiles. The mezzanines and the bathroom door, on the other hand, were made by reusing yellow construction boards and embellished with black MDF details. All the furnishings in the house are custom designed.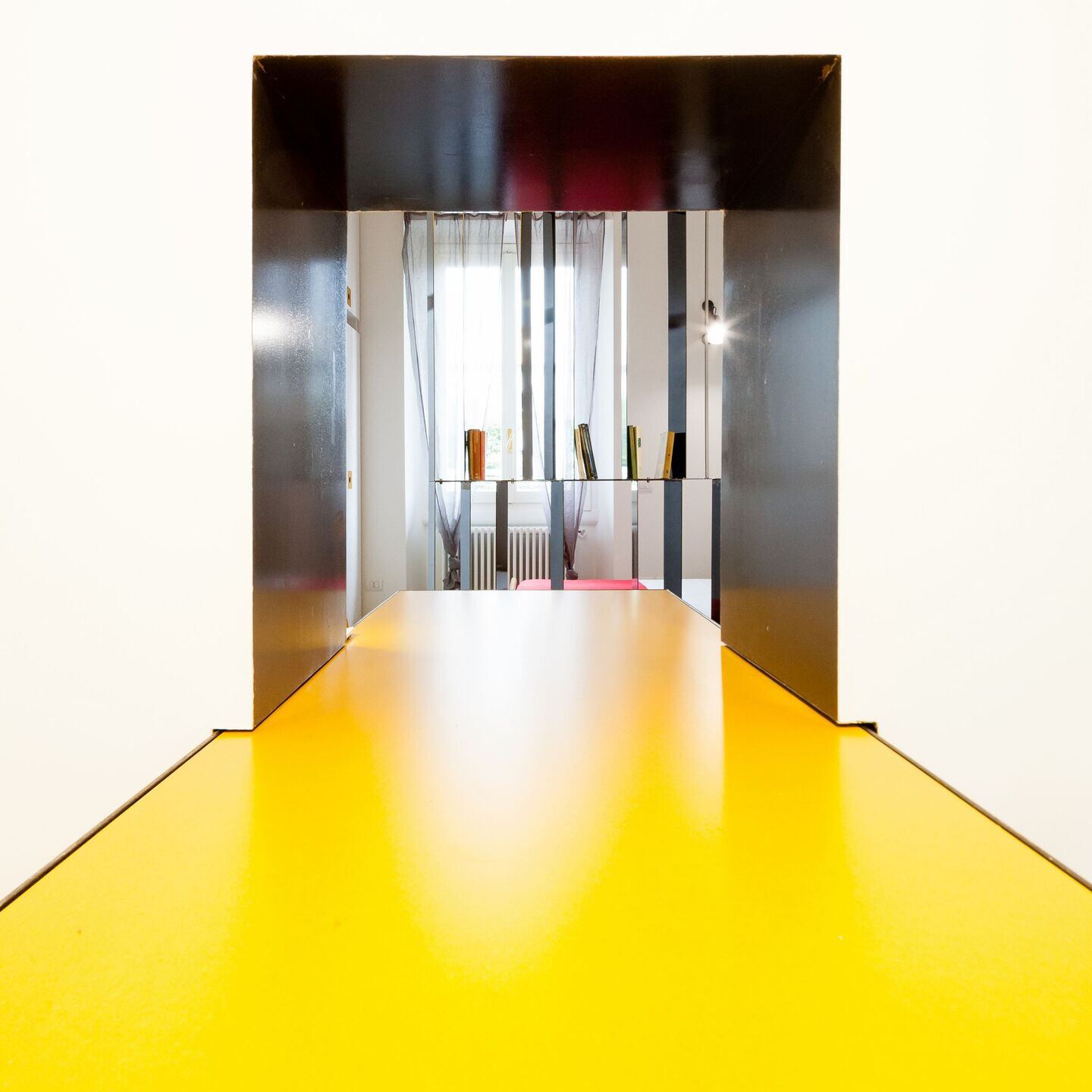 The living room table is made of iron and is set in a ring where once there was a fireplace. In this way, sliding and suspended, it can be used both as a dining table and a desk for the study. The kitchen, in white painted OSB, has a bench that can be used both as a breakfast stool and as a movable bar cabinet. The structure-separé between the bedroom and anteroom is made of iron and acts as a parapet for the loft bed.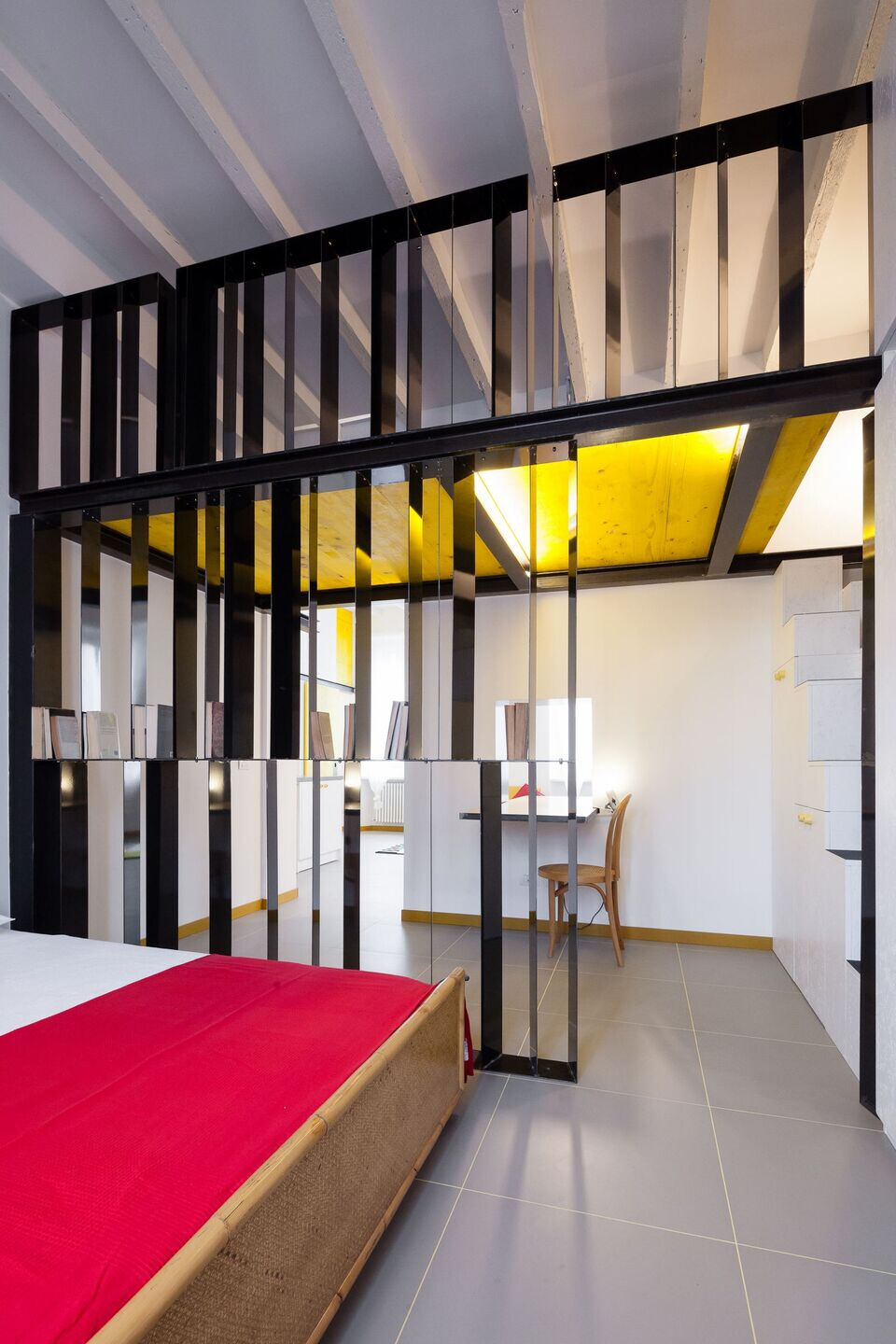 Inside the bathroom, the contrasting taps are white, while the washbasin is designed by reusing an old toilet from the 1900s.
Finally: why 'Giallo Dentro'?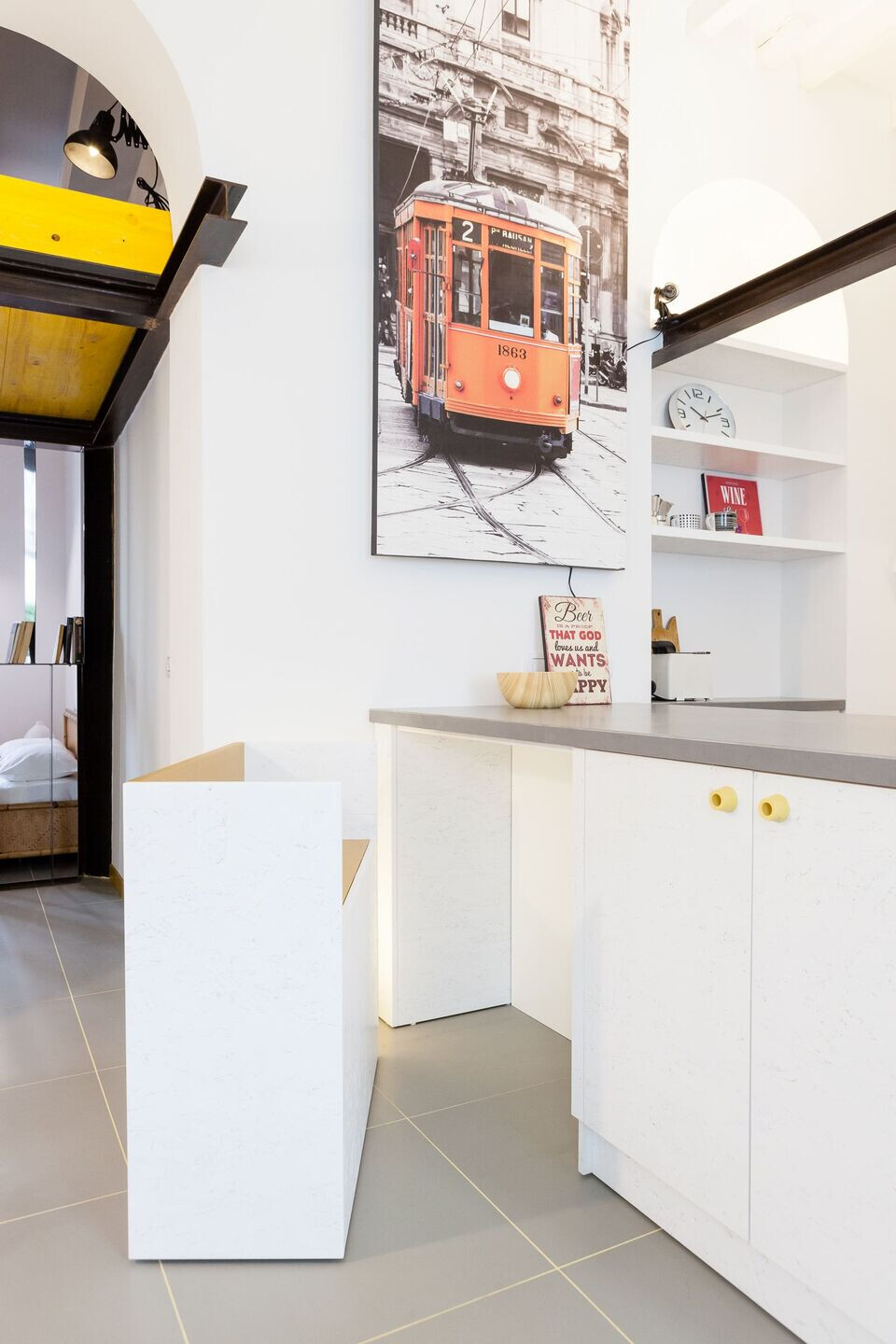 Because the yellow color is the trait-d'union of the whole project. Infact, the handles of the kitchen and of the wardrobes are yellow, some of the furniture panels are yellow, the stucco of the gray floor and the tiled bathroom are yellow, the skirting board and the cotter pin of the table lamp are yellow.
Material Used:
1. Flooring: Lea Ceramiche; Ceramica Vogue; Mapei
2. Interior lighting: Strip led; Tolomeo Pinza - Artemide
3. Interior furniture: Custom-made furnishings
4. Sanitary: Flaminia; Fantini
5. Shower: Kaldewei