In a central location of Arta, the challenges of designing a modern club were met through intelligent and imaginative design. The main design concept principles were appropriate lighting, which is vital for creating the right atmosphere in such places, as well as the construction of different levels for achieving not only the best possible functionality of the long and narrow space, but also a good visual contact from any point within it.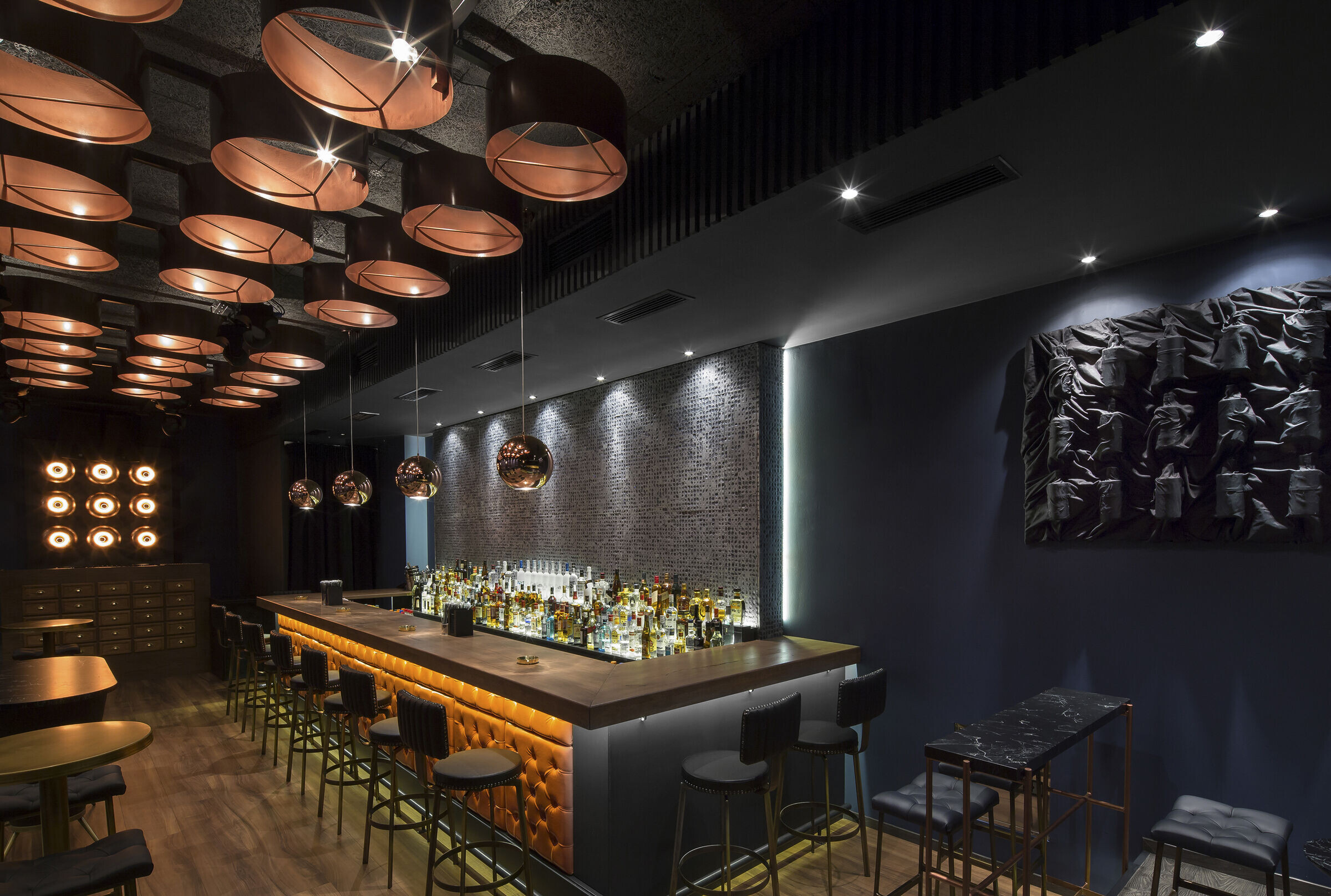 It was chosen to emphasize the club's elongated floor plan by a special composition of cylindrical, metal lights in copper color which were placed on the ceiling. This composition links the club's two narrow sides, thus simultaneously creating two 'poles' at its edges, which are raised from the central space creating two platforms. The first is dedicated to the DJ, while the second is used as a small lounge area and either has its own design approach.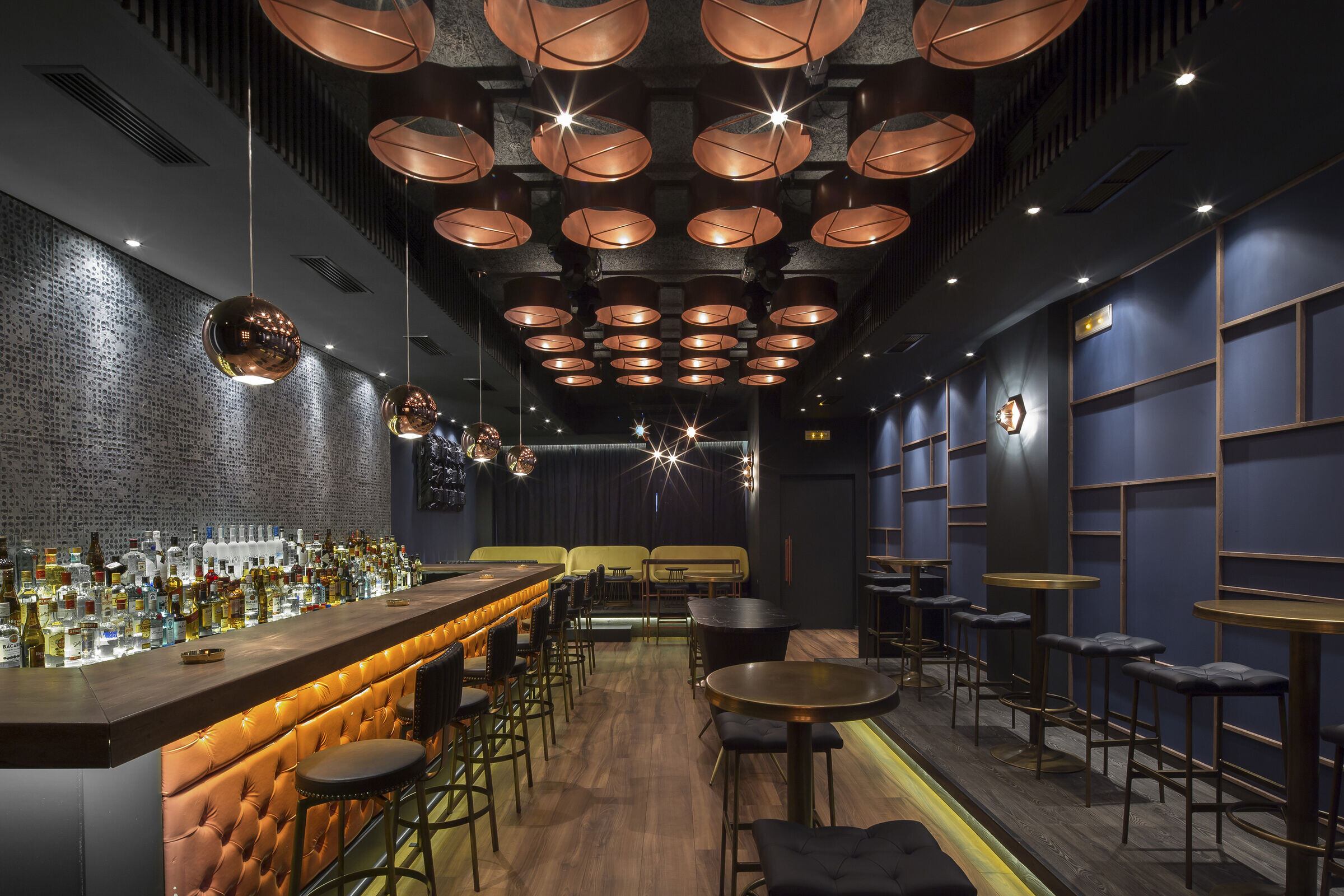 The DJ's area is defined by an impressive piece of furniture, which resembles a vintage chest of drawers, and behind the DJ, in the background there is a panel of metal lights whose shiny surface creates a unique play of light. A classic design was chosen for the platform on the opposite side, which is perfectly combined with modern features.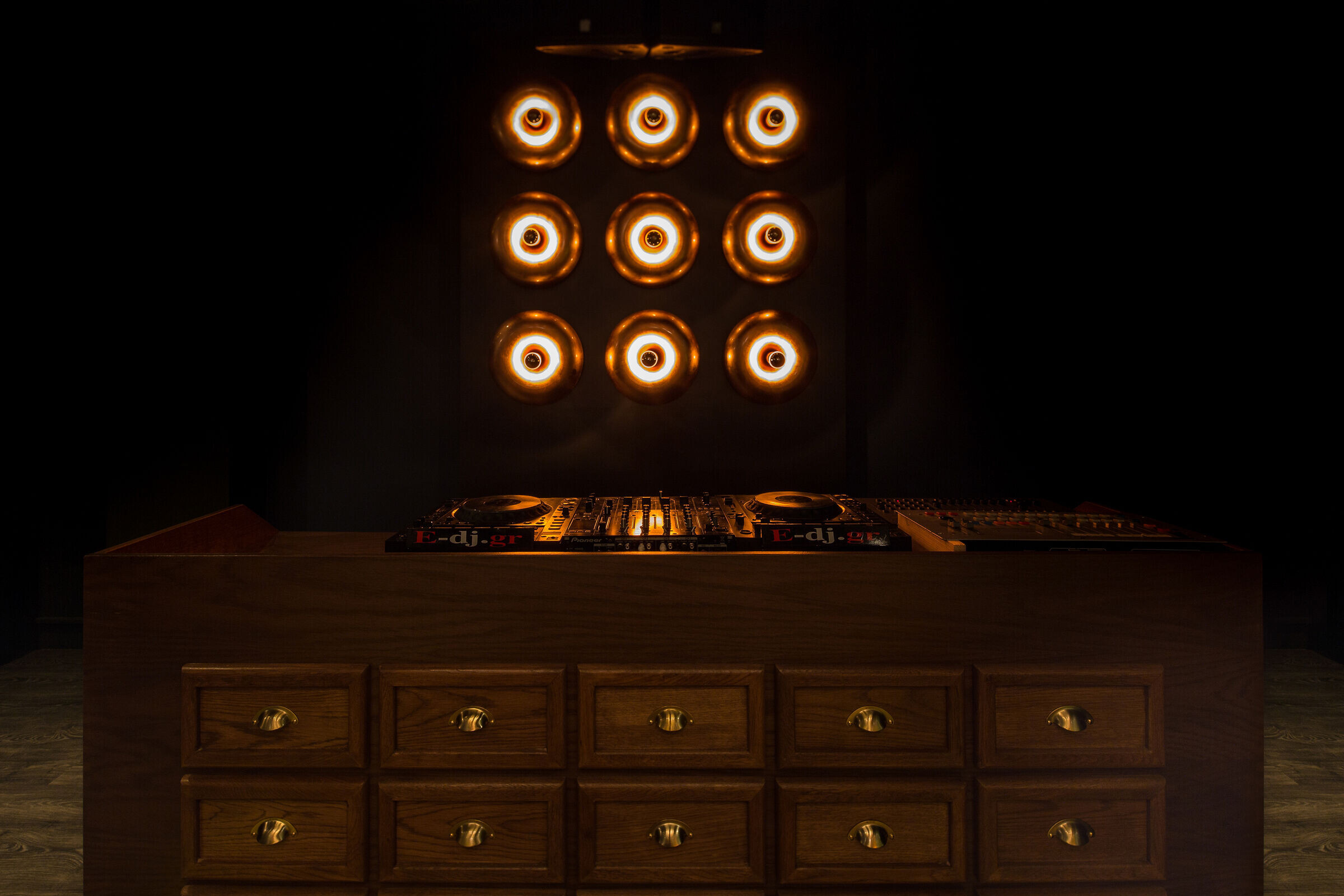 The bar is centrally positioned and plays an important role in the overall design of the club. It acquires its own aesthetic identity applying a simple, classic style, which is complemented by elements of pop style through the bright orange color of the quilted fabric used to cover the front of the bar, and the 'Mirror Ball' pendant lights, designed by Tom Dixon studio. Similarly, the furniture behind the bar follows a minimal design, allowing the wall paneling to draw maximum attention and become the ideal background for the bar.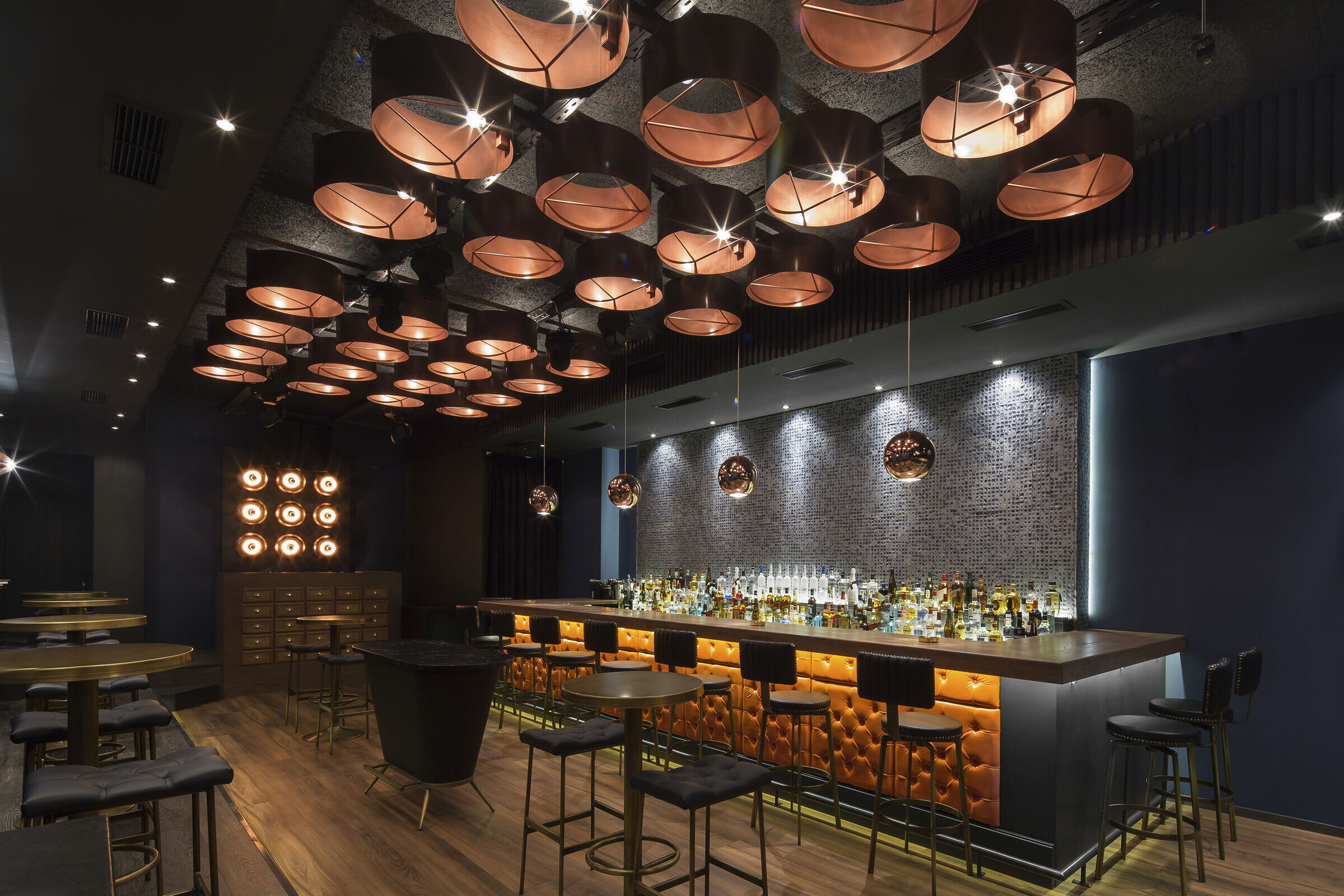 The construction of an asymmetric grid on the opposite wall creates a strict geometric canvas, smoothly connecting to the design of the club's façade, creating a unique dialogue between the interior and the exterior.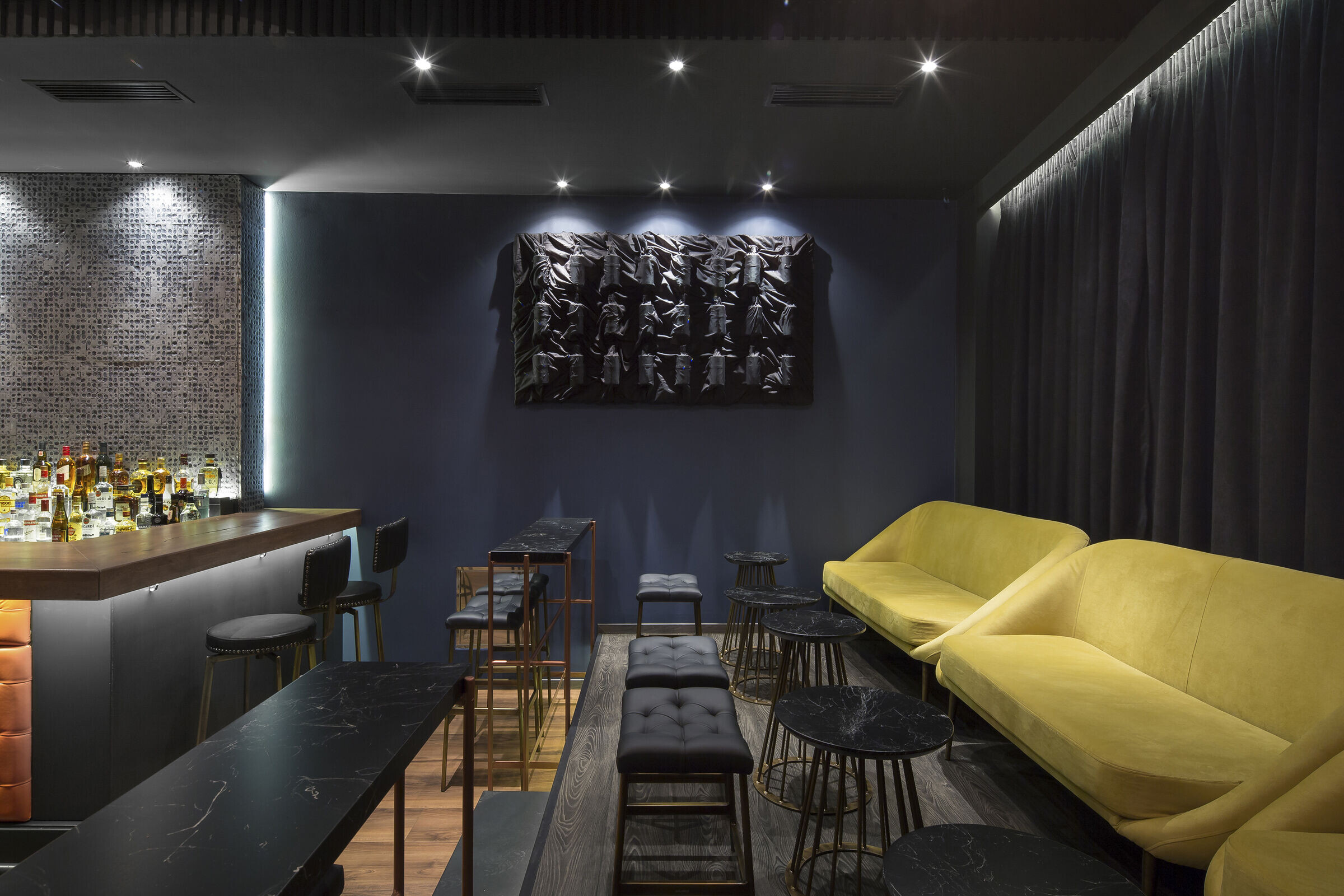 The concept of the project is complemented by the imaginative use of materials, textures and colours. Classic and familiar materials offer a sense of luxury, using a contemporary design approach. Wood, black marble and surfaces of gold and bronze paint are combined with textiles such as leather and velvet. An earthy colour palette forms a neutral base to feature the design details with special custom-made constructions and bright colors of orange, yellow and blue.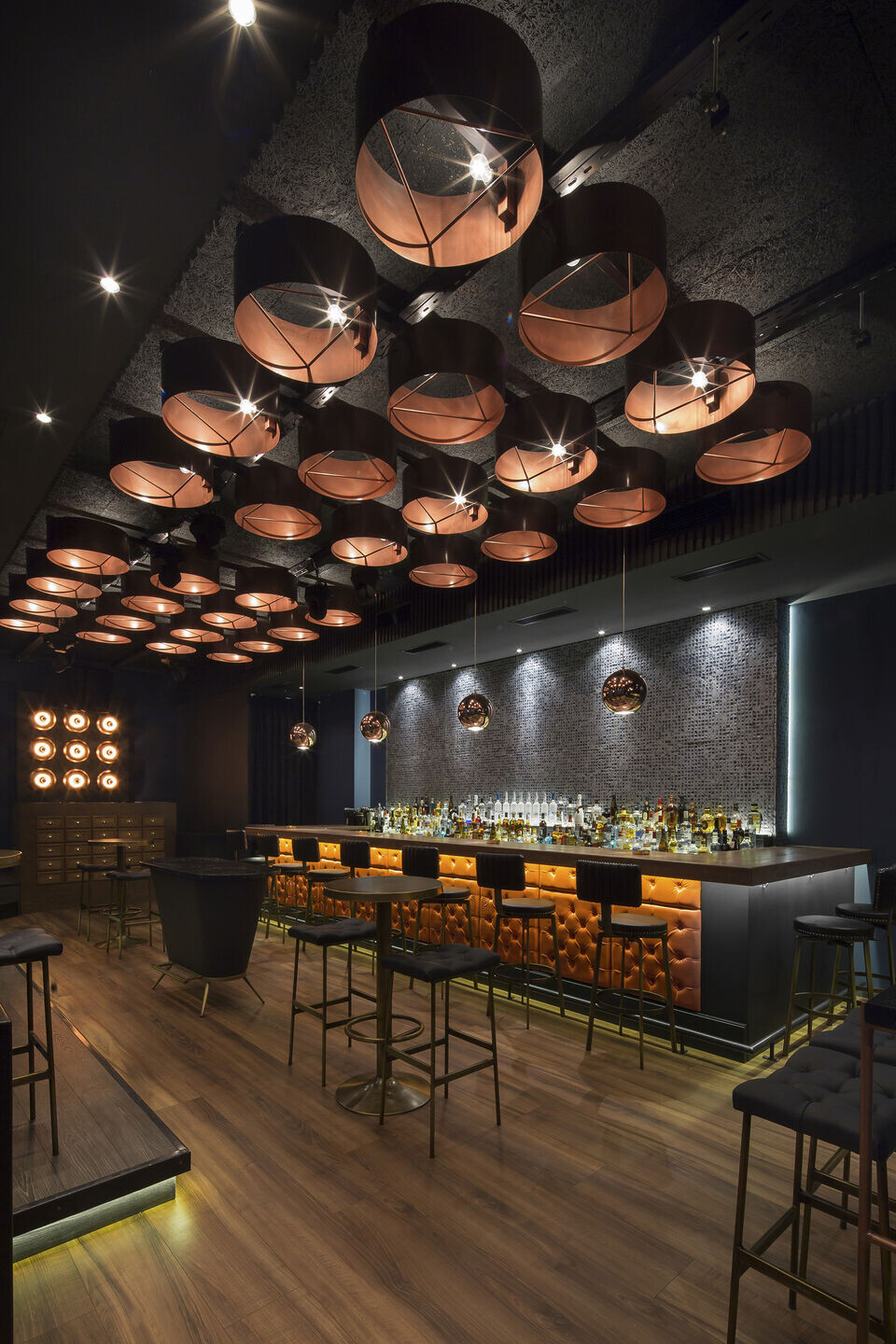 As for the club's facade, strict vertical lines using metal elements in dark grey color create a clean and intense result, while the transparency of the large glass opening adds appropriate balance through the creative contrast between the 'empty' and the 'full'.
Material Used:
1. Floors - Panelling: Rountos wooden floors ( Haro brand floors– Panel Piedra )
2. Lighting: LUMINART – Antoniadis
3. Furniture: ALMECO