Located in an upscale Toronto neighborhood, the Gallery House replaces a simple, neglected bungalow from the 1940s, and was designed for a couple with a passion for contemporary art and architecture.
The clients' requirements for the house included a large, open kitchen and family room where they would spend most of their time, separate offices for him and for her, four bedrooms with walk-in closets and ensuites, a garage-accessible mudroom with generous storage space, a gym, a games room, a golf simulator, wine cellar and humidor, a pottery room, and a woodworking workshop. The owners, though not artists themselves, possessed a refined design sensibility, making fine craftsmanship throughout the residence an absolute necessity. Perhaps most importantly, the clients possessed an extensive international art collection that required ample gallery-style wall display space. The house would frequently oscillate between familial and public notions of space; the clients were frequent hosts of large social gatherings, and living spaces needed to be conducive to a comfortable atmosphere whether privately or socially occupied.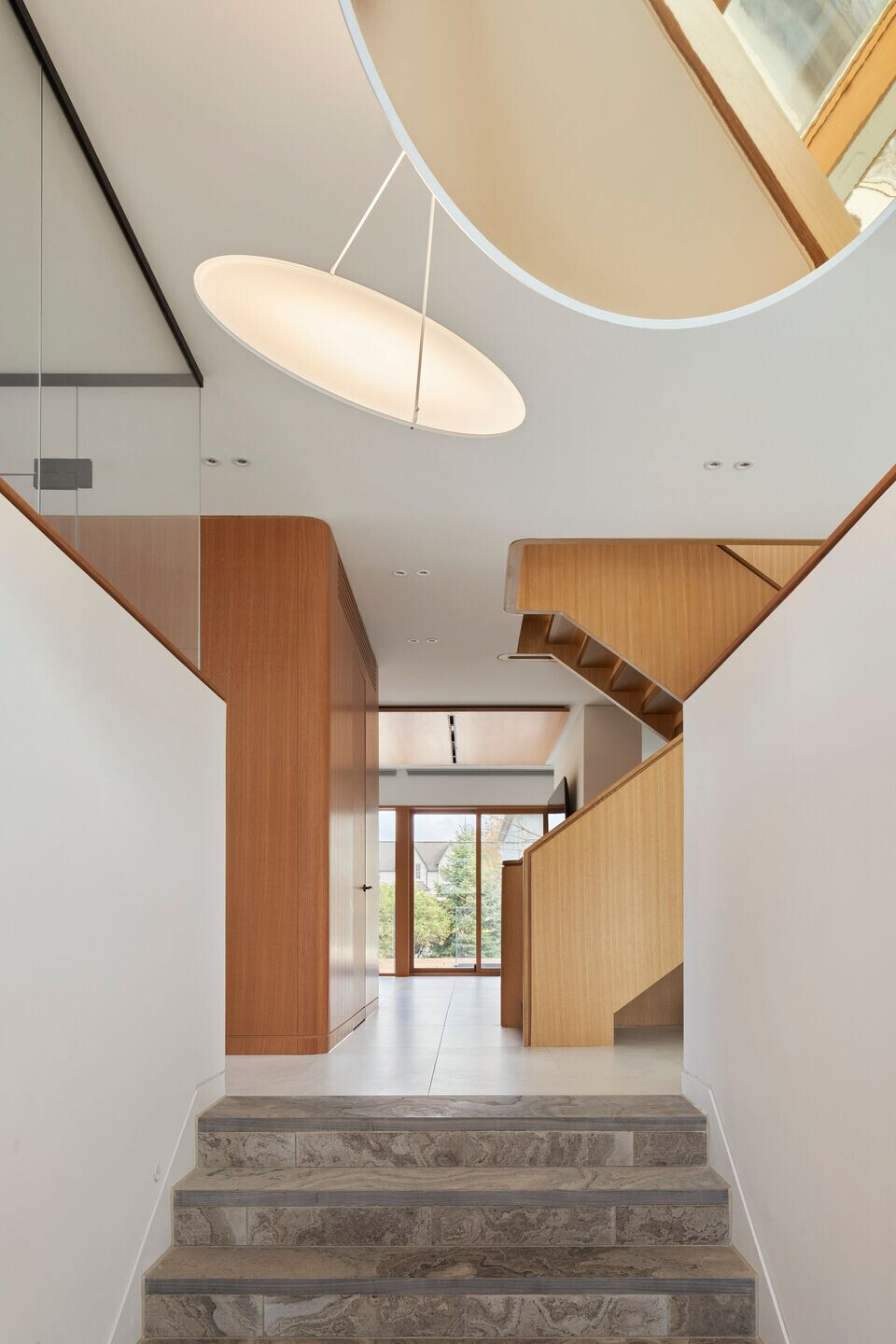 Composed of wood, glass, limestone, and steel, the Gallery House is unapologetically modern. It rises two floors above ground and is mirrored below ground with a two-level basement. The exterior is composed of stone and timber rectangular volumes that intersect and stack upon one another. Straight lines and a rectangular structure create a clean, refined look. Metal louvers on the exterior screen large modernist windows, whilst also framing the arrival and entrance to create a notable entry quietly reminiscent of art gallery structures.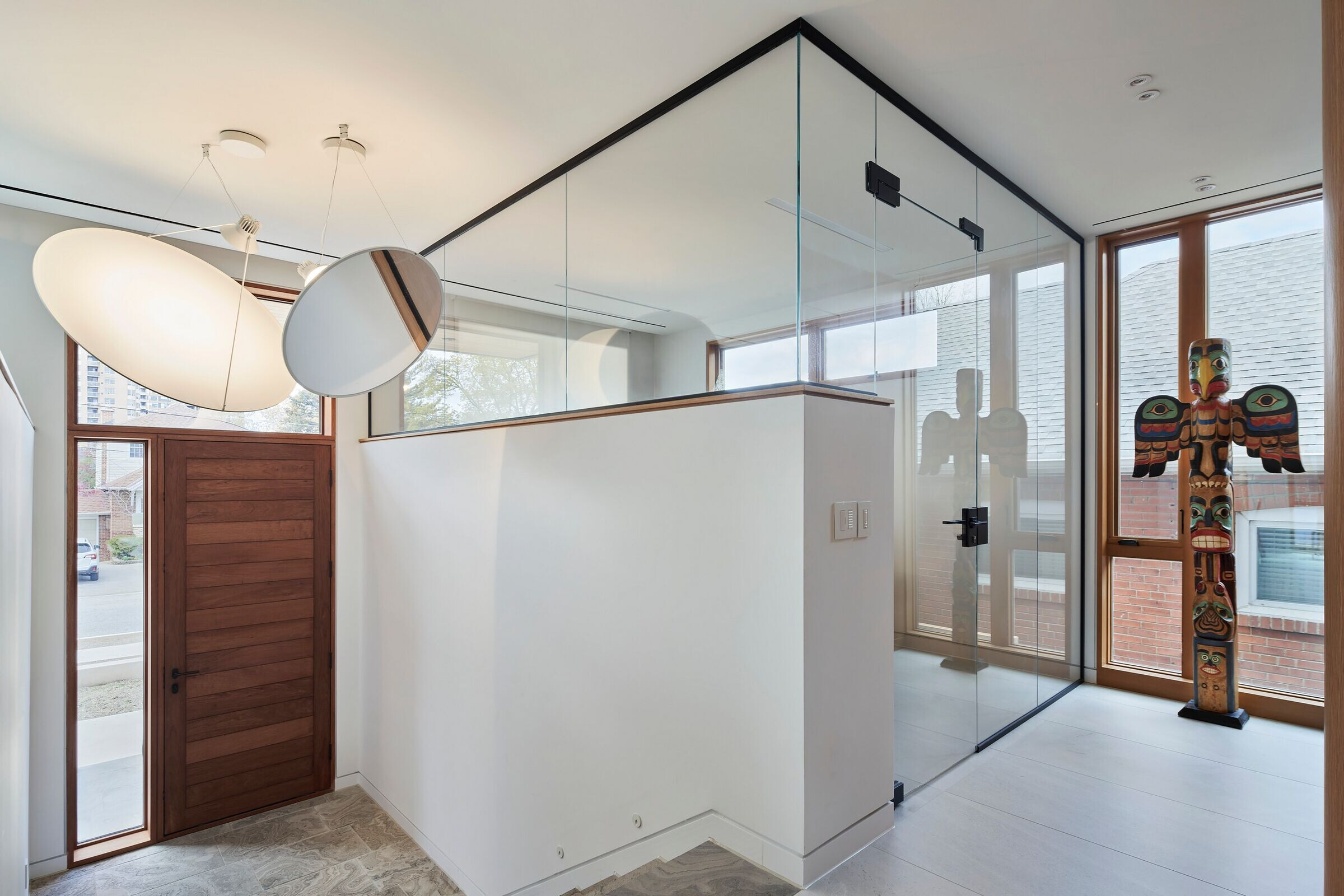 The ground floor is centrally organized to allow for air and light to circulate generously through its east-west breezeways. The two breezeways framed on either end with floor-to-ceiling glass, serve to organize circulation as well as to subtly direct the eye on an invisible path throughout the house and, consequently, past the select assortment of fine art and artifacts on display. A three-car indoor garage provides each car with an electric vehicle charging port. The house incorporates several other environmental features including a photovoltaic solar panel system on the roof, eco-friendly hydronic radiant in-floor heating throughout the entire house, as well as high-efficiency mechanical systems. Natural ventilation is promoted with operable fenestration to maximize bringing fresh air and light into the house.
The defining feature of the Gallery House is its open concept ground plan, which is organized around a grand timber staircase at the heart of the house. The central stair bends and flows between floors, clad in a rich rift-cut white oak. A natural glow from four generous skylights above the stairs washes through the top floors of the house, playing on the two-story custom-designed oak Art Screen.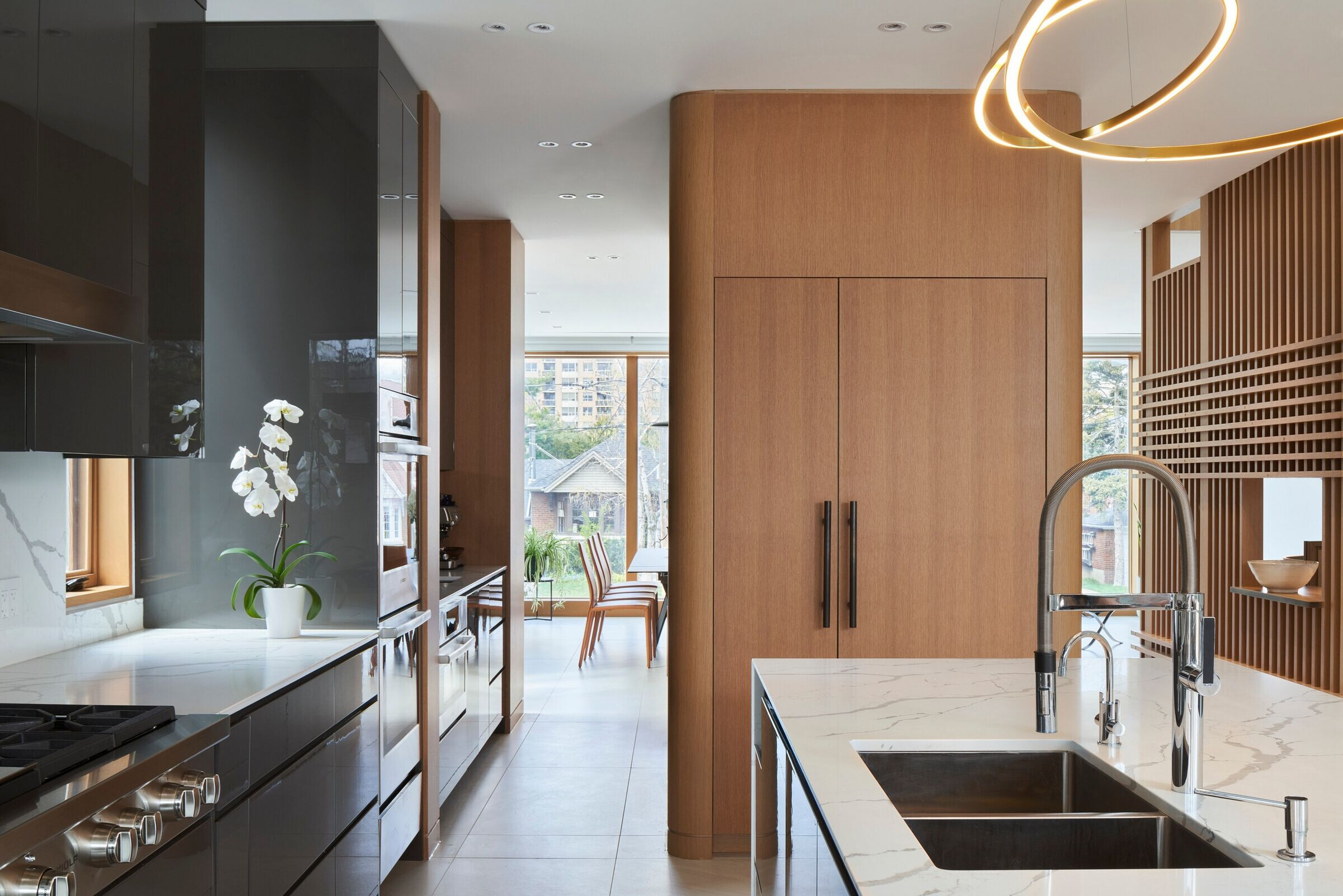 Expansive glazing ensures that the interiors are bathed in sunlight at all times. Automated blinds and adjustable lighting provide the perfect mood for any activity or simply to rest. Full height timber windows bookend the breezeways to allow light to flood the corridors, creating a space that is fresh, airy, and graceful. Its upper floors and basement are no different—even the basement rooms are intentionally designed to feel as though they are above ground.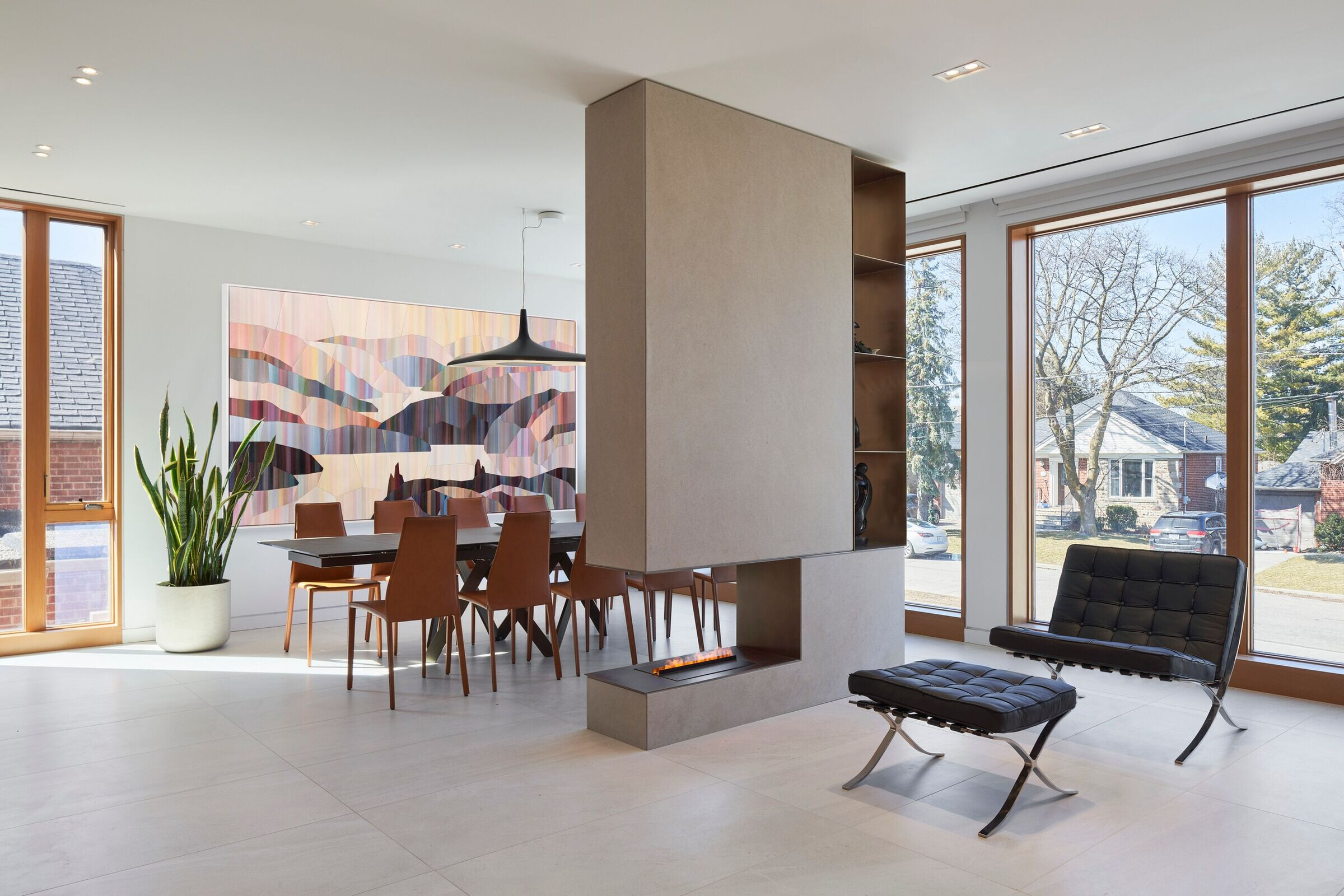 Movement through the ground floor is always oriented by views across the breezeways that also allow air to circulate around the core of the house. Strategically placed fireplaces seamlessly integrate and distinguish spaces: a family room, living space, dining, a kitchen complemented with a butler's pantry and store, breakfast nook, powder room, and office.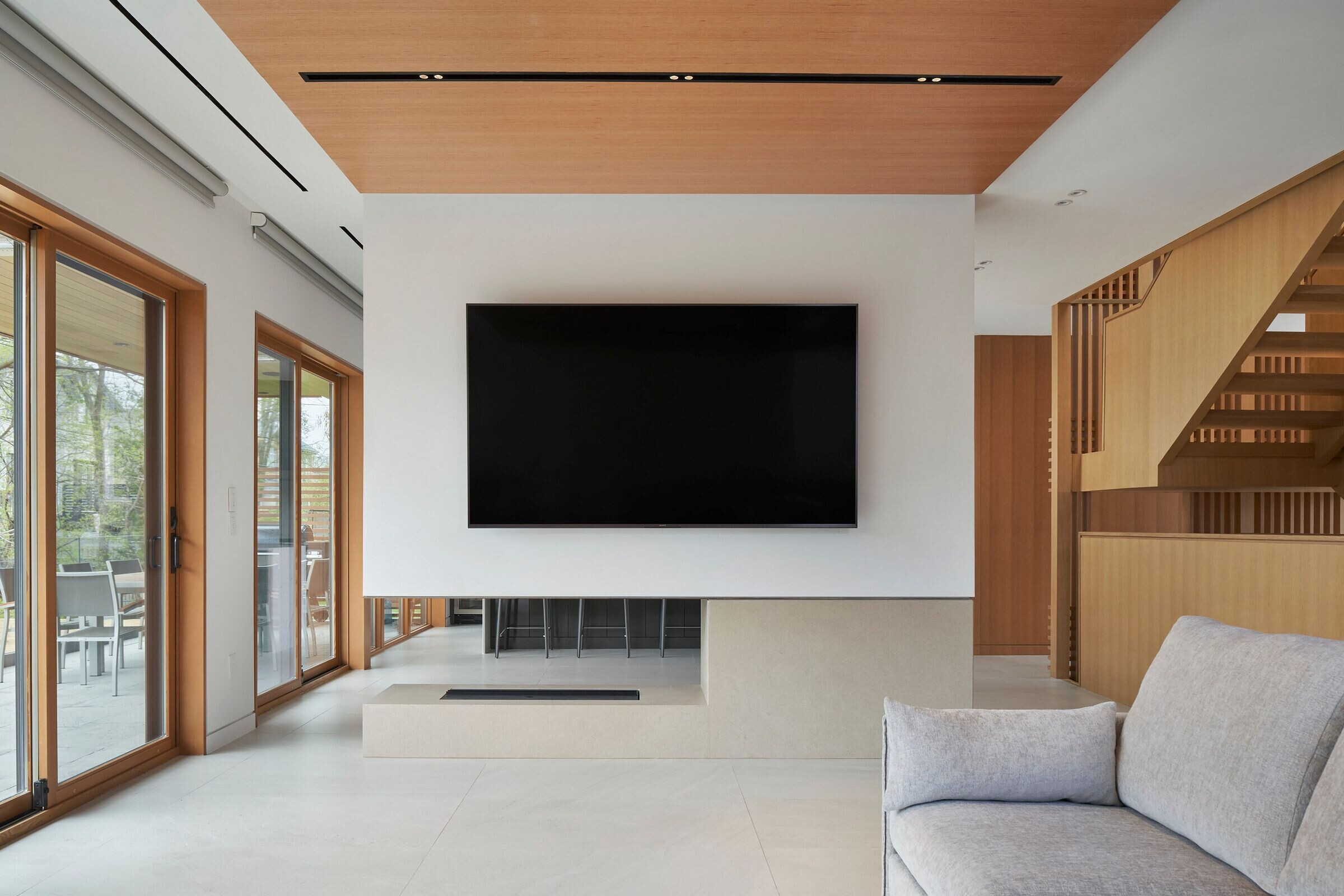 The upper floor contains four bedrooms with individual ensuites and walk-in closets, plus a second office with full-height glass doors and a walk-out balcony. Halfway below ground, the 10-foot high basement features a gym and games room, while sublevel 2 boasts a golf simulator (that doubles as a theatre room), a wine cellar, and a humidor. On the ground floor, a large floating deck extends out from the family and kitchen, overlooking a cedar and concrete framed backyard that stages as a perfect summer hideout. The half-buried upper basement too shares the backyard garden through a large walkout recess finished in flurried Eramosa stone flooring and framed by smooth architectural concrete retaining walls.
On the main floor, the dining and family room suite is expressed externally as a glass box wrapped in a cedar frame. Sitting politely above this cedar box is an elegant limestone volume making up the second floor. Time-honored materials like Indiana and Eramosa limestones exude richness and depth, extending into the house as feature pieces of the interior. Flurried Eramosa limestone flows from the exterior porch to the entrance foyer and steps. Sculptural Amisol lighting discs of aluminum and acrylic sail high above the double-height entry, paying homage to the house's gallery theme. Sheer Indiana limestone slabs clothe the interior fireplaces and connect the interior and building exterior. Open white walls facilitate the display of paintings. Bronze niches in the fireplace encase the clients' finely curated soapstone sculpture collection. The Art Screen framing the main staircase features illuminated niches that display select pottery created by the owner.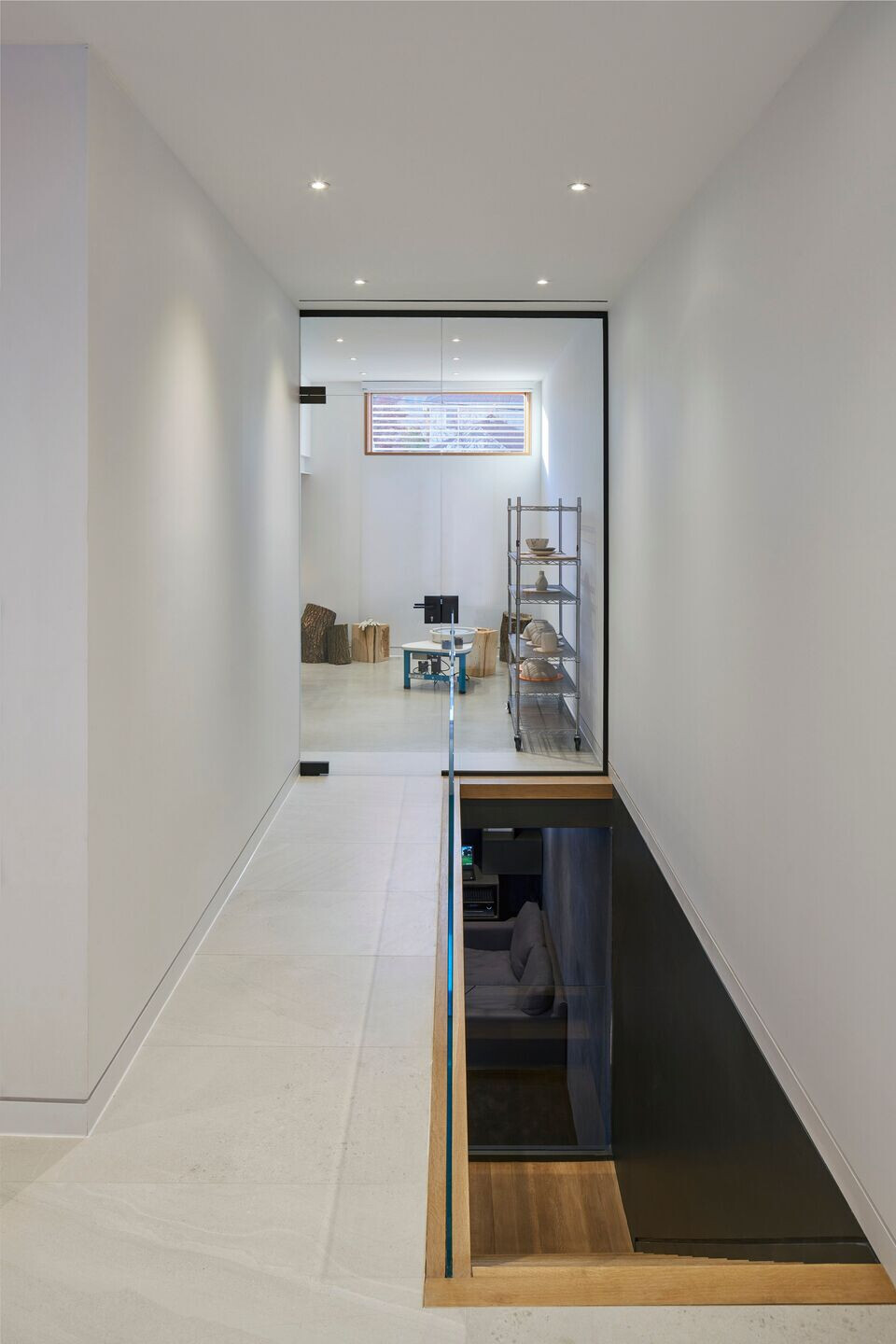 The Gallery House was completed in January 2021. It might be said that its owners have added yet another item to their collection—the Gallery House is as much an art piece as the items inside its walls.