The fire department and the police require optimal connections to the local transportation network for operational purposes and accessibility - the joint accommodation of both facilities at one location has been consistently implemented here.
The construction project includes a new building for the fire department in the Jebenhausen district of Göppingen. On the other hand, the local police station forms the northern end of the building project. The joint new building has clearly separated uses and separate entrances, but is designed as a joint prismatic building with a length of around 47 meters.
The fire station itself consists of an administrative area with an adjacent vehicle hall. The two-story administrative area is of solid concrete construction and has concrete ceilings above the first floor and upper floor as well as in the stairwell. Rooms close to the operations area, such as changing rooms and radio room, are connected to the vehicle hall on the first floor with direct access. Training rooms with a small kitchen, youth room, instrument storage and administration area are located on the upper floor. These are connected to the hall via a gallery.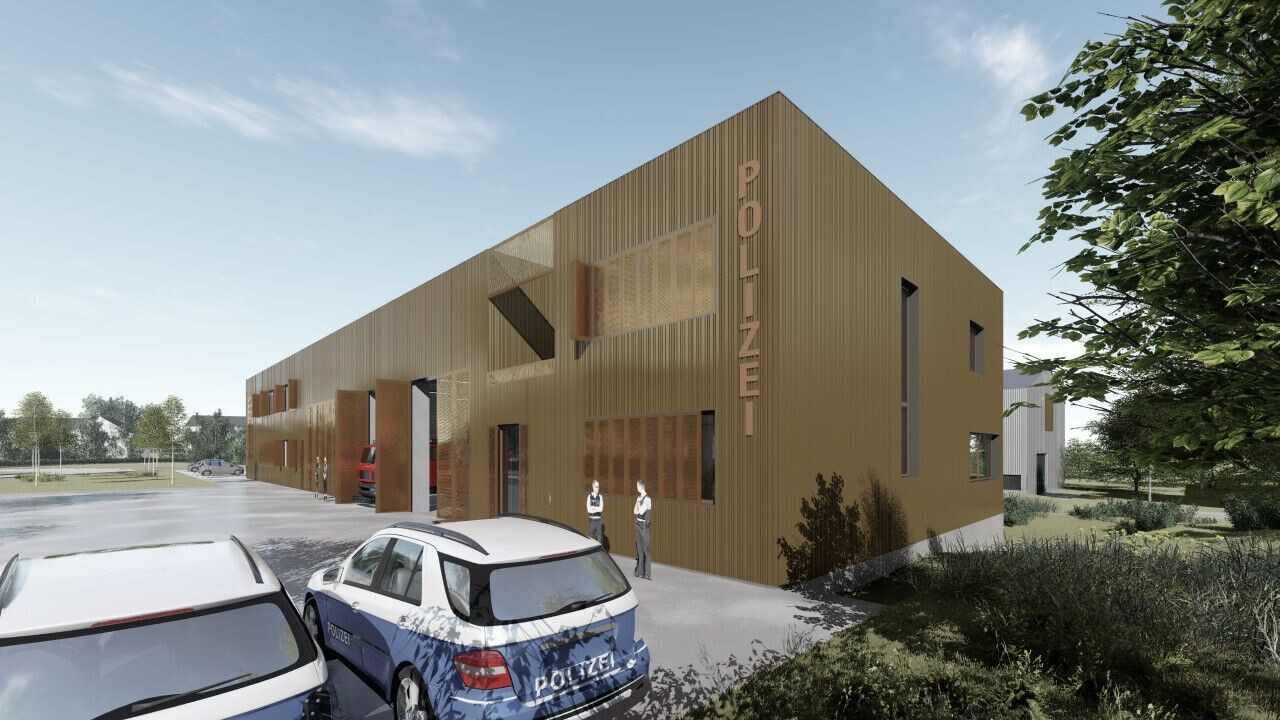 The single-story vehicle hall with three parking spaces for fire engines and a separate garage for police vehicles is designed as a lightweight construction with reinforced concrete columns and a wooden supporting structure above. The vehicle hall is completed by four sectional doors, a concrete floor slab, ceiling radiation for temperature control and a designated storage area.
The two-story police station is designed in a compact concrete solid construction with an open staircase. The space program is based on functional and necessary service procedures of the police. On the first floor, there are operations management offices with direct contact to the visitors lock, as well as interrogation rooms with an adjacent custody room and a storage room that is directly accessible from the police garage. Other rooms such as post management, administrative area and changing facilities are located on the upper floor.
The flat roof consists of a two-percent sloped and insulated construction with extensive greening. The roof surface, including upper layers for the green roof, runs continuously over the administration area, vehicle hall and police station. The building is given a valuable characteristic by its color-coated, thermally insulated and curtain metal facade with designed profiles.
Plan author: Gaus & Knödler Architekten PartGmbB (since 01.09.2019: Gaus Architekten)