Atelier A's current project Element is a pop-up select store selling Japanese-style camping clothes, accessories and equipment. The design is oriented to the store's need for flexibility and its theme of nature and discovery.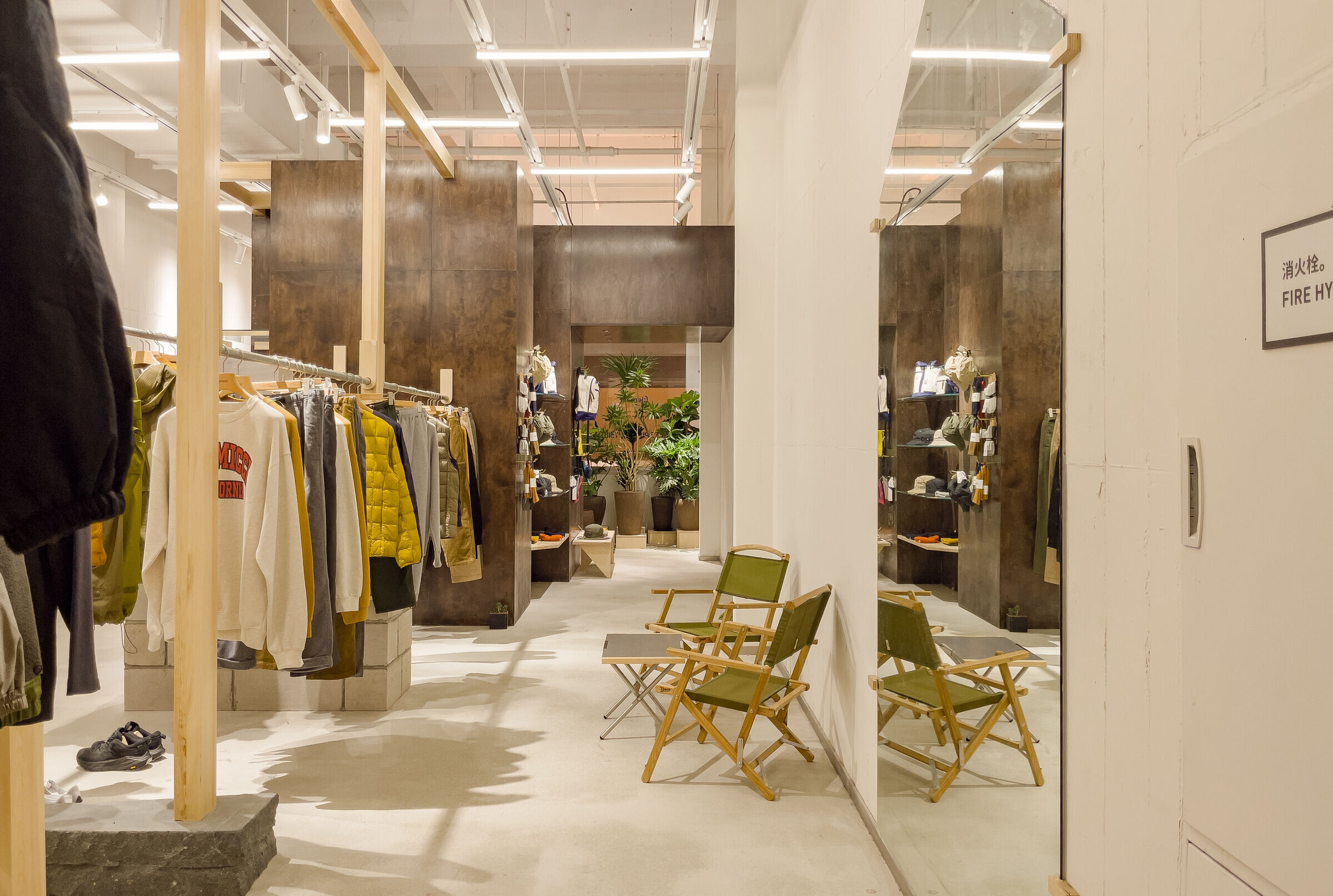 Element is located in an underground commercial space below a park in Chengdu. As it is a pop-up store, only non-destructive decoration is allowed to do with the floor, ceiling and walls. Atelier A thus places two joined wooden blocks in the long narrow space of the shop, like an art installation in a gallery, one at the entrance, the other at the rear part, connected by a pine beam. Functionally, the blocks are used as shelves, cashier, storage and fitting rooms. From the aspect of traffic flow design, customers will have to walk around them, through camping products and potted plants all over the shop, like an adventure in a jungle.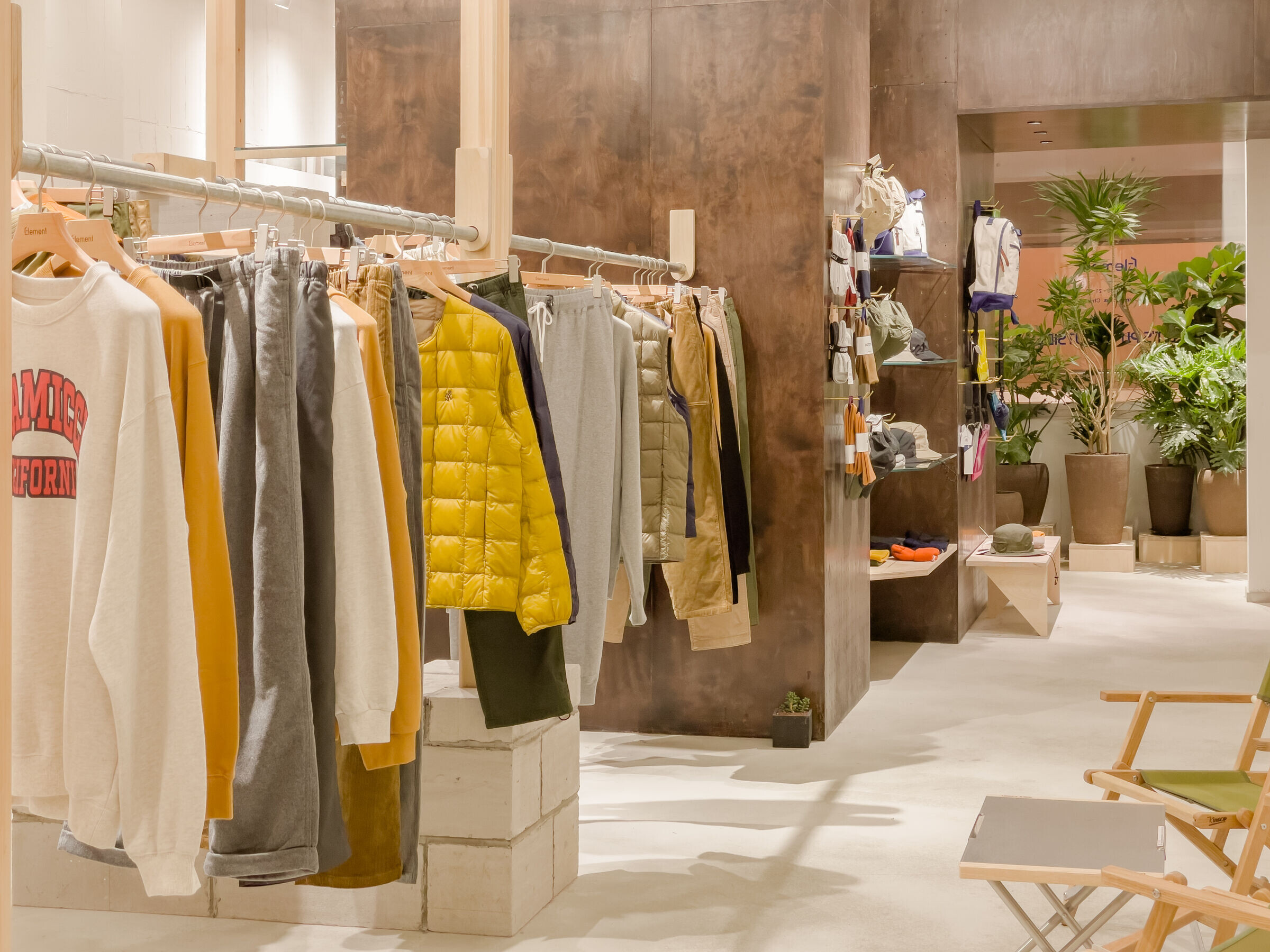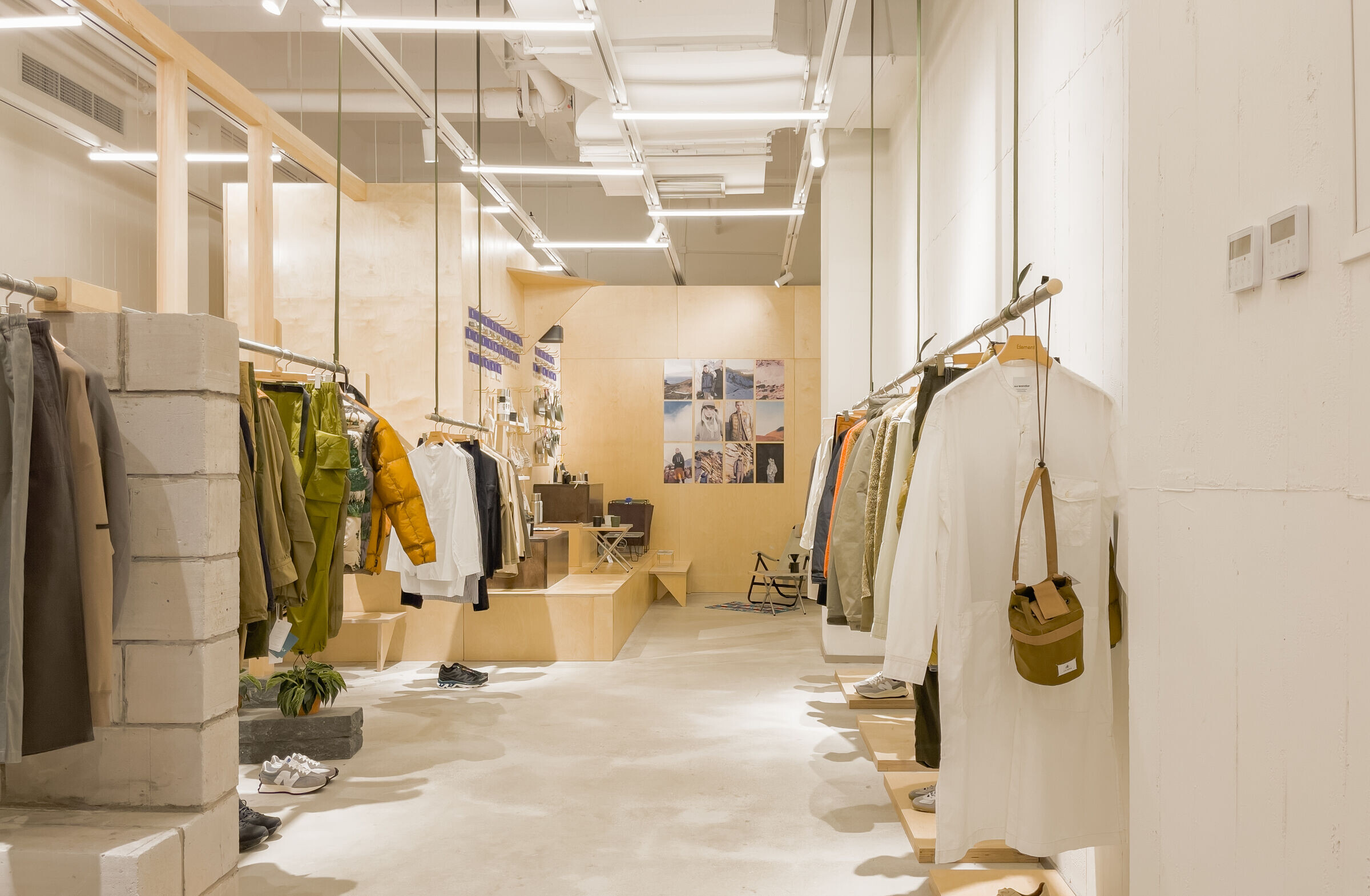 The design also challenges the usual layout of a clothing store, where products are placed on the sides and the centre is unoccupied. To place one of the blocks at the entrance deliberately obstructs the view from the outside. Customers can only see parts of the jungle-like interior. The dark smoked plywood on the block is shaped as a large reversed letter L, leaving two channels on the sides, one high, the other low like the mouth of a cave, so as to arouse customers' curiosity to discover what is inside. Structurally, because it is impossible to drill holes and install bolts on the floor, the L-shaped block balances itself with one side leaning against the wall. The other block at the rear of the store keeps natural colour of wood. Surrounded by potted plants, it looks like a camping shed. One side of the block is made of stairs. They can be used as shelves or seats for screenings.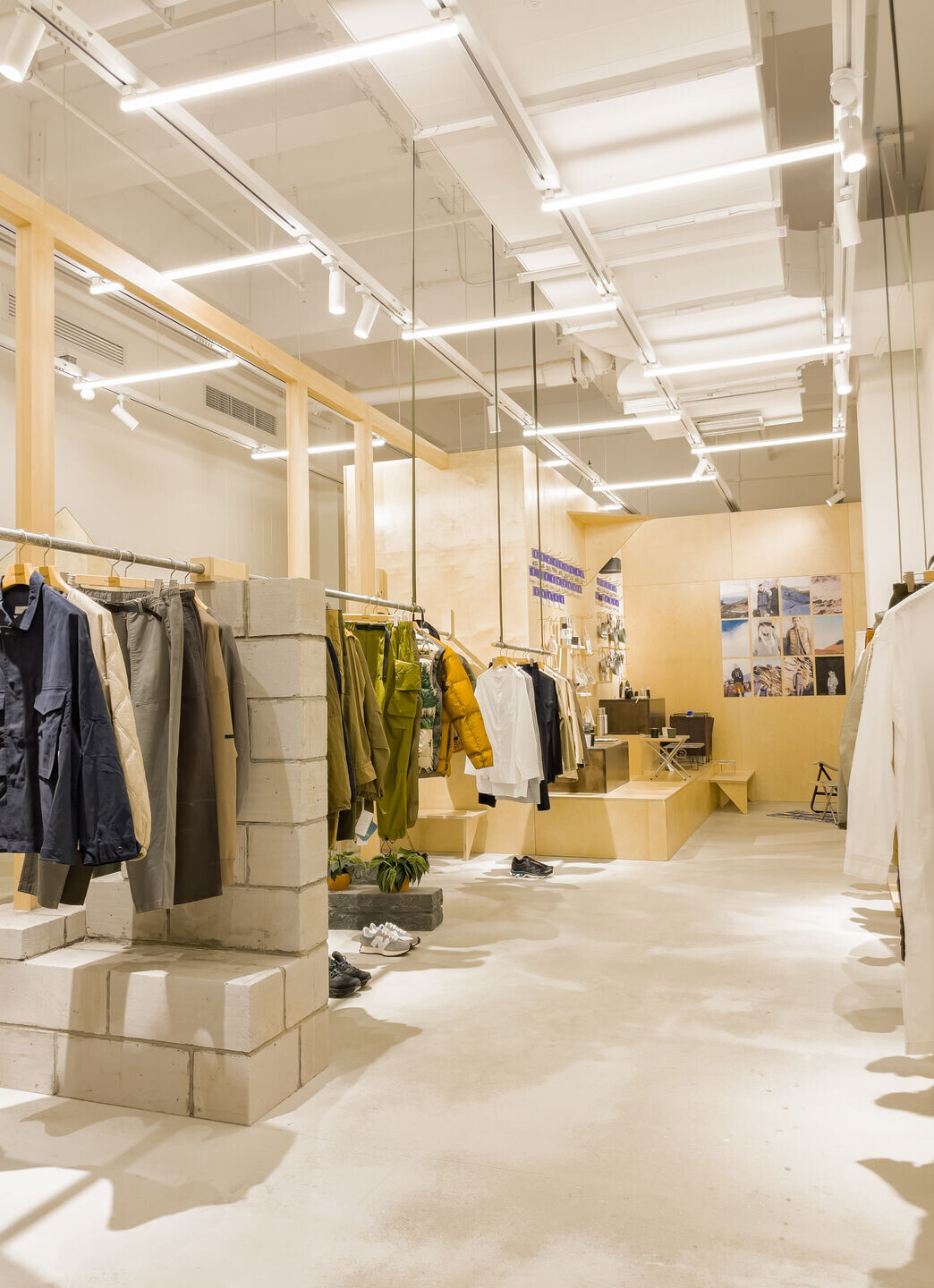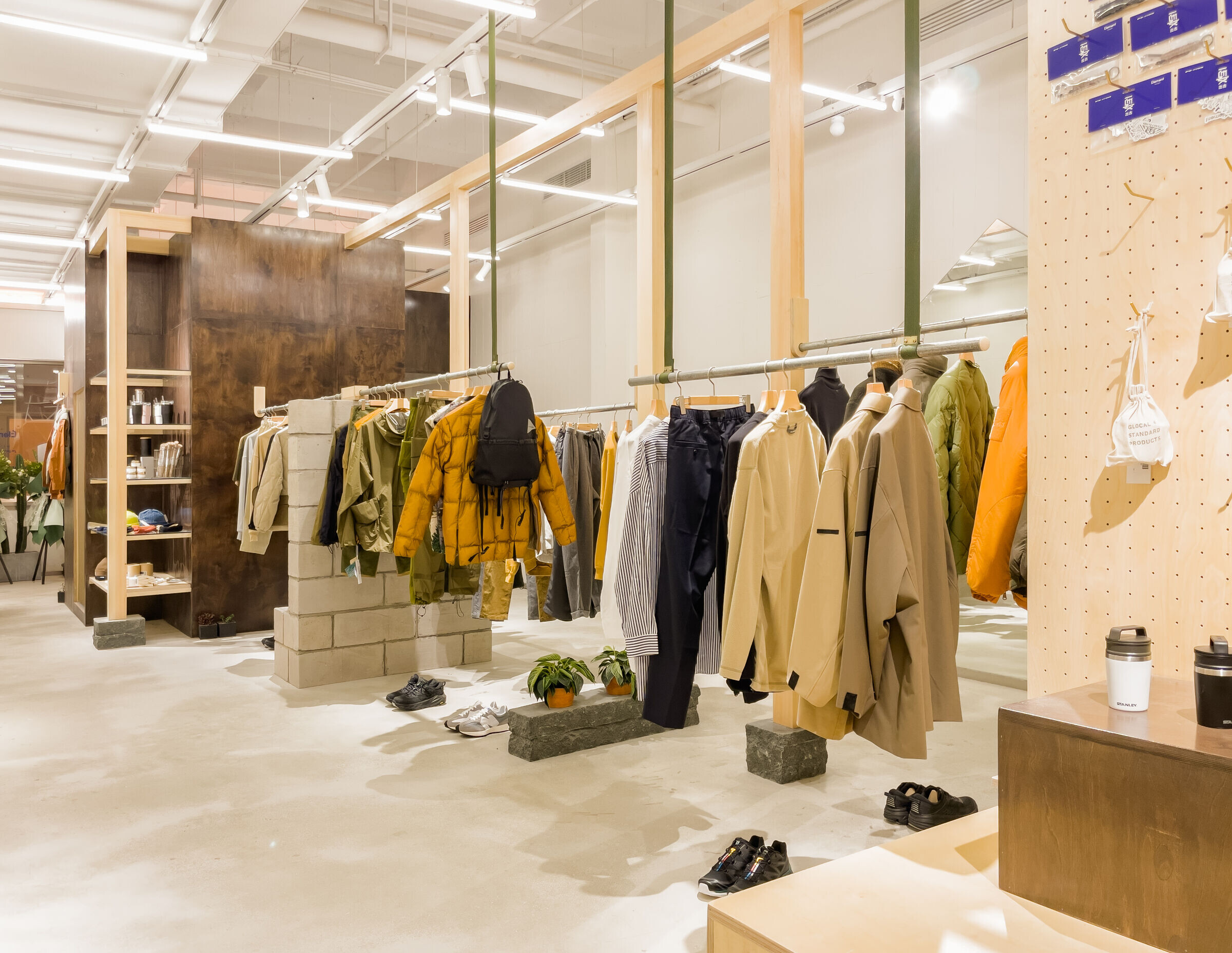 The decoration uses natural and crude materials to imitate natural environment. The main materials are pine wood and plywood, which are efficient to build on sight. Unpolished marble blocks are used to stabilize wood racks at the bottom. Metal rails are supported by concrete parapets and fixed by green nylon belts hanging from the ceiling. Nylon is a common material for camping clothing, and the belts are easy to adjust and fasten. The blocks are panelled with pegboards, along with metal hooks and shelf inserts, allowing maximum flexibility for displaying.