Located in a ground floor pavilion of a new urban district Sky Park designed by Zaha Hadid in the capital of Slovakia, Bratislava, this commercial space loosely prolongs its surrounding landscape and exterior layout, which define the form of the pavilion. These are spontaneously imprinted in the interior which is seemingly freely drawn inside. The smooth forms running within the space in soft lines simultaneously lend a fluid experience to the visitor.
The aim of the composition was to create a scene like space, a gallery, it is therefore made up of set pieces and exhibition platforms. Their clean lines are contrasting with the natural materials and shapes of the displayed products. Elementary forms appear non disturbing, absence of dismissible elements enables the visitor to perceive the products effortlessly.
The monochromatic palette grants a suitable background for exclusively natural materials, from which the products are made of. Only the functionally contrasting areas – entry cleaning area, central counter and lounge area are emphasised. Seemingly plain yet straightforward color scheme is emphasised in the used materials. Each surface is differentiated not only by function but material as well, resulting in a delicate play of texture and structure. Thanks to the glass enclosure wall, the appearance of the materials change depending on the ever changing daylight that illuminates the space. The artificial lighting is composed rather dramatically and accentuates, eventually softens various elements when necessary. It is set up in two layers - the subtle diffuse lighting to fill out the space and scattered directional lights where they are needed.
Initially we planned to create an origami dog sculpture as the only element in the space that would insinuate the identity of the end customer, since the whole space serves as a window display, instead of a typical storefront. After a few experiments we went on to build a seemingly paper-like folded dog sculpture that flies over the central counter. It was constructed in collaboration with studio Gutenart.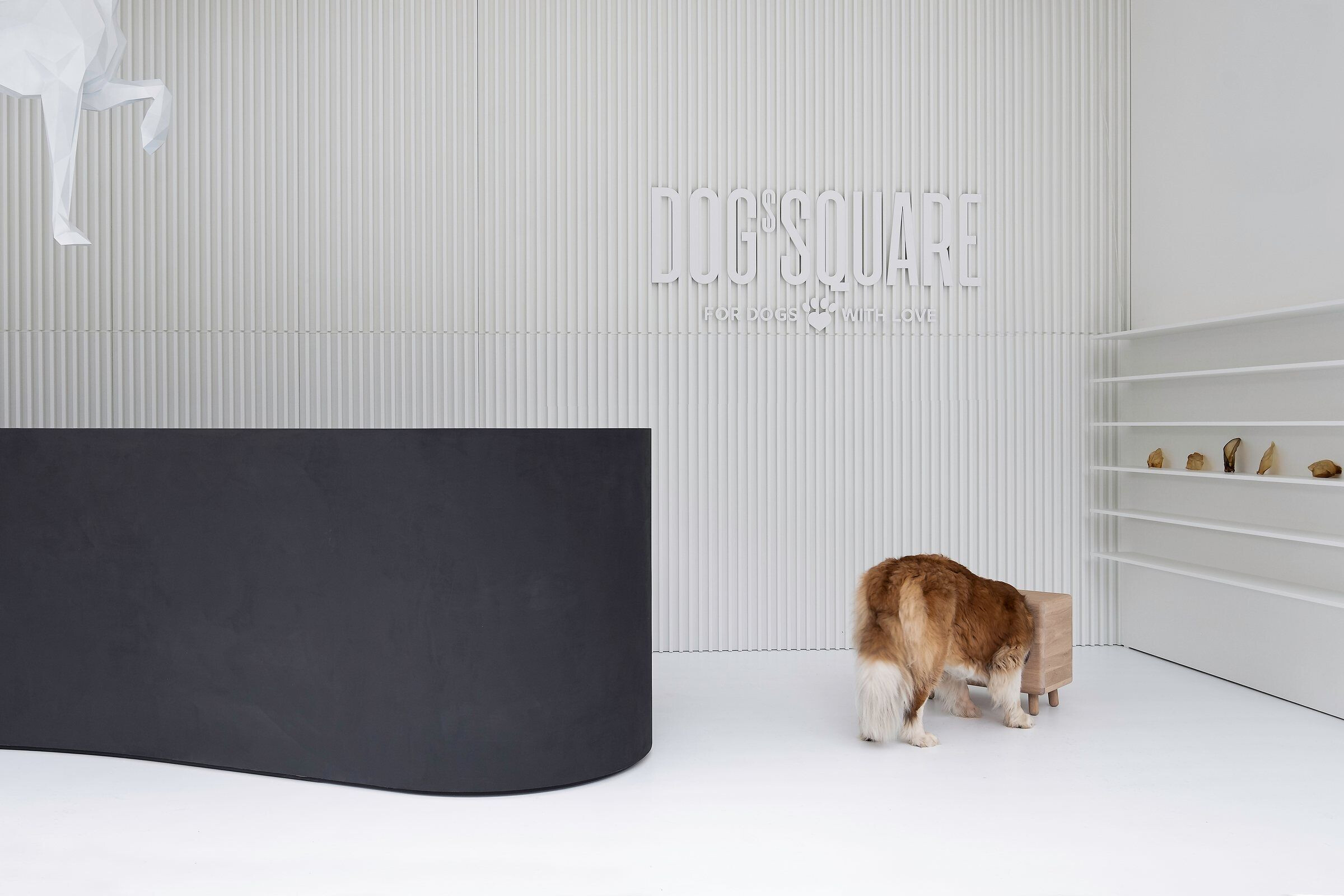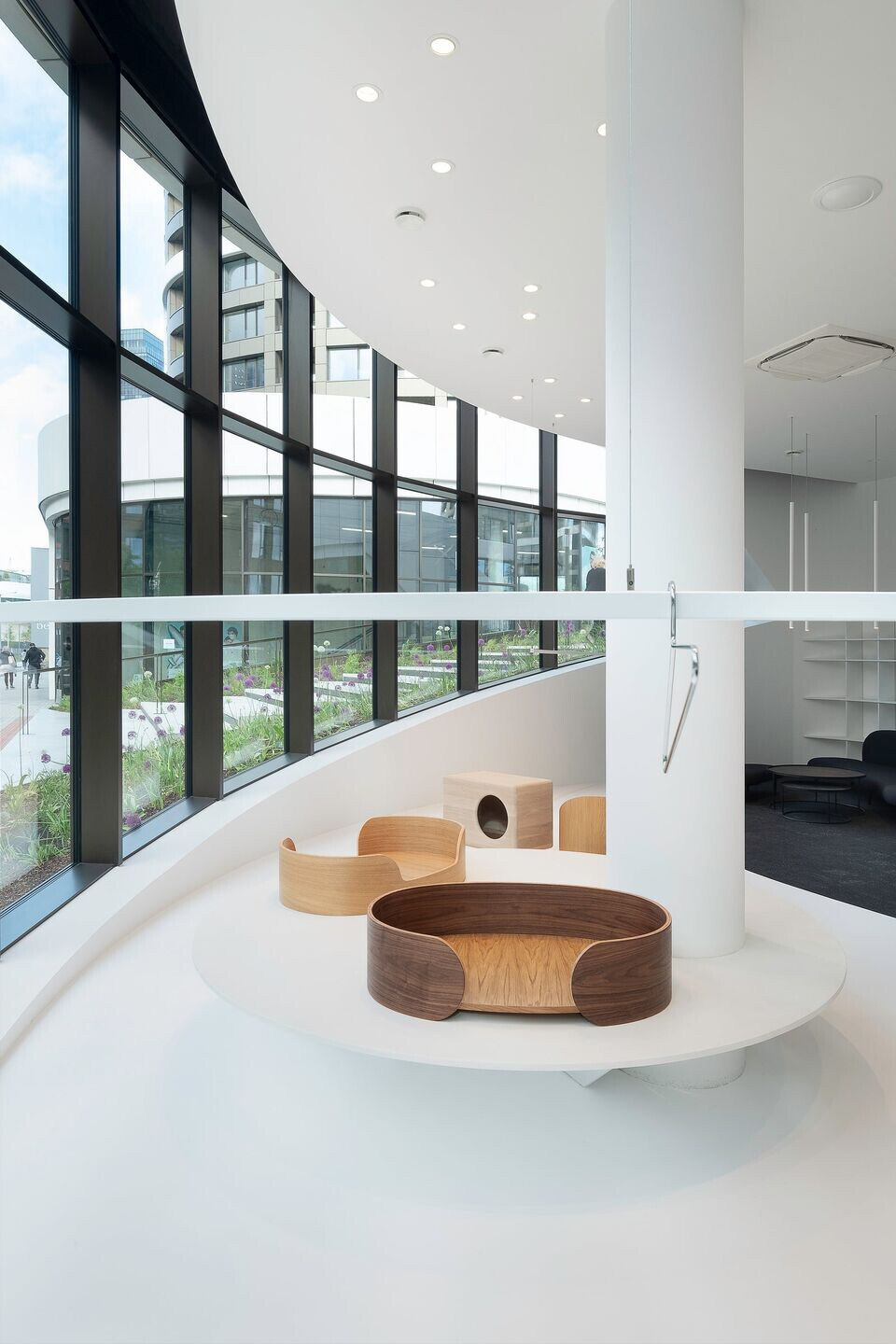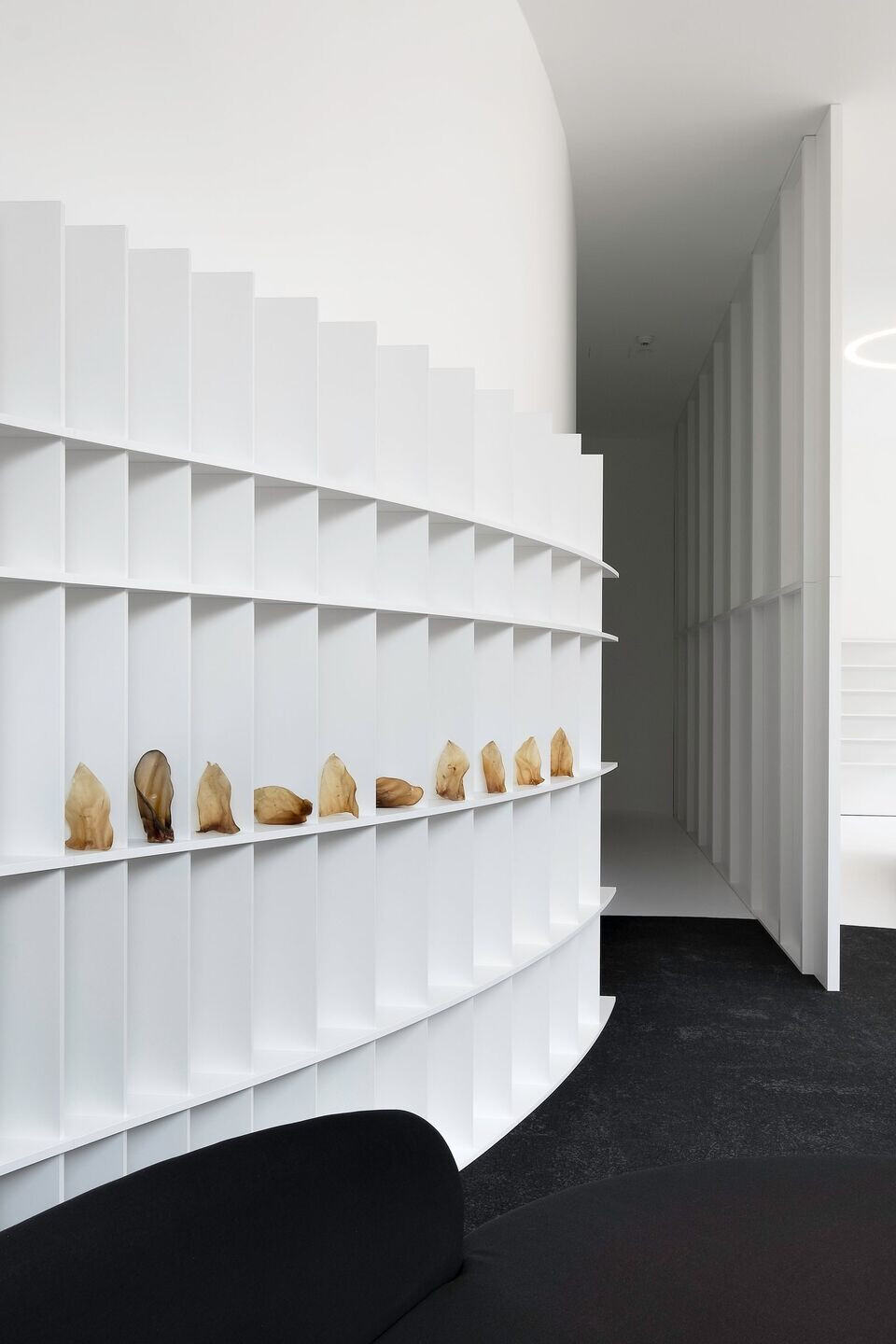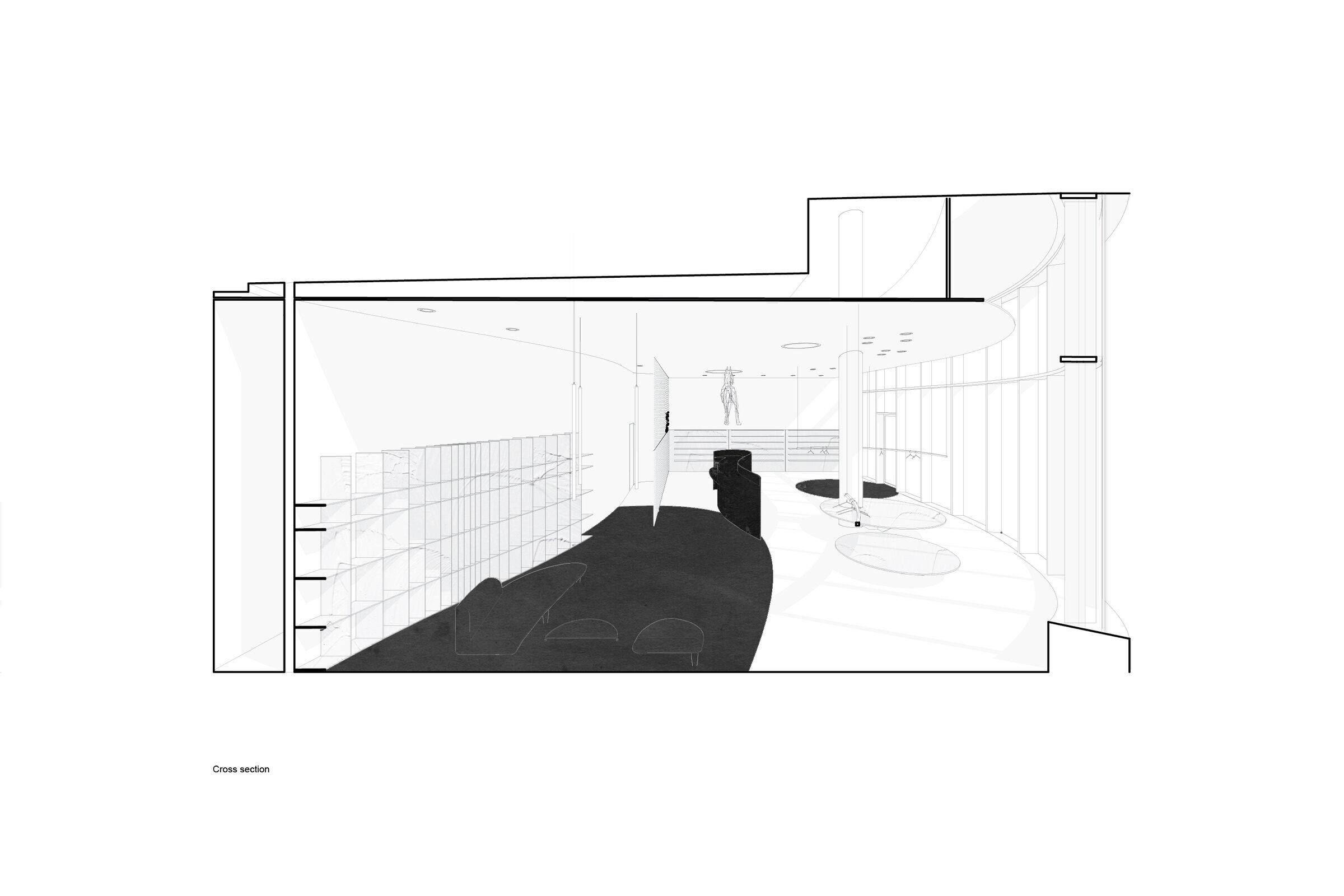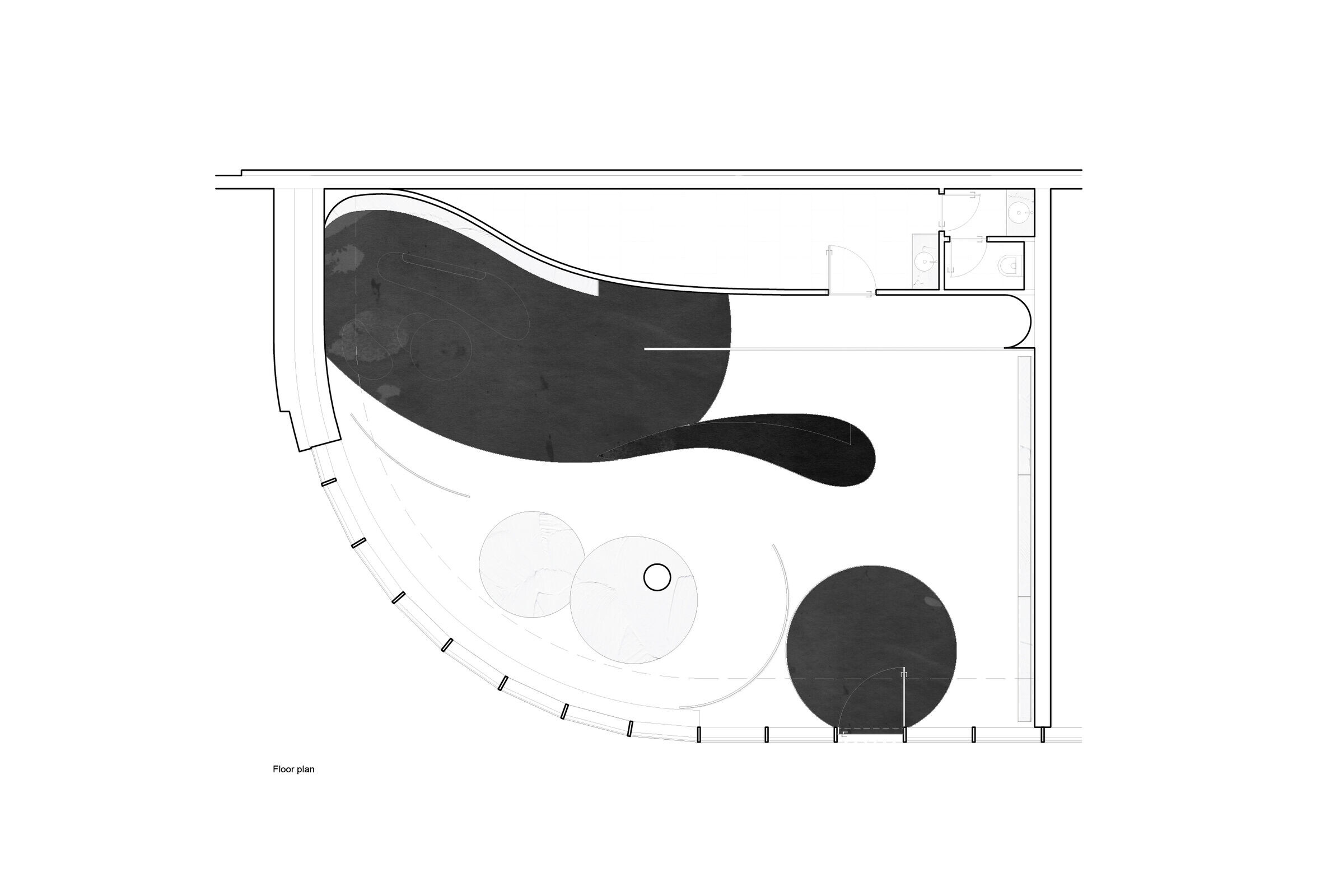 Material Used :
1. Delta Light: HEDRA 393 C 92724
2. Delta Light: SUPER-OH TRIMLESS
3. Liquid floors: Mellow - white
4. Liquid floors: Socrete - furniture finish in black and white
5. Interface: Urban retreat Charcoal
6. Interface: Entrance zone carpet - Anthrazite
7. Homola Furniture: Carpenters - all custom made built in furniture